The Buzz Around Town
Whether you want to enjoy a morning cup of coffee, relax with friends while at breakfast, or you're looking to get a sweet treat to satisfy your tastebuds, BuzzCatz Coffee & Sweets has it all. With over half a decade of business, BuzzCats has been creating mouthwatering meals and desserts for any type of pallet. Previously, I have only stopped by Buzzcats for a quick premade lunch wrap and some cookies, so I was excited to get the chance to sit down and try out some of their most popular menu options. So get comfy as here is your deep dive into BuzzCats with answers to "what is that?" when you order, the best drinks to try, and even who is the mastermind behind the food creations.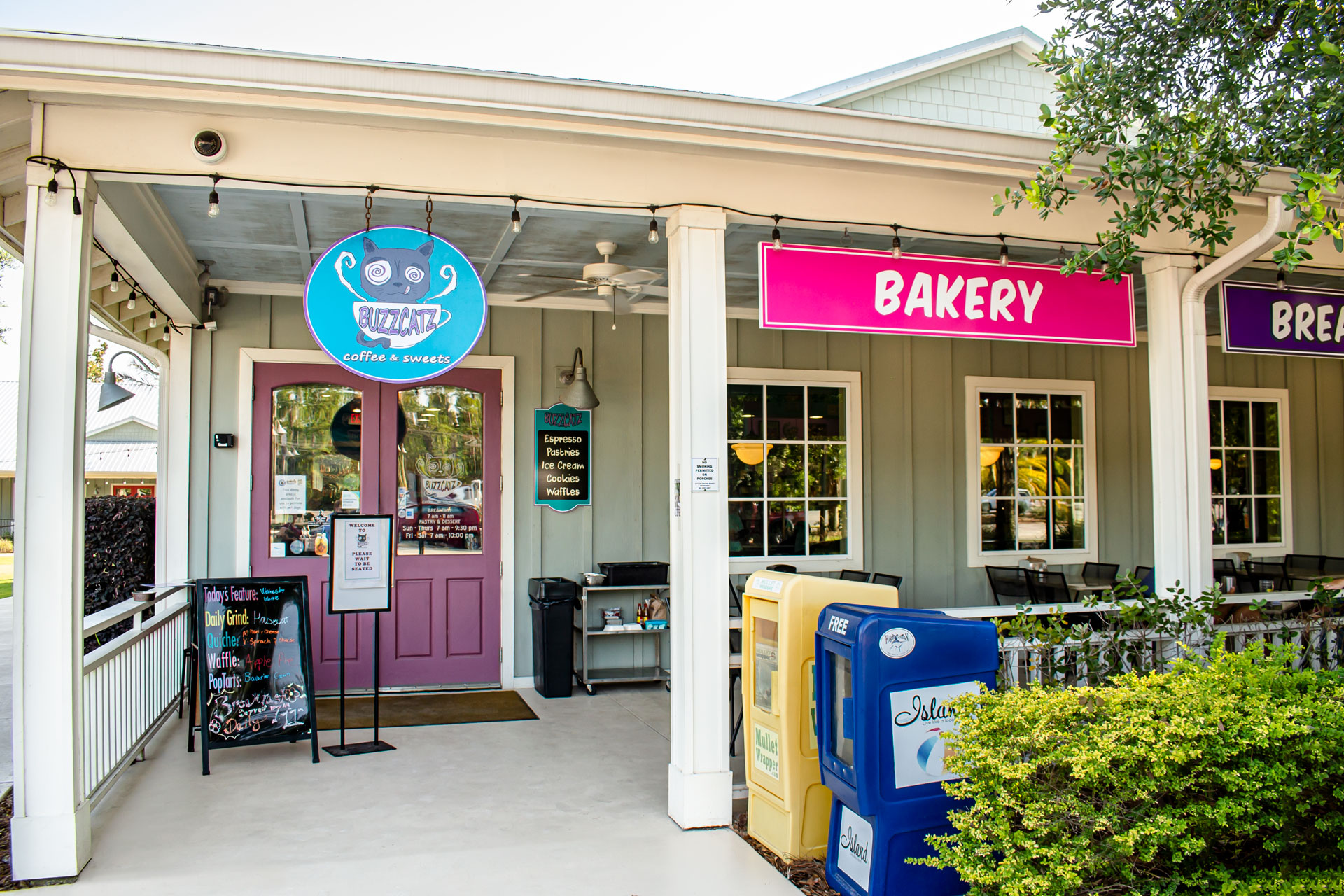 A #LocAL Place
BuzzCatz is just a few minutes' drive northwest of the Caribe Resort, located right off Canal Road (25689 Canal Road Ste. Orange Beach, AL to be exact). They are located between two other great lunch and dinner spots, Cosmos Restaurant and Luna's Eat & Drink (Both are pet friendly, so don't forget your leashes!). BuzzCatz hours can differ depending on the season, but they are always open for breakfast and lunch! Don't be afraid to contact them by phone or Facebook beforehand to get a great spot as they have seating inside and outside. And yes the heading is written correctly. We like to feature Local AL businesses' around here, so keep an eye out for #locAL and even bumper stickers! It's a great way to find out what the locals are talking about.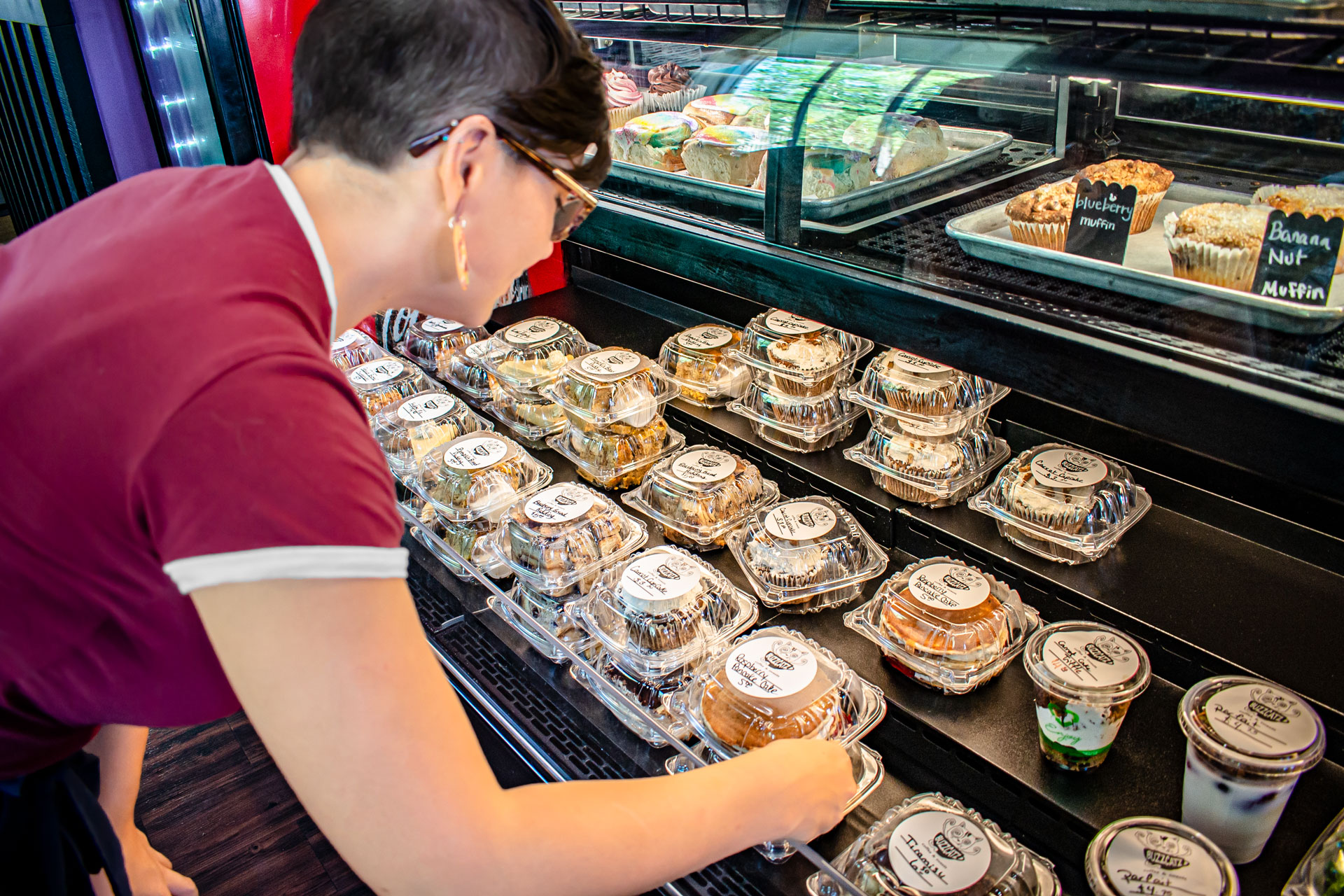 Breaking Down Brunch
When you arrive at BuzzCatz, you may be overwhelmed by the number of options. Menus set before you, displays showing off specials, grab-and-go prepared items, the list goes on. With so many options, it may be easy for someone in a rush to grab a ready-made, meal but I came prepared with plenty of time. I decided to try a bit of everything as my brunch buddy and I wanted to showcase the most popular dishes. BuzzCatz is well known for its breakfast options, but with so many options we knew we were in for a feast. So we sat down and got ready for Brunch!
I was excited to try their potato bowl with bacon and eggs, as a Hobbit, I can never say no to potatoes. And I got the signature "Waffle Wednesday" waffle with gravy. A Belgian waffle with gravy is the perfect breakfast lunch mashup. My fellow brunch companion decided the stuffed Hollah was his go-to choice. We also split a homemade biscuit with blackberry jam, a slice of homemade bread and butter, and the delicious-looking cinnamon roll to finish it off.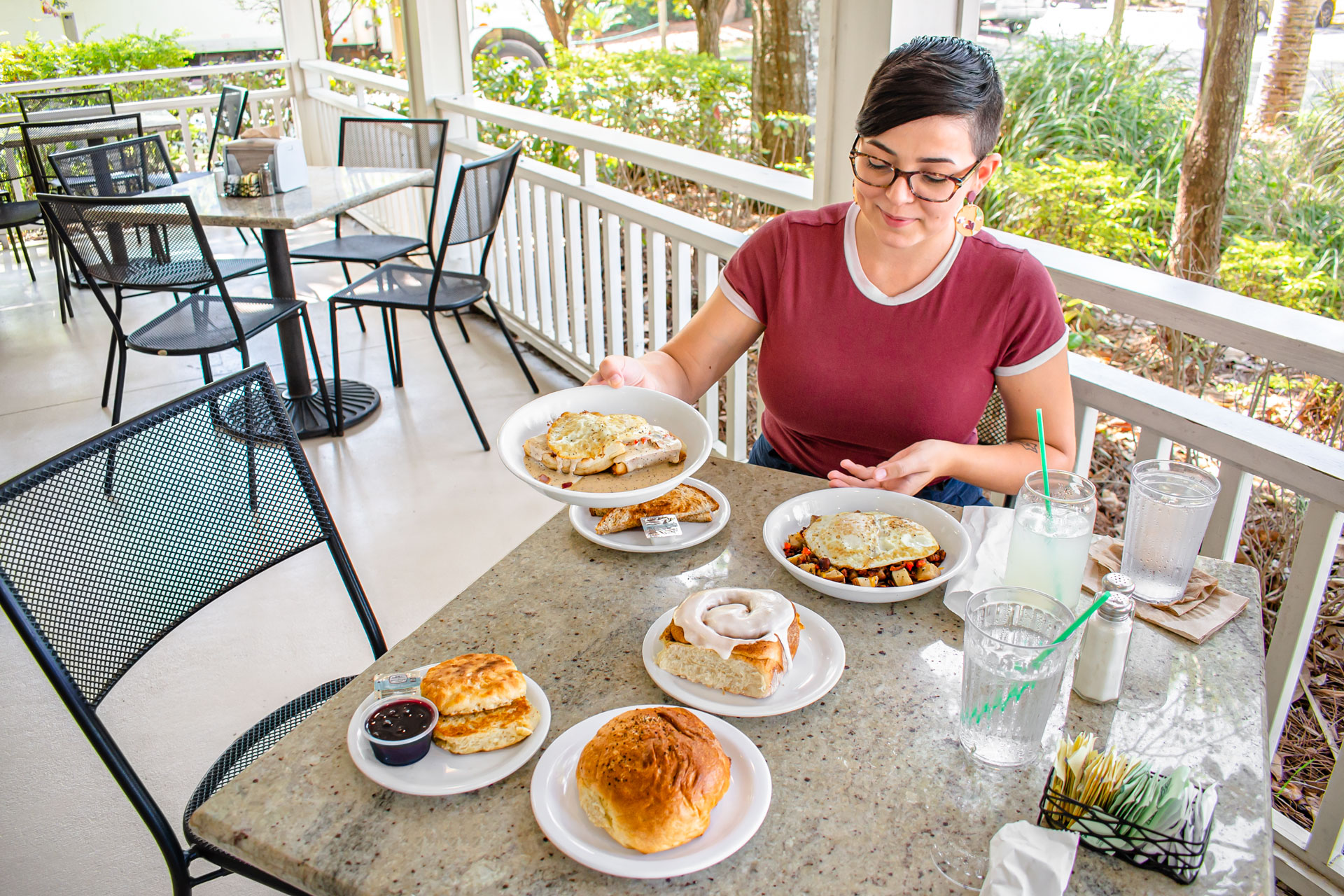 The potato bowl was instantly a favorite, and the stuffed Hollah is excellent for an on-the-go or in-house meal. The new take on a southern waffle with gravy was great, the sweetness of the Belgian waffle and the savory of the gravy combined with the fried egg on top was a unique taste, and I can see myself ordering it again next time I come in. It all paired well with my ice-cold lemonade and a cold brew mocha drizzle coffee on the side, a guest-recommended favorite. BuzzCatz also specializes in espressos for those needing a strong caffeine buzz! The pièce de résistance was definitely the homemade cinnamon roll with icing. The hand-rolled dessert came with delightfully sweet icing, and it was mouthwatering and warm even after waiting till we finished our earlier meal. All of the food items are freshly made in-house and they also have great options for those on selective diets or restrictions, so everyone can leave happy.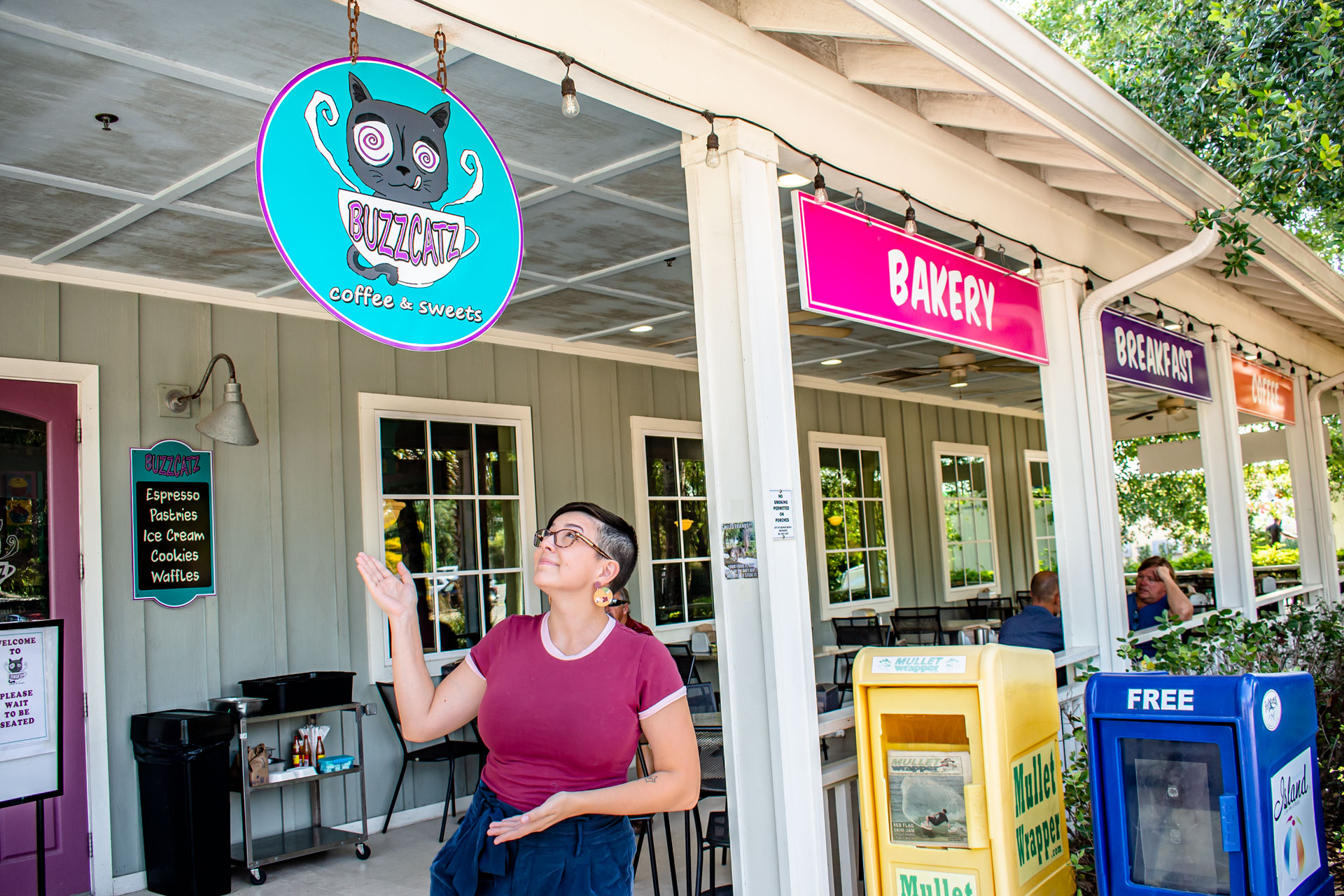 The Mastermind behind the Counter!
The ones who started BuzzCatz are Jody and Brian Harsany, the founders of Cosmo's Restaurant and Bar. Their attention to detail and love of dining has created something truly memorable that has become a favorite for locals and visitors alike. So when they saw a need for caffeine as well as a breakfast hangout, BuzzCatz was created!
But the mastermind behind the food and unique pastries that we love is non-other than Kimberly Asbury. She has over 29 years of experience and puts her Baking and Pastry degree to good use around town. She has a passion for pastry, loves to show it off, and lets the community inspire her to make new flavors. During Mardi Gras season, I loved trying her specialty king cakes. And she loves to help the summer camp kids learn about the joys of cooking and baking by teaching them how to make pop tarts. She had even won 1st place in the 2017 Biscuit Festival with some of her creations.
Mugs, Merch, and More!
BuzzCatz is more than just drinks and food; cat lovers beware as they have cat-tastic options. From local coffees and hand-crafted mugs to sweaters and plushies, they are made for cozy. BuzzCatz even has two cat mascots you may see roaming around the property. Jr Mints and Buzzy live the pampered life of island cats but are elusive to strangers. If you end up seeing them, order a special treat since it's your lucky day. As for what they have inside that's soft and huggable, I loved the plush Cat-Ocado and Pine-Owl, and I even ordered a few bags of special teas for my family. They had the funniest cat pins right next to some wrapped-up brownies, so I had to get some to go! And like many others, I agree with the saying "You can never have too many mugs". They had some comfortable hand-glazed mugs that were sturdy and great for that cozie-coffee feeling.
An Orange Beach Favorite
BuzzCatz has become a favorite in the community for locals and tourists alike, with reviews ranging from it being visitors' "go-to daily spot" to "We come back every year, it's the first and last place we visit when in Orange Beach". So whether you are a coffee connoisseur (or Tea like me), a certified foodie needing some great southern cooking, or just wanting a dessert to treat yourself for being you, this place is a 10 out of 10 that I fully recommend!
To learn more about the staff, click here
To check out their Facebook for daily specials, click here