An Intro to Southern Cooking
We all know the South is known for various flavors, seafood, fried foods, and great spices, but many don't know how to mix them to get a perfect balance. Because of this, many are weary of trying new recipes, but we got a treat for you! This recipe was created by Cobalt, the Restaurant's very own chef, Reed Moody. We are featuring his Shrimp and Grits with a bourbon whiskey sauce and all the steps to get there. While I may not be a professional connoisseur of shrimp, grits, and seafood in general, Moody's recipe was by far the best-tasting version of shrimp & grits I have ever had! This dish perfectly showcases a southern flavor with its rich buttery sauce, and the seasoned tasso is an incredible touch. This introduction to Gulf Coast cooking is so easy you can even do it while on vacation in a condo!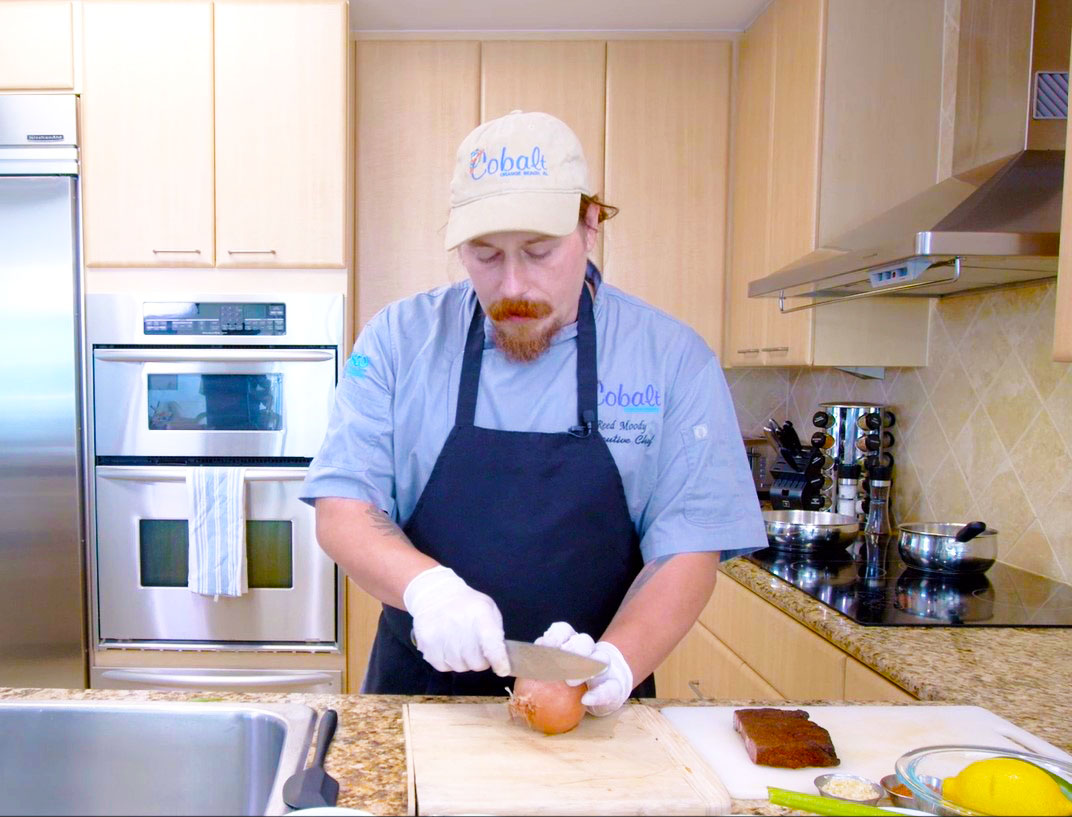 Let's get Gritty!
Now on to how to make this delicious dish. You are welcome to click through and watch an amazing video of Chef Moody taking you through all the steps of this dish, and it even gives a few tips on easy ways to prep and cook. Here is the link to our video on YouTube. Below we will list out all the steps and ingredients needed. If you are staying with us here at The Caribe Resort, be sure to check out our local groceries for fresh ingredients or even get it all delivered to your condo using one of the many delivery services available here in our area. Our favorite local grocery stores are Rouses and Publix.
Here are the supplies you will need as well as what you will need to grab for meal prep. Supplies recommended for this are a cutting board, a knife for cutting neat and a vegetable knife, a large saucepan as well as a pot for the grits, and don't forget a measuring cup for the chicken stock and a whisk to mix it. You can always be sure to compare steps and techniques with Chef Moody while preparing as well.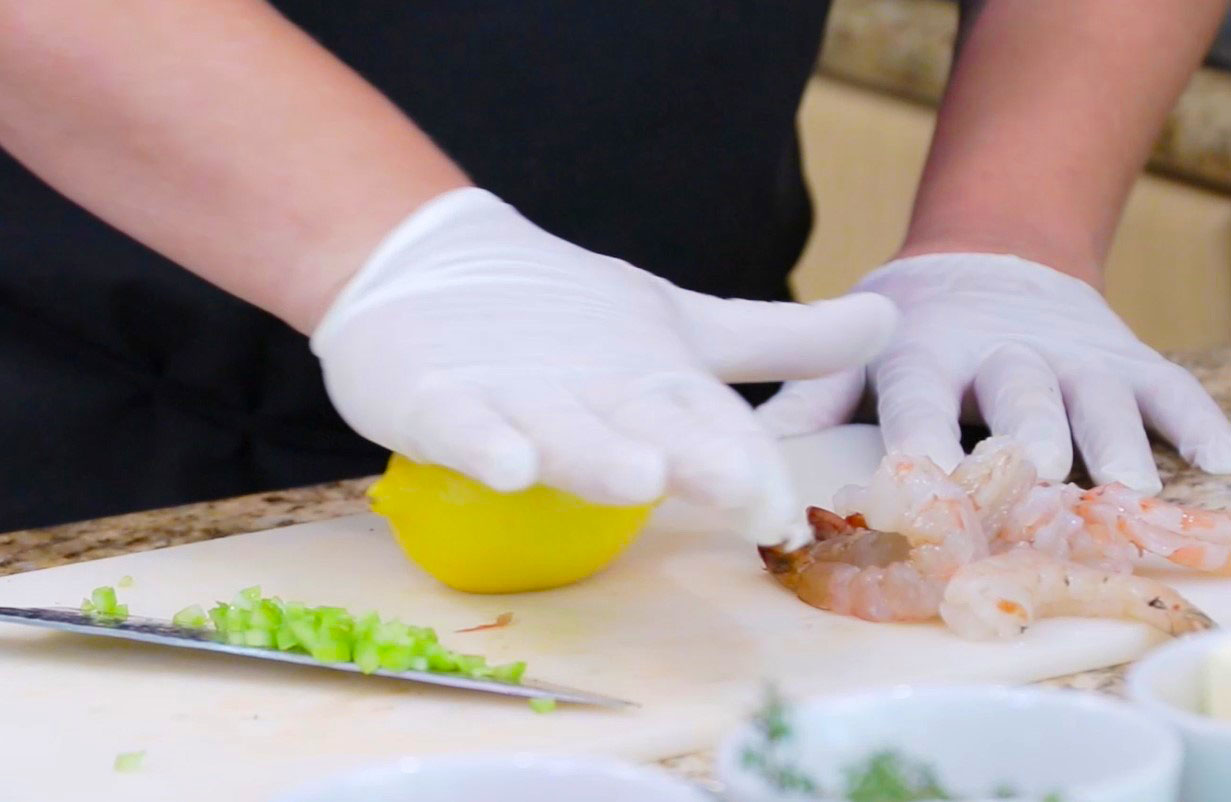 Ingredients for the Grits:
1 Cup of your favorite brand of stone ground grits
3 Cups of chicken stock
1 cup of heavy cream
2 Tablespoons of unsalted butter
2 Tablespoons of preferred cheese (optional)
Kosher and black pepper to taste
Ingredients for the Shrimp Sauce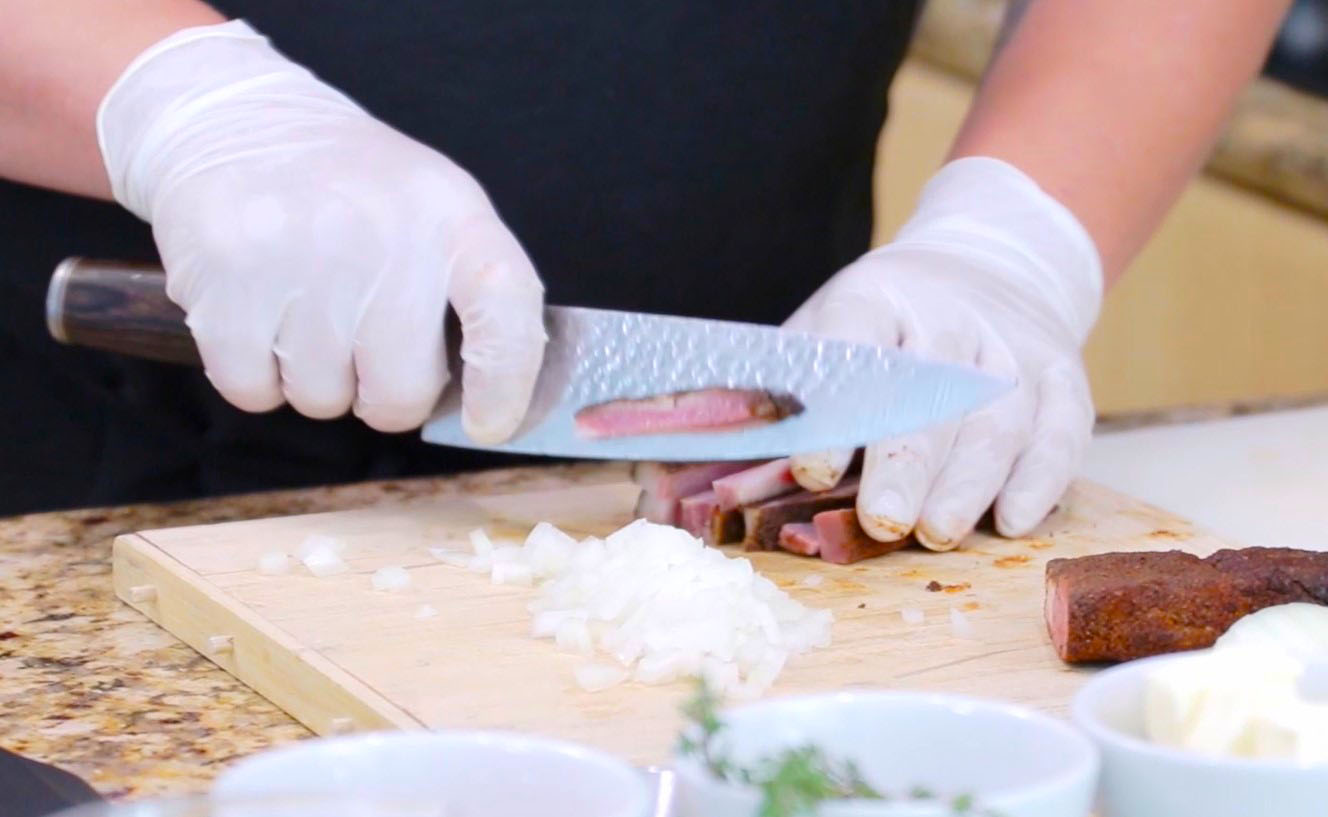 8 large shrimp peeled and deveined
½ cup of yellow onion fine diced
¼ cup of celery fine diced
¼ cup of green bell pepper fine diced
¼ cup of tomato fine diced
2 garlic cloves minced
¼ cup of Tasso diced (or 1/2 if you really like spiced pork)
1 ½ teaspoon blackening seasoning
½ lemon zested and juiced
2 ½ oz of a favorite bourbon
½ cup of heavy cream
1 tablespoon of unsalted butter
1 tablespoon of canola oil
Kosher to taste
The How-To
Here are the steps for a great dinner. First up, the grits:
Bring stock, seasonings, and heavy cream to a boil.
Slowly pour in grits and stir.
Reduce heat and stir, depending on the grain, cooking time may vary anywhere from 45 minutes to an hour. Add more stock if thickens too quickly, and remember to stir frequently.
Once finished cooking, stir in butter and cheese if using.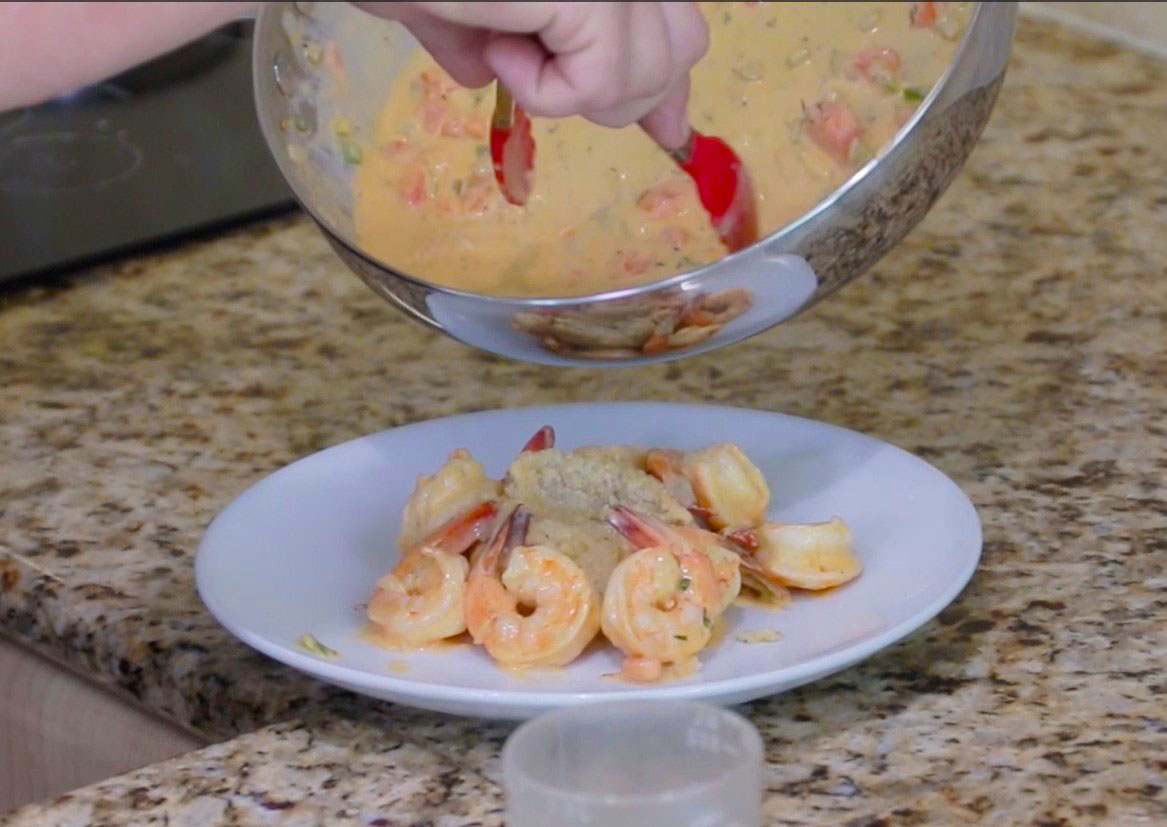 And here are the next steps for the sauce and shrimp:
Heat sauté pan with oil till right below the smoke point.
Add in Tasso and let the fat render for about one minute.
Add diced onions and sauté till just starting to turn brown.
Add celery, bell peppers, tomatoes, and shrimp, and sauté for about one minute.
Flip shrimp and add garlic and blacking seasoning, zest, and lemon juice.
Deglaze with bourbon, and reduce for about thirty seconds.
Pour in heavy cream and reduce heat, once the cream has reduced and is making large bubbles remove from heat and stir in butter.
Place grits in the center of the bowl and pour sauce around the grits, If feeling particularly fancy, place shrimp around the grits with the tail facing up.
Serving Up Some Flavor!
This dish is best served hot and fresh, but any leftovers can easily be refrigerated and reheated later on; just be sure to add some extra butter. You can pair it with some collared greens, sweet potato fries, fluffy biscuits, or even some fried okra if you really want to get Southern with it. And if you find yourself not wanting to cook, but are craving this delicious meal, then head on over to Cobalt, the Restaurant, and enjoy the meal prepared there while overlooking the beautiful Perdido Bay. I enjoyed every bite of this fantastic dish, and so did my family when they tried it. Let us know how you faired when trying out this Southern dish, then be sure to tag us at the Caribe Resort. We hope you join us again for the next Southern Palate featured meal!