Why Choose Dauphin Island!
Coastal life is fun for everyone, and with so many islands along the Gulf Coast, it is hard to choose where to visit. Thankfully, one of my favorite islands is only a quick ferry ride away and has fun for visitors of all ages! This little gem of a barrier island is called Dauphin Island, one of the most environmentally important regions along the southern coast. And no, it is not an island dedicated just to dolphins.
The Gulf Coast is one of the most critical habitats all around the globe, and that is not an exaggeration. Dauphin Island is a barrier island that protects coastlines from significant wear and provides a 'barrier' when a Hurricane heads towards the coast. Not only that, but Dauphin Island is also home to an estuarium and animal sanctuary. These are only a few of the reasons visitors travel by car and ferry to see this little island.
Magical Time at the Ferry
The best way to get to Dauphin Island is an exciting ferry ride, where you can drive up and take your car with you to explore the island. I love to take the Mobile Bay Ferry across, and their Facebook page posts a schedule daily to help travelers plan their trips. I recommend getting there early, even if you have to wait for the ferry to arrive, it gives you a chance to walk along the bay and maybe even check out Fort Morgan, a fun historical battleground sight. I was excited for my nieces to take their first trip to the island so we made sure to get there early. They were excited to play outside, chase butterflies, and watch the boats until the ferry arrived.
They eagerly stood on the steps leading into the bay to watch the boat pull in, and then we made a mad dash back to our parked cars to pull onto the ferry. After everyone had finished boarding the ship, the workers lifted the ramp, and we hopped out of our vehicles to explore the deck. Standing on the boat's bow was beautiful if a bit breezy and salty, perfect for cooling off from the heat. Once the Ferry is in motion, you can go up the steps to the upper seating area, enjoy the views, and take pictures. As we made it to Dauphin Island, we all piled back into our respective vehicles and drove to our first destination, the Estuarium.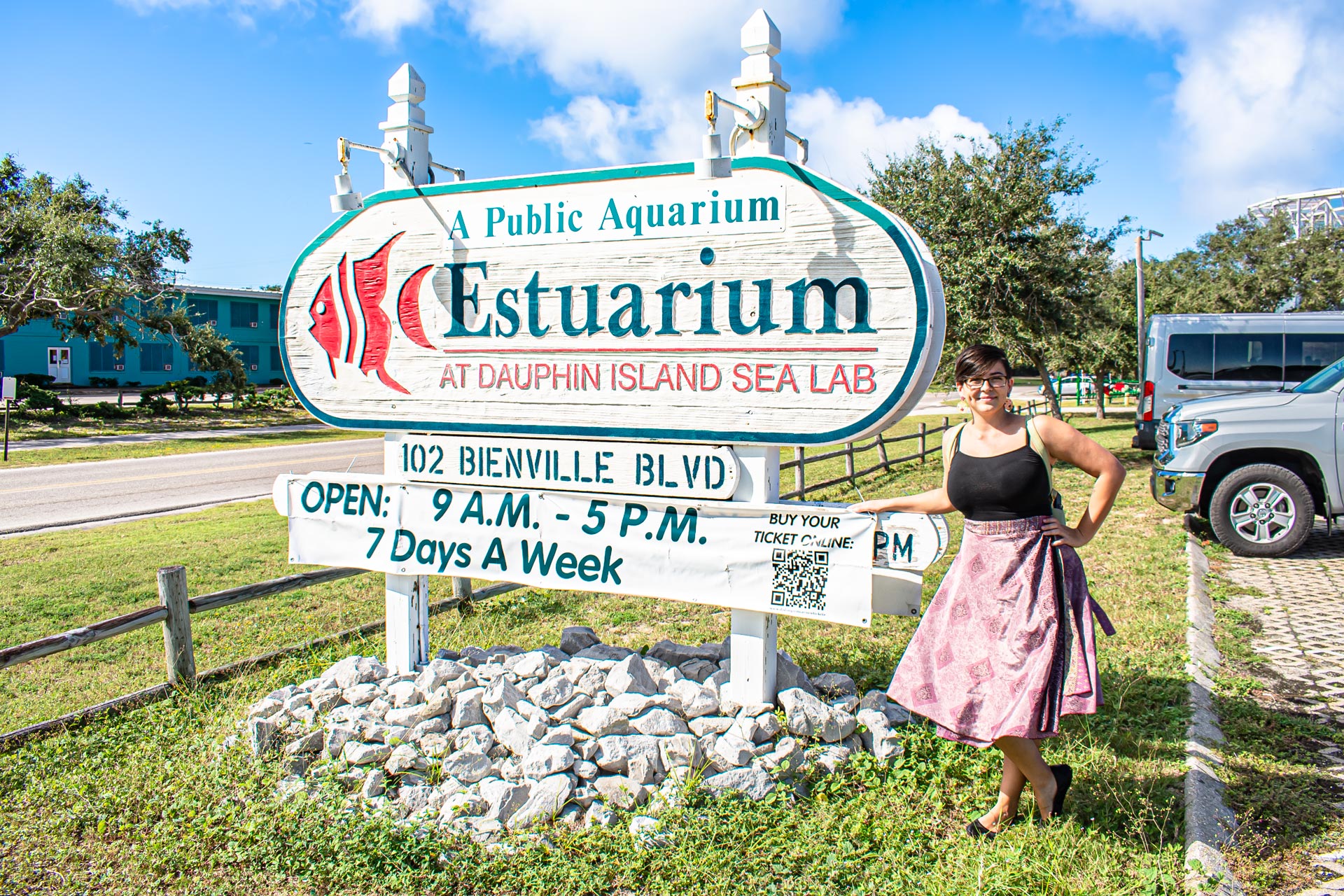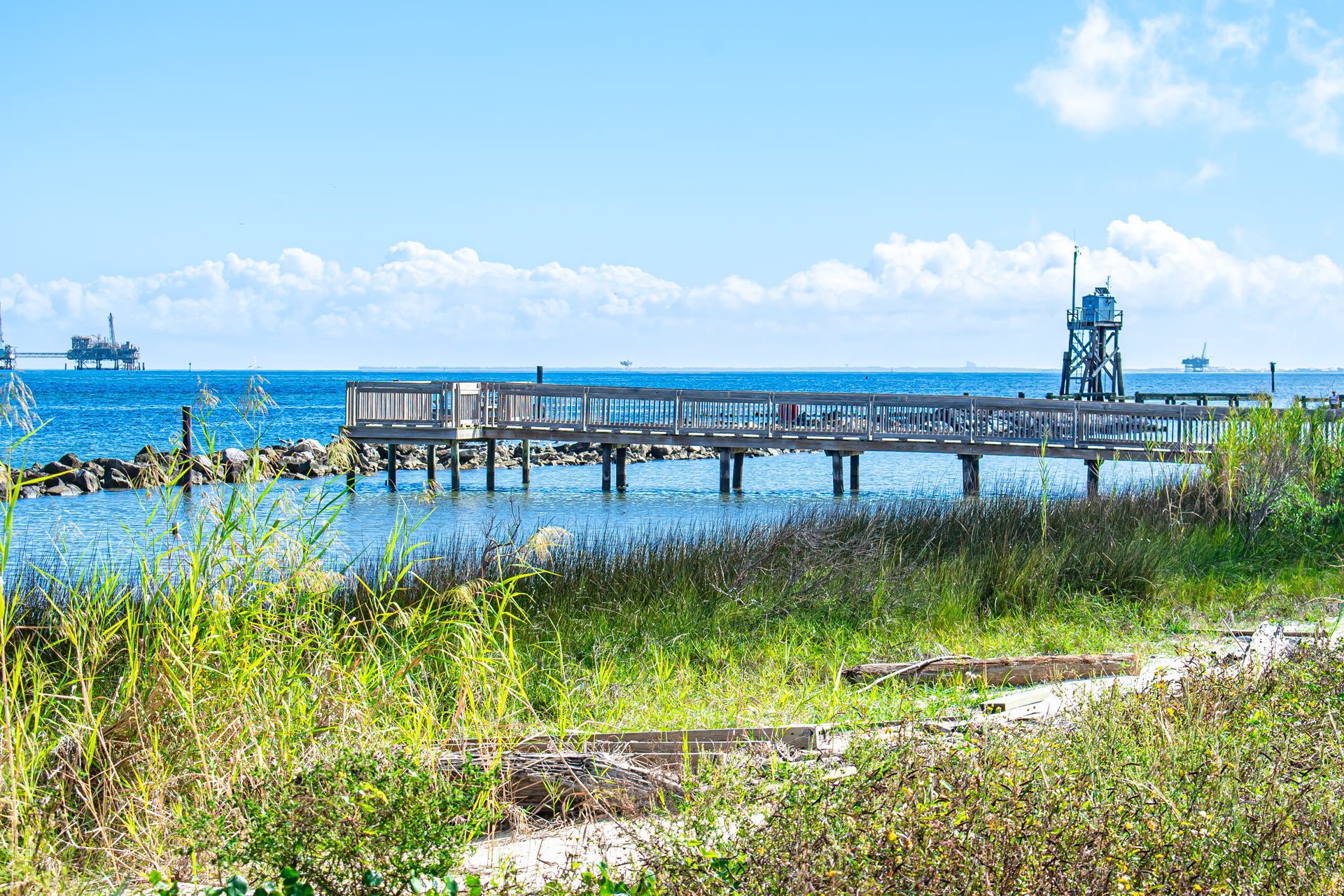 Dauphin Island Aquarium!
The Dauphin Island Aquarium is the central, go-to place when thinking of where to visit while there. We started exploring the outdoor walking paths and scenic views, which offer great spots for bird watchers and wildlife enthusiasts. After exploring the beautiful sights outside, it was time to see bigger fish inside. After checking in and getting our tickets for the group, we made it inside to the start of the tour. Be sure to check out their website for costs for those with groups, as they offer great discounts for children, students, military, and seniors.
Once you pass through the exhibit's entryway, you are immediately immersed under the sea with huge native fish swimming in floor-to-ceiling tanks and various sea creatures hanging from above. We were immediately drawn to the baby seahorses as they swirled in the tank's currents and the octopus tank featuring a sign about possible escape attempts. (I couldn't help but think of Finding Dory) All the tanks had information cards so we could learn about the species and the native ecosystems and environments they call home.
Next up on tour was the touch tank. While we didn't come during feeding time, you are still welcome to gently reach out and see the sharks, sting rays, crabs, etc. The baby hammerhead sharks were cute and fun to see, but the stingrays were the real show-stealer. They came up, swam along the edge, and flipped their fins at us. The touch tanks were the highlight of the aquarium as my nieces ran to other sides of the big tanks and dipped their heads close to the water to get a closer look at the fish. The stingrays were swimming quickly but were interested in us as they soared up the sides and peaked fins out of the water. They felt as smooth as rubber to the touch, but if you're squeamish, then I do not recommend it. The horseshoe crabs and snails were also a fun treat to see since you don't see them in the wild that much anymore.
As you can tell, despite being small, the aquarium offers a lot of big fun for its guests to enjoy and see. You can make this fun journey as educational as you want from an interactive kid zone, informational movies, and even touch tanks, which is great for homeschoolers. An excellent new exhibit they had was an interactive touch wall that you could move to show different parts of the earth to check out weather patterns, water currents, wind, etc. My niece enjoyed that and how they even worked for her at three feet tall. By the time we went through the entire aquarium, we were all hungry and ready for lunch. So our final and last stop was the gift shop to grab some cute momentos and stamped pennies for the kids, and then we went out in search of our lunch spot.
Let's Eat!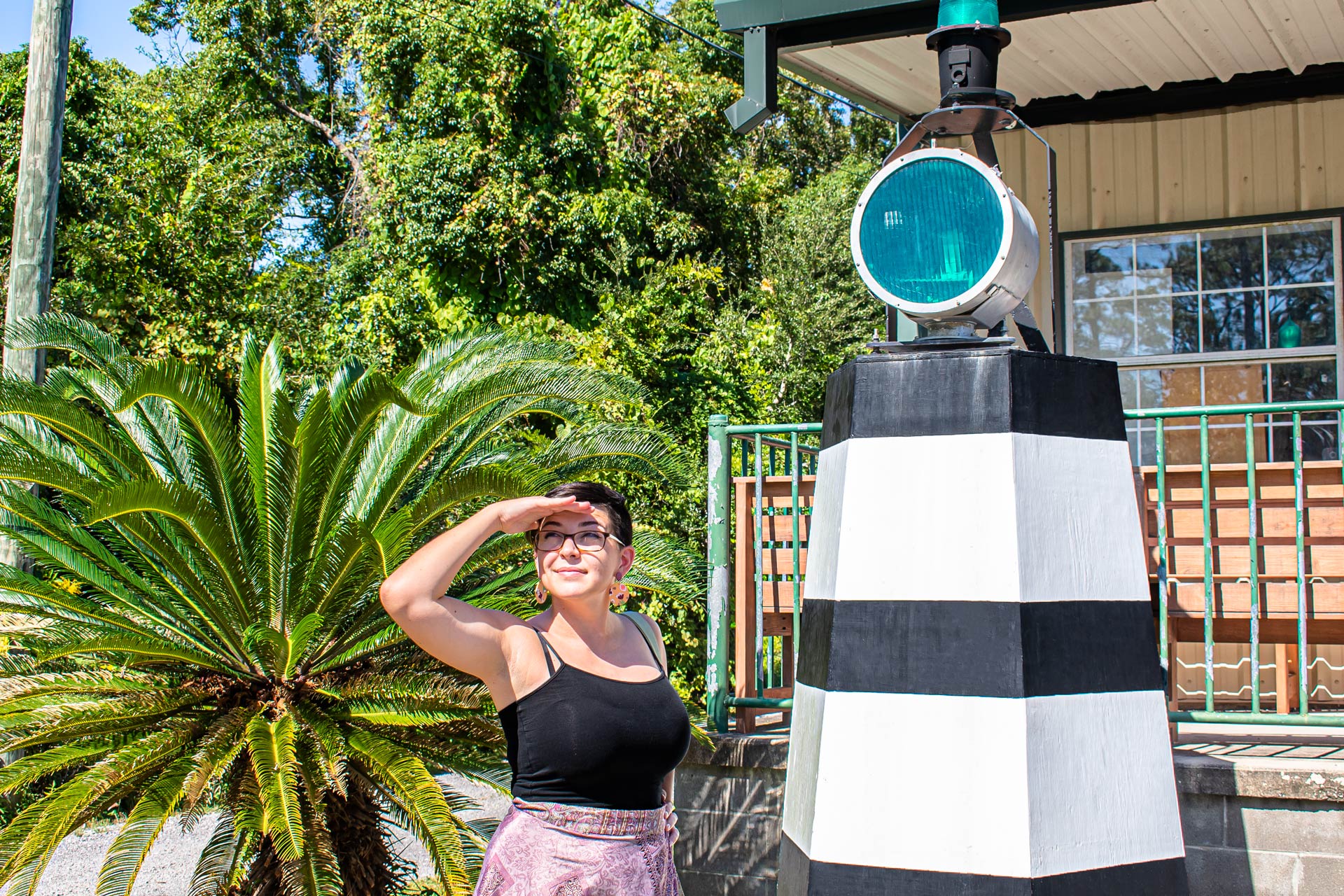 There are a few select places to eat on the Island, so plan accordingly. We went to Skinner's Seafood, which several people recommended for having great-tasting fresh seafood, and we were not disappointed! The food is fresh and cooked by the pound as you order. We ordered a feast, sharing a crawfish-style shrimp boil with corn on the cob and red-skin potatoes with butter and sauce. The flavor was excellent and was right up there in terms of taste with my cajun Uncles boils.
Before heading completely back home from our trip, we did have to stop and get ice cream since ending the trip on a sweet note is always the best way to go. I enjoyed a hazelnut brownie cone while my niece enjoyed a sprinkle delight, definitely too much sugar. Having nature trails and plenty of areas to play was great to let the sugar get out of our system while waiting for the ferry to take us back to the mainland. So we packed up, said our good-bye's to the island, and got ready to head back home.
A Happy Send-off
The trip back was just as smooth and enjoyable as the ride there, if a bit quicker. The island is teeming with so much life and culture, from school field trips and research labs to a crawfish boil and other local events. You can always find something to do on the island. Depending on when you go, you might even be able to catch historical reenactments, boating excursions, and some great fishing.
Overall, Dauphin Island is remarkable, with many cute nature stops and local businesses. With many places to visit and see while on vacation, it can be hard to pick just one. If you are in the mood for some island time and want to experience something new or adventurous, try taking a ferry and get a new perspective of life on the coast. While you're there, be sure to explore some of the local historical sites like Fort Gains, located right on the edge of the Island, or visit one of the island's excellent restaurants for dinner. Next time you are visiting the coast, or have a free day for adventuring, be sure to try out Dauphine island for a day-long excursion you won't soon forget. The journey is only half the fun when heading to the island, so take the ferry and get ready to "sea" what coastal living is like in a new way!
To check out the Island yourself, check the ferry schedule here
To check out the Sealab, click here
To check out where to eat, click here
Check out more fun photos down below!