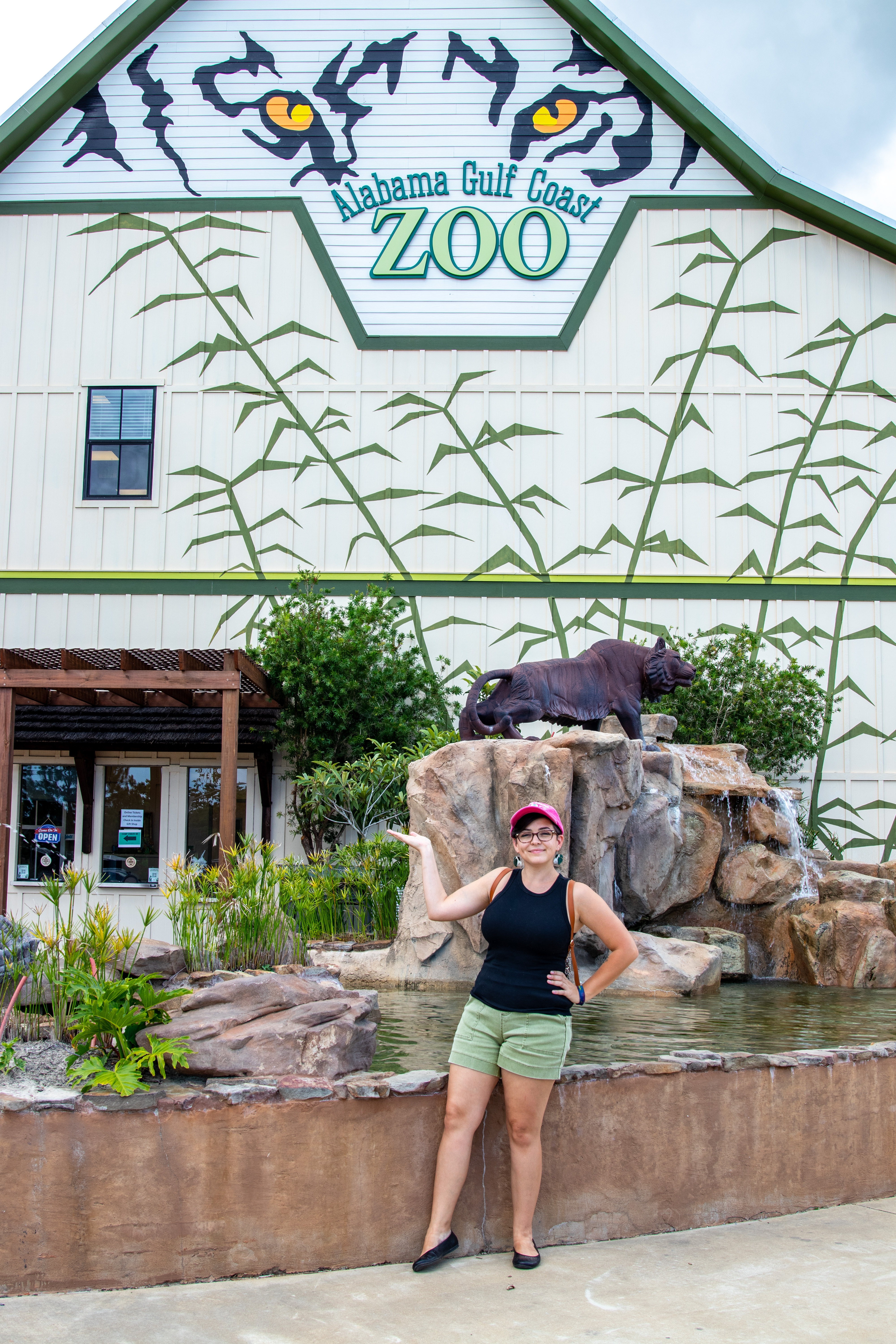 Welcome to the Jungle!
Hidden in the Coastal wetlands of Alabama, separate from the hustle and bustle of highways and fast food, is a hidden animal kingdom beloved by locals and tourists alike, the Alabama Gulf Coast Alabama Zoo, AKA The Little Zoo that Could. This wonderful spot is a treat for locals and tourists alike and is great for an early morning adventure or afternoon break from the busy beaches. They are open year-round and have interactive exhibits where you can see the animals up close. They even have themed special occasions almost every month, like Boo at the Zoo, the Zoo Brew, Animal Painting nights, and even weekly animal encounters (you can see the list of upcoming events here!).
A Hands-on Approach!
The AL Gulf Coast Zoo is all about education and conservation, and they have a very hands-on approach to it to get all the guests involved. In every animal encounter they offer, whether it's at the zoo or when they take a few special "ambassadors" to community events, you see how curious and eager people of all ages learn more about these fascinating creatures. One of the most essential roles of a zookeeper is to "educate and teach compassion for animals and to enlighten the public not just about the zoo animals but about the vital role all creatures play in our natural world. The conservation efforts we must continually undertake as a community to protect the Earth's millions of species and their habitats also happen to include the human species." This noble idea is seen in how they care and love for the animals and in the enthusiasm they share when talking about them. From the smallest turtle and fluffy bob-cats to alligator shows and insect houses, they are knowledgable and ready to show off the unique traits of any animal.
The inhabitants of the AL Gulf Coast Zoo are a richly diverse and decidedly unique population for a small-town community zoo, including the fun but elusive burrow-digging gopher tortoise, an endangered species native to this area. They work with animal centers and local native enthusiasts to promote healthy and native living for their animals and this area in general. They do this by offering animal encounters, where people are met with exotic animals and learn all about conservation and animal care, as well as how to protect where they live. They use some favorites like rabbits, reptiles, sloths, and birds. But they have a new animal ambassador that is being trained for future community trips.
Who let the dogs out?
The Gulf Coast Zoo offers over "118 species, 22 of which are critically endangered, endangered, vulnerable, or near threatened species."
The Al Gulf Coast Zoo is very fortunate to have three New Guinea Singing Dogs, a mated pair, and at the time of this recording, their baby. There are estimated to be between 300-600 of these animals left in existence! They were believed to be extinct for a little while around the 1970s. But these fantastic singing dogs were spotted and protected, so their population is slowly bouncing back. They act more like cats than dogs; they have their own mind and are independent, love to climb trees, and will yell at you till you feed them. I was happy to meet with one of the Carnivor Caretakers to learn about how they are working with the dogs to learn more about them and their lifestyle.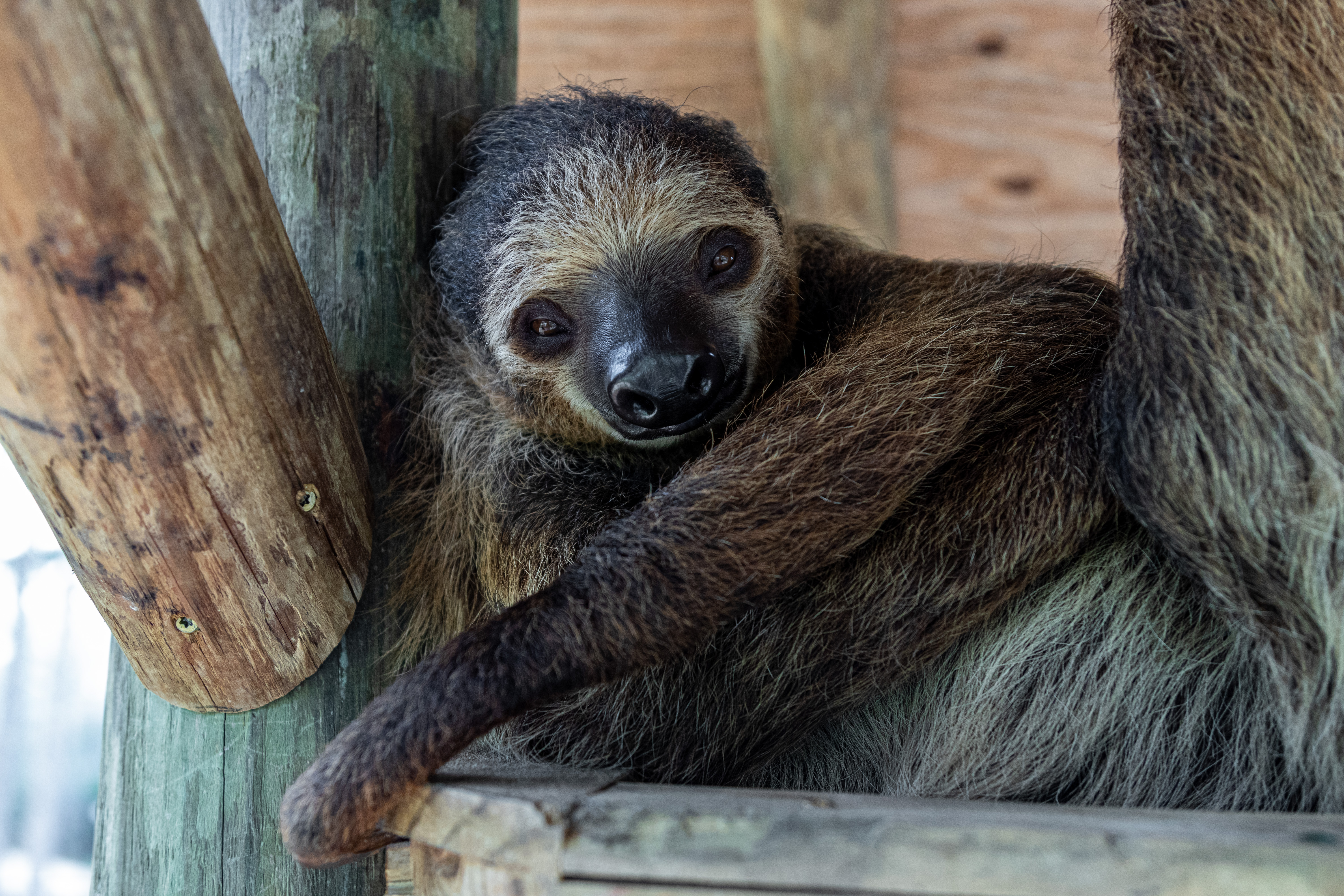 No Slothing Around Here
There is always something to do while at the zoo, well, unless you're a sloth. Otherwise, there are many fun activities the Zoo offers all year round! One of the more loved encounters they offer is lemur encounters, which I absolutely loved. The big ones, Mirabell, Luisa, and Bruno, were very friendly and loved to hang on my bag and hat. They were my favorite part, and I loved how they were so curious with everyone. The sloth encounter was a bit more laid back as we fed him a green bean, and he slept on afterward. The Reptile House was an exciting building to explore, but my nieces loved the butterfly exhibit and the Giraffe encounter. Amazingly, the butterfly and insect collection all came from one man who wanted to preserve and learn more about those amazing creatures and their lives. The giraffe was an adventure on its own, as its tongue was definitely reaching for all the leaves as you hand-feed them on a large platform. They also feature a fun merry-go-round and several kids' playground areas, with resting tables and seats for groups to take a break and relax.
A Wild Ending
The Alabama Gulf Coast Zoo is a staple to the area, and they care about animals and the community they are a part of as well. The Zoo provides an exciting part to any day for any age with all they can offer. If you are looking for a fun way to spend the morning before hitting the beach, taking homeschoolers on an educational trip, or looking for some fun afternoon ideas to beat the heat, the Zoo has a bit of everything. Next time you decide to make a trip to the Gulf Coast (or you're a local looking for a day out), check out the Alabama Gulf Coast Zoo, and don't forget to schedule some animal encounters to brighten up any day. Did I mention they also have a zipline for you thrill seekers? We hope you enjoy your trip and tell us all about it!