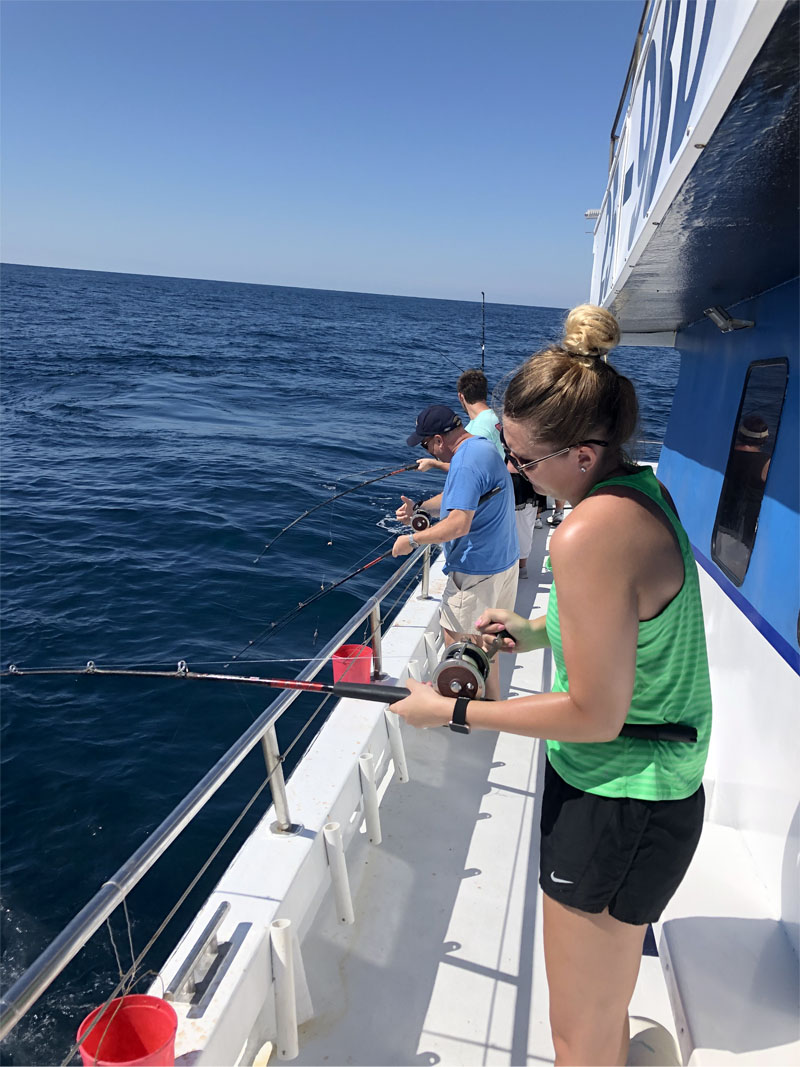 Welcome Aboard!
Embark on the fishing adventure of a lifetime as you climb aboard the Outcast Fishing Charter. This 65' fishing vessel that operates out of Caribe Marina provides an unforgettable charter fishing experience for passengers of all ages and all experience levels. When I boarded the boat, I had no fishing experience whatsoever. Zip. Zero. Zilch. Fishing is extremely popular in the Orange Beach area, so I gave it a chance. To my delight, Captain Seth Hartleroad and his crew on the Outcast made my experience nothing shy of perfect. They are helpful along the way, but also give passengers the opportunity to fend for themselves and allow them to get comfortable with the equipment. By no means is this fishing trip strictly for beginners, in fact, there are many experienced fishermen on board these charters. We all could choose just how much fishing we wanted to do, and I wanted to dive right in.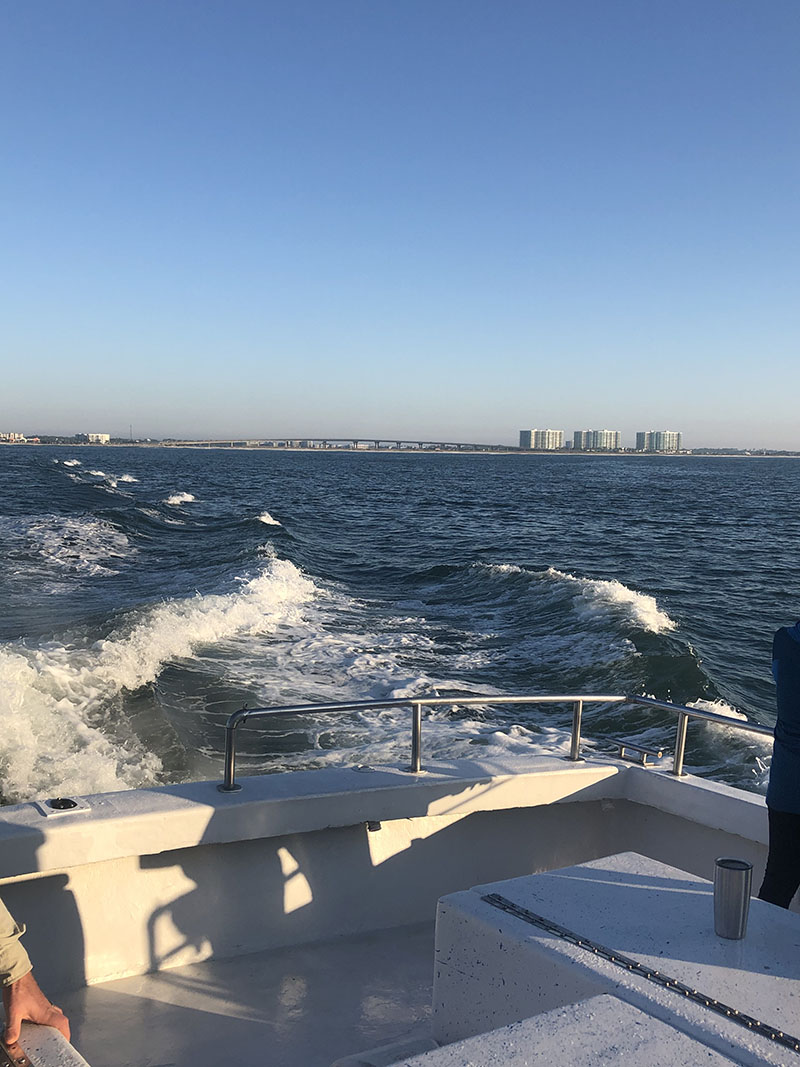 The Journey Begins
As we pulled away from Caribe Marina, everything came to life once we were on the water. Caribe Resort was sparkling, the white sand coast extended for miles, and the teal water was crystal clear. The comfortable ride in the air-conditioned cabin and the rocking of the boat caused me to doze off. When the vessel came to a stop and I woke up, we were in the middle of the Gulf of Mexico; there was no land in sight. I had no sense of direction, and at that moment, I was thankful I was a passenger and Captain Seth knew right where we were. We began to put bait on our hooks and drop our lines to the bottom of the seafloor. After not too long, people all around the boat (including me!) began shouting, "Fish On! Fish On!" and we quickly saw that good things come to those who bait.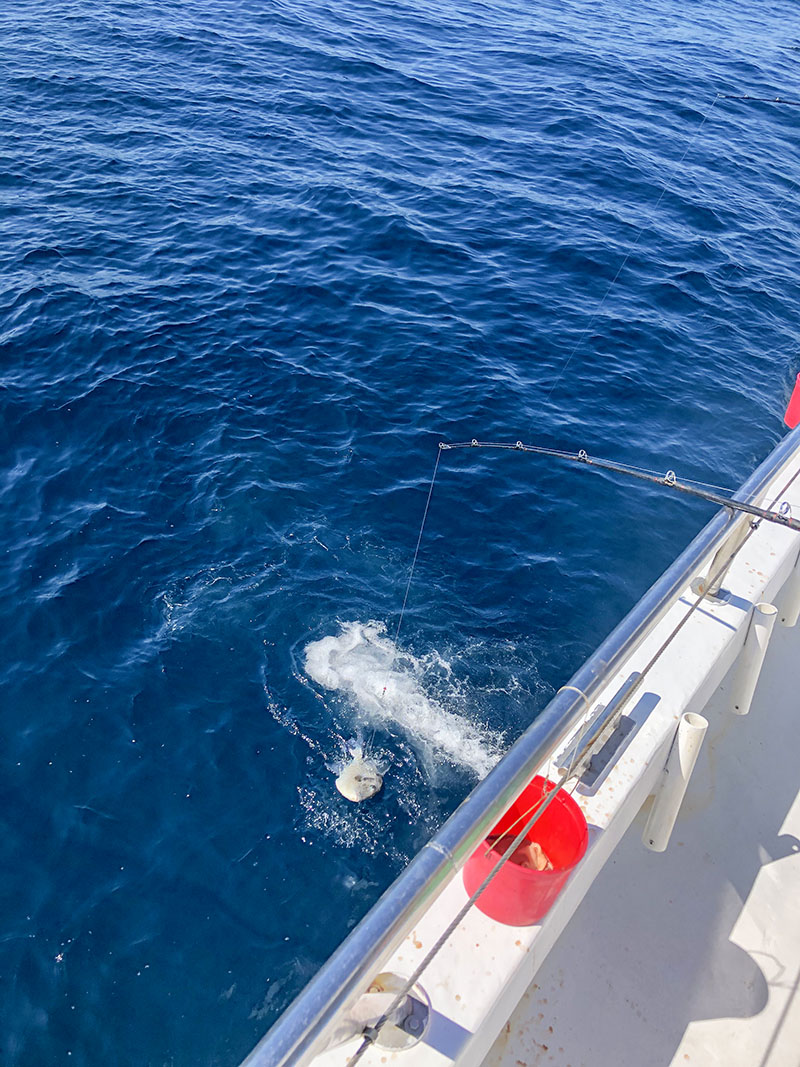 Man vs. Fish
I took the Six-Hour Deep Sea Bottom Fishing Trip that Caribe Marina offers. This trip travels about 12-25 miles out and typically consists of an hour and a half ride to the fishing location, three hours of fishing, and an hour and a half ride back. There was a lot of action in those three hours of fishing. It did not take long each time I dropped my line until there was a tap, tap, and I had to get to reeling. We primarily caught Vermillion Snapper, Mangrove Snapper, and some hefty Amberjack. There were a few other species of fish on our lines throughout the day, including Remoras, Black Snapper, Strawberry Grouper, Catfish, Red Snapper, and Triggerfish. Not everything that we caught could be kept and brought back to shore. We were cautious about understanding the closed fishing seasons and the size restrictions in place for each type of fish. Wrestling the Red Snappers was a lot of work, and as soon as we pulled them up, we quickly released them from our lines, and they went swimming away. I can only imagine how many Red Snappers they catch when they are in season!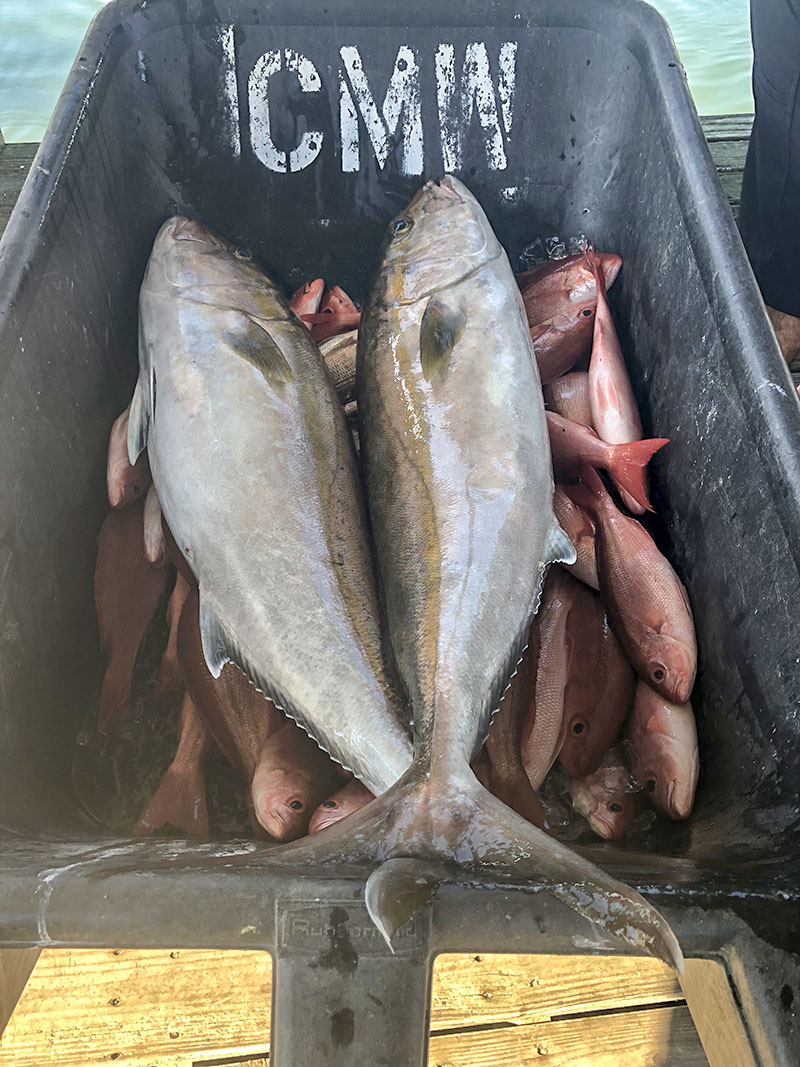 Holy Mackerel
On the six-hour fishing trip, each guest has their own fishing pole. We had a lot of success, and due to the "sweet spots" that Captain Seth took us to, the boat as a whole caught nearly 130 fish. There are also larger fishing poles that are baited and pulled behind the Outcast to troll. These large poles were catching Spanish and King Mackerel, and guests had the opportunity to reel them in if they wanted to do so. But fair warning–those fish put up a fight! Many of the guests on board tackled the challenge and did a great job winning the battle. As for me, I enjoyed watching from a distance and cheering them on.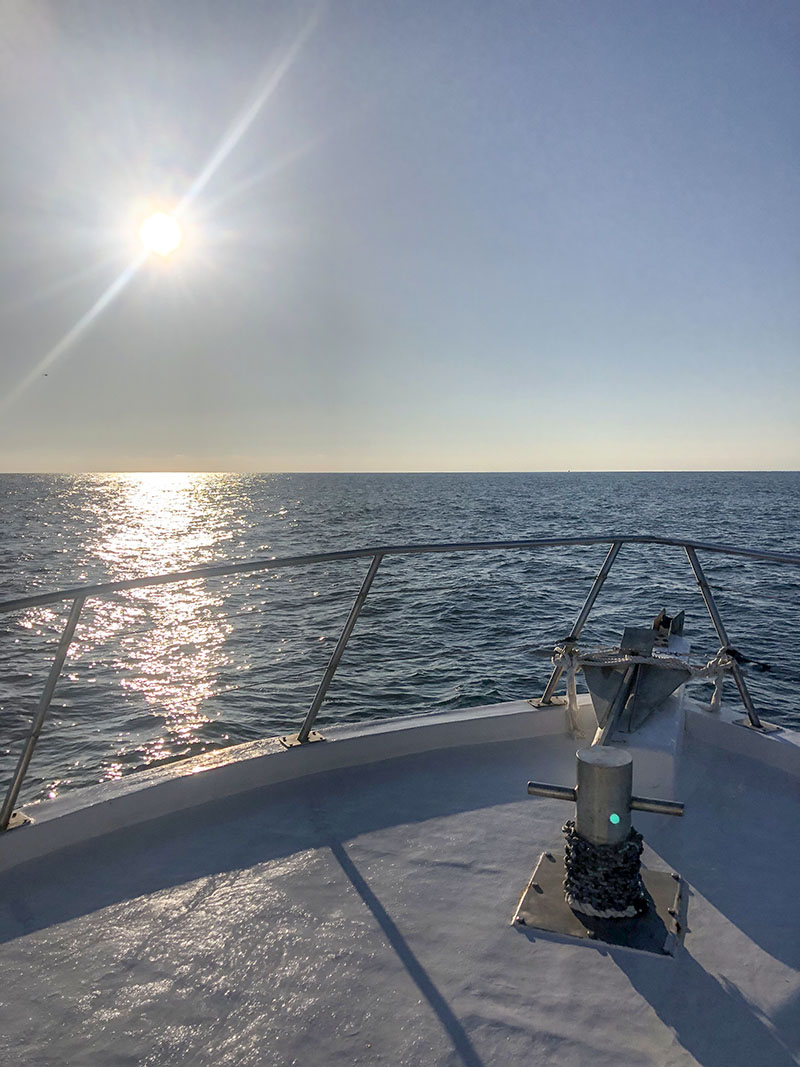 Keep Your Eyes Peeled
Another fantastic addition to this fishing trip is the other marine life we saw, besides the numerous fish we caught. We saw bright colors of yellow, blue, and green through the translucent water. Sure enough, it was a small school of Mahi-mahi, also known as Dolphin. They swim close to the surface, and their bright colors are hard to miss, they are lovely creatures. Quickly, we cast our lines into the water in hopes of catching these spectacular (and tasty) fish, but they swam away as fast as they could. We also saw a baby shark lurking as we were reeling in some fish. This shark came near the surface of the water, likely interested in both our bait and our catch. It was a small shark, but it moved mysteriously. Knowing it was young, I could not help but wonder if Mama shark was near-by. Of course, someone on board started singing "Baby Shark."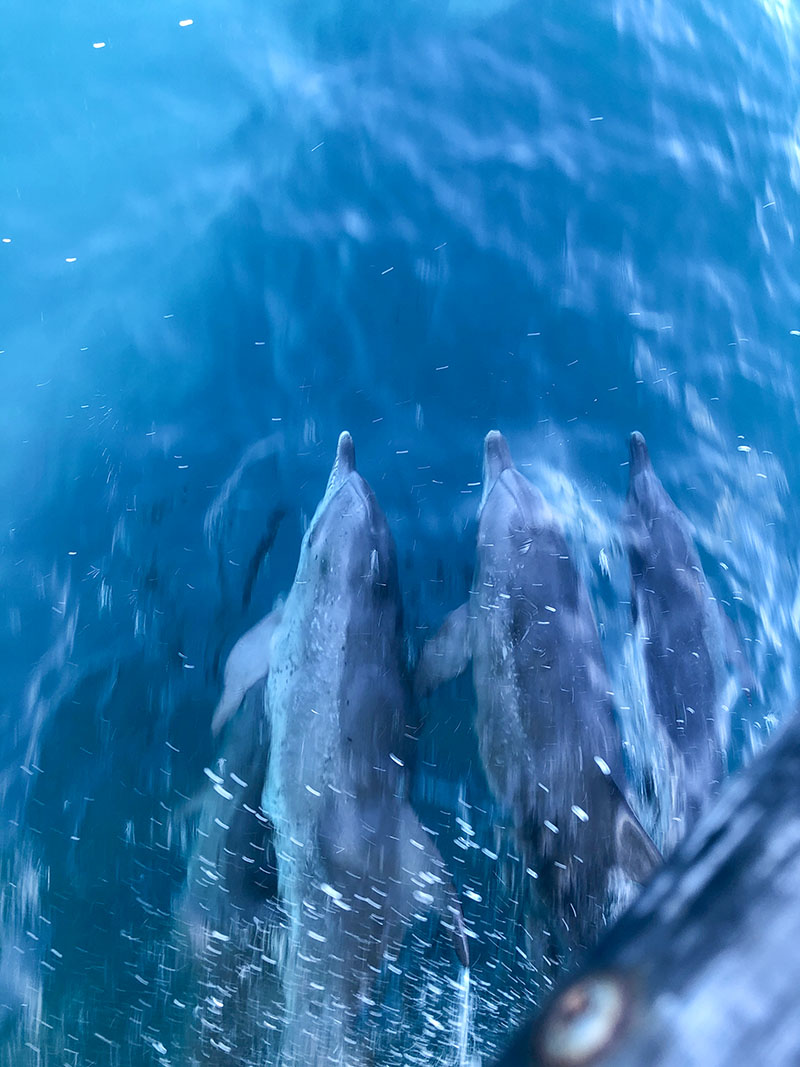 Bottlenose Beauties
I was fished out by the end of the 3+ hours of fishing, and we began the 25-mile journey back to the dock in Orange Beach. The sun was out, but the breeze was cooling. Someone on board spotted Bottlenose Dolphins up ahead, so I quickly went to get a closer look. About six dolphins were swimming right underneath the bow. I could tell they enjoyed the waves that the boat made as they gracefully swam together and occasionally would pop up out of the water. They are playful in the way they move through the water, yet some of the most graceful creatures I have ever seen.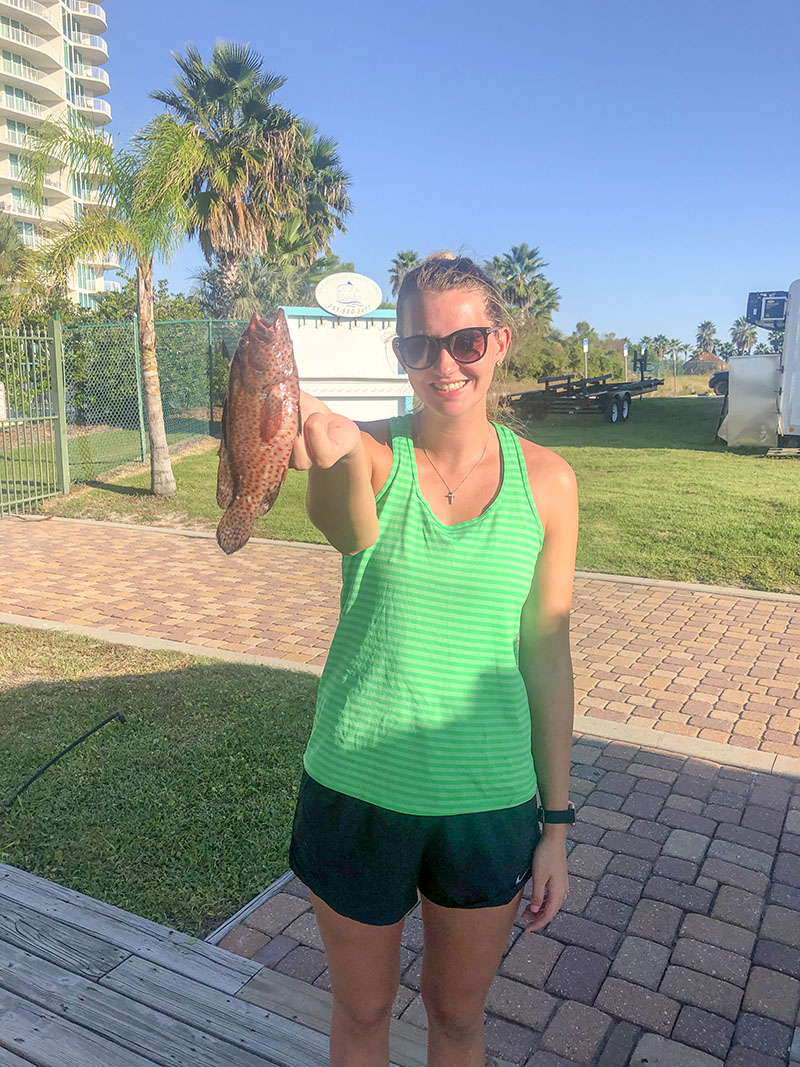 Catch of the Day
The Caribe Marina staff was accommodating in all aspects of making this trip happen, and they also had the answers to any questions that I had prior to departure. When we arrived back to land, we displayed all of the fish that we caught, and people began snapping their pictures with the biggest catch of the day. That was a huge fish, and I was not mentally prepared to handle that beast. I settled for my picture with the only Strawberry Grouper we came back with, which I even caught myself. I admired its red and orange speckled appearance, and we posed for our photo.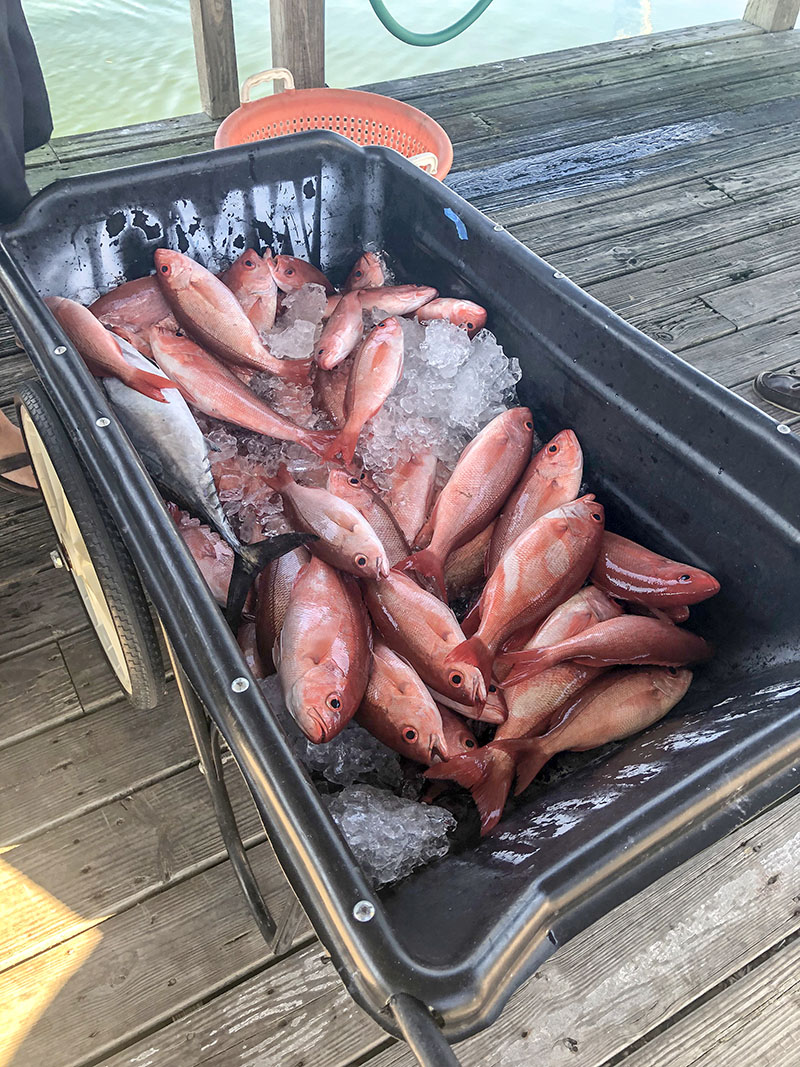 I'm Hooked!
The crew began to clean and fillet all of the fish we caught, and proceeded to divide them evenly among all guests. It ended up being a lot of fish to take home, and it sure felt like a successful day of fishing! Caribe Marina offers other trips in addition to the six-hour trip. There are also four, eight, and ten-hour trips. I plan to fish with them again in the future, and I might try one of the other voyages offered or retake the six-hour trip because I had such a great time!
Needless to say, I have a very full freezer and I am hooked on fishing! Next time you are looking to get out on the water, be sure to check out Caribe Marina!