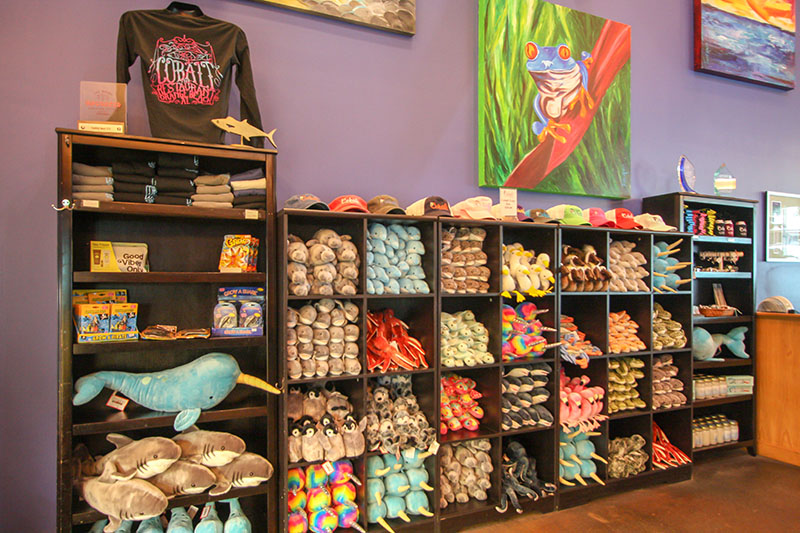 Come On In
Finding the right place to eat can be a struggle, especially when there are so many places to choose from. Restaurants line the Orange Beach streets, so which one do you pick? Let me tell you: you pick the best one. Welcome to Cobalt, The Restaurant, where you just have to show up hungry and they do the rest. In addition to their sizable menu, they also offer lots of fun souvenirs and apparel to browse on your way in and pick up on your way out. If you choose to arrive by boat, they have numerous boat slips available for use, making it one of the few restaurants in the area that is accessible from the water. Fine dining, live music, and unbeatable views: this is Cobalt, The Restaurant.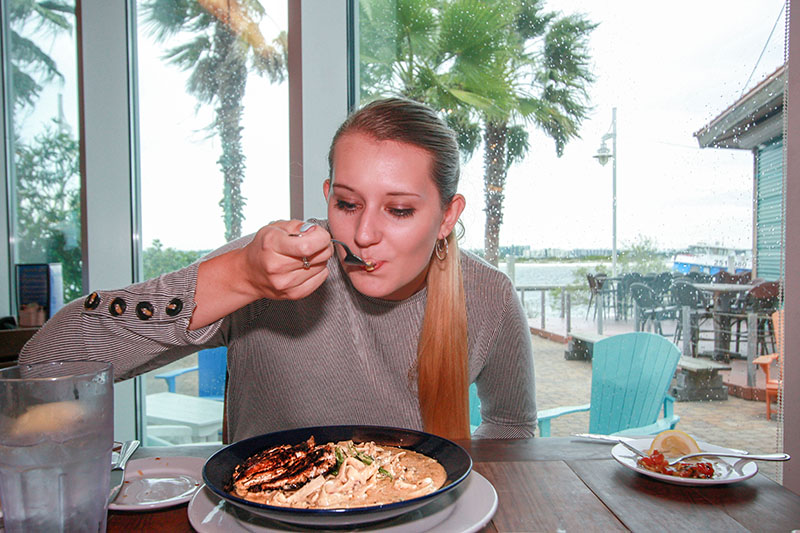 Coastal Cuisine at its Finest
Coastal contemporary cuisine was just what I was in the mood for as I was seated at my table. The spacious restaurant area was inviting, and as the servers walked by with trays full of food, I knew this was going to be a tasty experience. The views from Cobalt are spectacular. Situated below the Perdido Pass Bridge, Cobalt is right on the water, and the patio seating does not disappoint. As I soaked up the warm sun, watched the boat traffic, and caught a glimpse of some playful dolphins, I realized I could sit there forever. The outside seating area also features a gazebo where musicians showcase their talent with live music during the spring and summer seasons. With floor-to-ceiling glass windows, the tables inside have all the same breath-taking views, but with a more intimate, private feel at the table.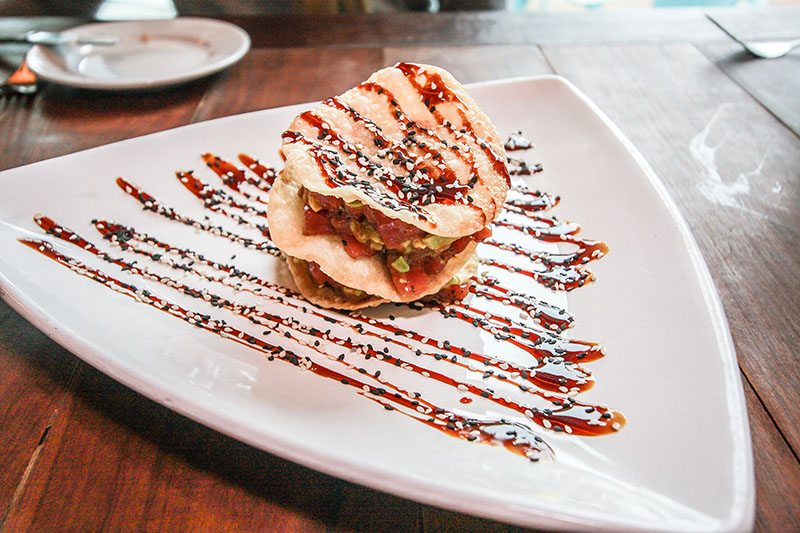 Bring on the Food
I started with one of Cobalt's most popular dishes, their Tuna & Avocado Stack. It is an appetizer, and the perfect plate to share among family or friends as you prepare for your main course. This dish is wonderfully created with Sashimi grade tuna and avocado marinated in a sweet Asian sauce and served between two crisp, homemade wontons. Fresh meets flavorful in this one-of-a-kind dish. Although this plate is an appetizer, I changed my mind about sharing it once I took a bite.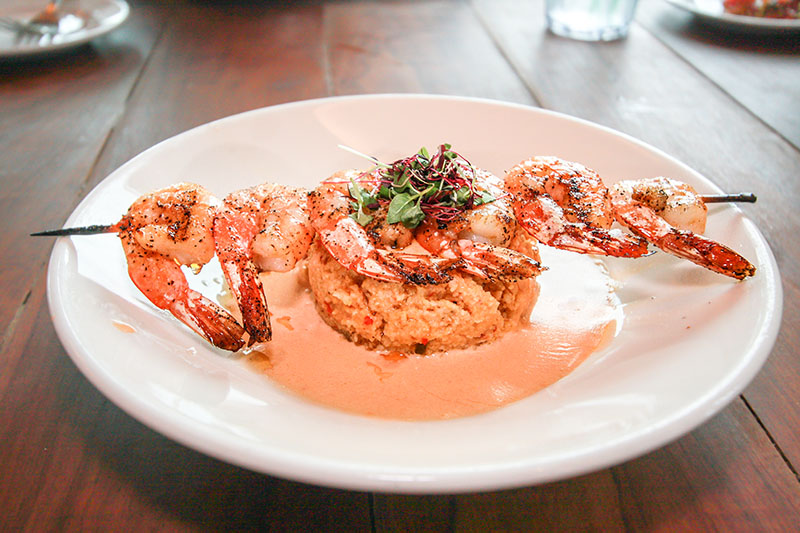 Southern Seafood
Cobalt is known for their Gulf-caught shrimp in a variety of dishes, but their Gulf Shrimp & Grits is one of the best. This plate is composed of half a dozen large Gulf shrimp chargrilled, skewered, and served over roasted red pepper and fontina cheese grits with a tomato cream sauce. If you are on the fence between some of the shrimp entrees, may I strongly recommend this one. Talk about a Southern masterpiece!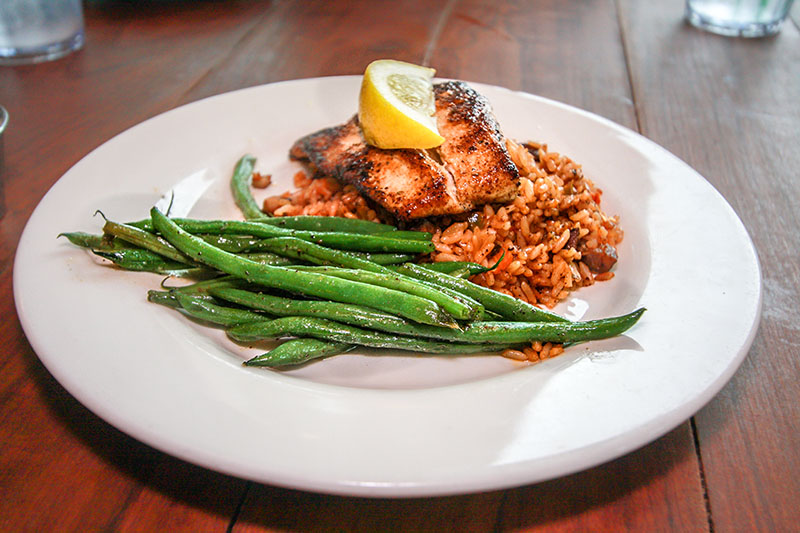 Fresh Catch
A unique feature that Cobalt offers on their menu is the "Fresh Catch" entree. When I was fortunate enough to try some of their amazing food, the fresh catch of the day was Amberjack. This juicy, succulent fish was blackened just right and served with jambalaya rice and brown butter green beans. The fresh catch entree can be ordered grilled or blackened, but we all know blackened is the obvious choice, just look at that fish! Are you getting hungry yet?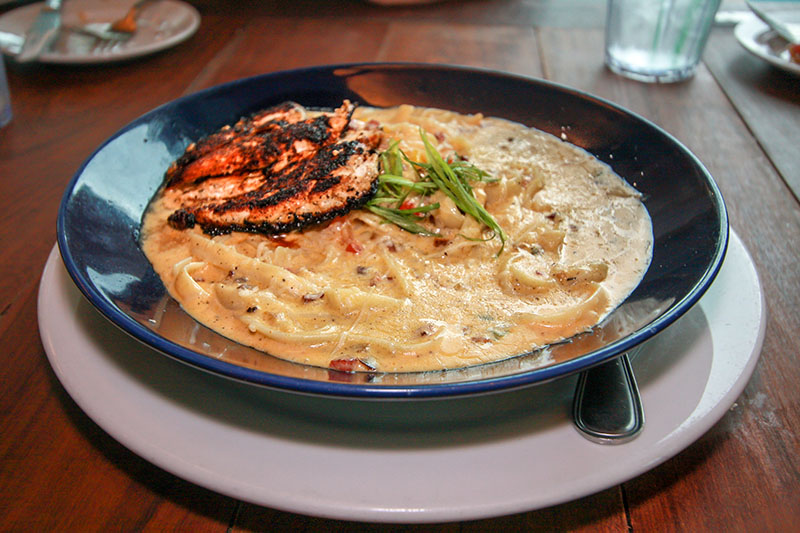 Last, But Certainly Not Least
The final dish I tried was nothing shy of perfection. Not to be dramatic, but this was the best food I have ever tasted. Although most restaurants in the area, including Cobalt, primarily serve seafood, I requested a non-seafood item to include in my experience for anyone out there who might not be a seafood lover. You know who you are. My waitress, Stacy, said she had the perfect plate in mind. Another one of their signature meals was placed right in front of me–Zydeco Chicken. This pasta dish is a blend of blackened chicken with spicy housemade tasso ham, sweet onions, bell peppers, and fresh fettuccine tossed in Cajun alfredo. So many unique yet intense flavors combined, and my taste buds were a fan.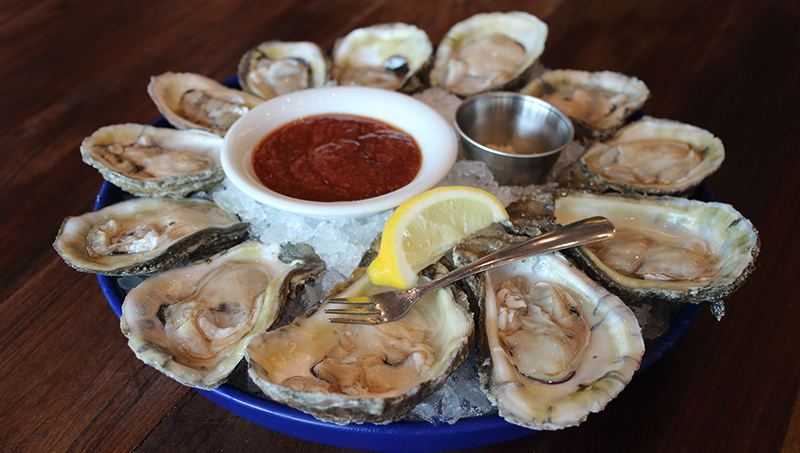 The Happiest Hours of the Day
Cobalt has a wonderful daily Happy Hour with specials on food AND drink! During the fall and winter months, they have Happy Hour from 2-6pm, where they offer specials on select drafts, house wines, and appetizers. This is a perfect way to experience some of their delicious appetizers, such as Raw Oysters, Cheese Pizza, Firecracker Shrimp, and Cobalt Caviar, and take in the stunning views to wrap up the day. When the warmer weather is back in the spring and summer, Happy Hour takes place from 3-5pm. Let them show you just how happy these hours are!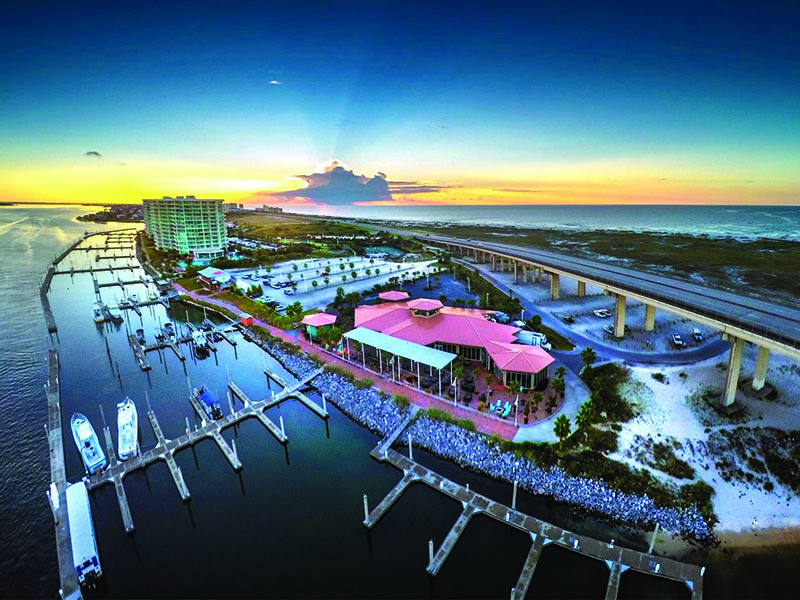 Upcoming Events
Cobalt has some incredible events coming up, so if you are looking for something to do in the area–look no further. During the winter months, they feature a Sunset Menu from 4-7pm. The Gulf Coast has some of the best sunsets, and they are even better when paired with delicious food. Every two weeks, Cobalt implements a menu featuring dishes from a specific country around the world. Check out the South American menu going on now, and try the Shrimp Ceviche, Feijoada, or Churrasco with Chimichurri. 
From December 2-6, Cobalt is offering a BOGO Gift Card Promotion: buy a gift card and receive a free gift card of equal value, valid at any of their sister restaurants, like Luna's Eat & Drink, Cosmo's Restaurant & Bar, BuzzCatz Coffee & Sweets, or GTs On The Bay. On Tuesday nights, check out Dinner and Dancing where they offer Happy Hour from 2pm-close, their Sunset Menu from 4pm-close, and Dancing with Groovinators from 7-9pm. Bring your best moves and dance the night away! In preparation for the upcoming holidays, Cobalt will have a Thanksgiving Buffet and a New Year's Eve Buffet. What better way to spend the holidays than eating?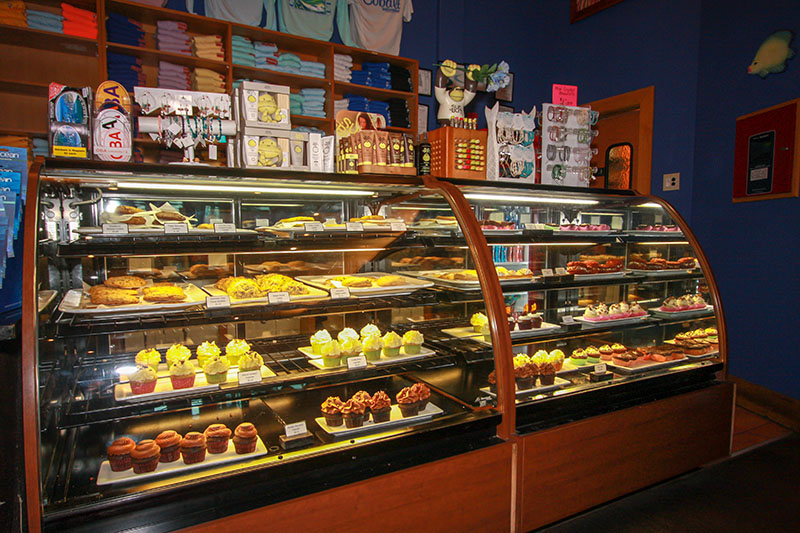 The Icing on the Cake, Literally
Cobalt offers the full package: a sizeable menu, specialty cocktails, catering, a private dining room, a large outdoor seating area, as well as a gluten-free menu. When I say you have to try this place, I mean it, but don't just take my word for it. Cobalt has received many accolades, including:
Named "The Best Seafood Restaurant in Alabama" 

Earned "Silver Retailer of the Year" from Alabama Retail Association

Named "One of Alabama's Best Kept Secrets"

The Cobalt Burger named one of the "Top 50 Burgers in Alabama" according to Yelp

Tuna & Avocado Stack named "A Must-Try at Alabama Beaches" 
Be sure to save room for dessert when you are dining at Cobalt. Their extravagant desserts are on display at the front of the restaurant, and it will be hard to pick just one! Next time you eat at Cobalt, grab a dessert on your way out, you will be glad you did.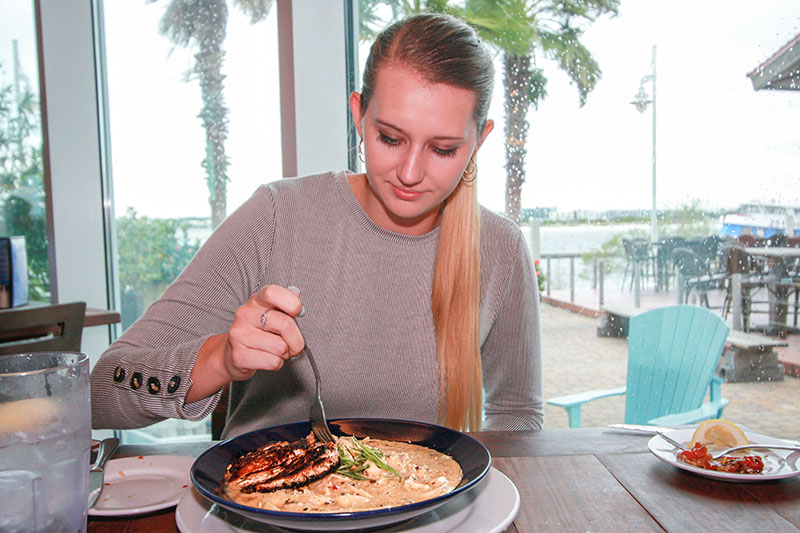 I would like to personally thank those involved for blessing my taste buds with these remarkable plates. Thank you to Dina, with Justice Marketing Group, Bryce, the Manager on Duty, and Stacy, my new favorite waitress (seriously, you have to ask for her)! Also, a special thanks to the three chefs who work their magic every day, Reed Moody, Executive Chef, Nick Norman, Sous Chef, and O'Shane Bailey, Sous Chef. I have no doubt that every dish that comes out of the kitchen is top-notch. What will you try first?