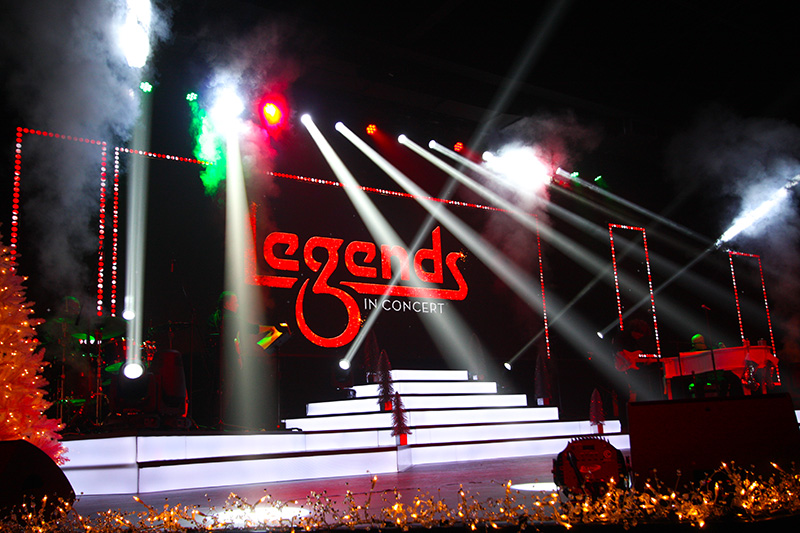 Honoring Legends 
Performing almost nightly at the Theater in Downtown OWA is the cast that makes up the Legends in Concert show. It is an award-winning, fan-favorite, Las Vegas original. Legends in Concert is the pioneer of live tributes and is the longest-running production show in Las Vegas history. We are so lucky to have such a unique yet incredible production right in our very own Coastal Alabama community. Legends in Concert strives to honor the most influential icons, many gone too soon, by allowing audience members to experience the music, fashion, and memories of some of the most famous legends over the decades.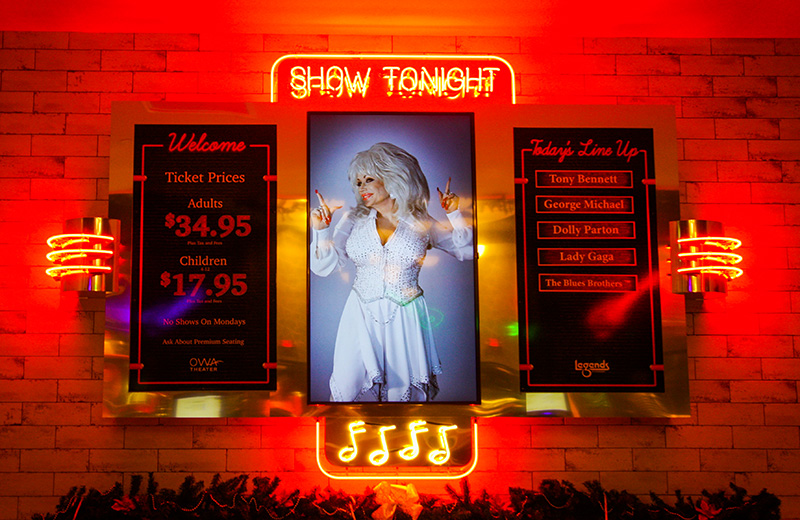 Date Night 
After watching the full performance, I genuinely feel like I have seen the real celebrities in concert. These tribute artists are incredible! They look the part, act the part, but most importantly, sound the part. The show runs six nights a week, with matinees on the weekends, and dark on Mondays. It makes for the best after-dinner activity, a fun date night, or a family outing.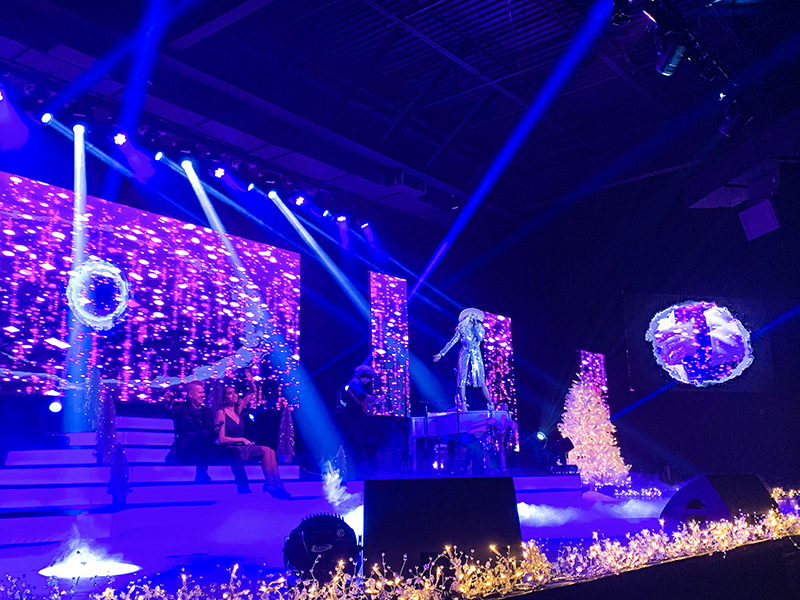 Celebrate the Holidays Here
The line-up at Legends in Concert is changed periodically. Until the end of the year, the artists are performing the Ultimate Holiday Spectacular Show. It is the perfect holiday event for those visiting Coastal Alabama, and for the locals who call our beautiful beaches home. This special holiday act features tributes to George Michael, Lady Gaga, The Blues Brothers™, Dolly Parton, and Tony Bennett. Plus, the Legends Dancers, Legends Singers, and Legends Band are a huge contribution to every act in every show. I was so impressed by everyone's talent. I even closed my eyes for a second, and I thought that Dolly Parton was in the same room as me.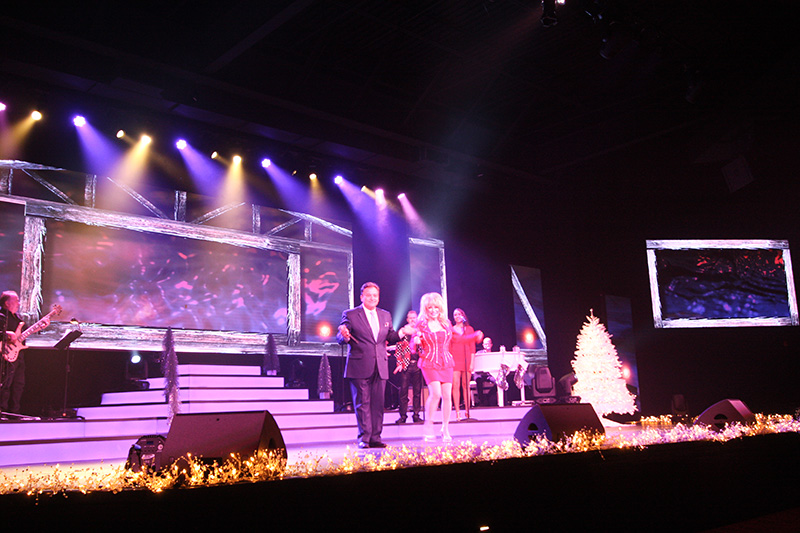 San Fran Man 
Tony Bennett lit up the stage during his numerous duets performed with other acts, as well as through his role as MC. He was hilarious but also nailed all of the classic Tony Bennett songs. I sang along to "I Left My Heart In San Francisco" and "Winter Wonderland." Carmen Romano, who tributed Tony Bennett, took control of the stage and engaged with the crowd throughout the night. Being in a live audience at Legends in Concert adds to the enjoyment of the show and makes the experience unforgettable.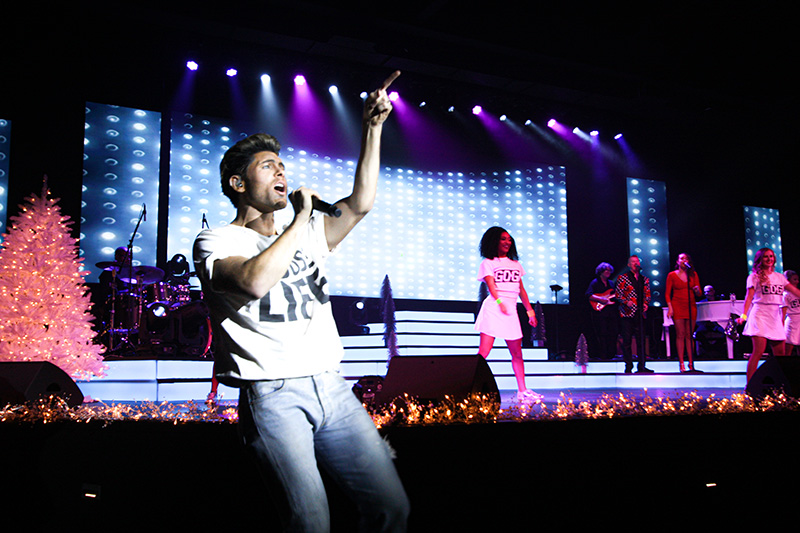 The Vegas Feel 
Out strolls a leather jacket, aviator wearing rockstar with a 5 o'clock shadow, cross dangle earring, and long, flowy hair. I had to do a double-take–is that George Michael? Sure enough, Michael Knight, as George Michael, starts to serenade the audience with "Faith." Numerous outfit changes later, a white t-shirt reading "CHOOSE LIFE" is presented, and only the true Wham! fans know where this is going. The Gogo dancers are twirling, and my favorite song begins, "Wake Me Up Before You Go-Go." George Michael's performance was spot-on; it was engaging, bright, and made me want to dance. It felt just like Las Vegas.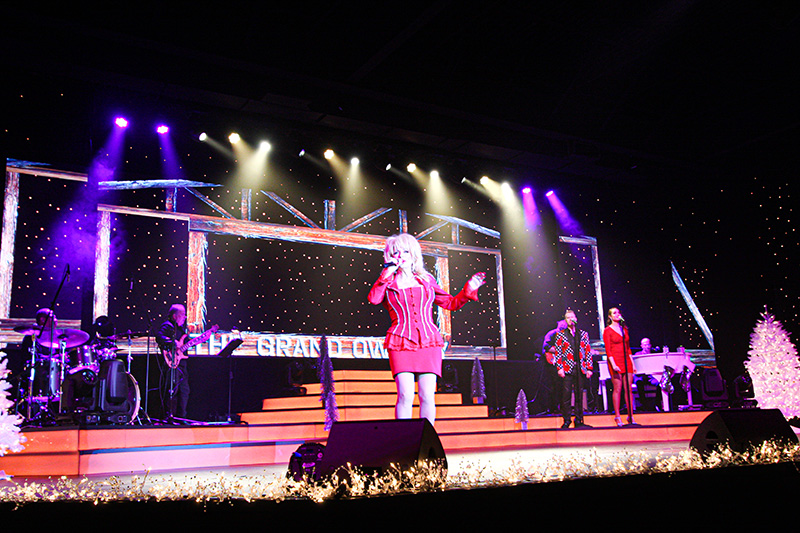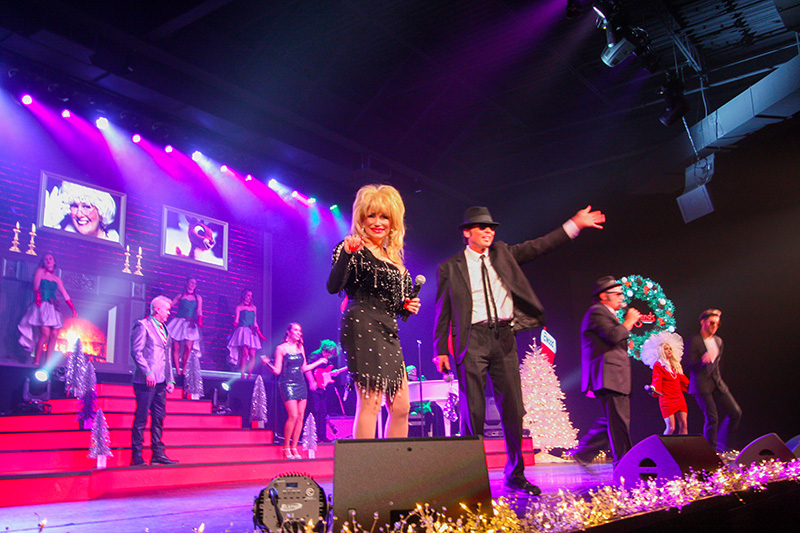 Queen Dolly 
I believe that everyone has a doppelganger, somewhere on planet Earth, that looks, walks, talks, and dresses just like them. Maybe you have met yours, or perhaps you haven't, but could it be? I don't just mean Halloween costumes, or tribute artists, although costumes, makeup, and wigs can work wonders to create a look-alike.
There is no doubt about it, the Legends in Concert Dolly Parton is the real Dolly Parton's doppelganger. This gal, Sandy Anderson, is perfect for the Parton role. Her sweet voice, stage presence, and even the famous giggle that Dolly Parton often has, like in her famous song "9 to 5", was on point. I am a huge Dolly Parton fan, and after fangirling hard at this show, I feel like all of my dreams have come true. She stretched her range as far as Dolly can in "I Will Always Love You." As she sang this to the crowd, I wanted to sing it right back because I will always love you, Dolly Parton.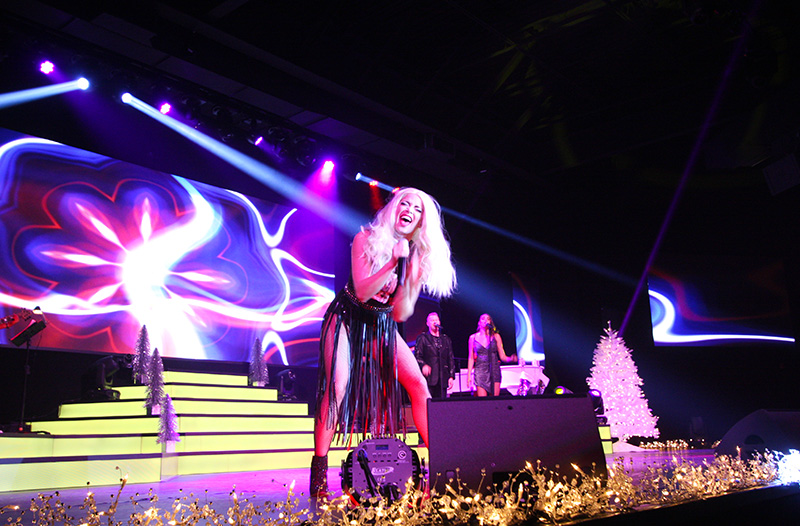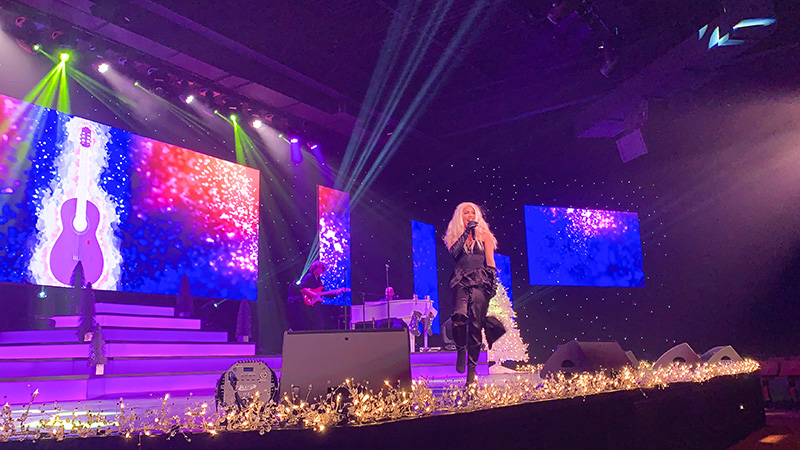 Seeing Double 
Legends in Concert is a family-friendly show, and I believe that people of all ages can enjoy it. The line-up of artists is appealing to all; it is a performance that has something for everyone. The next performer was Lady Gaga, and she was the one I was looking forward to all night. She is one of the greatest pop sensations of my generation. With her recent feature in the movie A Star is Born, you could say I am a huge fan. I am also a huge fan of Erika Moul, who played the role of Gaga in the Legends performance. Moul was easy to connect with onstage, as she put her heart and soul into every song she sang.
The Lady Gaga hits just kept coming. She made her act so memorable by adding the piano version of "Million Reasons" and belting out the strong lyrics of one of her latest hits from A Star is Born, "Shallow." I know I wasn't the only audience member who had goosebumps and shed a few tears. Each song brought a bold new costume with wild hair, makeup, and props. Some of her older, most popular hits were sung, like "Paparazzi," "Bad Romance," and a Christmas classic, "Santa Baby."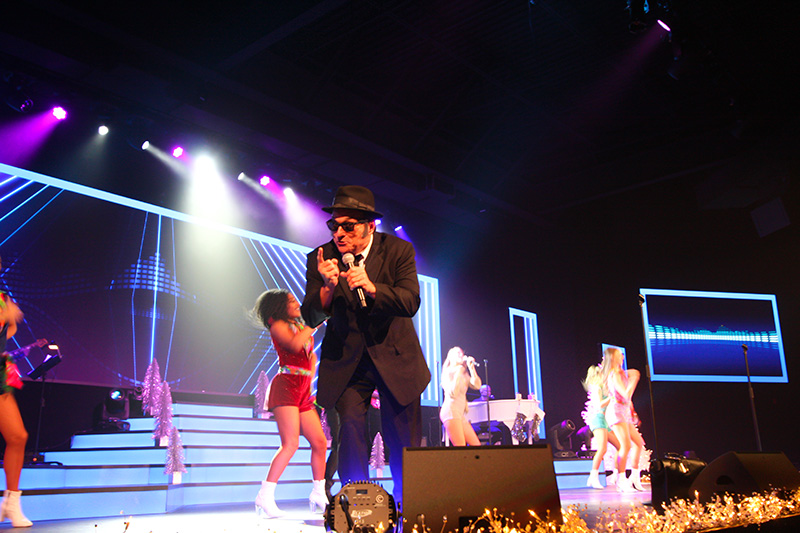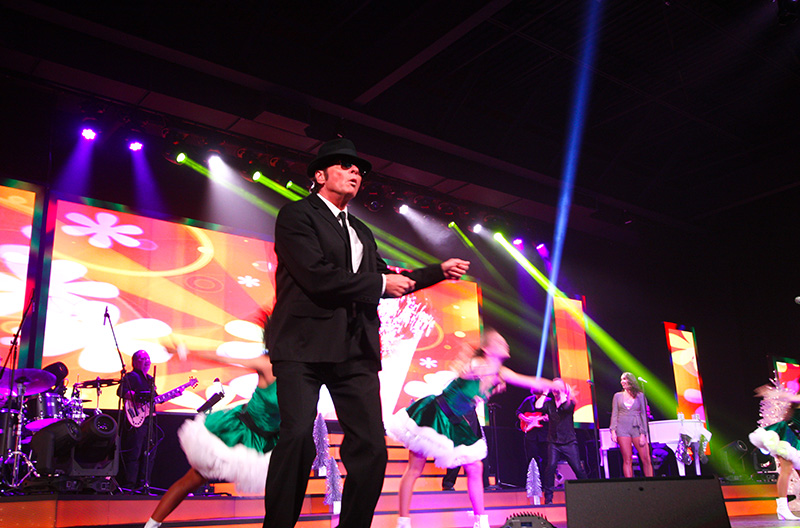 Shout!
The final act of the night was the perfect set of men for the grand finale. The Blues Brothers™ took the stage in their black fedoras, tinted sunglasses, and tuxedos. The duo was phenomenally resemblant of the group with their high energy, dance moves, and even a harmonica solo.
Russ Peterson and Carmen Romano, the tribute group, performed all of my favorite Blues Brothers™ songs, like "Do You Love Me?" and "Soul Man," which is still stuck in my head, and probably will be for a while now. They wrapped up the night with the collaboration of all the artists in a combined performance of "Shout." The entire crowd was up on our feet and, you guessed it, shouting!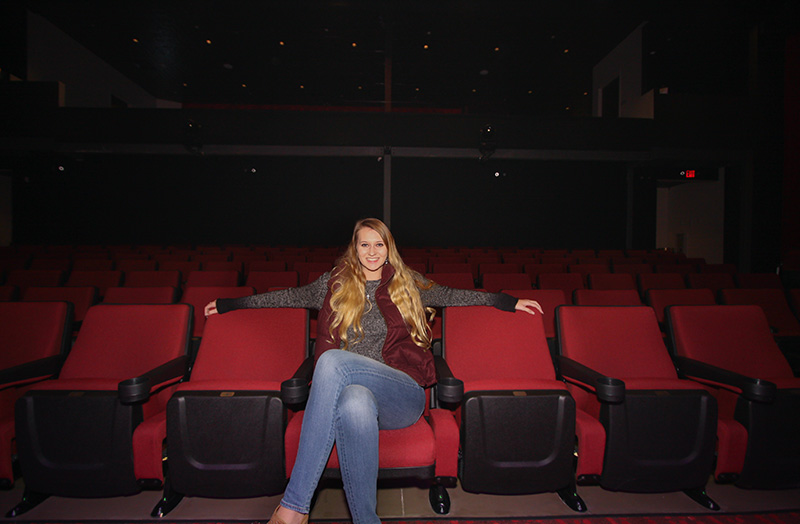 Christmas Cheer 
From beginning to end, the night was filled with excitement and anticipation with a sprinkle of Christmas magic. Legends in Concert in Downtown OWA is a great way to spend time with your family or friends this season. The show blew me away, and I know I will be back again with my family before the end of the year. I am not much of a performer, and I would rather be in the crowd than on stage. These performers left a lasting impression on all who attended, and I can't wait to sit in these seats another night.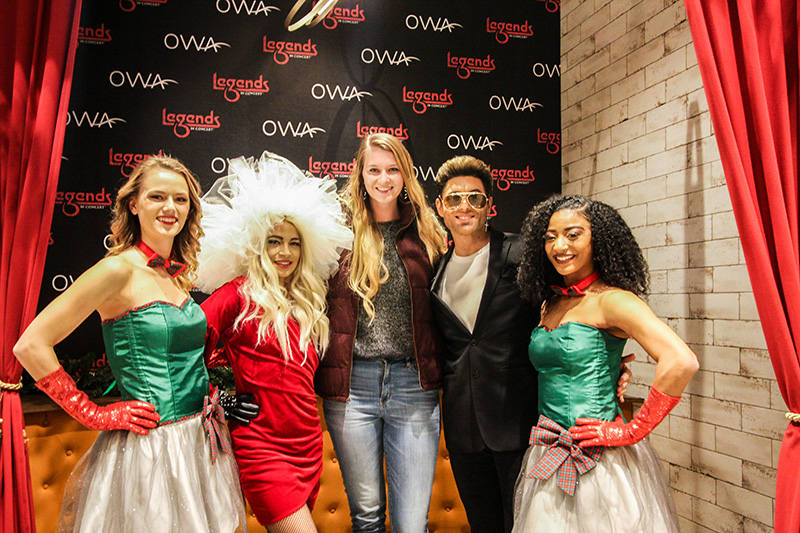 One in a Million
I hope my experience at Legends in Concert has inspired you to see the production for yourself. Trust me, there is much more to experience than my brief overview, you have to see it to believe it. The elaborate theatrical sets, magnificent costumes, and special effects are just the foundation of this award-winning show. Legends in Concert first debuted on May 5, 1983, and has since been seen by over 30 million live audience members.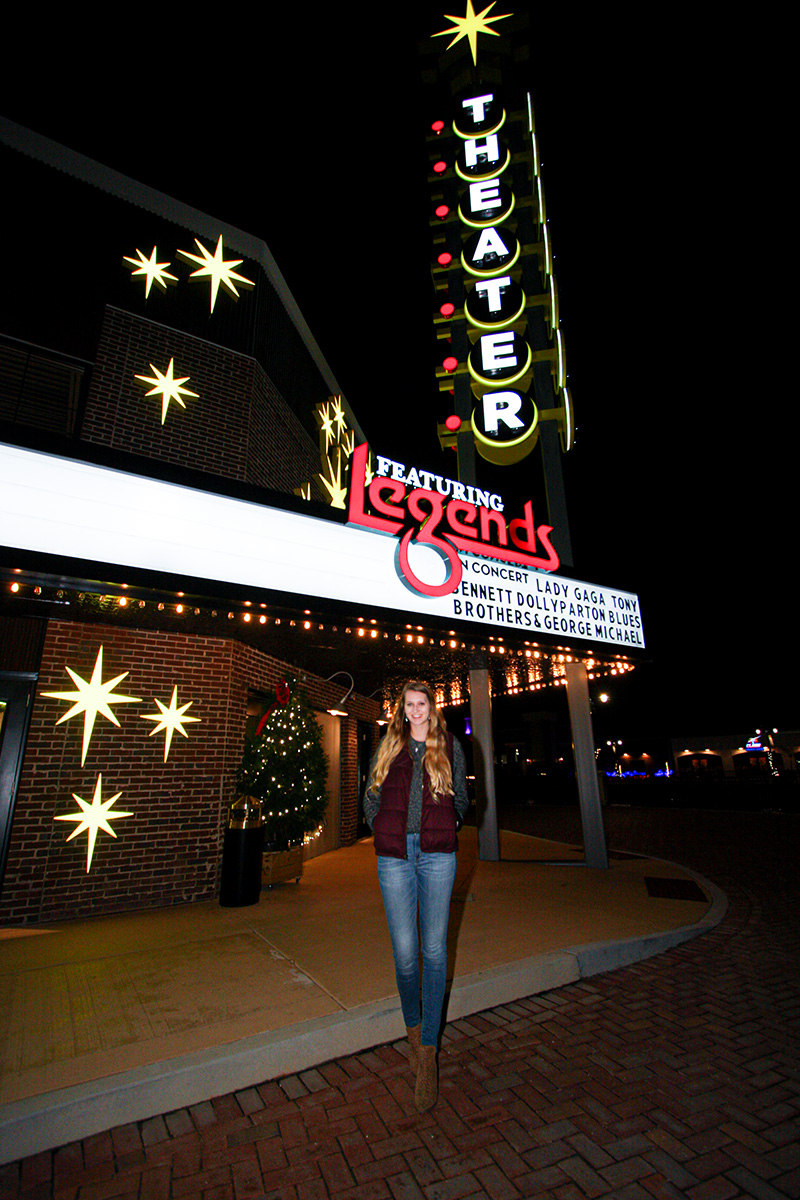 The Grand Ole OWA-pry 
Tickets are available for purchase on the OWA Legends in Concert website. Stay tuned for the latest updates, line-up changes, and all things Legends in Concert by following their Facebook, Instagram, and Twitter. I can't thank the performers enough for giving their all, day in and day out. I would also like to extend a great thank you to Alvita Russell, Sales and Marketing Manager, and Susan Scannella, Production Manager. It was a great pleasure to work alongside them and be able to experience such a fun night! If you are in town for the holidays, this is something you will not want to miss!