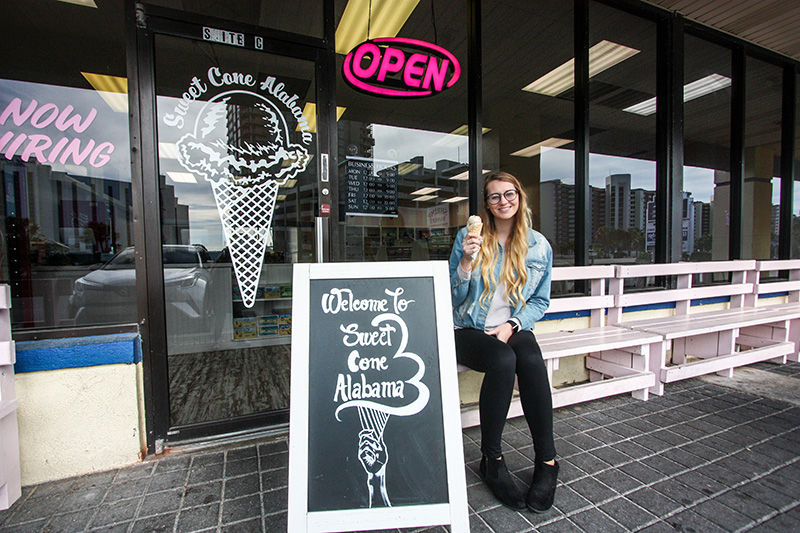 Obey the Law 
Did you know…it is illegal in the state of Alabama to walk around with an ice cream cone in your back pocket? You probably didn't, but now you do! You're welcome–I may have just saved you from quite a hefty ticket. Before you start to worry, there is the most adorable local joint for you and your friends or family to enjoy an ice cream cone to avoid this very issue. Allow me to introduce you to Sweet Cone Alabama, the cutest ice cream spot around–with the sweetest name I might add.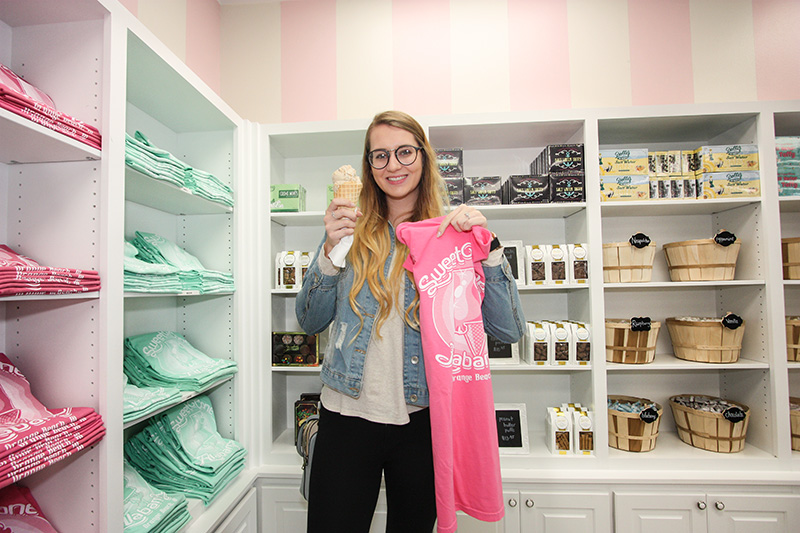 Show Me the Souvenirs
I'm a sucker for souvenirs and store designs, especially when they're bright, colorful, and aesthetically pleasing. The pink and white striped walls instantly brought a smile to my face as I walked through the door, and I loved the t-shirt selection at Sweet Cone Alabama. It was adorable that some of the shirts matched the ice cream flavors in the freezers. I can't wait to rock my new shirt in Orange Beach this summer. This trip to the ice cream shop got me excited for summer again–I always crave the hot sun and beach days! Who's with me?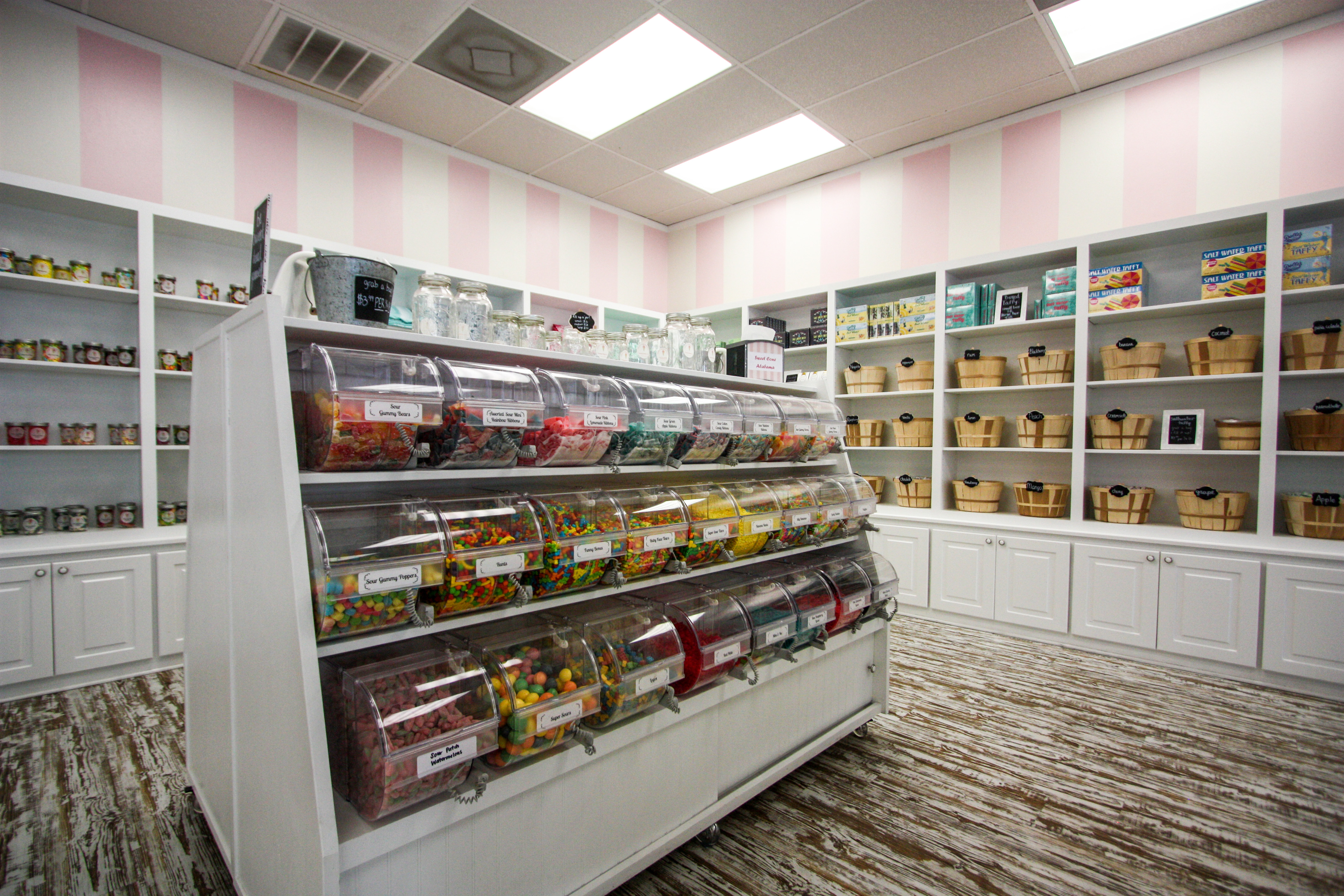 The More the Merrier 
This artsy parlor features much more than just some good ol' fashioned ice cream. Step inside Sweet Cone Alabama, and you will find yourself struggling to make it out of there without drooling over every sweet treat in sight. In addition to their 35 rotating flavors of ice cream, there are also 200 different kinds of candy. How many will you try?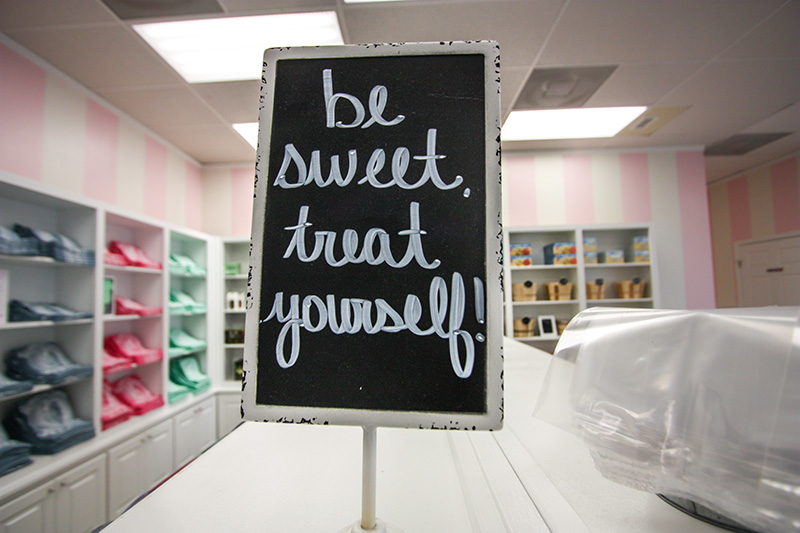 Keep Them Coming
Sweet Cone Alabama made its Orange Beach debut in the spring of 2019. Their pristine location, excellent customer service, and stellar ice cream have made quite the impression on the Orange Beach community. Their storefront is the perfect size for a town like Orange Beach, but there is another Sweet Cone Alabama not far from us in Pensacola, Florida. I wondered how they could place an Alabama themed ice cream shop in a neighboring state, but then I tried their ice cream. There should be one in every state!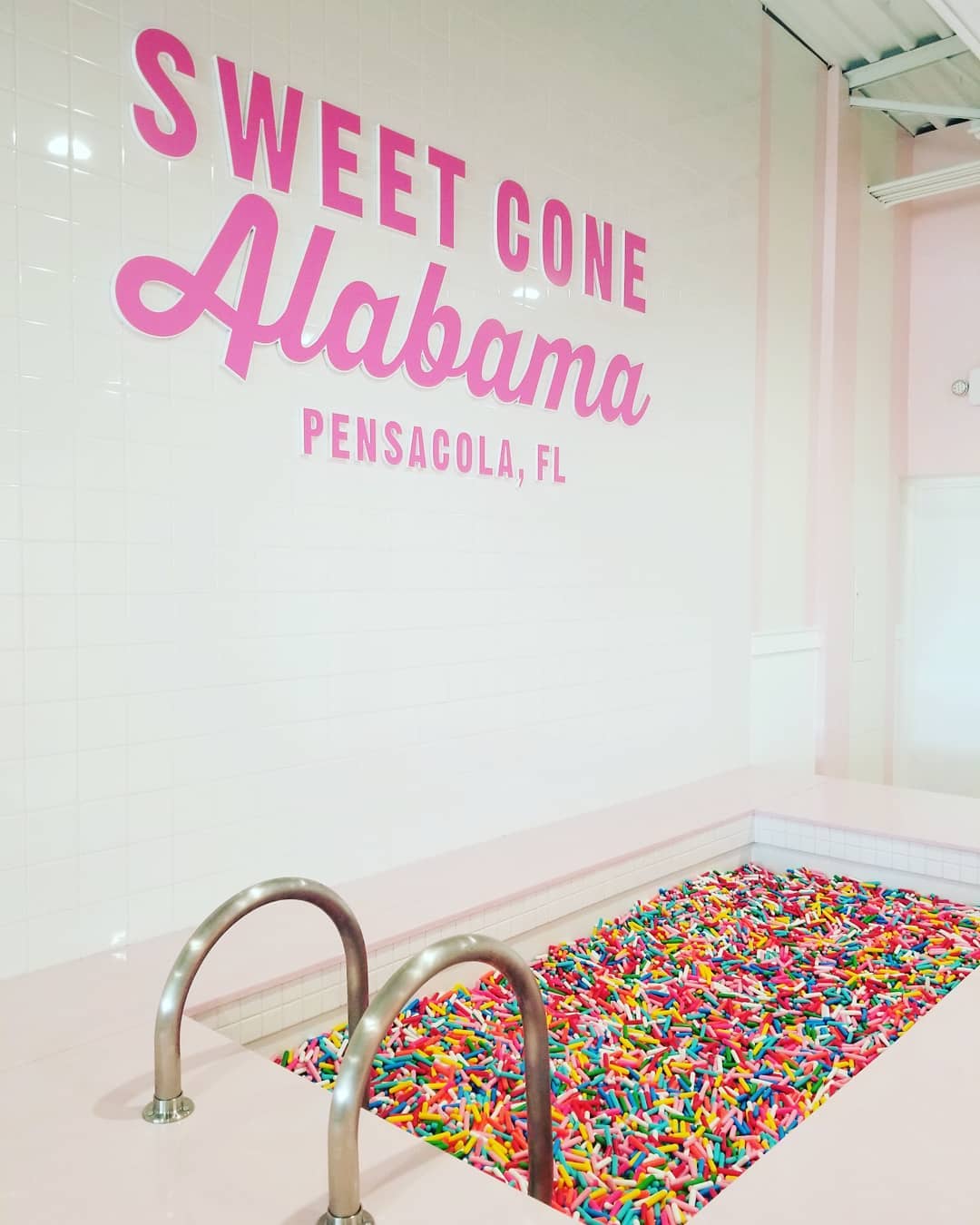 Dive Right In
The Pensacola location is a destination of its own. In addition to all the incredible ice cream and treats offered, Sweet Cone Alabama in Pensacola also has a giant sprinkle pool and multiple photo booths. Grab your besties and head there for a fun-filled day. Don't forget the selfies!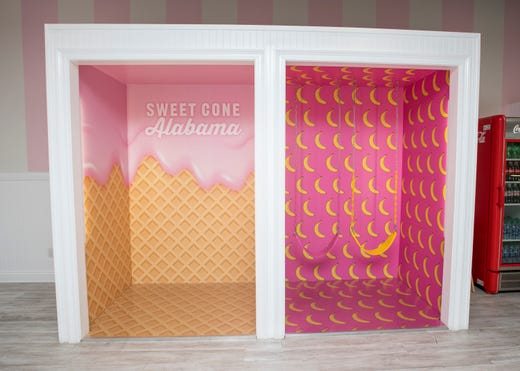 Say Cheese! 
These photo booths make for the perfect pic to remember your ice cream-filled adventure to Sweet Cone Alabama. You can find these booths at the Pensacola location, each with a unique, colorful background to make you stand out! Don't forget to use the hashtag #SweetConeAlabama to share your photos with the world. Maybe you'll become famous!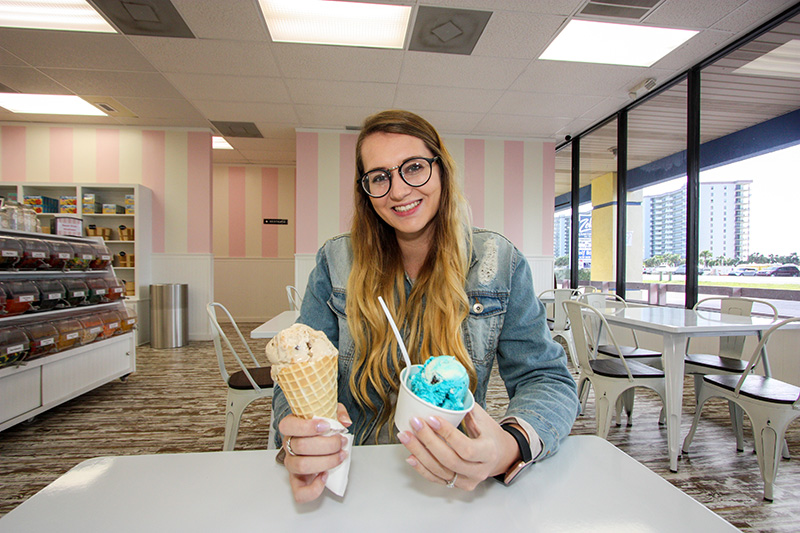 The Good Stuff 
Let's get to the good stuff: the ice cream. A few of Sweet Cone Alabama's most popular flavors include Brown Butter Bourbon Truffle, Cold-Brewed Caramocha, and Lil' Blue Panda. Mmm! My mouth is watering just thinking about them. I sampled them all but had to go with a cone of Brown Butter Bourbon Truffle, and a dish of Lil' Blue Panda. I can only take so much ice cream for breakfast.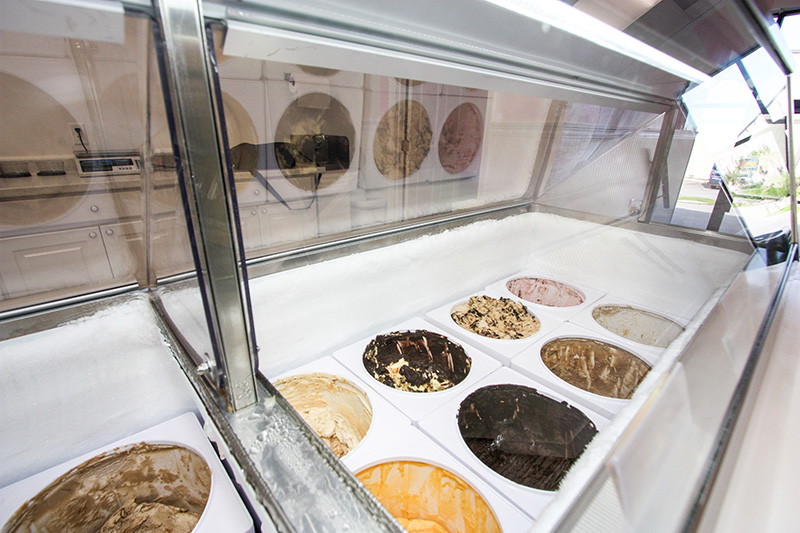 Try Them All 
Brown Butter Bourbon Truffle is a brown butter ice cream with salty caramel sauce and brown butter bourbon truffles. Lil' Blue Panda is a cookies and cream combo with a blue twist, it's unlike anything I've tried before. They both sounded too good to pass up! At this point, I could only sample the Cold-Brewed Caramocha, but I will certainly order it next time. There were so many that sounded delicious; I will be making multiple trips back to Sweet Cone Alabama in the future.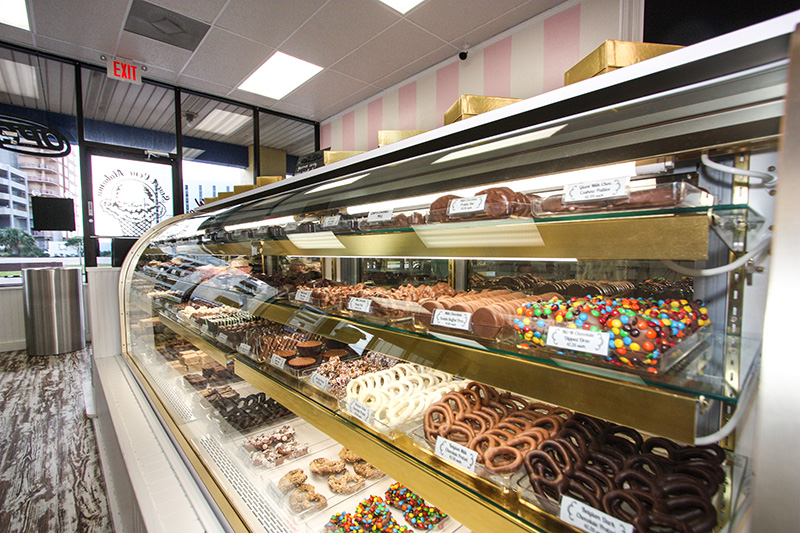 Take the Worry Away 
Eating out can be a scary thing if you have allergies. I know I can certainly appreciate menus with dietary restrictions on them, and Sweet Cone Alabama works hard to ensure the safety of their guests. They offer Lactaid chewable tablets, just in case, as well as all gluten-free options that are clearly marked, plus an entire freezer that has no contact with nuts. If these dietary restrictions are a concern for you or anyone in your group, your visit to Sweet Cone Alabama can be gluten-, nut-, and stress-free.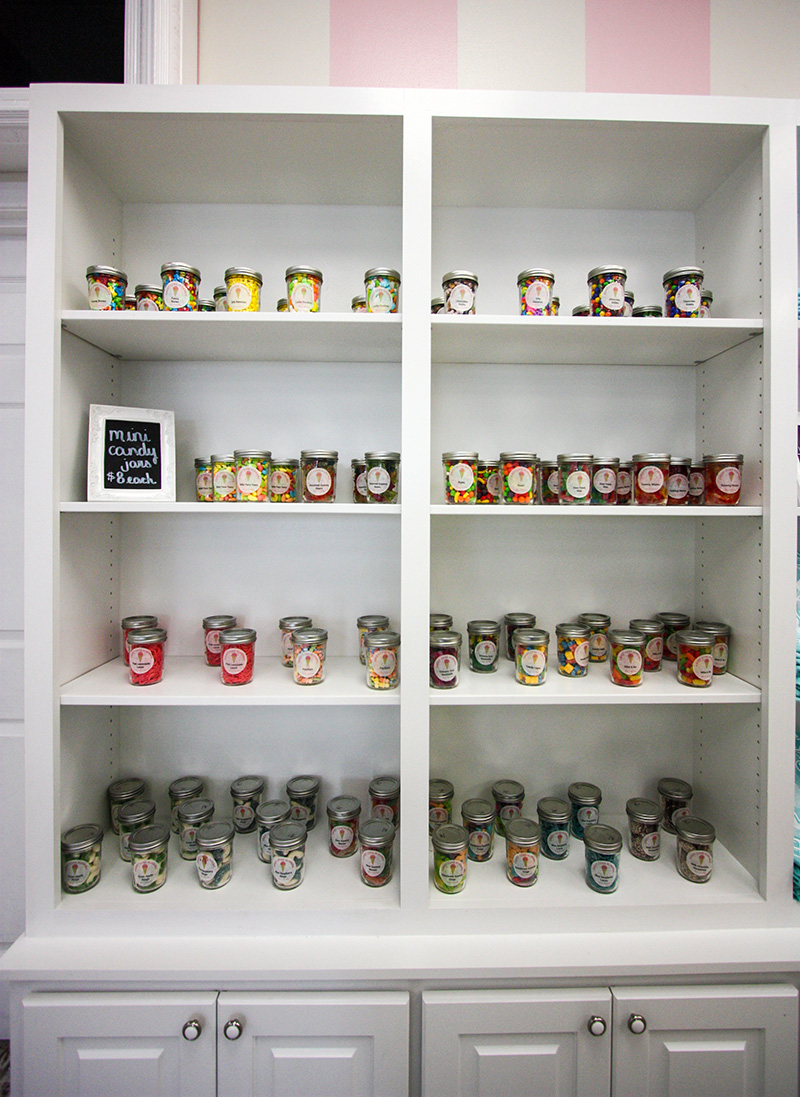 Jar of Goodness 
Sweet Cone Alabama has a lot of unique "take-aways" for purchase. There are a variety of pastel t-shirts, mini candy jars, toffee boxes, and even create-your-own mason jars to satisfy your sweet tooth. The way this works is, you pick the size of mason jar and fill it with any combination of candies you heart desires. Remember, there are over 200 different types to choose from! Or, if you want to stick to one kind of candy, maybe one of their pre-made candy jars is the way to go. Whichever way you choose, you won't be let down.
My Exceptional Experience 
During my recent visit to Sweet Cone Alabama, I sat down with Leigh Middleton, General Manager, for a casual conversation over an ice cream cone. She was welcoming, and I could tell there was a high level of employee satisfaction under the management that Leigh provides. The store was spotless, and I was impressed in so many categories. She talked even talked about their relationship with the community. "At Sweet Cone Alabama, we strive to have strong relationships with other local businesses. For example, if you eat at the Shrimp Basket location right next door, we offer 10% off your ice cream purchase if you bring in your receipt." What a great idea! Sweet Cone Alabama also provides catering services for weddings, birthday parties, corporate gatherings, and any other event that would only improve with ice cream. Thank you, Leigh, for your hospitality!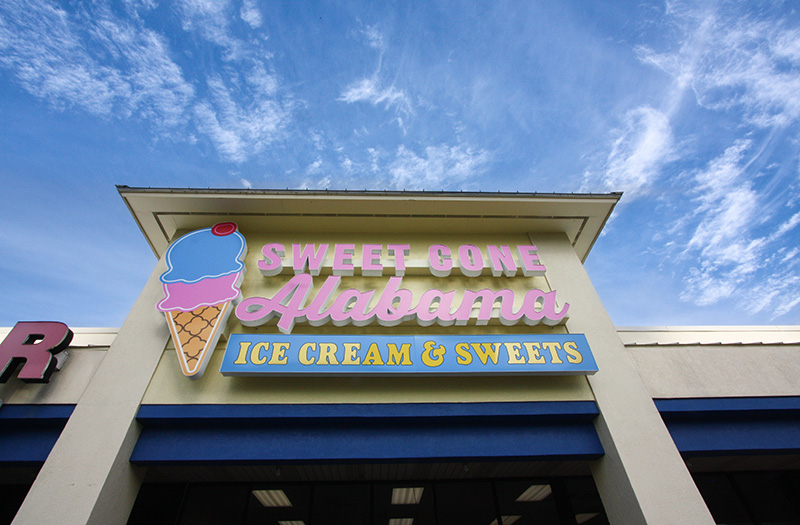 Sing It With Me 
To keep up with all the fun, be sure to follow Sweet Cone Alabama on Facebook and Instagram. For all you Instagram influencers and photo-op lovers, stay tuned for any additions to their store that will make for the perfect post on your social media. Next time you visit for your favorite scoop of ice cream, mention this blog for 10% off your purchase! Sweet Cone Alabama…where the skies are so blue…