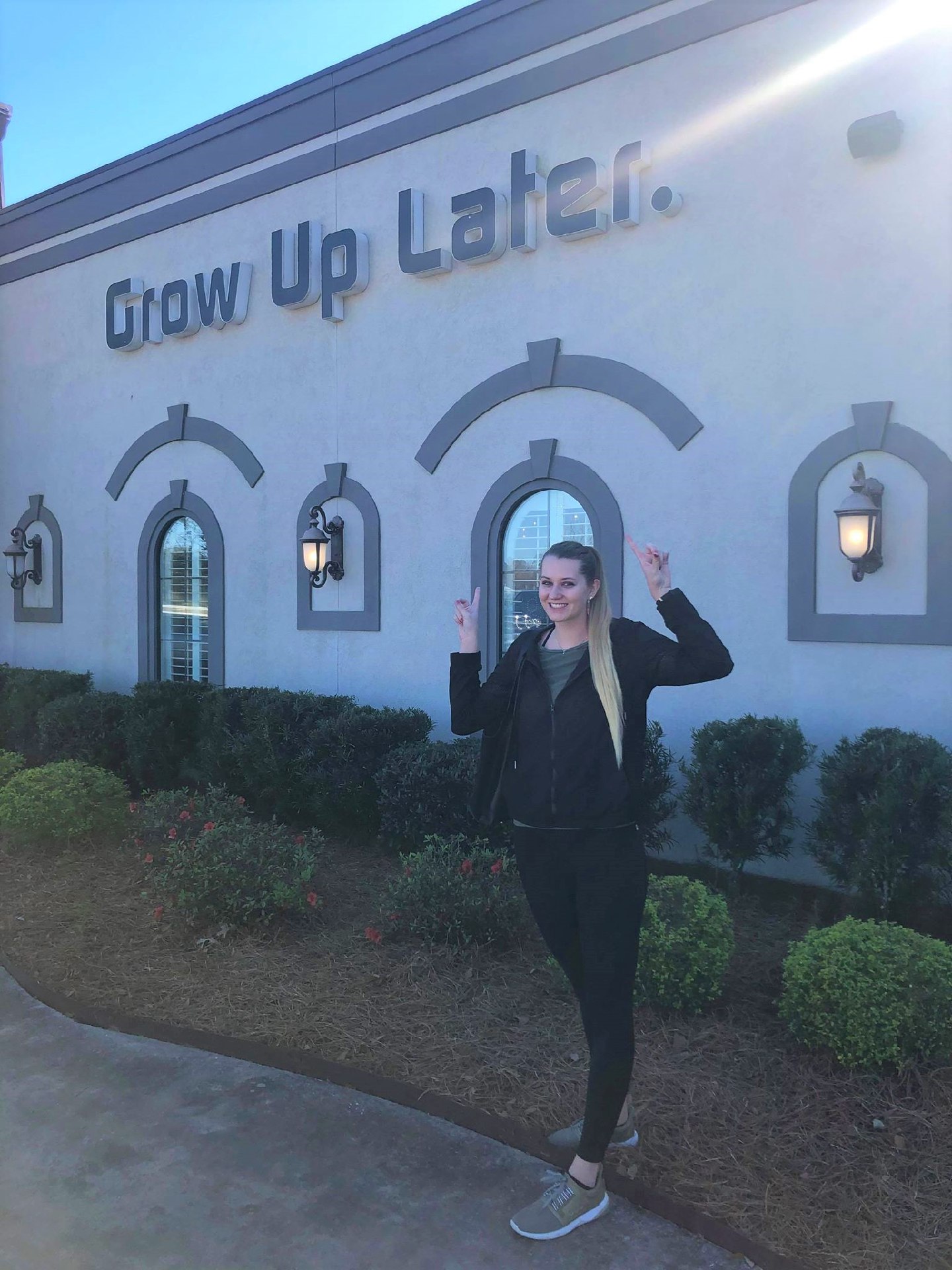 Grow Up Later
It was time for me to throw my hair up in a ponytail, swap my flats for a pair of tennis shoes, and head on over to The Factory in Gulf Shores to have some fun! This place is every kid's dream–but why put an age limit on it? At The Factory, they strive to be a place where old and young alike can experience the enjoyment of playing. That's why their motto is "Play Now. Grow Up Later," which is exactly what I did on my visit–and I had a blast.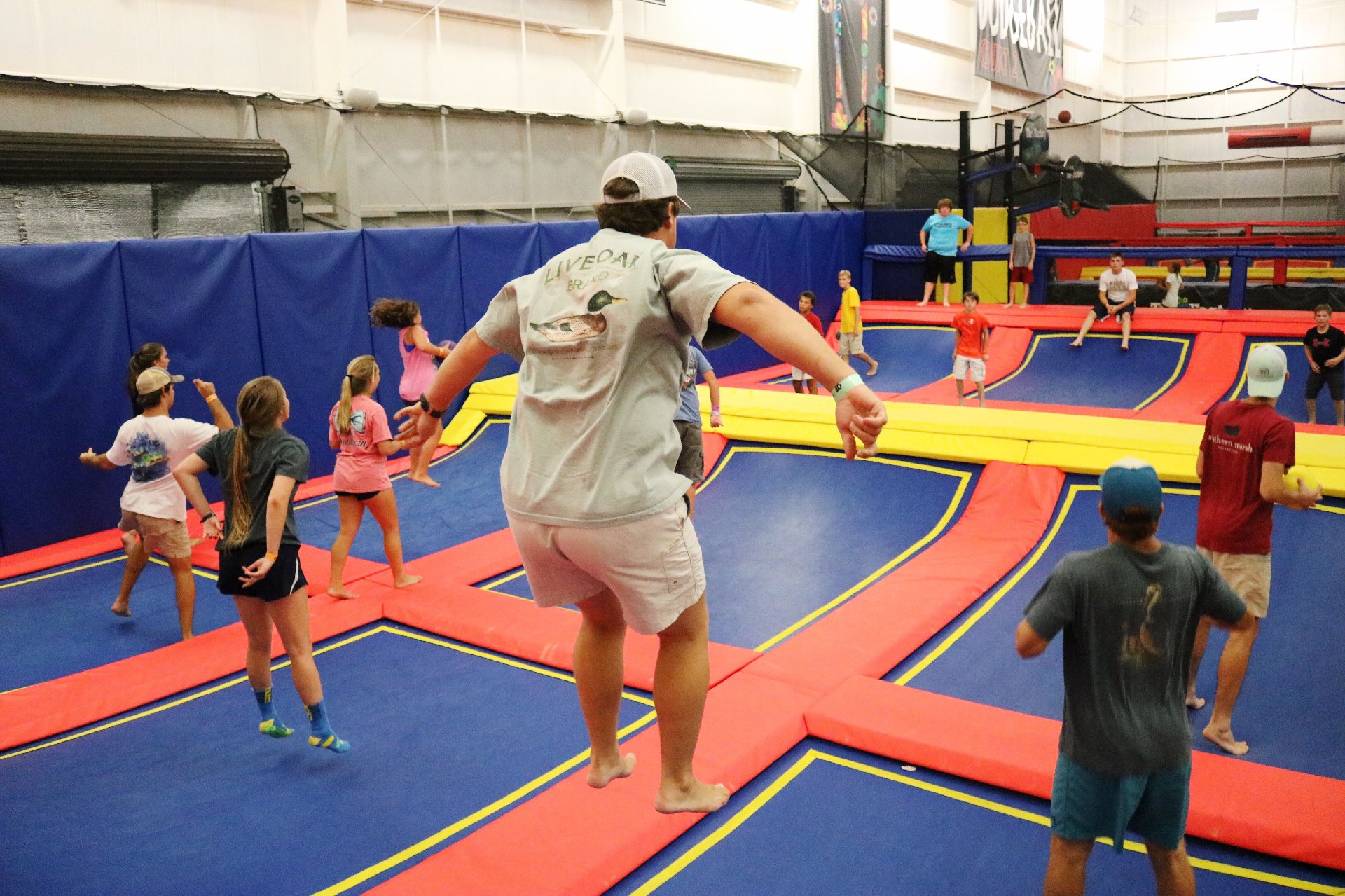 Jump On In
My adventurous day began with a simple check-in process that reassured me that safety is a priority at The Factory. Although I don't have kids, it was encouraging seeing their staff members ensure the safety of all the little ones running around. A waiver is required to enter, as well as an accurate record of full name, birth date, and ID number. After I provided this information, I was handed my wristband and socks and was ready to jump on in!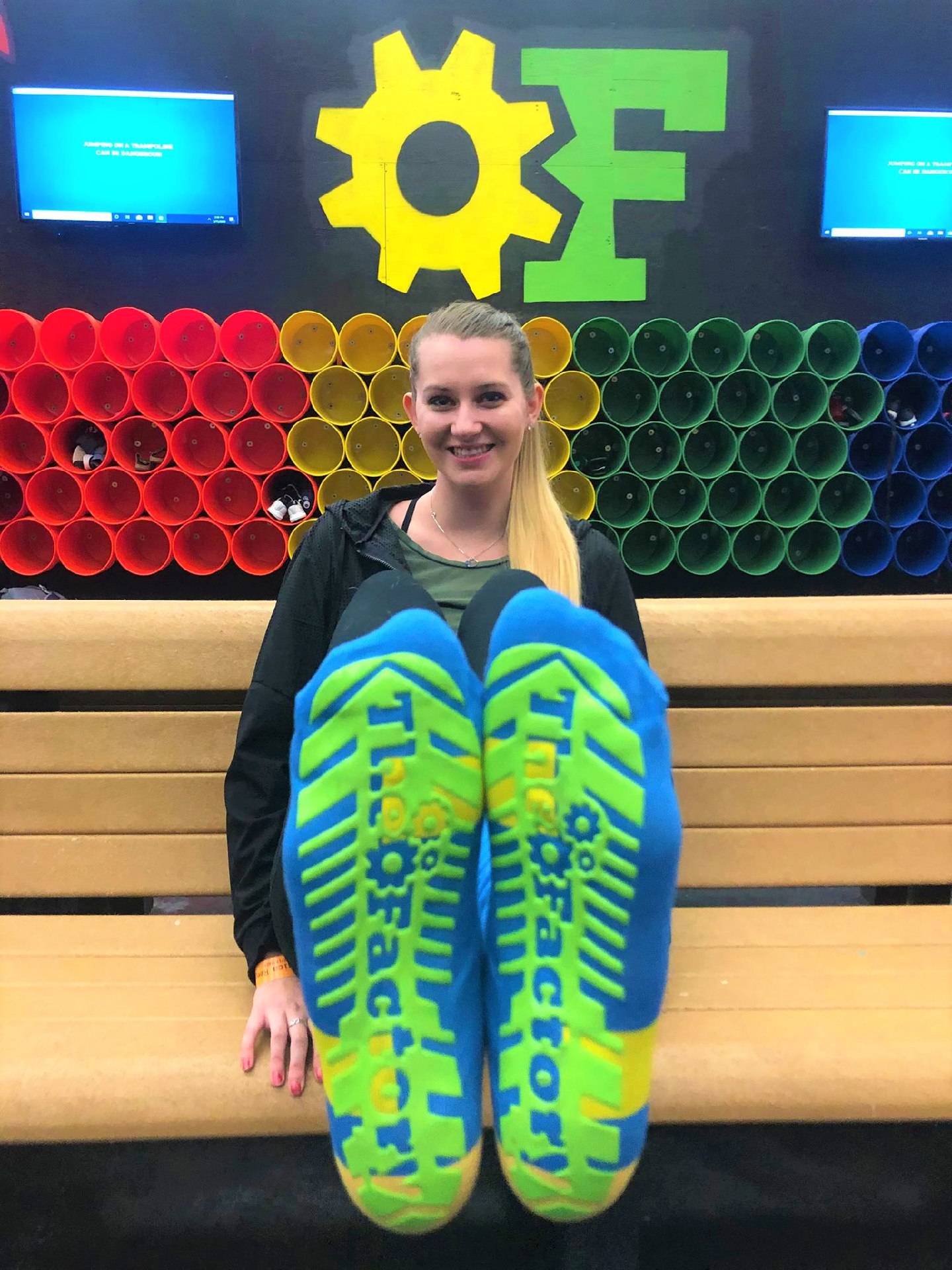 Elite Jumper 
Although socks are optional, I can't recommend these Factory brand specific ones enough. Not only are they totally stylish, the material on the bottom feels "sticky" as you walk. It really makes a difference when jumping on the trampolines and climbing through the obstacle courses. They offer ankle length and tall socks, which are labeled elite, so naturally, I had to test out the tall ones to maximize my jumping abilities.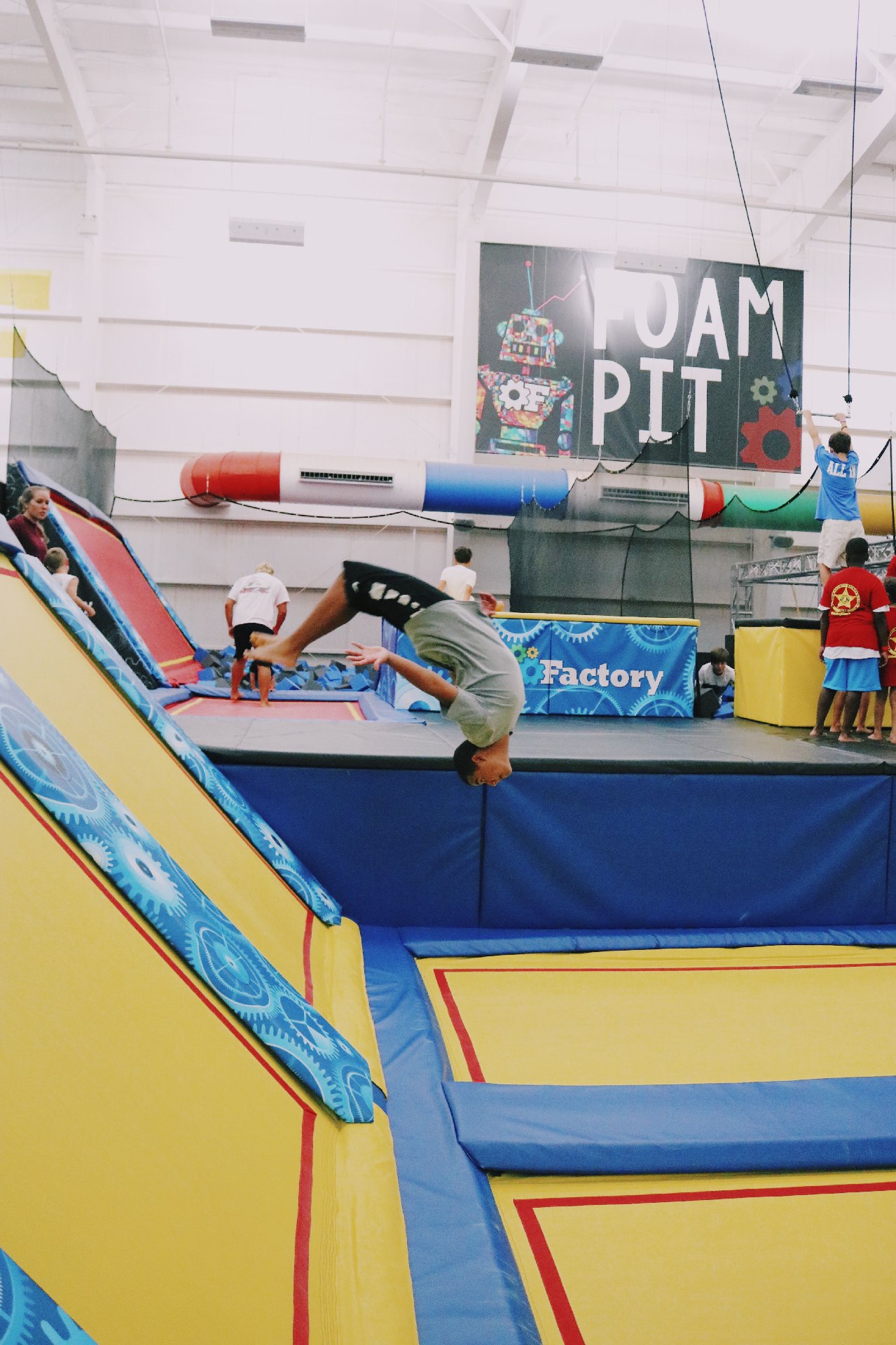 Flipping Awesome 
The Factory is a massive facility that offers over 20,000 square feet of trampolines! They have the standard floor trampolines, but I had way too much fun on the angled wall ones. I'm starting to think 2 hours of playtime isn't enough–I could flip around all day. There are even various heights of launching decks into foam pits for the perfect place to show off your gymnastics skills. I was impressed by so many kids doing front flips and tricks! Unfortunately, I didn't attempt any myself. My front flipping days have come and gone, and I would definitely be feeling it the next morning.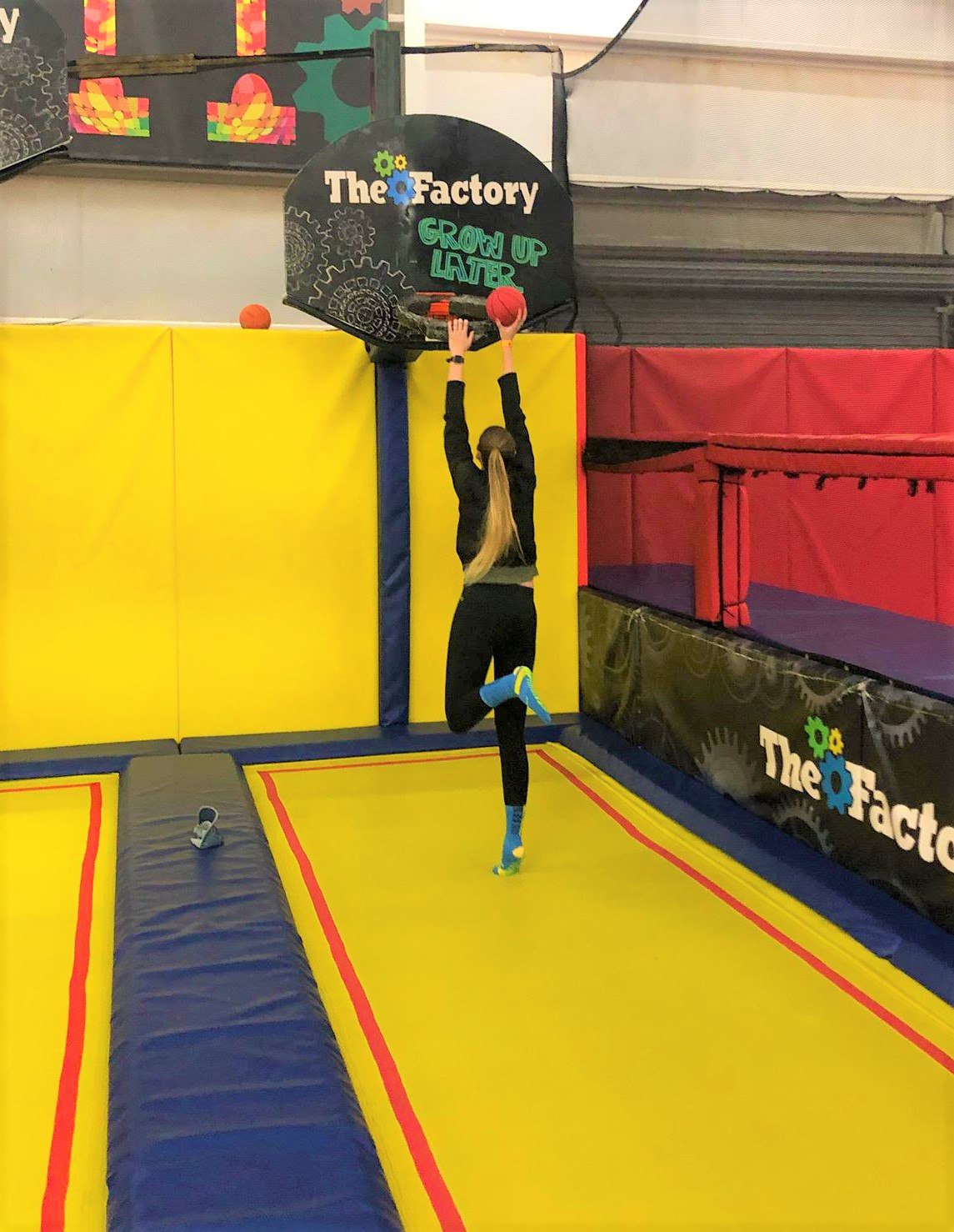 Always Bounce Back
In addition to their hundreds of trampolines, they also have an arcade, foam pits, air dodgeball, basketball hoops for dunking, and some challenging obstacle-like courses to tackle. My inner American Ninja Warrior was triggered as I attempted obstacles like the "Jumping Spider" but instead, I landed face-down in the foam pit. I guess I won't be trying out for that show anytime soon. On the bright side, I could finally dunk a basketball!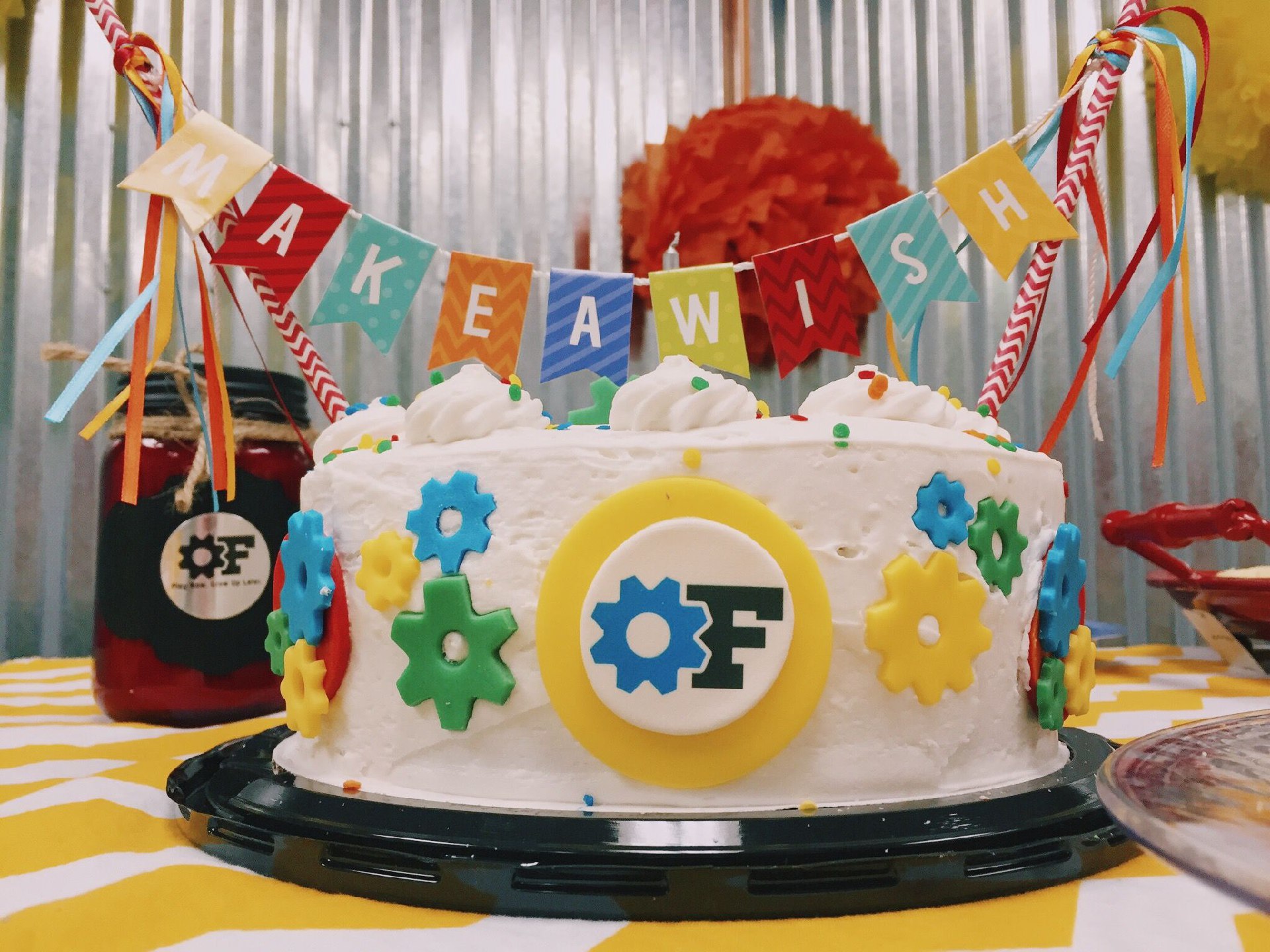 Make A Wish
During my time at The Factory, I likely wished twenty kids a 'happy birthday.' I wondered why it seemed like it was everyone's birthday, and then it clicked–it is the perfect place to host a child's birthday party. They have numerous private rooms and offer birthday packages that include jump time for your child and their friends, decorations, and more. I remember a lot of great birthday parties I had as a kid, and I could tell that these kids were stoked to have their celebration in one of the colorful rooms.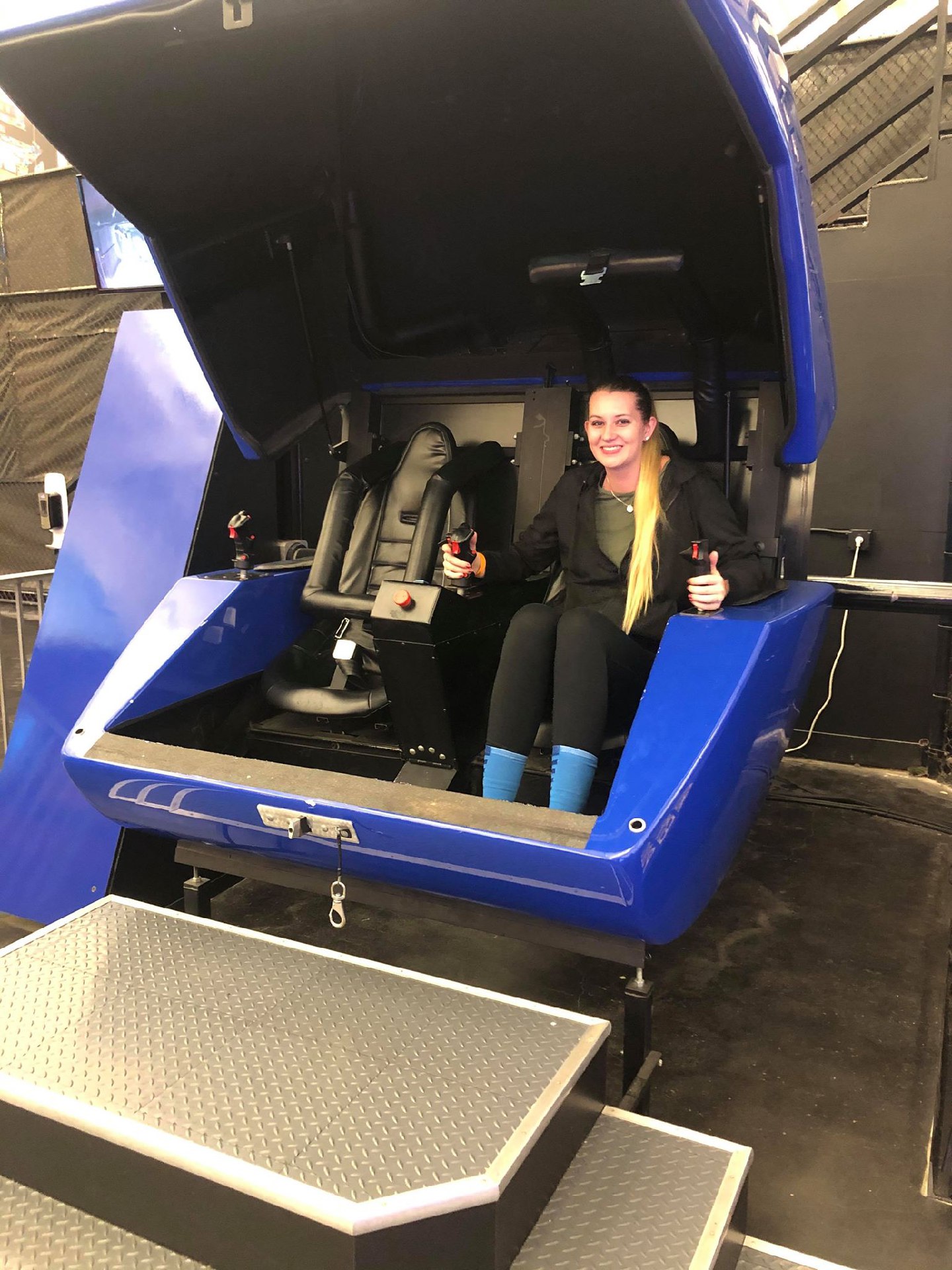 Let's Take Flight 
Another fantastic addition offered at The Factory is the Flight Simulator. I've seen these simulators in various places before, but I decided it was time to give it a whirl, literally. I am prone to motion sickness, so I always keep my distance from attractions like this, but I was feeling brave. I stepped into the machine and was ready for a "roller coaster ride." This fancy machine turns, moves, and flips you around to mock the track you see on the screen inside. There are a variety of different courses, all with varying levels of thrill. I opted for the low end of the spectrum, with only a few flips and turns, but the group after me selected the most extreme course! I was shocked, but they said they had tons of fun. Try the Flight Simulator at The Factory and tell me all about your experience!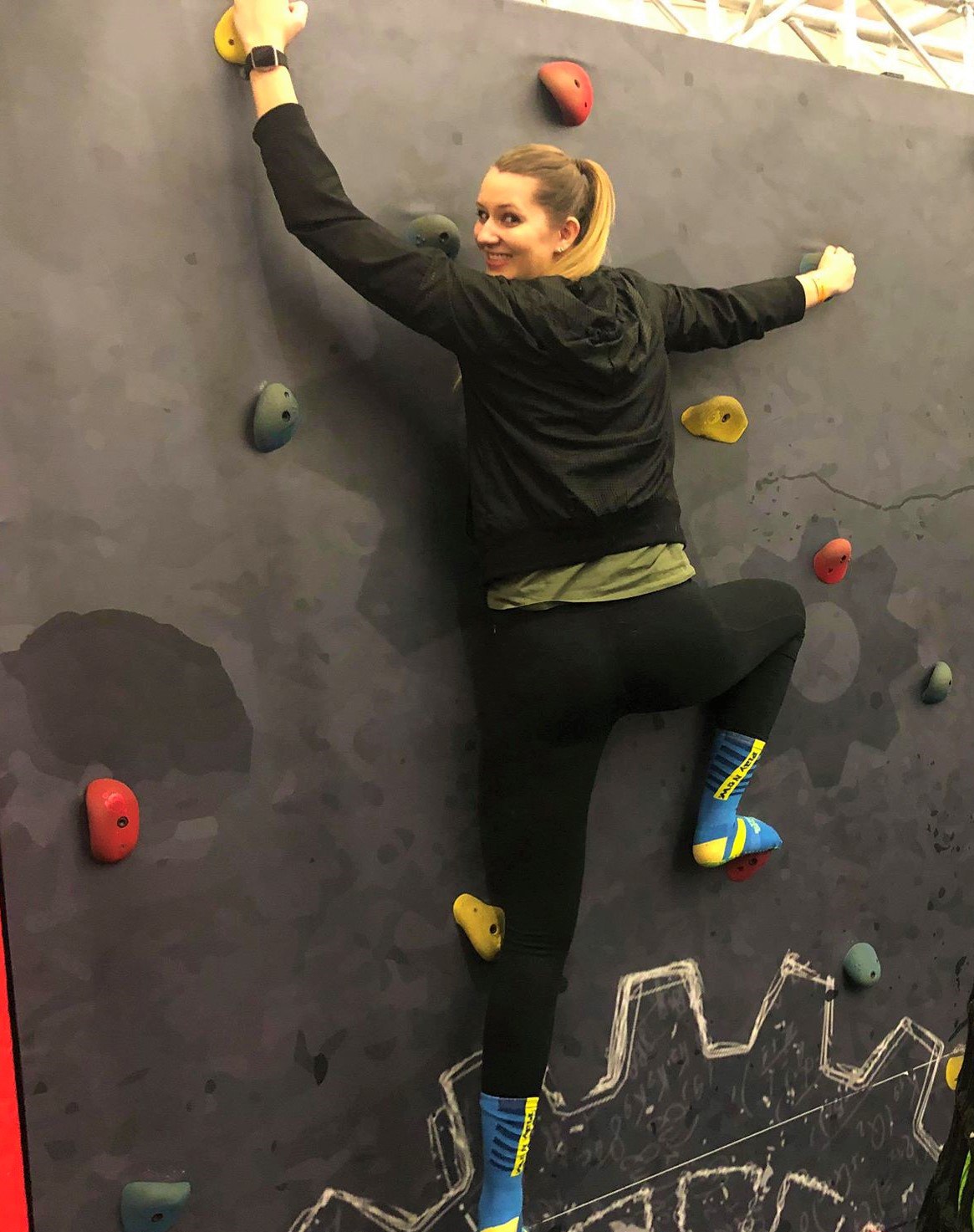 All Over It 
Rock Climbing has always been an interest of mine. It's not something I actively pursue, and you definitely won't find me dangling off a cliff trying to make my way to the top, but it's something I like to do when it's available. At The Factory, there is a rock climbing spot over a foam pit, which is super cool. When my hands got shaky, or I couldn't find my next move, I just let myself fall and could give it another go. Rana Taylor, the Event Coordinator at The Factory, told me about the slight remodeling they are doing on-site. She said, "We are adding a full-size rock climbing wall, and we're excited about the expansion and addition to our facility." The renovation should be complete in the next couple of months, and I will have to stop by again to check it out when it's finished.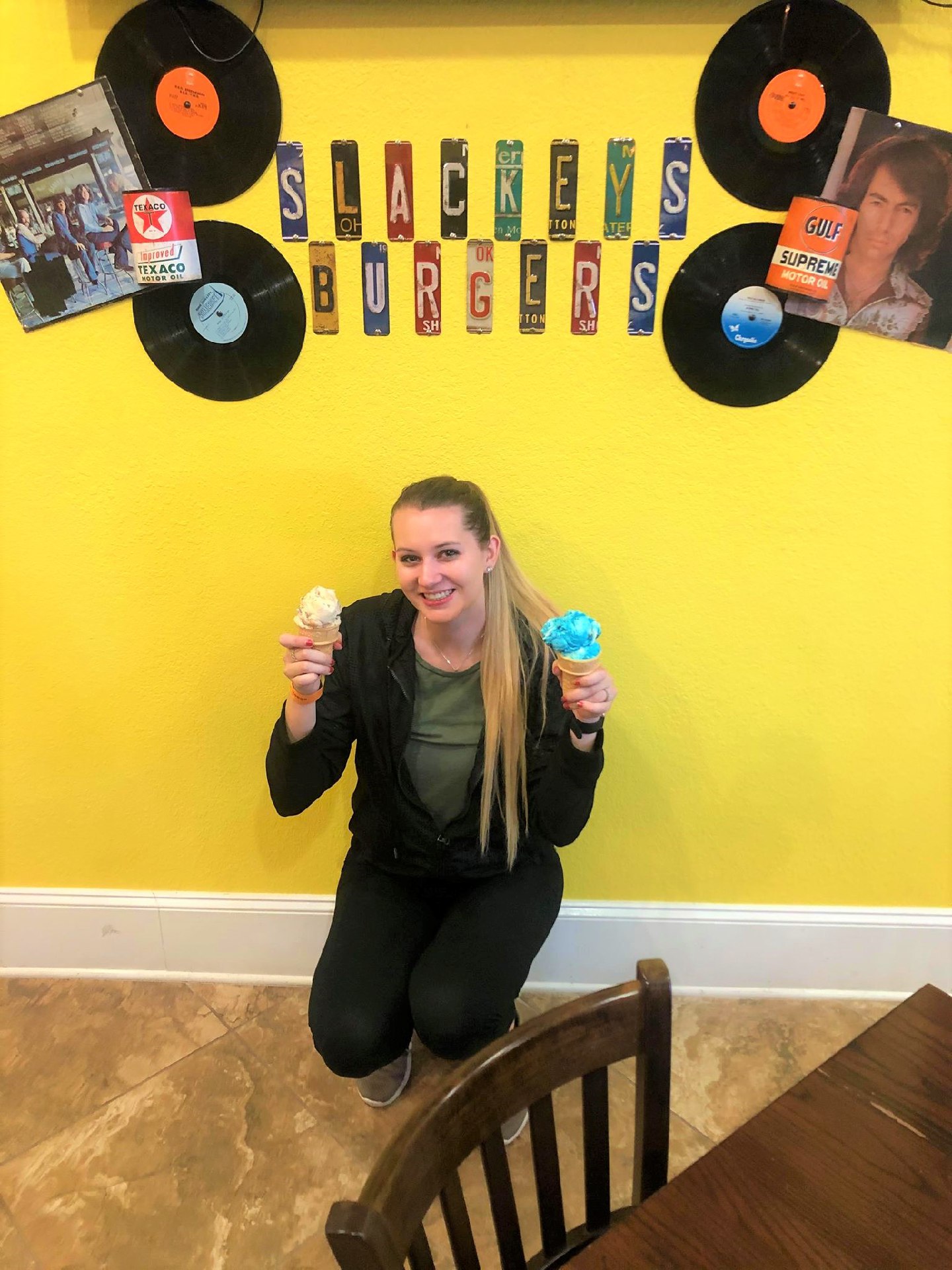 Slackey's Isn't Slacking 
Although I was one of the oldest jumpers in the facility, I didn't let that stop me from having a good time. I certainly worked up an appetite throughout the day and decided to stop into Slackey's Backyard Burgers for a treat. Slackey's is located right inside The Factory, so it is incredibly convenient. They have a sizable menu and are the perfect stop for either a quick snack or a filling meal. Plus, they offer ice cream! What better way to top off a fun-filled day than with a treat for everyone? And that's just what I did.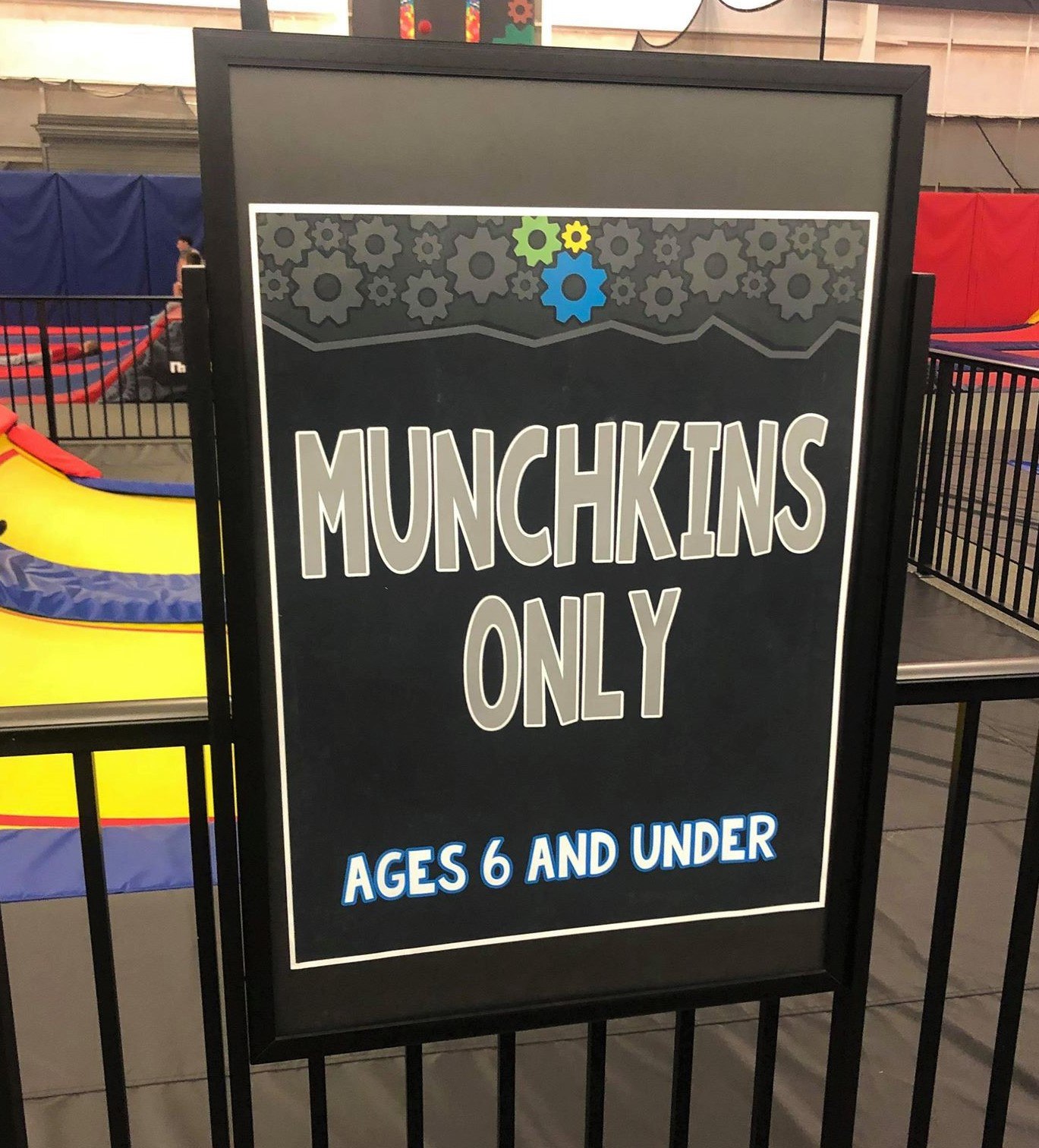 Something For Everyone
Alright parents, listen up. Maybe you're thinking, "What's in it for me?" Well, let me tell you a few different things. First off, you will find a viewing deck for adults with massage chairs! That's right, you can supervise the kiddos and get a massage all at the same time. Plus, the youngins will be so tired from their high-intensity day that they will nap so hard back at the condo or on the beach. How nice is that? Another thing that I love about The Factory is that they have a separate trampoline section labeled "Munchkins Only." This section is for kids ages six and under only, because bouncing with the big kids (like me) can be kind of scary sometimes.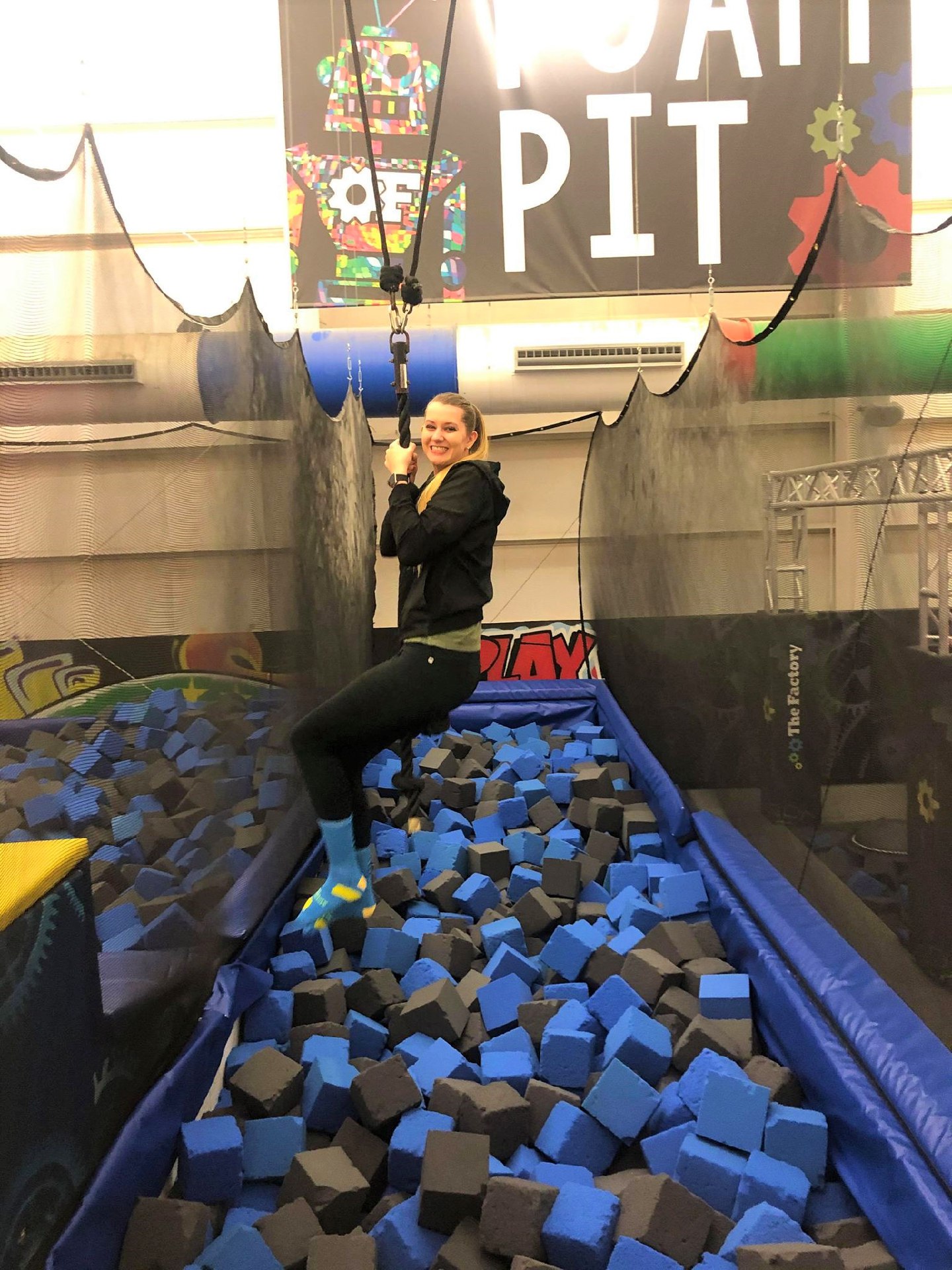 Jumping For Joy 
What an awesome day spent at The Factory! I truly can't say enough good things about this place–and that's coming from someone in her twenties. Imagine how much your kids will love The Factory in Gulf Shores! Surely, you'll be in the running for Mom or Dad of the Year after you bring them here. There are so many activities in the facility, I couldn't cover them all! More info on all of the fun can be found on their website, Instagram, Twitter, and Facebook. A big thank you to all of the staff members that assisted me throughout the day. Take their advice and "Play Now, Grow Up Later," you won't regret it!