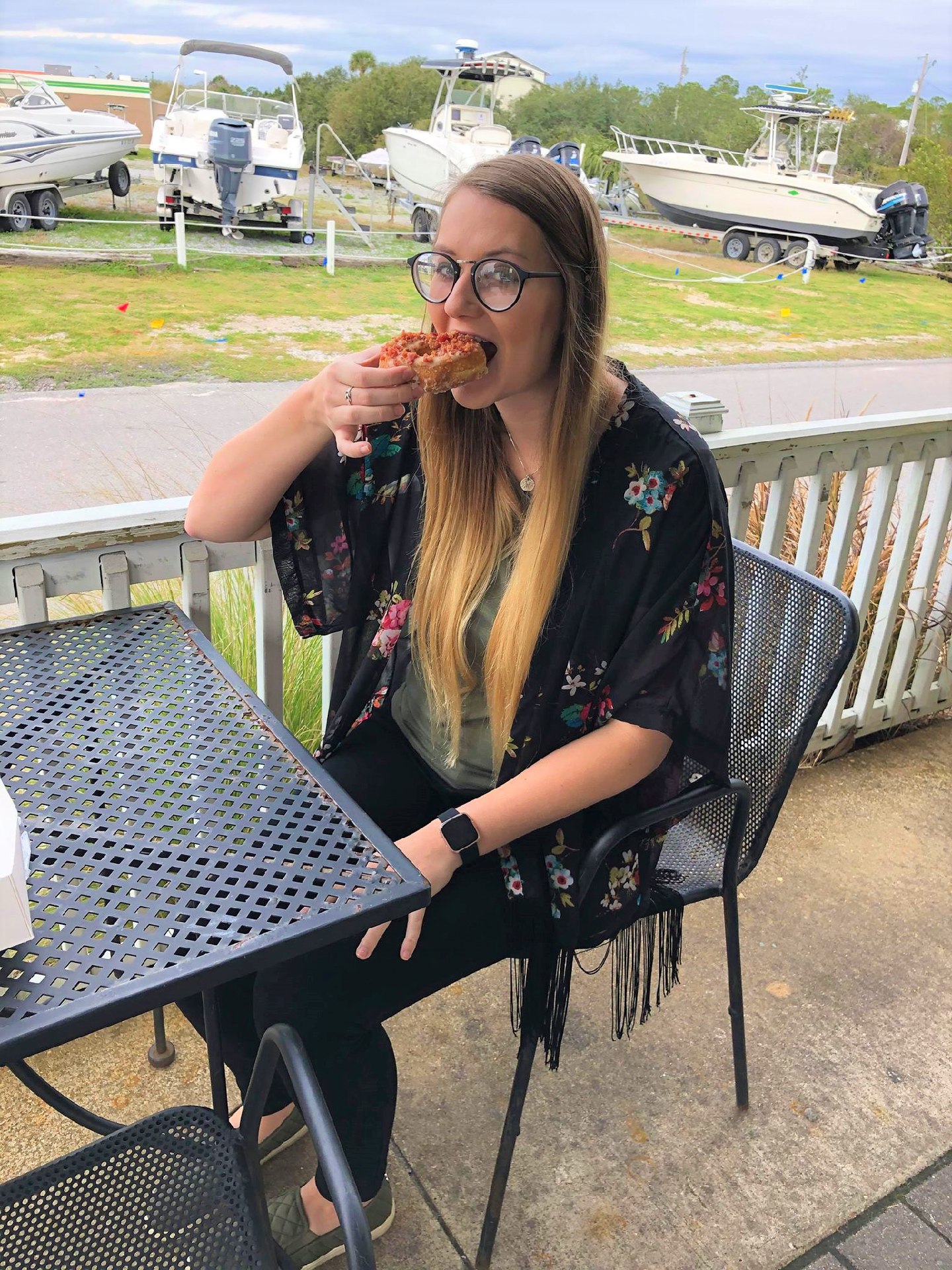 Mission Accomplished 
I was on a mission to find the best donut shop in town, and I think I did just that at City Donut in Orange Beach. As an avid lover of all things donuts, I knew I had to find the best of the best. I don't discriminate when it comes to donuts–I'll take any dough, any frosting, and why not throw in a little powder or filling in there? Some people love ice cream or have a go-to kind of cake, but my guilty pleasure always has, and always will be donuts.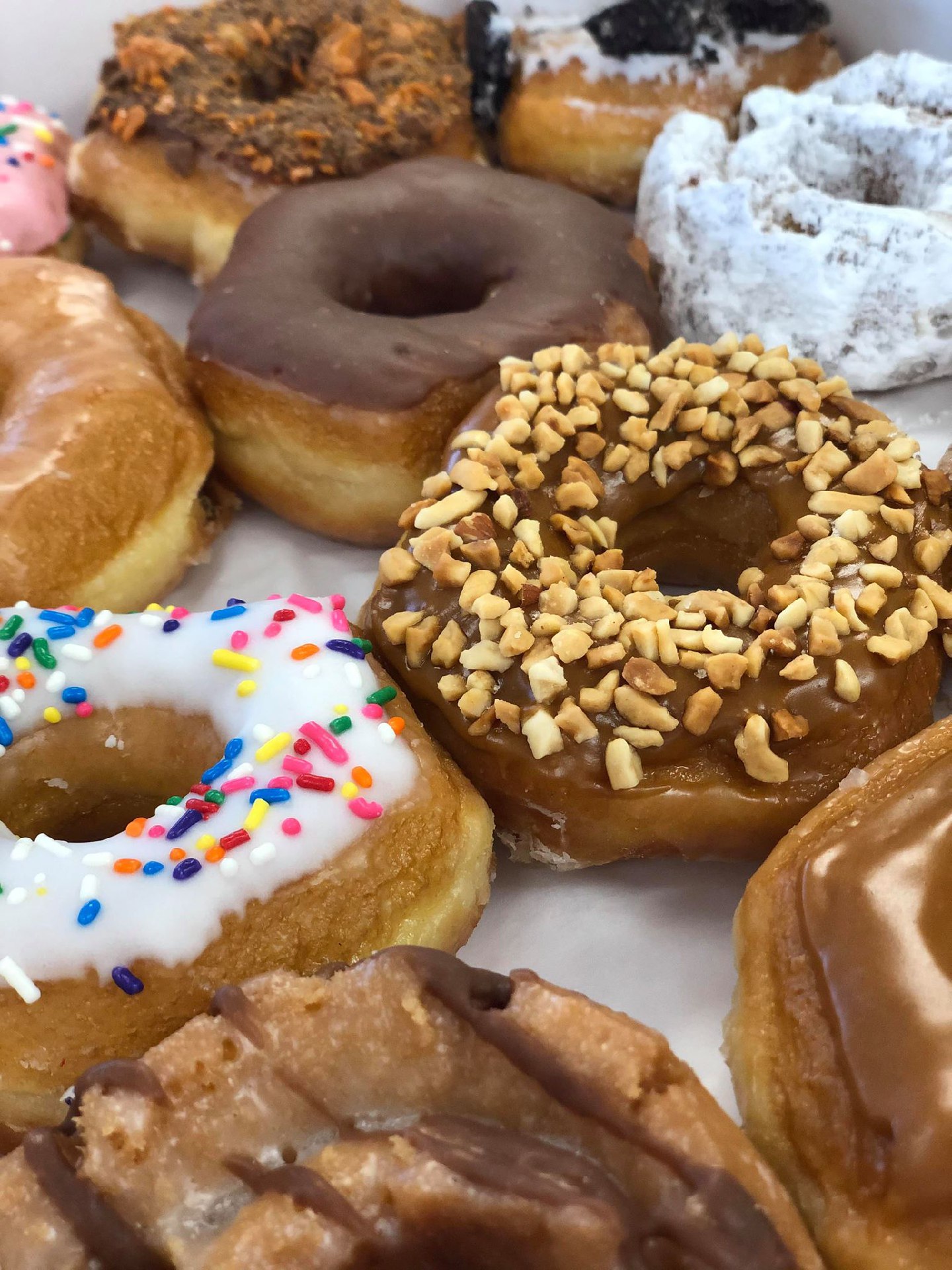 Hometown Proud 
City Donut has its sole location right here in Orange Beach, less than 2 miles from Caribe Resort! They are a local, family-owned business that is hometown proud. I have always loved the idea of supporting local and small businesses, and try to do so anytime I can. I'm happy to have found a donut shop where I can shop locally, as opposed to picking up a dozen from the grocery store or a chain donut shop on Saturday mornings like I usually do.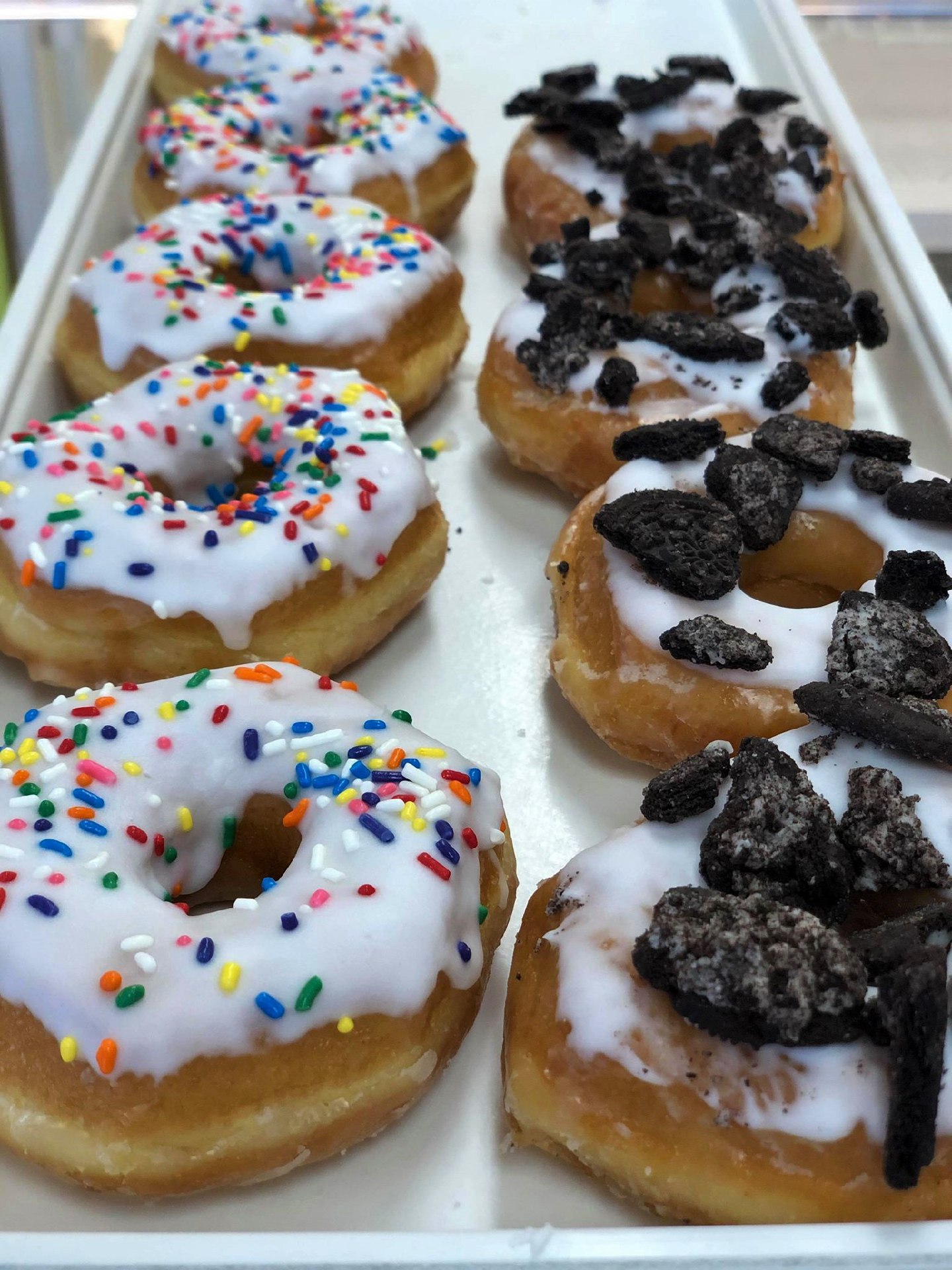 In the Top Fifty 
City Donut has been recognized as one of the top fifty donut shops in America! Very impressive, but it doesn't surprise me after my recent visit there. They were awarded "2019 Sweetest Bakery in Alabama" by Dawn Foods, and "2017 and 2018 Ranked Best Donut Shop in Alabama" by Delish.com. Stop by the shop and check it out for yourself! I had a lot of fun with owners Kris and Mike Kelly when they hosted me at City Donut and fed my constant donut craving–they were excellent, and I'm already looking forward to my next trip back!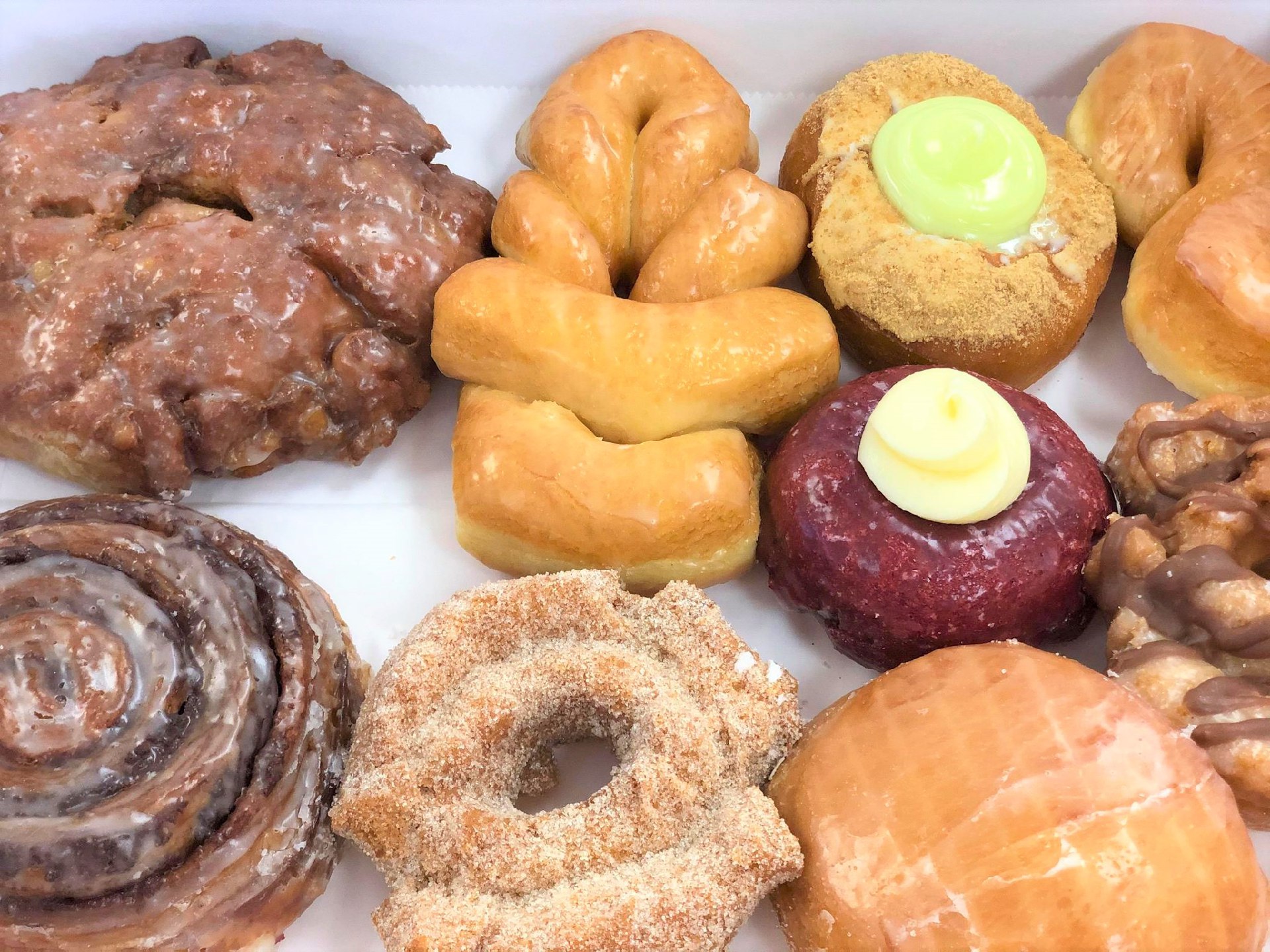 Donut Miss Out
This coming season will be City Donut's 8th season since they opened their doors. Eight full seasons of handmade donuts in-house every day. That's right, all night long donut makers are baking, frosting, filling, and sprinkling to prepare for the sun to rise and hungry donut-lovers to flood the store. If you show up right before they close wanting some donuts, chances are they will be gone. They sell out on the daily! You know what they say, the early bird gets the worm, or uh…the donut in this case.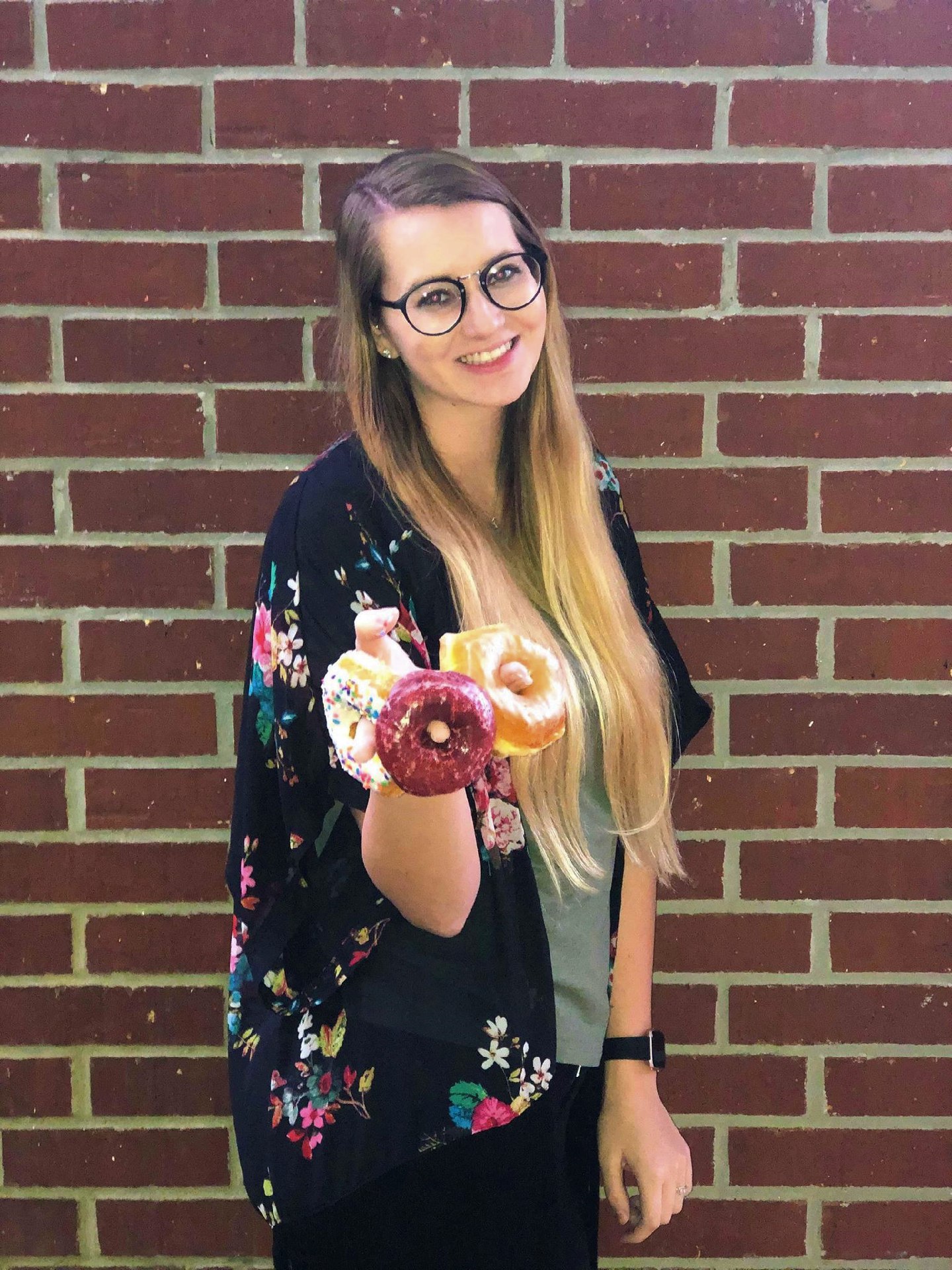 Let's Get Creative 
I wanted to get the inside scoop on all things City Donut, so I sat down with the owners, Mike and Kris. I asked them just how many different kinds of donuts they offer and how many they go through on the busiest day of the season. When I was in the store, they had over twenty different kinds of donuts on display, so naturally, I assumed those were the kinds they offer. I was informed otherwise, and Mike and Kris had great answers to my questions. They said, "The possibilities are endless." They further explained that they like to have fun with it. No topping is too wild or crazy for a City Donut. On a hot Saturday morning in the middle of the summer, they will sell nearly 3,000 donuts before closing the doors for the day. With a quantity that high, they have to get creative.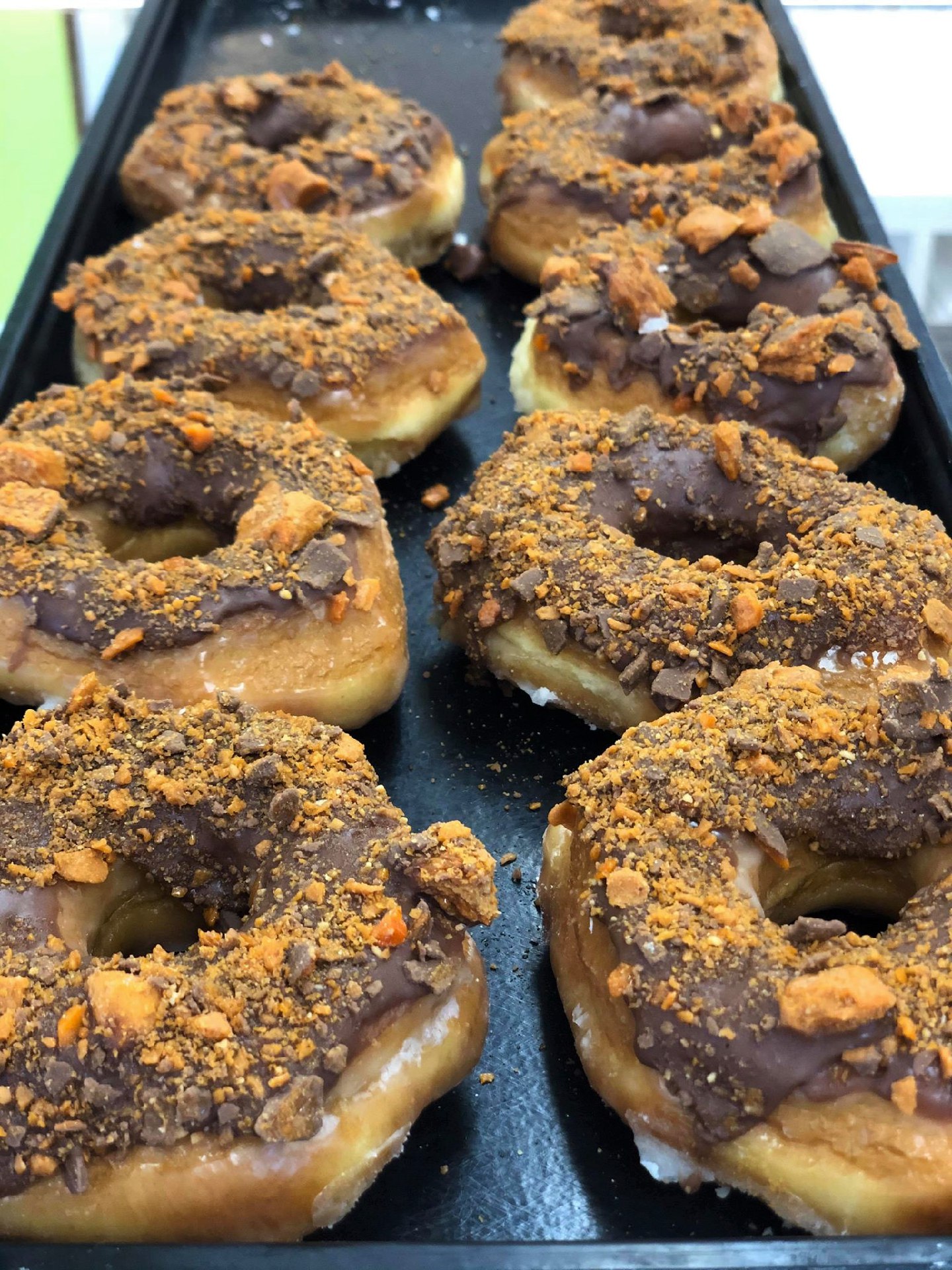 Hole Foods 
Their creativity surely shines in some of the donuts I tried, like Maple Bacon, Oreo, Butterfinger, Red Velvet, and many more! A maple glazed donut is always my go-to, but I've never tried it with bacon on top. Now I'm worried I'll never go back because it really was that good. If you're looking for something sweeter than a standard donut, I highly recommend you give their Oreo or Butterfinger donut a taste. Red Velvet is a favorite cake flavor of mine, but who knew it could be a donut flavor, too. Like I quickly learned, the possibilities are endless at City Donut.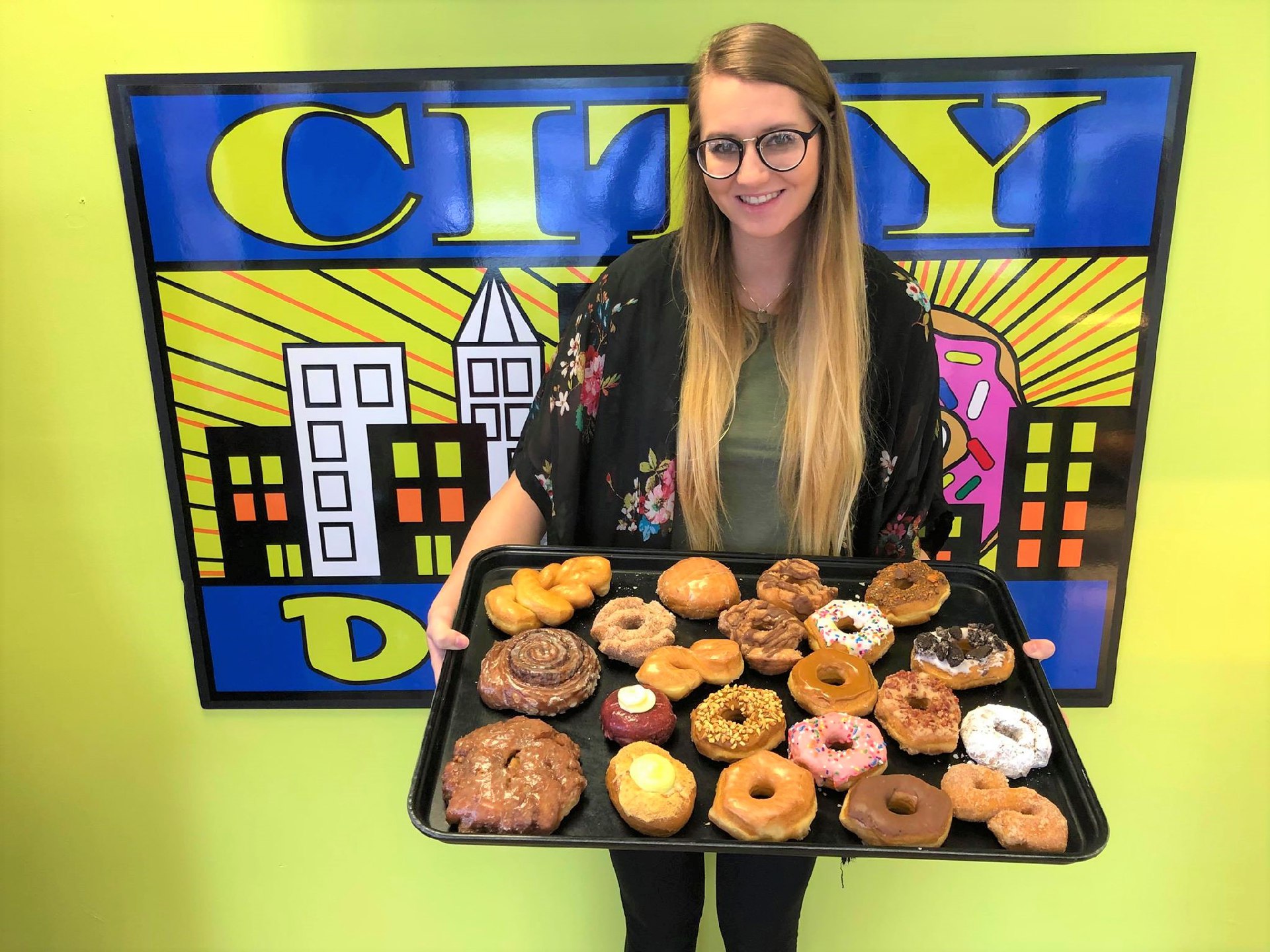 Apple of my Eye 
Where are my Apple Fritter lovers? I know you're out there, and I bet you've never had an Apple Fritter quite like this one. These things are enormous! Take a look at the tray I'm holding, and you'll see the Apple Fritter in the bottom left–they're almost three times the size of the standard donuts. These rich and satisfying treats are best warm–and after trying a fresh, homemade one, I can see why these are one of City Donut's best-sellers. To make it even better, try pairing your fritter with a hot cup of coffee, a latte, or a cappuccino from City Donut. They brew De Luna Coffee, which is roasted not far from us in Pensacola, FL. An apple fritter and a cup of coffee sounds like a perfect start to my morning.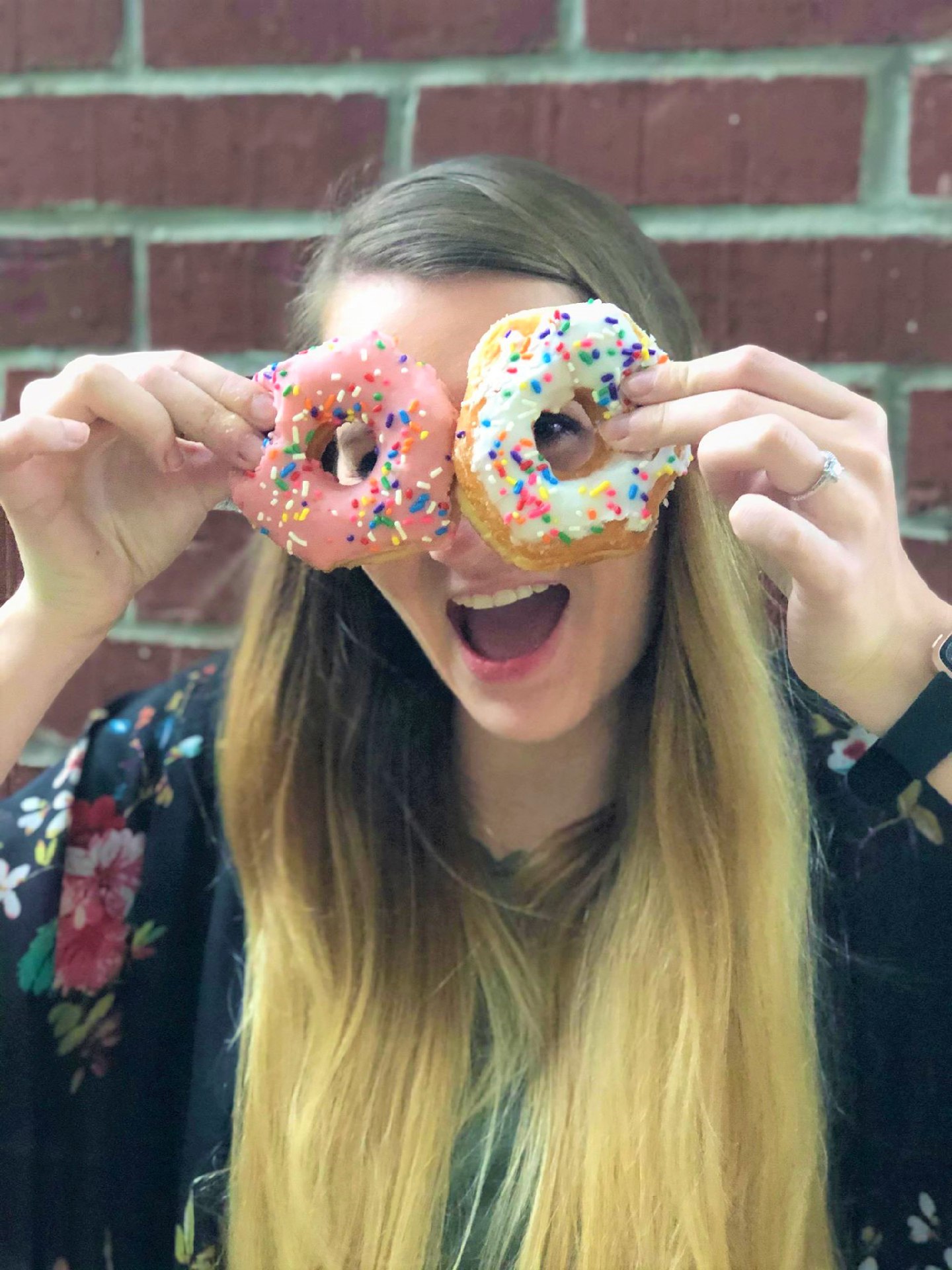 Sprinkles of Joy 
If you're like me, you love a simple donut. My favorite topping on a donut is old reliable:
s p r i n k l e s.
Sure, all the cookies, candies, and cereal toppings are great every once in a while, but sometimes I want simple, soft, and sweet. I love how trendy the classic sprinkle donut has become lately with items like the sprinkle donut pool float. You guessed it–I own one. I could float all day in the pool on that life-sized, ring-shaped friedcake, and when I post a poolside photo, I always use the donut emoji.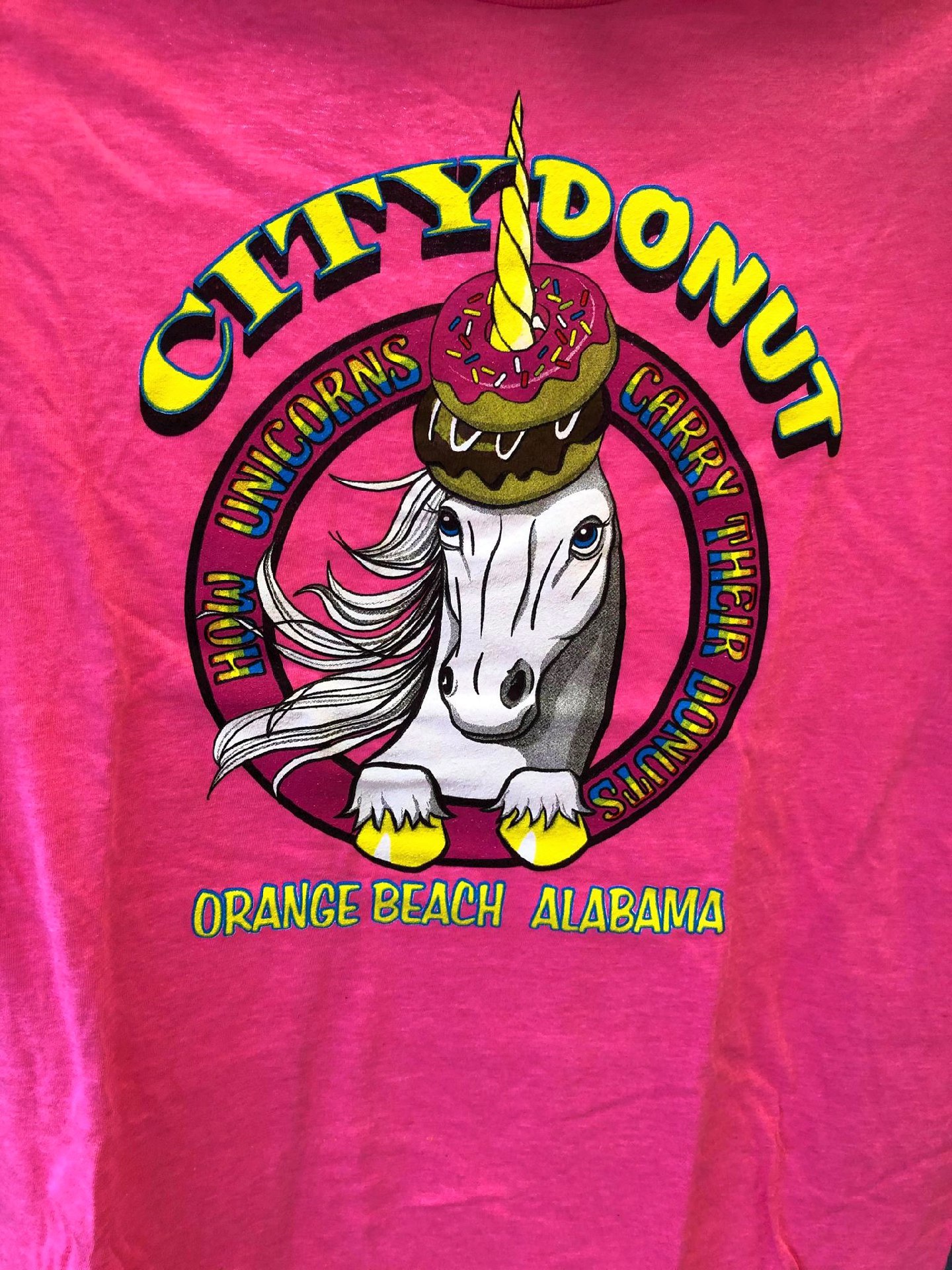 T-shirt Time 
Spring is almost here! That means I can finally start to wear the t-shirts to the beach that I have collected from all of the places I have visited. Beach days will be here before we know it, and my new hot pink unicorn shirt from City Donut will be making an appearance soon. The designs on their t-shirt line are unlike any I have seen before! Fight Club, Bigfoot, and Unicorns are all featured with some donuts. Please take a look at my personal favorite: The Unicorn.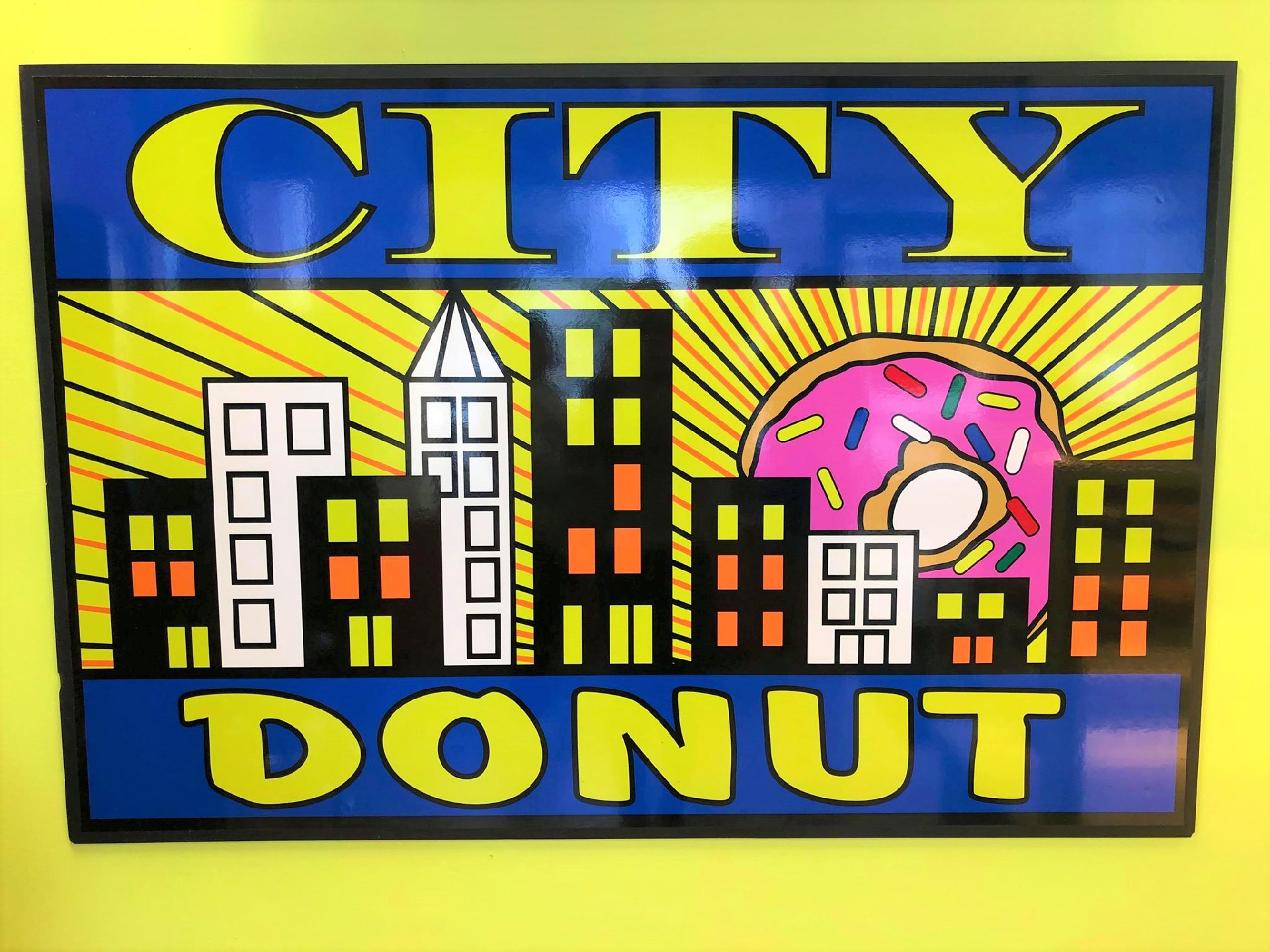 Snap a Picture 
There is something unique that City Donut offers that I haven't seen before in the area. They have a screen in their shop that is constantly refreshing with new posts on social media that use #CityDonut. This screen will show your posts within minutes, so you can post in the store and wait to watch your photo become famous! Be sure to follow along with their latest donut creations on City Donut's Facebook and Instagram, and don't forget the hashtag!