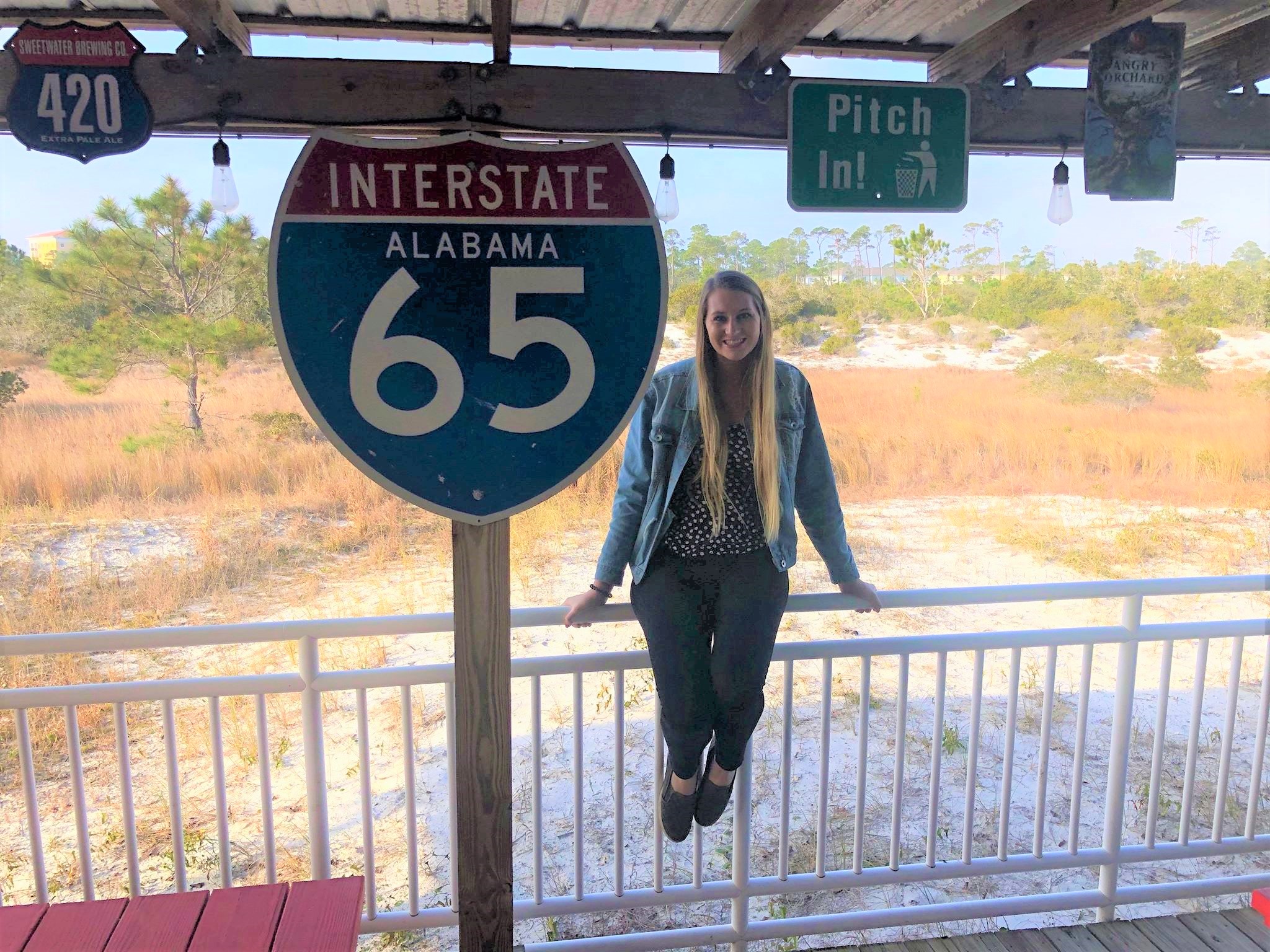 World Traveler 
This week I found myself all the way in FLORIDA! I took a left out of Caribe Resort, drove across the state line, and landed at Lillian's Pizza in Perdido Key, Florida. Did you know Caribe is only two miles from the Florida border? When I first moved here, I had no idea it was that close–but it's true. Florida is just a hop, skip, and a jump away. I can see myself venturing into Florida more often to find some hidden gems, because Lillian's Pizza is undoubtedly one of them.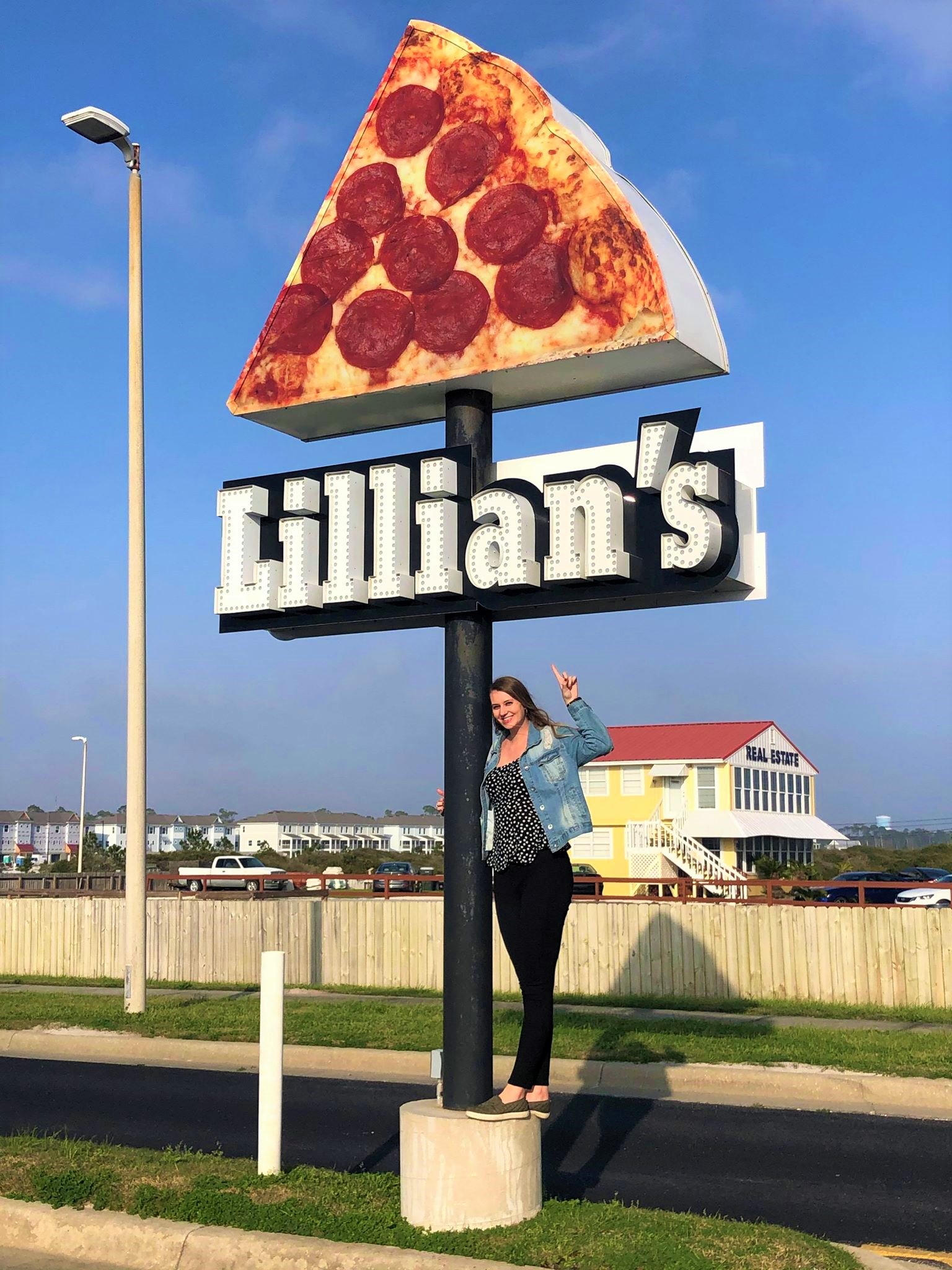 You Can't Miss It
I have yet to find a favorite pizza place on the Gulf Coast, and it feels wrong not having that go-to spot for a basic necessity like pizza. I've always wanted to try Lillian's Pizza because of their very large, realistic slice that catches my eye every time I drive by. The fake piece looks SO delicious; I could only imagine how good the real pizza tastes. I may have just found a new favorite spot!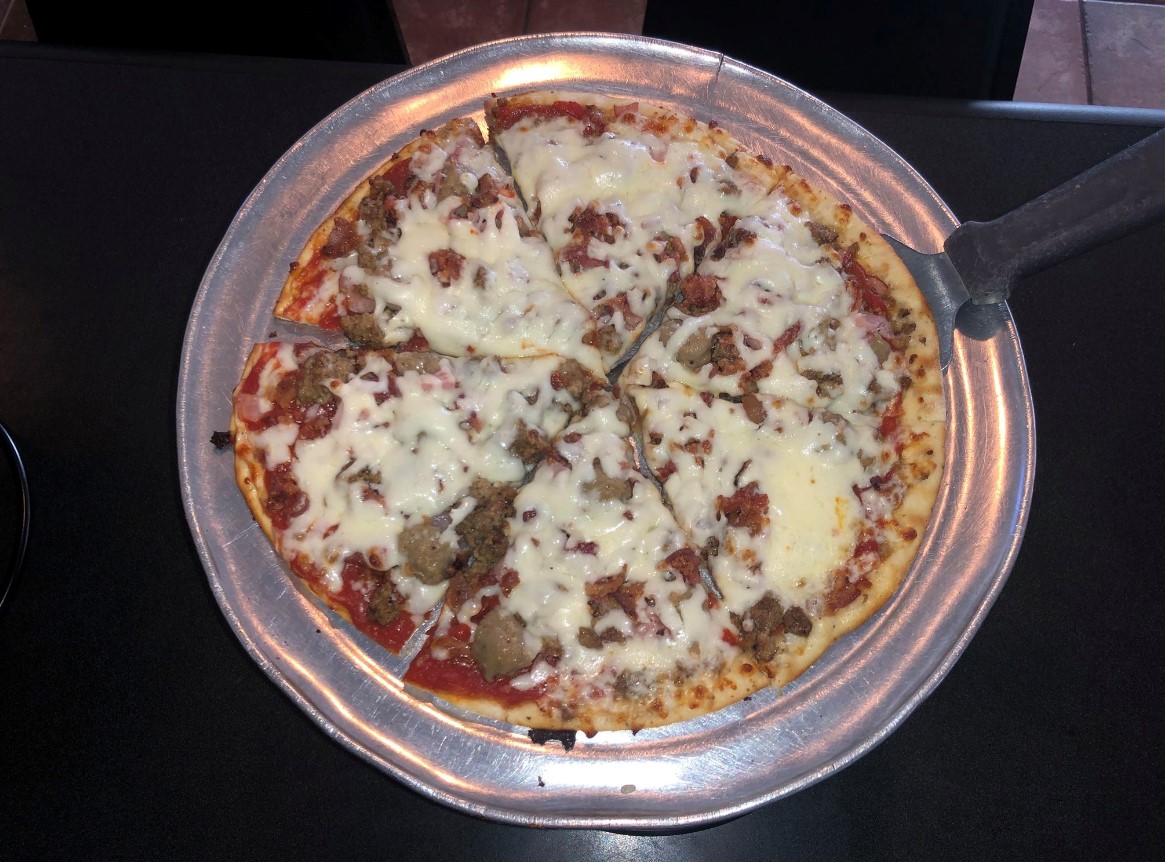 You Want a Pizza This?
Lillian's Pizza has quite an extensive menu, offering everything from pizzas to pastas to salads and everything in between. I decided to keep it simple and stick to a couple of specialty pizzas, because who doesn't love pizza, right? The first one that rolled out of the oven is one of the most popular pizzas at Lillian's, called "Big Dave's." This pizza consists of pepperoni, Canadian bacon, bacon bits, beef, and Italian sausage all atop their thin, savory crust. If you love a meaty pizza, you're going to want to try this one.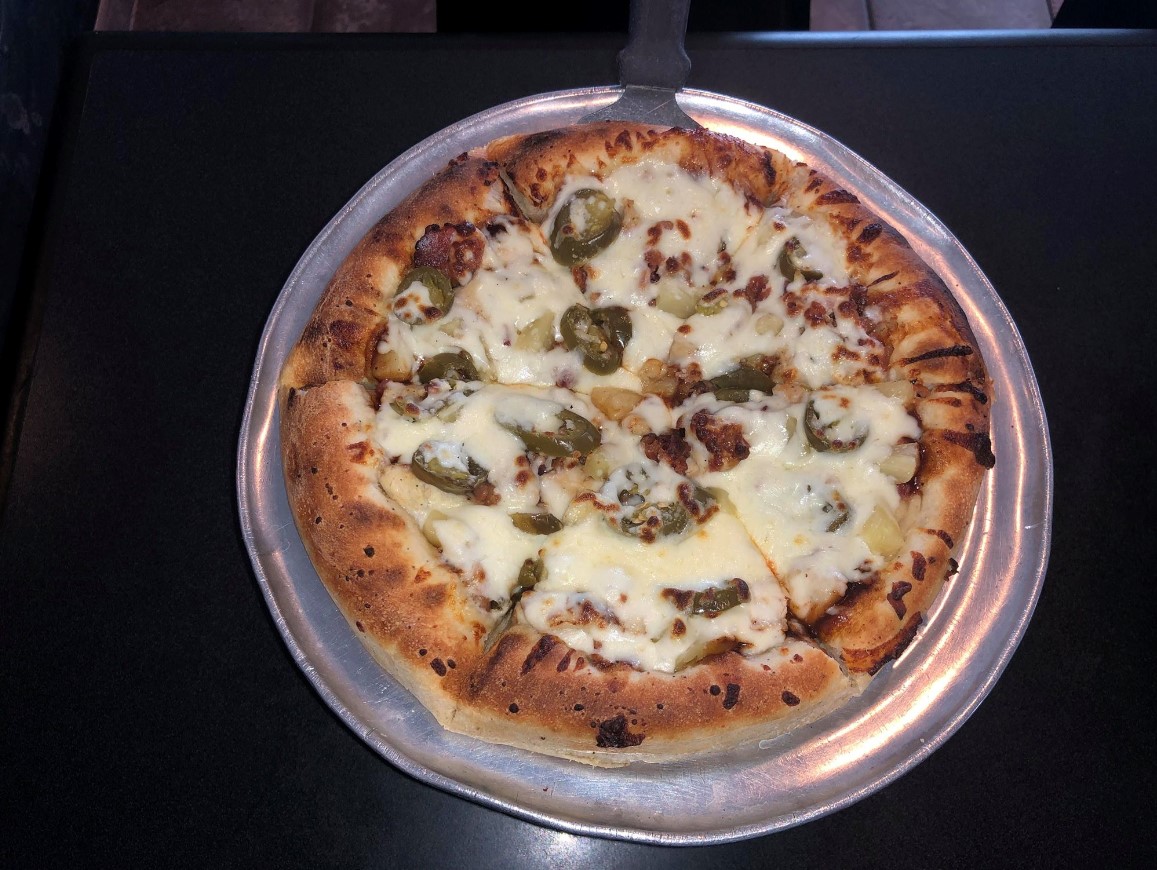 Slice Slice Baby!
Next up was another fan-favorite, and a whole lot of something different for me. I think most of us are familiar with the international crisis we are currently facing: whether or not pineapple should be a pizza topping. If you asked me before I visited Lillian's, my answer would be no, but if you ask me after trying their "Hot Hawaiian," I may have had a change of heart. This delightful creation is a BBQ sauce pizza with chicken, bacon bits, pineapple, and jalapeños. I really think this pizza will change your mind about the pineapple debate, but be careful, it has some kick!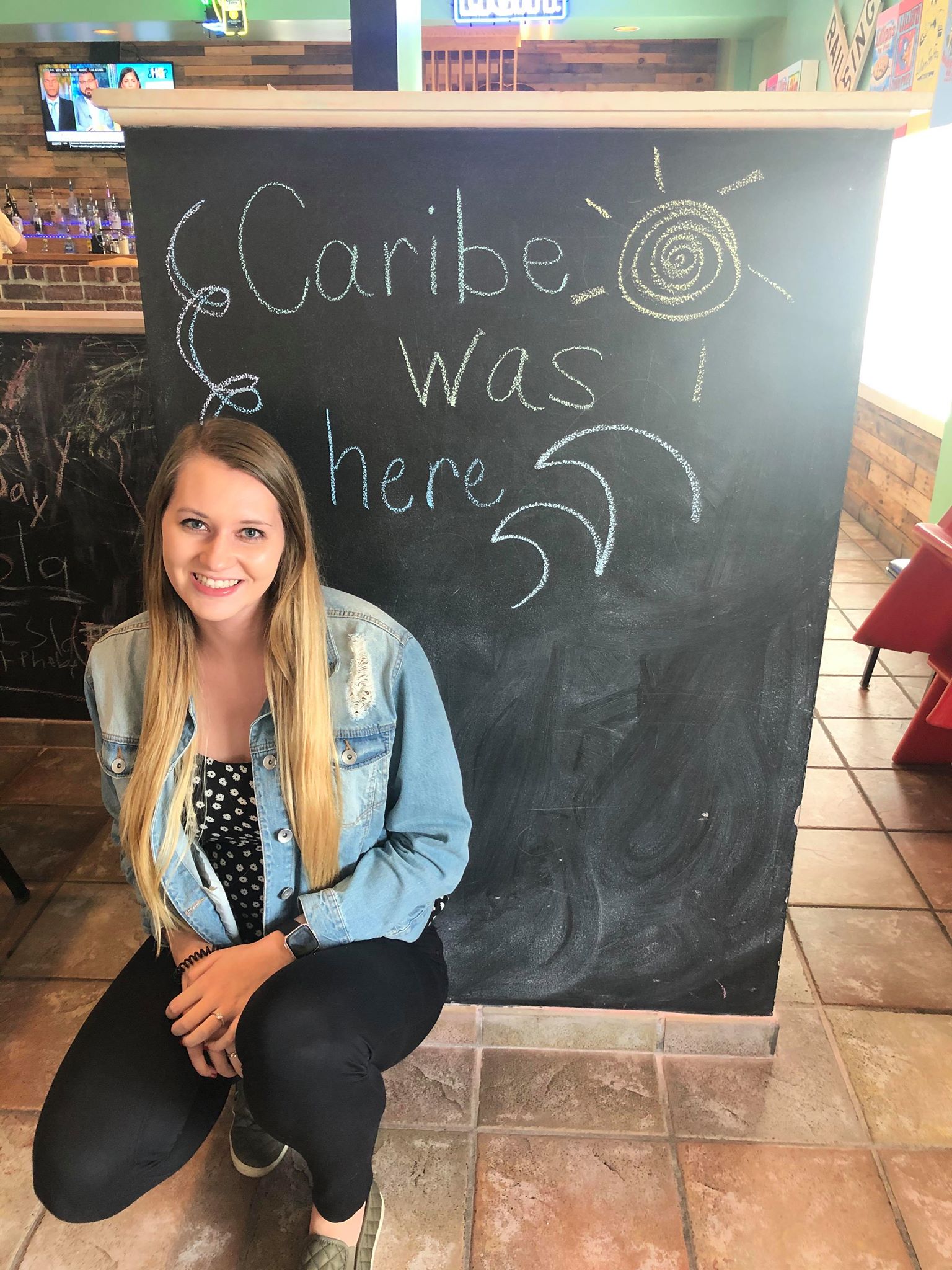 Make Your Mark 
At Caribe, we strive to be a very family-friendly resort, so I always try to find places nearby that are great for guests of all ages. I know it can be hard to please everyone while traveling, especially with a big group. Lillian's is perfect because it has something for everyone. Of course, a lengthy food menu makes for lots of dinner options, but what really caught my eye was the spread of chalk walls throughout the building. That's right, your kids can draw on the walls! Near every table, you will find a black chalk section ready to be beautified and a bucket of chalk with all the colors of the rainbow. I sure had my fun!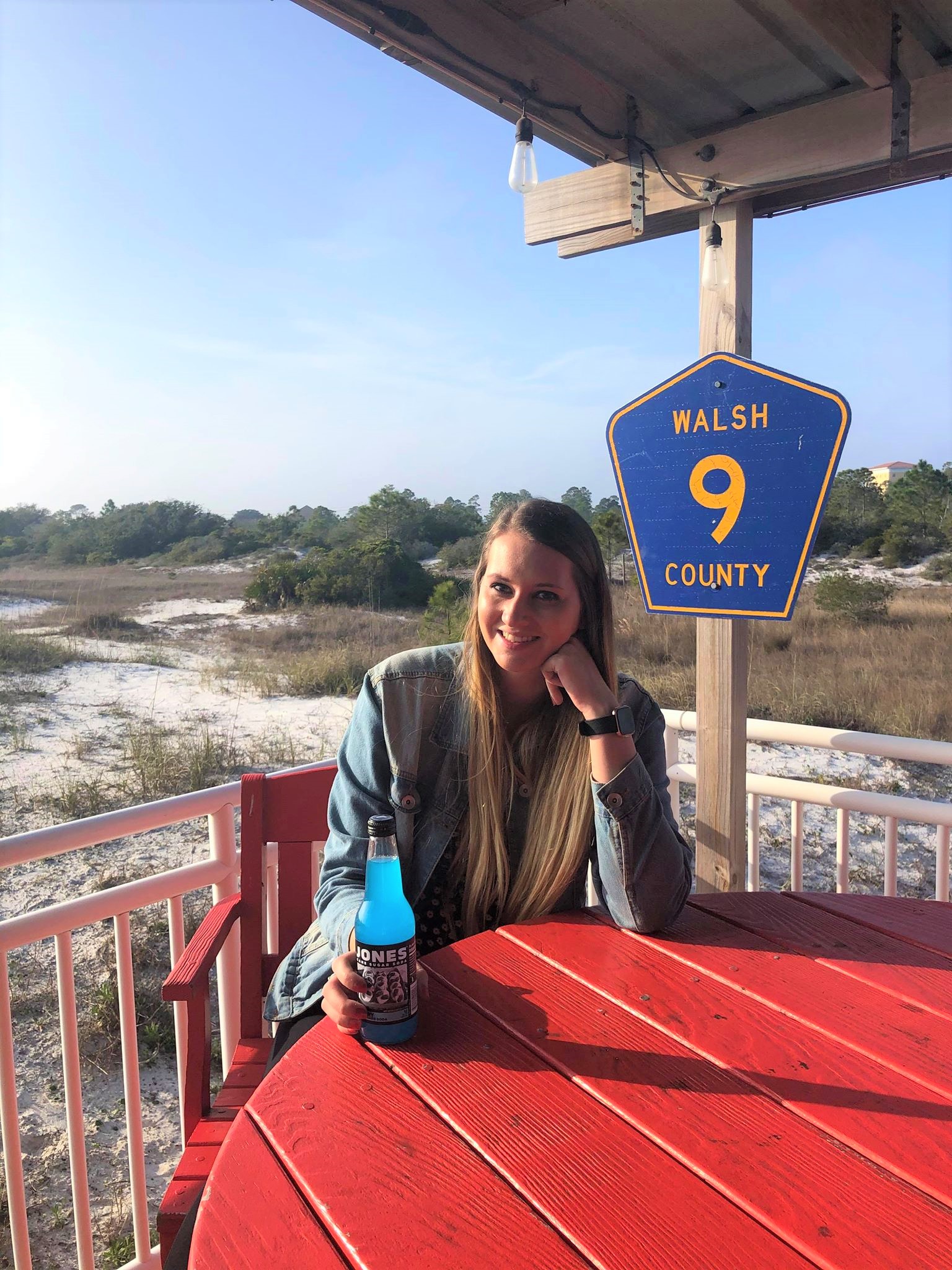 Caffeine Queen 
Now for you adults, Lillian's also has a full-service bar, in addition to bottles of beer and eye-catching cocktails. While I was there, I saw drink after drink leave the bar, and each looked so pretty. Their Key Lime Martini and Bushwacker, a chocolatey, coffee, milkshake-like alcoholic beverage, were especially alluring. Both of these are signature cocktails at Lillian's and southern favorites. Another 'drink' they feature at Lillian's Pizza is Jones Soda. Please tell me someone has heard of this soda before! Jones Soda is a non-alcoholic carbonated soft drink that is known for its unusual flavors not offered by other soda companies. I haven't had Jones Soda since my childhood, and when I saw it on the menu, I just had to have one!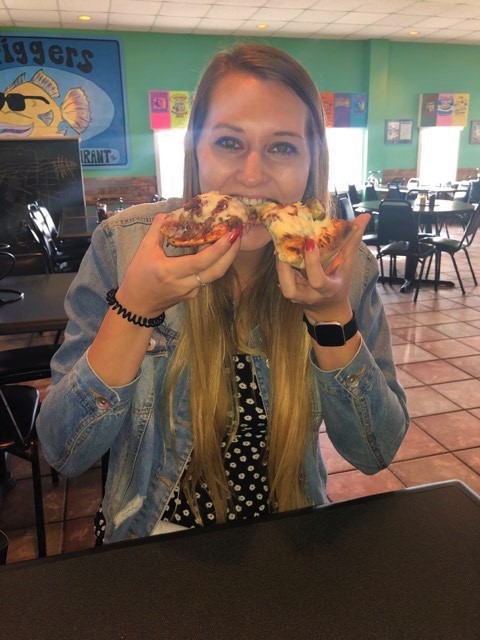 Let's Talk Ranch 
When it comes to ranch dressing, let's just say I really, really, really love it. I mean, how could you not? I'm not picky when it comes to ranch, only particular. I will eat any ranch, but I certainly have my favorites over others. I always remember specific restaurants that have the best ranch, and I find those to be some of my favorite places to eat. Like I always say, a restaurant is only as good as their ranch dressing. Okay, I need to get back on topic. Lillian's Pizza crushes it when it comes to ranch. Their ranch dressing is homemade daily, along with their Italian dressing, Parmesan white sauce, meatballs, and potato salad. That's what I like to hear!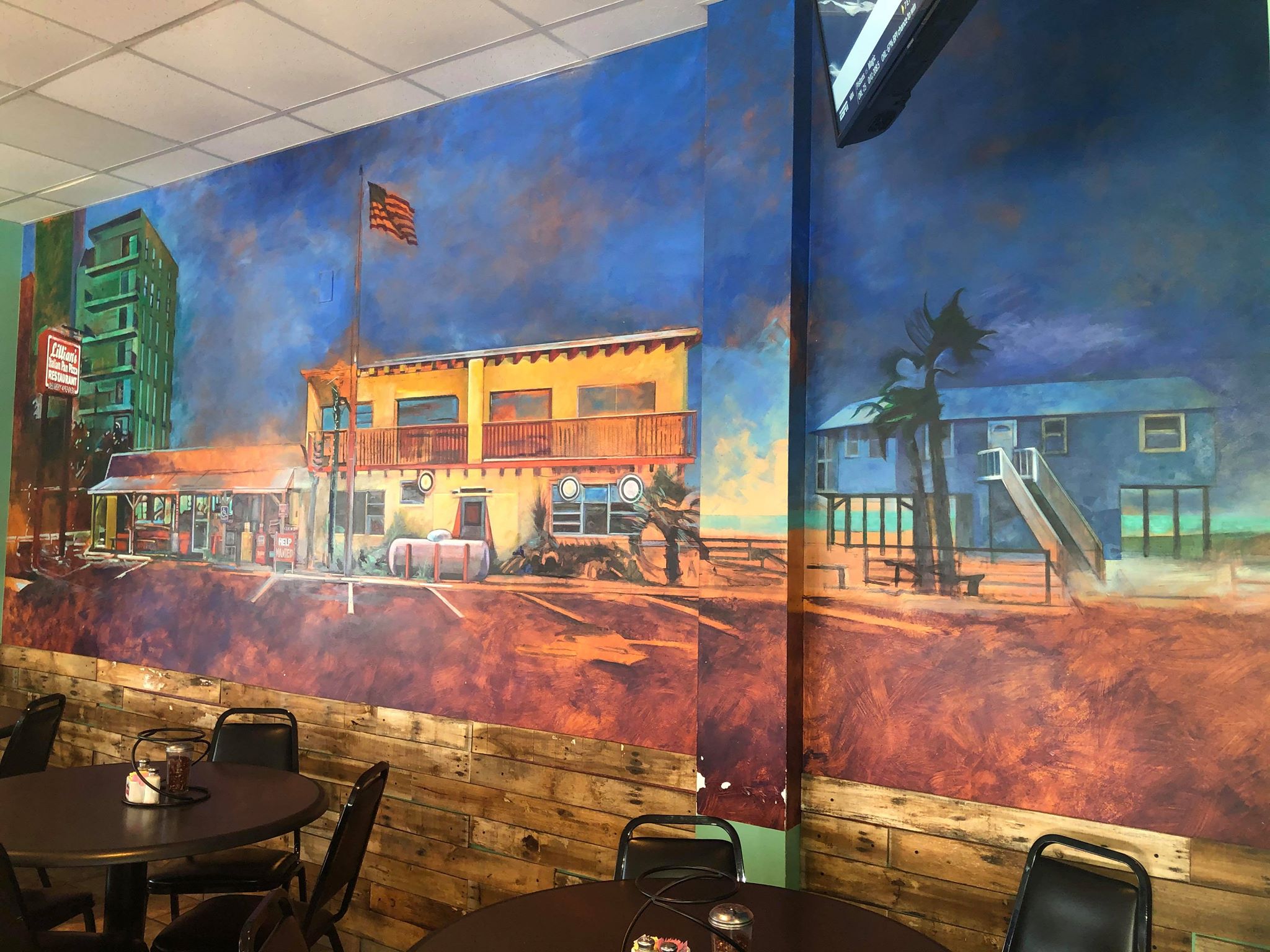 Hi, I'm Lillian 
I collaborated with General Manager, Anna, to set up my visit to Lillian's, and honestly, I was shocked her name wasn't Lillian–I guess that isn't a requirement to work there. Nonetheless, Anna was fantastic and reassured me that Lillian is, in fact, the name of one of the owners and a real person! I always thought it was named after Lillian, Alabama. This pizza joint has been in its current location in Perdido Key since the end of '05. Their original location opened in '89 and was right on the beach. Maybe some of you locals have been there, and remember the building displayed in this mural! After Hurricane Ivan, things changed on the beach, and Lillian's Pizza found itself calling a new location home.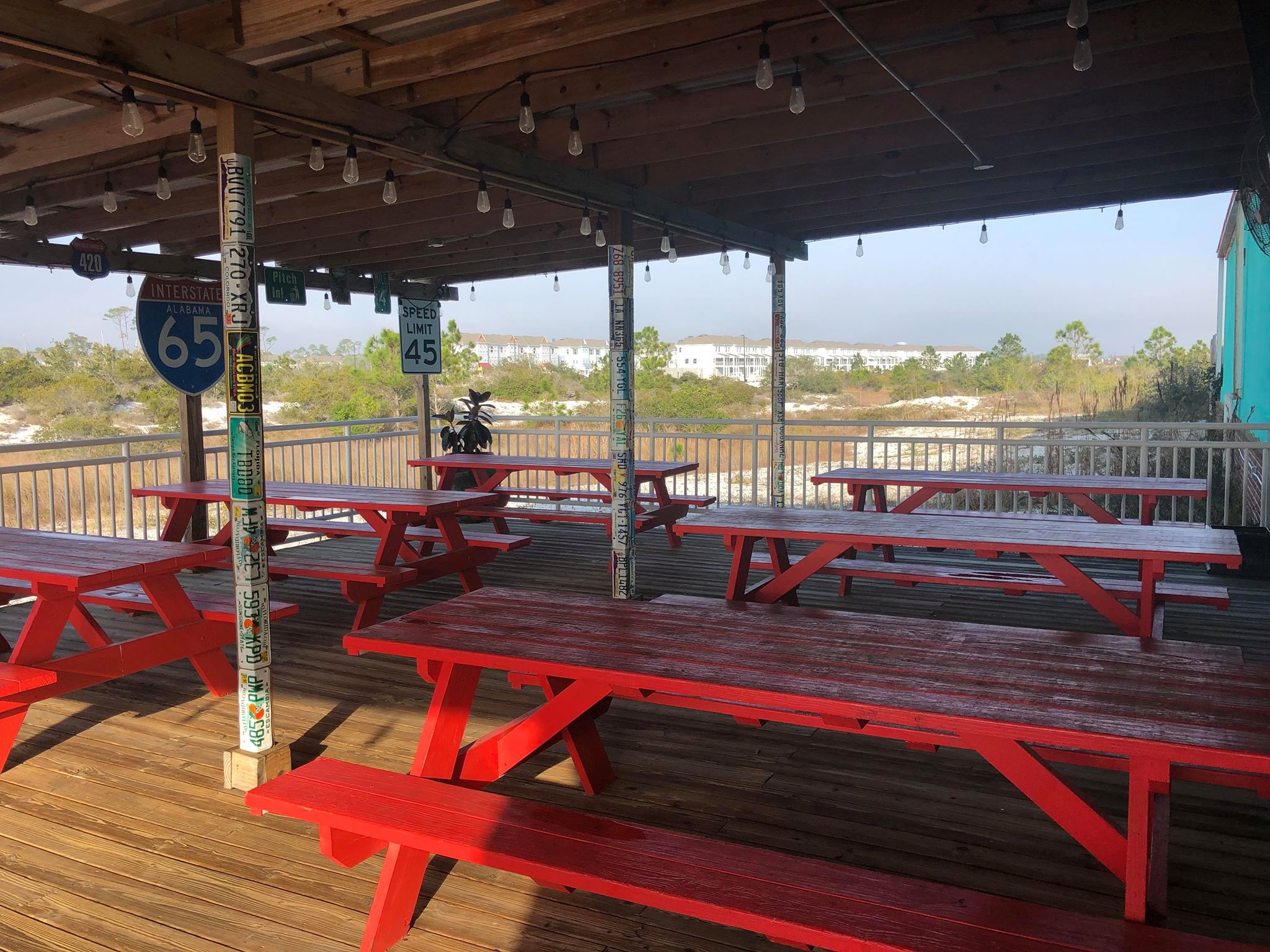 Beachin'
Lillian's Pizza is a colorful, inviting building. Look for the teal and maroon combo, and you really can't miss it. It's a fun, upbeat place with a great patio. They also offer a delivery service, and being so close to the beach, it makes a lot of beach-goers quite happy. Not only do they deliver to various beach access points, they also deliver to Caribe! Plus, they have meeting points to pick up your pizza should you be out of their delivery zone. It doesn't get more convenient than that.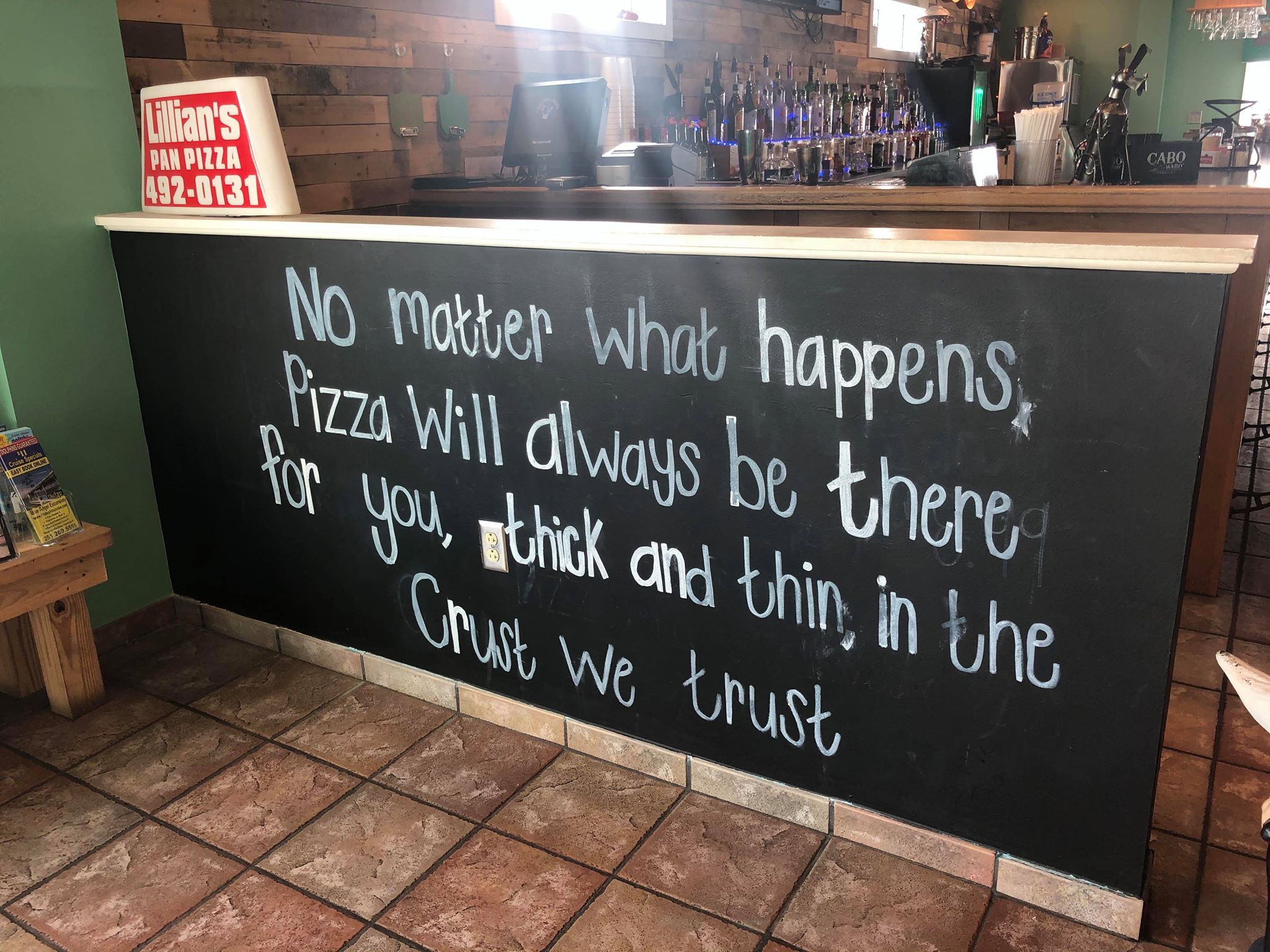 Follow Along 
When you're ready to order a yummy pizza, or try their famous lasagna, head over to their website to browse the menu or place an order! You can also keep up with them on their Facebook page. Be sure to write your name on the chalk wall, have a Jones Soda, and create your own pizza just how you like it. Don't forget the pineapple!