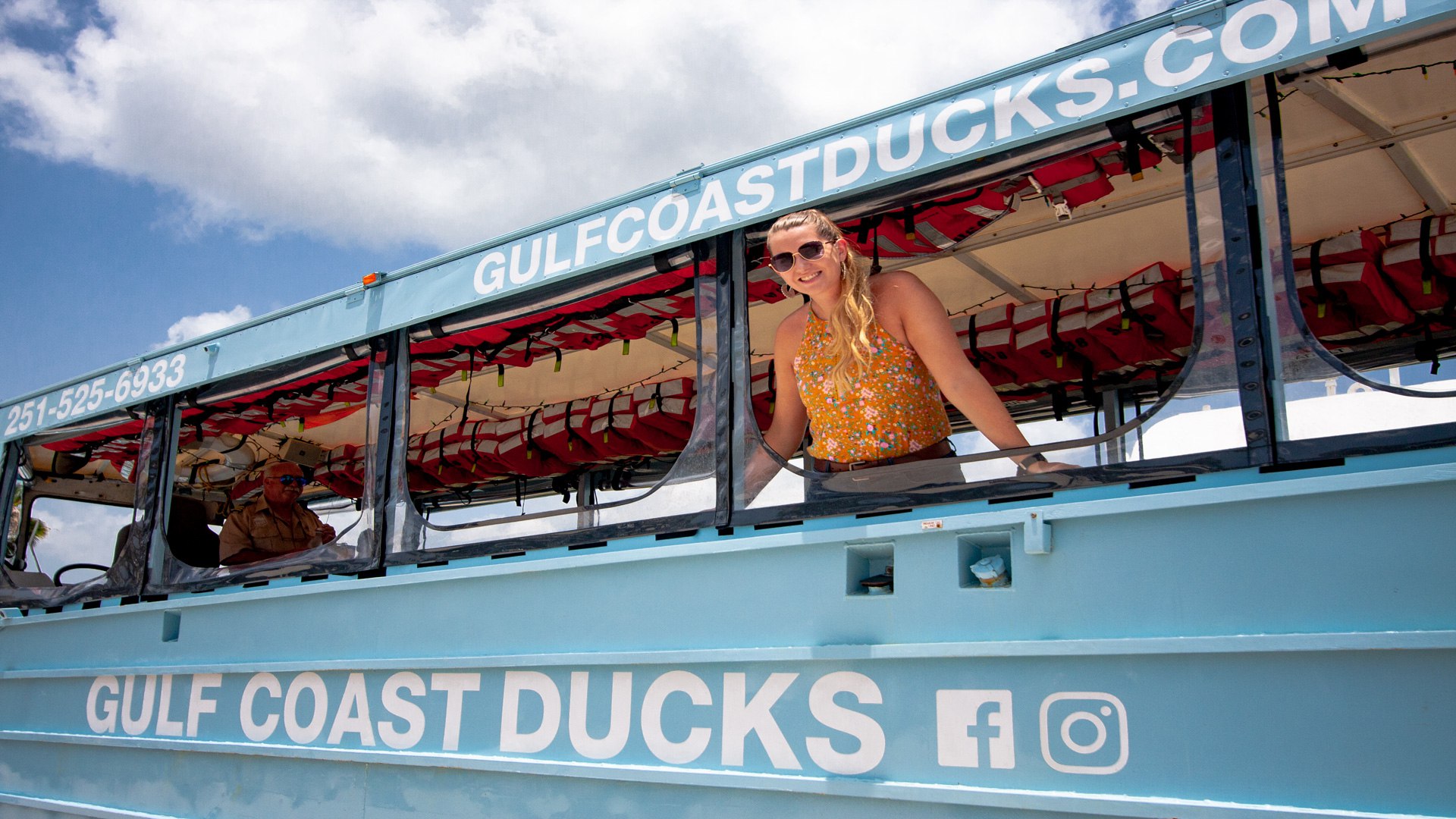 Quack, Quack
Creating an itinerary while on vacation can be a bit of a challenge, especially when you have a large group to please. There are only so many shops and restaurants you can visit, so set your mind on finding something unique, entertaining, and unlike anything you've ever done before. Need some ideas? I always have your back. Look no further than Gulf Coast Ducks. Experience coastal Alabama's only combined land and water adventure, while traveling on a restored boat used on the beaches of Normandy, France on D-Day. History and fun cross paths in this tour, and you'll want this at the top of your list.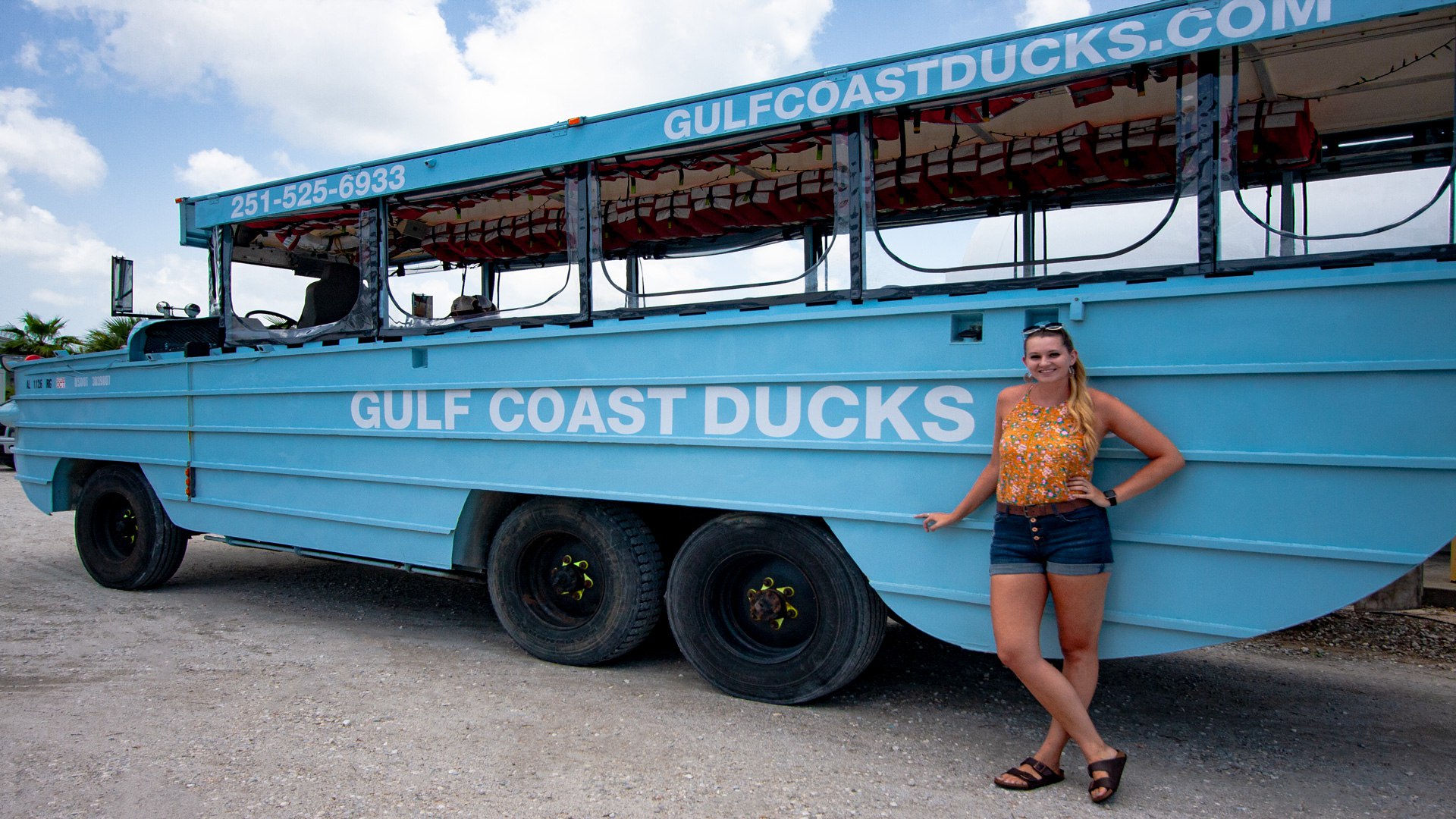 Meet The Ducks
Allow me to introduce you to my newest amphibian friend, the Duck Boat! This 75-year-old blue beauty lives at Caribe Marina in Orange Beach, Alabama, and is ready to meet you and give you a tour of the area. This very boat was built during World War II and was used to transport supplies and equipment between ships in transport areas and offshore on the beach. I initially thought the ship was named a "Duck" because of the boat's function, but it is actually called a "DUKW" boat. Each of the letters describes a characteristic of the boat: date, utility, wheels, and dual rear axles. Alright, enough about the engineering, let's get to the fun!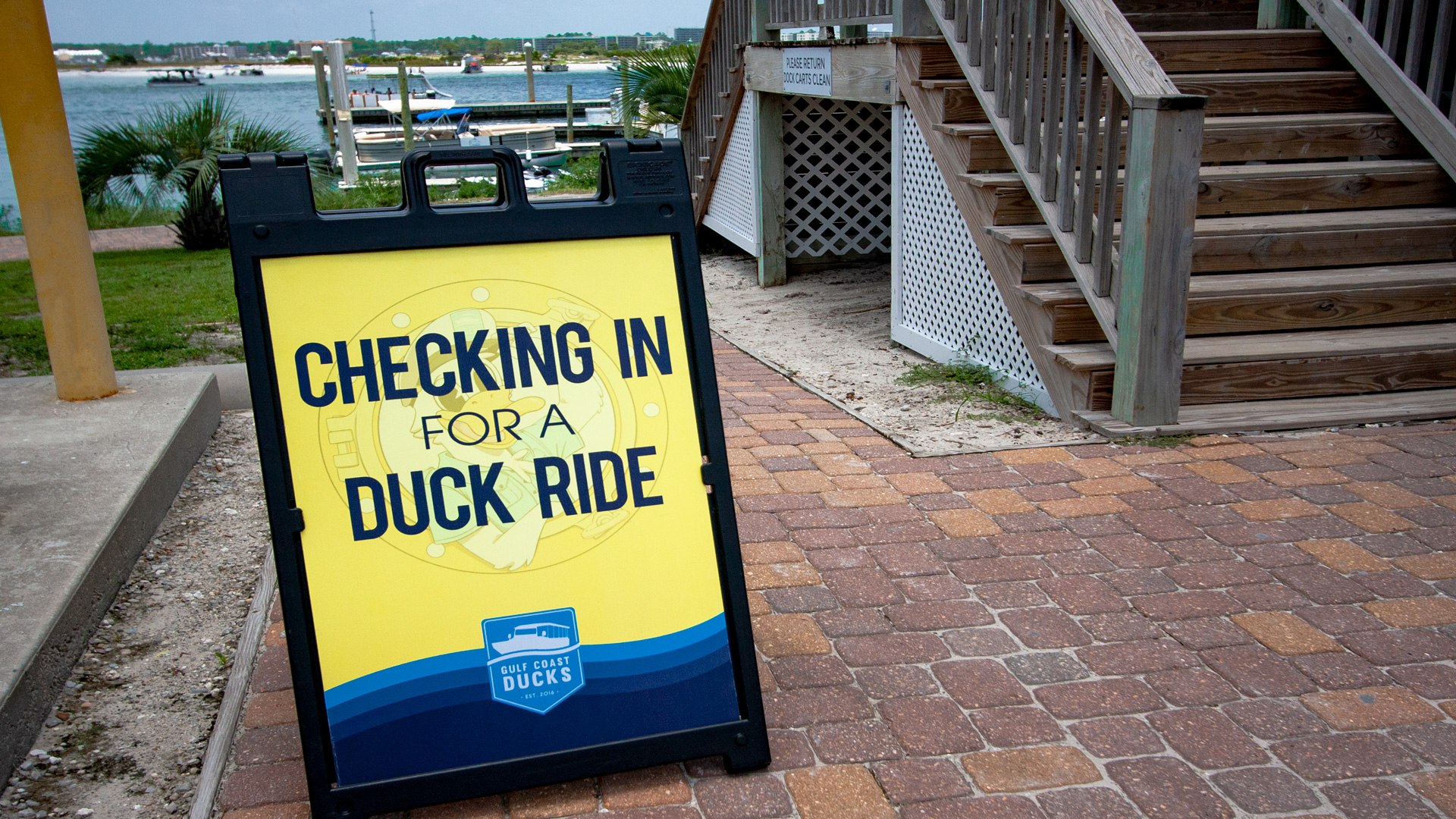 Departure Time 
Conveniently located right next door to Caribe Resort, you will find our on-site marina, Caribe Marina. If you haven't checked them out yet, now is the perfect time. They are home to quite a few different excursions and rentals, one of which is Gulf Coast Ducks, who have been operating Duck Boat tours out of Orange Beach since May 2020. Prior to that, their home was at Fort Conde in Mobile. We're so happy to have them! I made my way to Caribe Marina, checked in for my tour, and before I knew it, we were loading the boat. You'll find yourself climbing the narrow staircase on the back of the boat, meeting the fantastic crew, and choosing a school bus style seat for the ride. I had the pleasure of being on Captain Chris' boat, along with tour guides Madeleine and Noah–they are the best!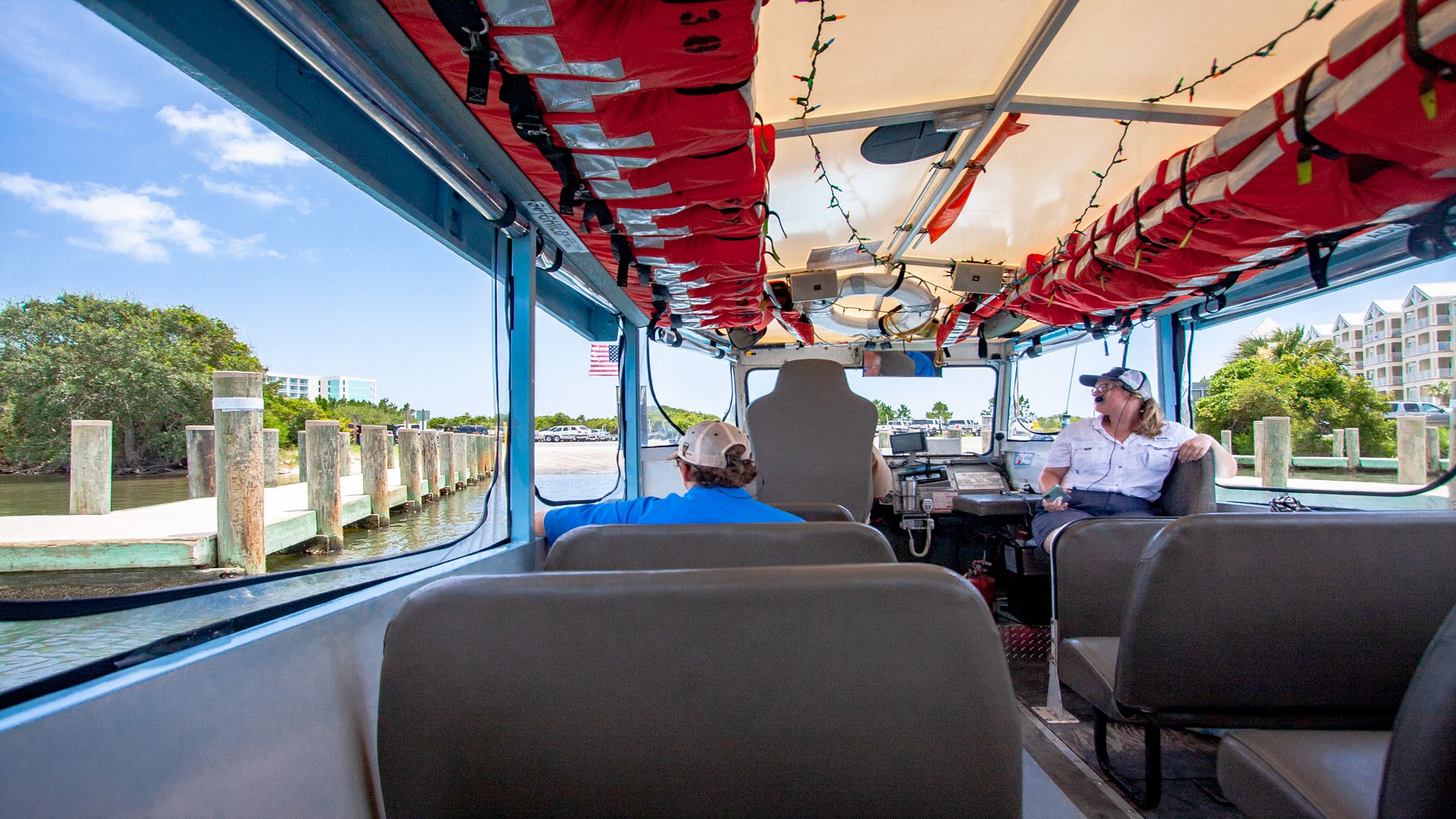 Water Meets Land 
Numerous tours are offered daily on the Gulf Coast to get locals and visitors alike out on the water, but only one offers a land and water tour combined. Before my visit, I knew that a Duck Boat could drive both on the road and in the water, but I didn't know I would experience both. We loaded up in the parking lot of Caribe Marina and drove over the Perdido Pass until we made our way to Cotton Bayou Boat Launch.
Cotton Bayou is the closest launch to Caribe Resort by car and the perfect place to put your boat in the water if you're taking advantage of our complimentary boat slips during your stay. When we drove down the ramp, I held on to the seat in front of me; Captain Chris shouted, "Here we go!" and we plunged into the water and reached the boat's maximum speed of 3.9 mph.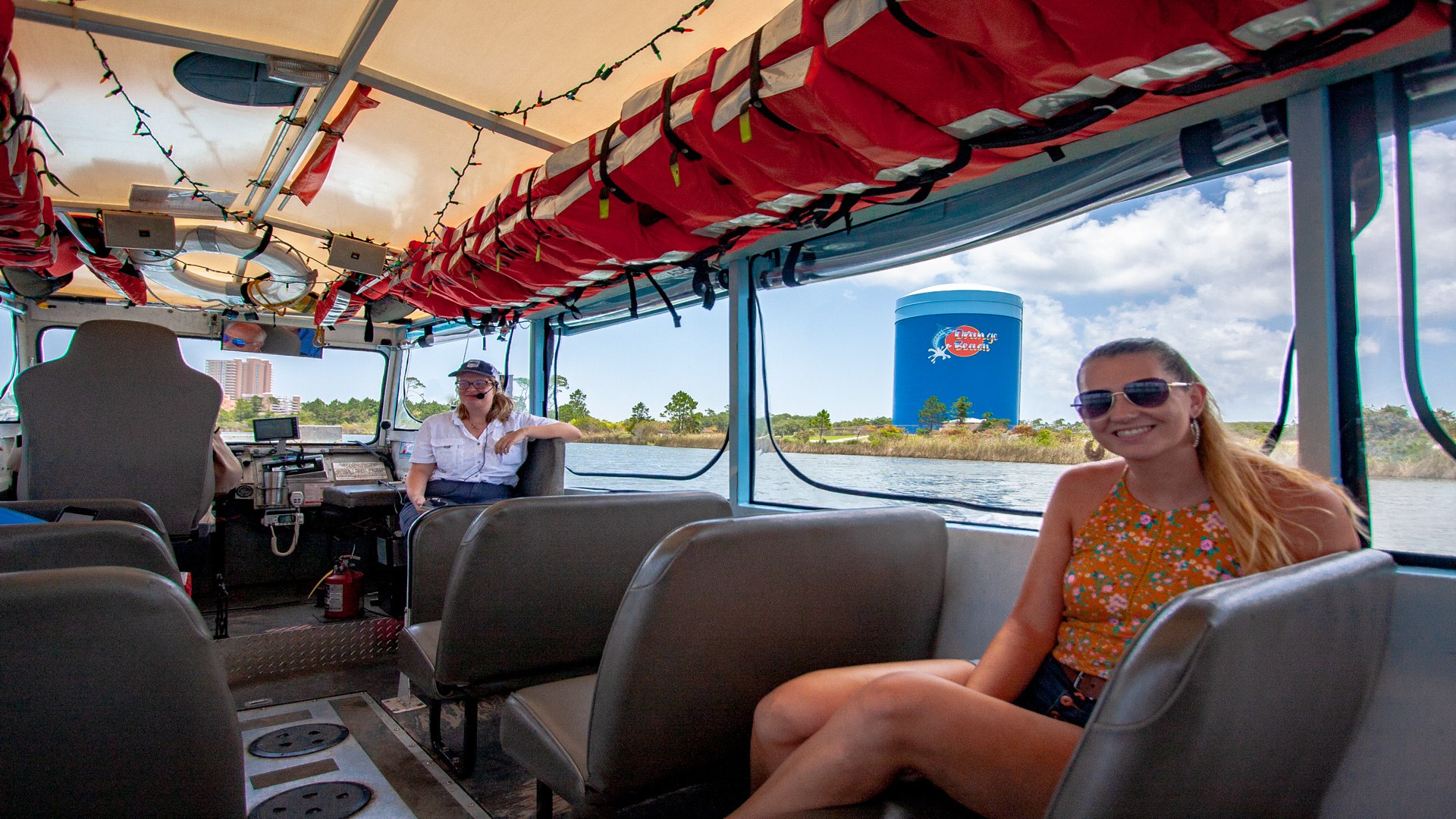 On Your Left, On Your Right 
One of my favorite parts of the Duck Boat tour was the abundance of facts shared with us from our tour guide Madeleine. Although I consider myself a 'local', there is so much about Orange Beach that I didn't know. She touched on information about the town's history, different marine life that calls our Bay home, our scenic beaches, and so much more. You'll have to take the tour yourself for a quick history lesson! She also pointed out various landmarks as we passed them on the water, including the Orange Beach water tower, so I had to strike a pose. Never miss a photo op!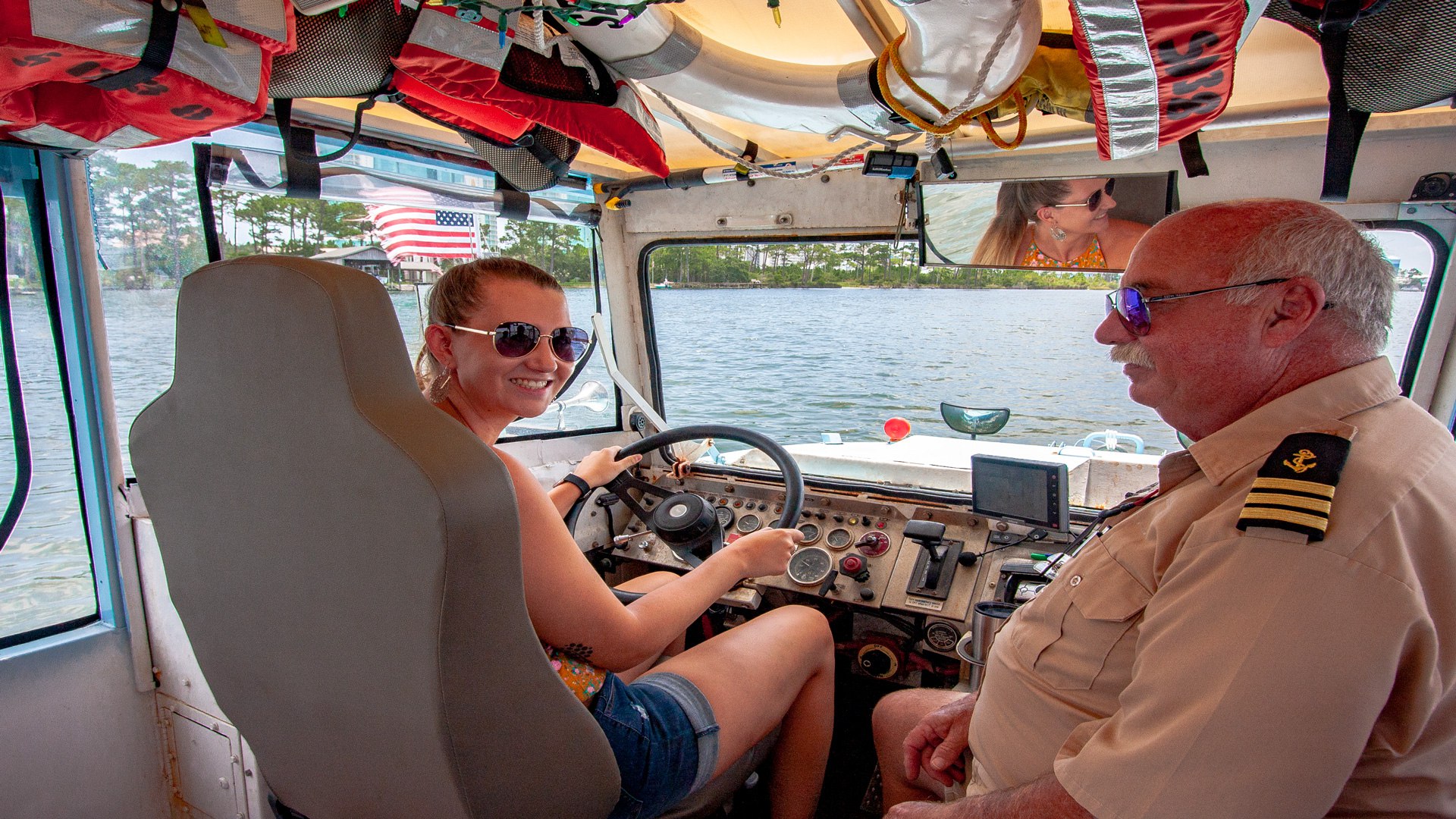 Look at Me, I am The Captain Now 
It's your time to shine! Are you up for the challenge of driving the Duck Boat? When Captain Chris posed the offer, it was one I simply couldn't refuse. I didn't know "Drive a Duck Boat" was on my bucket list, but consider it checked off! Gulf Coast Ducks offers one of the most interactive tours in the area. From driving the boat to asking questions, it was extremely personal, making it all the more fun.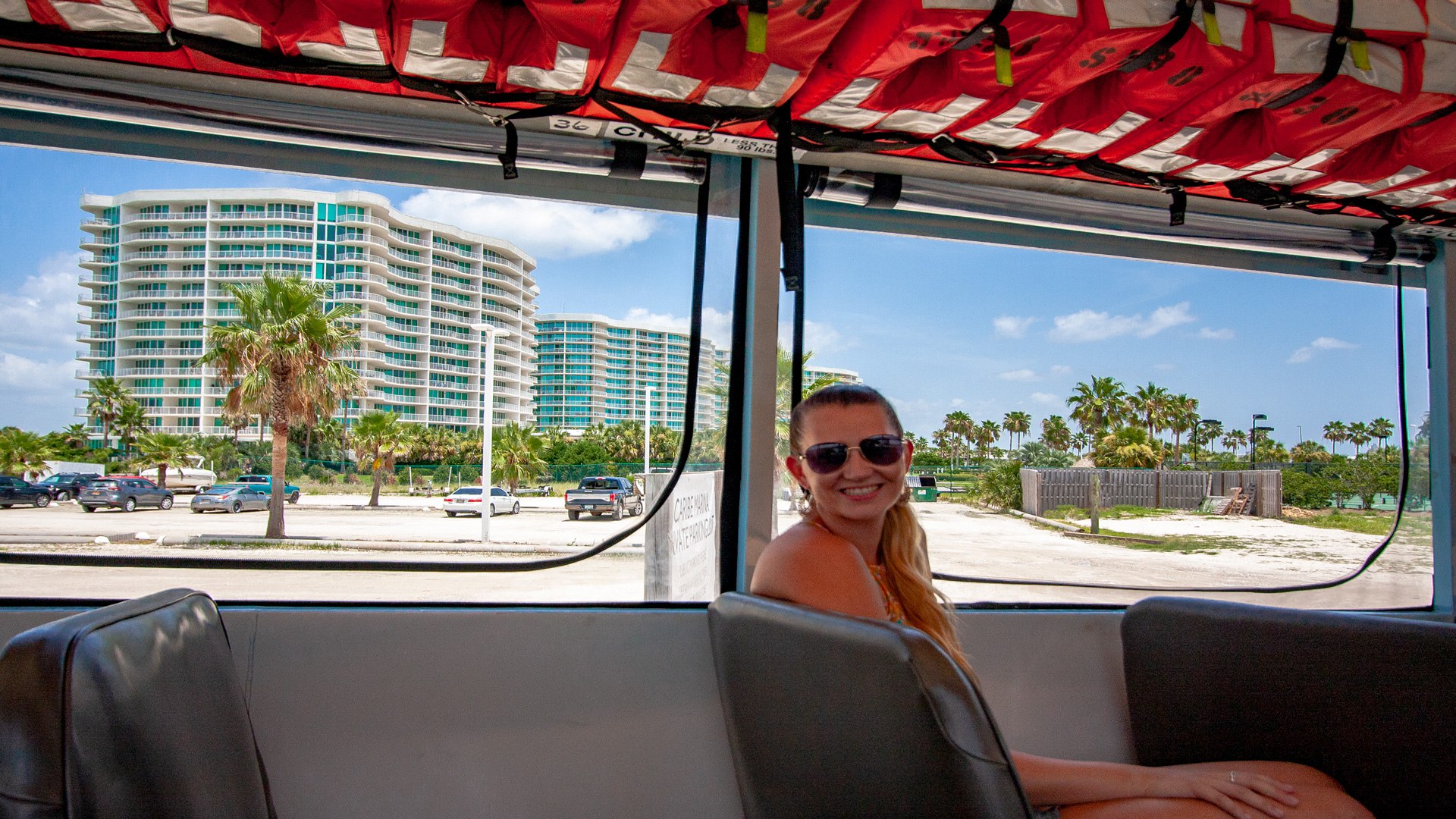 Girl Power
Calling all ladies! During my journey, I learned that there are 22,000 duck boats in the world, and of those, all but 1,000 were built by women. That's pretty incredible–kudos to the mastermind ladies behind the building! Gulf Coast Ducks was established in 2016 and over the years has provided guests with a unique boating experience on these fascinating vessels. They offer daytime cruises and a sunset cruise every day of the week, so gather up your group and discover Cotton Bayou in a new way.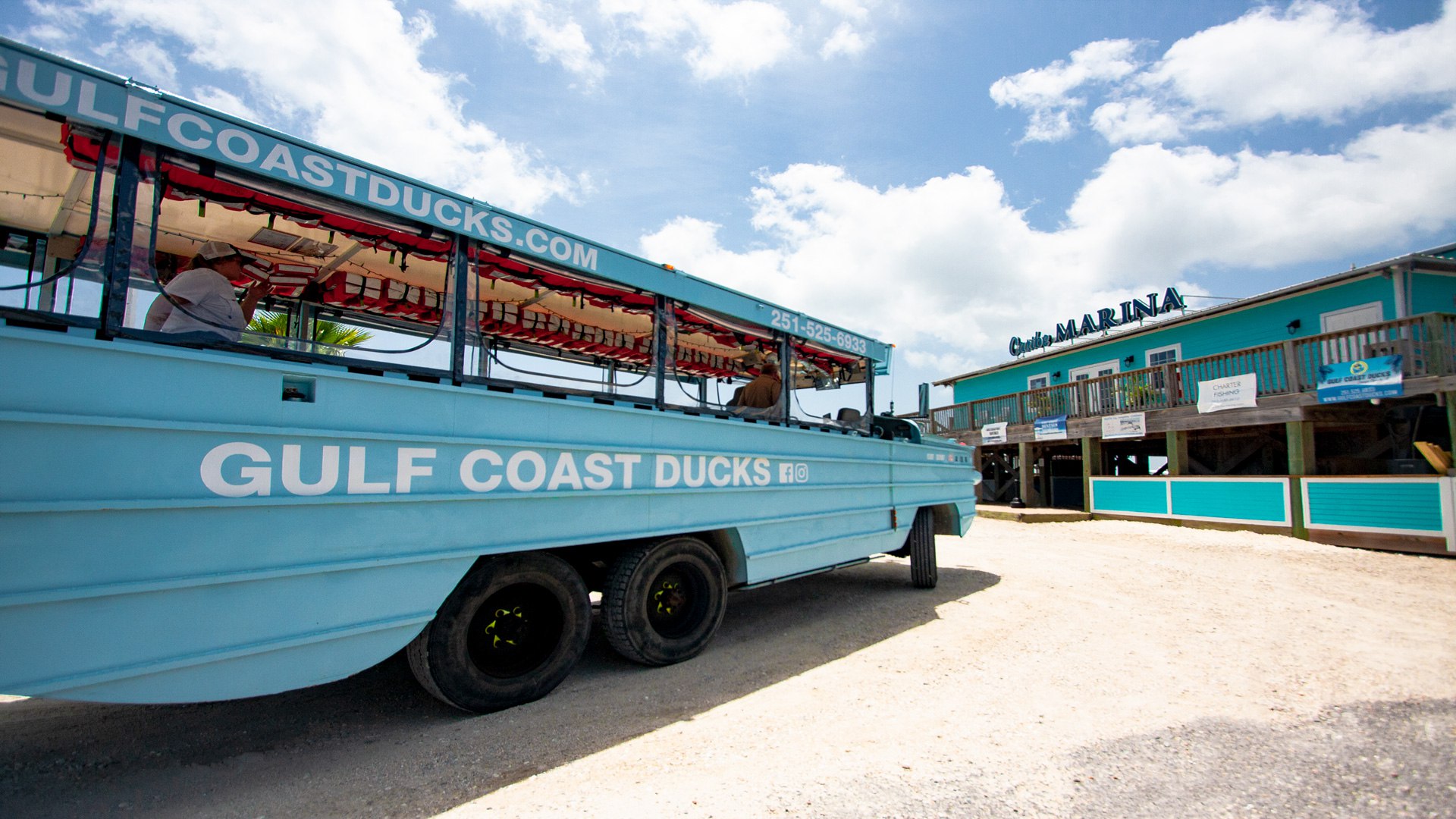 A Collective Effort 
This incredible trip would not have been possible without the hard work of Kate Pearson, Business Development Director at Gulf Coast Ducks. It was a blast to be a part of, and I can't wait for our guests to experience the fun offered right next door. 
Kate was great to work with, and she provided me with some insight regarding their 'Rain or Shine' policy. I noticed that the boats have clear window covers that can shield you from the rain. We have constantly changing weather here on the Gulf Coast, and this is the only tour I'm familiar with that has any type of water barrier. She further explained, "We can run tours in light rain by pulling the plastic windows down, but not in a thunderstorm or if lightning is within 3 miles of the Duck's location. We constantly watch the radar and always follow our weather procedural guidelines." Next time we experience light rain and I can't make it to the beach, I'll be on a Duck Boat!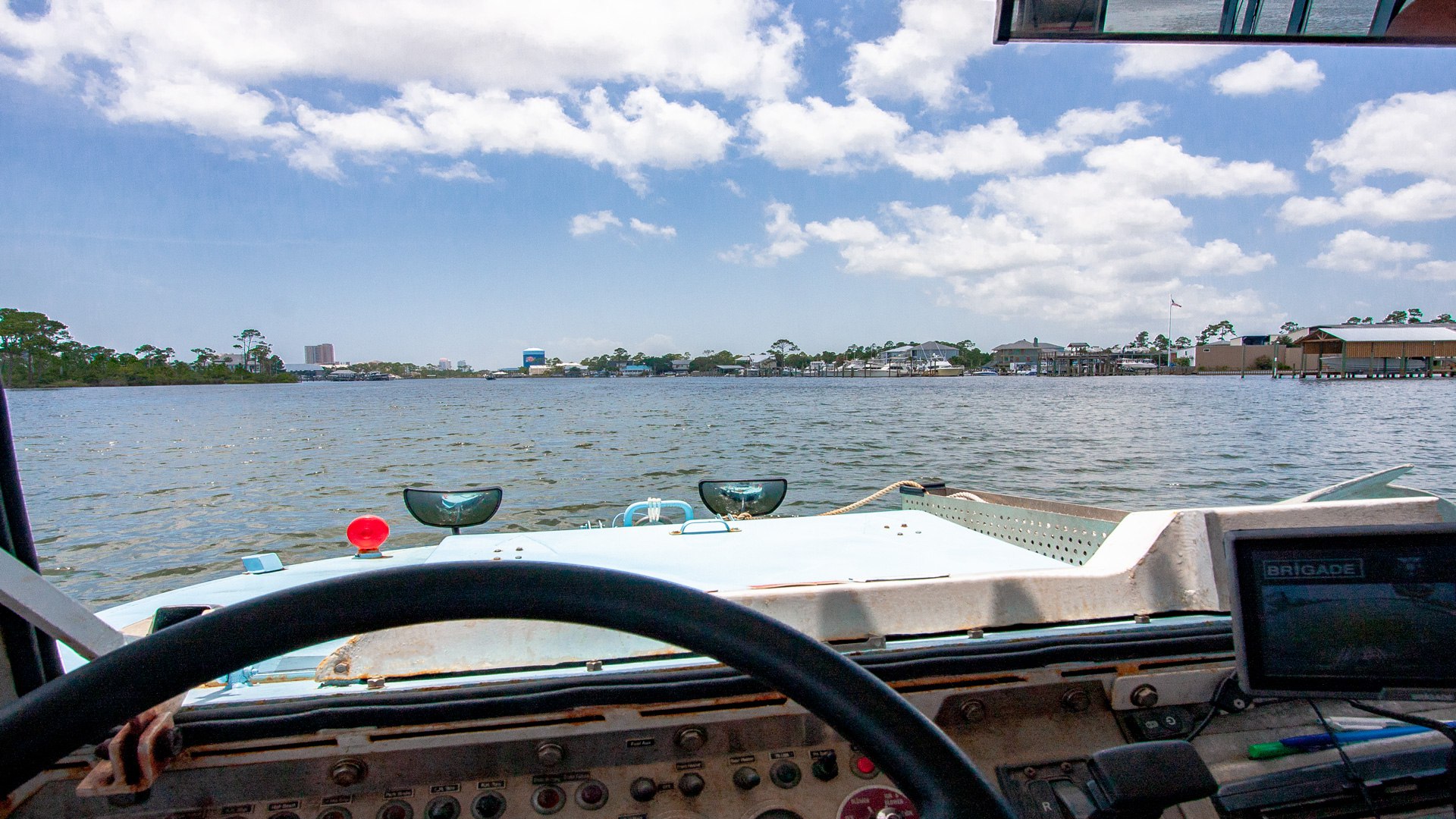 Let's All Stay Safe
We all know that 2020 has been an interesting year so far. Rest assured, Gulf Coast Ducks is doing everything they can to ensure a safe ride for all patrons. They have decreased capacity on trips so that groups can maintain a safe distance apart, their staff is adhering to all CDC guidelines, and they sanitize the boat after each tour. They look forward to welcoming you aboard in the safest way possible.