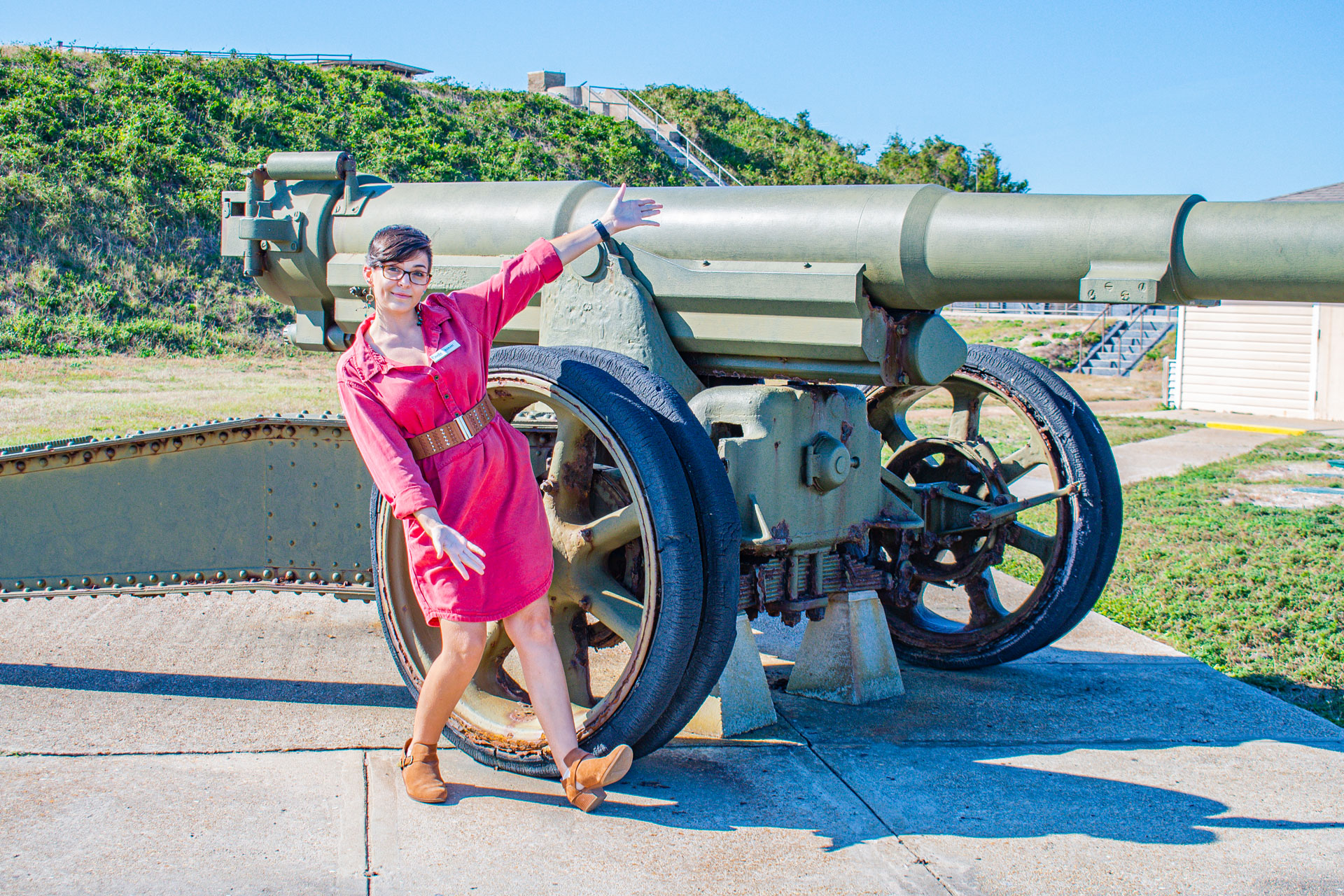 Full Steam Ahead
While Fort Morgan may look picturesque with lichen-covered walls, wildflowers peeking through cracks, and worn cobblestone paths, it has a past full of battles, lost loves, changing operations, and abandonment. 
Nestled right on the tip of Fort Morgan, with water on three sides, this deserted U.S. Army base resembles an old-world city long forgotten rather than a place of numerous battles and constant danger. With wildflowers growing where canons once stood and birds song in the air instead of alarms, this place acts more like a nature preserve.
A Little Museum With a Lot of History
As you enter Fort Morgan, a person at the gate hands you a brochure about the fort's history with a map and invites you to head to the museum to look around or visit the gift shop. They have a concession on sight called "The Historic Southern Grill" with restrooms there and at the fort. They also feature an interactive historical escape room that's fun for all ages and types of groups. I was gung-ho for a museum experience since I knew this place had such a long history. The museum had items like uniforms from civil war men, letters from loved ones, all types of authentic weaponry, and actual lights from the original lighthouse fixtures.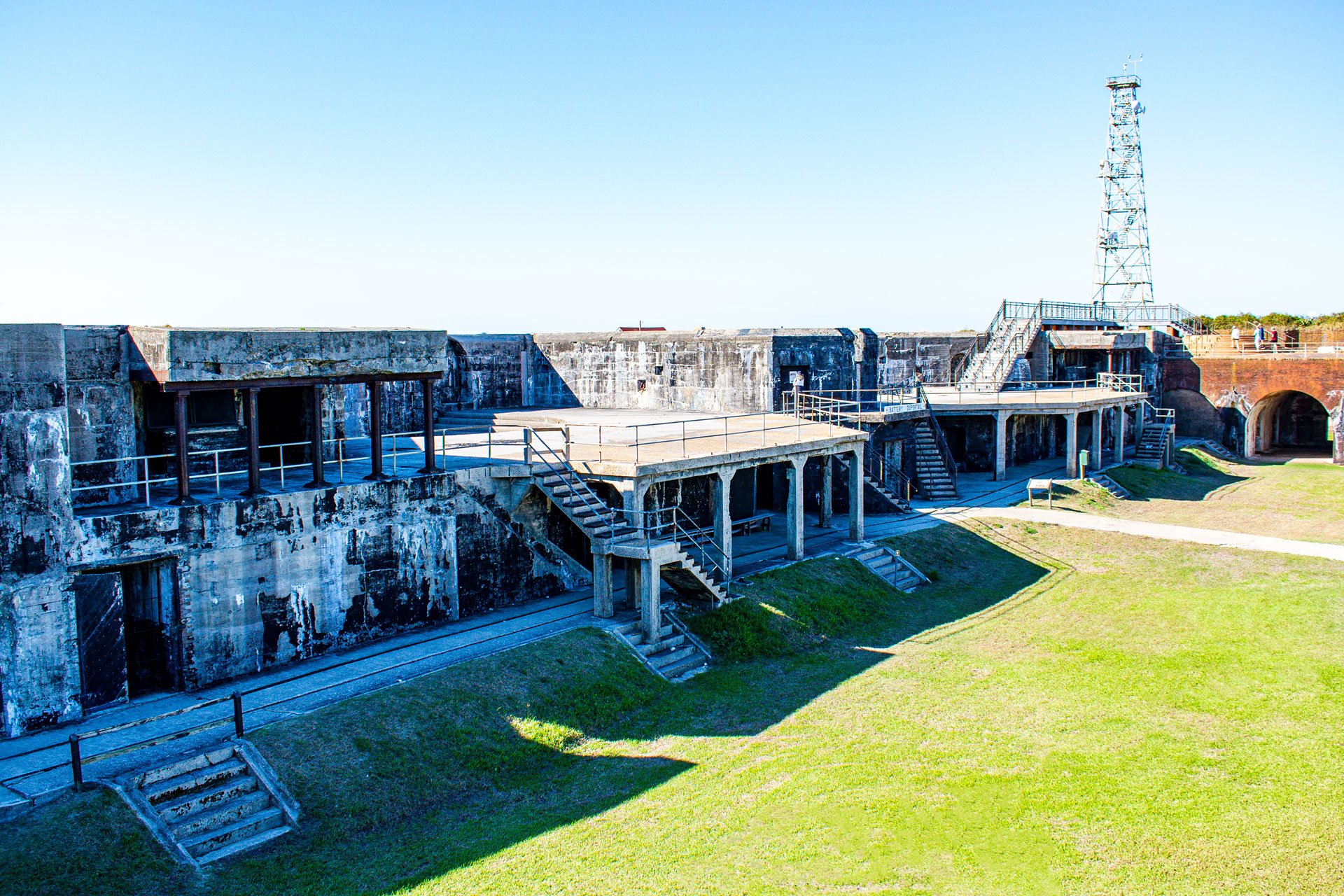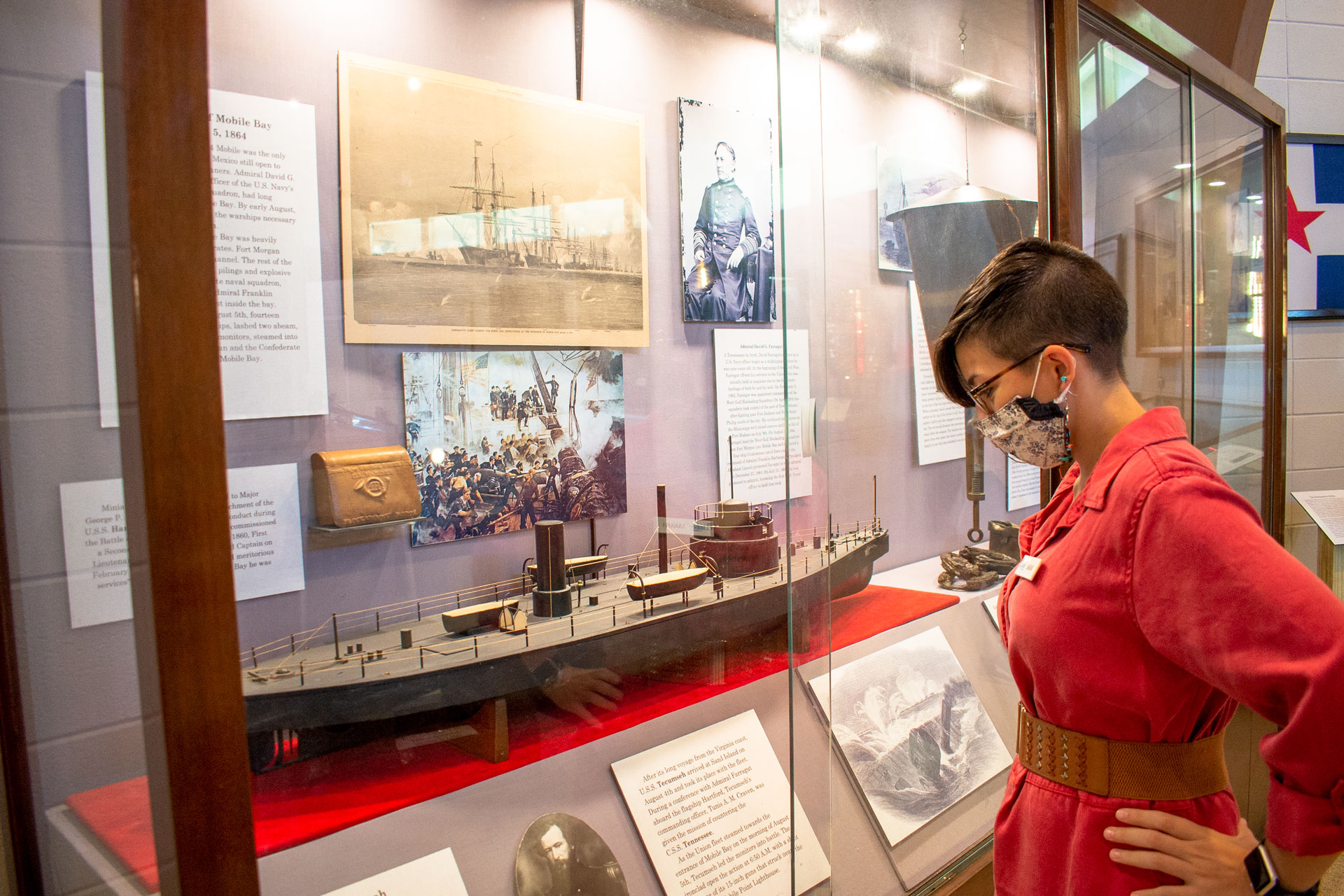 One of the most interesting features I saw was a local menu for a Thanksgiving meal that featured roasted turkey with an oyster dressing. It's not something I have ever eaten here in the south, but apparently, oysters are a local tradition. The items I liked the most were the letters written by the soldiers. There was a somber one from a C.S. Stewart to his wife Julia, where he wrote a uniquely fond and touching goodbye to his family, which he wasn't known to do. Stewart then died from an attack mere hours later.
Exploring the Ruins
I will be the first to admit that wearing boots was not the best idea for exploring old brick paths, sandy beaches, and going up and down steep stairways, but I made it work. Tennis shoes or sneakers are what you would want for this trek or even good sandals. Using the map they gave me and the little informational plaques throughout the fort, I easily navigated around and located interesting features. The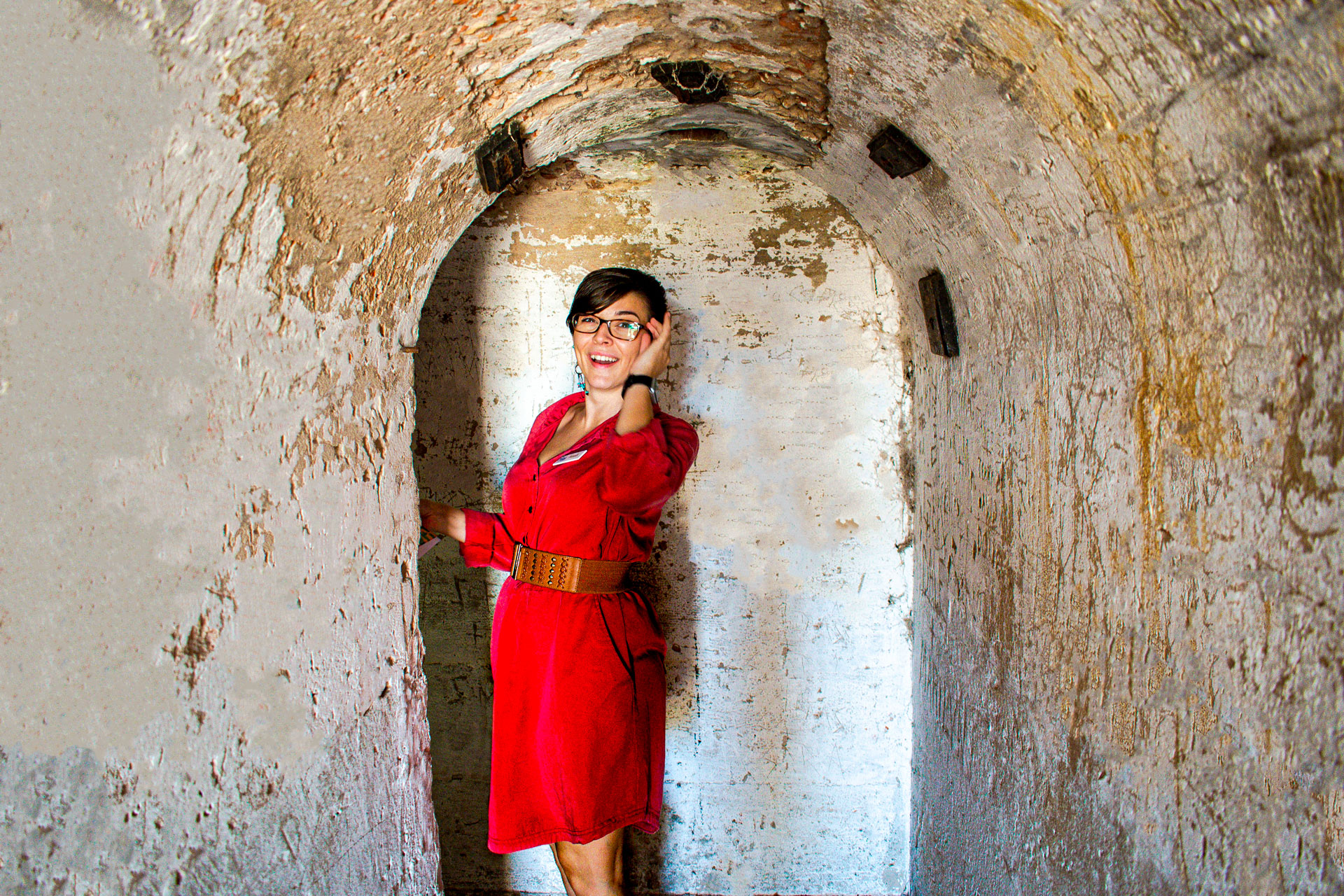 weather was great, with the sun out and a light breeze. I imagine the cool stones and deep cavernous paths keep people cool and provide shade in the summer. This is an ingenious idea for that time as I don't know how people survived without fans and air-conditioning.
A couple of families were walking around as well, young children climbing up steps and parents calling out to show off an interesting sight. The fort is definitely expansive enough for social distancing. At some points, as I went into hidden back rooms through tunnels where it got colder and darker, and I forgot anyone else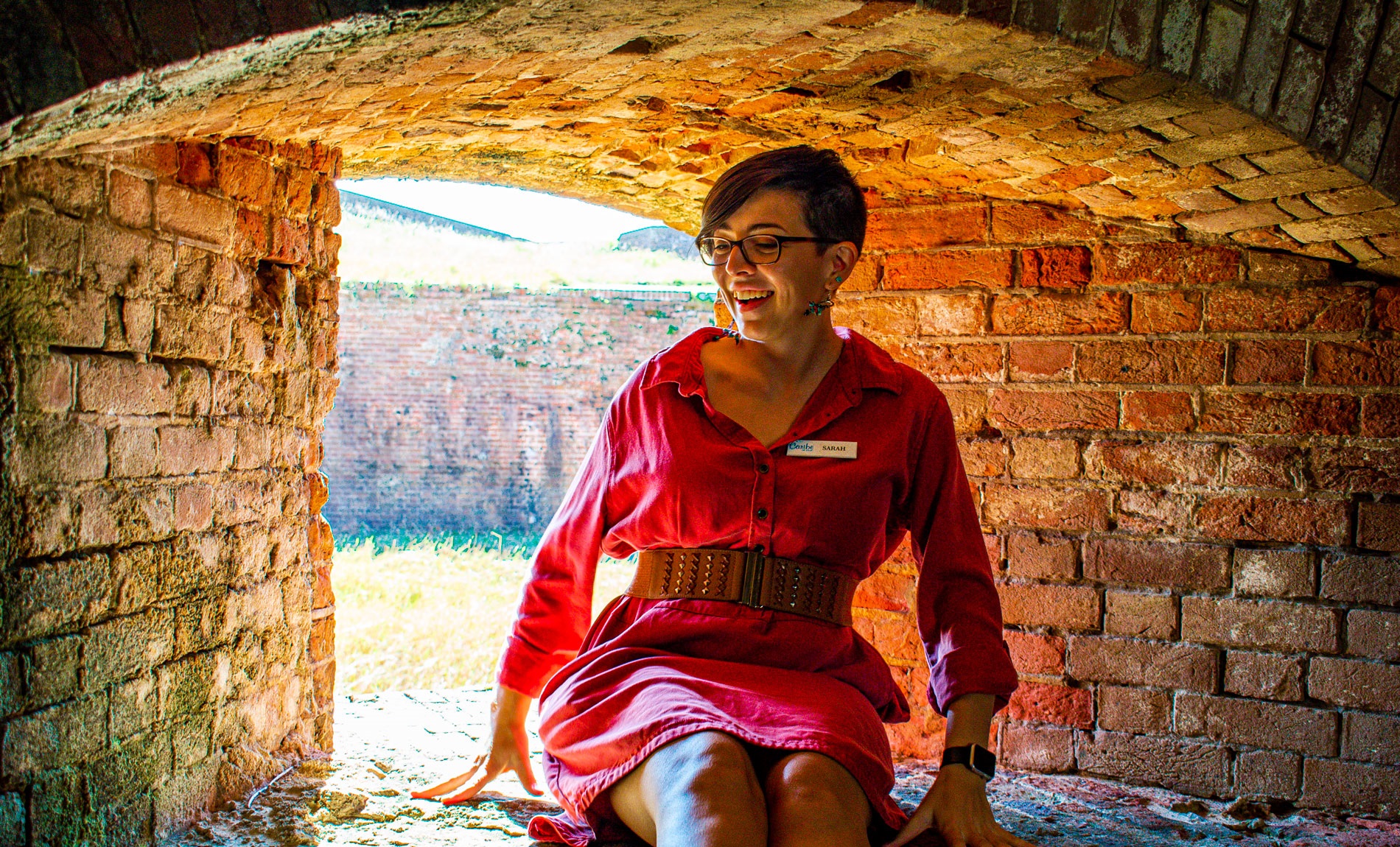 was there. I would recommend a flashlight, or in my case, a phone light. I lost track of time as I walked all around old cannon batteries where soldiers once defended the fort and restocked iron shells. I liked to play a game, trying to guess what certain places were before looking at the map. I soon found a unique alcove in the wall, that I promptly sat in, I thought it was used as a fireplace in the mess hall… I was very wrong… turns out it was actually a place to put howitzer cannons (very strong and powerful short-range cannons) as a last line of defense.
Birds, Butterflies, and Batteries (Oh my)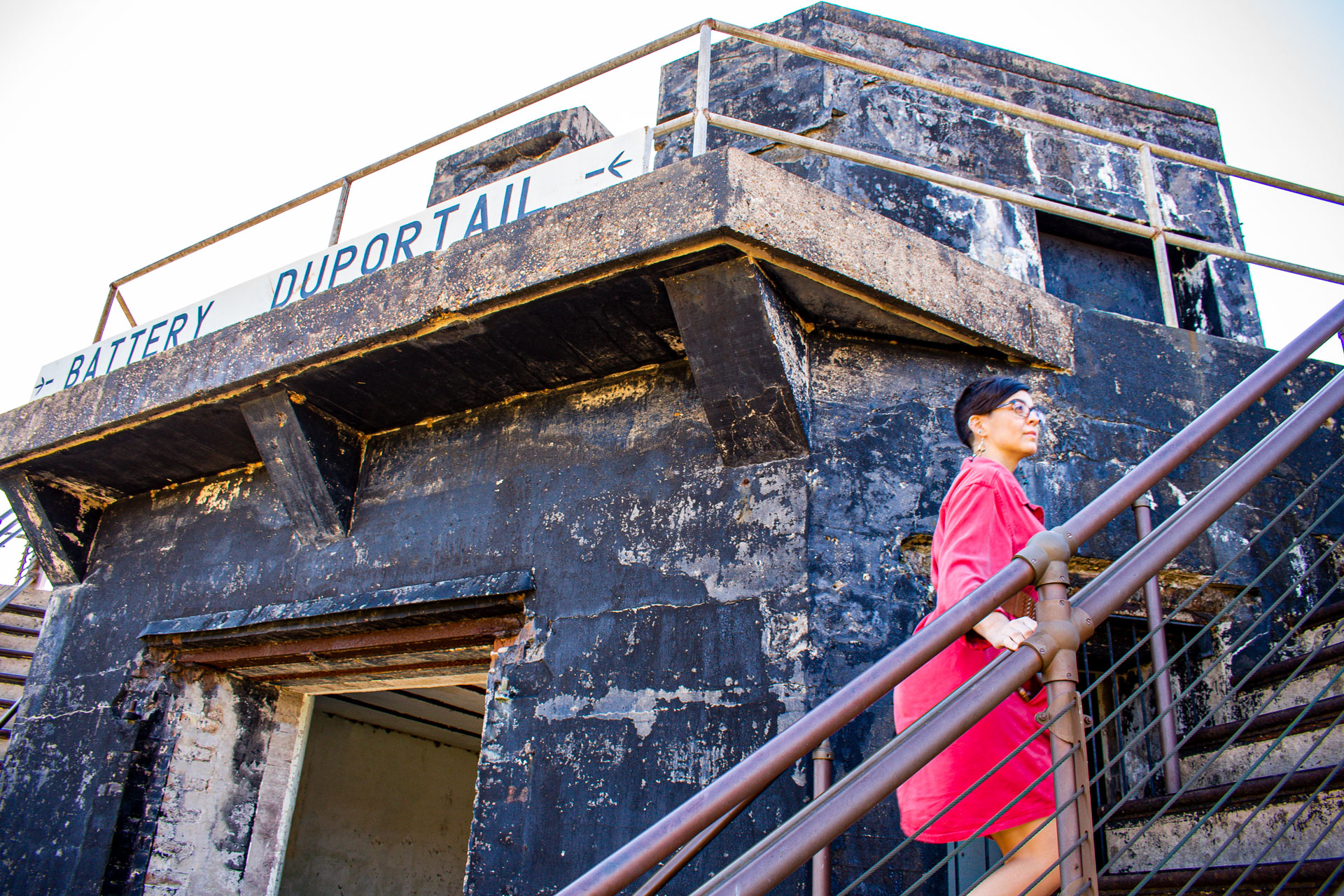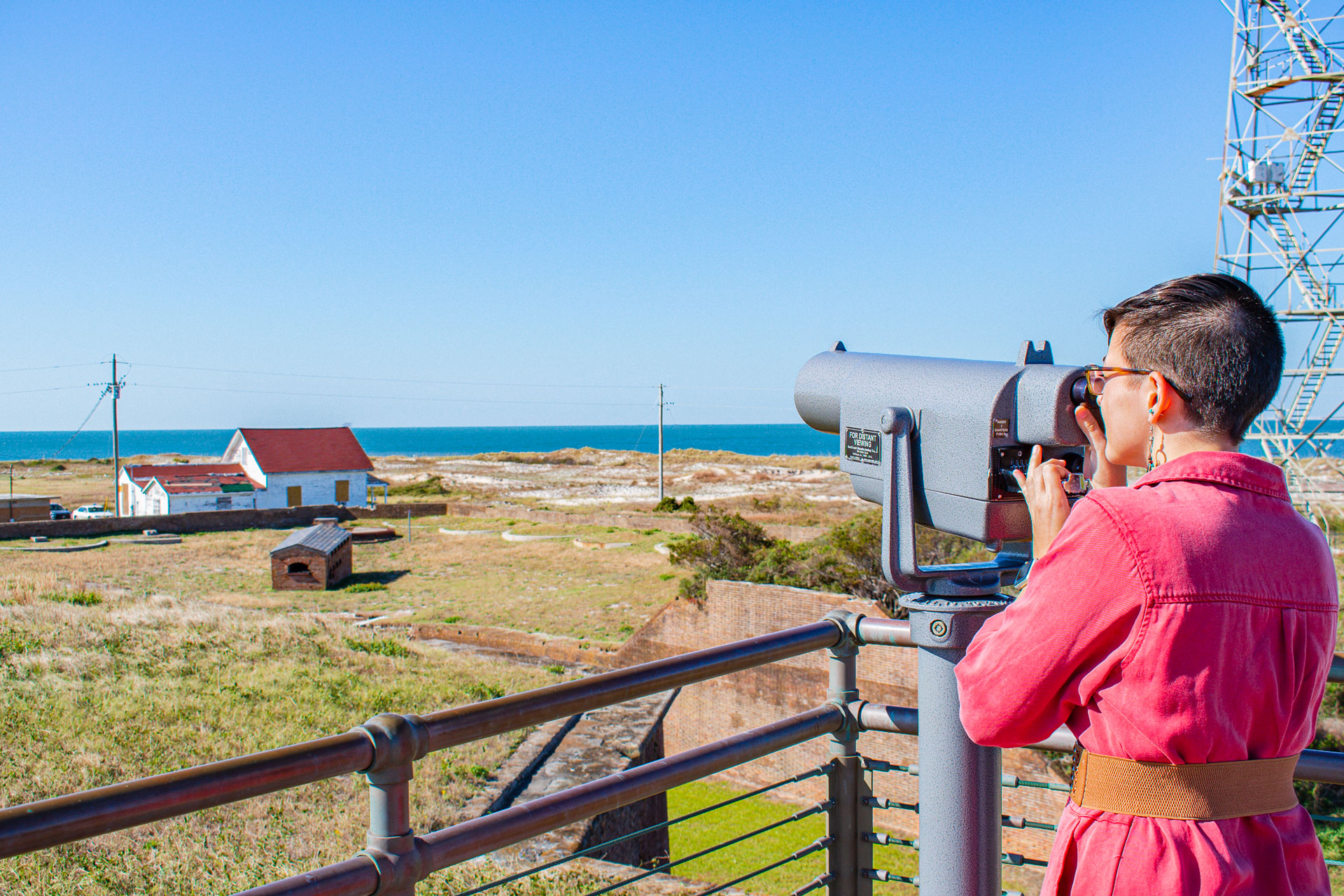 One thing Fort Morgan is known for is an amazing variety of wildlife, especially as it's right by the local nature preserve, and it is one of the top 100 Globally Important Bird Areas. From what I observed, I have to say it's true, Fort Morgan hosts a large amount of wildlife. I was constantly hearing all types of birds, as well as seeing birds of all kinds: hawks, pelicans, sandpipers, and migrating birds from the north, to name a few. I also noticed all the butterflies fluttering around and getting nutrients from the local wildflowers that were everywhere. The so-called "battery" areas where the large guns once stood now provided a good vantage point to spot wildlife and the beach. Another unique fact I learned was that a majority of the battery guns were never used in combat, only training, and were subsequently removed and scrapped when the fort was abandoned.
Pier into the Future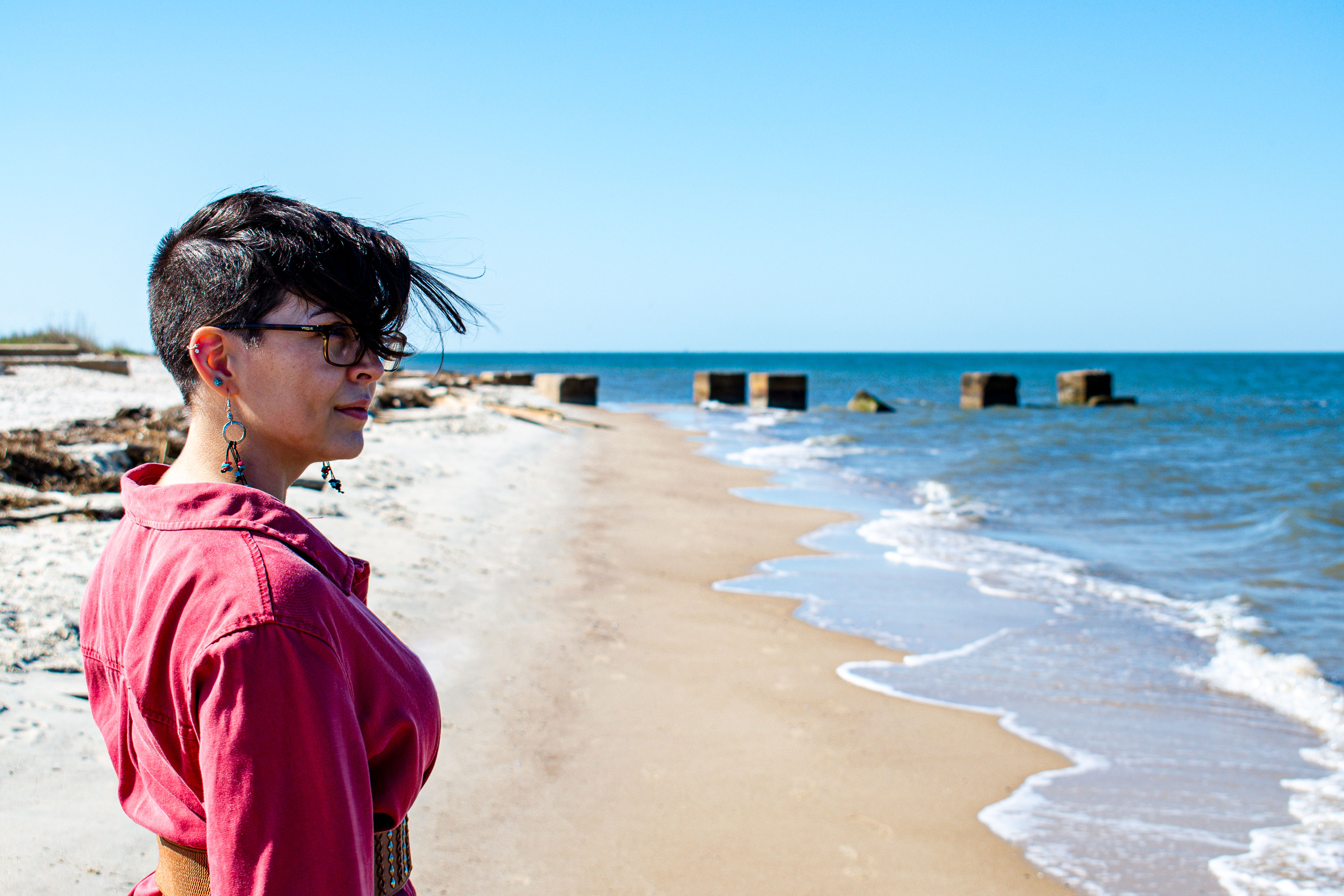 One place I had to check out after seeing it from a distance all day was the beach. I was super excited to learn that the beach was open to the public and pet-friendly. When I arrived at the beach, I immediately took off my shoes and buried my feet in the sand. There were several groups of people fishing, collecting shells, or walking their dogs. While there's still a little bit of debris left from Hurricane Sally, the beach still looks beautiful, with birds resting on the old, long gone military pier and diving into the cool refreshing water.
 As my journey came to an end, I pulled out my phone to Google places to eat and found that Fort Morgan has many types of locally-owned mom-and-pop restaurants nearby. My personal favorite is Fort Morgan Pizza, which is surrounded by original homes built before 2004 and had the old classic beach shack feel I remember from when I first moved here, so a little bit of nostalgia was nice. 
A Fort of Six Flags (A Little Bit of History)
The popular saying "Damn the torpedoes! … And full steam ahead." was originally from the Battle of Mobile Bay. Admiral Farragut lead a flotilla of ships into Mobile Bay where the Confederates had spread underwater mines, which were then called torpedoes. This saying has been used in many books, movies, and modern slang to discuss dismissing danger and jumping headlong into conflict. Fort Morgan was the center of many conflicts throughout history, from being built by slaves to being taken over 6 different times.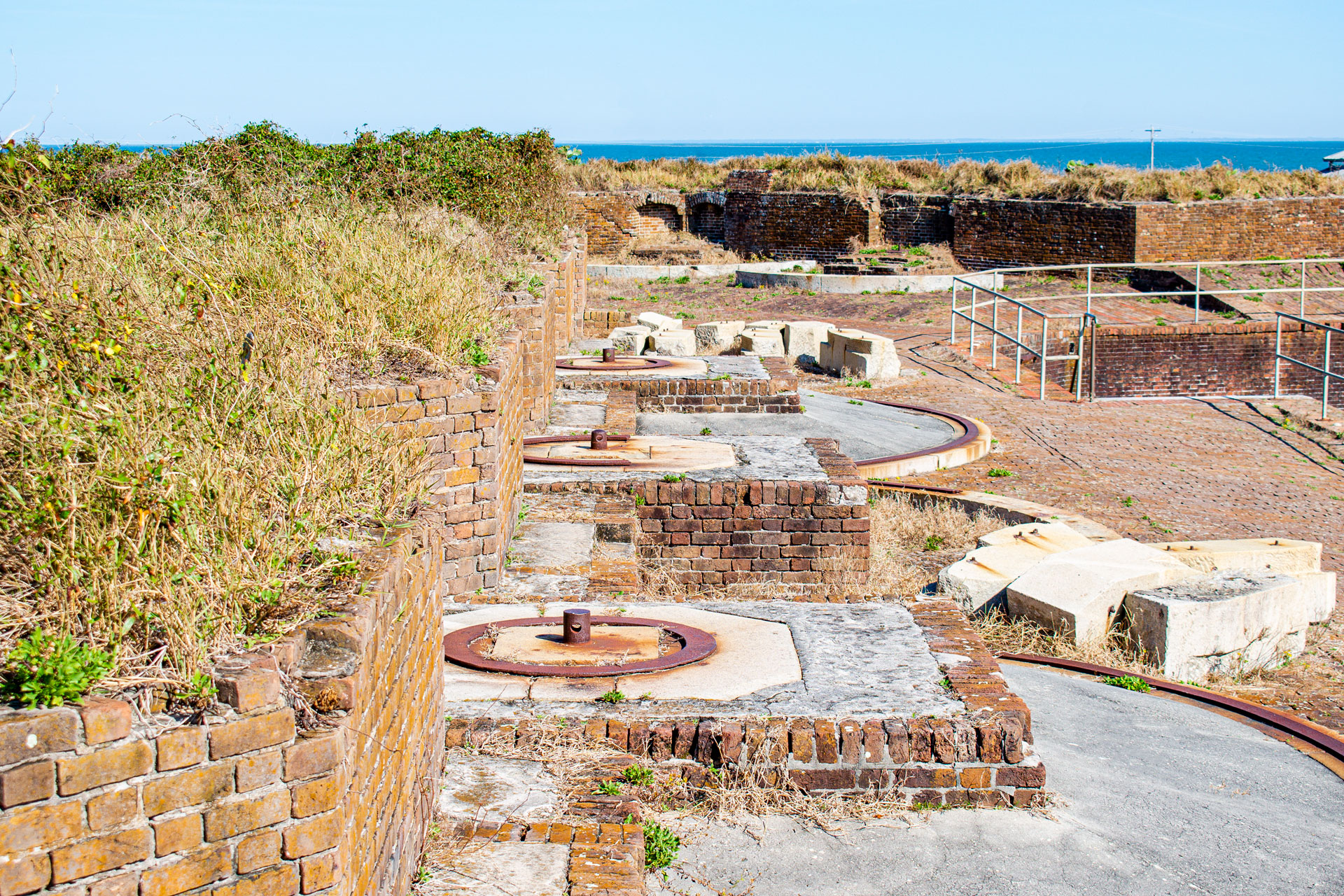 Fort Morgan was originally settled by the french in 1701 before being ceded in 1763 to the British through the Treaty of Paris. The fort was soon taken over again during the Revolutionary War in 1780, but this time by the Spanish. The Spanish forces took control of Fort Morgan and built the sites' first documented fortifications. The US finally seized control from them, and the fort was used in two major battles against the British in 1814 and 1815. In 1861, the Montgomery Rifles, a local Militia, turned it over to the southern Confederate Army. During battles with Union forces, the fort came under the Second National Confederacy, where they fought  Mobile Bay's battle in 1863-1864.
The fort finally went under the U.S. Army Corps and their engineers soon started construction on a new fortification system. They reinforced concrete batteries and planted underwater mines to protect the harbor. Between 1900 and 1923 the fort housed over 400 Coast Guard soldiers, making it the largest permanent military base in Alabama. After WWI, this base was closed but was reopened again for WWII. After the war in 1944, the fort was abandoned for the final time.
Educate the Next Generation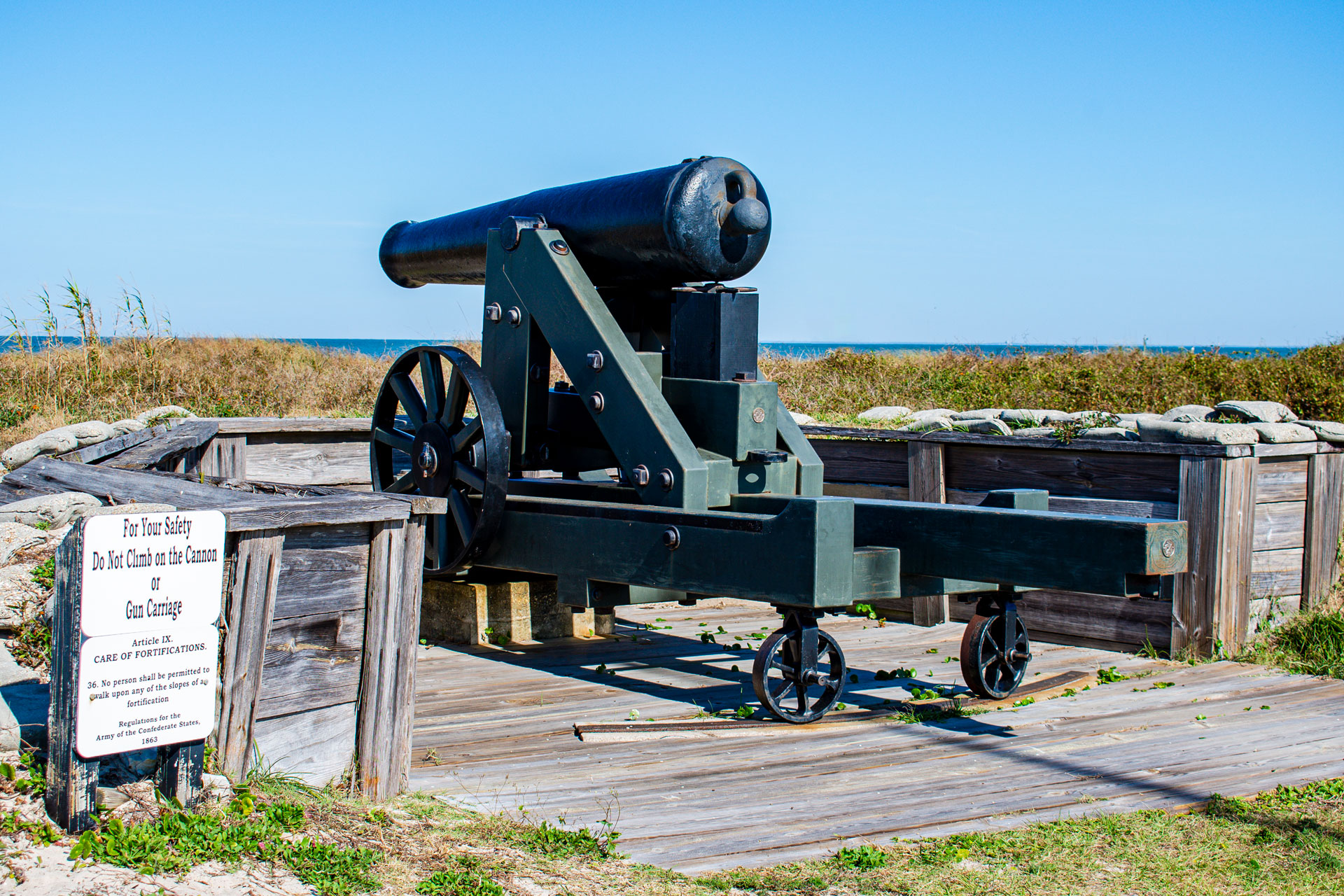 After exploring the area, I can't wait to bring my nephews and nieces to Fort Morgan to experience this forgotten part of our community's history. They occasionally host really authentic war reenactments, so I am sure my nephews would love seeing some cannons go off. During the fall and spring seasons, bird watch groups meet to watch and band birds to make sure they are safe and healthy, a unique experience for any nature lover. 
So be sure to check Fort Morgan out; whether you are an out of town guest just traveling through, a homeschooling parent looking for ways to keep the kids entertained, or even a local going for the 10th time. Fort Morgan holds a lot of beauty and has done its job as a place whose motto is "To Protect, Preserve and Interpret Alabama's Historic Places."
https://ahc.alabama.gov/properties/ftmorgan/ftmorgan.aspx