The Home of a Hundred Lives
Swift-Coles Historic Home
As cliche as it sounds, when I think of the south, what comes to mind is a fresh breeze over the bay carrying the sounds of nearby fishermen, beautiful live oaks with deep roots, branches covered with Spanish moss, and most famously, a friendly face calling out a joyful hello.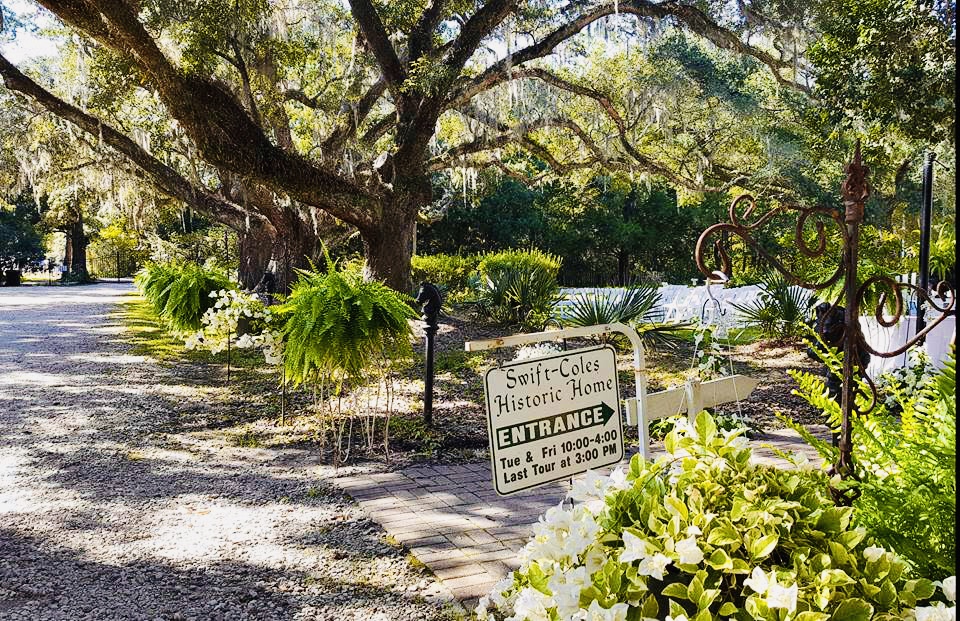 All that and more can be found at Baldwin Counties' one and only historical home, the Swift-Coles Historic Home. The Swift-Coles Historic Home has an abundance of southern charm. As you drive down the tree-covered road and pass through the iron gates, you come upon this large "Elizabethian" styled white house, with a columned porch wrapped around two stories, and you can't help but imagine yourself in some fancy gown calling out over the yard. Since the home's construction in 1882, you can actually see the embodiment of southern culture in all the lives that lived within its walls.
I have been to this home several times, but only as a volunteer for a few of their many themed events that show off the area's varied history. So I was very excited to see this home from a new perspective and bring a friend who had never been there, despite being an Alabama native.
Dog-trot to Mansion

As I walked up the porch steps, the director Sandy and her volunteer worker Susan came out to greet us; Susan was in some period themed clothing, which I absolutely loved! They recanted about how this Historic abode had humble beginnings as a classic dog-trot style cabin, created by French immigrant Thomas Gavin. It was a simple four-room wooden house with a large breezeway through the middle. Between the two halves, the breezeway was used to create an airflow through the rooms, AKA, old fashioned AC. He sold it to Charles and Susan Swift in 1898, who at the time had eight children.
Charles soon started his logging company that's still around today and a sawmill that burned down but left a legacy on that property in the form of the buildings. Within four years, the Swift family had added a whole West wing and a second story to the home and soon added three more children to fill the new space. By the time Charles was finished with renovations, the house had a total of 16 rooms, making this tiny dog-trot cabin into a 6,000 sq ft home with 3,000 sq ft of porch as well.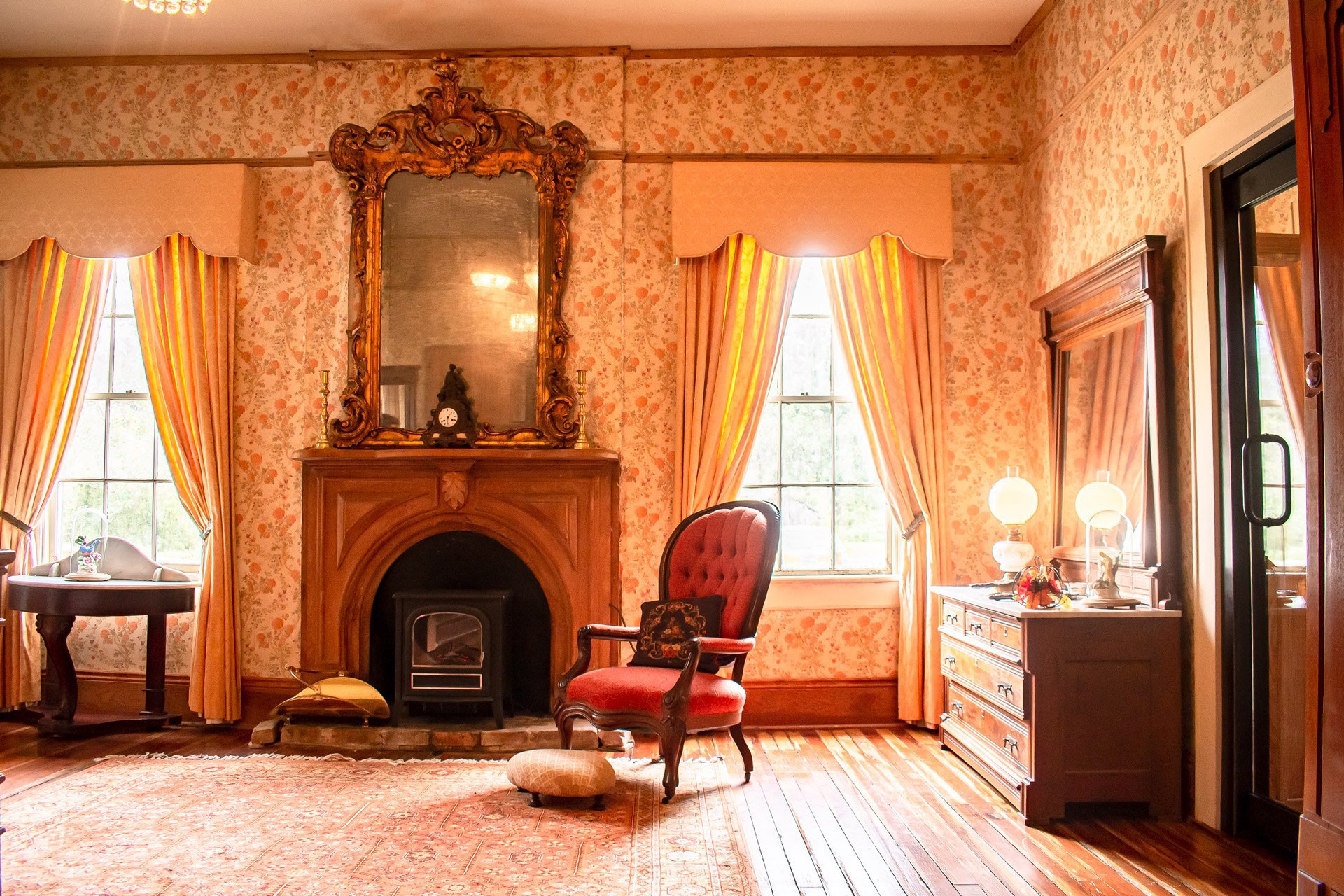 The sizable galleries and open-air rooms lend to cool, delightful summer days. When you look at the house you see three chimneys, while inside leads to the numerous rooms that you could get lost in, having fireplaces that provide warmth in winter and can be closed off in hot summer weather. In older pictures displayed inside the original breezeway, you can see among the pictures of family and kids playing, that the house originally had a white picket fence, seashell walkways, and beautiful flowering plants that are nostalgic and bring back many recollections of days long passed. 
Talking to Sandy and Susan, their hope is that in the future local horticulture groups or gardening enthusiasts will help them bring Swift-Coles back to its old traditional beauty.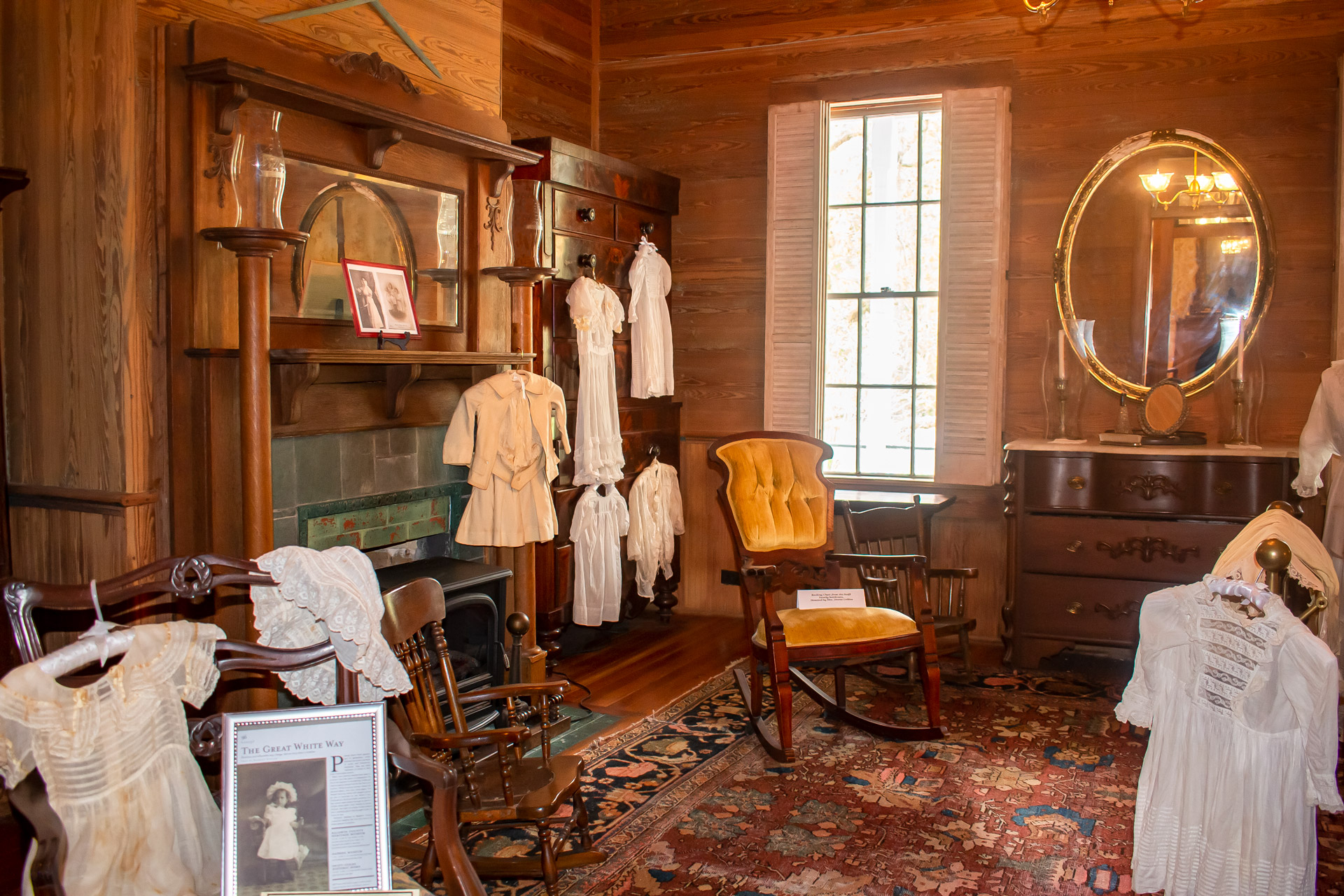 A Safe Harbor
As you head further into the home, you see how the house was full of so many lives passing through and children being raised. We learned about a local treasure of a woman when we saw an old menu book upstairs. Bon Secour, which is French for 'a safe harbor', was indicative of Meme's name (Me-me). According to the home's history, Susan Swift would take great joy in feeding all the local military men on the boats and offering them a place to rest. Her daughter ended up taking that to the next level.
 Amelia "Meme" Wakeford discovered a new calling. She loved making her house cozy and welcoming, whether for her family or passing fishermen on the river. Eventually, everyone stopped by their house when passing on the river, whether for some local news or just to take a break with the locals and enjoy some home-cooked food. Meme soon became so popular she opened up her restaurant in 1953, masterfully called Meme's Restaurant. And according to the menu, it featured local oysters, burgers, and her famous gumbo.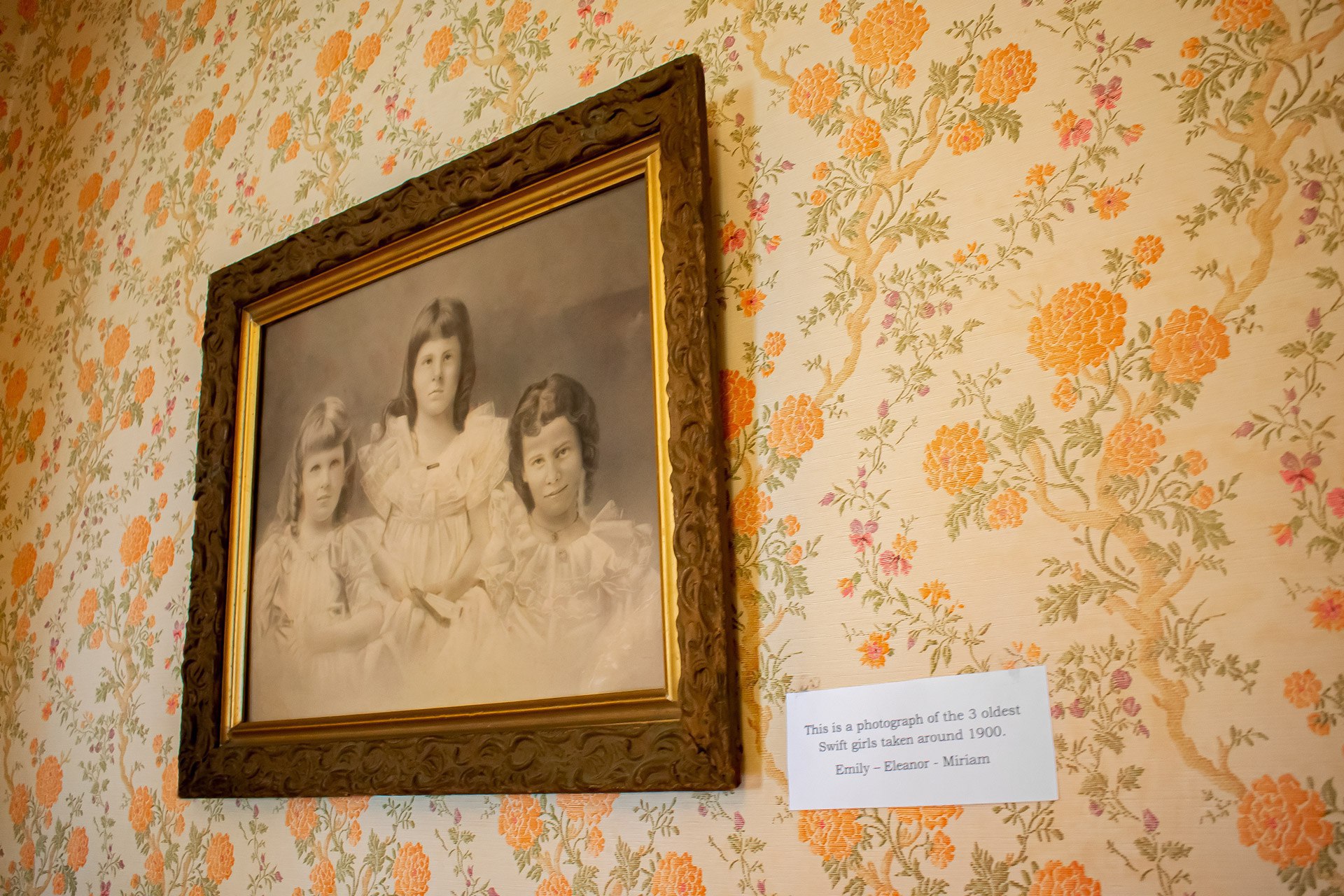 I did some fun sleuthing, so see if I could still try some of her famous gumbo nowadays, but sadly hurricane Frederic brought the building down in 1979. But if you have a craving for it and are willing to try your hand at cooking, I did discover that there is one known cookbook about her called  "Food, Fun, and Fable" by Charley and Meme Wakeford, a recipe book with local histories and stories, written in 1965. But the gumbo will not be made by this novice cook, as the book costs over $2,800, so I'll leave it for the expert chefs instead.
Napoleon, Amphora's, and Oil Paintings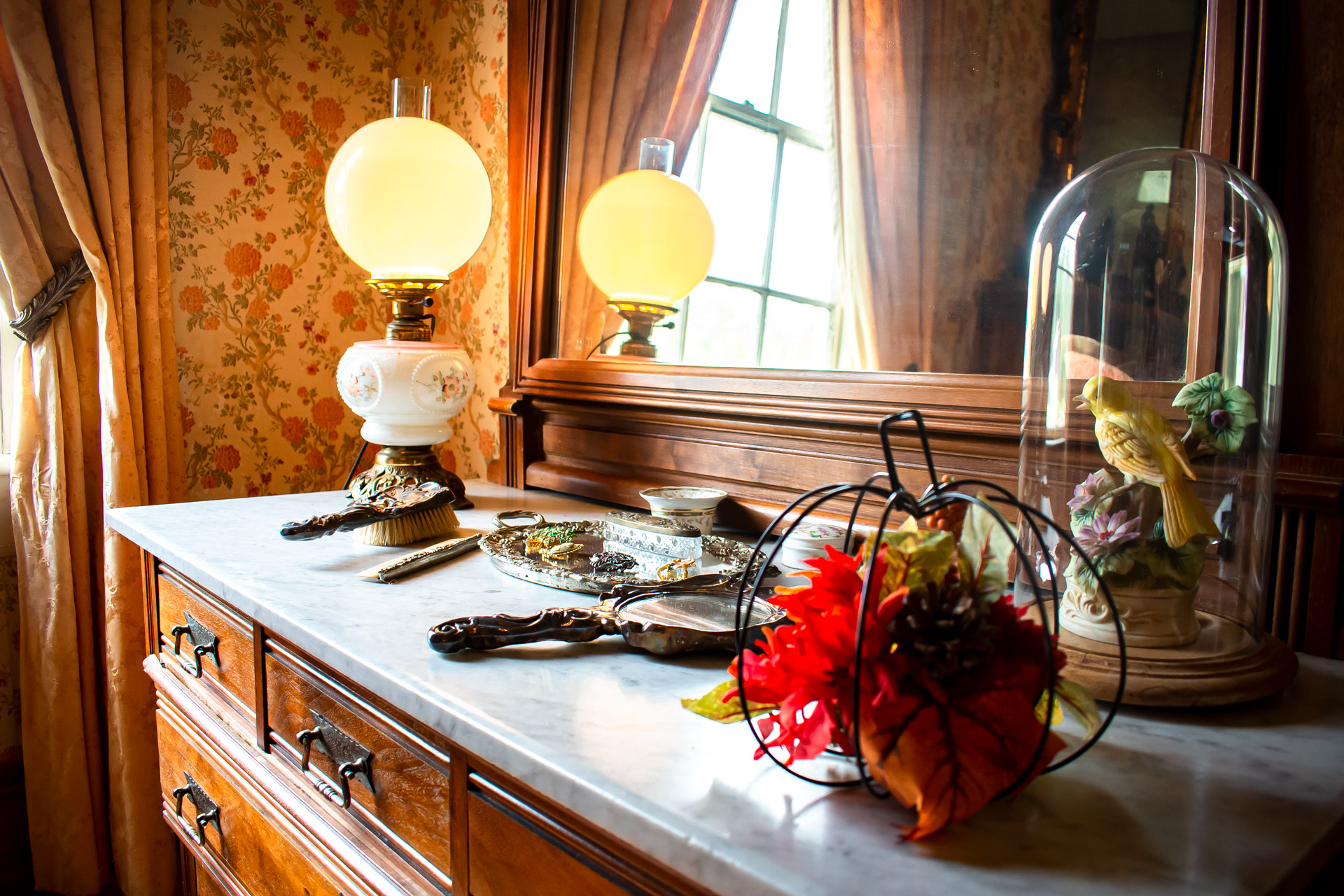 When I walked through the old home, I saw knick-knacks everywhere. When I asked about all these weird but unique items around the galleries, I learned about the estate's most recent owner, Nicholas Coles. Nik Coles was an eccentric bachelor who carried on the tradition of inviting people into his house. He would put advertisements in the local newspaper to tell people about new things or interesting finds.
He loved entertaining guests and showing people his odd collection of artifacts from around the world. With items like chandeliers bought in Spain to antique children's toys even though he had no kids, fancy oil paintings from the 1700s, and even some mysteriously acquired shipwrecked Grecian/Roman amphoras (vase's) encrusted with barnacles and possibly over 2500 years old. With new things to look at in every room, my eyes didn't know where to look. Nik also had a unique fascination with Napoleon, as he had multiple figurines and busts made of him and even a copy of an oil painting of him.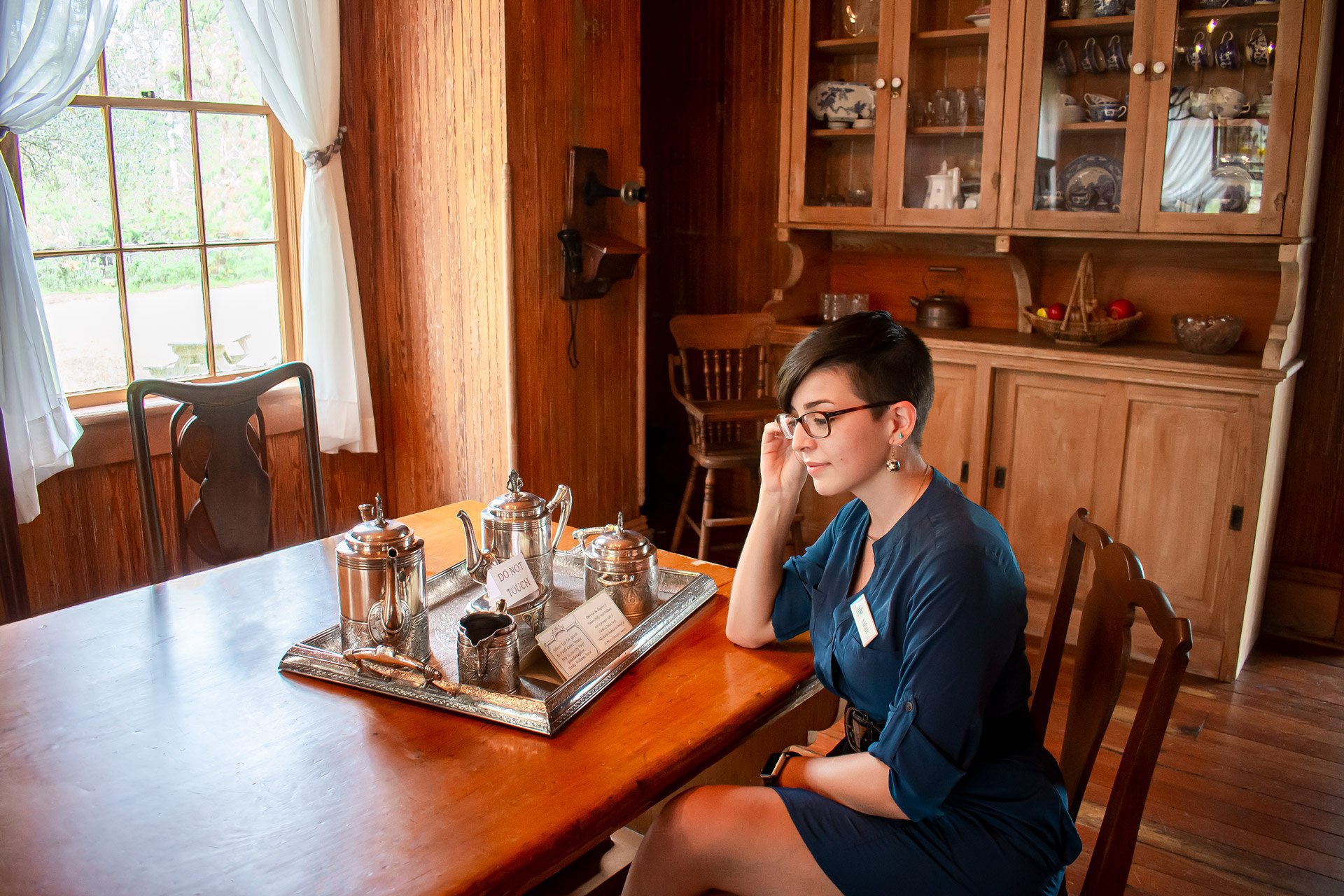 While talking with Susan about the most recent owner, it was sad to learn that he had passed away in 2007, but the estate is still owned and cared for in his name. While Nik was alive, he restored the house to its original grandeur. In 1978 the Alabama Historical Society rewarded these efforts and placed it on the Registry of Alabama Historical Landmarks, the only home in Baldwin County to be registered in that category. Before his death in 2007, he bequeathed the home to the Baldwin County Historic Development Commission. The home is now listed on the National Register of Historic Places and is a Non-Profit organization. This home is entrusted to its hard-working volunteers and monetary donations to keep it maintained and protected.
Hurricane Sally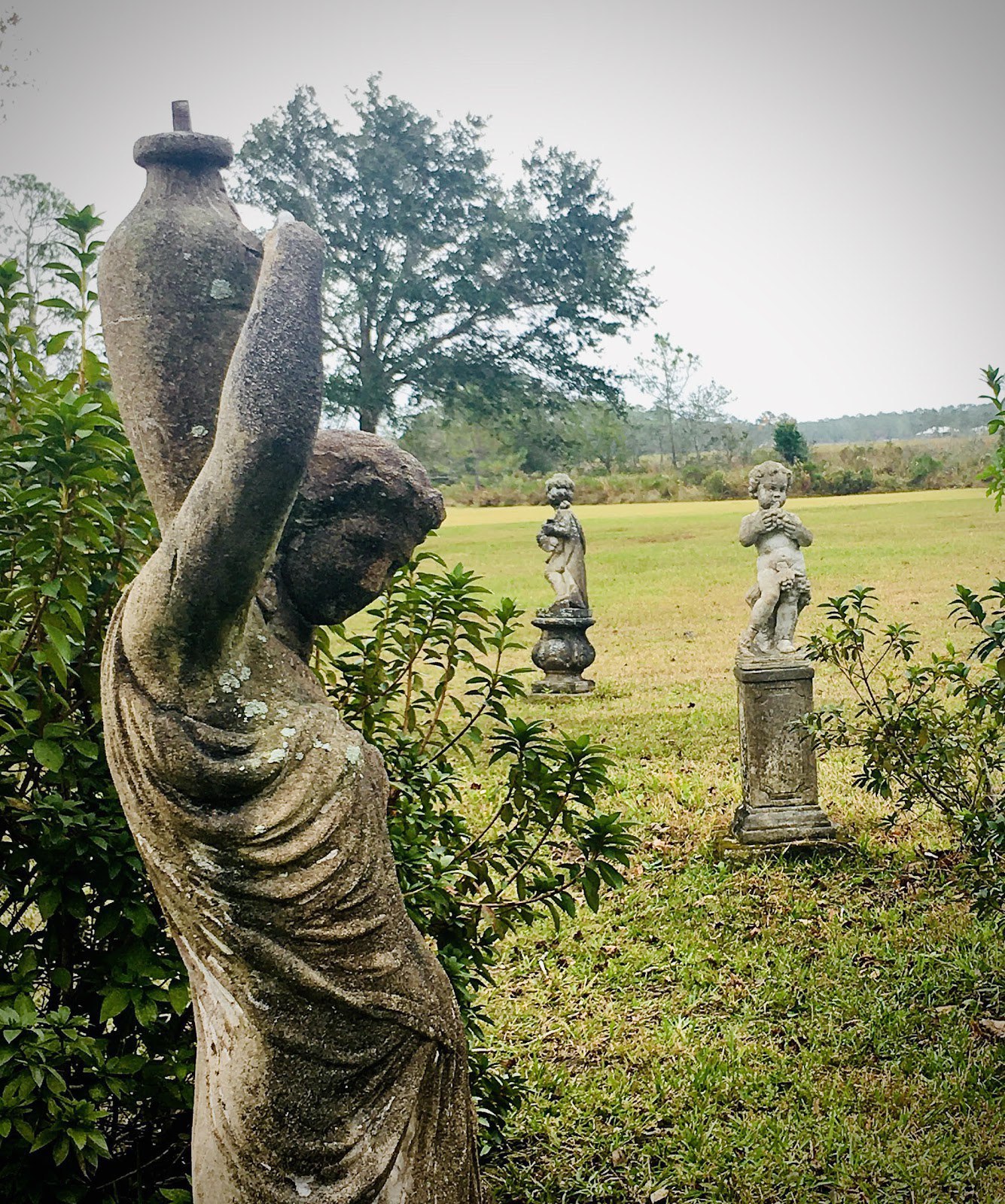 After exploring all we could inside, we decided to take a stroll around the property. The original structures of a barn and chicken coop from the Swift days were still there. While they are no longer habitable, they looked beautiful with Victoria Creeper Ivy growing all over the old rustic wooden walls, slowly turning its distinct fiery orange color as it does in fall. The side yard, which did have more trees before Hurricane Sally, was still a sight to see with stone statues scattered all over and the river in the distance, which had previously been hidden by the trees. After the storm, the property's clean up was considerably large, with so many old trees that's bound to happen. After the hurricane, out-of-state and some local volunteers came to the rescue to help with the cleanup, but the owner still depends on local and non-local monetary donations to keep the home intact. They had a few limbs fall and damage part of the vast porches and some shingles missing, but repairs were already underway.
A Future Swift-ly Coming into Sight
While the Swifts no longer live on the estate, many of the past swifts have gotten married on the property and hopefully plan to have more in the future. They even showed me where they had a wedding the previous day and were getting prepared for more. While they are open for tours Tuesdays and Fridays from 10 am to 3 pm, and they are open for private yours for people who want to social-distance or just avoid the crowds.
Swift-Coles and its volunteers are kicking it into full gear for the new year, already talking about hosting Christmas Vendor days where local craft makers and artists feature their homemade goods. Then they also offer (during specific seasons) Haunted Tours where you can learn spooky facts and decide for yourself if the mansion is haunted by some children, a housemaid, and Mr. Nik himself. And to top it off, they have historical days, like a Jane Austen party or 1920's Tea Party that featured Jazz music from local artist Leonard Houston.
A Legacy That Lives On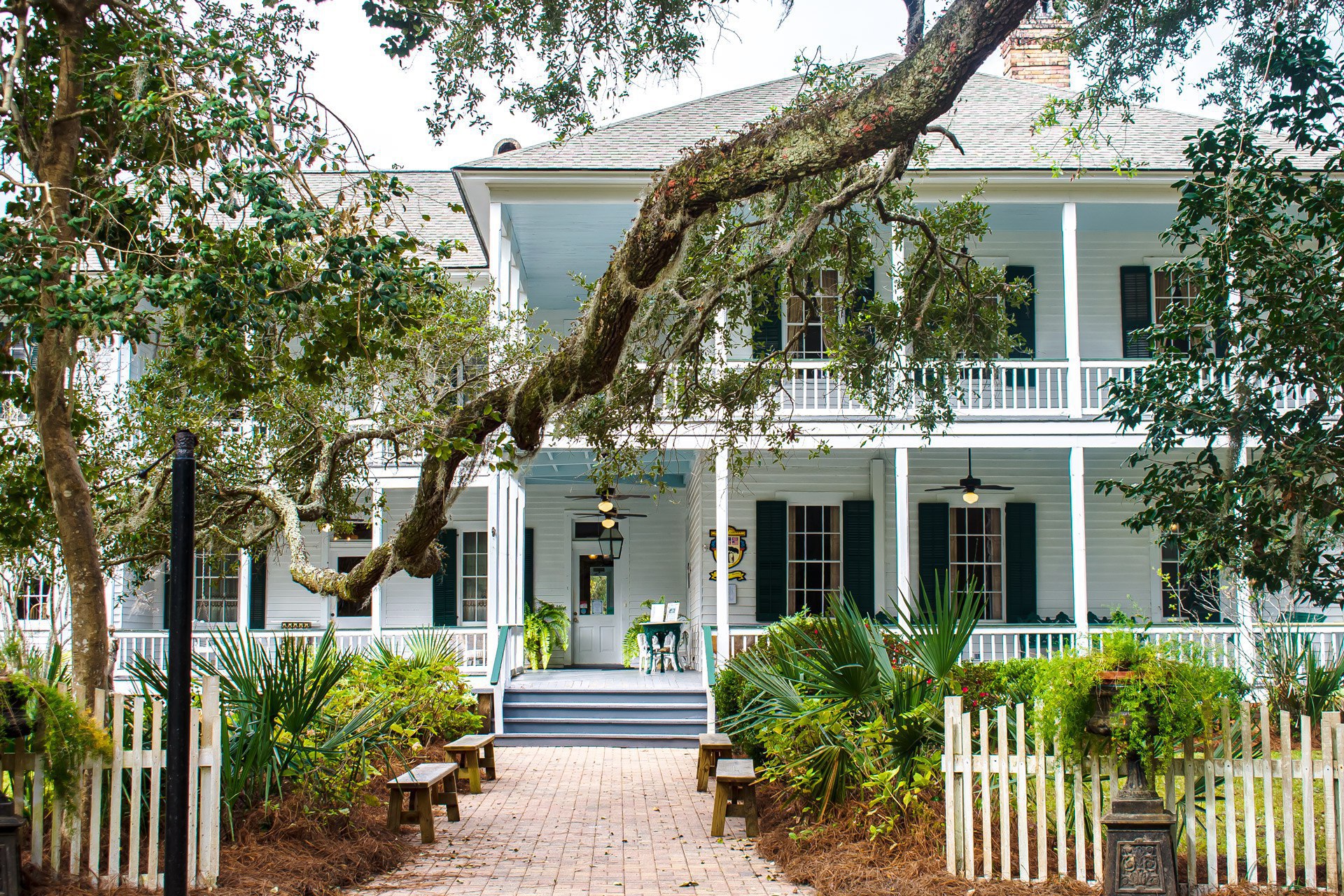 The Swift-Coles Historic Home has housed so many lives since its construction in 1882 and made such a lasting impact on our community, even while many people these days don't know much of it. No matter the storm that may come to Swift-Coles, the love and support of all its volunteers and memories from people in the community will keep it going strong and keep sharing that southern hospitality that we are known to have. I myself can't wait to go back and explore some more and learn pieces of our local history. 
To learn more about Swift-Coles Historic Home or so you can contact them for events, make a donation, or plan your own trip, here is their online information:
https://swiftcoleshistorichome.com
https://www.facebook.com/swiftcoles.historichome/