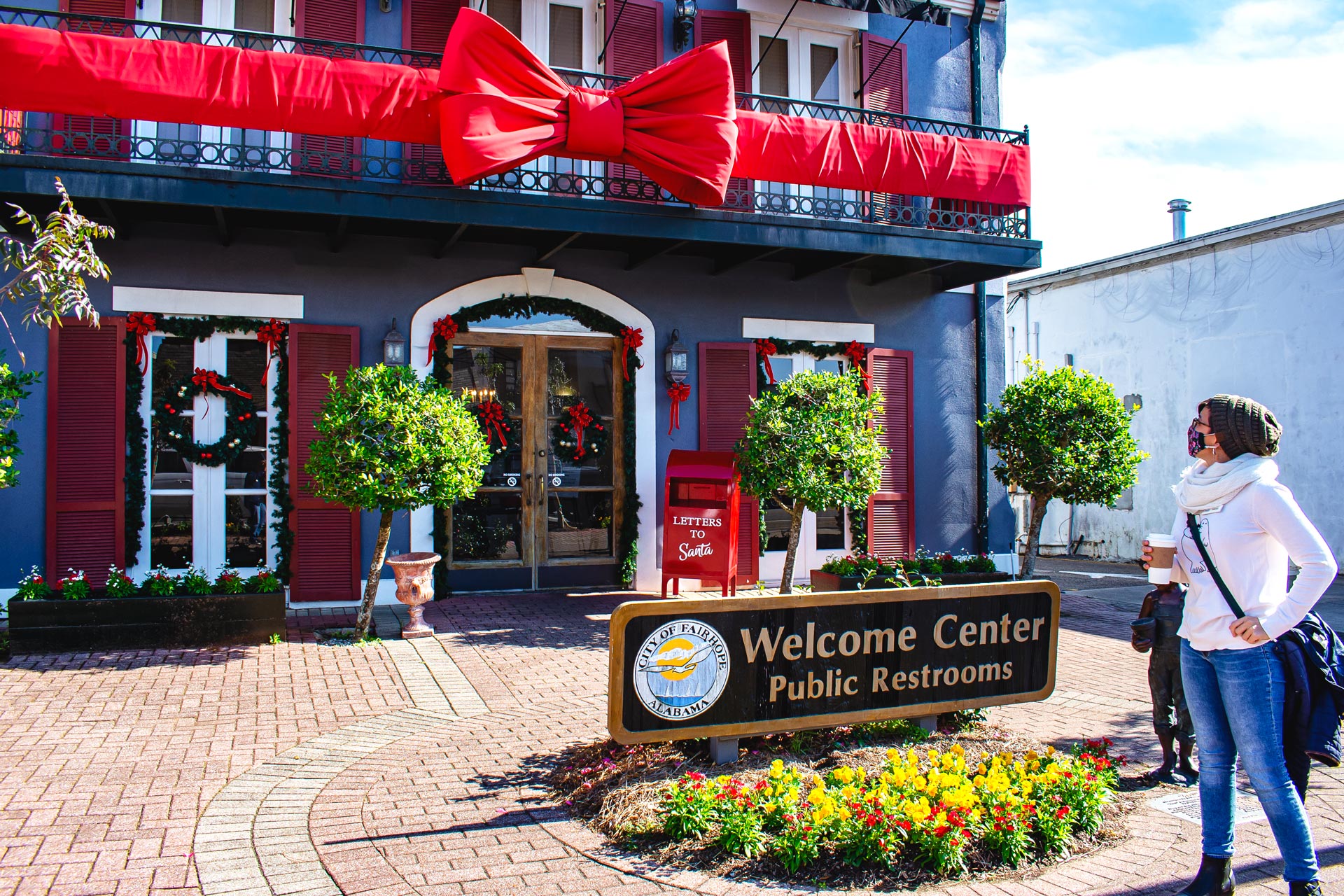 Take a Break For A Day
One of the best ways to shake up your day to day routine and get yourself feeling refreshed is to take a break. I for one sure needed a little getaway from everything, and what better way to do that than some last-minute Christmas shopping. So naturally, downtown Fairhope was my go-to destination since it is basically a modern-day utopia for relaxation, comfort, and shopping satisfaction. Wanderlust is giving us all the itch to travel right now, so join me on a little downtown excursion to the community made to be a one-of-a-kind destination, and find out for yourself why Fairhope's motto "You've Arrived!" is perfect.
Starting Out On The Right Page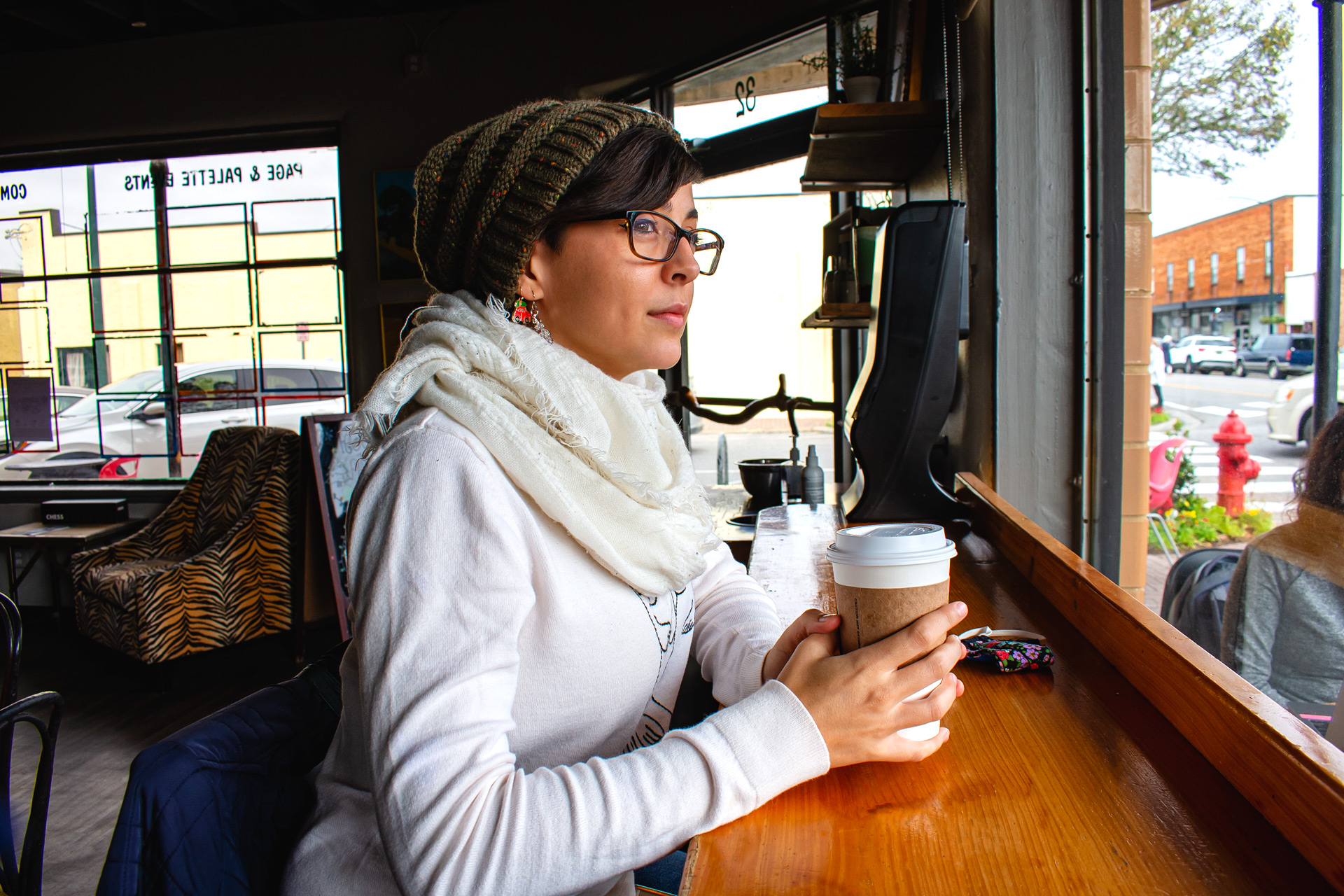 I decided to start my morning the usual way, with some fresh tea, so our first stop brought us to the local coffee shop, Latte Da. While I enjoyed a creamy hot Tahitian Vanilla Chai and a chocolate chip muffin, my photographer friend enjoyed a smooth Shamrock Latte. While enjoying our morning treats, I was able to sit at the sidebar and watch as couples, families, and dog walkers alike all passed by either relaxing, enjoying an easy morning, or bustling by to get to some unknown destination.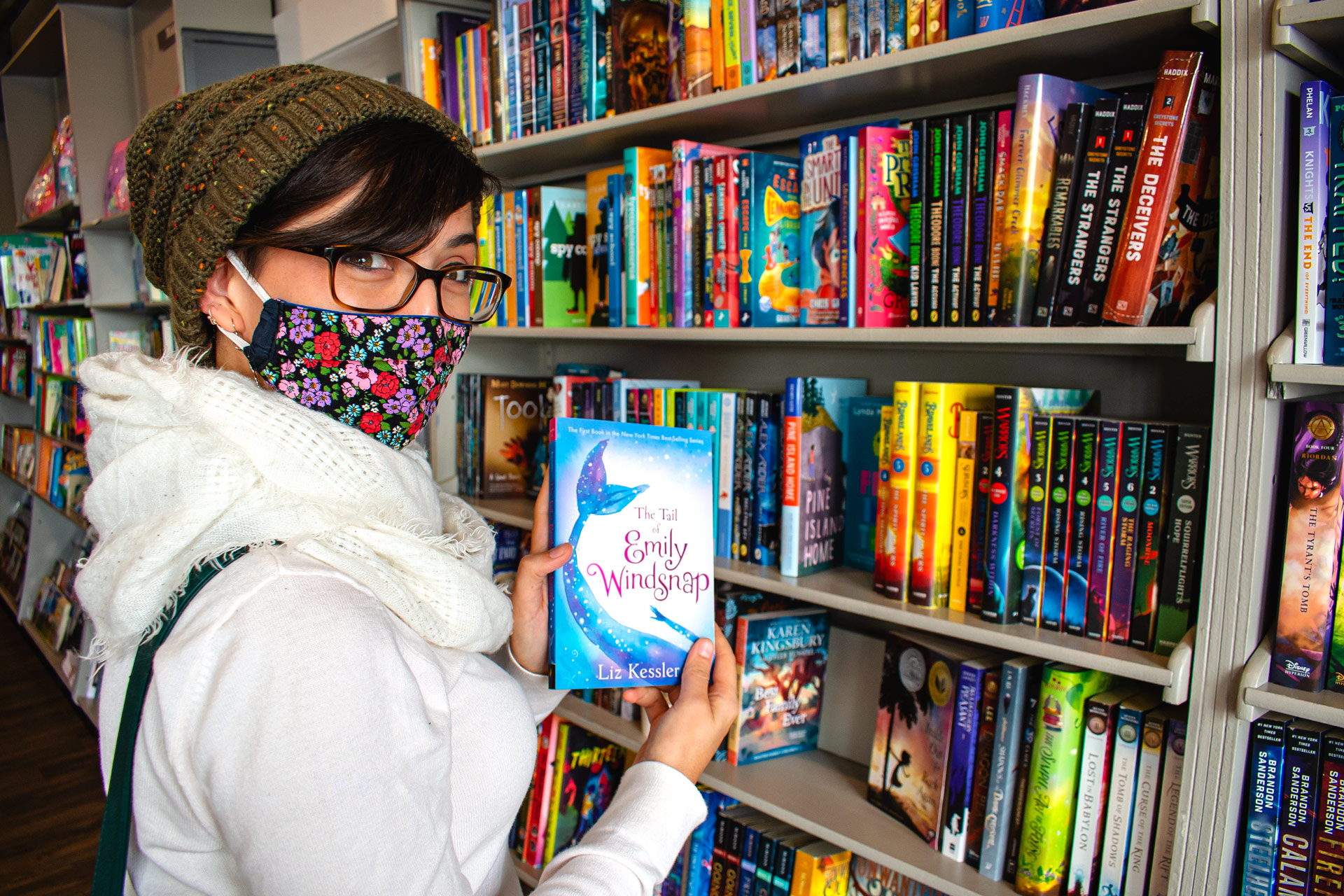 With my muffin finished and tea firmly in hand, I soon found myself meandering over to Latte Da's adjoining book shop, Page & Palette, to check out what all might be on sale there today. I took time as I browsed rows and rows of books, cute literature themed pillows, novelty items, and uniquely funny gifts. I even found a childhood favorite of mine that got me running through the kid's section like a child out picking toys during Christmas, which I practically am. After picking out some eclectic gifts for my siblings, I gathered my findings and headed out to see what else Fairhope had in store for me today.
A Taste of Utopia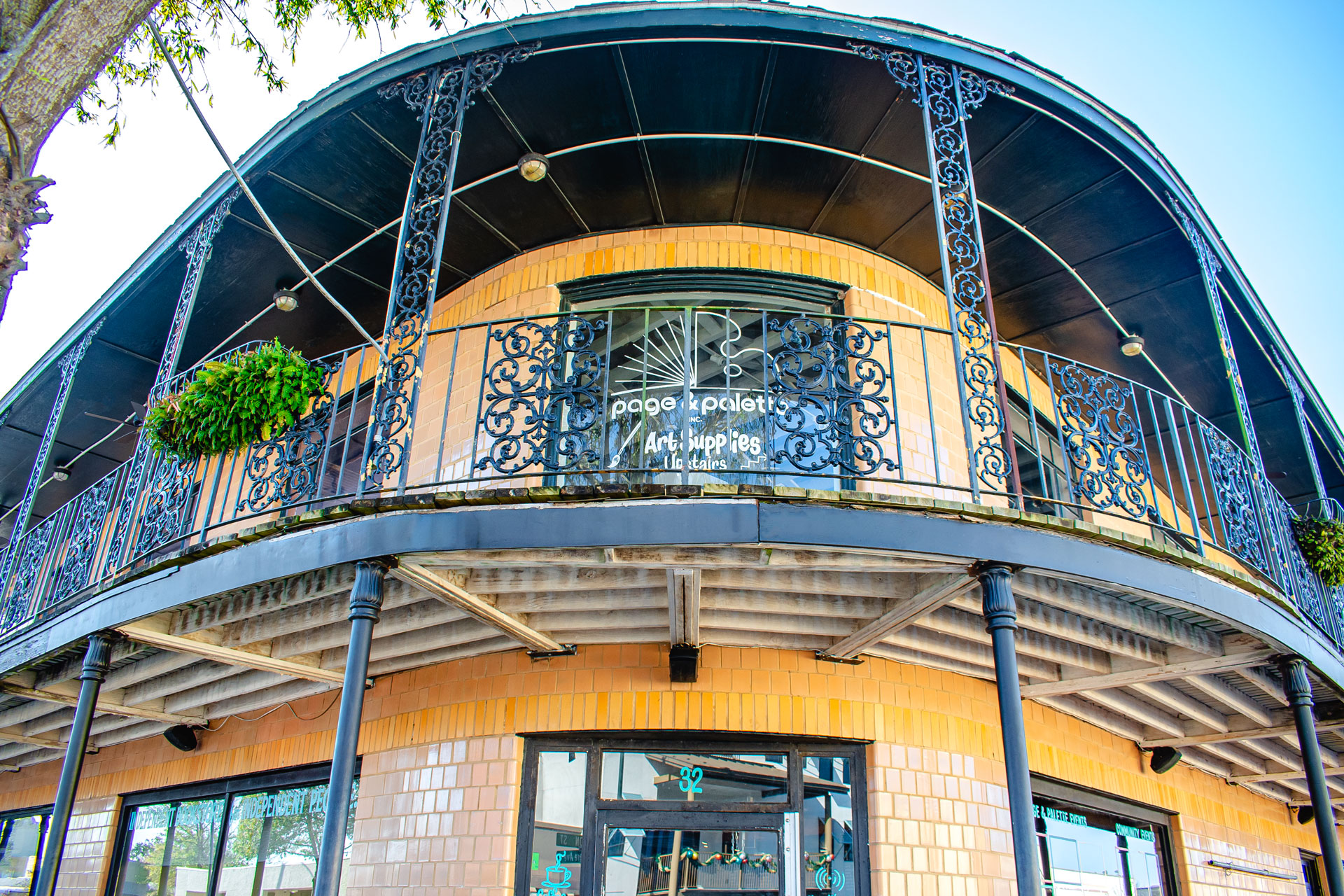 As you wander down cobblestone walkways, past boxes of seasonal flowers and large oak trees providing plenty of shade, you'll probably find yourself getting lost window shopping. Dozens of storefront windows line the main street of Fairhope highlighting exclusive goods, services, art galleries, upscale boutiques, and tons of local whimsy. One thing that many do not know about Fairhope was that the original architects of downtown Fairhope wanted it to look like a utopia, envisioning something of a European village with cosmopolitan vibes. I was thoroughly invested in my window shopping, at least until something caught my eye enough to get me to mask up and venture inside.
Local Shops & Unique Finds
Our first stop was actually The Book Inn. With hundreds of solar-powered dancing bobbles as more figurines than I would ever dream up, crowding into the storefront space, drawing the eye as they bobbled back and forth. I noticed they all were placed on stacks of books and immediately decided this shop was made for me. The cozie shop was packed with vintage solar bobbles offered in so many varieties, I was awestruck by the sheer volume of them on the shelves. The shelves themselves also held vintage and used books stacked so high I felt like I was walking through a labyrinth.
While perusing the vintage book collection I found a hidden gem, a Fairhope History book filled with pictures and information all the way back to the town's founding. This book inspired our next stop to be the local Historical Museum. Before we could make it to the museum though, I heard music calling my name. Nestled between antique stores and boutiques was a record store called Dr. Music, a local record shop that has been open since 1996. It was nice browsing through old and new records alike and appreciating the '80's album covers with a sense of nostalgia.
Keeping Up With The Times
After our musical detour, we decided it was time to explore the Fairhope Historical Museum, which we unknowingly entered through the back but it was just as beautiful and welcoming. As we walked through this bit of history we were immersed in the ancient artifacts and pieces of our past. It was intriguing to learn that my favorite types of grandfather clocks were actually once built here in Fairhope, leaving a legacy that outlived the harshness of time.
We were able to speak briefly with one of the Museums volunteers, Wayne. He told us that Fairhope was originally founded to be a Single-Tax colony, the only one in the US, and was originally settled by free-thinking artists and craftsmen from around the country. The settlers had hoped for their city after learning of so many failed attempts previously, after fairly dividing costs they named the land Fairhope in honor of providing a "fair piece of hope" to the residents.
Lunch Time: Hip, Hip, Beignets!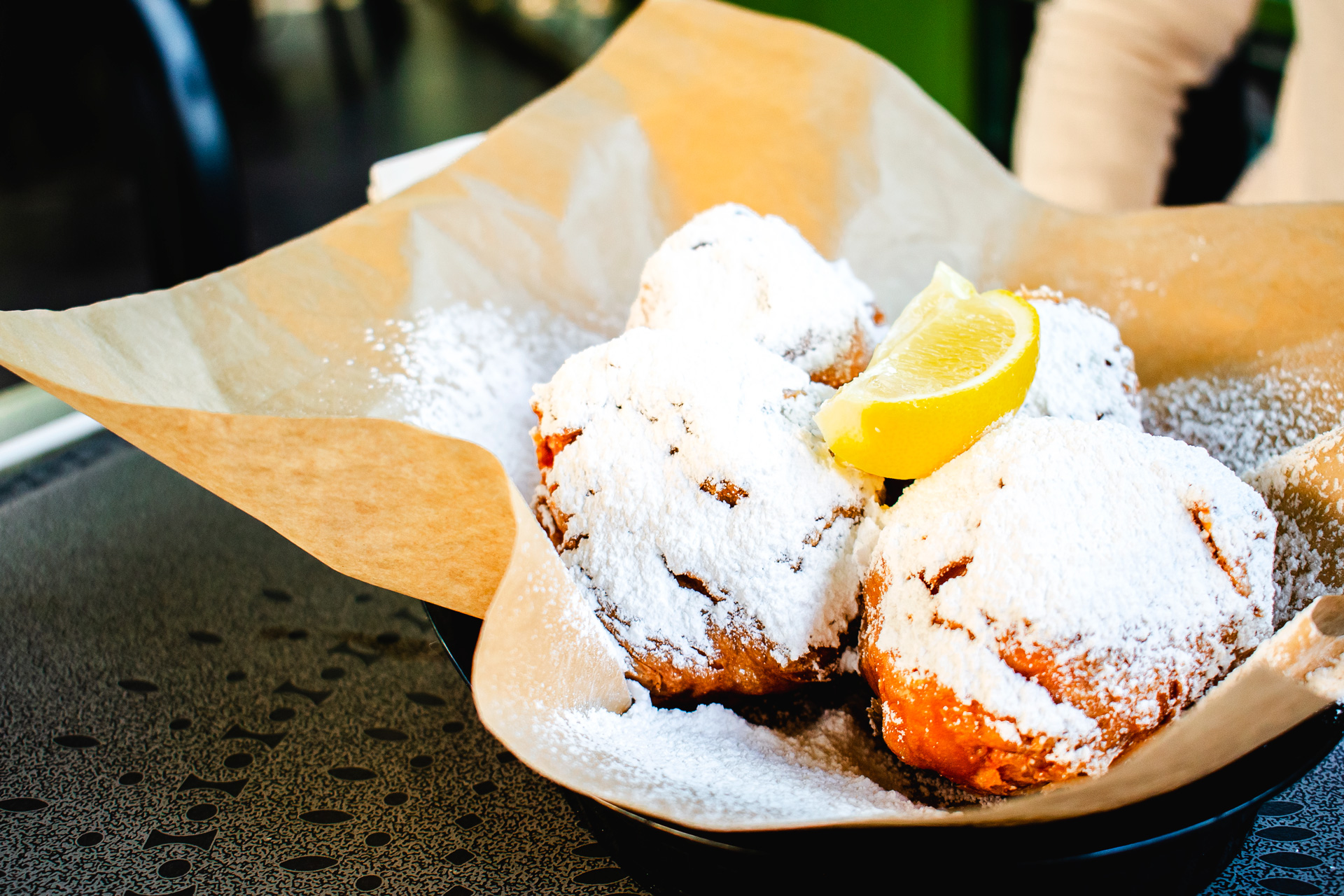 After a fun time exploring the shops it was time to get some lunch, and I knew just the place. As we headed towards Panini Pete's, we had to pass through the French Quarter, one of my favorite places in Fairhope. Whenever I pass through the vine-covered arches and red-bricked paths of the French Quarter, I keep an eye out since you can sometimes spot a cute little stray cat sleeping under the branches. When we arrived at Panini Pete's we sat in the back area which was in a beautiful green, glass, and iron gazebo. This gives the dining area there this super cozy feeling since you're surrounded by lots of sunlight and plants.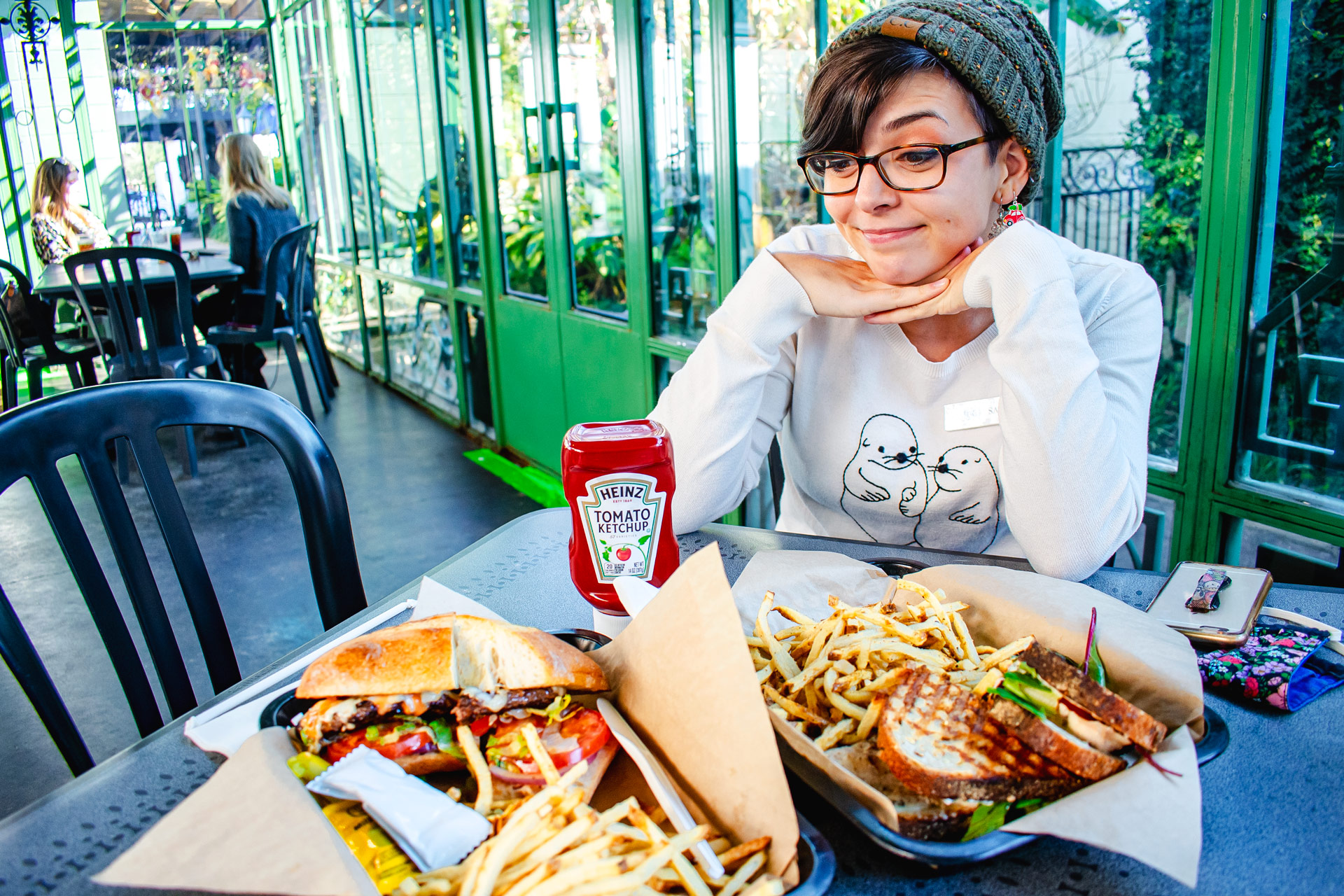 My anticipation was killing me as we made our choices and gave our orders to the waitress. I ended up ordering us some beignets ( ben-yeiz) to start with. While I have tried beignets at many restaurants, Panini Pete's makes some of my absolute favorites. They feature them with fresh lemon juice on top, giving each bite a nice tart offset to the natural sweetness of the sugar covered treat. After making a mess of the table and ourselves, we got ready for lunch. Side note; don't wear black when eating powdered sugar, you will end up looking like a snowman. Our meal was served quickly and looked amazing. I got the Rosemary chicken sandwich and my friend got the panini burger, and both tasted heavenly!
Fancy Chocolate, Oh la la!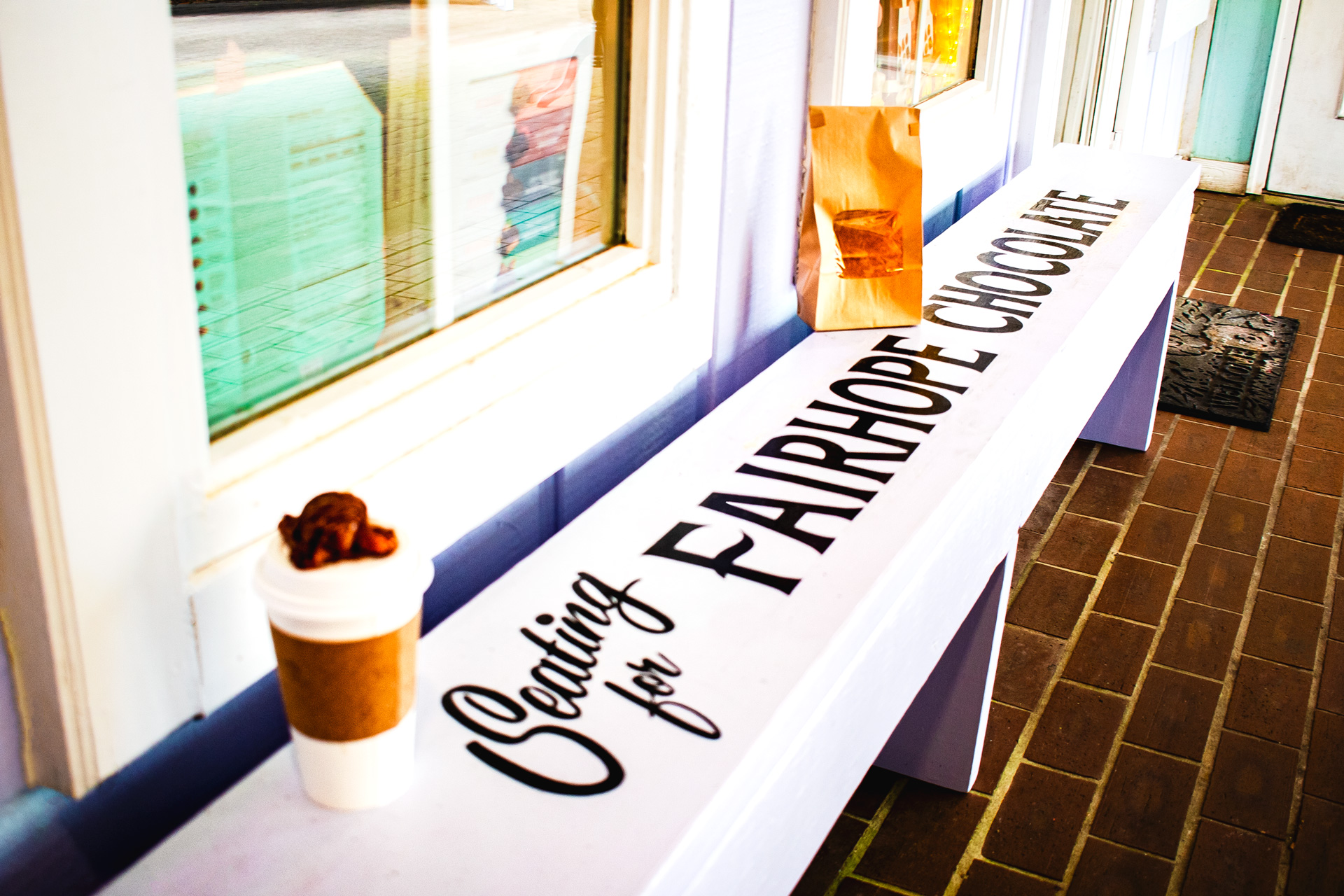 After eating our fill we decided to walk around the French Quarter for a bit and I couldn't help but go to the local chocolatier, Fairhope Chocolate Shop. I have been dreaming of going here for months as their Facebook page is absolutely mouth-watering! They had so many options to choose from; ones with Oreos, potato chips, fancy bread, peanut butter, dark or milk! But I had to go with my gut and choose a long standing favorite of mine and my families, the chocolate turtles. So, after purchasing a 'bale' of chocolate turtles, we decided we needed to definitely walk off all the sugar we just inhaled and headed out.
As we made our way out of the Fairhope Chocolate Shop, I came upon a cute "Kind Words" rock garden where you take a rock that is special to you and share it with someone else. A super fun idea (mine is now in an office plant here at Caribe Resort)! So with rocks firmly in hand, we set off towards the Fairhope Community Park to find a home for one of the rocks and feel like a child again.
Kicking It With The Kids
As we embraced our inner child we walked to the kid's park with sugar running through our veins and the warm sun on our backs. When we arrived at the park, we noticed there was plenty of fun and interactive musical instruments, a top tier jungle gym, and a pirate-themed splash pad. I took full advantage of the giant metal wind chimes and the xylophone while the kids were off of them, probably making other parents want to plug their ears. I couldn't help but have the Jurassic Park theme song stuck in my head as I spotted a huge long-neck dinosaur art piece across the park. Thankfully, I had no fear of it going anywhere as it was made of metal.
For those of you that like art, I took a special interest in the wall mural along the fence. One section of the painting showed some of the major parts of Fairhope's colorful past, and the wonderful history of the people who lived there.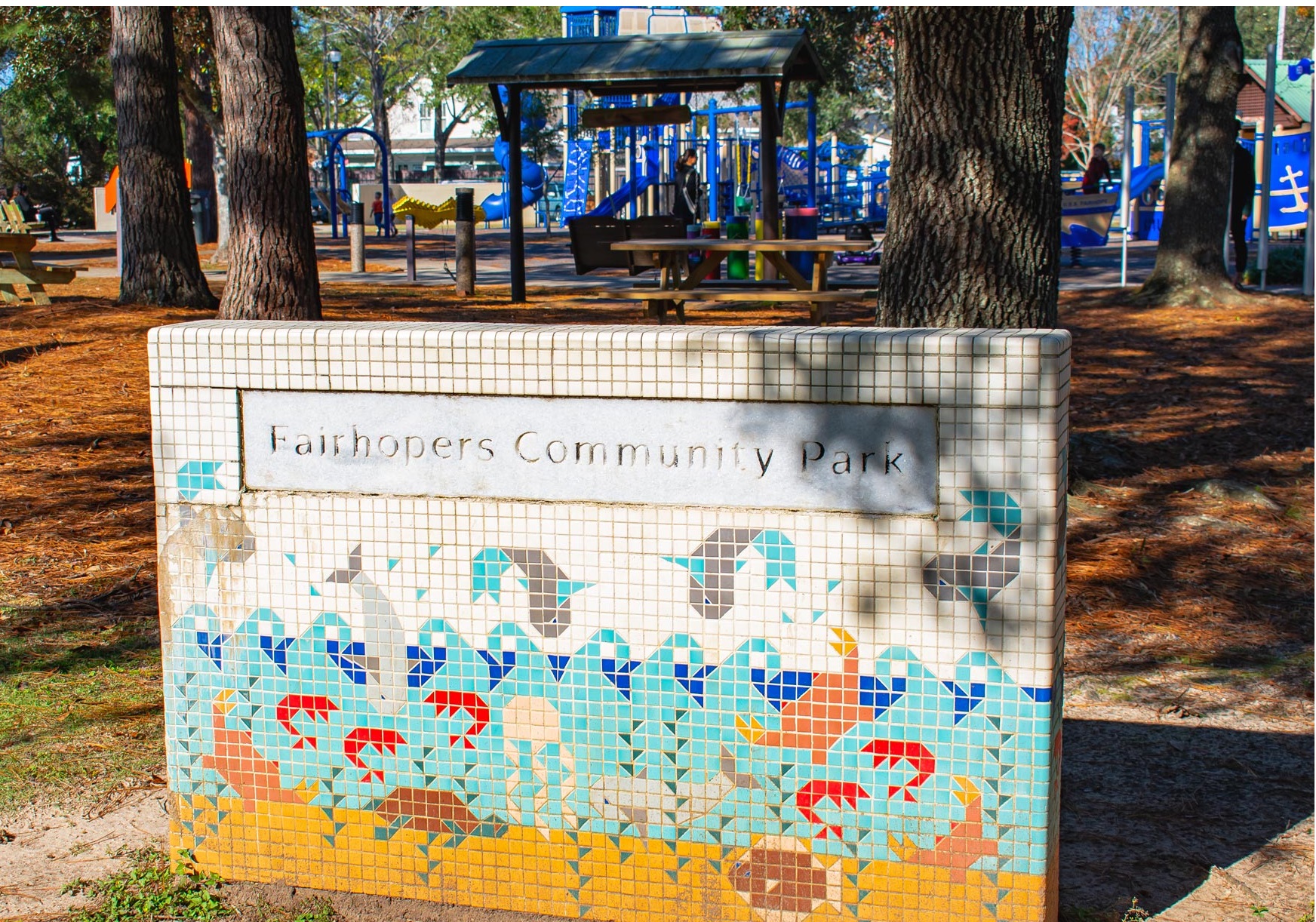 Walking Into The New Year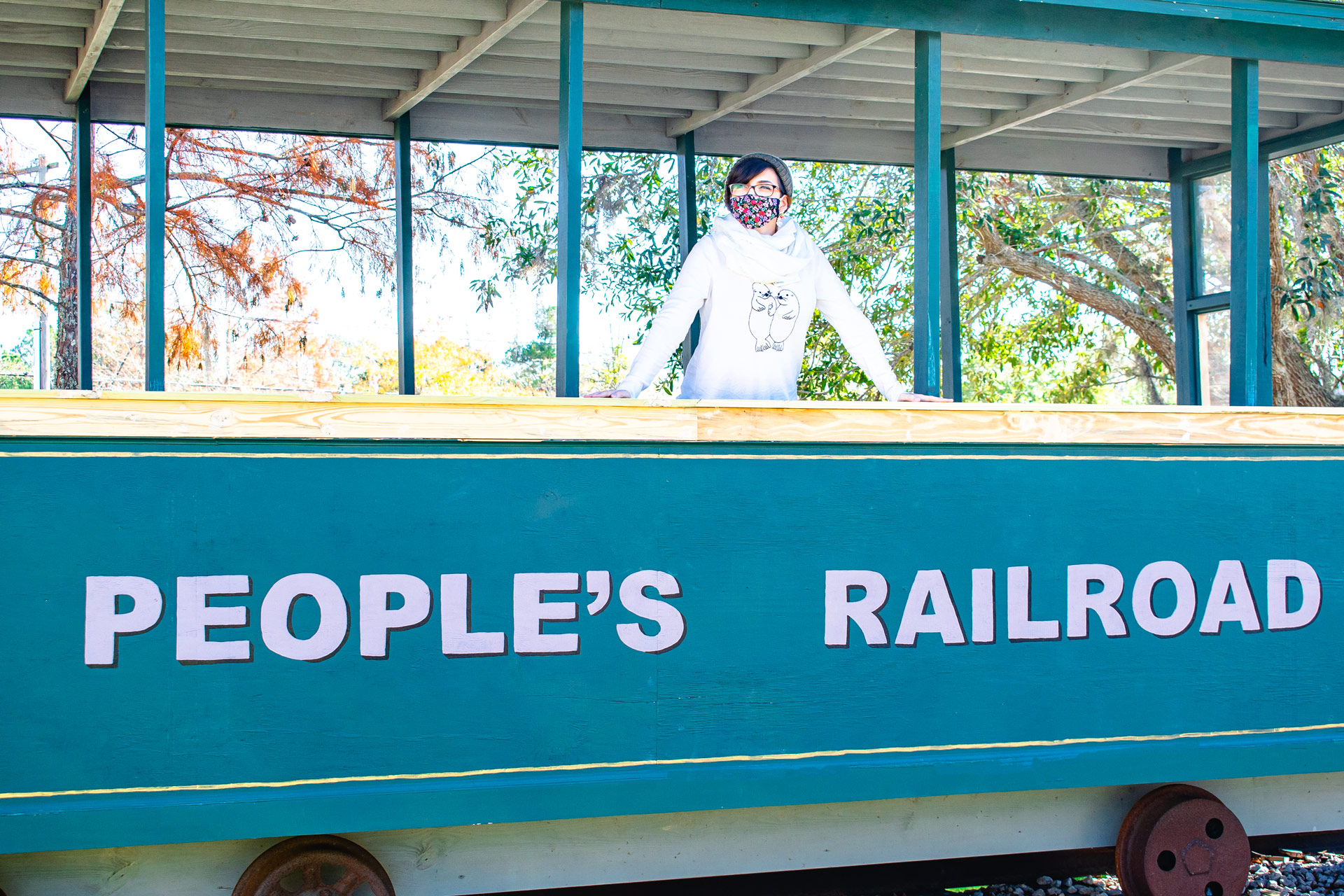 As our excursion came to a close, gifts firmly in hand, I took in my last moments from our trip into downtown Fairhope. There is plenty more in Fairhope to explore, but I will have to leave it for another time. While the world is constantly moving and changing we need to make sure we take time to refill ourselves and enjoy the goodness around us. Especially during a time when it's so easy to focus on the negative.
2020 has had some great moments, with people getting outside more and enjoying time with family and kids. It has given us a moment to realize what is important to us and go into the new year with new views, new relationships, new habits, and even new ways to live life to its fullest. But this little day trip to Fairhope has helped me remember that you can find peace and beauty in the little things, and they do matter. So take a moment to treat yourself, and I'll see you in 2021!