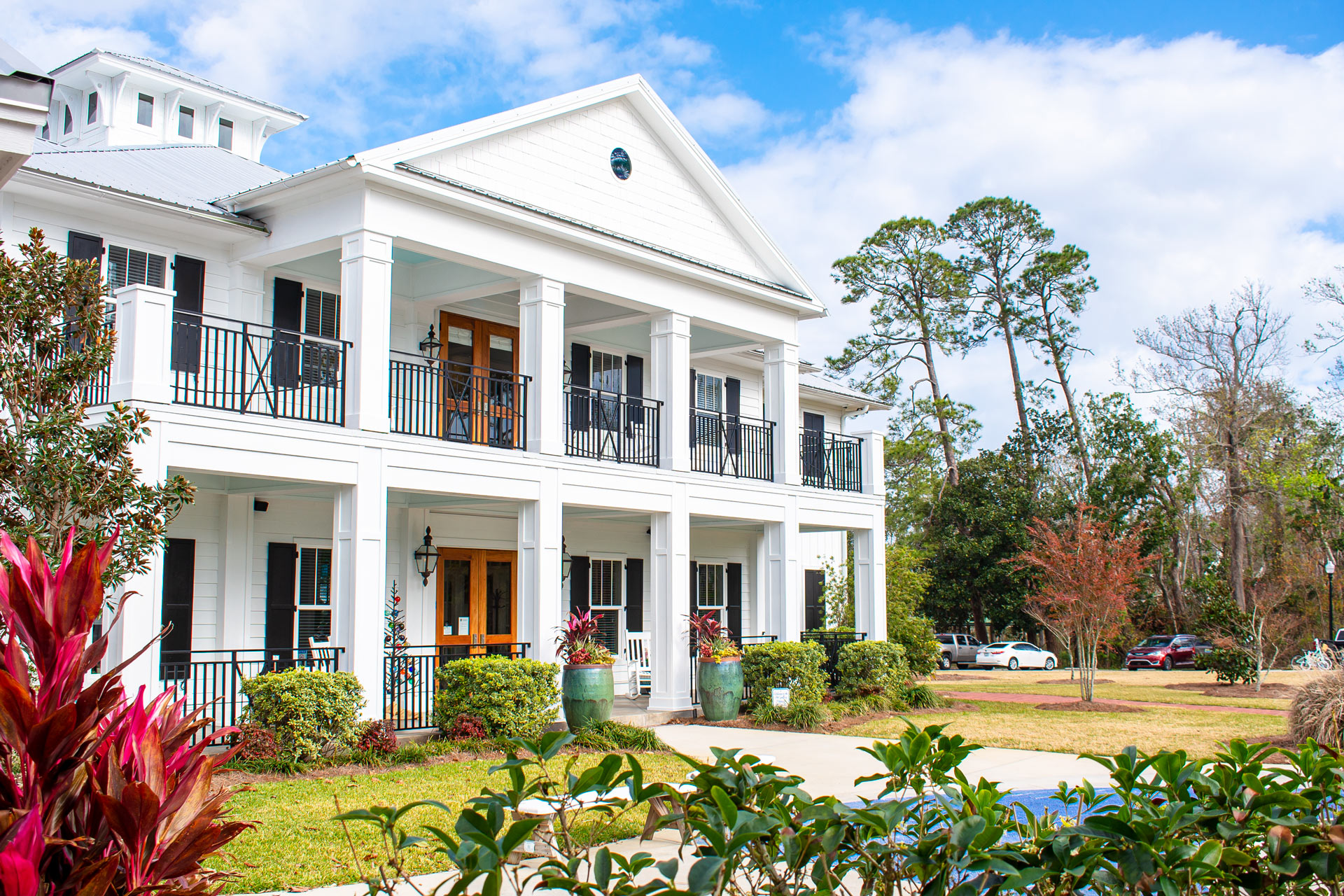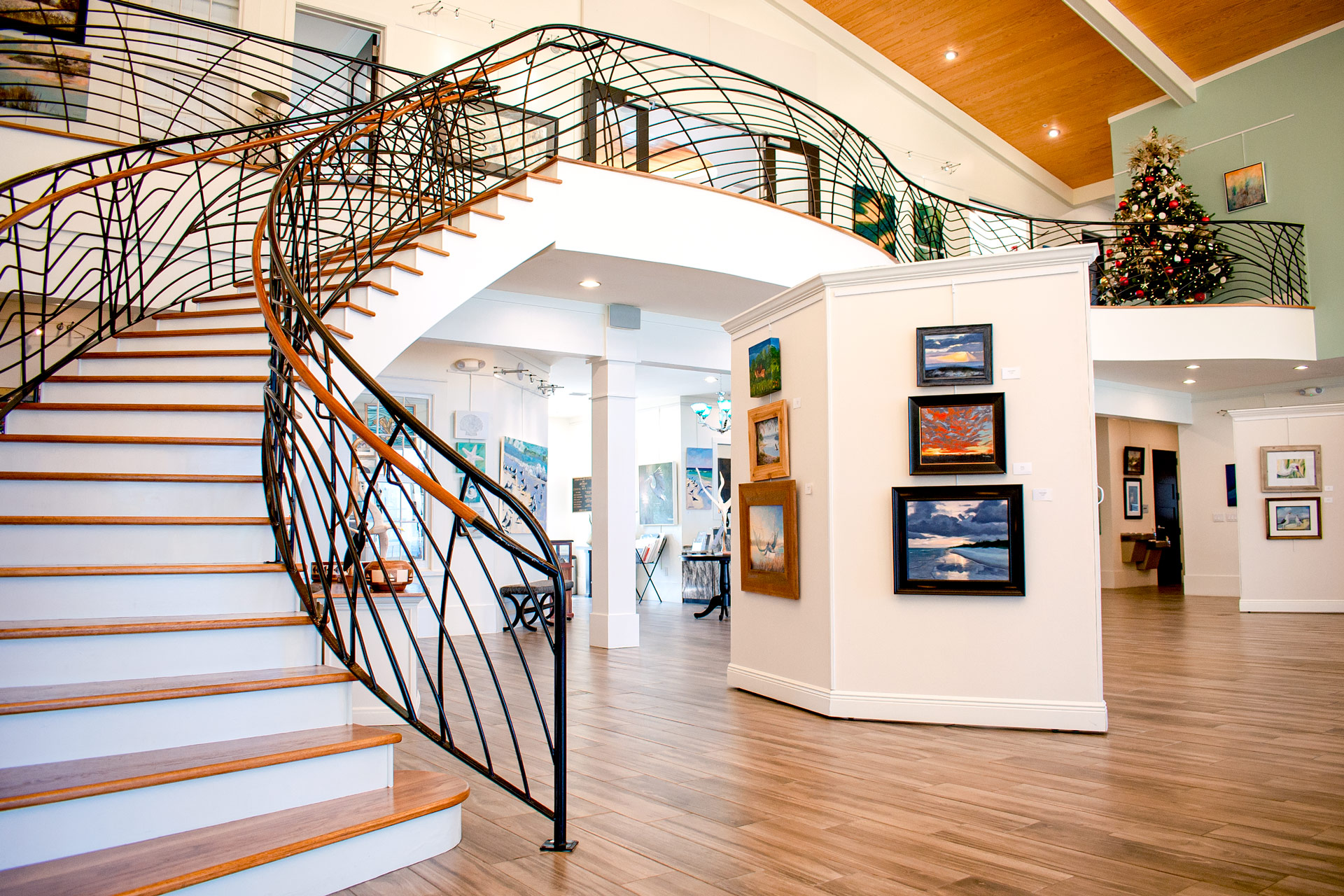 The Most Picturesque Place in Orange Beach
Beauty is in the eye of the beholder, but no one can deny that the Coastal Art Center of Orange Beach Alabama is a work of art. This scenic 10,000 square-foot gallery overlooking Wolf Bay features paintings, pottery, metal sculptures, and even glass blowing from artists all along the southern coast. The Center is a local treasure trove of artistic finds that not only sells art pieces but also teaches you how to create some of your very own. So let's take a dive into the Coastal Arts Center of Orange Beach and see the world as the locals do.
Perfect Frame of Mind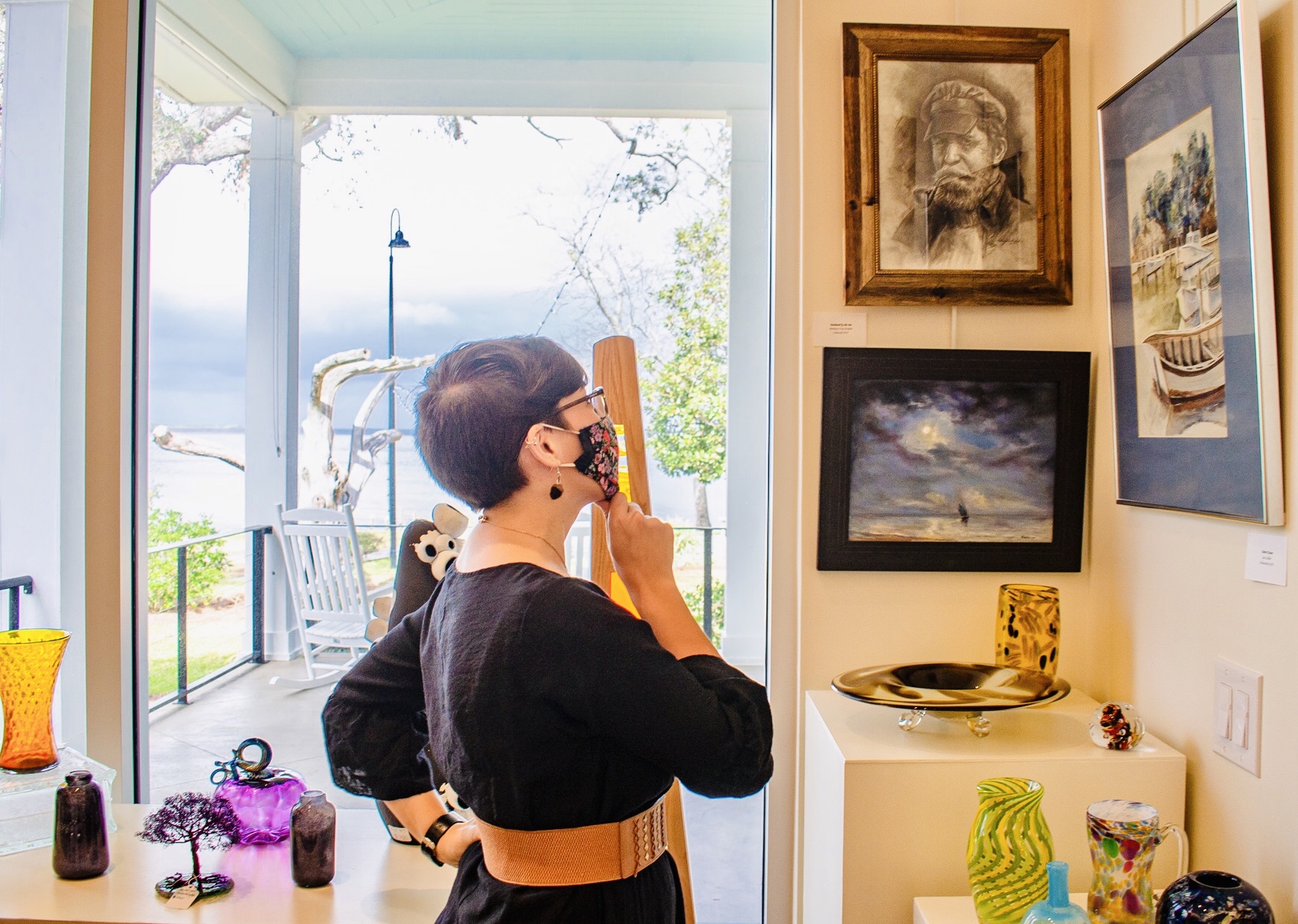 The Coastal Arts Center is located on Canal Road, right near the town center, with a lovely kids' park right next to it. As you drive up to its front entrance, you are immediately greeted by a two-story white building with columns and balconies dotted with beautiful flora and Spanish moss-covered trees. While the outside of the Art Center has kept to its southern roots and historical looks, as soon as you enter the front doors, you are transported into a beautiful open-air gallery that could easily be a masterpiece of its own. With a nice open look and clean color scheme, the building doesn't take away from the art pieces but instead draws your attention to them. The gallery also has lots of natural light, its huge North-facing windows showing a beautiful view of the backyard and Wolf Bay.
As we walked through, Desiree Blackwell, the Art Center Director, guided us on a little tour of the building. While the Art Center is located in Orange Beach, they welcome artists from all along the Gulf Coast. They love it when the creators can be interactive with the gallery, so you may happen upon your favorite artist when you come. They have a variety of creations, everything from 5-foot resin oil paintings to local nature photography. One of my favorites was a charcoal sea captain by local artist Anthony VanArsdale, that looked like he has seen his fair share of storms. Another of my favorite sections was an area filled with carved wooden pieces and ceramics. The pieces there were so unique I couldn't help but think they would make quite the conversation piece when purchased. A work that I thought was especially interesting was a not-so-little sculpture that I have fittingly dubbed "The Barnacle Bust," which is a creatively done bust of a woman that the artist then submerged underwater to be covered in actual barnacles!

Make it Artsy!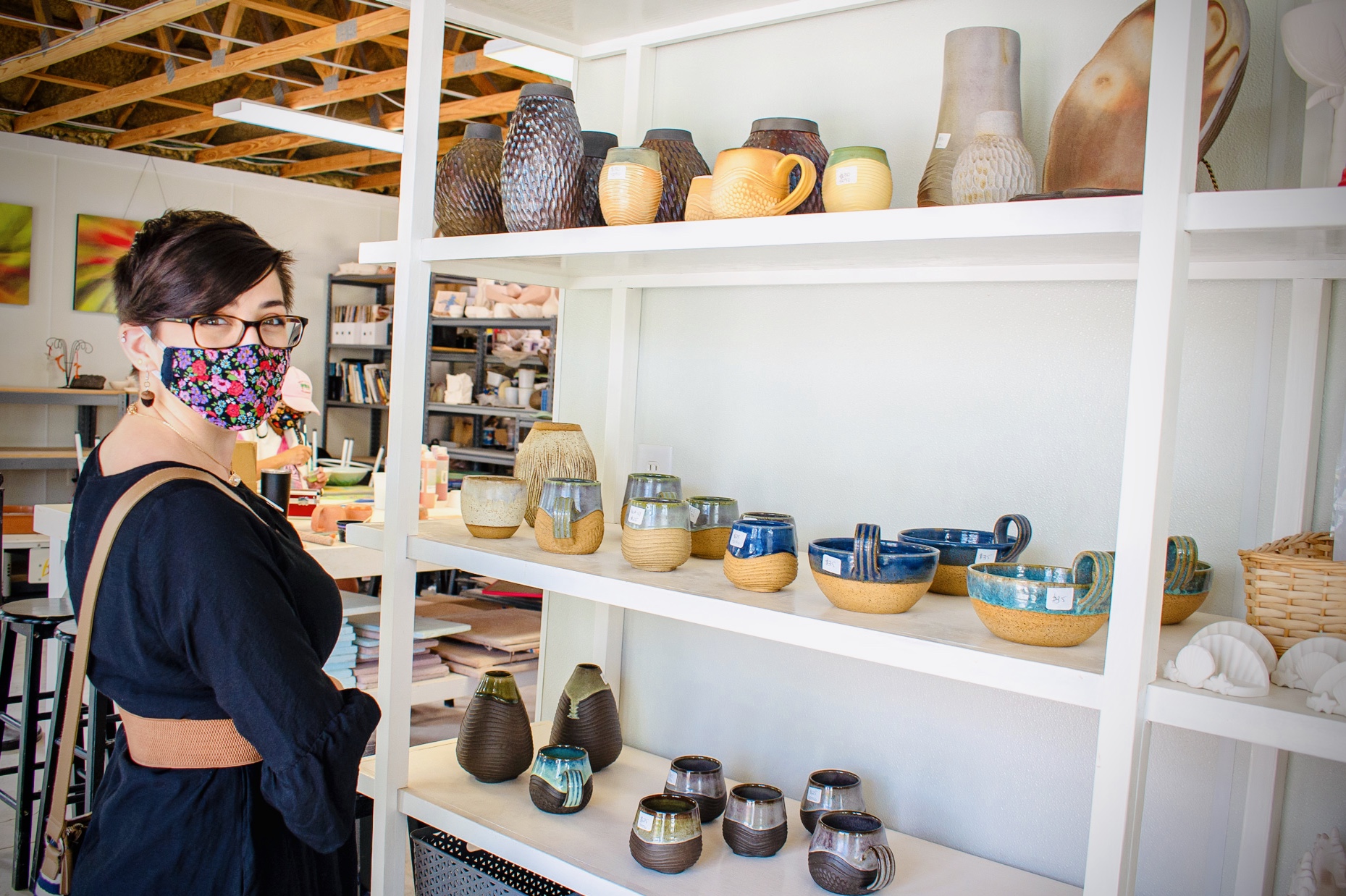 After our brief tour of the art gallery, we decided to take a look at the adorable little buildings to the left of the main entrance. Our first visit took us to the Children's Studio, where local favorite, Amoreena Brewton, teaches everything from children's classes and team building crafts to after-hours sessions where she does "paint and sip" classes for adults 21 and up (if you get my drift). The walls are dotted with her students' most recent creations, and everywhere I looked sparked my childlike inspiration.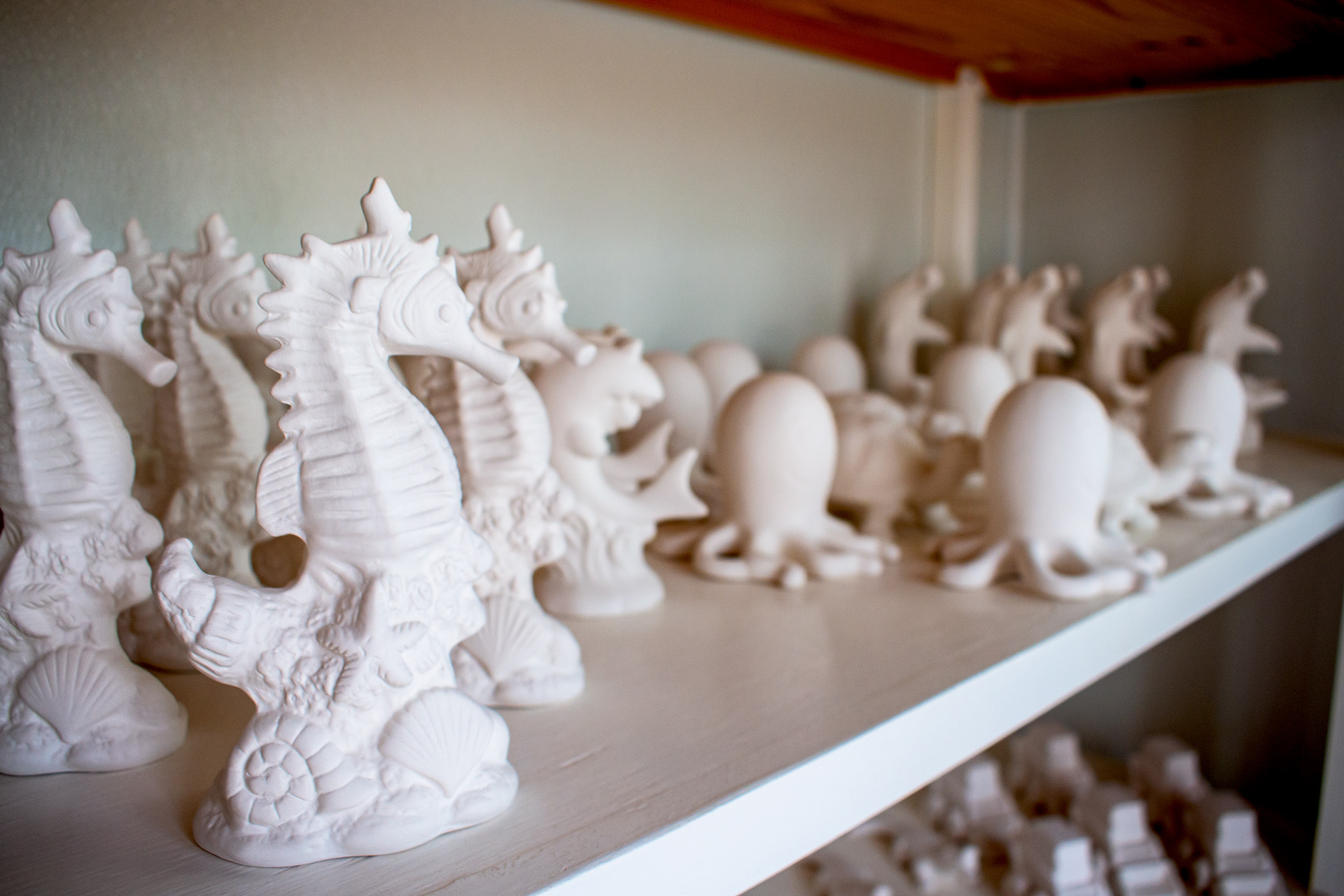 The building next to it is the Clay Studio, run by Maya, the clay master. The Center lets members have free range of the studio to be as creative as they want when spinning and carving. This is where I actually ran into one of my favorite mug makers, Linda-Bell Schorer. A local artist who also makes amazing hand-painted pillows, fantastic illustrations for the beach, and environmentally-themed children's books.
If you're like me and have no idea how to spin pottery in any way that resembles a clay sculpture, or if you find yourself in the area, they offer "Pick and Paint" classes. These are quick and easy classes where you pick out an adorable pre-made pottery piece to paint just the way you want. And when you have finished your art project, you don't even have to worry about twisty car rides or getting broken in luggage. The studio can ship the art piece to you when it dries! To see about future classes or get more information, click here.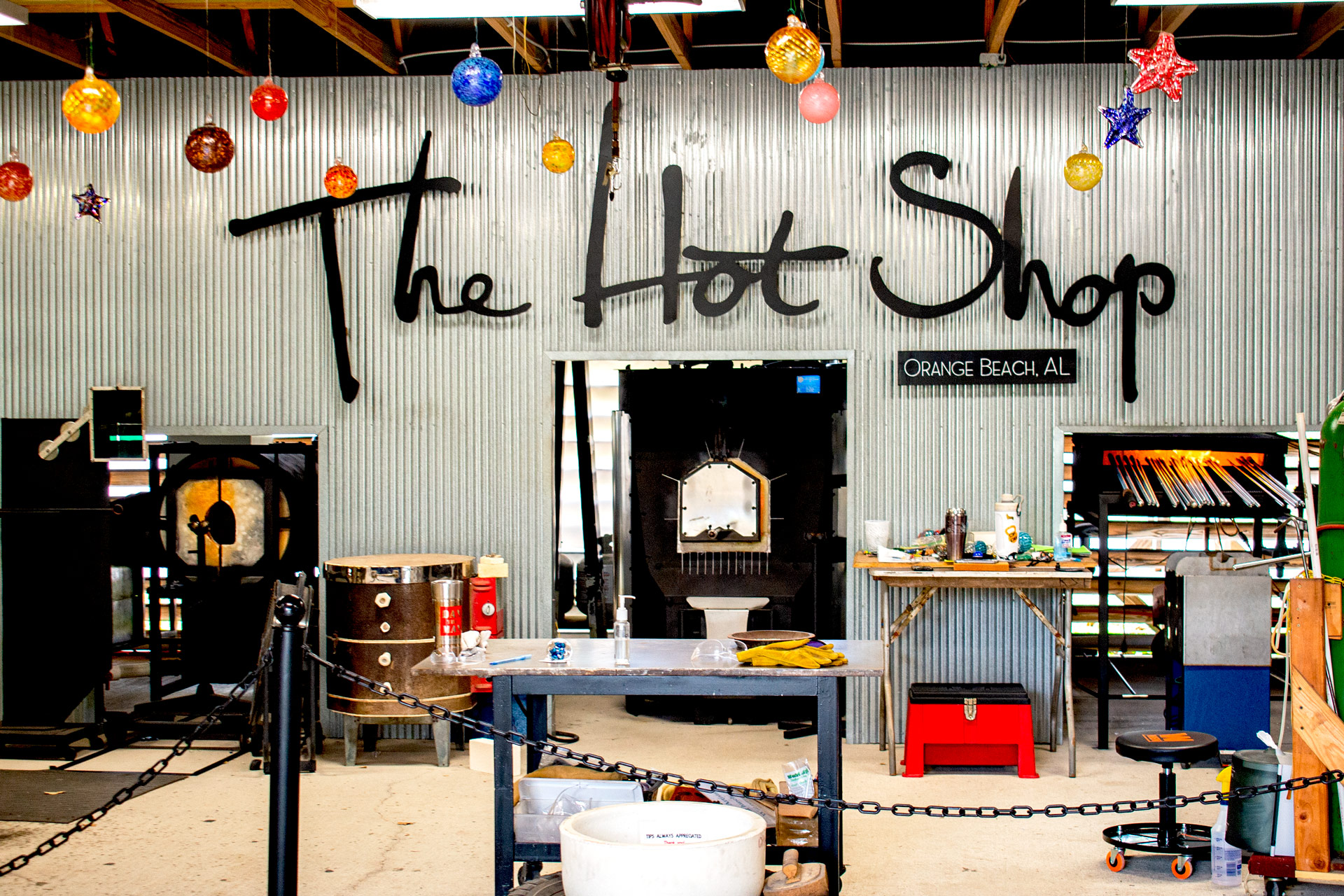 The Hot Shop
As we entered the final building of our outside exploration, we got put in the hot seat as Kerry and Dan of The Hot Shop gave us private instruction on how they made their glass masterpieces. Kerry Parks is a master of her trade, even graduating from my local college, University of South Alabama, earning a BFA. The other instructor, Dan Rush, became interested in it later in life when he started creating beads with a glassblower.
These two talented individuals offer hands-on lessons to those eager to put their glass blowing abilities to the test and offer classes weekly. But if you're wary about getting your hands or hair near a 2000 degree furnace, The Hot Shop has plenty of extra bench space for those who want to watch the masters at work instead of taking part. They are practicing social distancing, as we were behind a little fence that also keeps us out of the heat zone. So while you may not see them wearing a mask as they blow into their glass creations, trust that they are distanced enough from the onlookers to keep everyone safe.
Making Art Part of Our History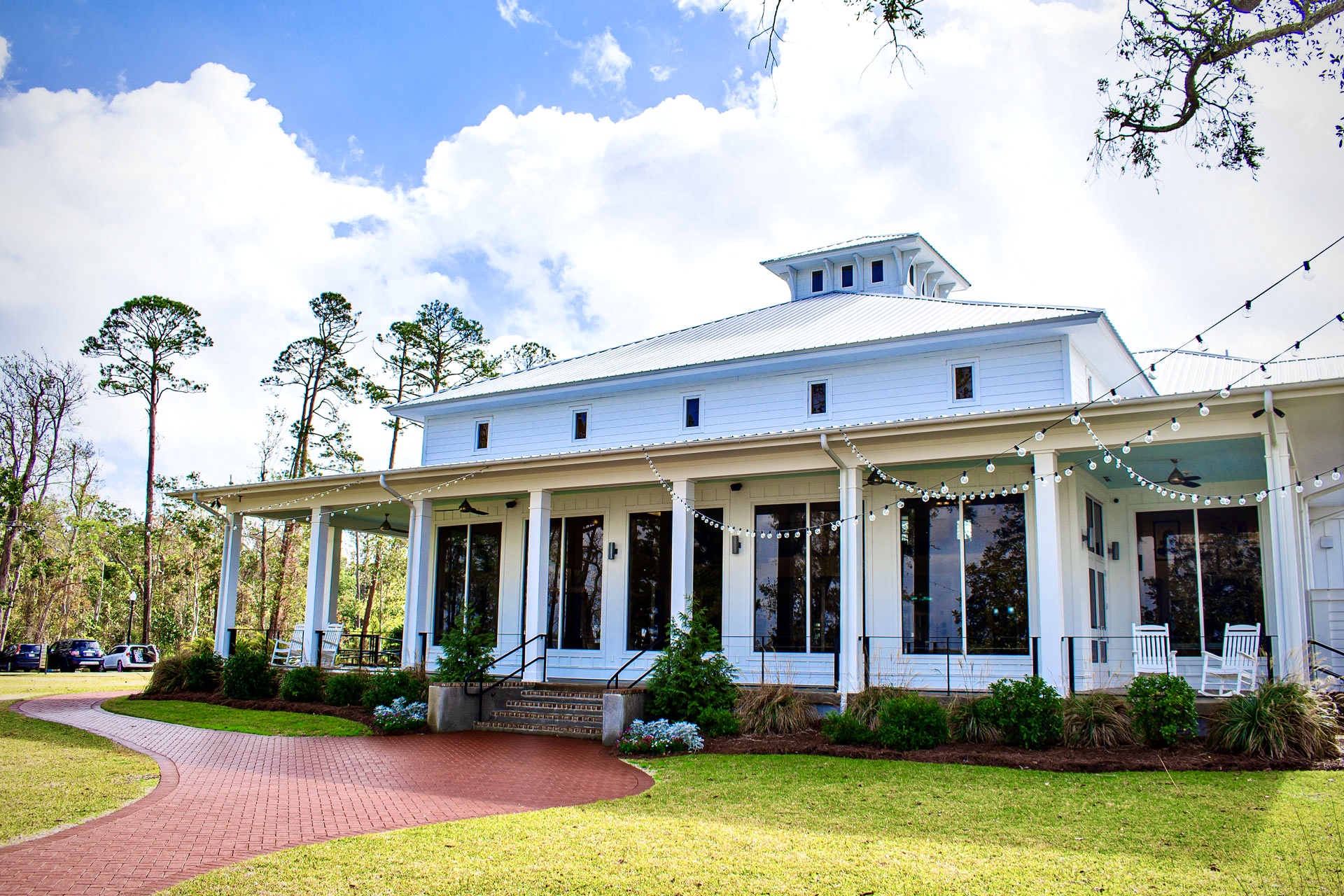 After leaving The Hot Shop, we wandered a bit more around the property itself. The grounds are beautifully landscaped with native flora and brick paths, dangling lights creating an almost whimsical atmosphere. Back inside, the main building comes equipped with plenty of private meeting spaces on the second floor, easy roll-away art displays, a projector setup, private dressing rooms, and their own kitchen for catering. You can definitely tell the gallery staff operates like a well-oiled machine when hosting weekend events, parties, and meetings.
It is crazy to think that this building has not always been on the property, as the building was only built in 2017! The original building was the area's first Hotel in 1923, built by a daughter of one of the town's Founders. It housed men in the turpentine industry and could only be accessed by boat until Canal Road was built and extended. The city eventually bought it and didn't know what to do with it until the artist in the area begged them for an Art Center. The Coastal Arts Center, previously managed by the Friends of the Arts nonprofit group, became a wholly-run Orange Beach city facility in 2013.
While the old Hotel was replaced in 2015, pieces of it still take part in the new building in very 'artsy' ways. The original bedroom flooring was repurposed into part of the ceiling of the second-floor conference rooms. The original doors were used to make vintage resin-topped sinks in the restrooms. The old vintage pillars were rescued and made into super cute and usable tables to display some art on. That being said, the Art center definitely knows how to appreciate art in all its forms and wants to showcase unique pieces that tell a story.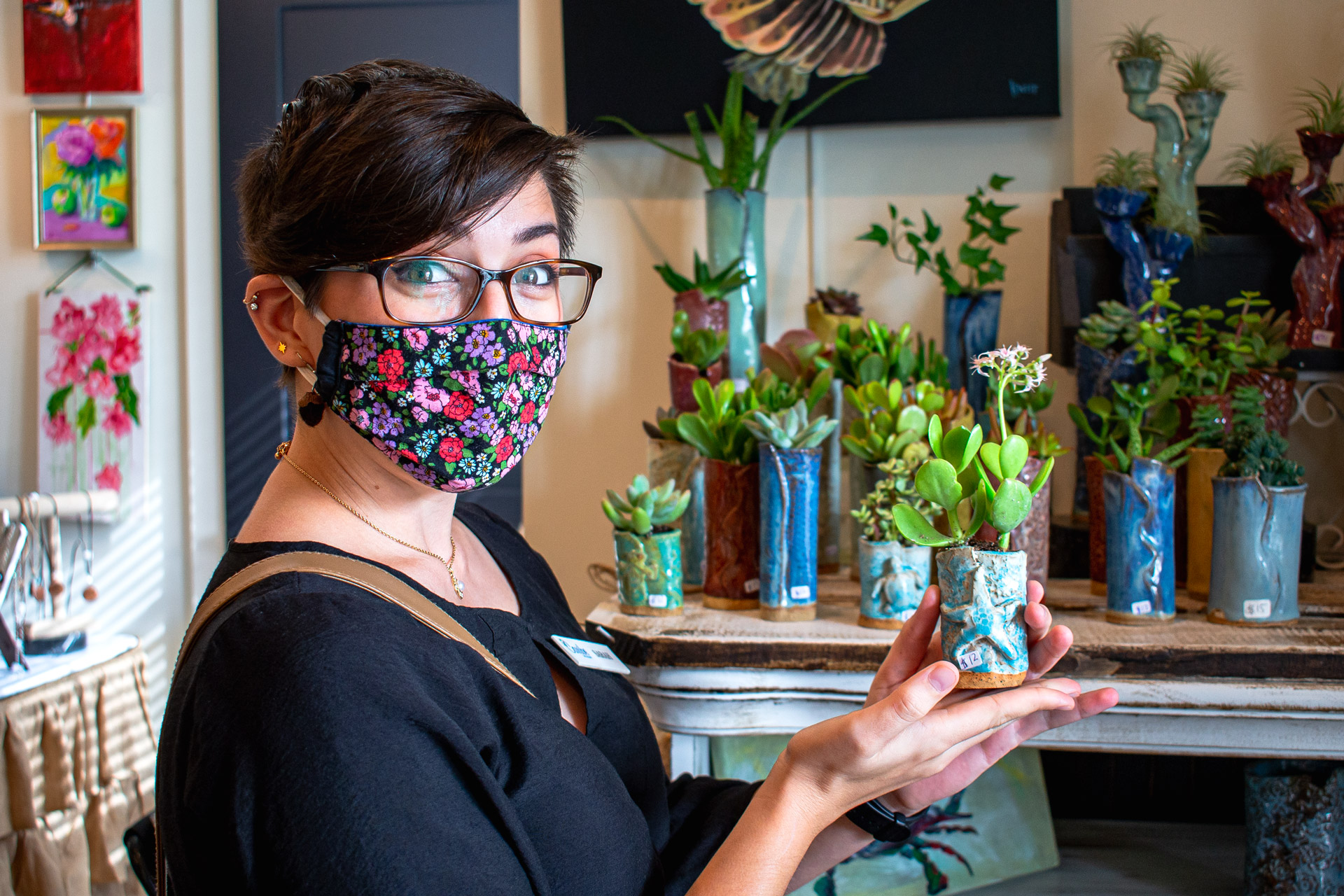 The Art Shop: Take Some LocAL Home
One of the best ways they have embraced a piece of the past was by building a little sectioned off room inside the Center with the original glass windows and even the Transom window that went over the doors. It was so cute, and I loved it, but it's what was inside the shop that got me excited. They had even more local finds, from small local prints and jewelry to handmade baby sea turtles and scarves. It was fun to see some of the local artists' quirky sides, even some of the Art Centers staff sell their crafts here, and I saw so many items I want to give as future gifts!
The Coastal Art Center is open all year with special events during different seasons; the art shown changes throughout the months as guests buy their favorites and make room for others. You can like and follow their Facebook to keep up-to-date on fun events or new art pieces by clicking here. So next time you find yourself in the area wanting to spice up your space with a new favorite local piece, head on over to the Coastal Arts Center of Orange Beach. A place that cherishes its part in the rich artistic history of our area that draws new and innovative ideas to life, appreciates the classical arts and provides a picture-perfect view of Southern hospitality.
To learn more about their upcoming events, click here!