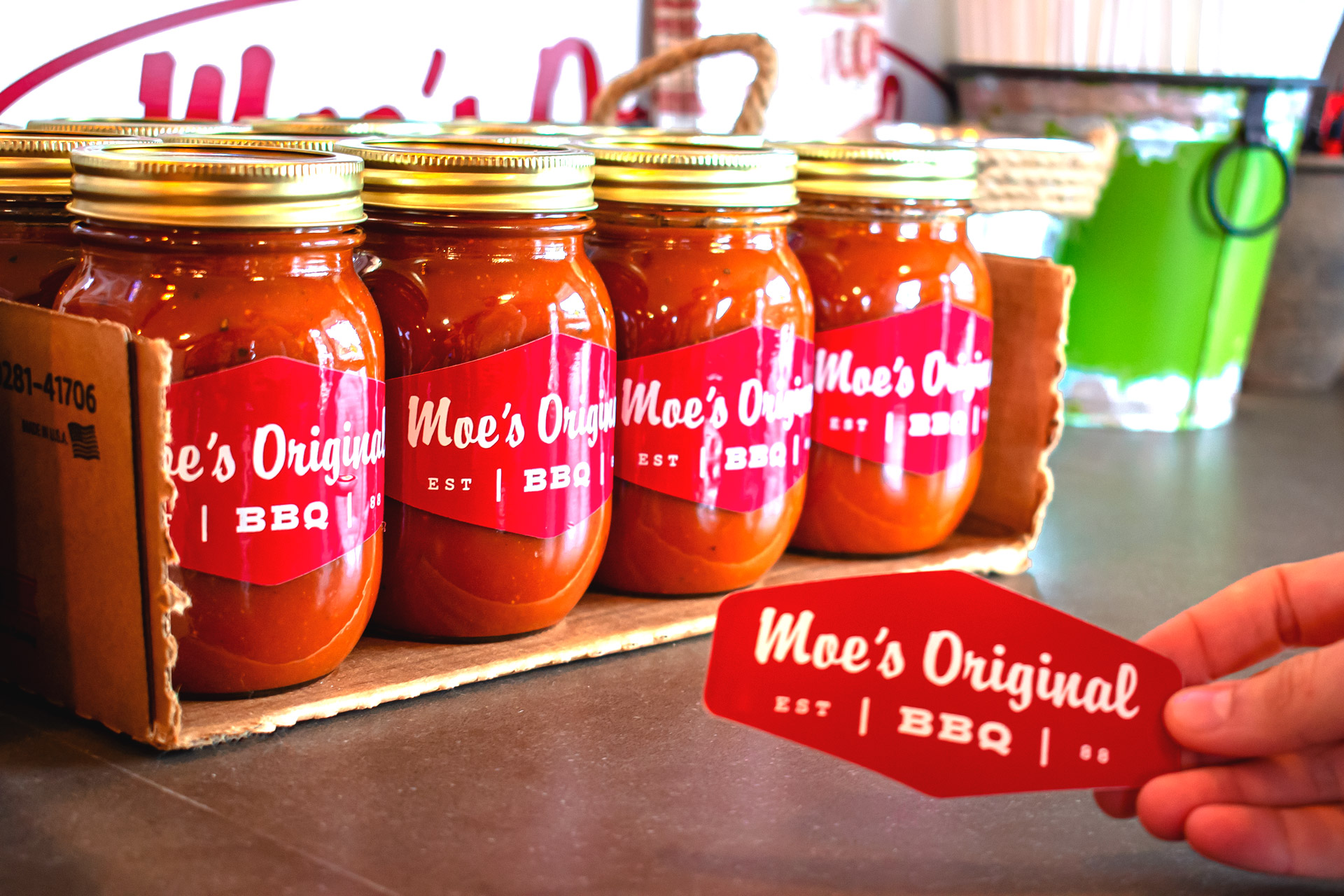 Moe' Flavor at Moe's
One thing about living in the South that I love is the variety of flavors and food that I can choose from at any given moment. And Southern flavor is what Moe's Original BBQ specializes in. With daily fresh made smoked meats, family recipe desserts, and local favorites for sides, I can truly say my mouth was watering before I even entered the building. Moe's boasts that its unique taste comes from using fruitwood to smoke the meat fresh and hitting it with two sauces.
A Warm Southern Greeting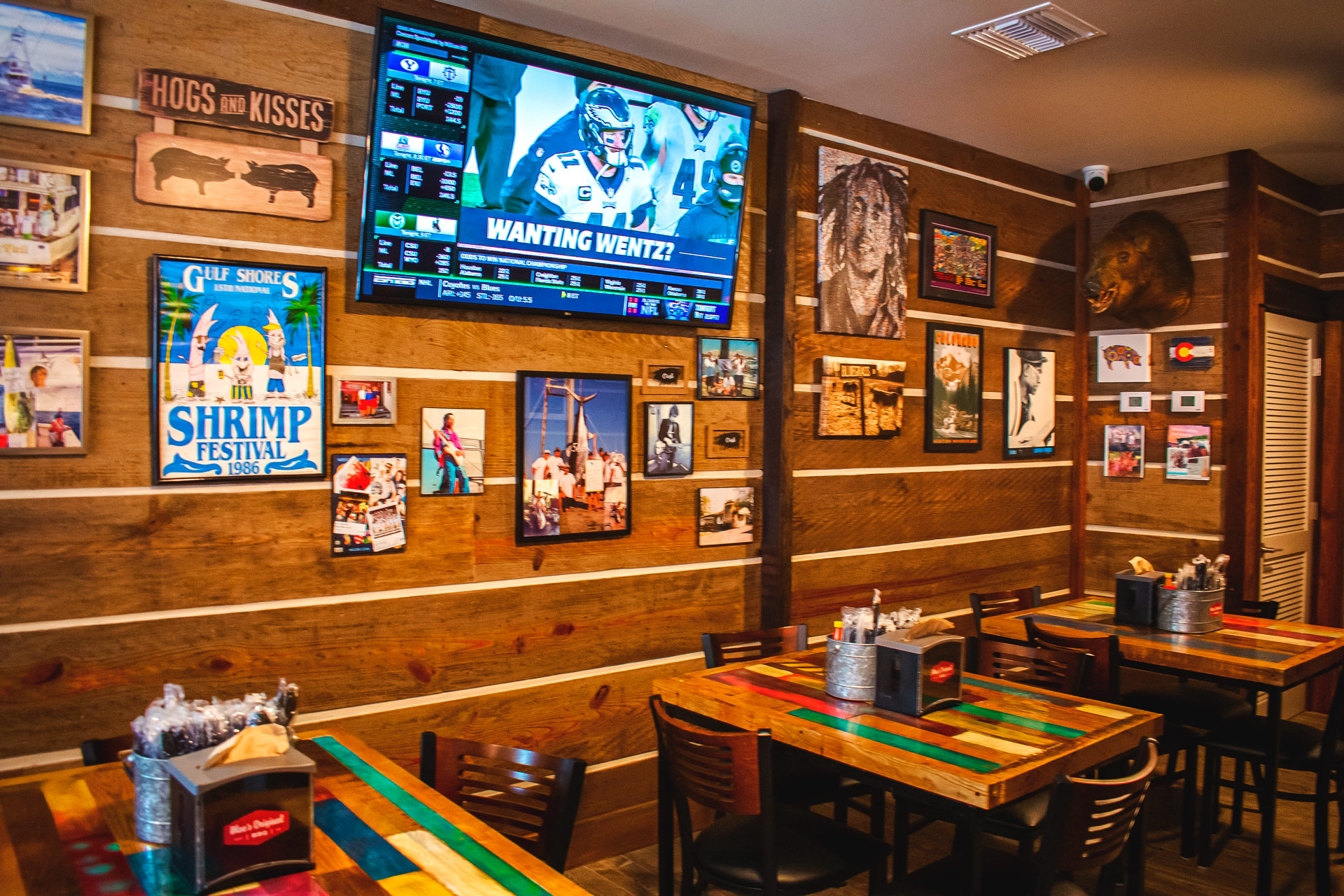 This rustic-style building is warm and inviting, with the building itself being relatively new yet still maintaining its casual but neat appearance. As you walk up to the building, they have a huge trough looking handwashing sink for guests to use before entering. For those who want to stay outside and enjoy the weather, they have a walk-up-through window where they can order food and take it to-go or sit outside. When we walked in, we were greeted by the owner Lee and one of her employee's Hope, behind the counter. They had warm smiles ready for us and helped us make our selections from their diverse menu.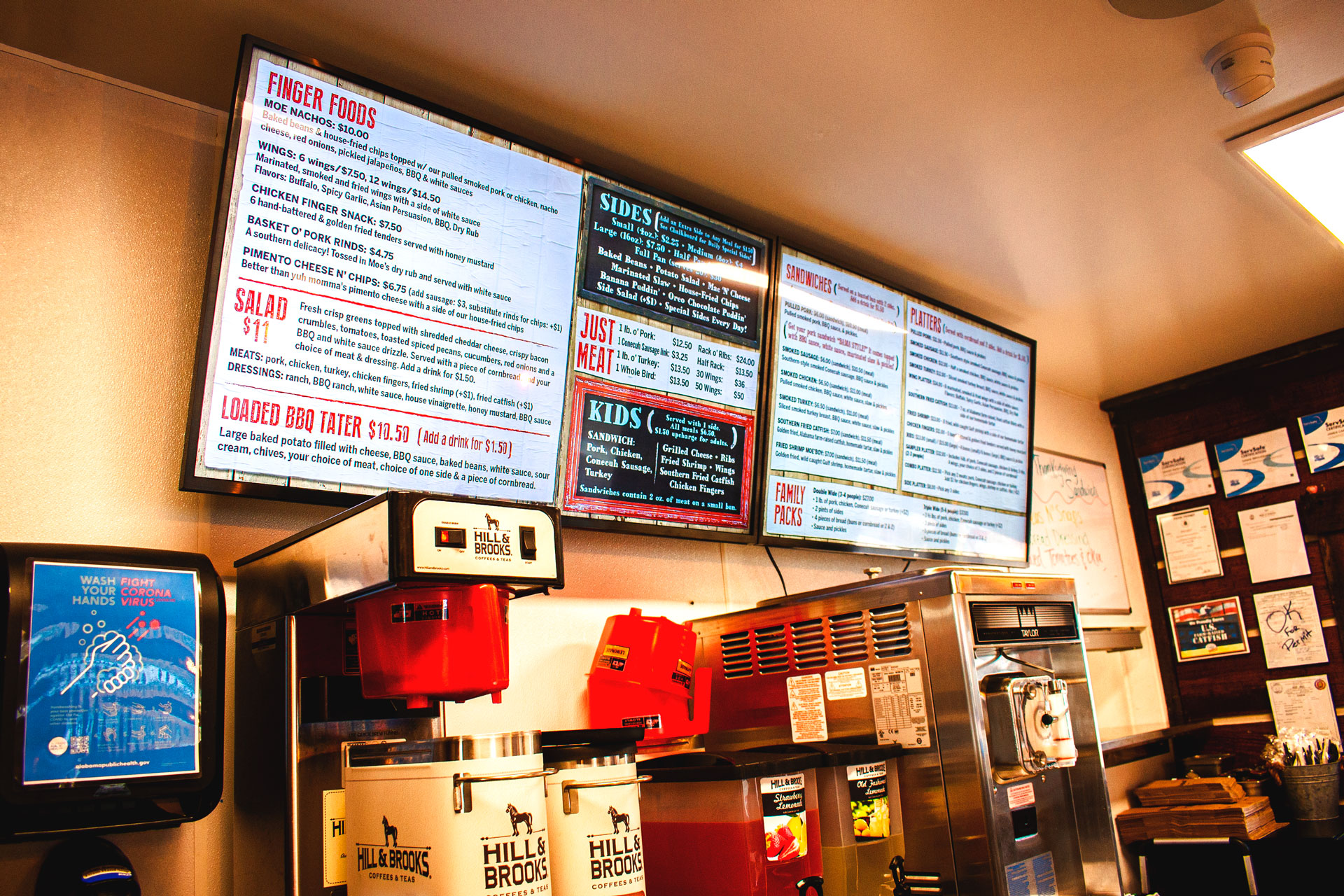 After ordering our lunch, we found a seat and took some time to look around the building. The walls are decorated with pictures of the founders of Moe's, as well as group photos of the Orange Beach Moes and crew when it was made. I did notice some interesting odds-and-ends on the walls. From framed photographs, BBQ memorabilia, a boar's head, and TV's there is no end of conversation starters to look at while you eat.
Lunch is Served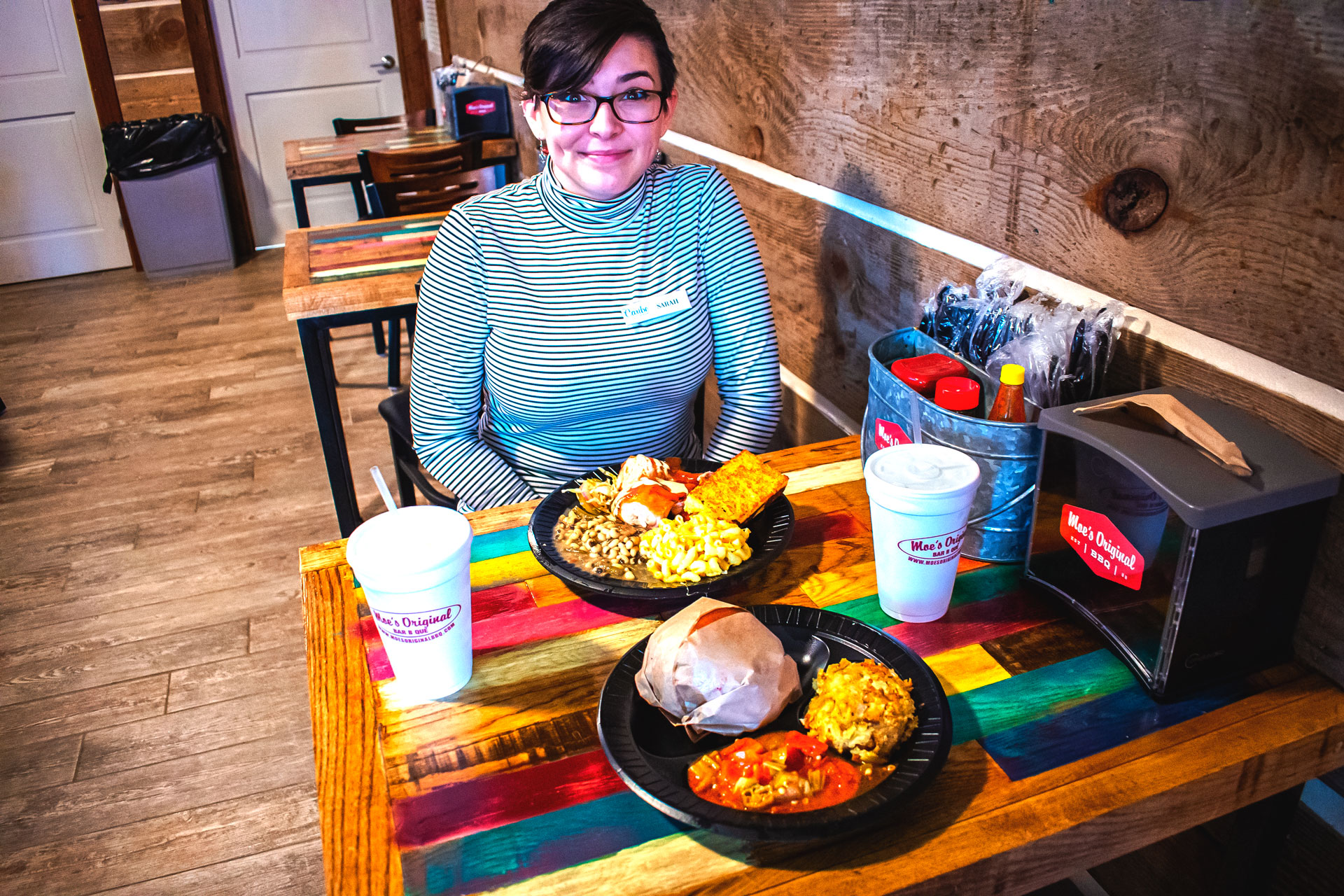 When our lunch was ready, I was so excited I felt like a kid in a candy shop. Anyone who knows me knows I am a natural carnivore, so I was ready to try this 12 hour+ slow-cooked pork, covered in Moe's famous sauce. I ended up ordering the combination plate, which is two types of meat, two sides, and Moe's famous cornbread. I chose their pork (obviously) and their chicken, with the fresh homemade sides of the day, black-eyed peas, and mac-and-cheese. My lunch partner and fellow food enthusiast chose a Thanksgiving sandwich special (only on Thursdays) with a side of dressing and stewed okra. 
I was so immensely pleased with my pick, the meat was so tender and juicy, with a great flavor. And when combined with the homemade sauce, the flavor only got better. The sauce they make is definitely unique, and I had to get some extra on the side since the meal was so big I had to take the rest home. One item that I did completely finish was the cornbread. While I usually love my cornbread sweet and covered in butter and maple syrup, Moe's cornbread, in contrast, is light, fluffy, sweet, and I think I could eat a whole tray of it by myself. The Thanksgiving meal was also amazing as this behemoth of a sandwich was filled with turkey, stuffing, and even cranberry sauce.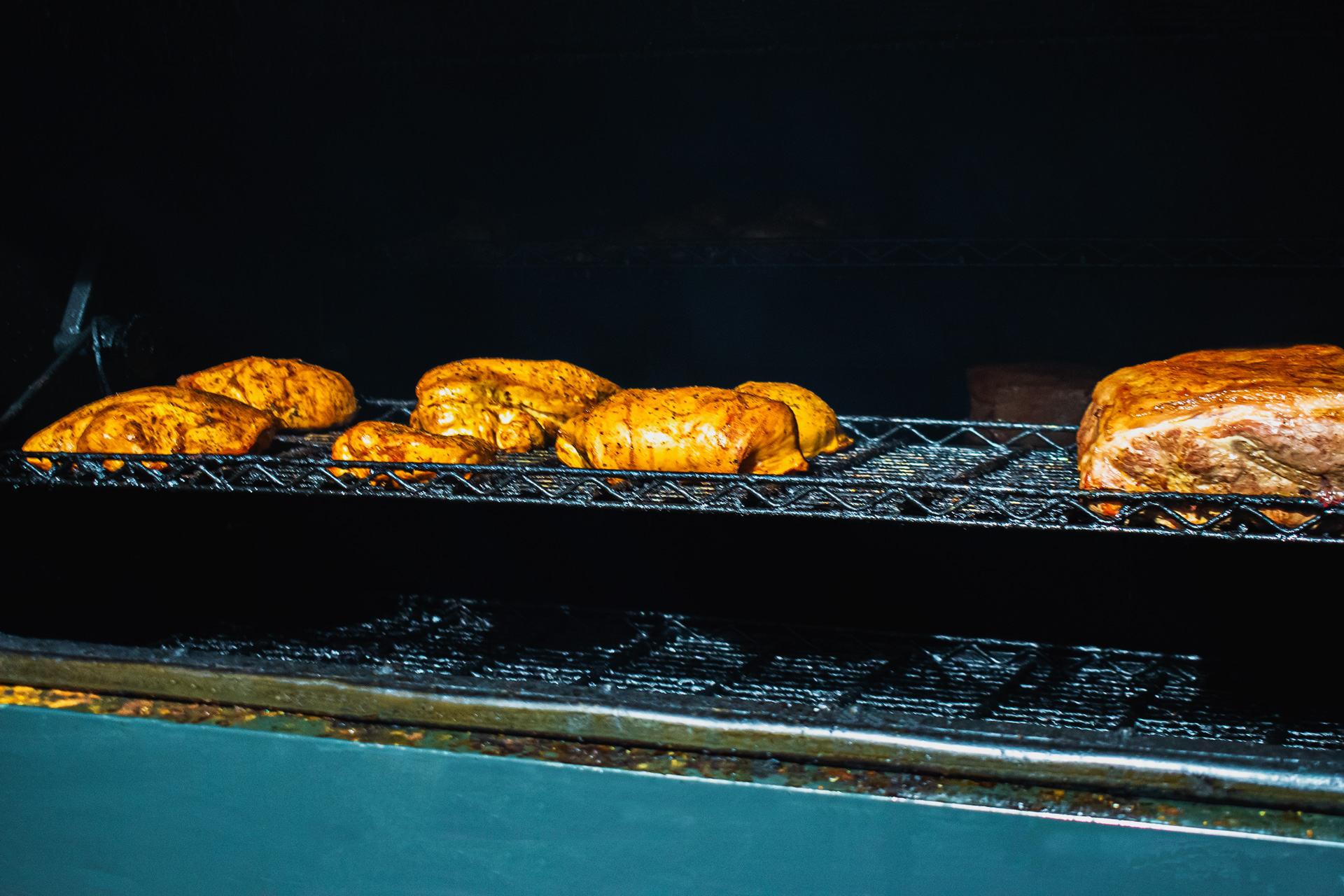 The locAL Community
Like I mentioned earlier, Moe's building is very new. While they have been serving up food on this property since 2006, the previous building had a fire that sadly destroyed the smokehouse and roof in 2020. With a lot of help from the local community, even other restaurants, Moe's was soon rebuilding and hoped to reopen in 3 months. Soon after reconstruction started, hurricane Sally hit and further delayed the opening by another 3 months. During this time, Lee, the Manager, worked hands-on with her crew to make sure that Moe's could reopen after 2020 hit it hard.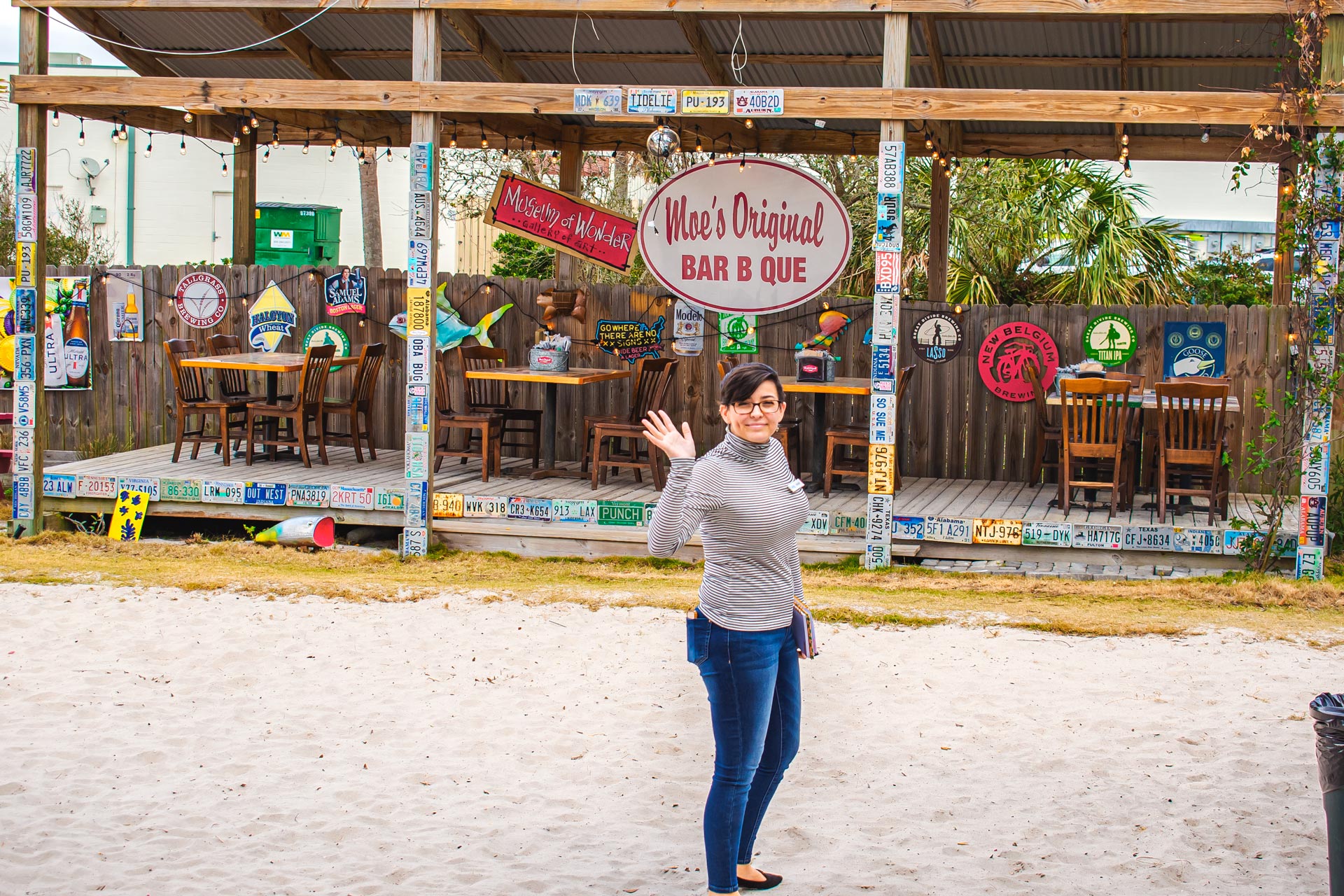 Open Air and Outside Lounging
Their first week of reopening was bustling, with walk-ins, to-go orders, and even featuring outside open-air music concerts. The staff was eager and ready to get back to the grill and resume preparing their great tasting food. The outside seating area is just the pinnacle of beach BBQ and relaxation. The backyard is beautiful, fenced-in, draped in string lights, and lets you dip your toes in the sand. The picnic area is filled with benches and tables and is dotted with palm trees. You don't feel as if you are in the middle of downtown Orange Beach. In the back of the seating area (away from roads and cars), they also have a kids play section, so you don't need to worry about children wandering off. Moe's is also in the process of adding a new stage to the back that will help with concerts for their fun Friday nights.
Background in BBQ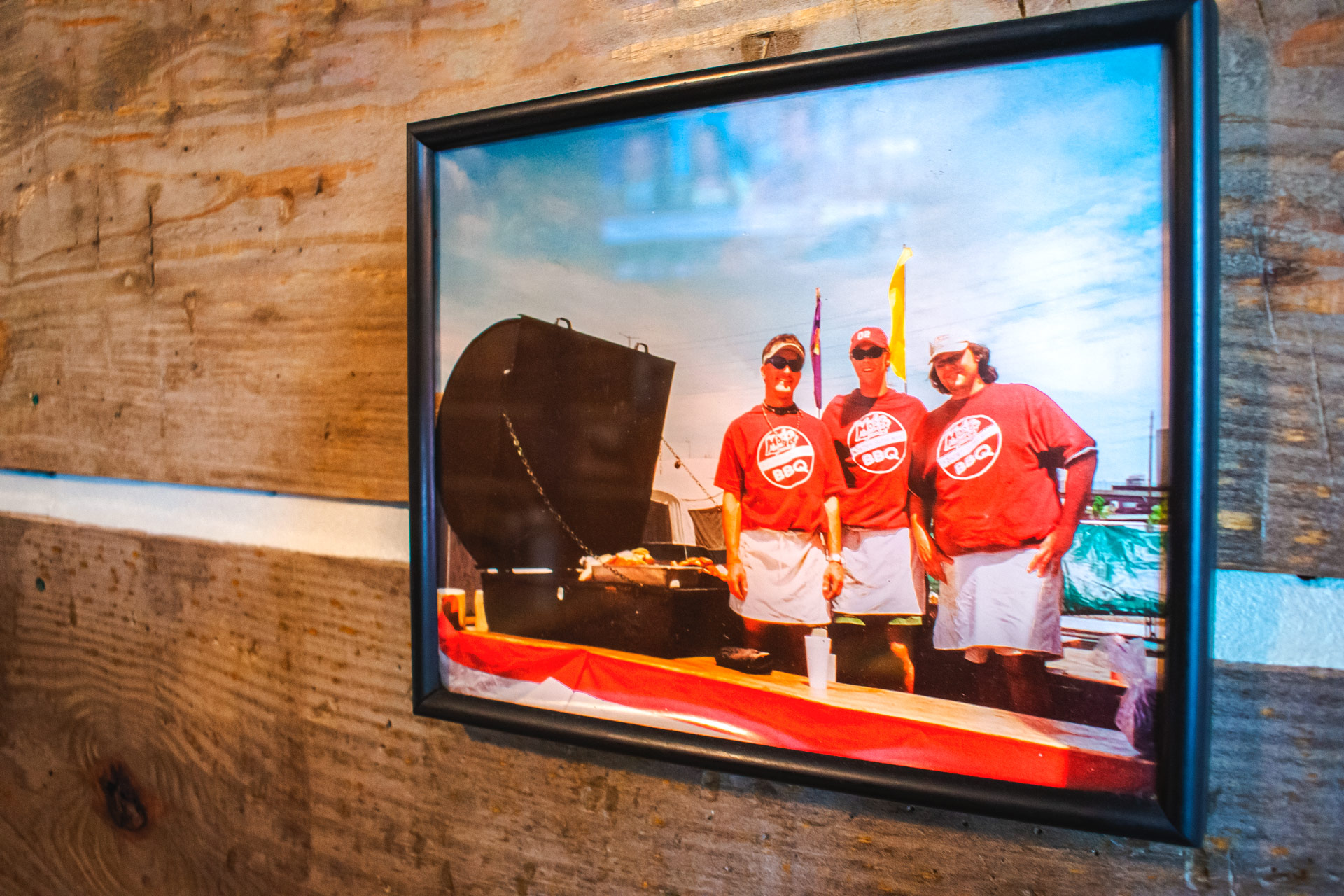 Moes was Founded in 2001 by three local Alabama Alumni who had a taste for a southern flavor that they wanted to share. Ben Gilbert from Athens, Mike Fernandez from Tuscaloosa, and Jeff Kennedy from Huntsville who met at the University of Alabama in Tuscaloosa. They instantly became friends and had a mutual interest in all things "Southern: BBQ, blues, college football, and whisky." They learned from their friend Moses Day, who had a unique and signature grilling style that they now use in all the Moe's restaurants. It was nice to hear from Lee that these men still keep up with all their partner franchises, being down to earth and even helping with clean up from the recent hurricanes.
Lee has been working at Moe's for over 12 years and has been a partner in the Orange Beach franchise for over half of that. She describes Moe's as a close-knit family that works well together, enjoys their work, playfully nagging each other, and doing something they love. They also describe the Moe's customers as an extension of that family, that they love having weekly regulars, long time snowbirds, and the new visitors.
Moe-bility at Moe's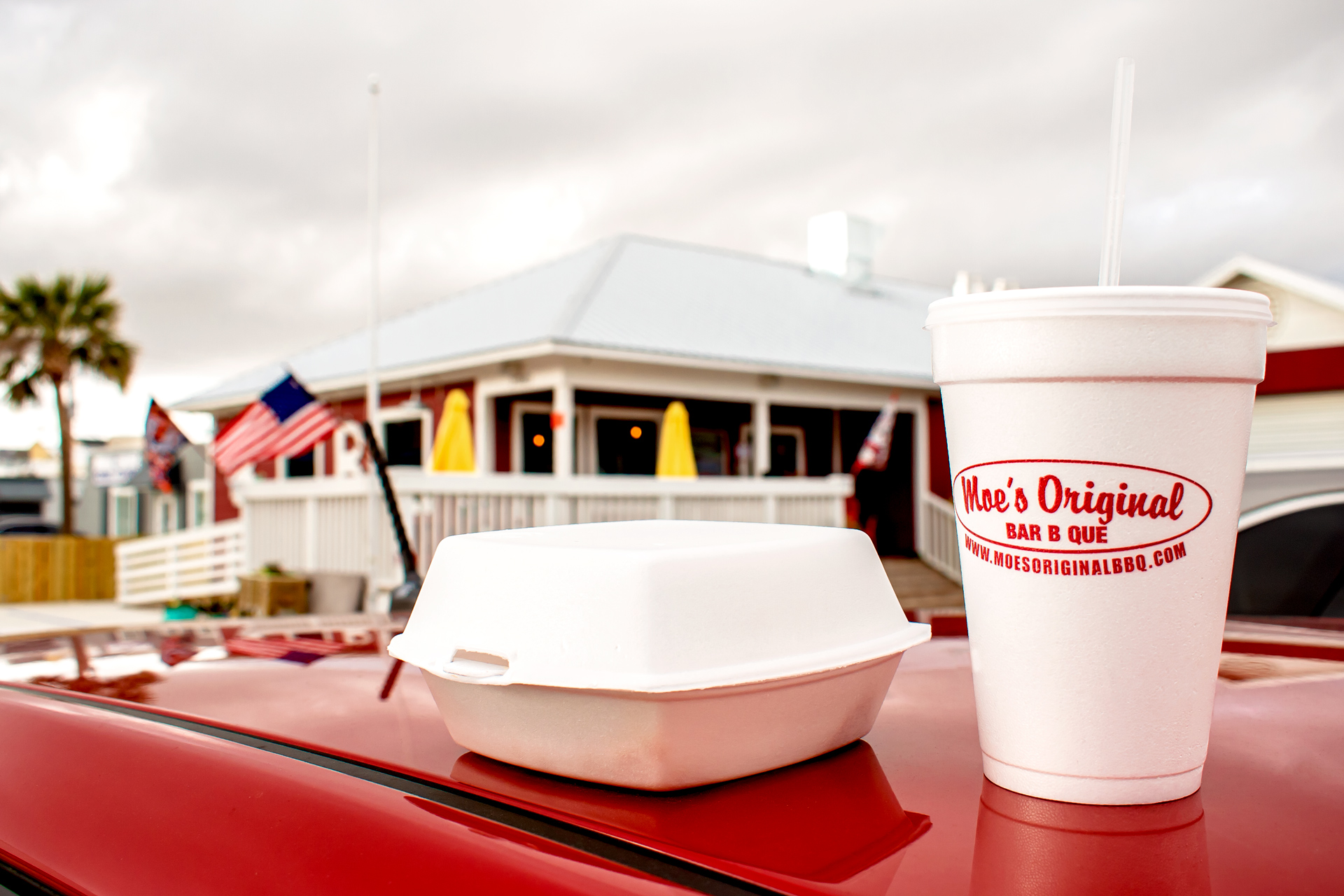 While the food was delicious, it was so filling that I had to take a good portion of it with me to go. While there, I was able to watch people come up to the "walk-through" window to grab their pre-ordered food to take with them. It was nice to see a super simple way to avoid the crowds. It was a surprise to learn that they also specialize in catering, private/public events, weddings, business lunches, etc. They even have a catering trailer to easily travel, prepare, and serve high-quality food wherever they go. Lee said she loves catering local sporting events and weddings, as she never misses an opportunity to go out and meet people. She actually told me the story of how she was able to cater a wedding years ago for a couple that frequented Moe's, and even after years, they still come to Moe's to see her, but now with their children.
Last Minute Thoughts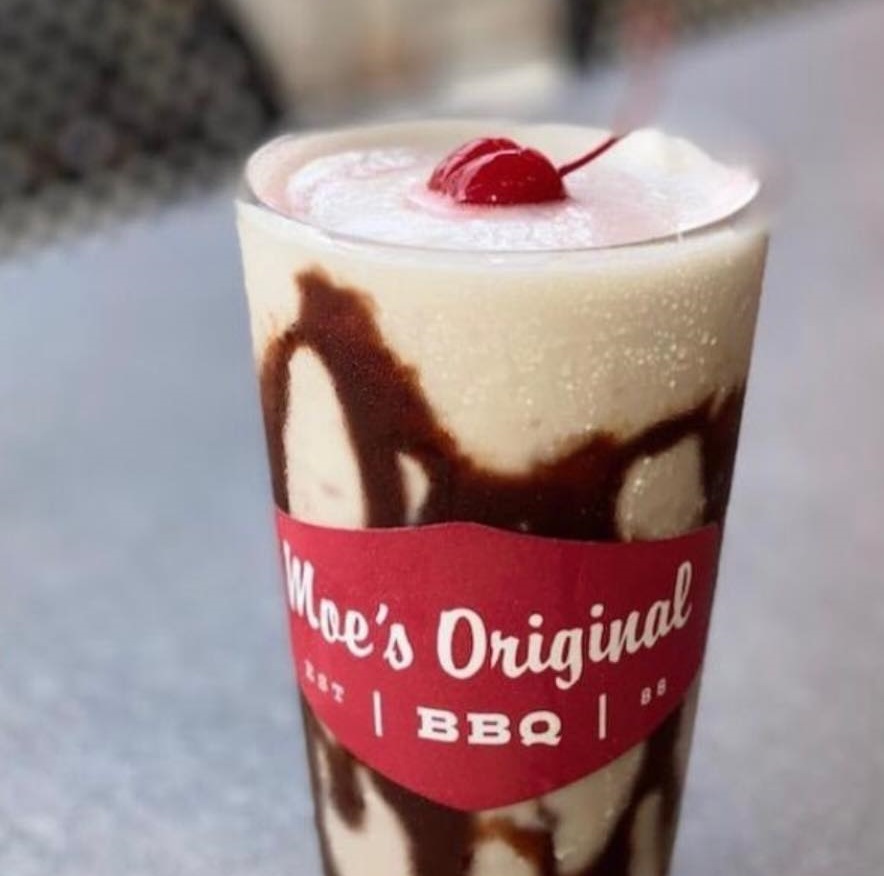 Overall, my lunch trip to Moe's was a great experience, and I am happy to say I will be adding them to my lunch routine from now on. I am excited to also see what music will be playing later on, to enjoy a fun Friday night out. Lee said she was happy to announce that Moe's now has a liquor license, they can now feature fun drinks for everyone. One drink they are especially proud of is their bushwhackers, because who doesn't like a chocolate milkshake for adults?!
It was good to see Lee and her team handle Moe's BBQ in Orange Beach. All staff was friendly, happily chatting with customers and enjoying what they do. I hope that after all the craziness that this little BBQ shop has had to go through, they can enjoy a fun, food-filled year surrounded by happy customers and great people. So whether you're wanting a quick bite to eat, a family dinner, or catering at your next party, be sure to put Moe's on your list of "Must Eats".  Either way, I am excited to head back to Moe's and get some 'Moe' great flavor.
To contact Moe's BBQ for lunch specials, catering, or have any questions, click below for contact information!