Imagine driving down a scenic road with trees on either side and suddenly you see a T-Rex! Then a large structure comes into view that looks like Stonehenge, making you feel like maybe you took a wrong turn into Europe. Don't worry though, you're still in Alabama. You've just come across The Dinosaurs of Elberta. This place has been a favorite hidden destination for locals and tourists alike. Despite my mother taking my nephews here many times growing up, I have never had the opportunity to see this place for myself. My oldest nephew loved to go dinosaur hunting with his Mimi (my mom), and seeing a life-sized replica of the actual Stonehenge, was a magical experience for him. So after years of hearing about this amazing, mythical place, I decided to see it myself.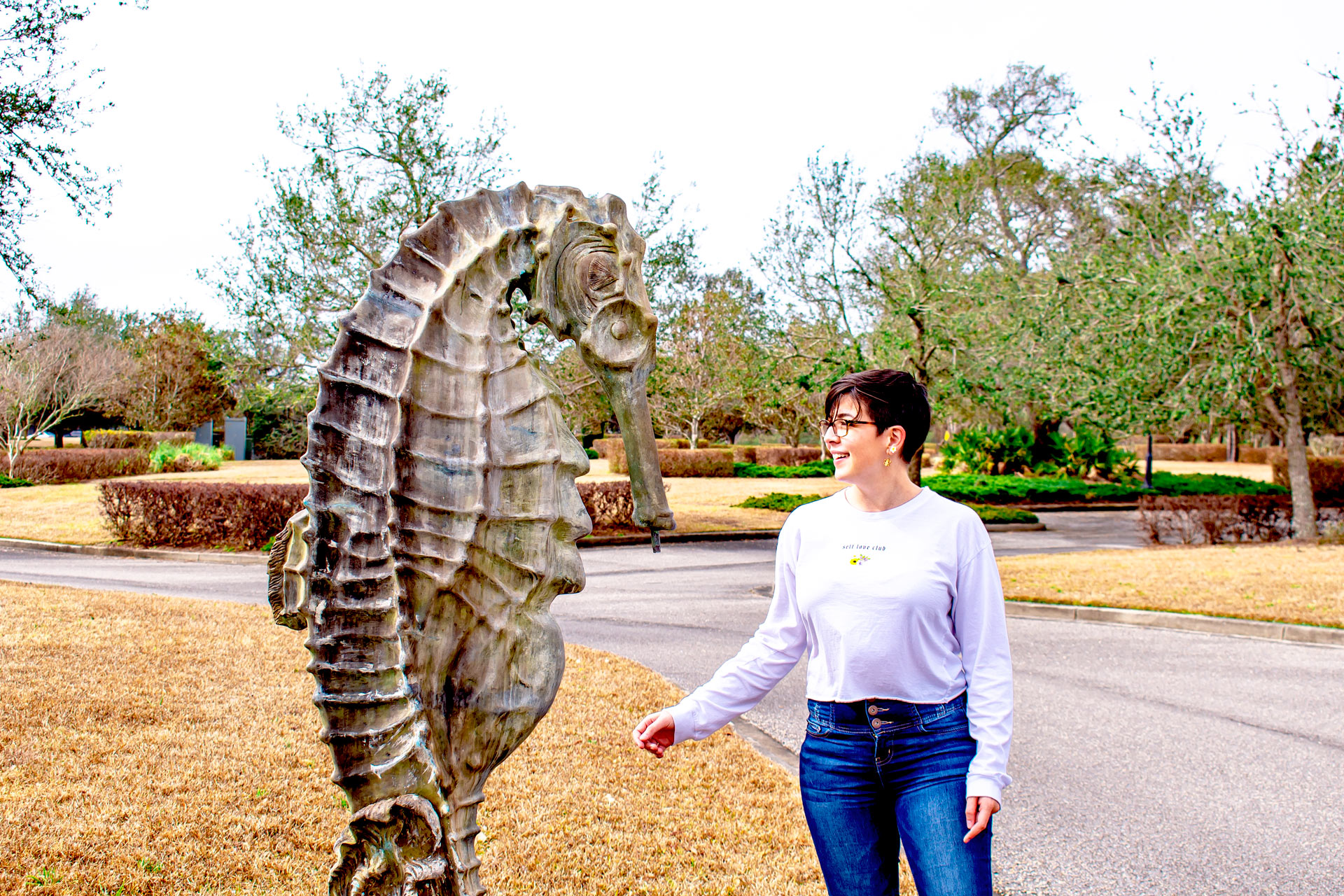 Are We There Yet?
Out of all the fun, crazy, and adventurous things that one can do on the Gulf Coast, I didn't expect to find myself on a Dinosaur hunt. To prepare myself so I wouldn't have any Jurassic themed mistakes, I decided to plan ahead and map the things to see. Surprisingly, google maps had the location of a few of the dinosaurs as well as Bamahenge. All these attractions are located on the property of Barbers Marina, either near the road or on the property grounds. The Marina welcomes guests to come enjoy the scavenger hunt around the property and tell guests they are welcome to park on the side of the road to get out and see the attractions. So, with a map printed, handwritten notes in hand, my Jurassic Partner and I headed out!
Bamahenge
As we turned onto the Barber Marina Road, I eagerly stared out my window in anticipation of our first find. This replica was built in 2012 and is made identical in size to the original Stonehenge. It's aligned with the summer solstice, give or take a few feet, the creator Mark Cline said it "will adjust itself in a few thousand years". These huge megaliths draw the eye and make you feel small as you walk between them. I was astounded to think that people were able to move these huge fiberglass creations filled with cement and wooden posts (to stabilize them during storms). It made me respect the ancient movers creating the original Stonehenge even more.
Jurassic Park: Closer Than You Think
The dinos were next on my list, and a word to the wise here, you really have to keep your eyes peeled since two of the dinosaurs are slightly hidden behind the tree line. The dinosaurs you can expect to see are a Brontosaurus, Tyrannosaurus Rex, Stegosaurus, and Triceratops. The T-Rex was first up, and let me tell you- it was big! I was astounded by its size, huge teeth, glass eyes, and even its little chicken-like arms.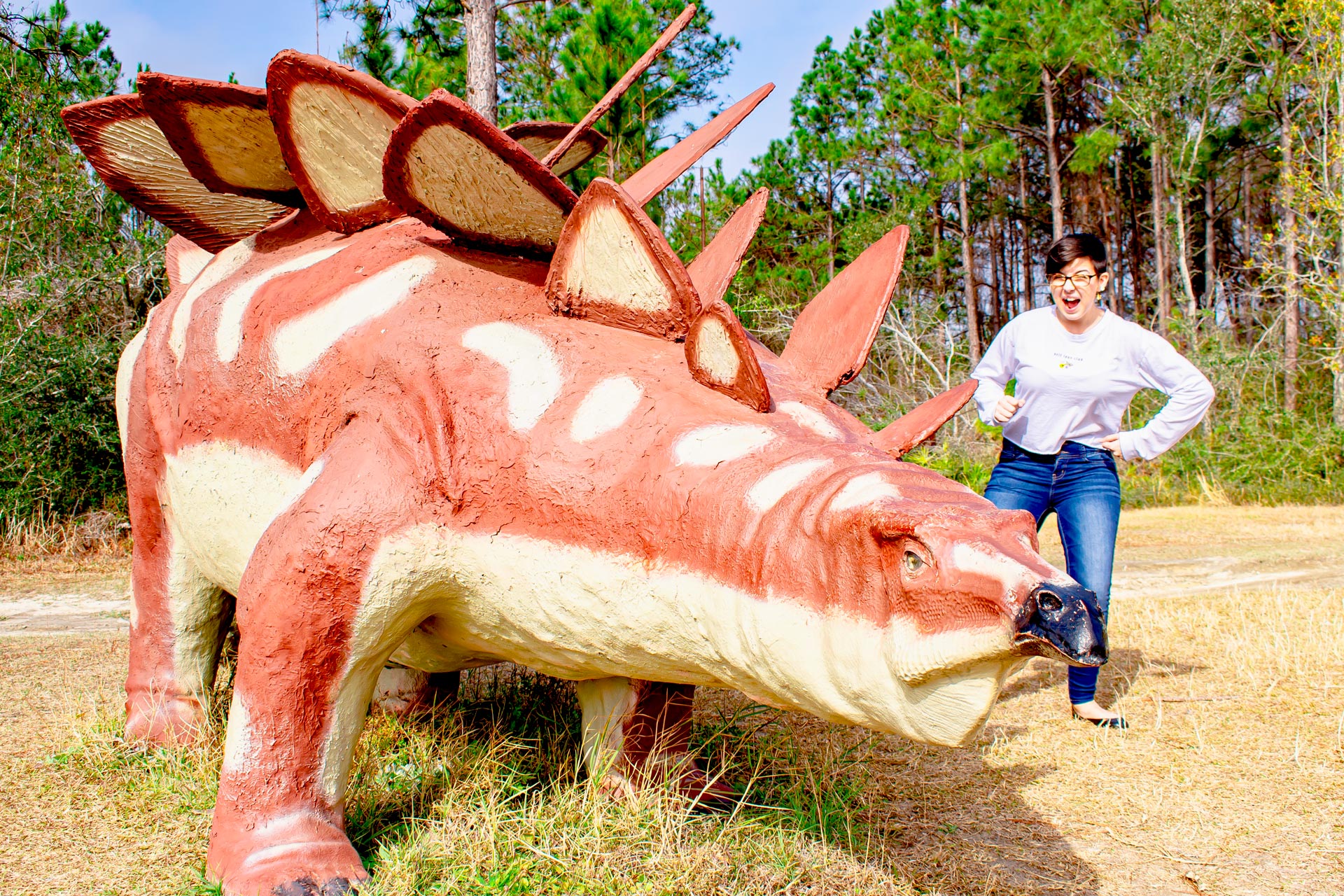 I tried to give it a high-five, but sadly, I was too short to do so.
After the failed attempt of acting cool, I walked on over to the next dinosaur, the triceratops. This one was placed near the road and was an easy find. The next dinosaur was the stegosaurus, which I promptly dubbed "Spike." I blame having watched too much "Land Before Time" as a child. The hilariously awkward dino caused me to laugh and enjoy its ridiculousness all the more. The contrast of Spike just hanging out on the side of the road made quite the juxtaposition of Jurassic times and modern times.
The last one was the hardest to find. We had to make a U-turn and look on the other side of the road, but thankfully, I caught sight of a trail located on a bend in the street. Hidden among the Longleaf White Pine trees was a long-neck dinosaur! This one was undoubtedly my favorite of the dinos; its face stared down at you made you want to smile and enjoy the uniqueness of the experience.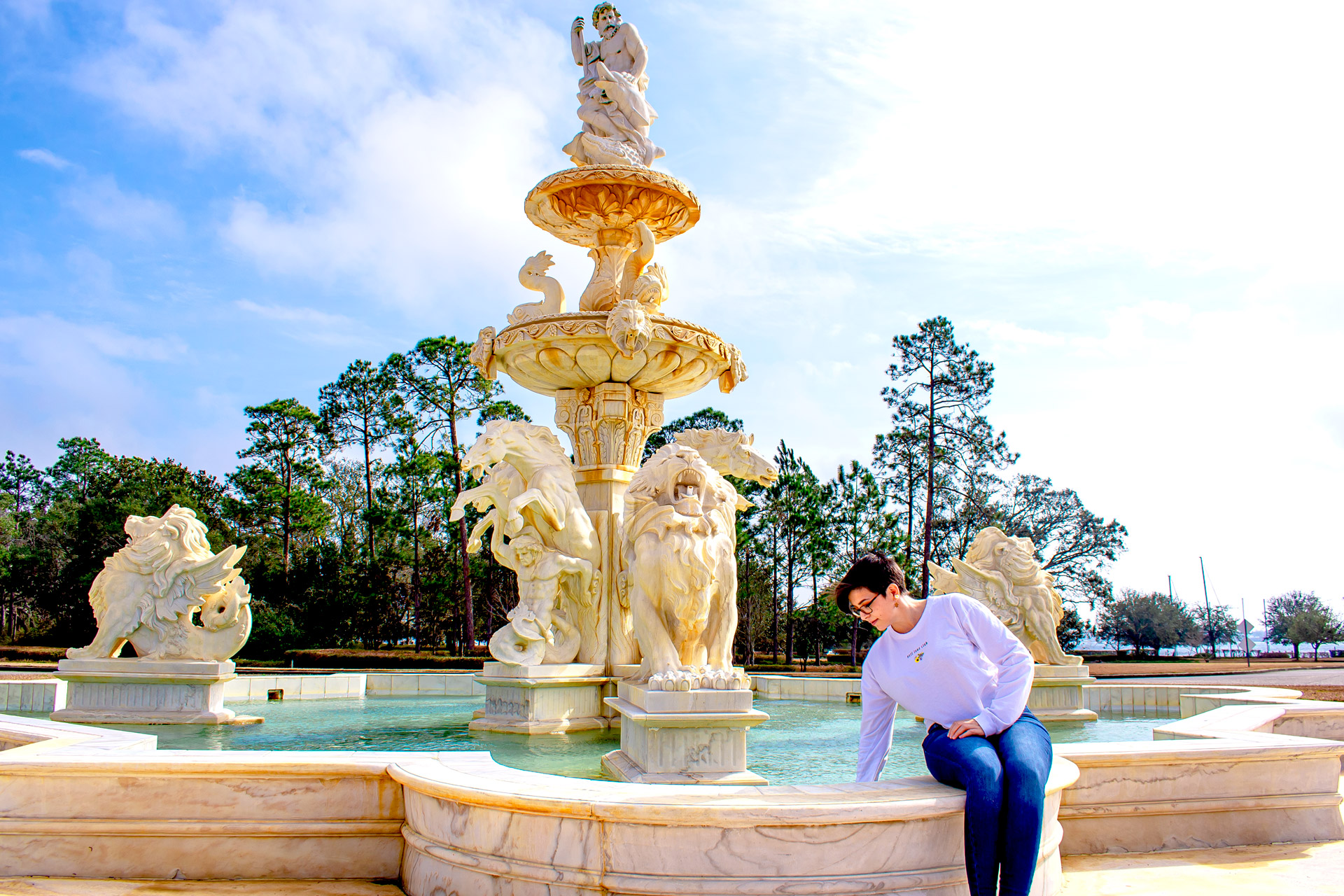 Neptune's Domain!
One awe-inspiring feature of this landscape is Neptune's fountain, located in the Roundabout center on Neptune Road. The tall white marble fountain has elaborate horses and 'sealions' decorating the edge and mermen holding up the middle platform where the god Neptune stood. While Neptune rises above the rest with his friendly dolphin and pet alligator, the lionfish are what caught my attention. Despite their snarling faces, I just wanted to reach out to the lion and 'boop the snoot.' But with the fountain being so large, the lion remained out of touch. Dipping my hand into the water, I found it quite cold and surprisingly deep. I was very happy not to be the one who had to retrieve the pennies from the fountain's bottom.
Are You Sure This is Real?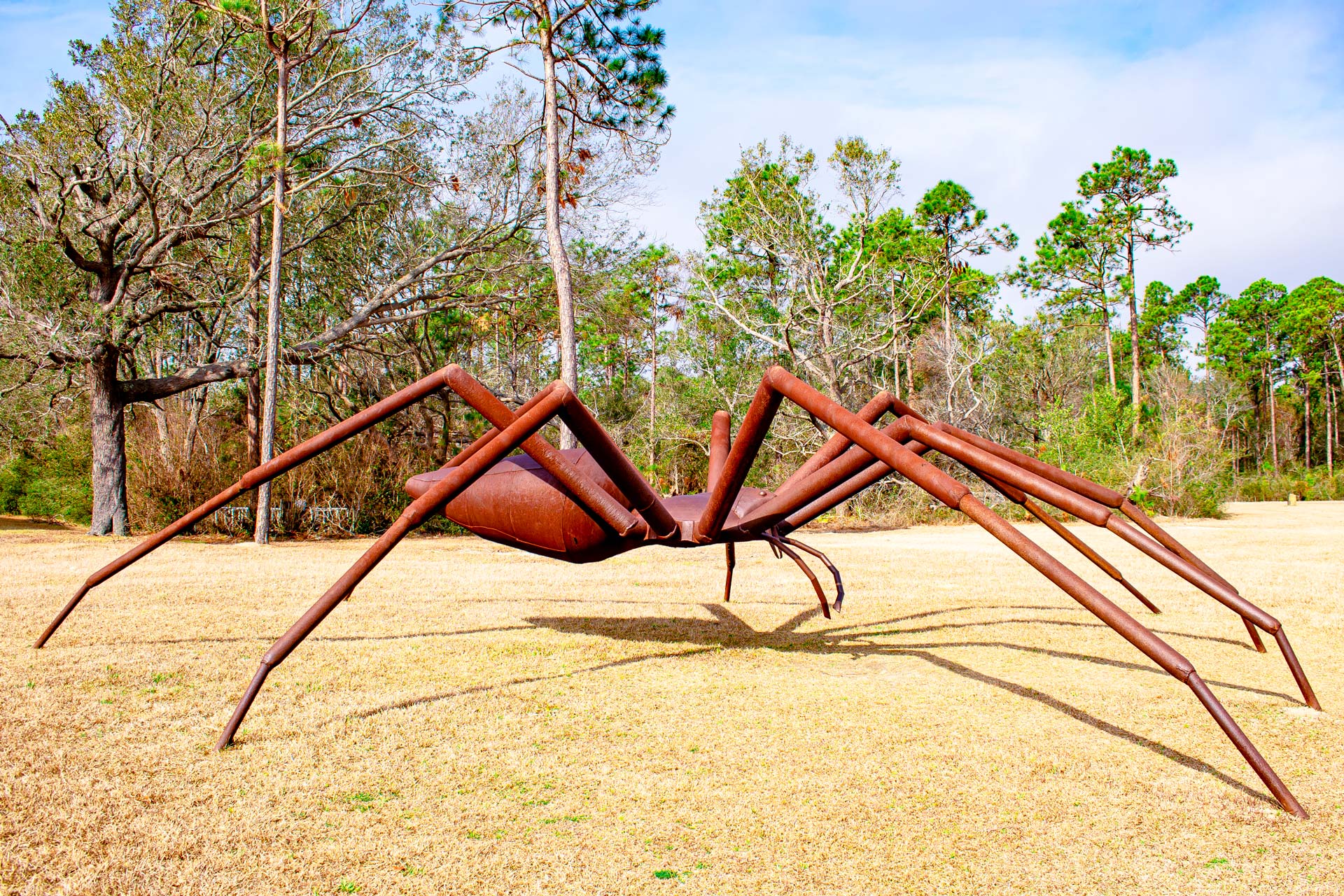 The next attraction I had to see was the giant metal arachnid. I had seen many images of this spider before, but no matter how many pictures I saw of it, it always looked like someone just edited it into the frame. This hulking arachnid is larger than my car and even some trucks. It gave me flashbacks to the early 2000's movie "Eight Legged Freaks," so if you have a phobia of spiders, then stay clear of this area
The spider was a deep red, made of hollow metal tubes welded together. I was confused on how even in real-life, the spider still looked like someone just edited into my field of vision. This weird phenomenon stupefied me, but my co-conspirator thought it looked normal. I loved it nonetheless.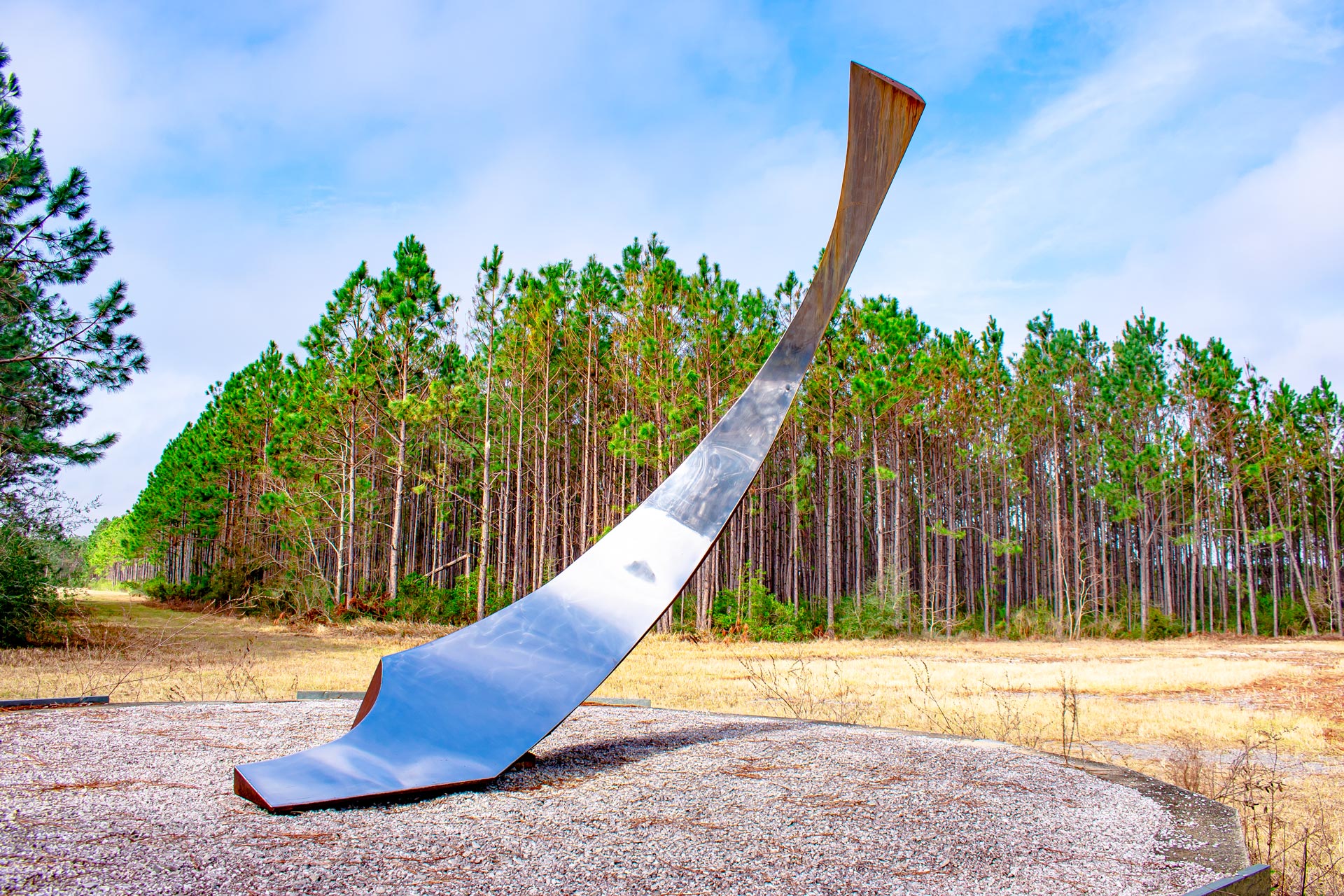 Lost in 'Time'
One attraction that I wanted to take the 'time' to see was the giant Sundial. It was slightly off the road with an area to park in front of it. There is a barrier because they don't want people climbing on the art piece, and when looking at it, you can't help but think that is definitely what it is. The sun glints off the steel and creates a nice shadow to tell the time. Don't ask me what time it displays though, sadly I can't read ancient shadow clocks. It was quite the sight to see, and the work put into the piece, which has been there for many years, was amazing.
Other Must-See Sights
While the dinosaurs and Bamahenge are the biggest draws to this area, there are many other little things that make a great scavenger hunt for anyone who's up for a bit of walking. They have delightful little stone creatures guarding the driveways in some areas, I'm not sure what they were supposed to be, but I did laugh a lot at their faces. There were some amazing copper pelicans near the water, and I was surprised at how detailed they were. I gave them a hard knock, and the resounding bell sound rang out over the gardens we were in. When I left them behind, I came to a road with huge copper seahorses, definitely an interesting feature.
As we walked around the gardens, I couldn't help but notice that even the stone benches had lion faces etched onto the legs. The attention to detail in the area just kept surprising me the more I explored. On the other side of the gardens, we were hunting for the elusive four Roman soldiers. These guys are made of copper and are life-sized, equipped with giant swords and helmets. It was cool to actually find them. Despite rumors that one of them had lost a leg (probably in the war), they all had two legs accounted for and no damage from recent hurricanes.
Overall this place was chock-full of great things to see, with a beautiful landscape and quite a bit of creativity. This place makes a great little day trip for those who want an adventurous couple of hours or even pack a lunch and eat in the gardens. I can see why my nephews loved to go "Dinosaur Hunting" so much. Now I can't wait to come back with my niece to eat a picnic lunch with the roman guards or hang with the statues. 
For anyone interested in this place, go ahead and pack your walking shoes and get your binoculars to get ready for a scavenger hunt you won't ever forget!
To find a map of the area, click here
To learn about the creator of the Dinosaurs click here or here
To learn about Bamahenge, click here