A Change of Plans
We have all been there, enjoying a vacation when unexpected weather happens. And when plans change it can cause a lot of stress on what was supposed to be a stress-free vacation. When you stay with us at Caribe Resort, you'll have plenty of amenities to experience both indoors and out.
We have an award-winning restaurant on-site, Cobalt, and we boast luxury amenities such as pools, waterslides, gyms, family games, reading nooks, and much more. Staying here is anything but boring and eliminates all the stress of figuring out what to do when plans change. So let me tell you why when you book your next vacation, you should #StayCaribe.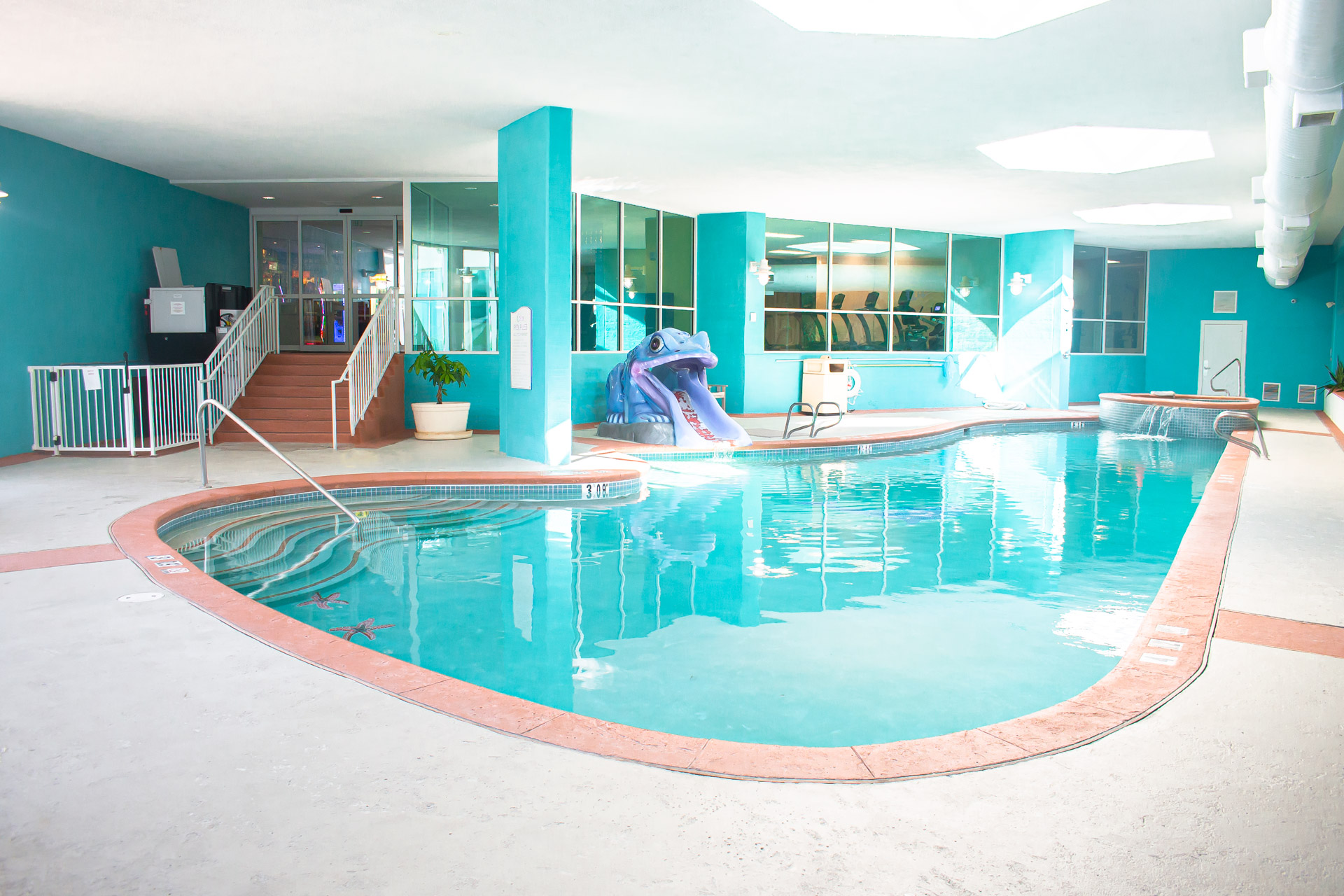 Grab Your Floaty, It's Pool Time!
One thing that many people may not know about us is that we try to be as family-friendly as possible. Everyone from the grandparents all the way to the youngest child can feel comfortable here. The whole resort is wheelchair accessible and is equipped with lifts for the pools, and features easy sloped access. We have 6 pools, a lazy river, multiple hot tubs, and two saunas as well. This means we have over 40,000 sq ft of pool service areas, and our lazy river takes up over 900 ft of that!
While we love our four HUGE water slides located at each of our outdoor pools, we also have little kiddie slides located in our indoor heated pools, so the toddlers have a blast while staying warm and safe! While we usually feature a fun splash pad, it is closed for renovation but will be up and running soon (as of June 2021). The indoor pools have large floor-to-ceiling windows so you can still enjoy the sunlight and look out over the pool areas. Our pools are open all year round, so rain or shine you can grab an innertube (or use one of our complimentary ones), and relax in our lazy river, heated indoor pools, or take a refreshing dip in our tiered outdoor pools. During the summer, the Caribe Cabana offers food and drinks to guests, poolside style.
Hanging out Indoors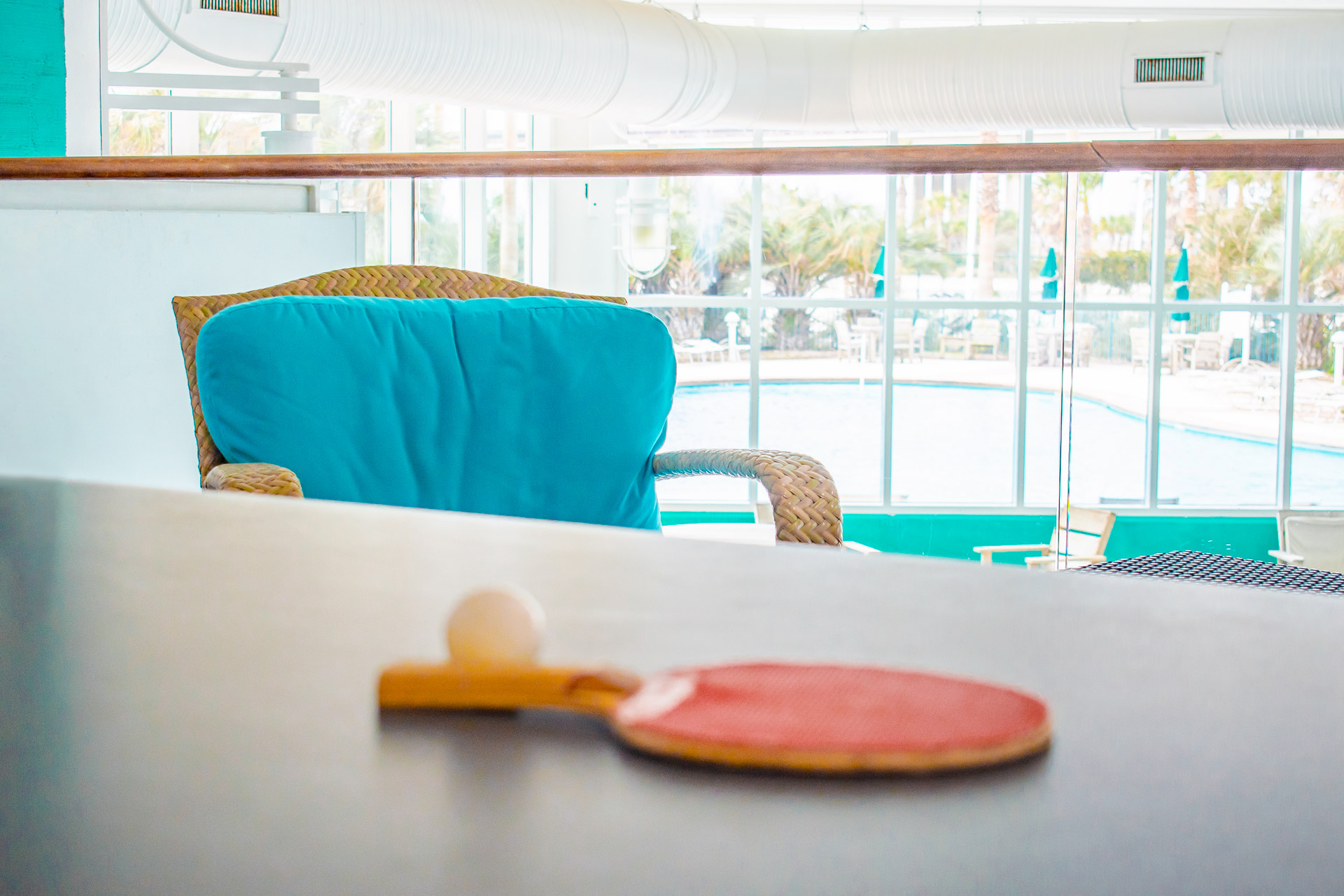 For the days that you are going to stay indoors, we also have a lot to offer, whether you want to be a couch potato or keep a little active. I  like to stay active, so while I tried my hand at ping pong, I soon realized I very much enjoyed it but lacked simple coordination beyond just hitting the ball full power. After exercising, you can take a break to refresh and relax in the communal areas.
We have communal kitchens right by the pool, great for heating up pizza or, in my usual case, heating up my tea. This is great for guests as you won't have to travel all the way back to your rooms. The kitchen has a nice counter and bar area, with a cozy sofa and chairs on the outskirts of the area. This public seating is great for communal gatherings or if you need a break. You can easily pull up some chairs and play some board games or cozy up for some quiet time with a book. 
And when you or the kids are feeling stir-crazy or want to entertain yourselves, you can enjoy some beautiful plants as you take a walk through our lobbies. The lobbies are full of beautiful flowers and foliage, making the room feel clean and airy. And the koi fish pools and water trickling over the rocks and from the fountains really help set the relaxing mood.  
Souvenirs and Other Treasures
Some enjoyable amenities that you won't see in many other places are the mini-arcade and gift shop located in our C Tower. The arcade is a great place for kids to hang out, featuring some fun classic arcade games that we all know and love. But the game that I truly love is the rubber duck claw machine. The gift shop is cute, with unique Caribe-style gifts, clothing, and stuffed animals. It's a great way to make your trip a little more memorable with something to take home. They also have all your condo essentials, like small batches of trash bags, laundry soap, and food!
Let's Get Physical!
For those gym rats out there, we have fully stocked gyms featuring state-of-the-art equipment. Our gyms have everything from a computerized treadmill to cycles, free weights, benches, yoga balls, and more. We have full wall-to-ceiling mirrors to perfect your form and help prevent injury. We even feature the occasional yoga or water aerobics class that the winter snowbirds definitely love! And one great thing about the gym is that it overlooks the pools so you can keep watch over any children you have.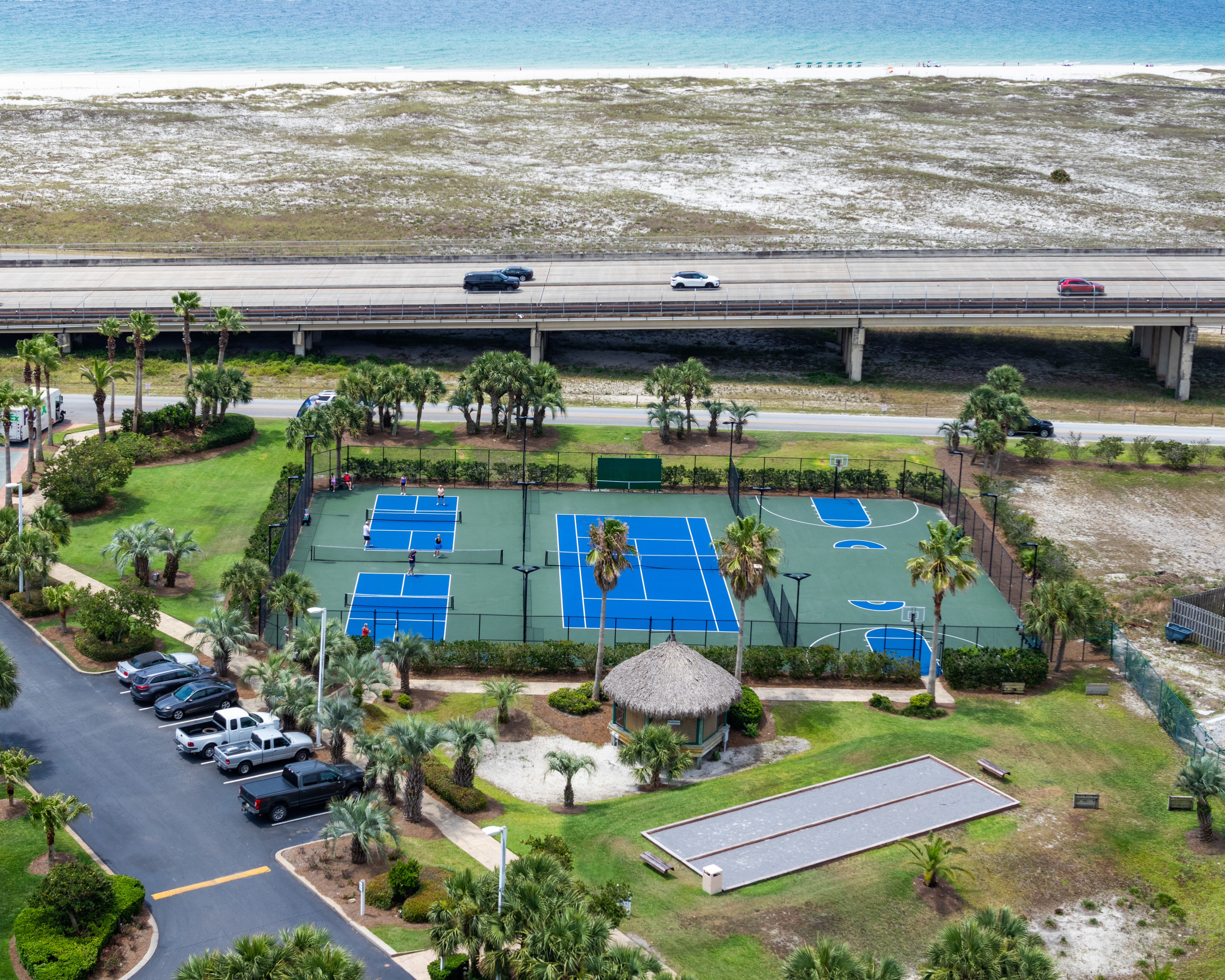 I'll See You On The Court
One place that sees a lot of activity on the Resort grounds is the Tennis and Basketball courts. Guests are welcome to bring their own rackets and balls, but the front desk will happily provide any sports equipment you need. The newly improved sports court area features pickleball, tennis, and basketball areas for guests to enjoy all types of activities. Right in front of our property by the fountain is a mini-golf course. That little area is always busy with gusts practicing their short putts. We also now have a fully renovated 18-hole mini golf course on our upper deck area for kids and adults to enjoy.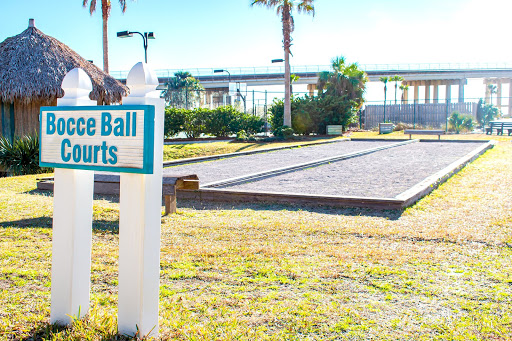 Another fun and intriguing activity outside is our bocce ball, a sport that I had never heard of till coming to the Caribe. This super unique game is ancient, and by that, I mean from ancient Greece. While I have never played the game, I see many groups out there separating into teams to compete against each other. I am at a loss when it comes to understanding the rules, so I like to watch. For those interested in the rules, you can click here, but know it's like shot-put, bowling, and soccer all rolled into one. And then we can't forget the little ones with our fun interactive pirate playship, located right by the B pool, so you are never far from a refreshing dip if playtime gets too hot.
All Plans are Good Plans
So, no matter what your plans are for a vacation, planning to stay at the Caribe can make any trip even better. With fabulous amenities that are open all year round, you don't have to be worried about rainy weather washing away your plans. If you're ready to book your next vacation and enjoy the lap of luxury on the Gulf Coast, be sure to book with the Caribe. We will see you soon!