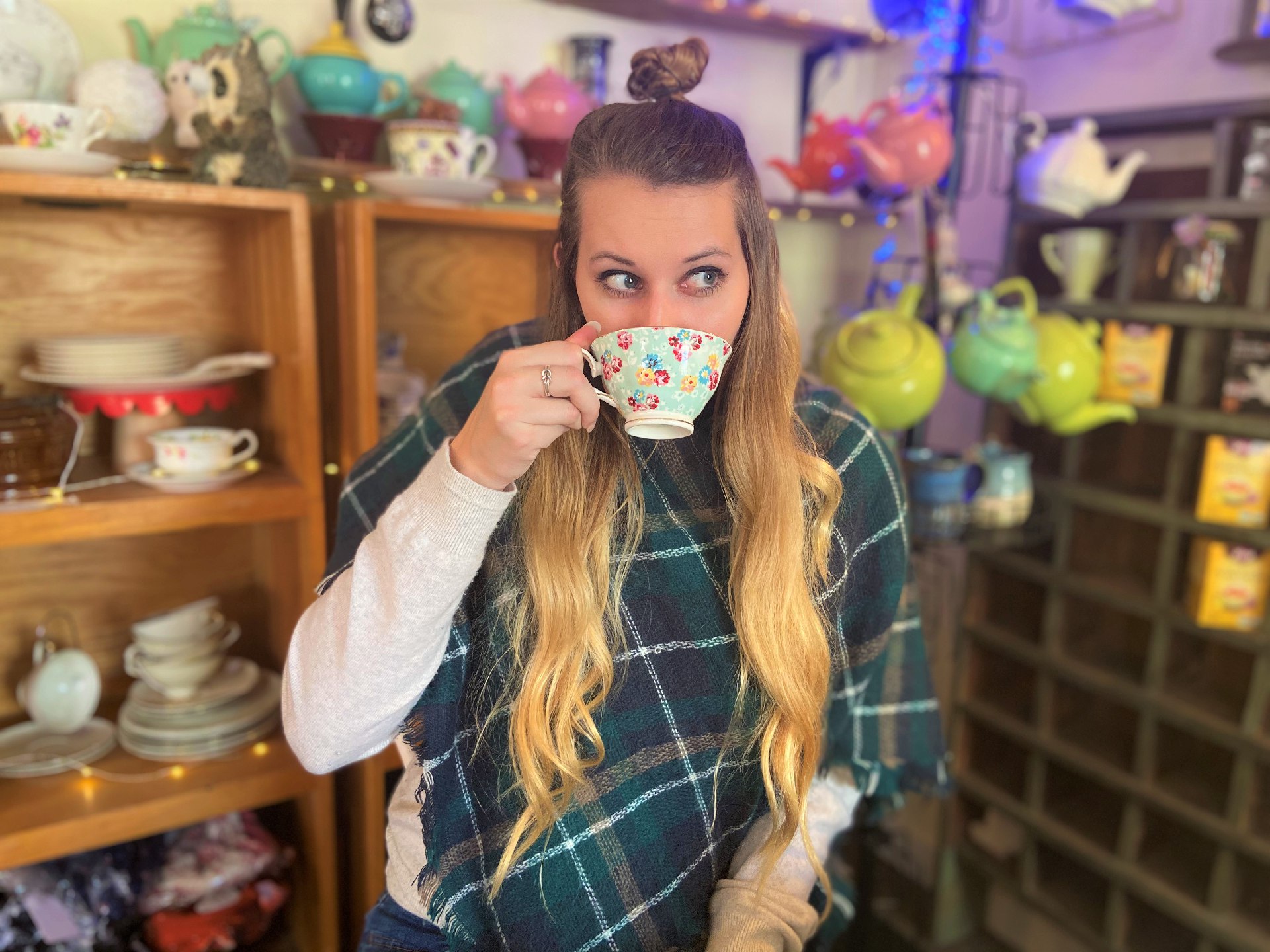 Spill the Tea 
I spend a lot of time at coffee shops and cafés, whether it's reading a good book or working on my latest blog post. This week, I paid my first ever visit to a tea bar–and I'm sure glad I did. A tea bar is a new concept to me, and one I had never experienced before. No, it's not the typical bar you're probably thinking of, there is no alcohol involved. As an avid lover of tea, I suspected I would like this place, but I had no idea just how much I would end up loving it. The Copper Kettle Tea Bar in Foley is a one-of-a-kind shop, and we are so lucky to have them right in our community.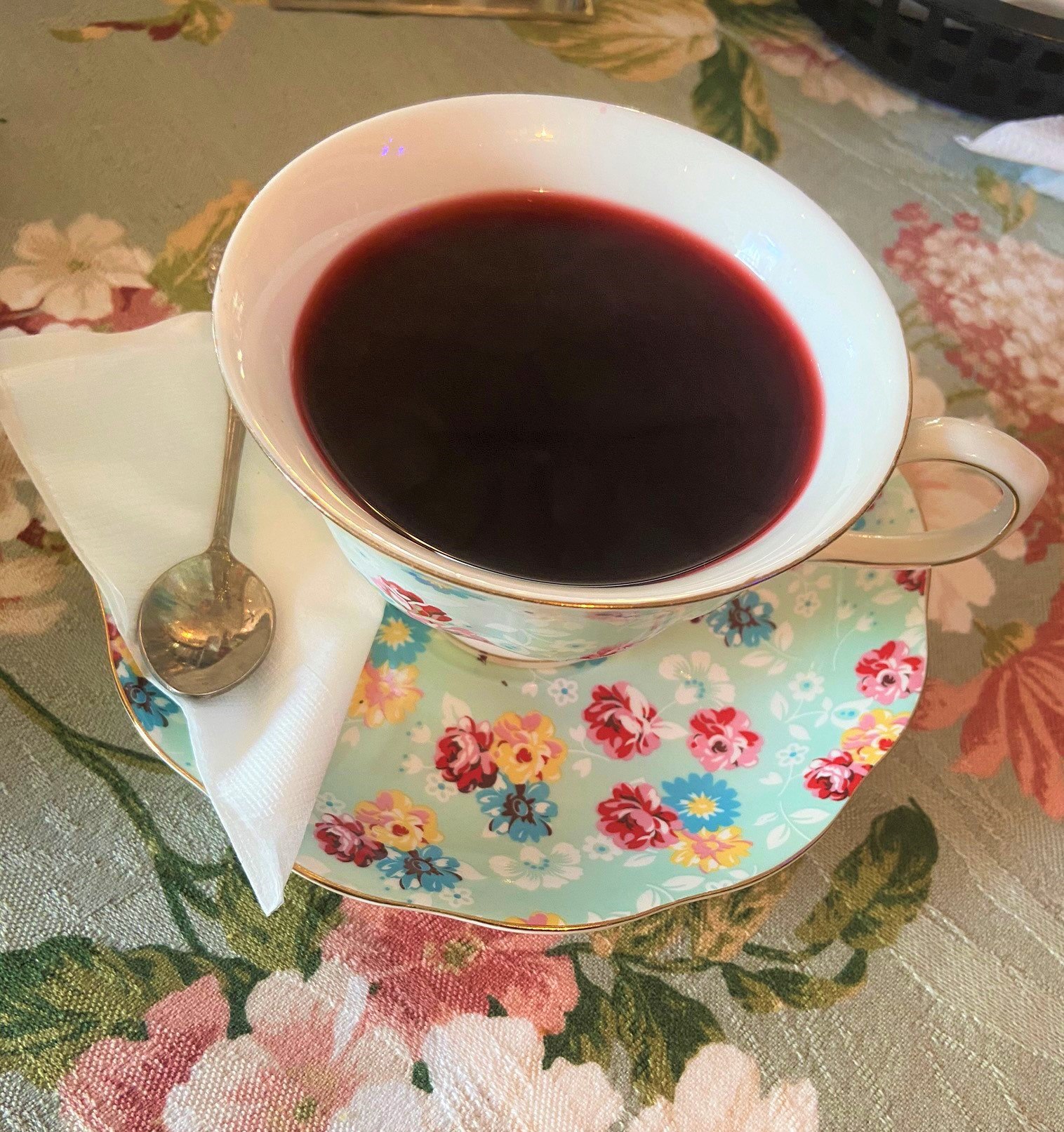 Soothe My Soul 
My visit began with a hot cup of tea, fancy that, right? I've had good tea, but I've never had tea like I had at Copper Kettle. They offer over 130 different types of teas, and they are continually adding new ones! I decided to try a pot of "Queen of Berries," a Fruit Tisane, caffeine-free tea packed with fruit, herbs, and vitamins, and delightfully refreshing. This dark, warm beverage soothed my soul. Sometimes my soul just needs a good soothin'.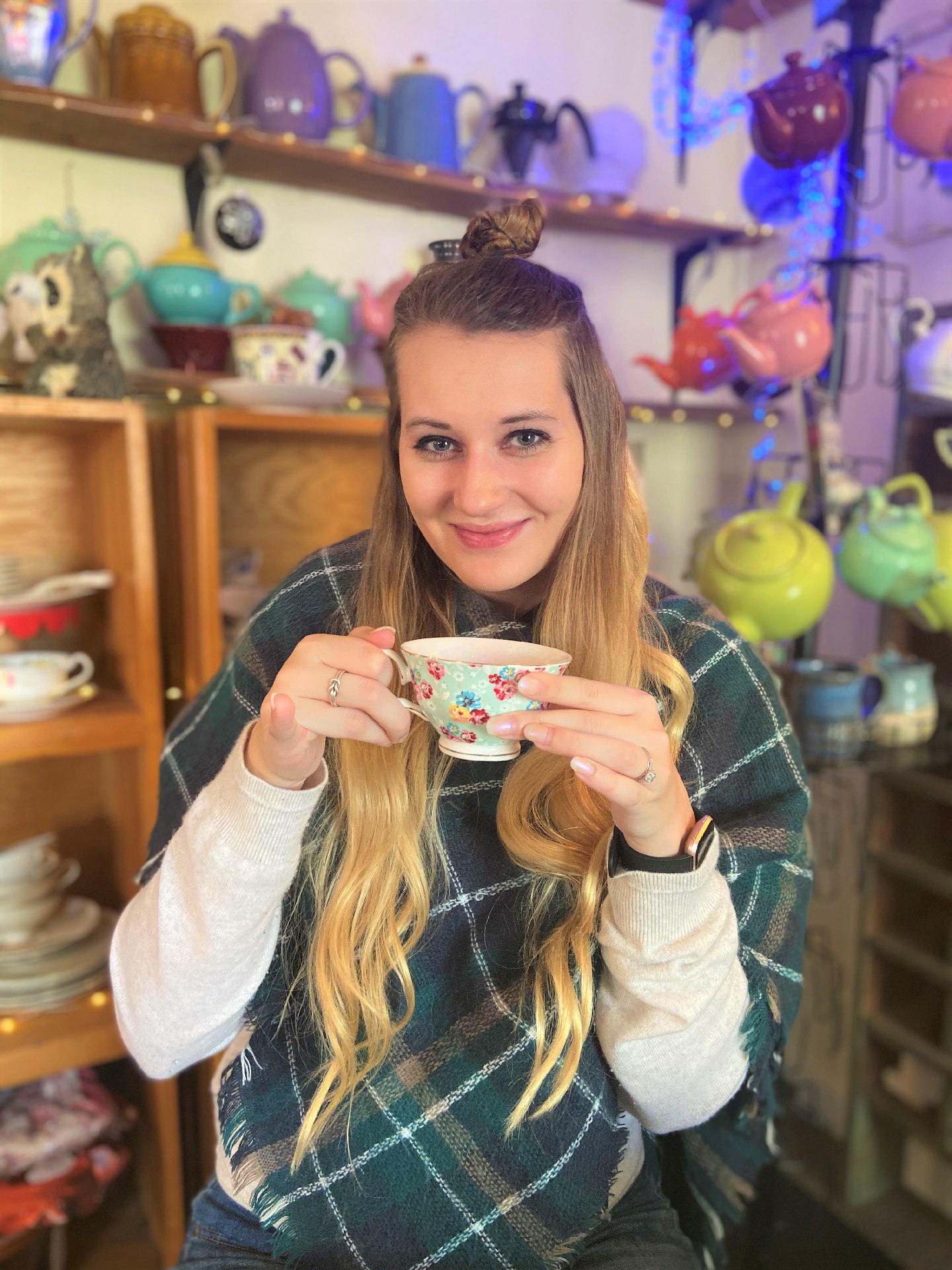 My Cup of Tea
Black, Green, Chai, Matcha, White, Fruit, Purple–you name the tea, Copper Kettle has it. If you're not a tea guru, don't worry, all of their staff members can provide you with any and all recommendations to help you find just what you are looking for. Another tea that caught my eye is listed under the "Honeybush Teas" called Honeybush Peppermint. This caffeine-free, antioxidant-rich tea was, what one might say, my cup of tea. Soft smiles followed as I sipped. Other teas that are on my radar include Midsummer Night's Dream, Honey Fig, and Happy Mate, a good one for an energy boost.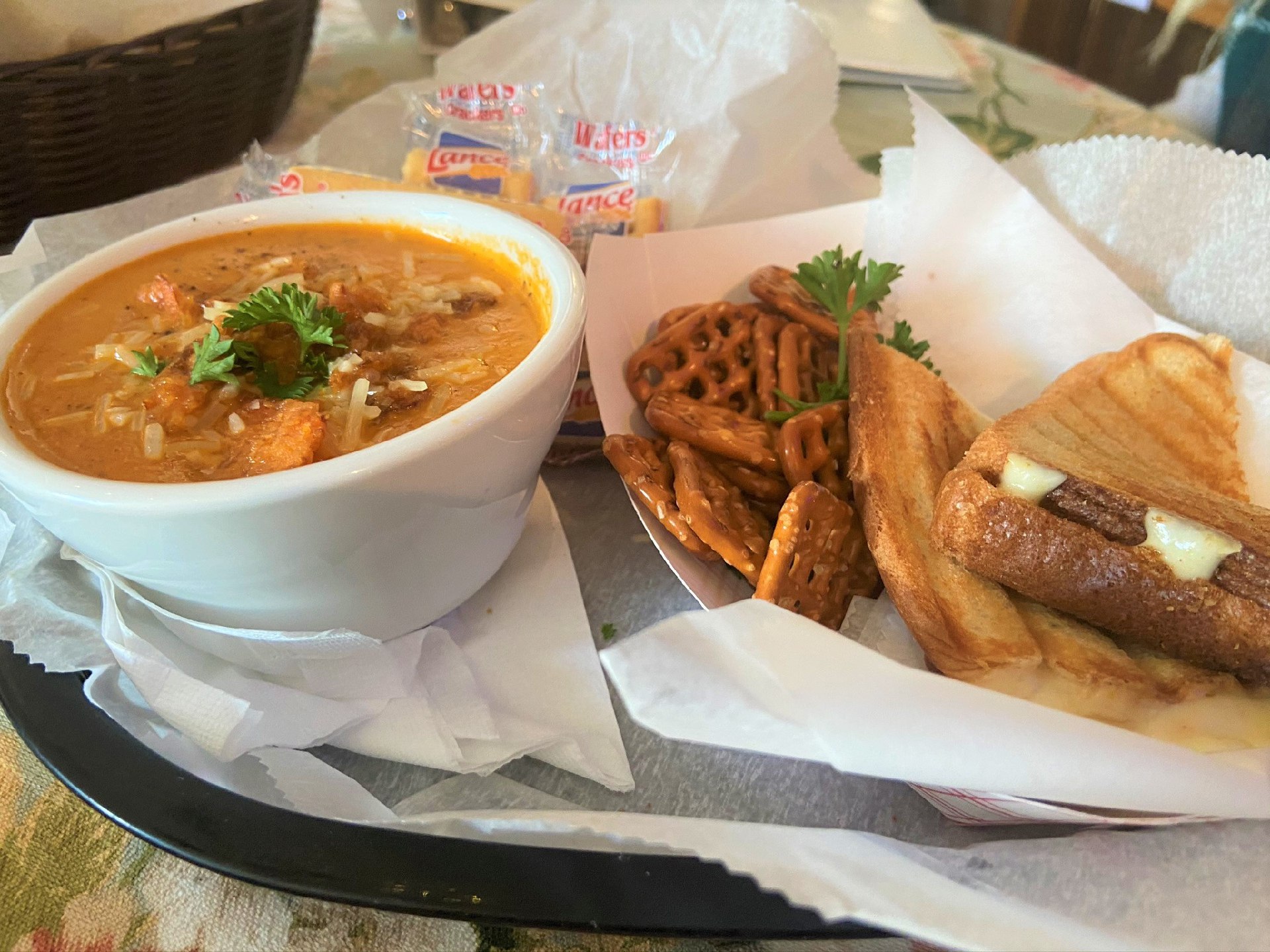 Come for the Tea, Stay for the Food 
The most pleasant surprise I found at Copper Kettle, is that they serve food in addition to their extensive drink menu. I had no idea! Not to mention, everything that comes out of the kitchen is a homemade, healthy food option that tastes flawless. I tried the Grilled Muenster Cheese with both soups of the day: Potato Tarragon and Smoky Tomato Basil. Grilled Cheese is my go-to meal on a cold day, and with the chilly weather we've been having down here on the Gulf Coast, it hit the spot.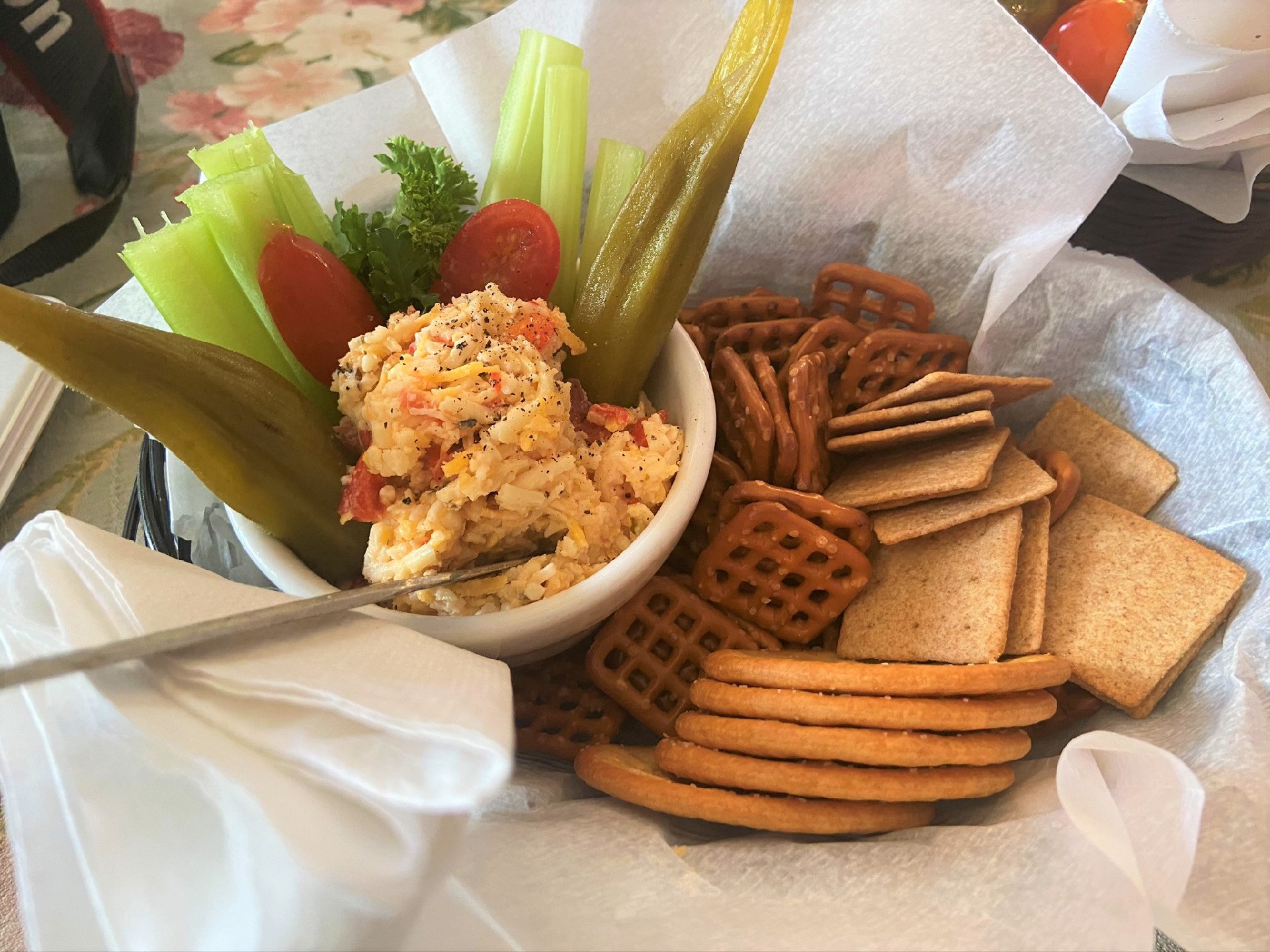 It's Science 
In addition to my delightful grilled cheese sandwich, I blessed my tastebuds with two other menu items: Artichoke Hummus and Pimento Cheese Dip, both served with pretzels, crackers, and chips. A salty, crunchy, and flavorful combination unlike any traditional hummus or cheese dip I've had. After I took the first bite, you could see it on my face–I was cheesin'. Their menu items change daily, which I love! It basically makes the decision for me, I'll always order something I've never tried, and I'll never get tired of the same dish.
For those of you that follow along with my Blog series, you know I'm always talking about how much I eat at the places I go, and how I'm always cheating on my diet for the sake of blogging. Well, the gals at the Copper Kettle let me in on a little secret called "Kettle Science." The calories from the food intake are canceled out by the health benefits provided by the tea. Now that's a science experiment.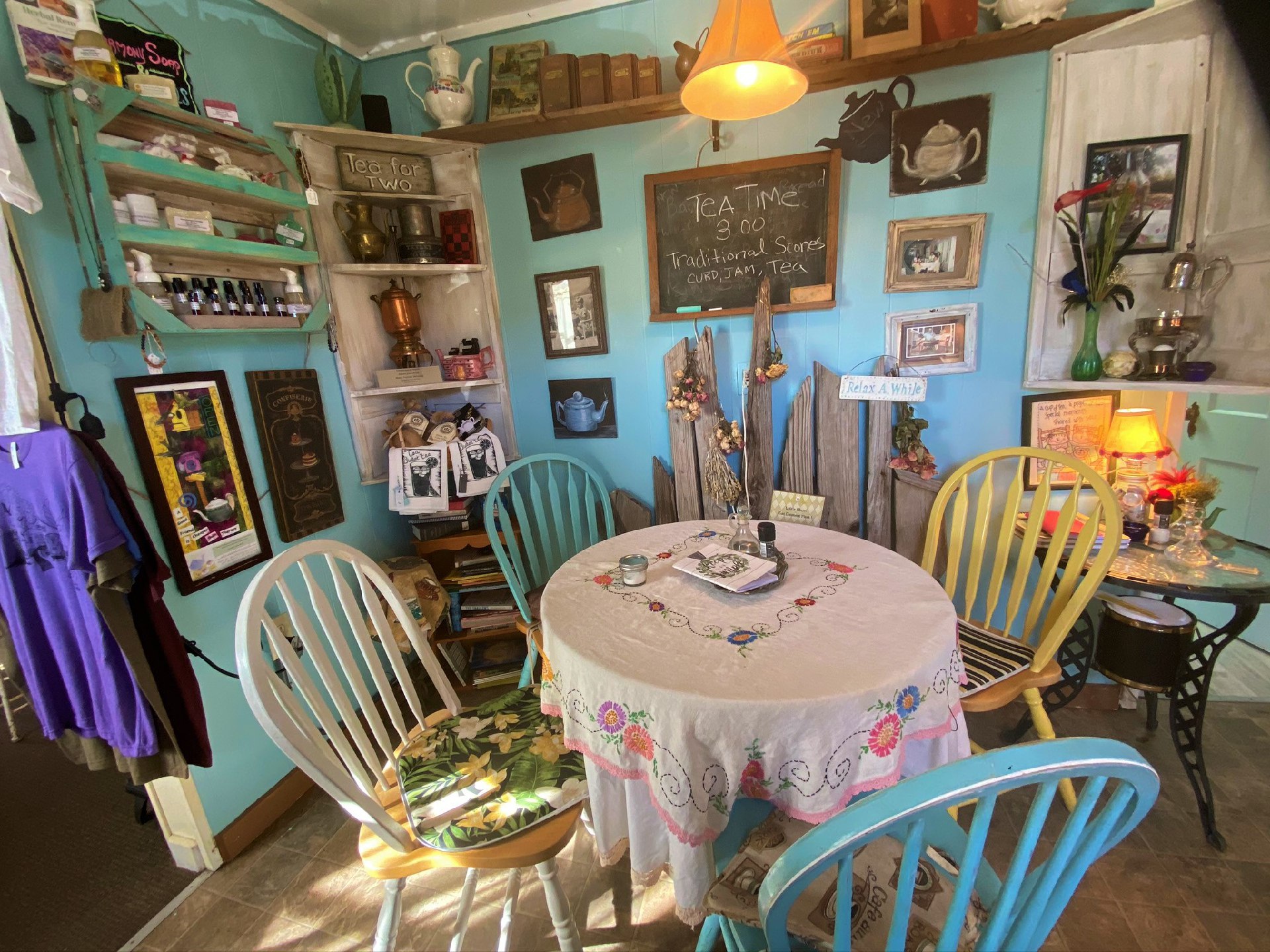 Steep Right In 
The family-owned-and-operated Copper Kettle Tea Bar has been open in downtown Foley for nearly six years. Thousands of local tea lovers have walked through their doors, but owners Robin Peters & Susan Adams also enjoy getting to know tourists and vacationers in the area when they make their way into the Tea Bar. Robin said, "I love catching up with our Snowbird regulars in the winter, and serving our summer crowd when it starts to heat back up." I could tell right away that she is a people person. There are tons of collectibles and art pieces showcased throughout the tea bar, and it provides an environment that is so unique to the Copper Kettle. It is absolutely beau-tea-ful!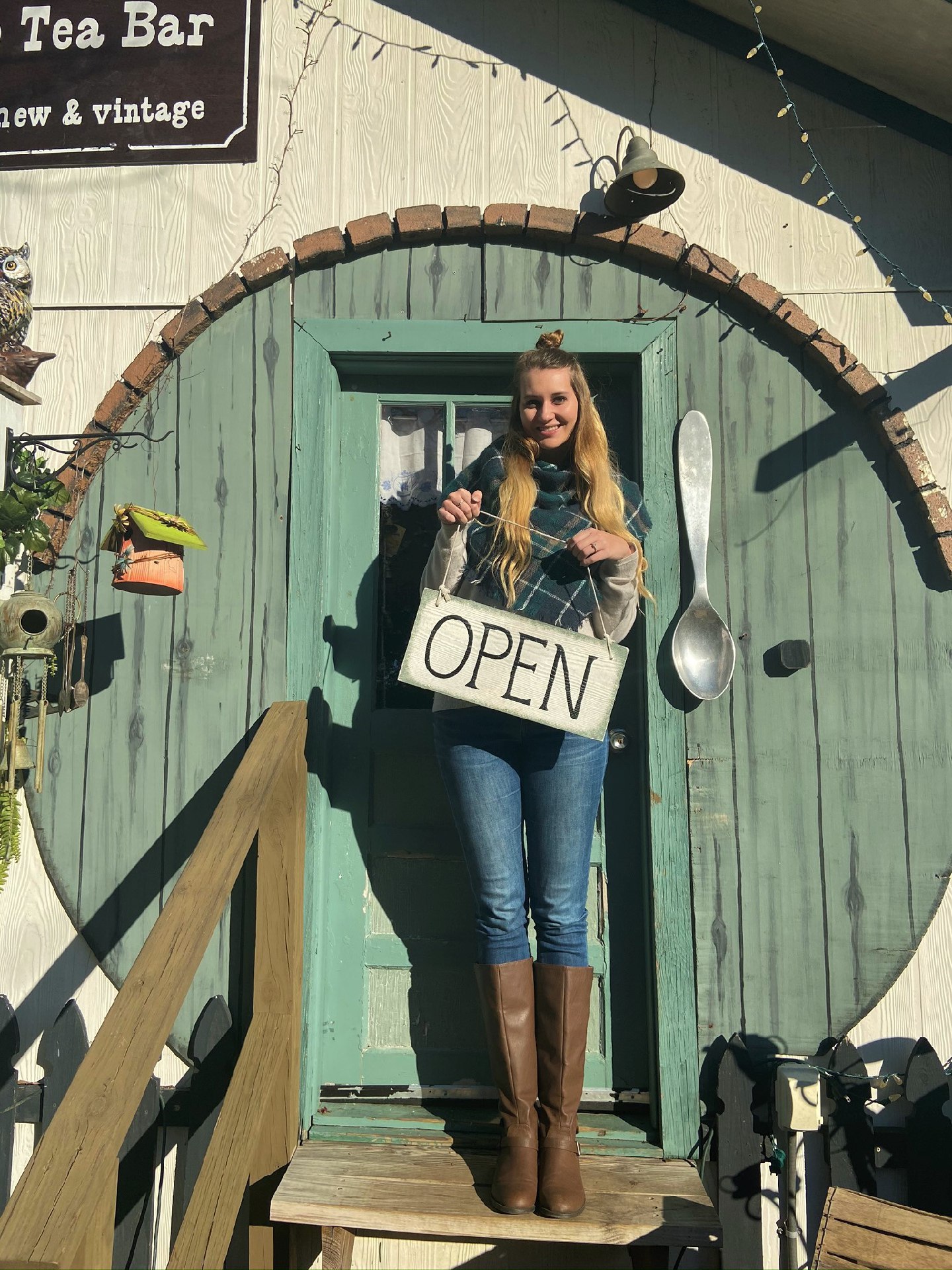 Food For Thought 
Tea is their specialty, but the Copper Kettle is also a great place to grab a cup of coffee, hot chocolate, or one of their seasonal specials. You can sip on a Hot Toddy Mock-tail on a chilly day, or an iced Sherbet Tea on a hot summer day. They can also mix up something special just for you out of their own blends–all you have to do is ask! They offer tea flights, themed tea parties, and tons of options for private events, parties, and tea tastings. You can even spend your Friday night at Copper Kettle with one of their monthly events, like a Fondue Night, or a Crepe Bar. I don't know about you, but that is exactly where I want to spend my Friday nights.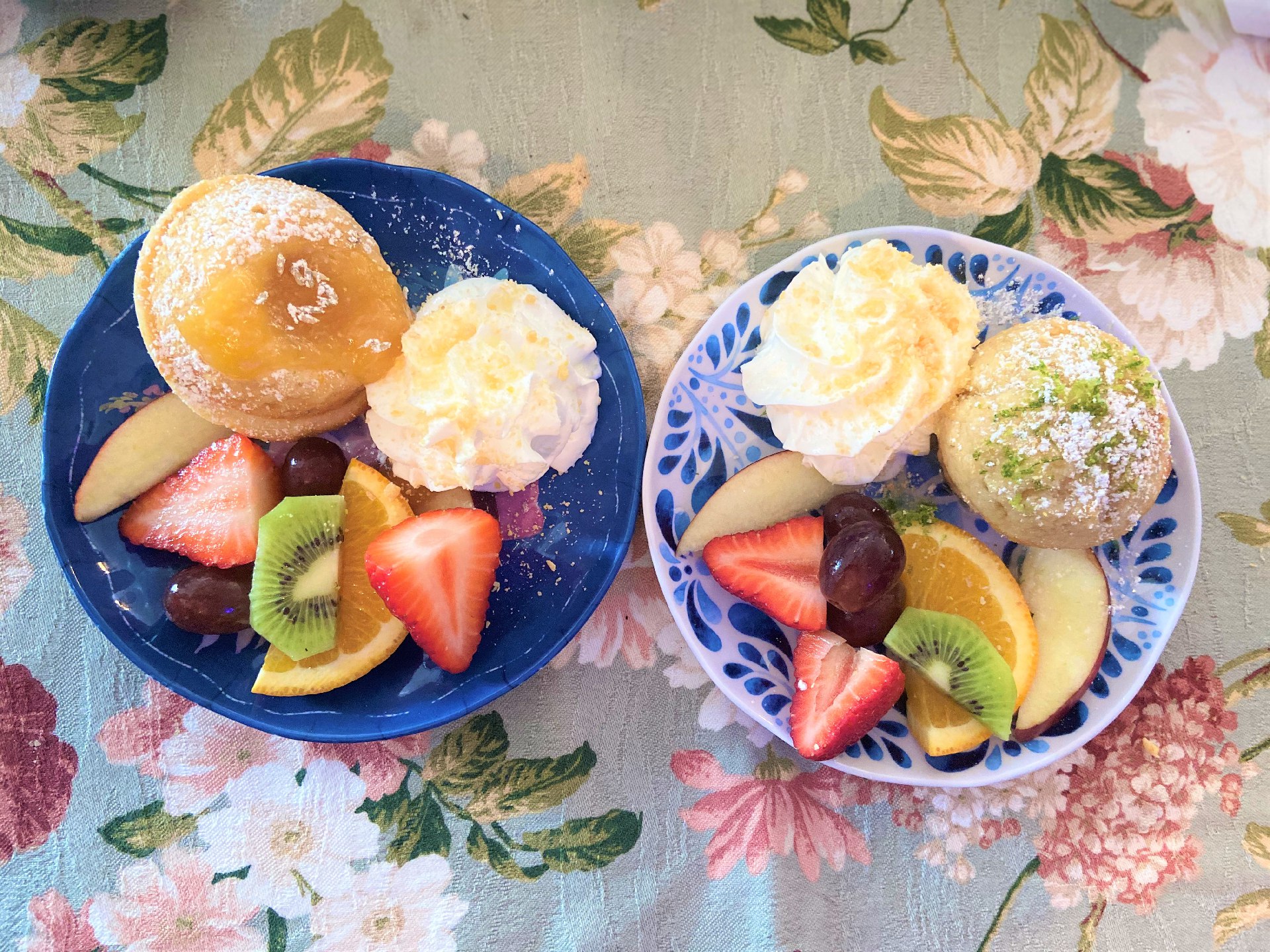 The Scone Age
If you're like me, you always save room for dessert. Everything on the dessert menu at Copper Kettle sounded too good to be true; I haven't found a cafe that serves anything beyond cookies and banana bread in a while. The Copper Kettle will never fail me. The menu features scones, brownies, cheesecake, and pumpkin bread, among other sweet treats. They also offer different flavors of these dessert types, but it was an easy choice for me to go with the scones. Here you can see my two choices: Lemon Lavender and Mango, served with cream and fresh fruit. I challenge you to try both of these and let me know your favorite. I'm telling you, it's harder to choose than you might think–they're both remarkable.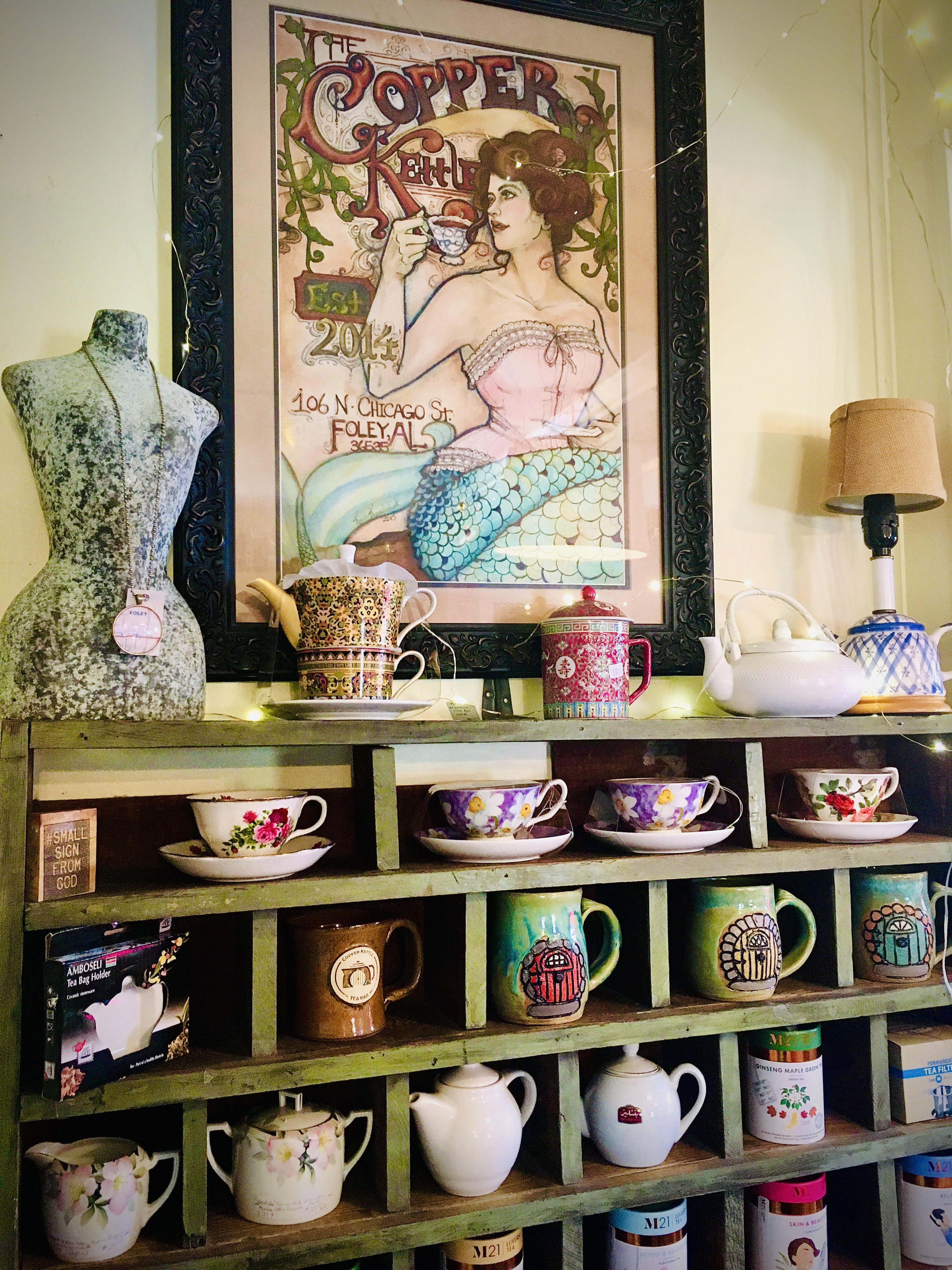 Fashion Icon 
While at the Copper Kettle Tea Bar, I fell in love with their display of teapot earrings and collectible tea sets. I couldn't help but be reminded of the silver tea set I had as a young child and still have to this day. It warmed my heart looking through all of the tea kettles they have collected and even planted a seed in my mind for some unique gift ideas in the future. They also sell locally farmed honey and artwork from featured local artists, both of which are also a unique and creative gift idea. How many pairs of teapot earrings can I buy before I have too many?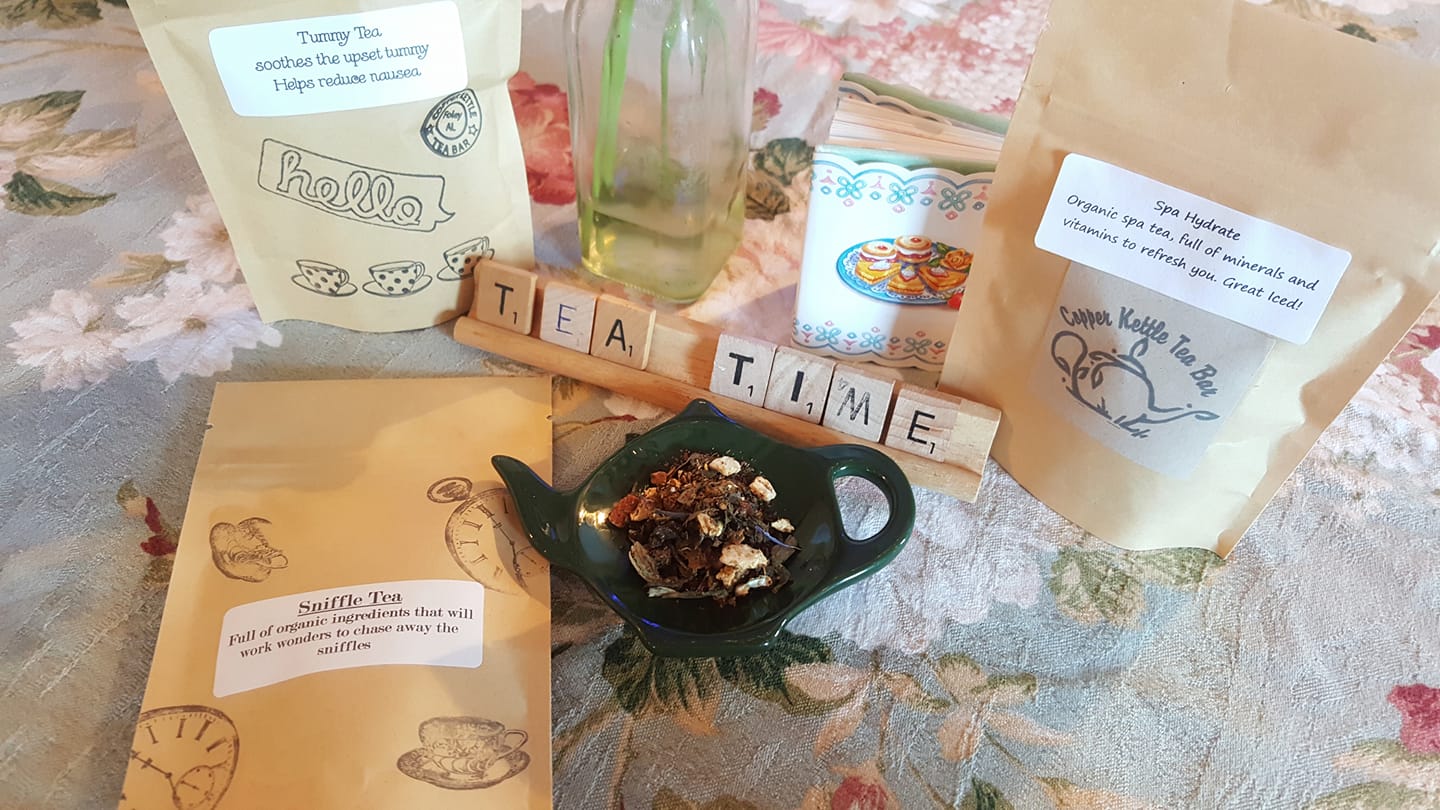 It's Always Tea Time 
Almost all of the events held at the Copper Kettle are entirely customizable to your group's needs. They offer High Teas, where guests will be treated like royalty while sipping the finest teas and sampling finger foods. Don't forget, pinkies up! They can accommodate just about everyone, if you simply give them a call before you stop by the Tea Bar. They can work with gluten-free, vegetarian, and even vegan guests if ample notice is provided. Let them show you why the Copper Kettle can be your non-medical health source in both food and drink. It's always Tea Time at the Tea Bar.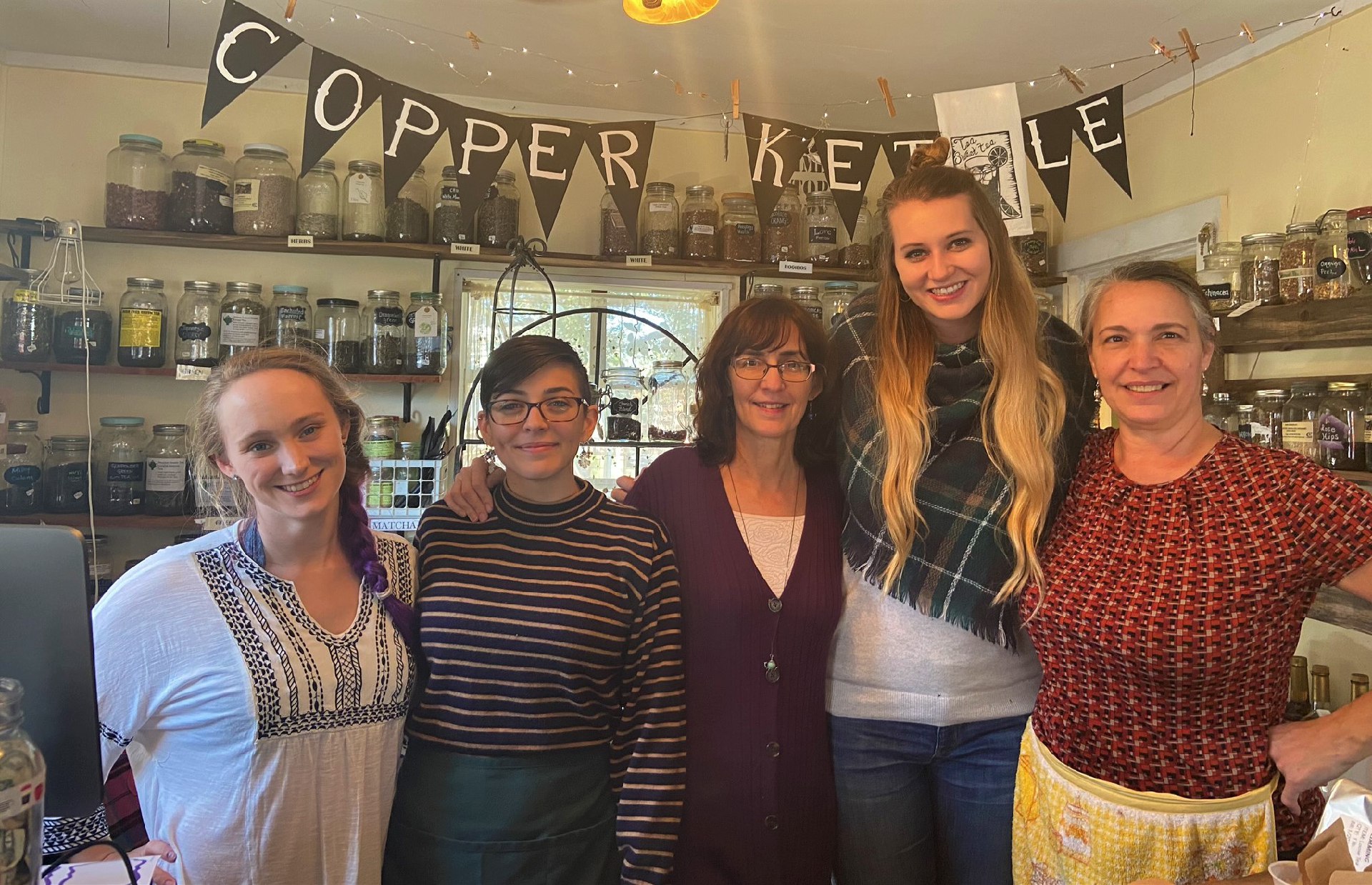 Tea Whiz
The crew members at the Copper Kettle are the best, and part of the reason I had such a great experience. They are informative, polite, knowledgeable, and a pleasure to be around. Thank you, Robin and Susan, for your hospitality and warming me up with some tea on a cool day. I'm already looking forward to my next visit and chatting over a cup of tea with both of them. Robin runs the front of the house and is the go-to gal for all things tea. Her sister, Susan, runs the back of the house and is the creator of all good things to come out of the kitchen–a true chef!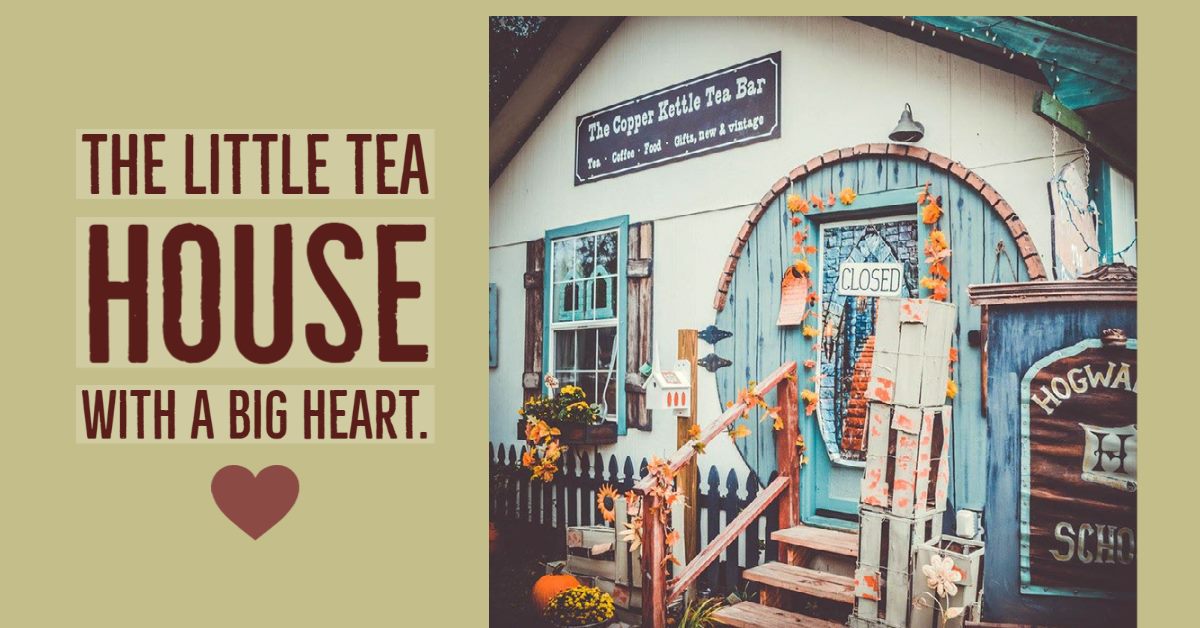 Follow Along
The Copper Kettle actively updates their social media accounts and websites with the latest events going on. The best way to stay informed is by following their Facebook and Instagram pages. They also strive to always keep their website up to date, but it's always a good idea to give them a call if you have any questions. Calling them is also a great way to let them know you're stopping by for something specific, or if you want to make reservations for a special event. There is always something new and exciting going on at the Copper Kettle–it's a par-tea!