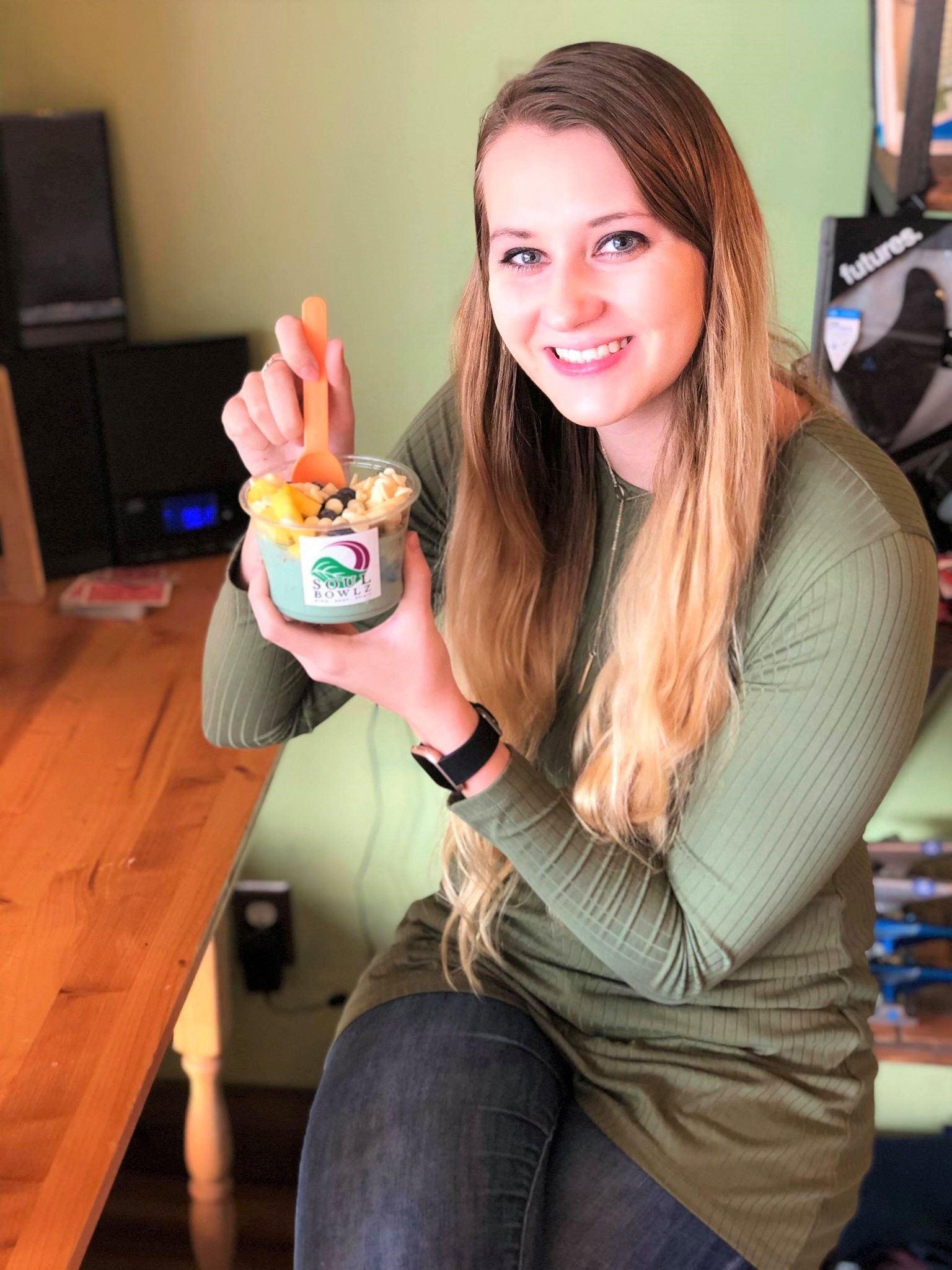 Look No Further
I think we can all agree that it is a significant challenge to find healthy food joints, especially when searching for something quick and easy.  Everywhere I look, I see fast food, junk food, and seafood. Even when I eat out at sit-down restaurants, I never find myself ordering a salad or fresh fruit as my side dish. I finally found what I have been searching for–hello, Soul Bowlz!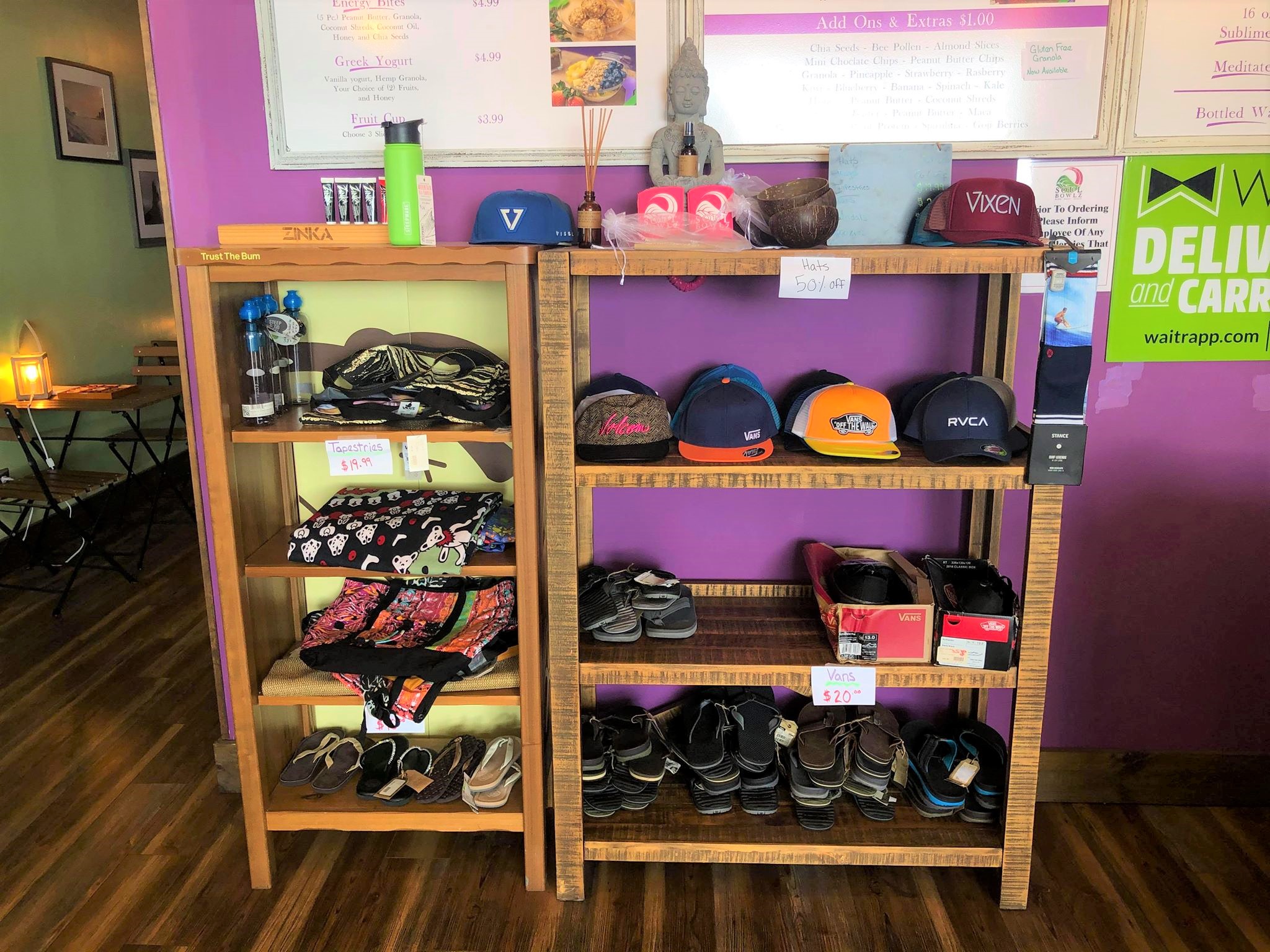 Adorabowl 
Soul Bowlz is a charming little shop in Gulf Shores that specializes in healthy, nutrient-packed bowls of wholesome goodness. They are a breath of fresh air when it comes to eating options, and I will be having lunch there way too often. They specialize in Acai, Pitaya, Acerola, and Graviola bowls, which can absolutely be used as a meal replacement. Not to mention, these exotic fruits taste perfect when paired with fresh fruit, granola, honey, and your choice of toppings.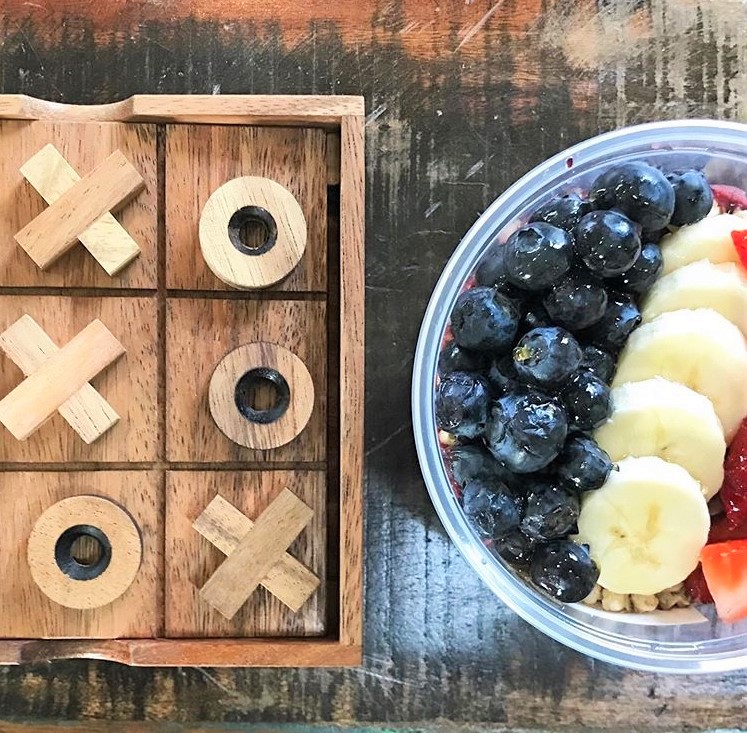 Energy Boost 
I got to sample some of their bowls, and not only were they delicious, but I was energized and full the rest of the day. Happy tummy, happy me! I was proud of myself, knowing what I had put into my body was good for me. Plus, this bowl of heaven contained no dairy and no processed sugars, two things I love, but have to actively work to veer away from as much as possible.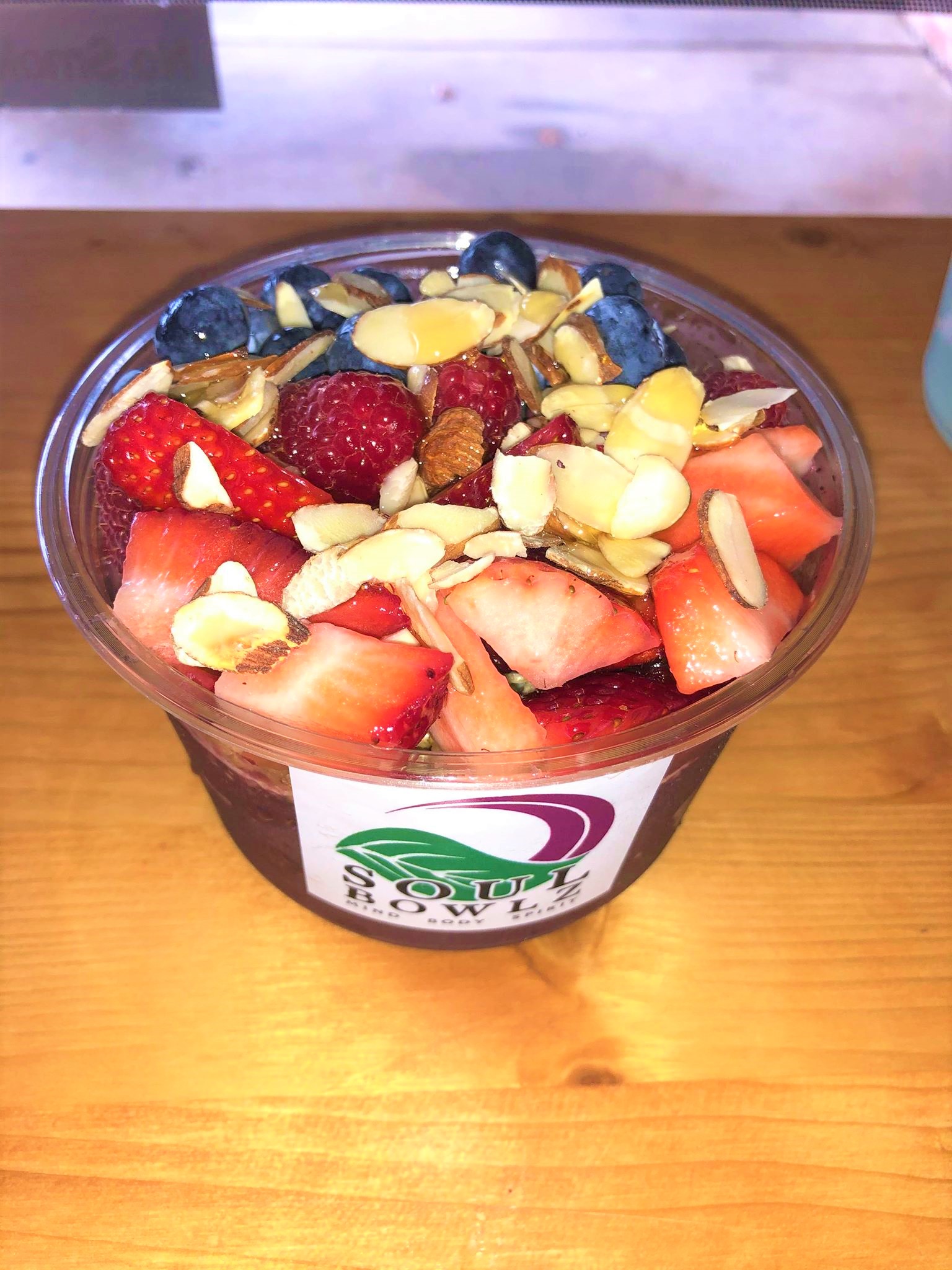 Mind = Blown 
My visit to Soul Bowlz started with a classic, right-up-my-alley, Acai bowl. This bowl is named "Mind" and contains their acai blend, granola, strawberry, blueberry, raspberry, almond slices, and honey. It came out fresh and flawless. I love berries and was instantly drawn to the berry combination and the dark blend of colors. It only took me one bite to immediately enjoy the tart taste on my tongue and the crunch between my teeth from the granola and almonds. Don't mind if I do!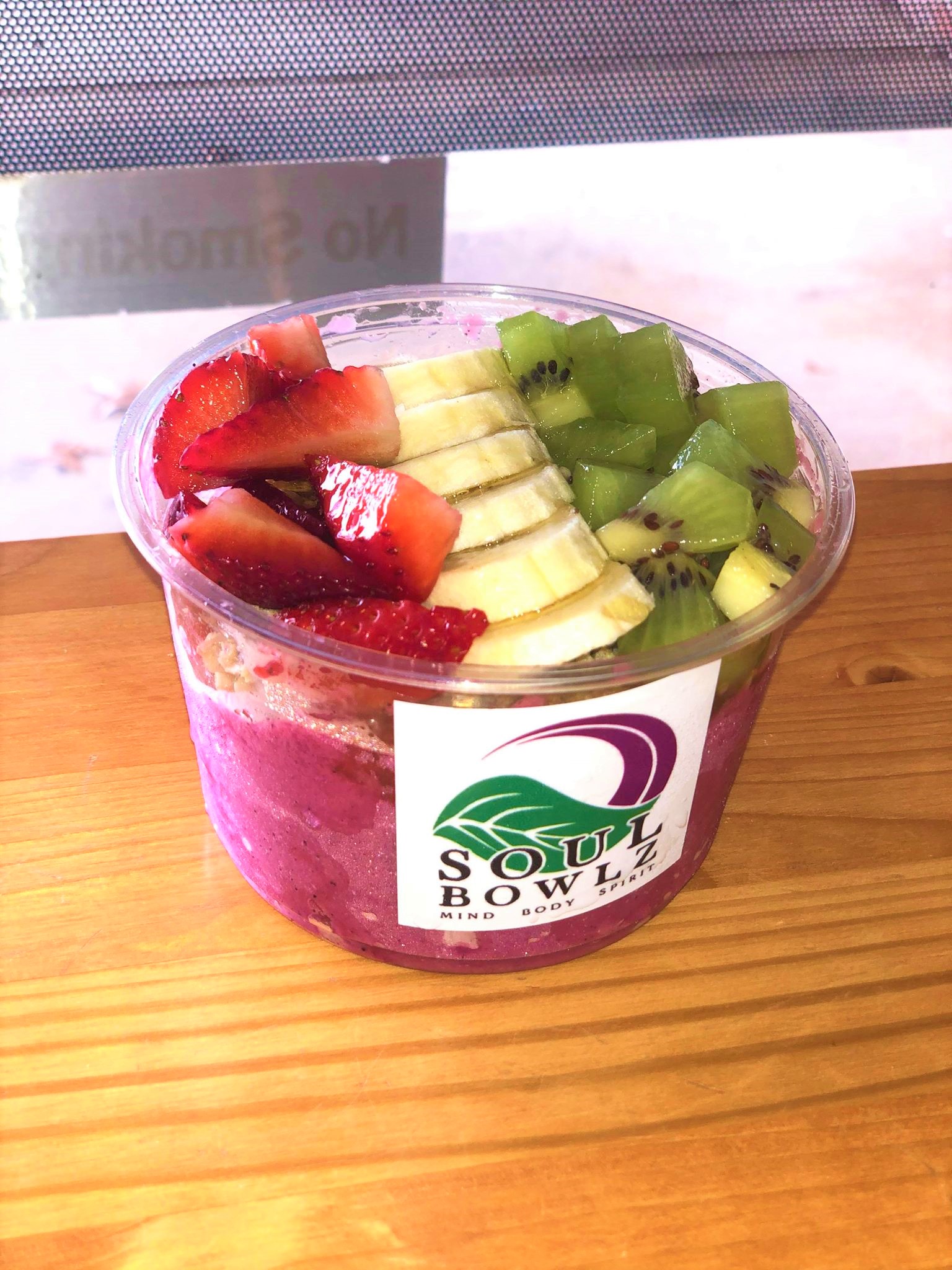 In My Dreams
Next up was a fruity, sweet treat. I tried the "Dream" bowl, and boy was it a dream. When I browsed the menu, I knew this was the one for me. I know I usually can't pick a favorite, but just between you and me, this is it. This bowl contains their pitaya blend, granola, strawberry, kiwi, banana, and honey. This was my first time trying pitaya, and it was delicious! The best part–I don't have to feel bad about eating it. I loved the combination of crunchy, honey-covered hemp granola mixed with the sweet pitaya mixture. This granola is a highly digestible protein, and also a perfect Omega-3 and Omega-6 balance. This yummy treat provides optimum health benefits–what more could you want?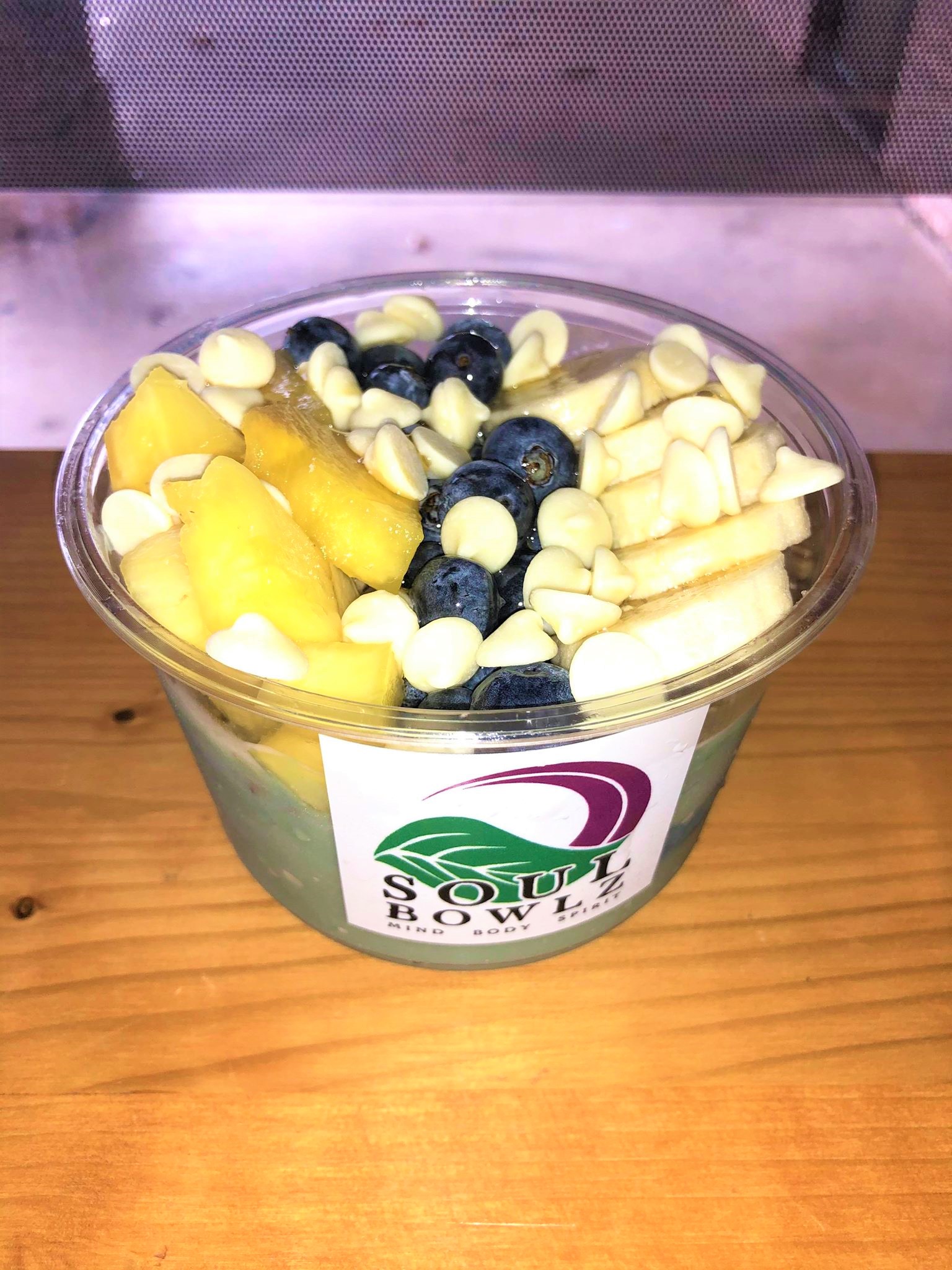 Ocean Potion 
Bowl #3 made me CRAVE summer. I miss the sunshine and the beach days, but I was reminded of my favorite season with the "Ocean" bowl from Soul Bowlz. This bowl contains their Blue Majik blend, granola, banana, blueberry, pineapple, and white chocolate chips. I was intrigued by the 'magic' ingredient in this bowl, so I chatted with one of the owners, Johnny, about this key ingredient. He explained, "Blue Majik is a chemical-free extract of Spirulina. Essentially, Blue Spirulina is clinically proven to relieve physical discomfort, promote brain health, and is antioxidant-rich with anti-inflammatory properties." I was all about the extra vitamin B and healthy protein added to this magically delicious bowl. I want nothing more than to enjoy it on the beach by the ocean.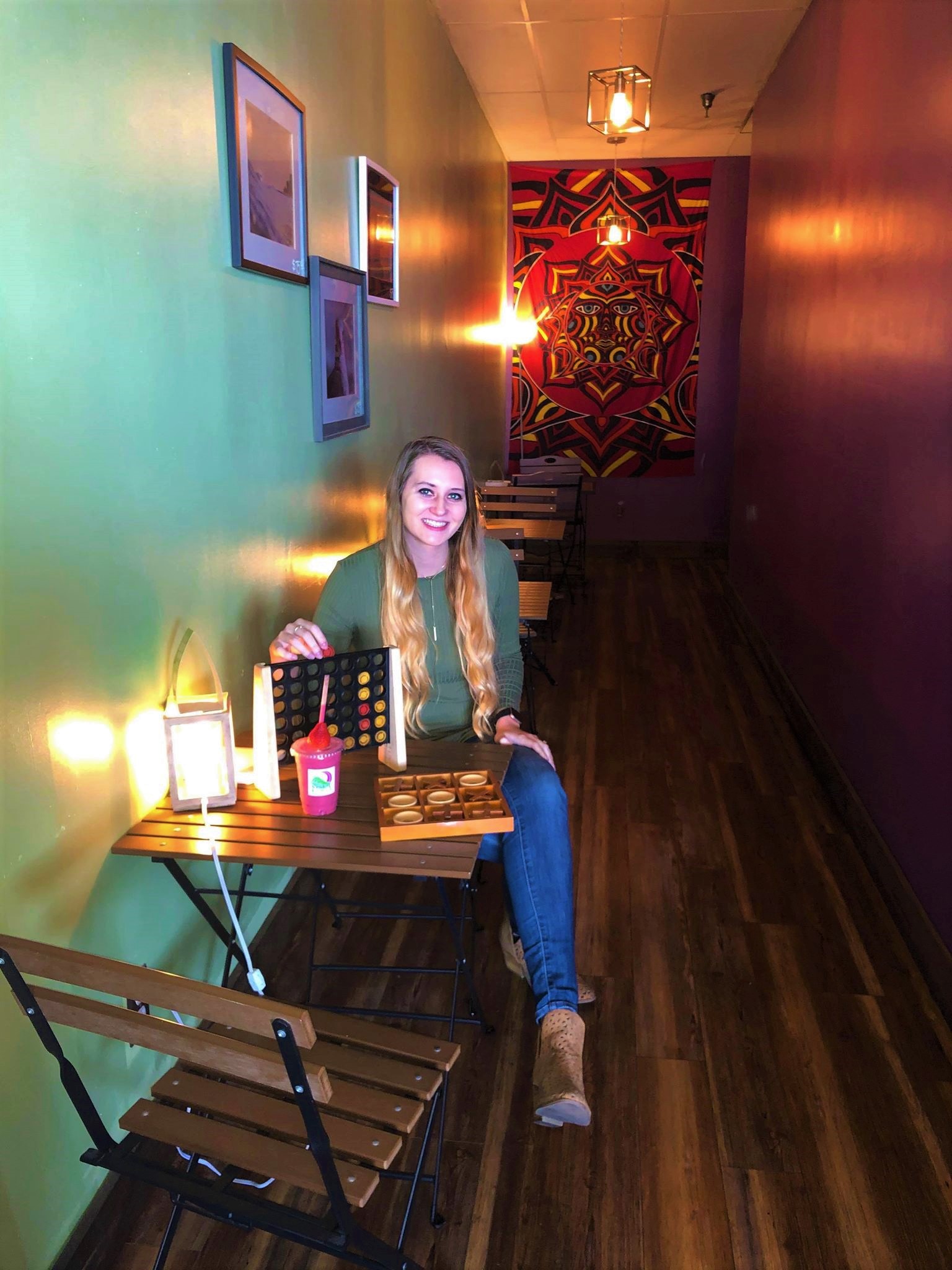 Game On 
Soul Bowlz also offers smoothies, which are a personal favorite of mine to grab when I'm on the go. I tried the Sense Specialty Smoothie and slurped it down while playing Connect Four. I love it when little shops offer games and cards to enjoy while you're there. It promotes human engagement as opposed to staring at a cell phone over a meal. I will always be down for a game of cribbage or tic-tac-toe. Loser buys a round of smoothies!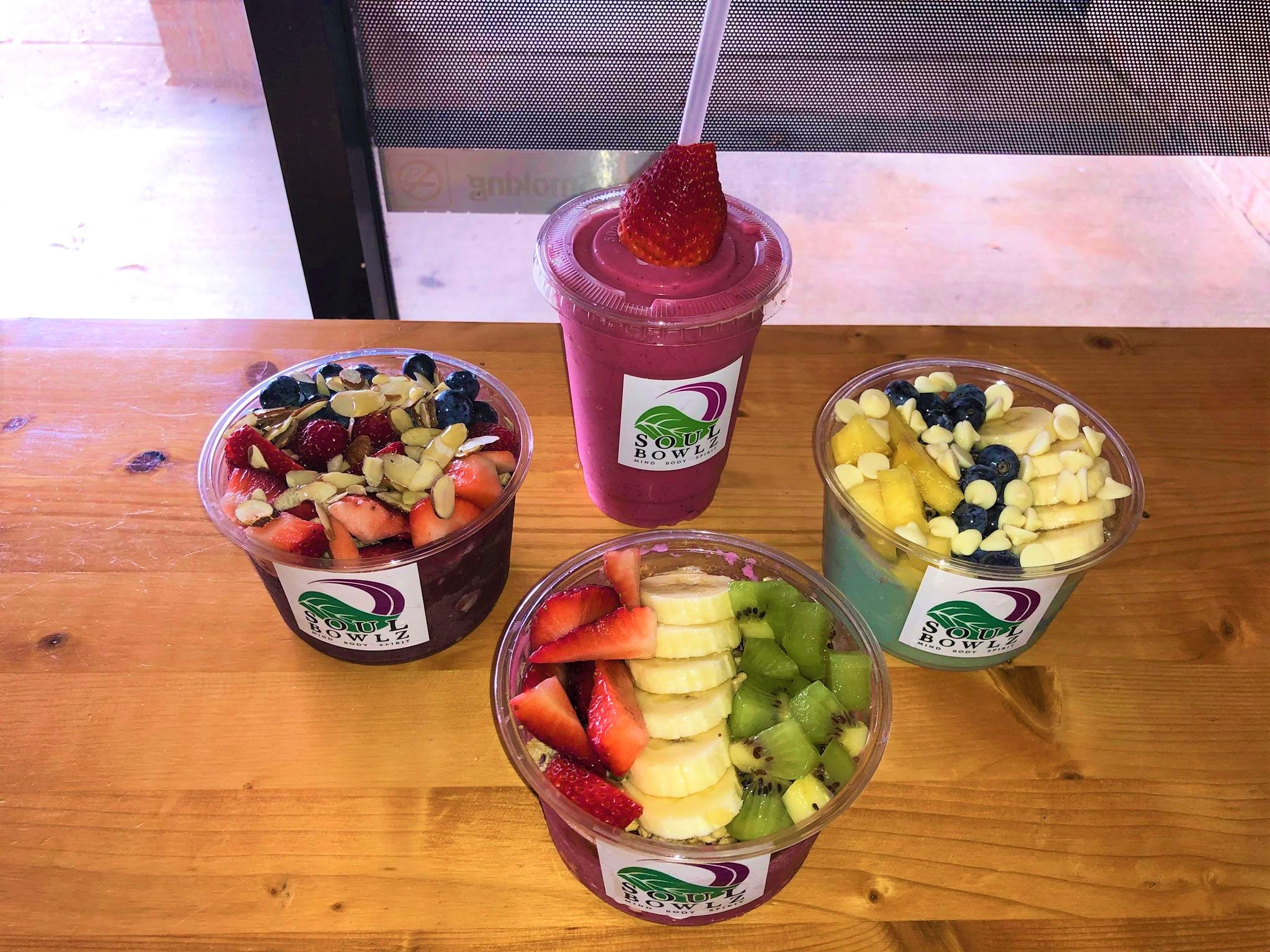 Buzz, Buzz 
Although everything on their menu is considered healthy, I asked about the healthiest option they offer. Johnny told me the Energy bowl has a bit of a health advantage over the others, due to its composition. The Energy bowl contains the acai blend, spinach, kale, granola, banana, kiwi, bee pollen, and honey. The spinach and kale are healthy for you to begin with, but the bee pollen is the golden ticket in this bowl. Bee pollen is 40% protein and is considered one of the most nourishing foods available as it has nearly all nutrients required by humans. Bet you just learned something new! Thank you, bees.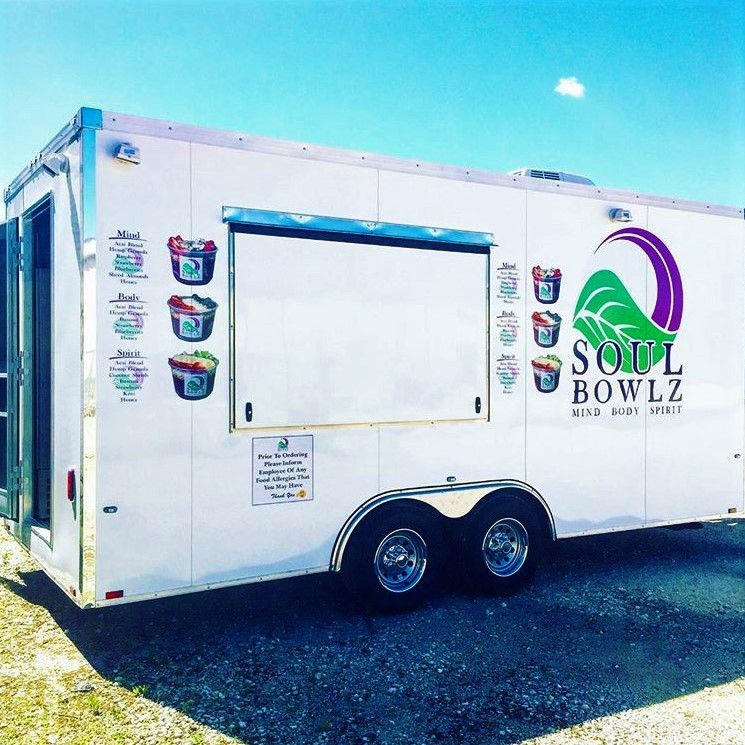 Bowlz on Wheels 
I recently discovered that Soul Bowlz has its very own food truck! You might spot this food truck at some upcoming festivals and events in the area. Look out for them at the Orange Beach Seafood Festival at the Wharf on February 29th, the Zydeco & Crawfish Festival on April 4th, and at the NCAA Beach Volleyball Championship April 30th-May 3rd. I'm already looking forward to treating myself to a Soul Bowl at some of these local events! I think I'll have to try the "Karma" bowl, which tends to be their most popular menu item. This specific bowl contains peanut butter, a perfect addition to these already tasty treats.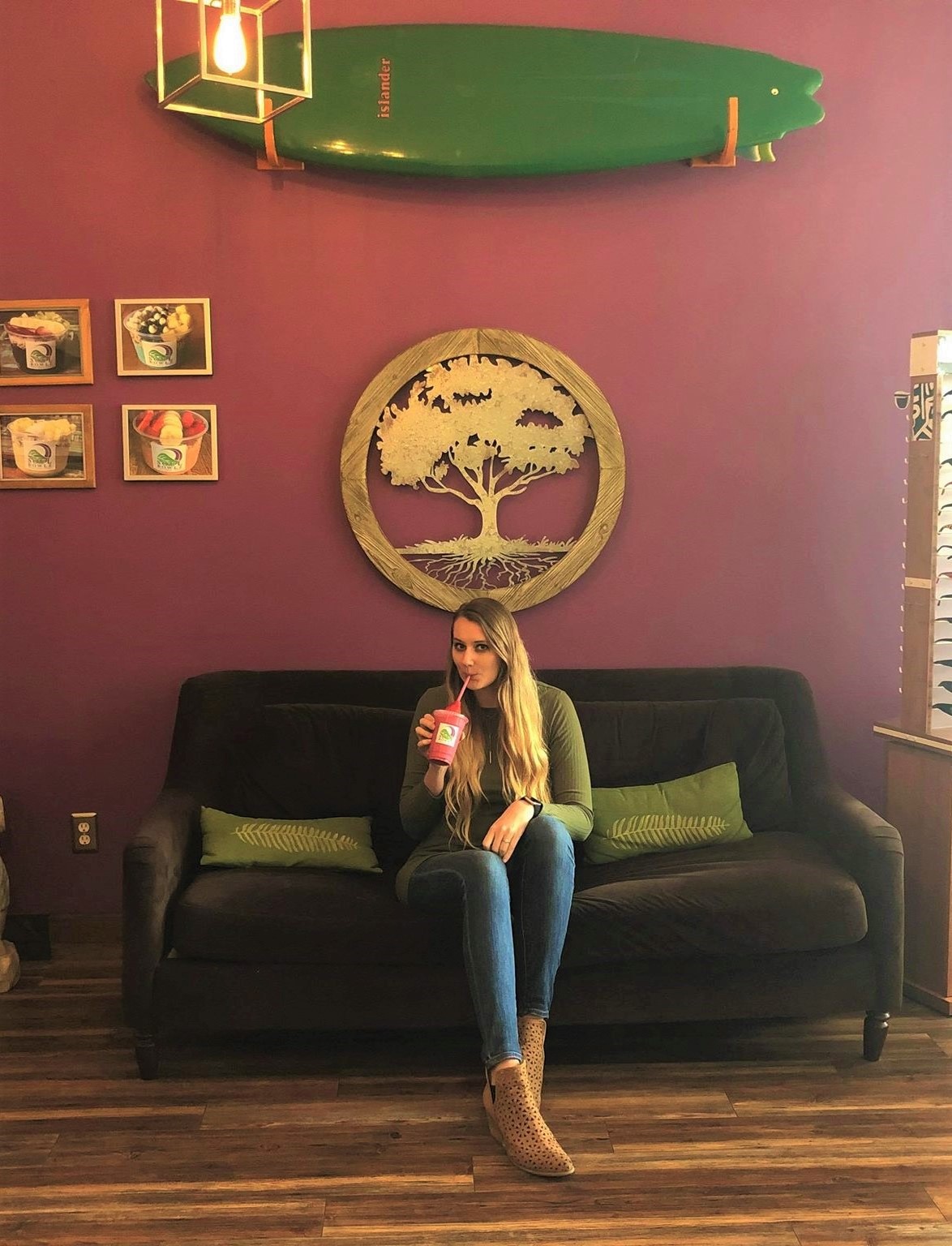 Follow Along
Stay up to date with their latest creations and food truck ventures by following them on Facebook and Instagram (and TikTok, too if you're into that). To cure your instant Soul Bowlz craving, you can also order their bowls on delivery apps like ezCater and Waitr. It's good for your mind, body, and soul, and way too convenient not to.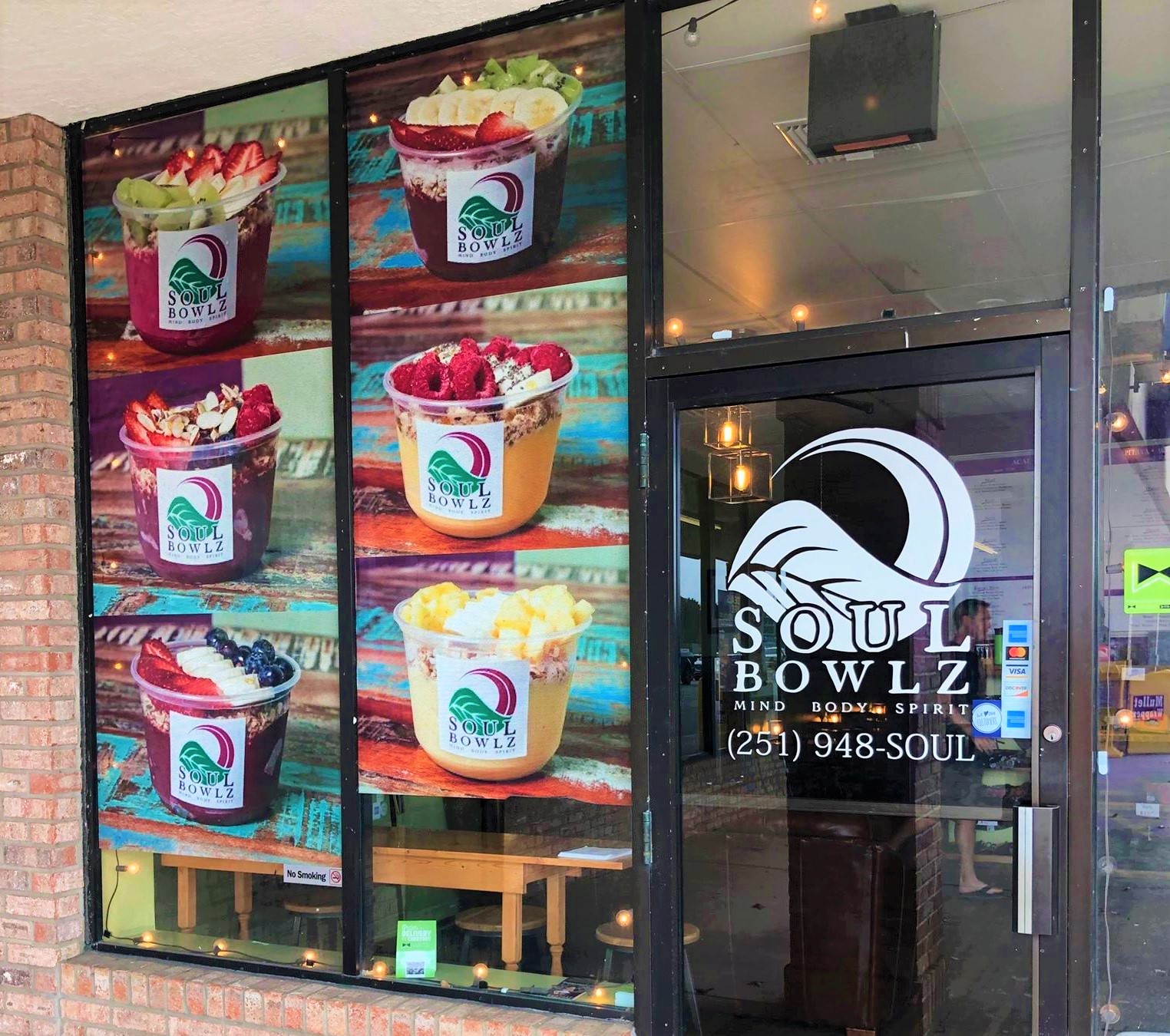 Lettuce Celebrate!
Owners Lori and Johnny McElroy are really onto something with their business plan. I love the uniqueness and how intentional they are with offering a healthy bowl of wholesome ingredients as an alternative to greasy, fried food. They take pride in serving good food that is good for you. They were both a pleasure to work with, and my only regret is that I haven't stumbled upon this place sooner. There is finally a healthy option in Gulf Shores, lettuce celebrate at Soul Bowlz!