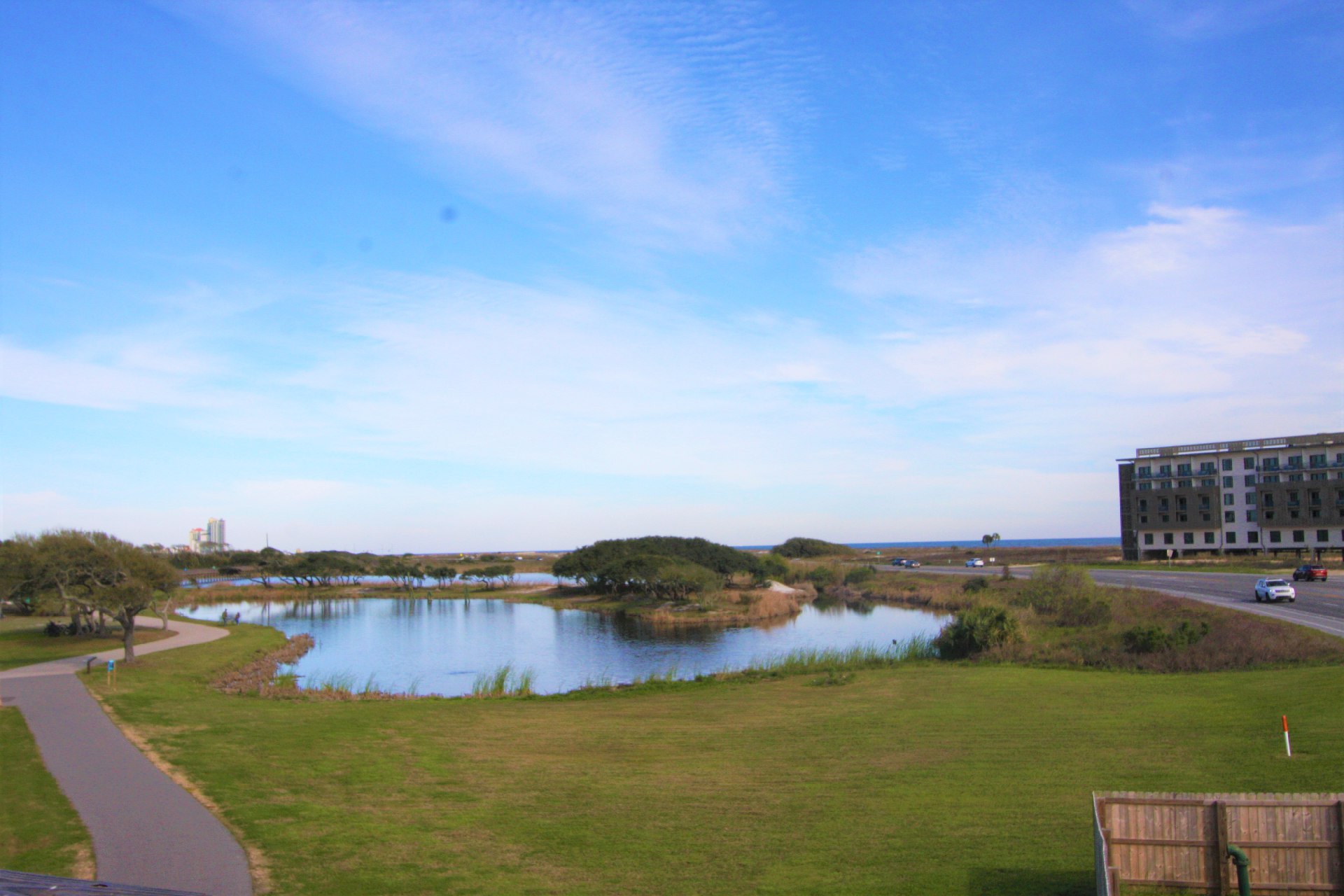 One To Remember 
This past weekend, I was fortunate enough to attend the Ballyhoo Festival at Gulf State Park. The weather was gorgeous, and I don't think we could have had a more perfect March day for an outdoor art festival on the Gulf Coast. Caribe Resort is a proud sponsor of this event, so I had the pleasure of attending on our behalf. Overall, it was an amazing cultural experience and a very successful event! What a bummer I have to wait a whole year to attend again.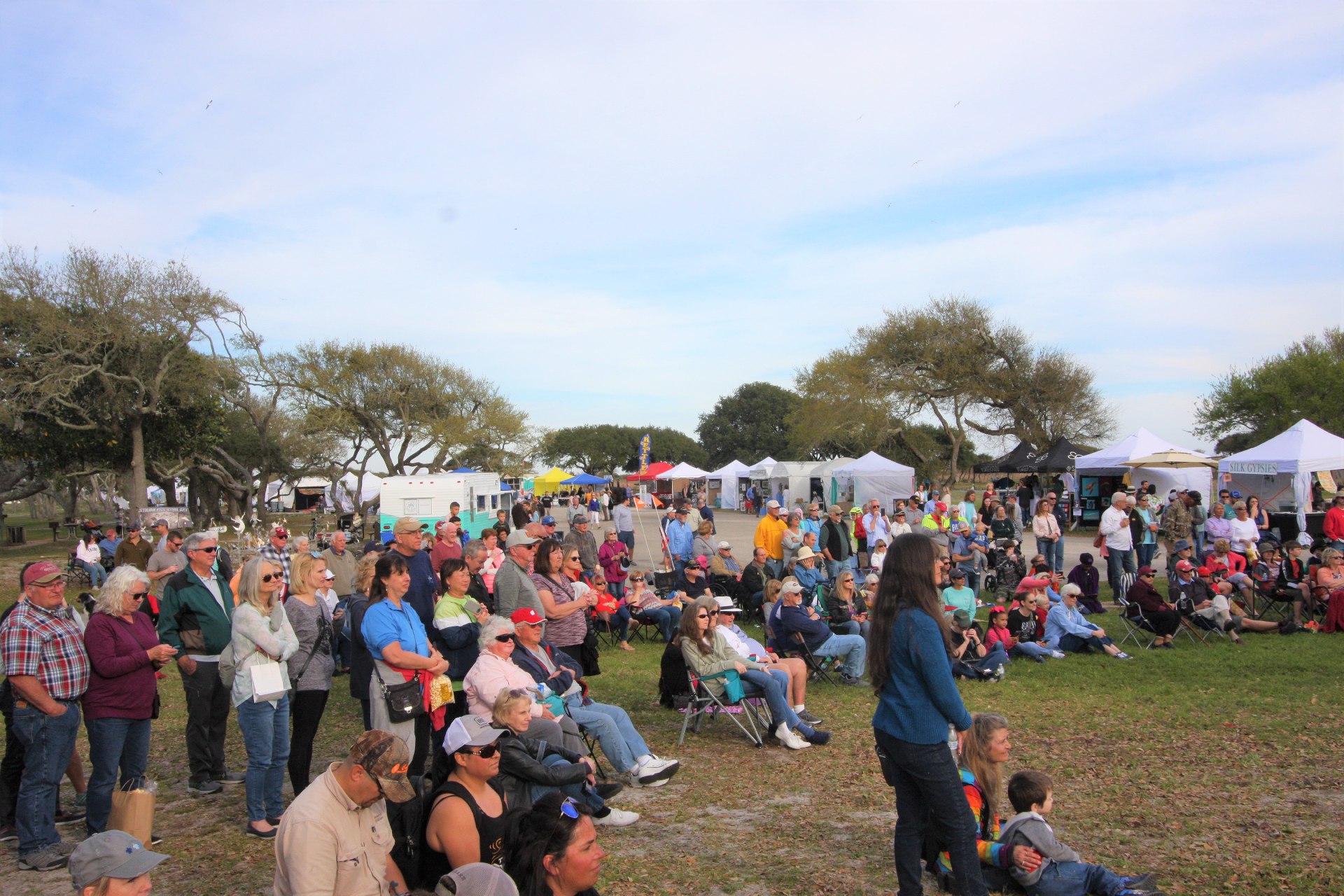 A Strong Alliance 
The Ballyhoo Festival is an event put on by the Gulf Coast Arts Alliance. Their mission is to develop and promote the arts on Alabama's Gulf Coast. They strive to achieve their mission and purpose through this event and are dedicated to advancing creativity of the mind and spirit while enhancing the quality of life on the Gulf Coast. What a strong statement–a statement that I saw brought to life first-hand in a celebration of art and culture.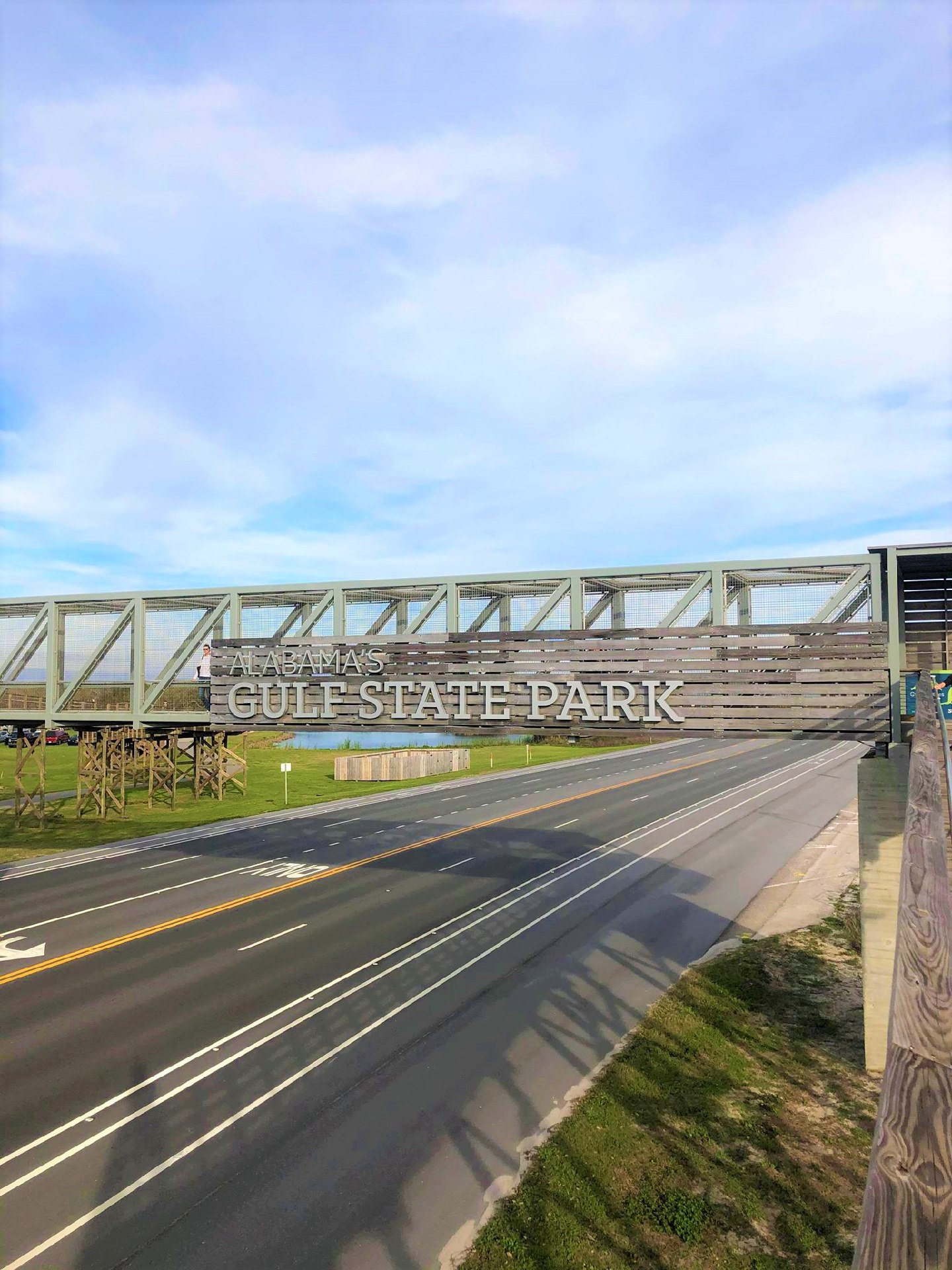 I'm Ready 
Ballyhoo Festival took on a new location this year, and although this was my first year attending, I think Lake Shelby was the perfect new spot. I took the pedestrian walkway over Beach Boulevard, and had an elevated view of the entire festival, surrounding lakes, and the Gulf. I could hear the live music, smell the kettle corn, and I was ready for some art.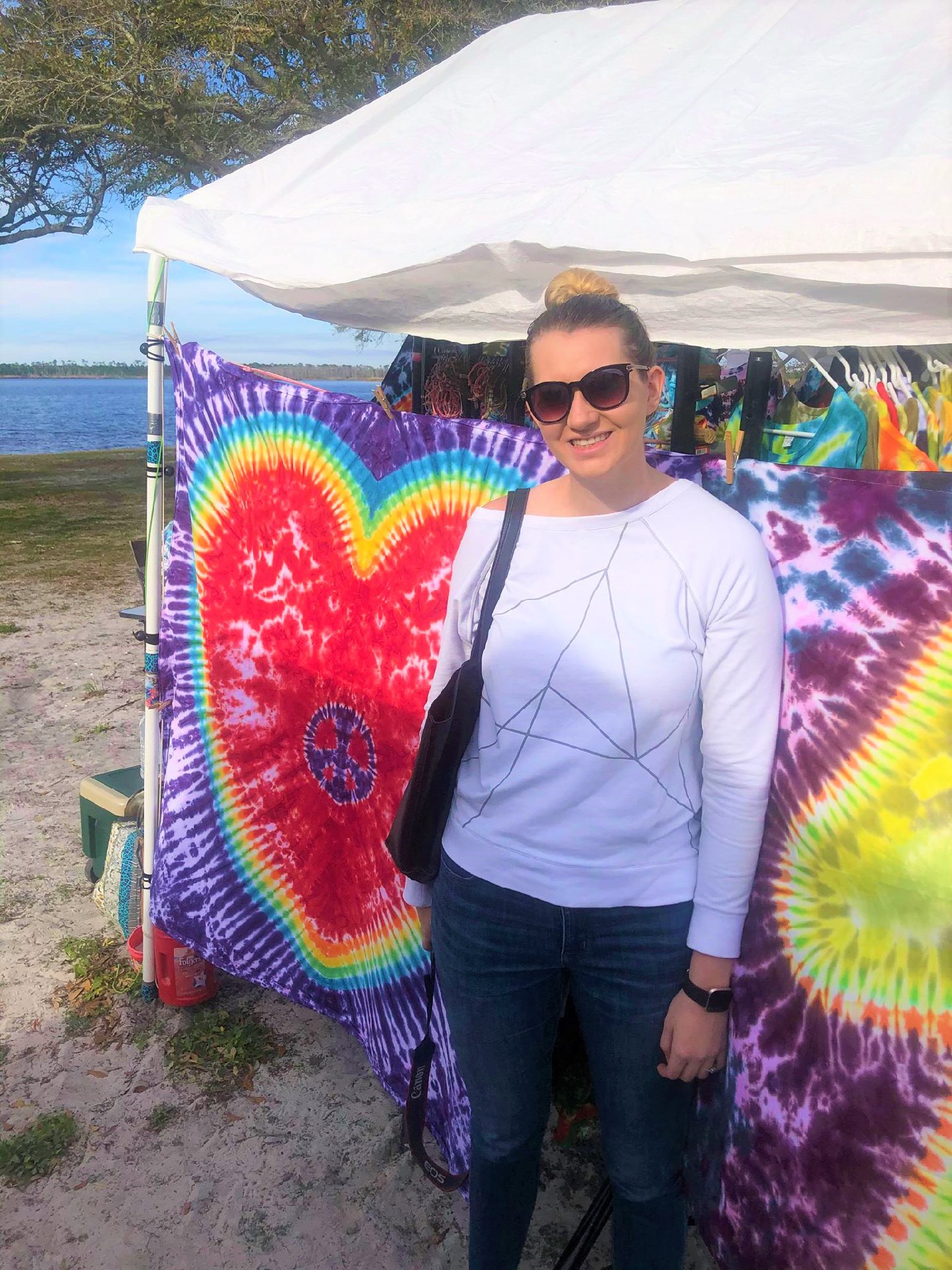 It's To Dye For 
The first thing that caught my eye at this festival was the abundance of color in the various booths. I was instantly drawn to a tie-dye display, and looked through the clothing items that were all different from each other. I browsed the beautiful dresses, tops, hairpieces, and even onesies. When I have kids, they will be rocking a tie-dye onesie for sure! I stumbled upon a blanket that had the shape of a heart dyed into it and thought it was so pretty. I loved the expression in this style of art and was impressed by this artist's abilities.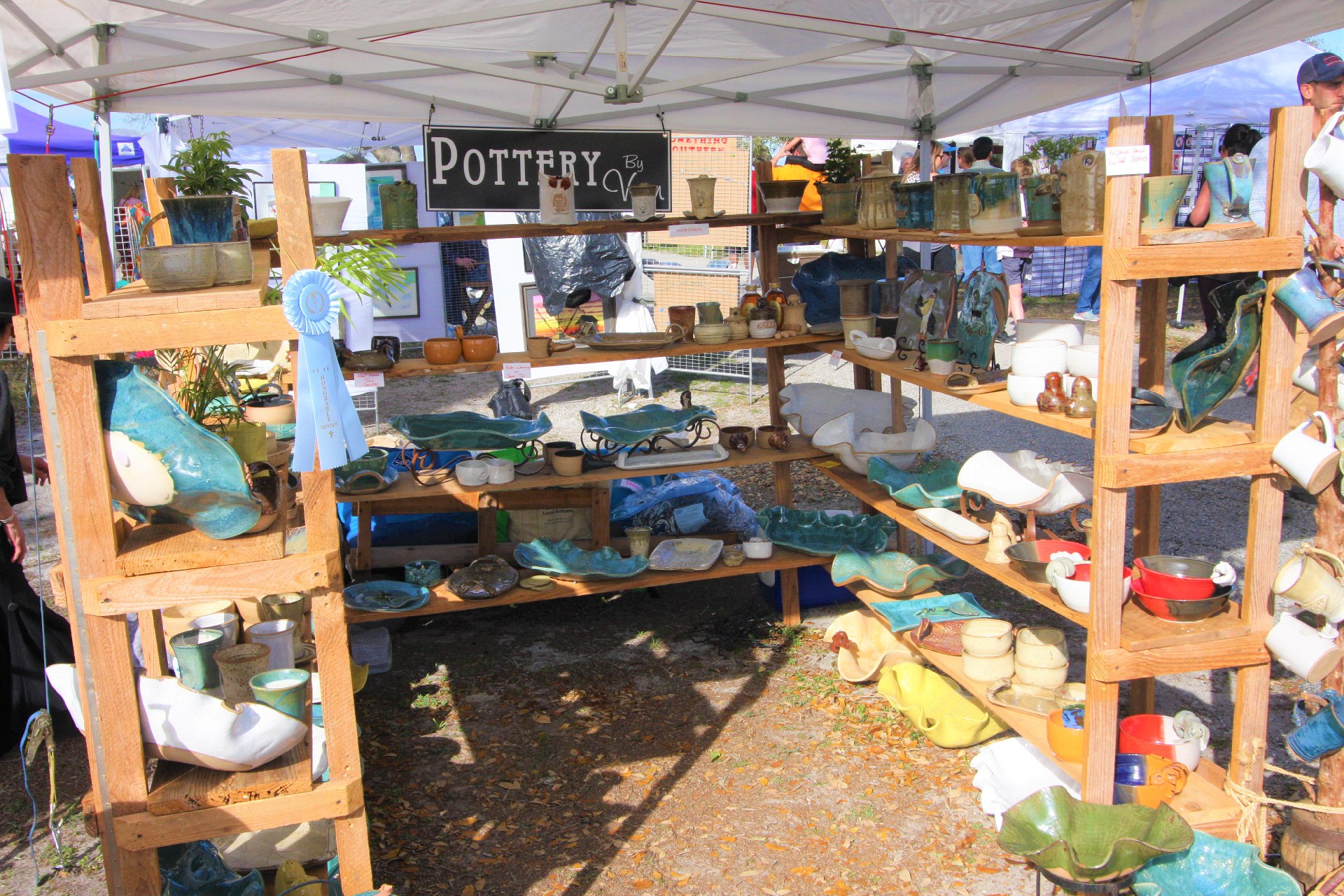 Seize The Clay
Pottery is a type of art I have learned to appreciate. After barely skimming by in my high school pottery class, I can't help but admire, yet envy, pottery makers. I faced many failed attempts putting my work through the kiln, only to have it come out looking unrecognizable. From now on, any pottery used to decorate my home is purchased at an art festival, just like Ballyhoo. I use this type of art for coffee table decorations, dishes, mugs, or bowls in the kitchen, and anywhere else I need a beautiful piece of art. Looking through the pottery at this festival was delightful.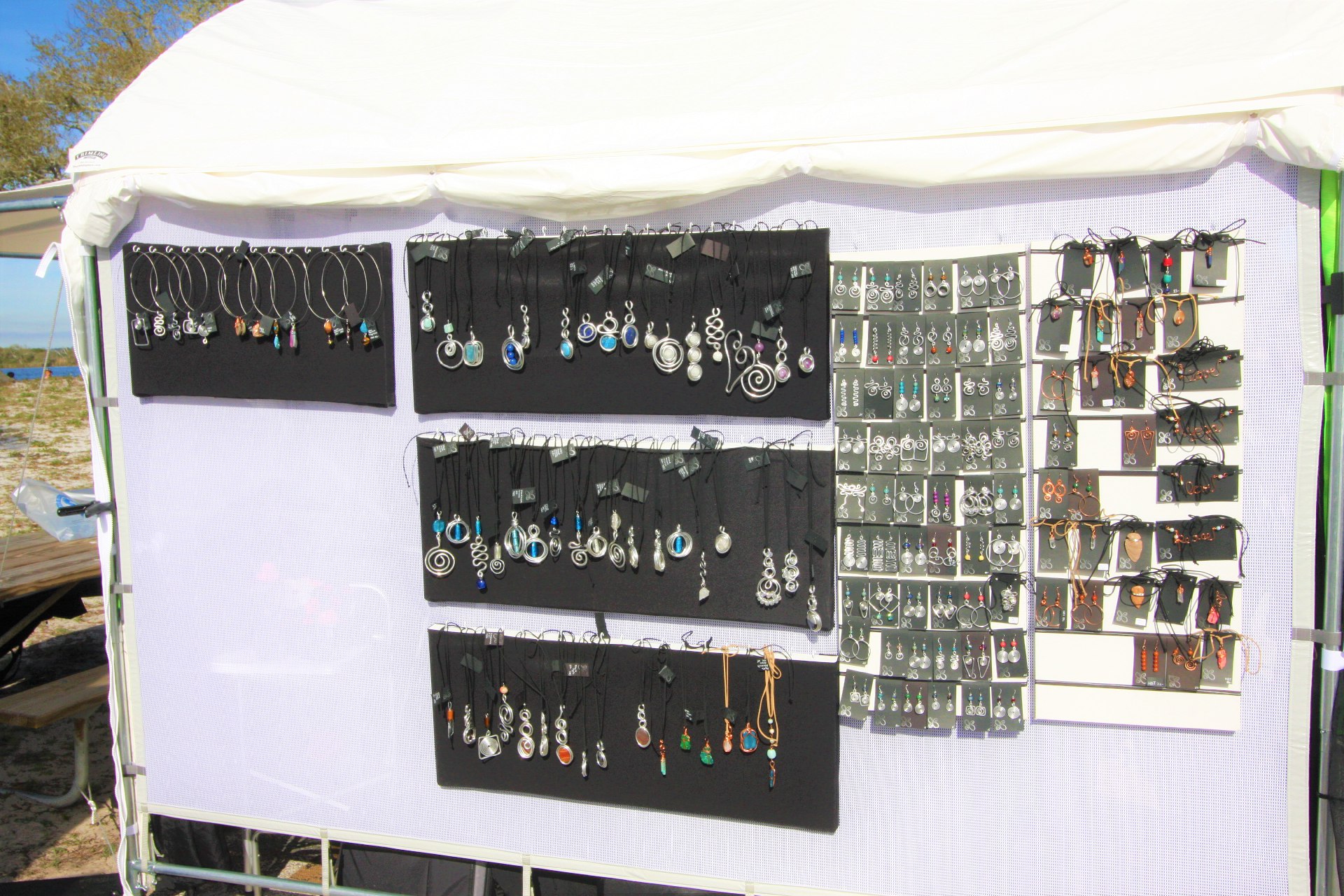 Bling, Bling 
If you read my preview blog about Ballyhoo Festival (which I hope you did), you will remember my slight obsession with jewelry made at art festivals. Visiting these events is a lot of fun for me, but something I always treat myself to when I attend is a new piece of handmade jewelry. I think it's a special way to support handmade jewelry vendors, as well as a simple, daily reminder about my day spent at the festival when I wear it. I get so many compliments on my jewelry from festivals that I will never stop buying it! Check out this jewelry display; find the earring section, top row, 2nd one in from the right, yep, those are the ones.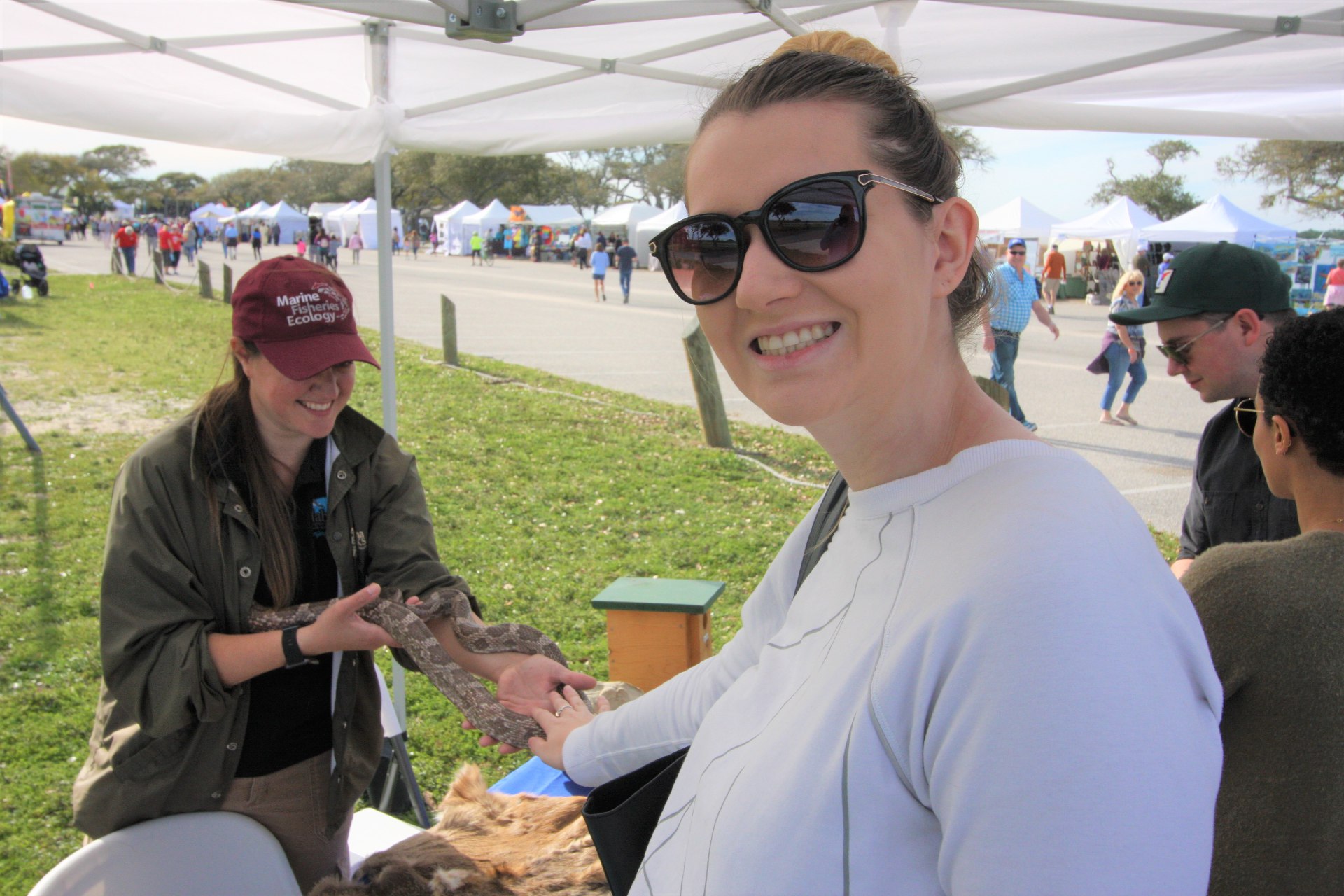 I'm Not Touching That 
A fun and unique tent that I visited while at Ballyhoo featured Gulf State Park. Although they were not displaying any "art" (one could argue otherwise), they offered a nice change of pace from the other vendors, so I spent a few minutes at their booth. A few different animal skins were displayed on the table, like a white-tailed deer and an otter, and the wildlife expert explained that these were animals that once inhabited the State Park. There was also a live baby alligator, turtle, and snake out for viewing. I braved the challenge and pet the snake–he was surprisingly very soft!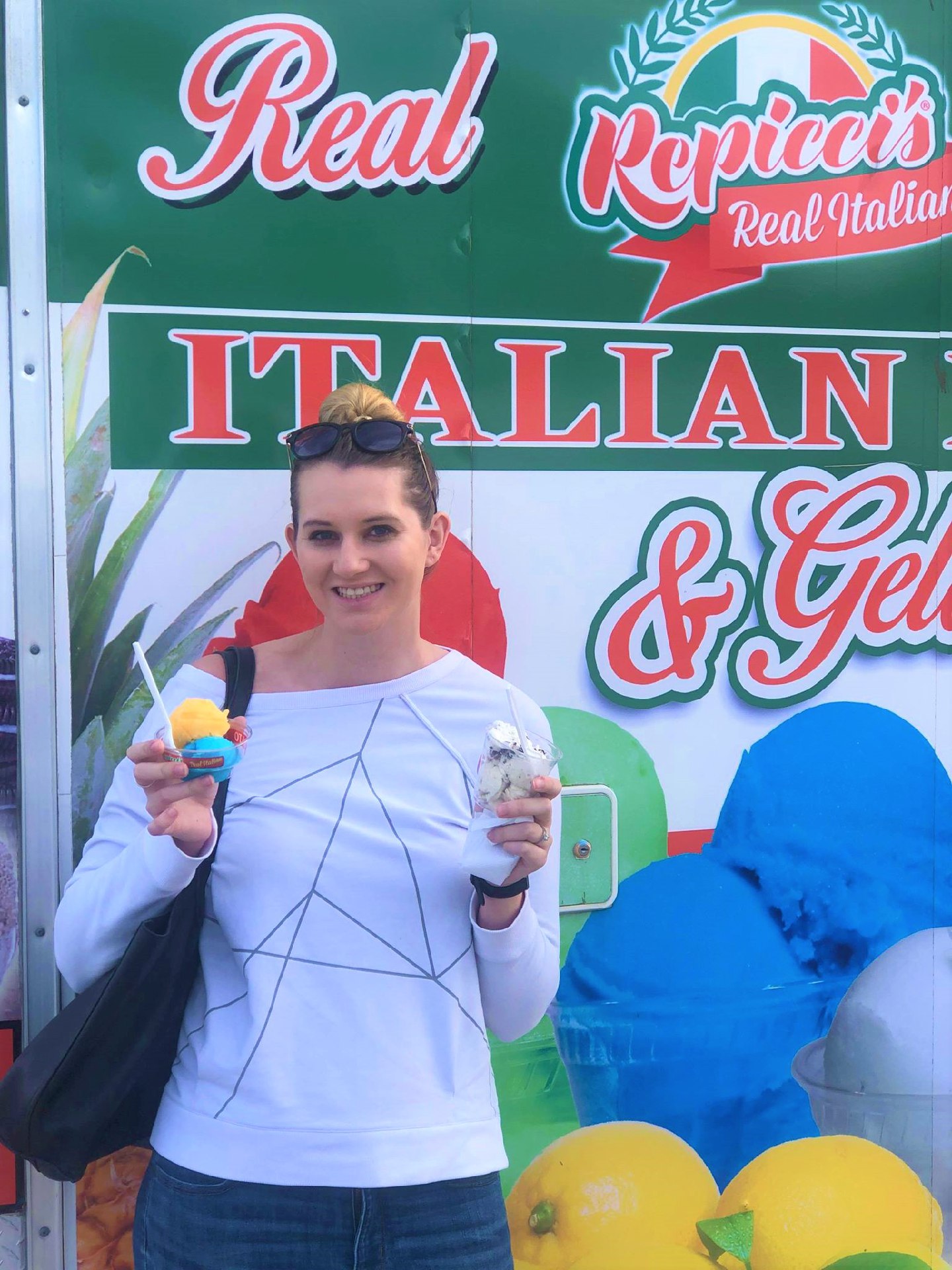 Double Take 
I worked up an appetite walking around the festival all day. Numerous scents filled the air, from fry bread to tacos, kettle corn, and more–but something sweet caught my eye. I walked past a food truck that was serving Gelato, Italian Ice, and Gelati, which is a scoop of each! I love them both, but I do like to keep them separate. Naturally, I couldn't make up my mind, so I ordered one of each. Like I said, the weather was perfect for an outdoor festival, and ice cream season is officially upon us!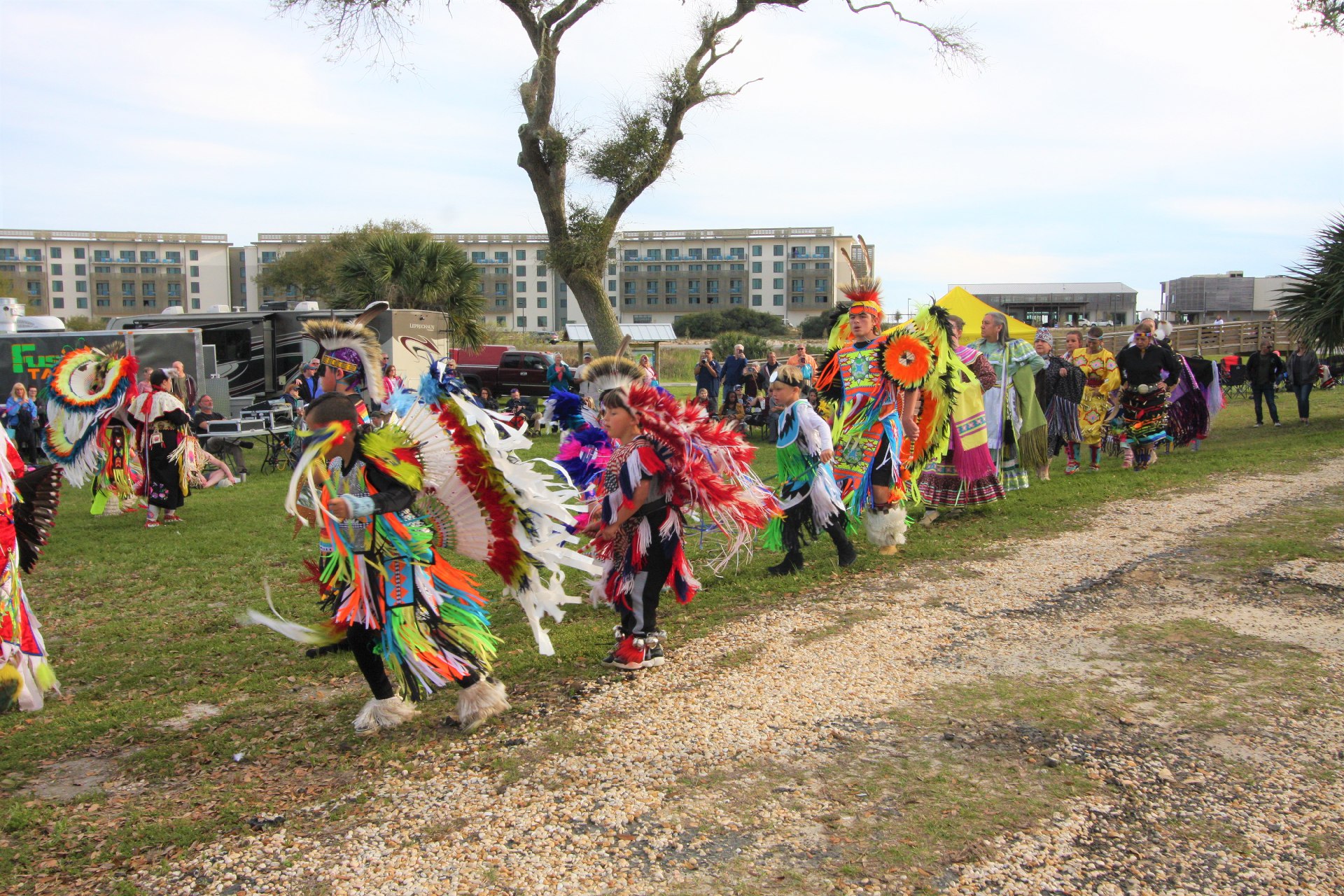 Cultural Shine
My day at Ballyhoo Festival ended in the best way imaginable. I planned my day around the 4 o'clock performance of the Poarch Band of Creek Indians, and based on the size of the crowd, a lot of other people did too. The members of this tribe are descendants of the original Creek Nation, which at one time covered nearly all of Alabama and Georgia. Members of the Poarch Band of Creek Indians currently reside in Atmore, Alabama. They combined American Indian type music and dancing to perform at Ballyhoo Festival. The leader of their group provided the audience with facts about the tribe and explained the different varieties of dances they were performing. Some members introduced themselves, but you could see the culture shine in all members of this performance. It is something I will never forget, and I'm glad I could experience it for myself!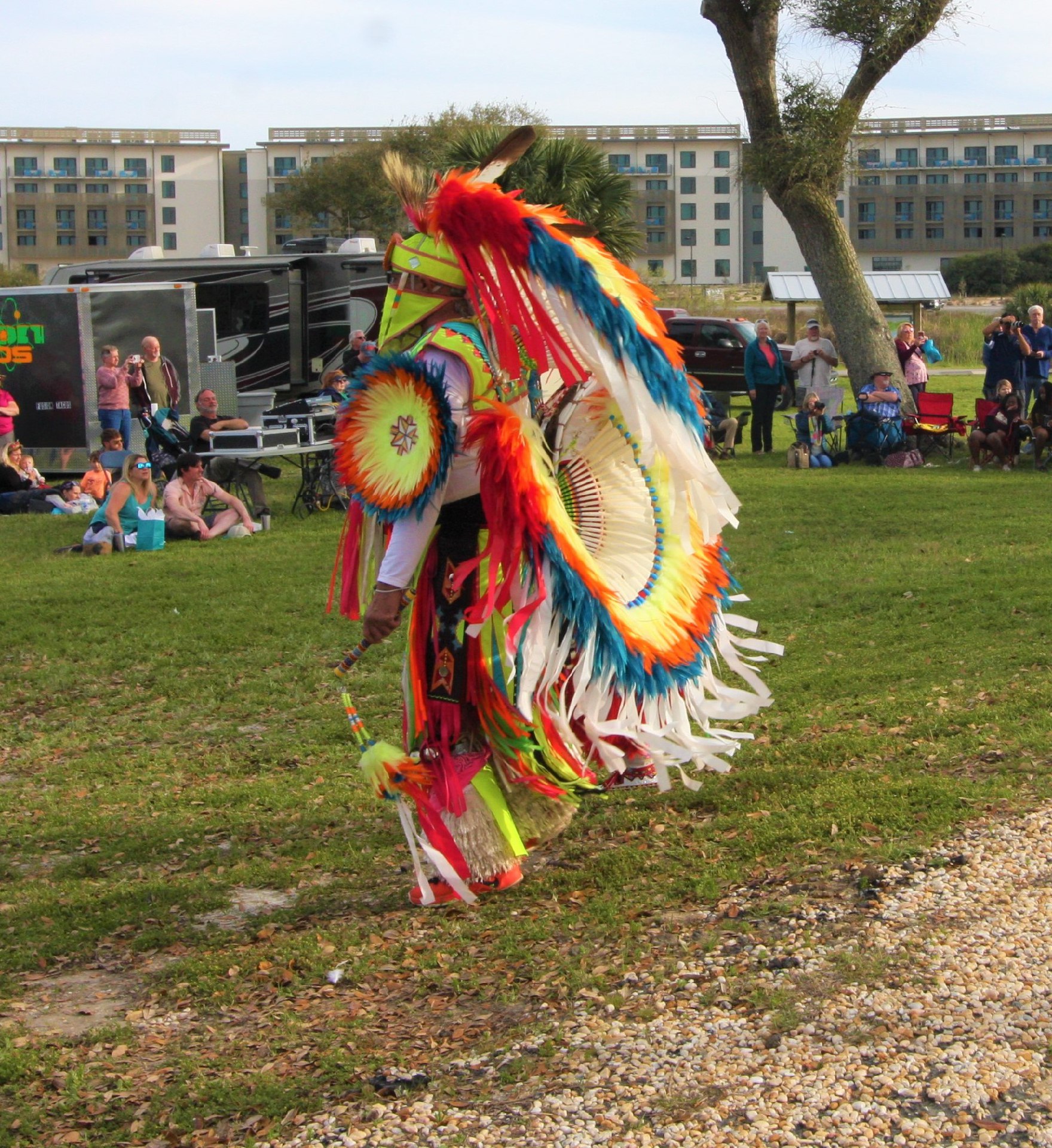 Until Next Year 
Last Saturday was an all-around perfect day at Ballyhoo Festival. From art exposure to snake handling, sweet treats, and cultural dancing, I had a blast. I can't believe I have to wait another 365 days for this weekend to roll around again. Ballyhoo Festival would not be possible without the dedication and hard work of the festival team, led by Eloise Thomley and Katie Avant. Thank you both for your commitment to this event. Until next year, Ballyhoo!