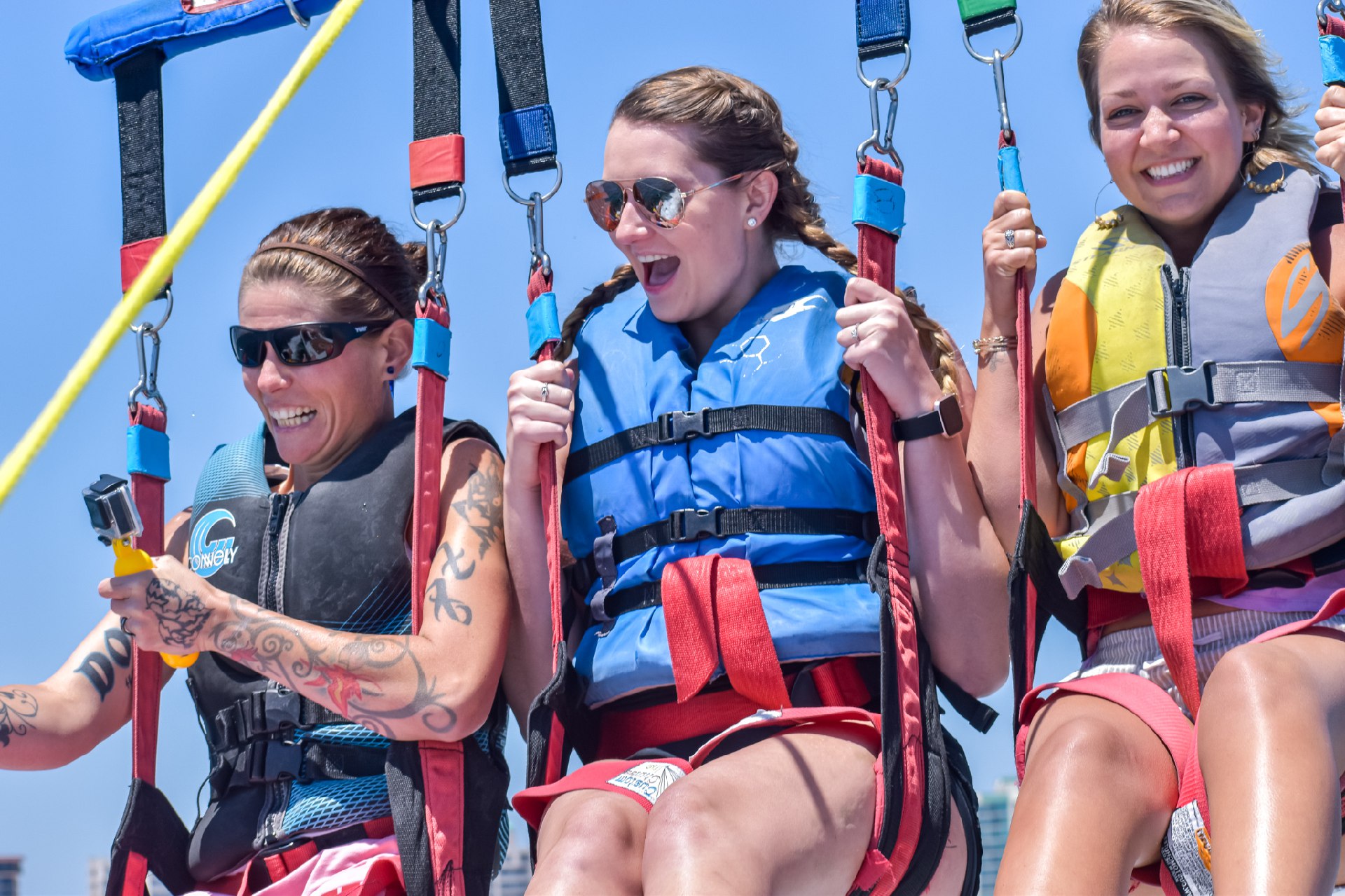 The Best Day
I've always been partial to the window seat on an airplane strictly because I love passing the time of a long flight by taking in the scenic views. My fear of heights never kicks in while on an airplane, and if it did, I might never travel again. Fortunately for me, I found the same to be true while parasailing over the Gulf of Mexico in Orange Beach, Alabama this past week. It wasn't nearly as scary as I thought it would be, and twice as fun as I had hoped! All thanks to Chute 'Em Up Parasailing, I had the best day.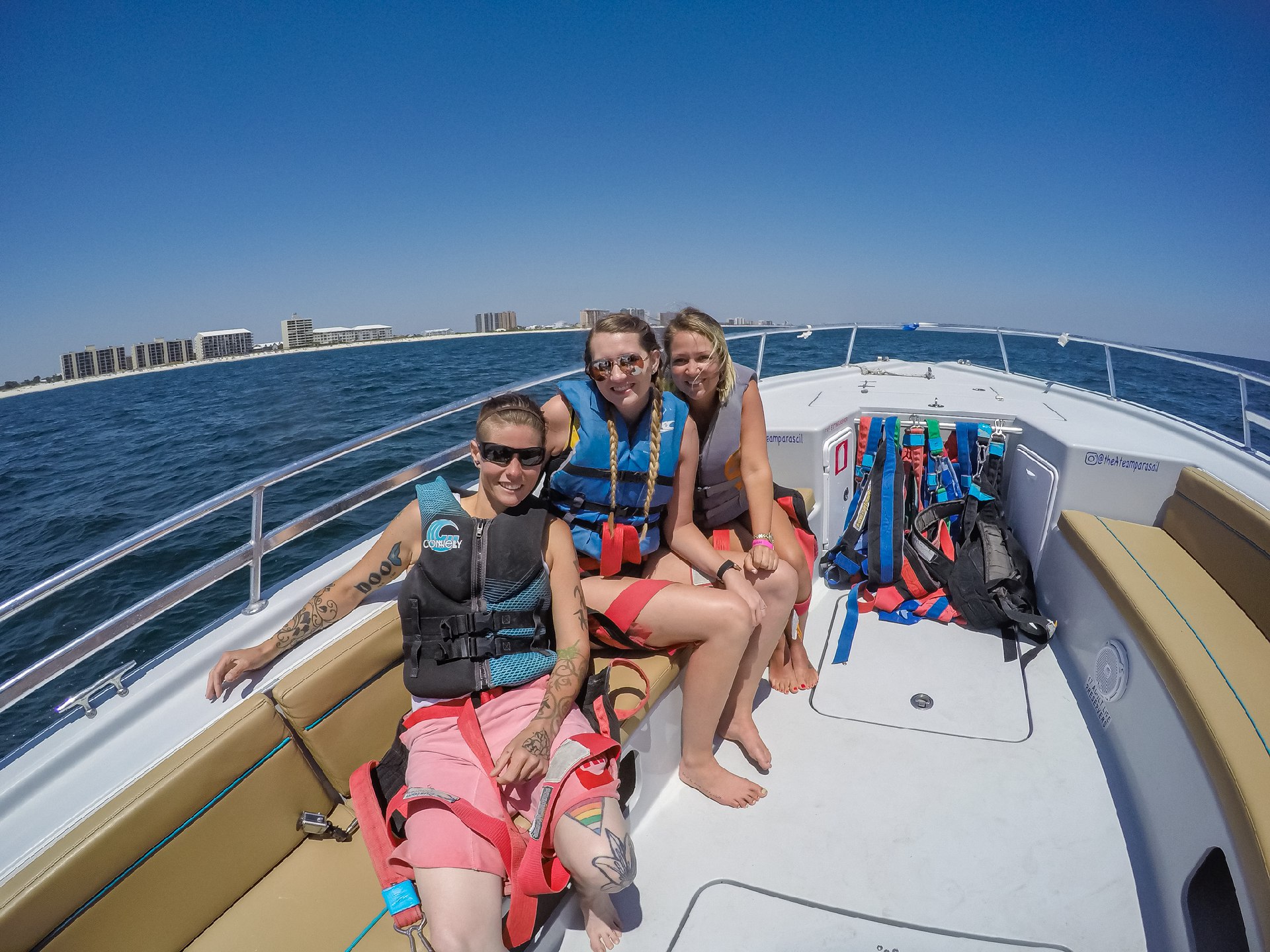 Friendly Flying
Typically, I fly solo when blogging, but this week two thrill-seeking, fun-loving friends of mine, Heidi and Sarah joined me. Allow me to introduce you to them! All three of us work at Caribe Resort and get to call beautiful coastal Alabama our home. I'm so happy they tagged along, or I might have chickened out before even getting on the boat. Since this was my first time trusting a parachute with my life, I was feeling uneasy, but Heidi and Sarah did a perfect job helping me face my fears.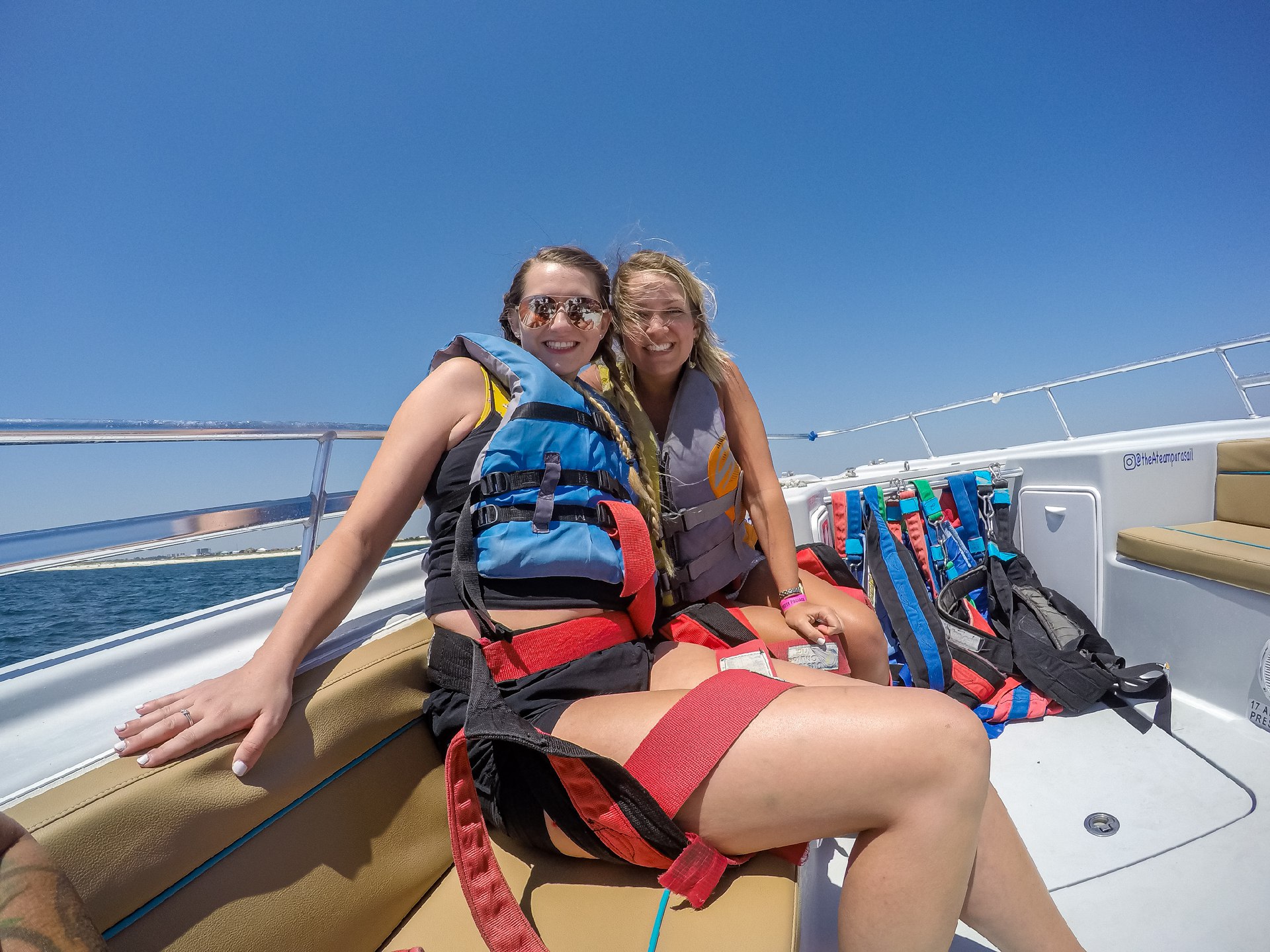 Ready or Not, Here We Go
We chose a mid-day departure time, which in my opinion, was the best choice we could have made. Our small group of parasailers signed our waivers, selected our life jackets, and boarded the blue boat painted with shark teeth–spooky. Safety is the #1 priority when parasailing with Chute 'Em Up, and the captain and deckhand on-board made all guests aware of emergency protocol. It was great reassurance that we were going to be safe, but also that we were in for a good time. The warm sun was beating down on us, which made for the perfect boat ride into the Gulf and gave me killer life-jacket tan lines at the same time. You know what they say, the tan lines will fade, but the memories will last forever.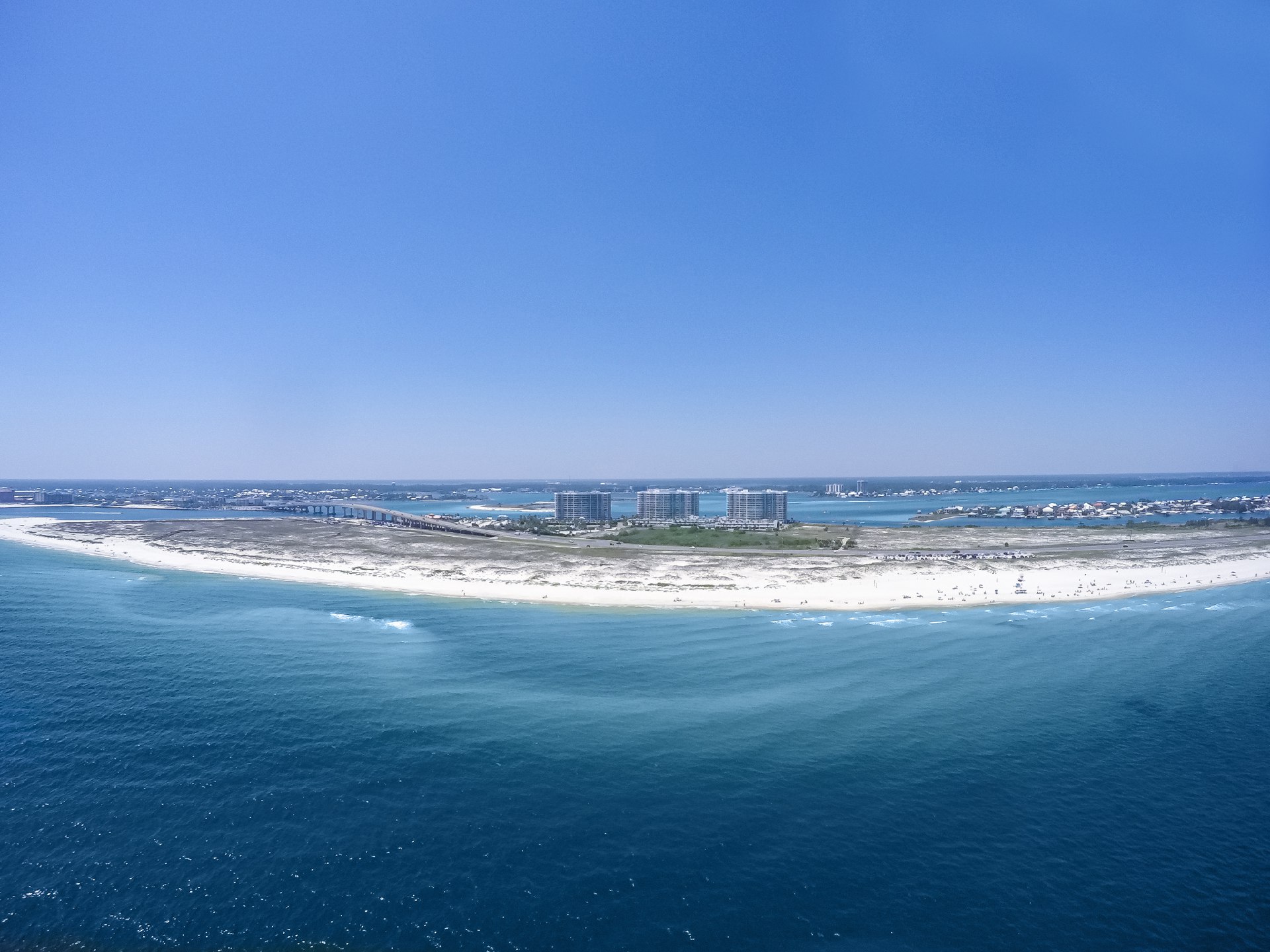 Say Hi! 
Our boat ride into the Gulf was nothing but smooth sailing. It was a choppy day on the water, but as the captain started to pick up speed, we were clipping along nicely. Hold onto your sunglasses, or they'll be gone! The crew began prepping the parachute, and I was double-checking to make sure that the rope I was trusting with my life looked sturdy (what do I know?). We requested to go out to the East of the Perdido Pass, right in front of Caribe Resort. When you stay here and venture into the sky for yourself, I would highly recommend requesting the same. Then, you can wave to your friends and family watching you from the balcony of your condo at Caribe. Give them a wave!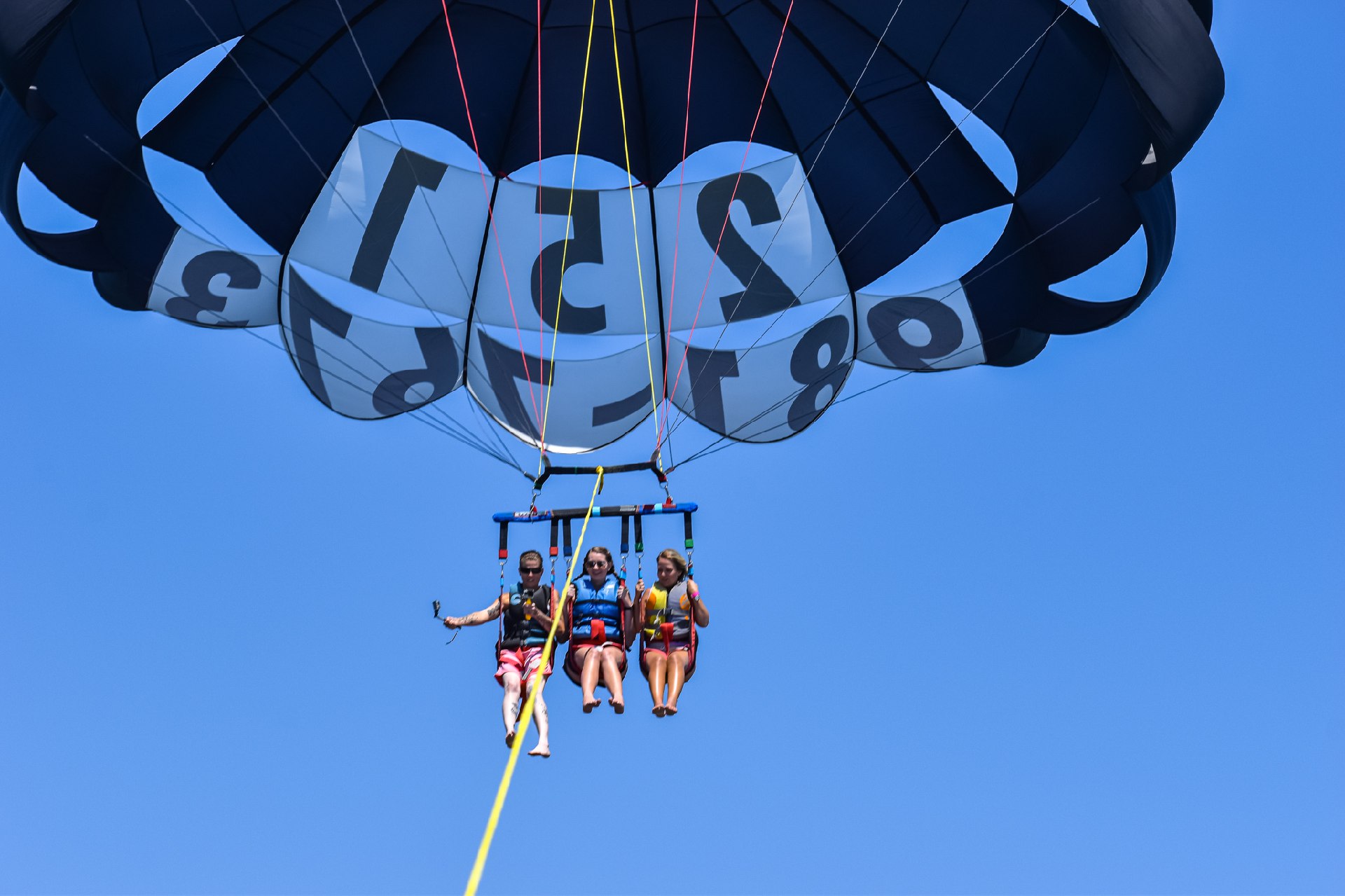 To New Heights
Before I knew it, we had our harnesses pulled up, and they were hooking us into the chute. When parasailing with Chute 'Em Up, you can have up to three people ride together, as long as you don't exceed the set weight limit. That's where Heidi and Sarah come in! I chose the middle 'seat', and they were right by my side through it all. The rope extended, and we were on our way to new heights. As the parachute pulled us into the sky, my adrenaline soared just about as high as we did. I looked down at my dangling legs and saw the boat getting smaller and smaller, and instantly turned to my friends and exclaimed, "this is so awesome!" There was some screaming, lots of laughing, but most importantly, a whole lot of fun!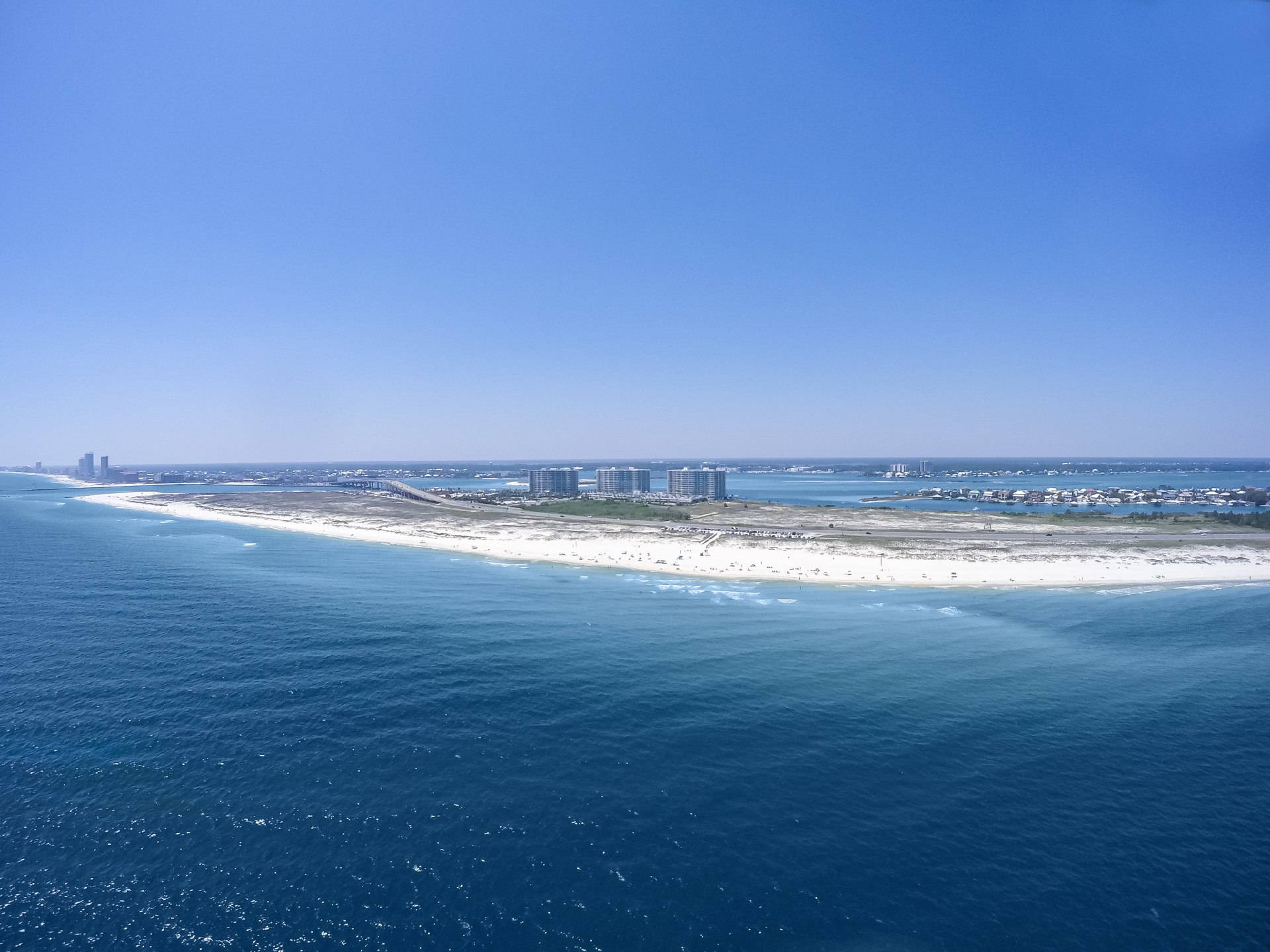 Unlike Any Other
One of the best parts of being taken in the Gulf right in front of Caribe Resort was the stunning aerial view of coastal Alabama and our property. We have had quite a few aerial shots taken over the years, and I have always admired the beauty of them. As cliche as it sounds, the pictures don't do the view justice. I was utterly blown away by the beauty, and like we often describe our resort, it was unlike any other. You have to see it to believe it. Being in the air wasn't scary AT ALL, and if I had to describe it to you in one word, it was relaxing.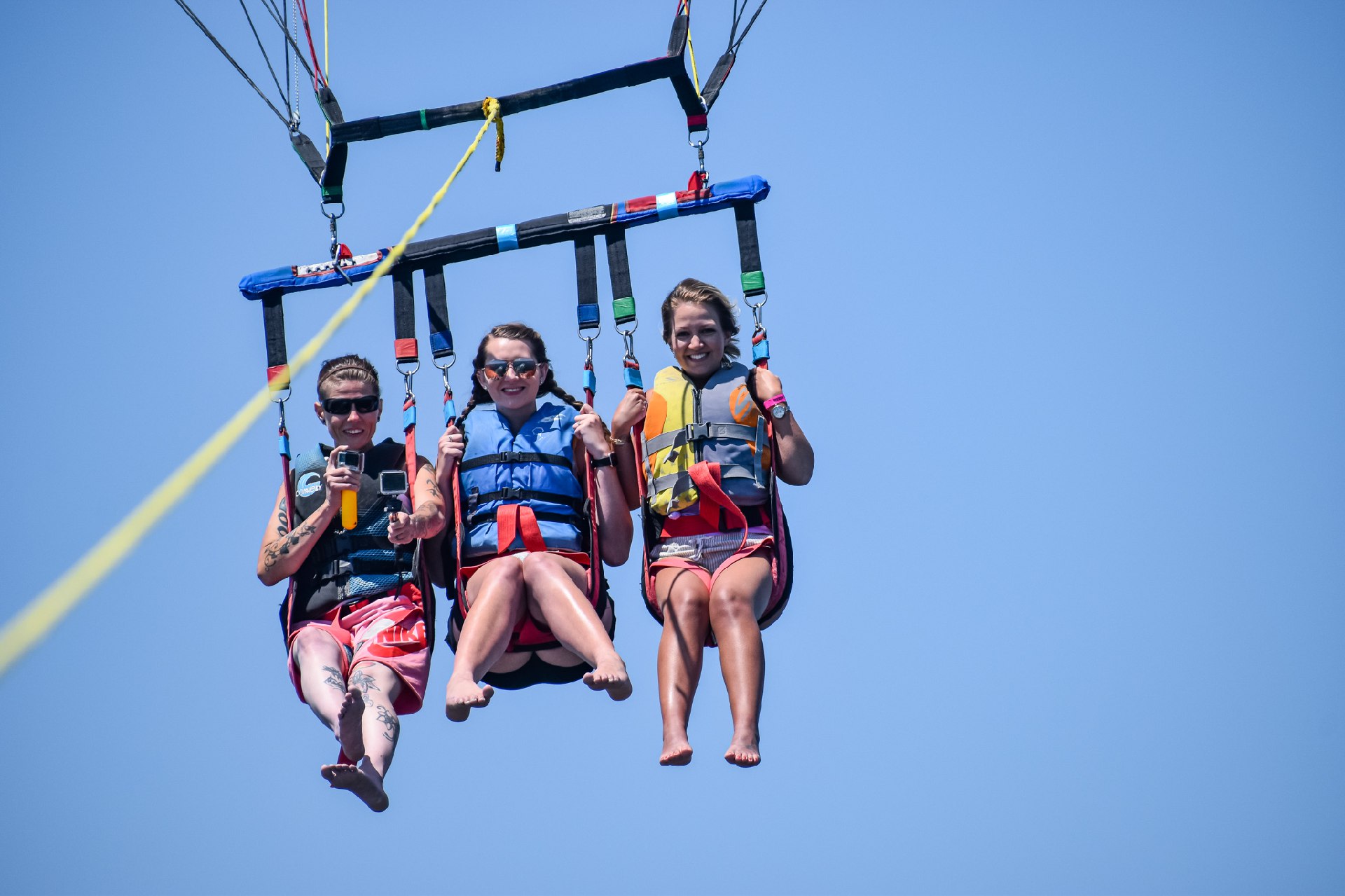 Wild Life and Wildlife 
The Gulf Coast is notorious for having the whitest sand and clearest water. I found both of these to be true as I was looking down on the water admiring the blue-green shimmer of the ocean from above. But let's not forget our marine friends who call this place home, too. One of my favorite parts of being 400 feet above sea level (literally), was being able to look down and see a few different species of wildlife. We saw numerous schools of fish and a fever of stingray. Another group on the boat said they saw a sea turtle while in-flight. Nonetheless, it was fascinating seeing these animals glide below the surface from such a magnificent height–what an unforgettable experience!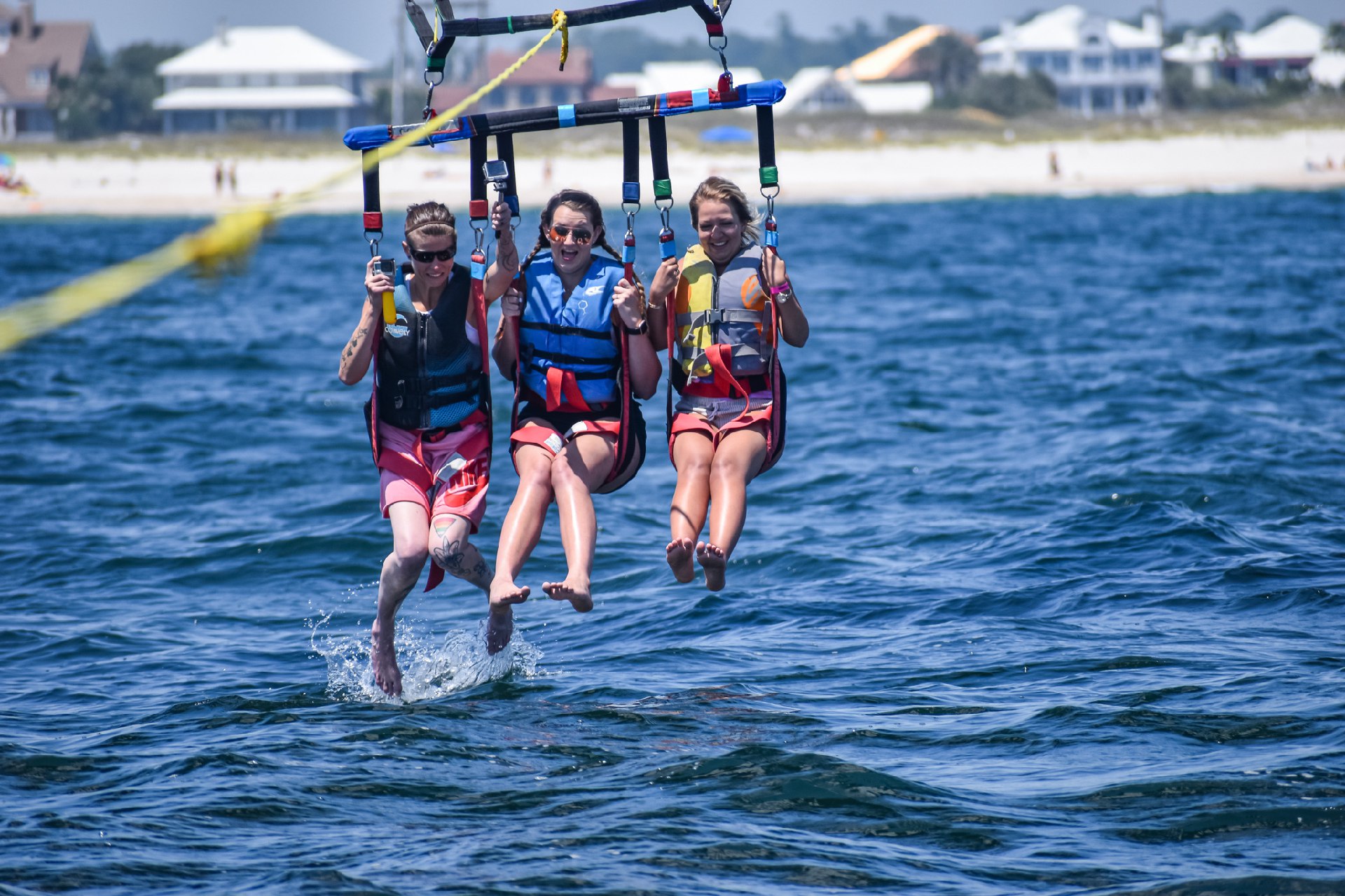 Chute 'Em Up and Chute 'Em Down
When we returned safely back to the boat (we survived!), I had a big smile on my face, and I was soaking wet. The crew gives you the option to dip you in the water as they are shortening the rope. Although I requested to return dry, my partners had a different idea. Before I knew it, our toes were wet, but the splash of saltwater was cooling on my hot skin. If it is a hot, Alabama summer day, you're going to be thankful for that dip in the water.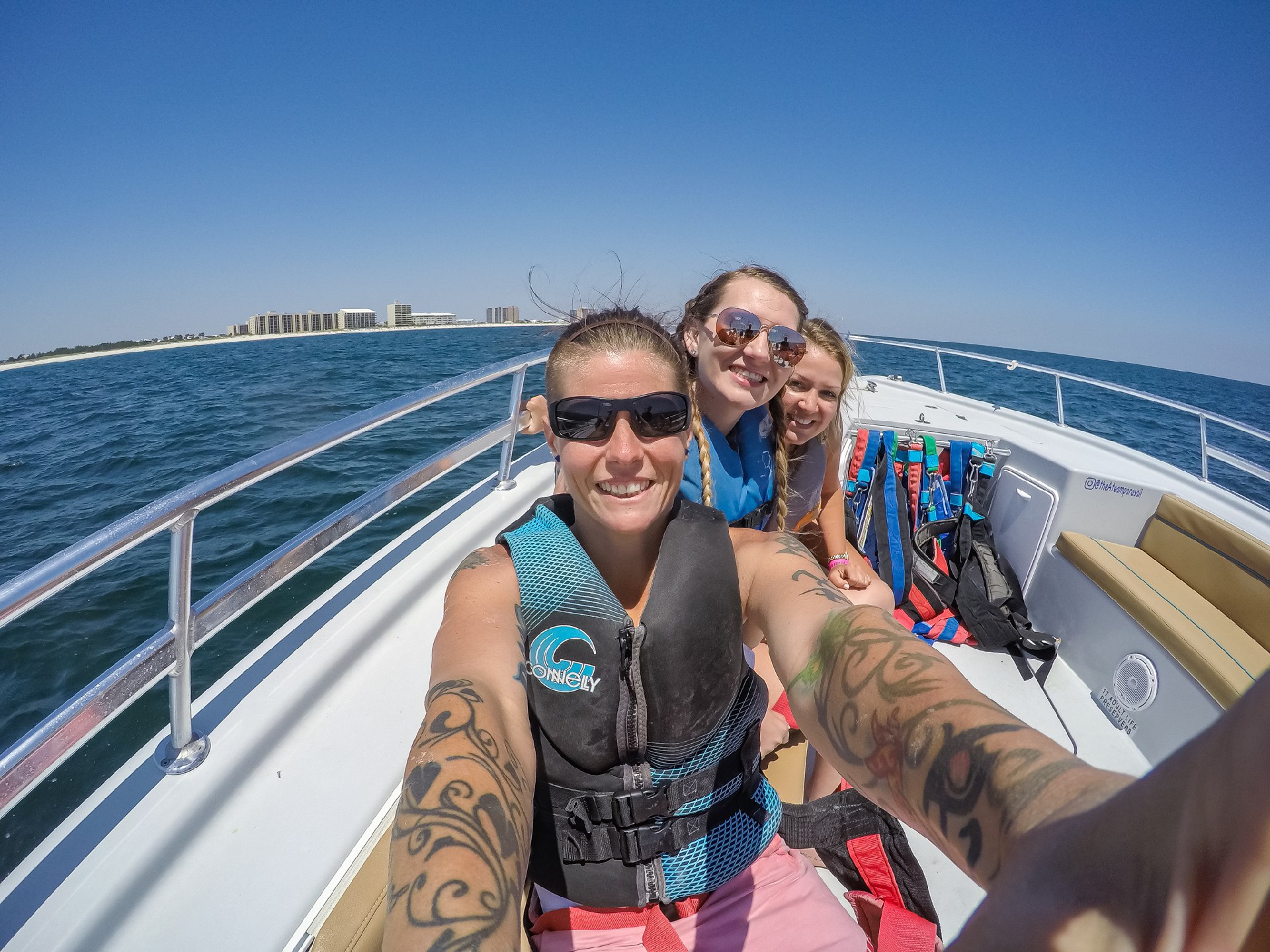 Are You Ready?
My parasailing adventure would not have been possible without the collective efforts of my friends at Caribe Marina, the crew on the boat, and Jack Fisher, the owner of Top Tier Watersports. If you're ready to experience parasailing for yourself, the team at Caribe Marina is ready to make that happen, so give them a call today! When booking, be sure to add-on the photo card package like we did. We now have memories we can look back on forever. Now I know just how much fun those parasailers are having as I lay on the beach and watch them each weekend. I hope to get back up in the air again this year before summer comes to an end. Who knows, maybe the next group I see up there will be you!