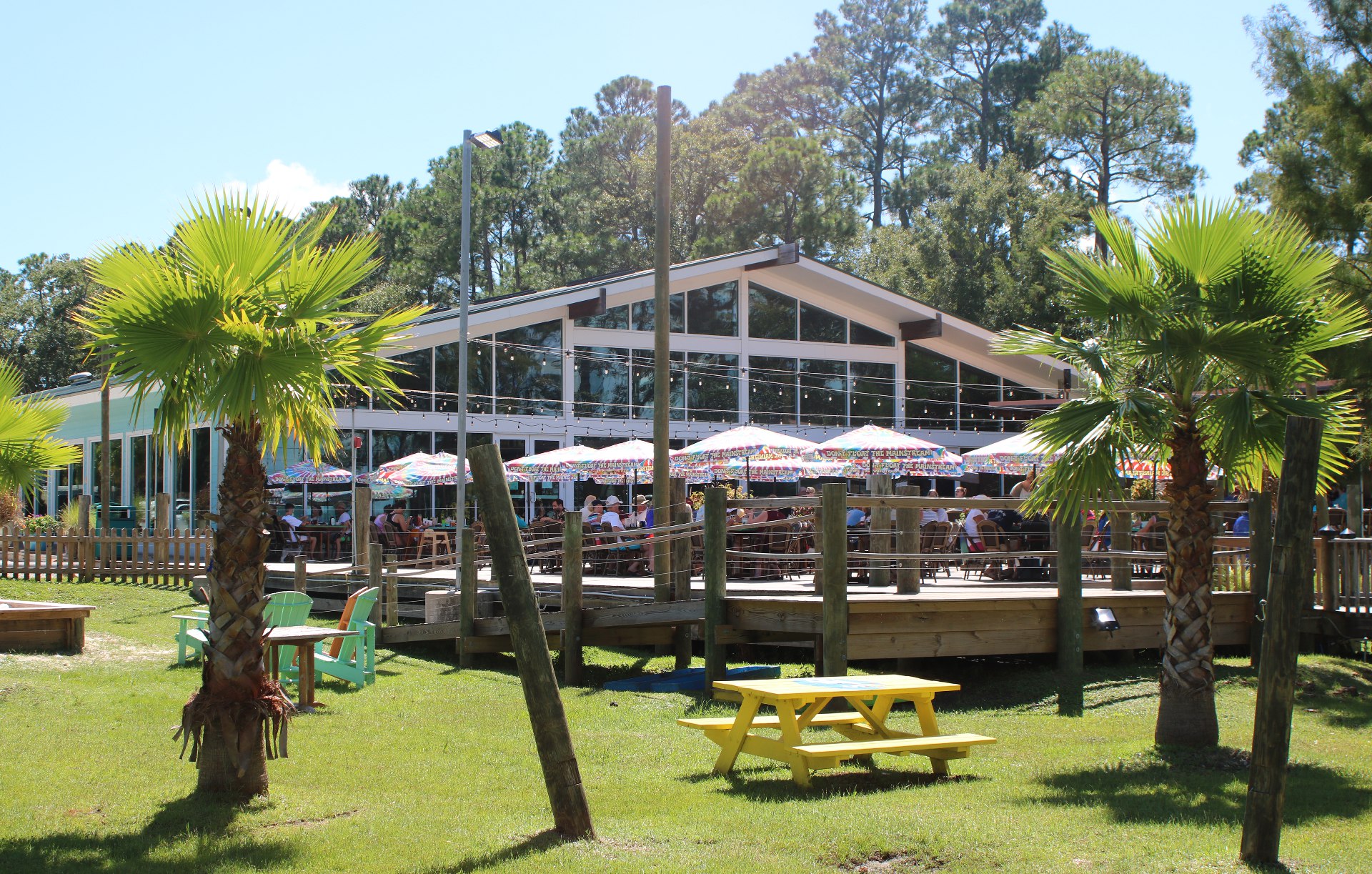 This week I found myself back on the Bay, but instead of looking at art, I was looking for some lunch. When picking a place to eat, I like to make sure I have plenty of options to choose from, mainly because most of the time I never know what I want to eat until I see another person's plate pass me by. I also love to eat at a restaurant with great views, so when I get out of the office I can enjoy a nice and relaxing change of scenery while I eat. Taking these into account, this was how I discovered GT's on the Bay, a waterside restaurant which is known for "Good Food, Good Friends, and Good Times."
At a Glance: Bigger on the Inside
When viewing the restaurant from the road, GT's seems unassuming as it's located on the edge of the water. But it took me by surprise as I walked in and realized the restaurant is beautiful, with an open-spaced, stylized look with huge bayfront windows complete with extra dockside seating and a kids playground right by the water. This restaurant gave me a Dr. Who TARDIS feeling, after I realized it was much bigger on the inside, complete with a cute gift shop in the front. I loved the little stuffed animals the shop was selling. I was pleasantly surprised that the shop even featured some locally written and illustrated children's books along its shelves. The restaurant even comes complete with its own little brewery, where GT's prepares some of their famous local beers and brews for Happy Hour. As we walked further through the entryway, we were greeted by the hostess. Our server soon came to greet us and take us to our table.
Anchovies and Pizza?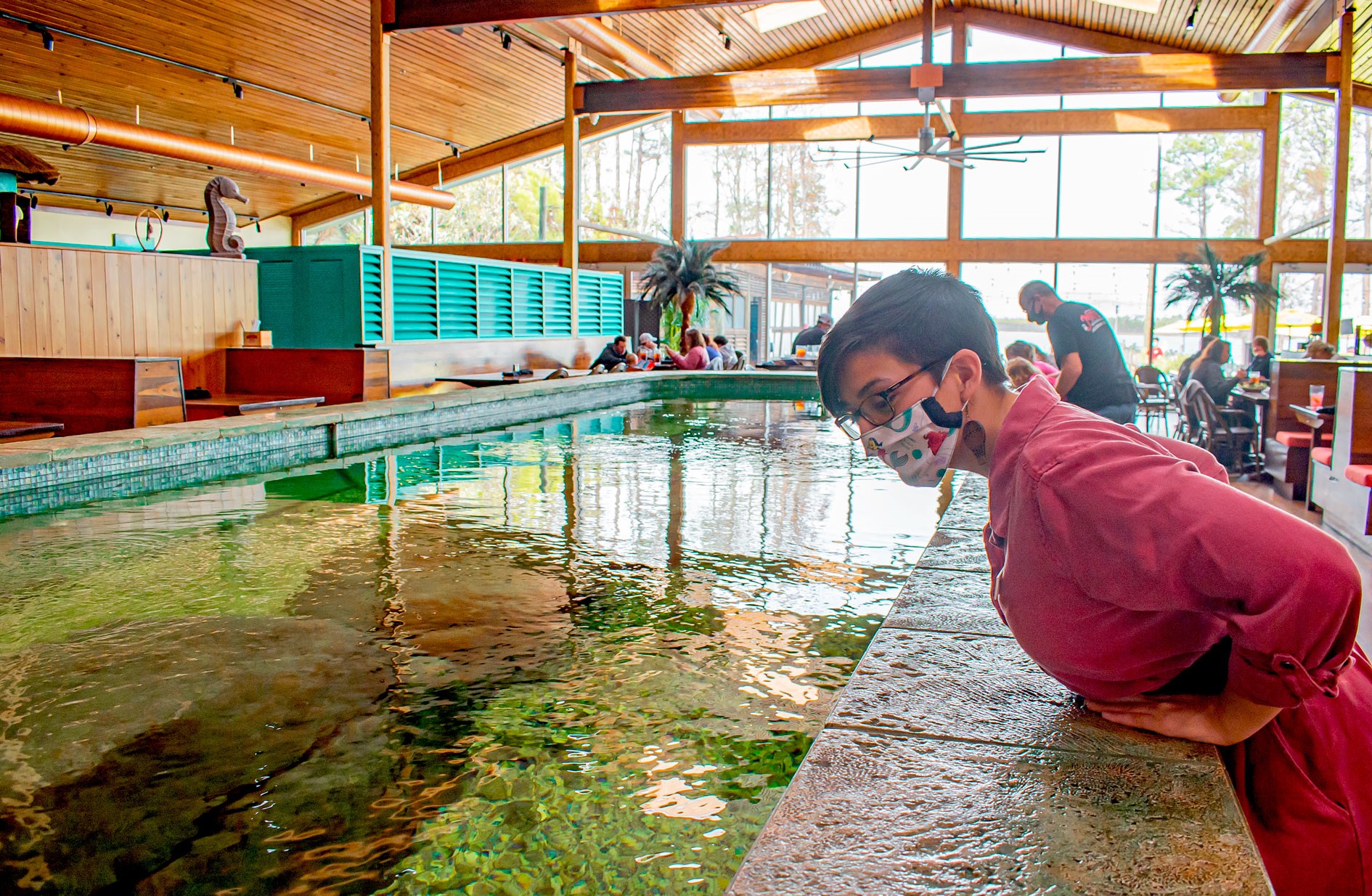 When I entered the dining room and looked to my left, I was greeted by a stunning blue colored stone oven for handmade pizza. However, despite my love for all things cheesy and made with bread, my eyes were soon drawn somewhere else. While we walked to our table, I was quickly fascinated by the large indoor fish pond they have in the main dining area center. While you may be picturing a little saltwater aquarium, I assure you that this seemed more like a pool someone decided to have built in the middle of their home. As I watched, children laughed and pointed as they ran from one side to the other, trying to spot the different sea creatures on display. If you're lucky, a friendly but sneaky Moray Eel will pop its head out to say hello. I couldn't spot it, but I had fun watching the fat Redfish and large Blue Crabs swim about the tank.
Menus Please!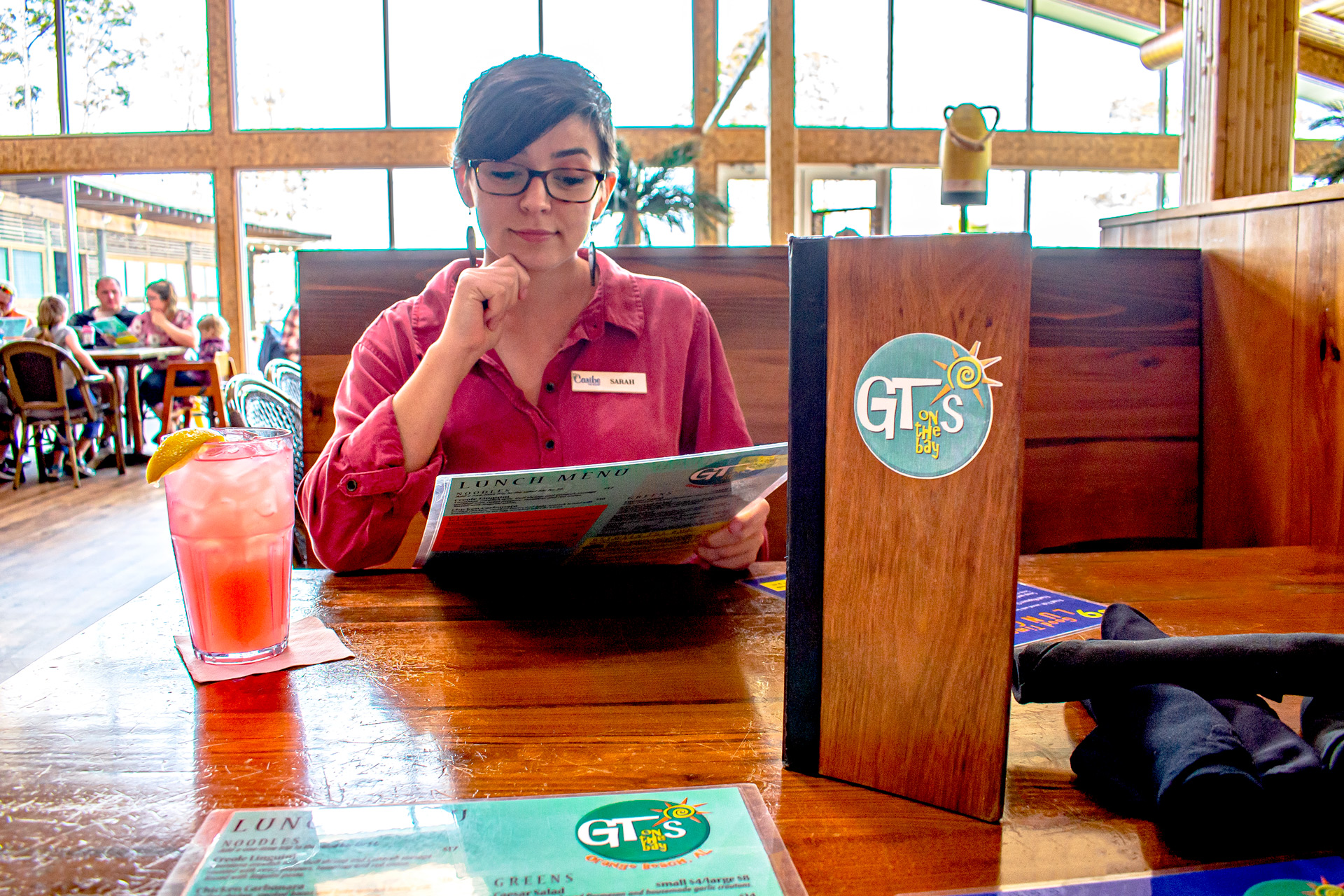 After taking our seats and giving our server our drink orders, we soon became immersed in our menus. GT's offers a large array of food choices, from light lunch plates, a healthy salad bar, and plenty of Surf 'n Turf Specials. We both agree we are too hungry to wait, so we get an appetizer to start. And since we are both pickle lovers, we order the fried Dill-pickles. While we waited on our appetizer, we finally chose our lunches. I decided to enjoy a nice lunch special of fried Gulf Shrimp, served with tater-tots (yummy!) and coleslaw. And my friend decided on the GT's House Burger, also served with tater-tots.
While we waited for our food to come, I decided to take a quick moment to go to the restroom to wash my hands. All the workers were wearing masks and kept space between tables. There were a few hand sanitizing stations around, but when given the option, I like soap and water, so to the restroom I went. As I opened the door, I was greeted by a stylish open room with a clean appearance and smell, a great thing to see during these times.
Shrimp-ly the Best!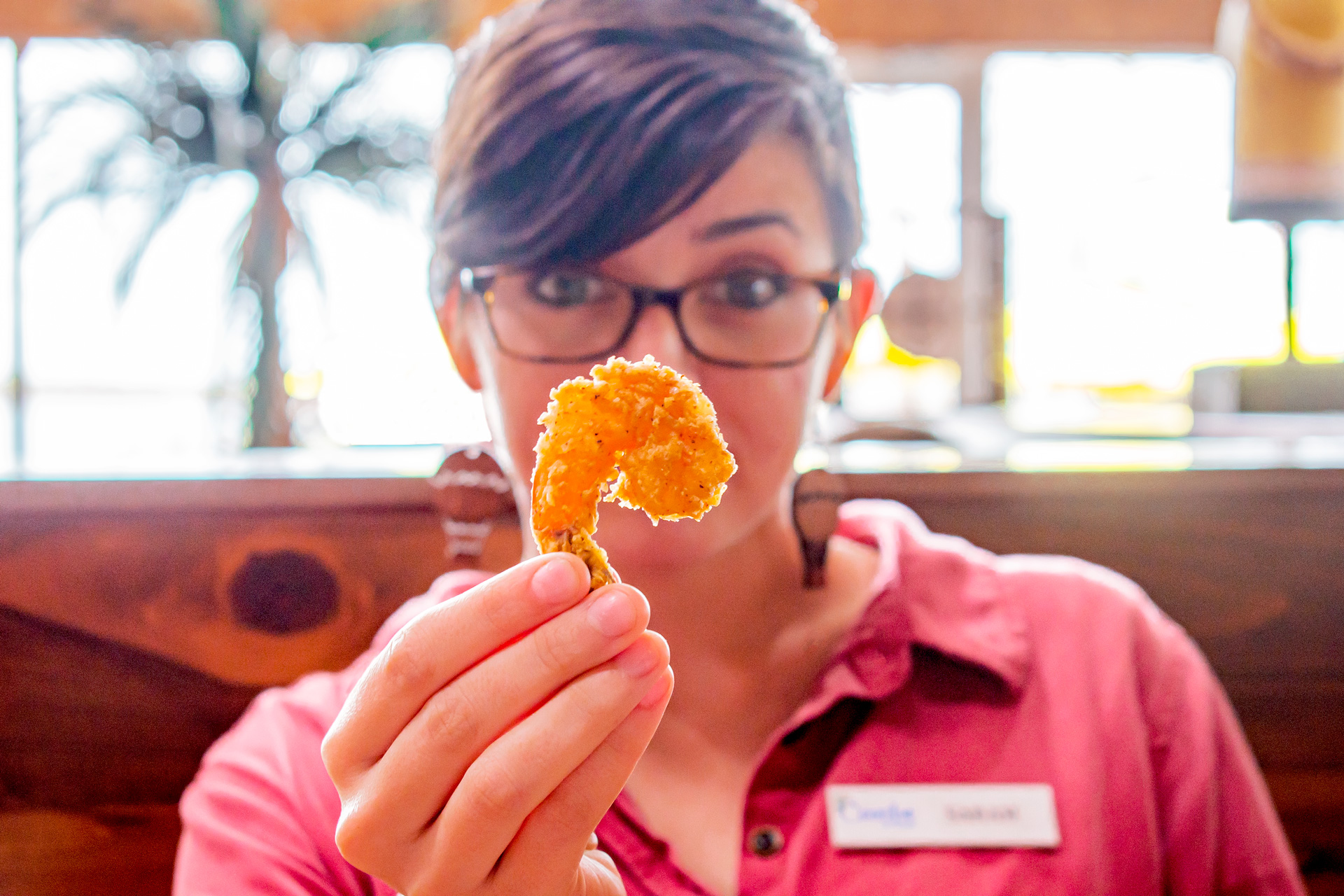 The server first served us our appetizer of fried dill pickles with a side of ranch. And as someone who is a self-proclaimed expert of all things dill and pickle, I have to say these did not disappoint. A nice crisp crunch to the tanginess of the pickle was just what I always like. After devouring most of the pickles, in the distance, I saw a steaming pile of shrimp and a burger stuffed with goodness heading our way. I thoroughly enjoyed my gulf shrimp and was astounded at how much they filled out my plate and my stomach. The tater-tots were cooked to perfection and didn't fall apart when picked up like they can be prone to do. My friend enjoyed the house burger, a blend of Certified Angus Beef, ground chuck, short rib, and brisket, blackened and served with shaved tasso ham, smoked Gouda cheese, and grilled onions on a toasted sourdough bun. He was somehow able to eat every single bite!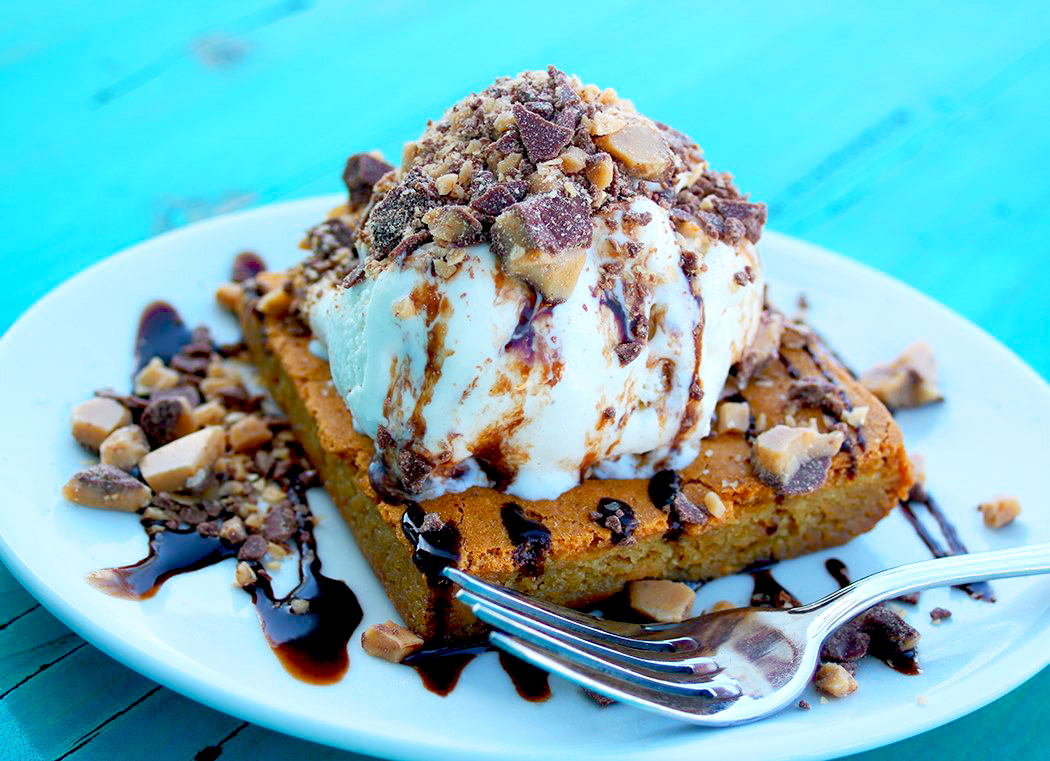 Dessert Anyone?
The dessert selection was quite a treat to look over, with flavors that fit you no matter what mood you are in. As I browsed my options, I had to make the difficult choice between sweet Keylime or savory chocolate. While I certainly love Keylime Pie, and I do have a weakness for chocolate bread pudding. I asked what the server's favorite was and he recommended the heath bar blonde, as it's big enough to share and was very popular.
Happy Hours and Specials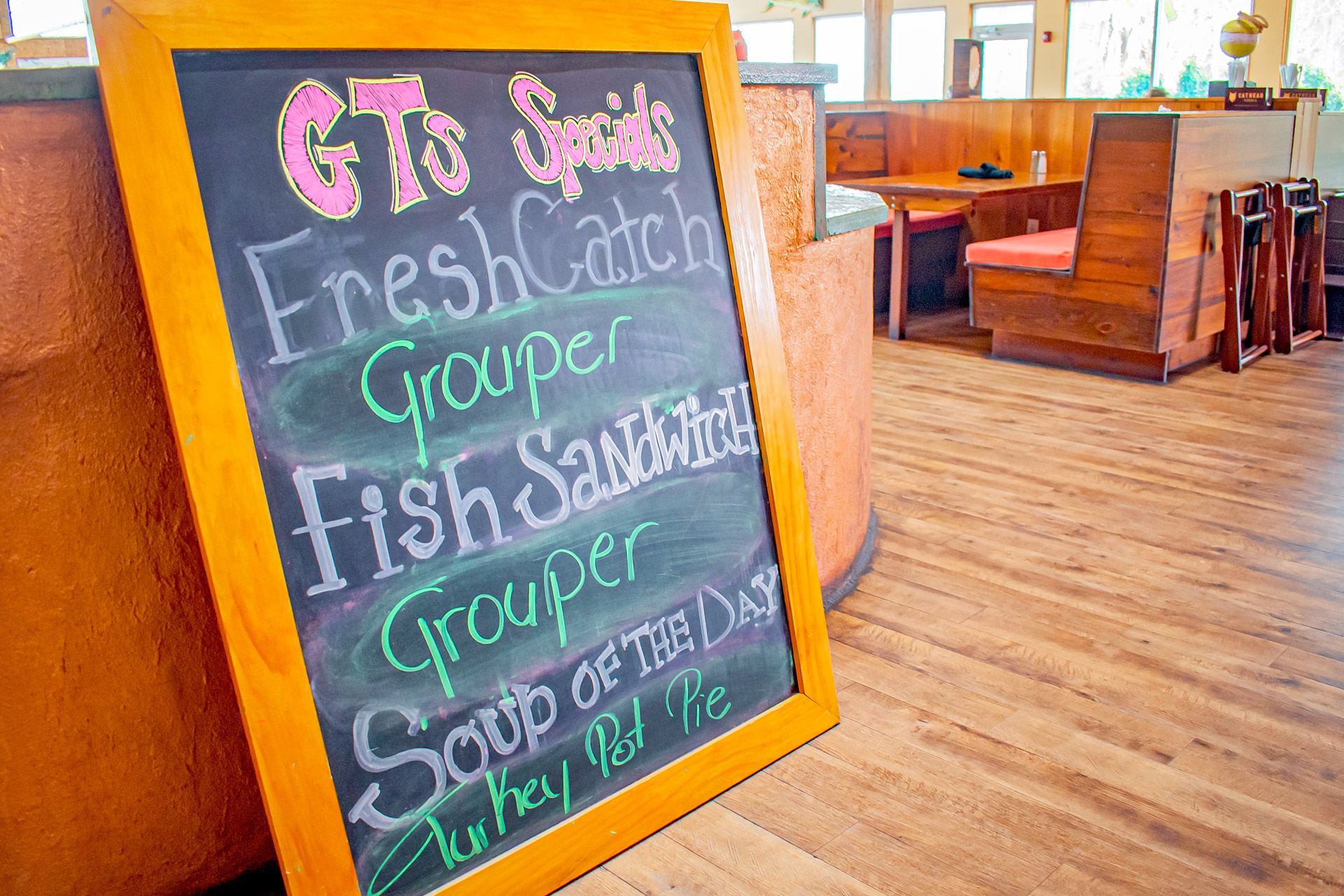 GT's offers a large variety of specials at good prices. Happy hour runs daily from 3 p.m. to 6 p.m. and features great specials on drinks and food. They offer the Orange Beach Ale or Wolf Bay IPA, and include house wines for $3 or less. And they feature half-off on some of their amazing appetizers, so next time I really want to try the Ginger Calamari. One of the unique things GT's does each week is have special days where they feature a dish. Mondays are prime rib day, featuring a 12oz slice of prime rib with mashed potatoes and veggies, and on Wednesdays, they feature a fried chicken dinner with two sides.
Ahoy Matey, Fun Times Ahead!
Kids run the world – or at least they can pretend as they play in a kid's Pirate Playset and jungle gym, complete with spyglass', sails, and all. GT's built a themed playground where kids are welcome to climb, jump, run, and otherwise be kids in the outside play area. But not to worry, while kids play to their heart's content, parents have a surplus of outside seating and pick-a-nick tables all around the deck and along the edge of the play area where they can watch over the little ones while eating. This gives a great view of the kids and of Wolf Bay, so guests can watch the sailboats and tugboats pass by. It was fascinating to learn that when the docks are operational, they take to-go orders by boat and deliver for guests to enjoy on the water.
Meet The GT Family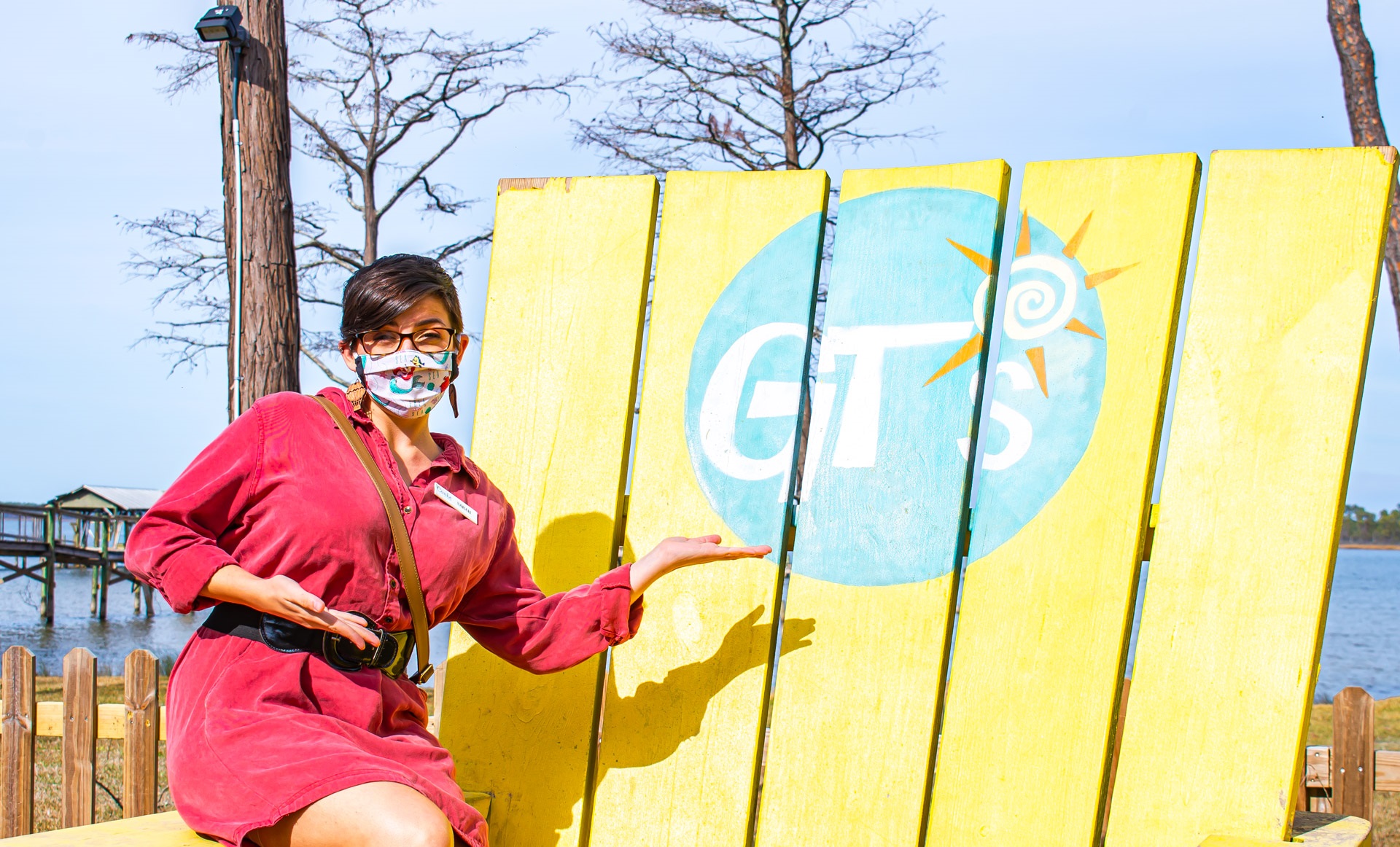 I was able to have the pleasure of talking to Jessica Hicks, the General Manager of GT's. She loves her GT family and has worked with the Company for quite some time, and has moved up through the ranks. She loves her job and describes the atmosphere as easy and fun while being upbeat and caters to kids, which is great since she is a mother herself. Jessica's favorite meal is the Sweet tea brined, bone-in PorkChop stuffed with Conecuh sausage, onions, and apples basted with a sweet bourbon glaze and served with whipped sweet potatoes and braised collard greens.
The one who makes the food is Chef Brian. Chef Brian Navarro is Executive Chef, originally from New Orleans, got his start in the kitchen at an early age growing up in a family-run restaurant. He continues to experiment with different cuisines. His love of cooking is evident in every dish as he brings a casual vibe that sets the tone for this family, friendly restaurant. Chef Damion Hunt, the Sous Chef, is originally from Jamaica, and has over 15 years in the restaurant business. He likes Gulf Coast food and enjoys using his cultural flair to fuse different flavors in his daily specials.
Great Times After All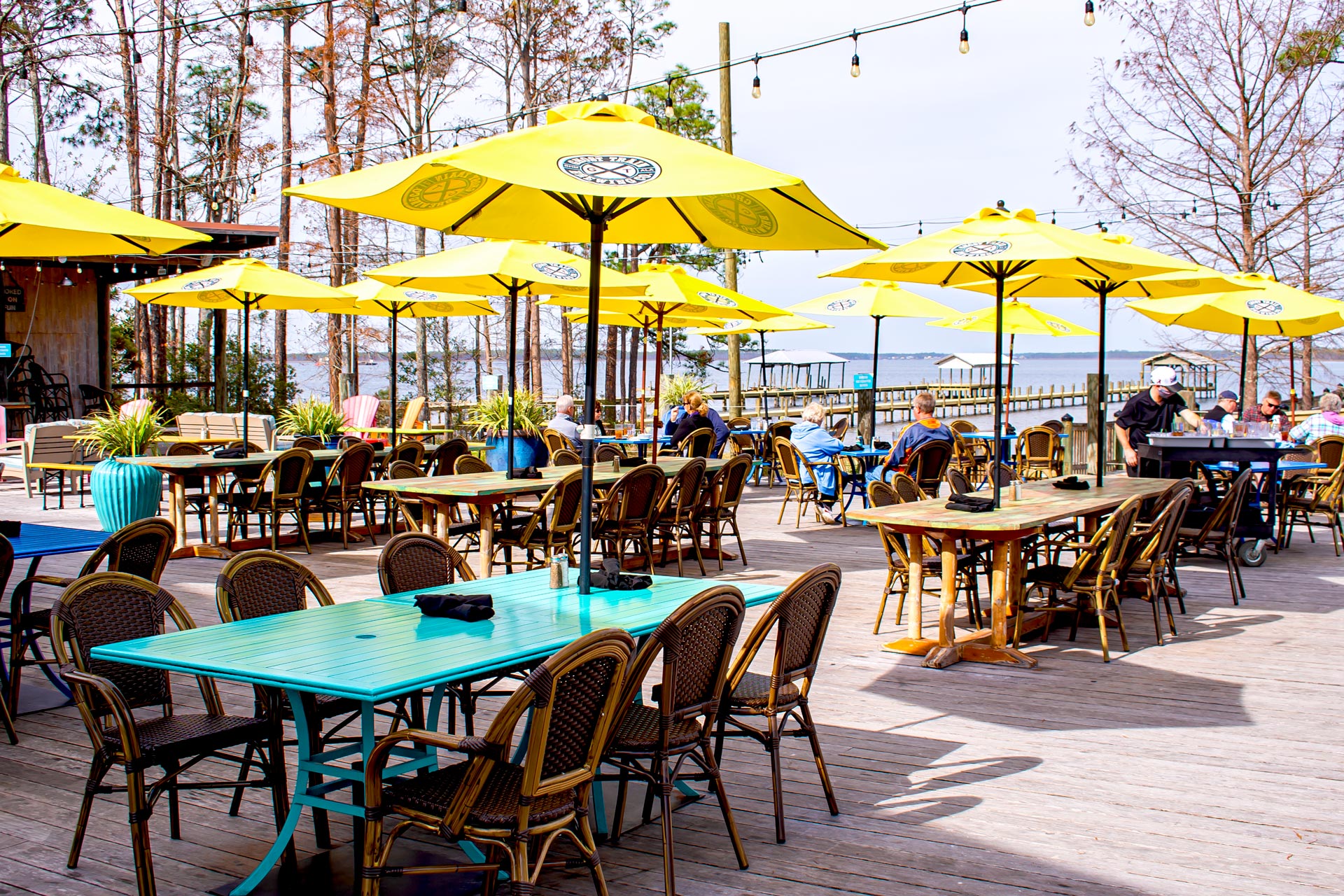 Altogether, GT's was a pleasant place, with a family-friendly atmosphere and great food that would fit anyone's taste buds, and I can't wait to go back. I love the handmade quality of the food and the personality of the staff. And nothing can beat the great view over the bay, and with both outdoor and indoor seating, it's great for any type of weather. The super fascinating fish pool is great for entertaining little ones while you wait for your food or just to enjoy some relaxing fish time. But most of all, I will be back for the great locally made food and the wonderful atmosphere that makes GT's made for Great Times!