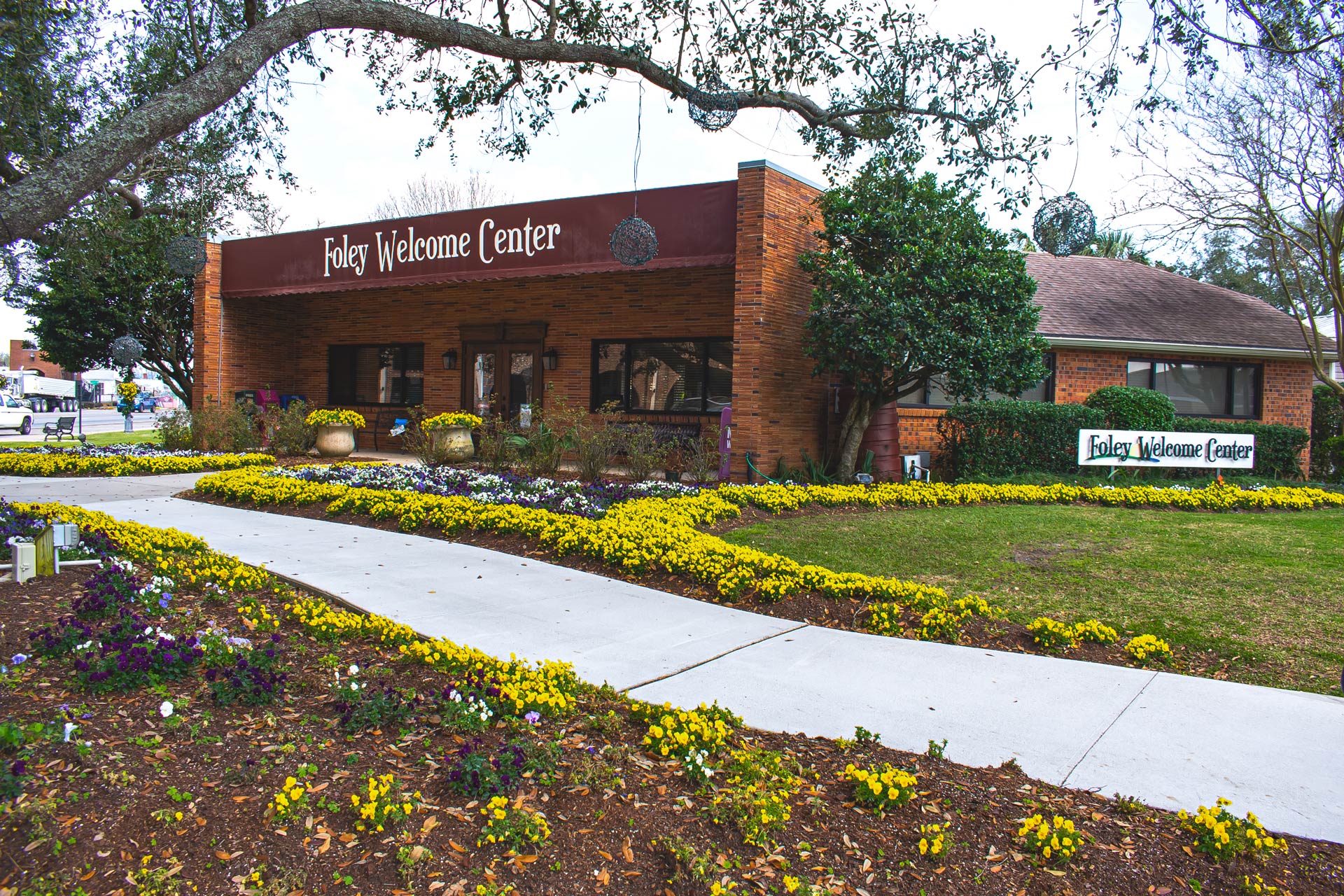 I have called Foley AL home for over 18 years now, and the downtown area has been my playground since I was small (well, smaller). Despite walking these streets hundreds of times, I still find joy in the simple act of strolling down the sidewalks surrounded by beautiful plants and historical architecture. Foley was founded in 1915 and has built a rich and vibrant history in the past 100 years.
Now I can share my home with all of you, my home, which I like to call (very biasedly) the heart of Baldwin County. Foley is a wonderful day trip for people who want to be near all the usual tourist attractions but still want to enjoy that small-town cozy feeling that the locals love.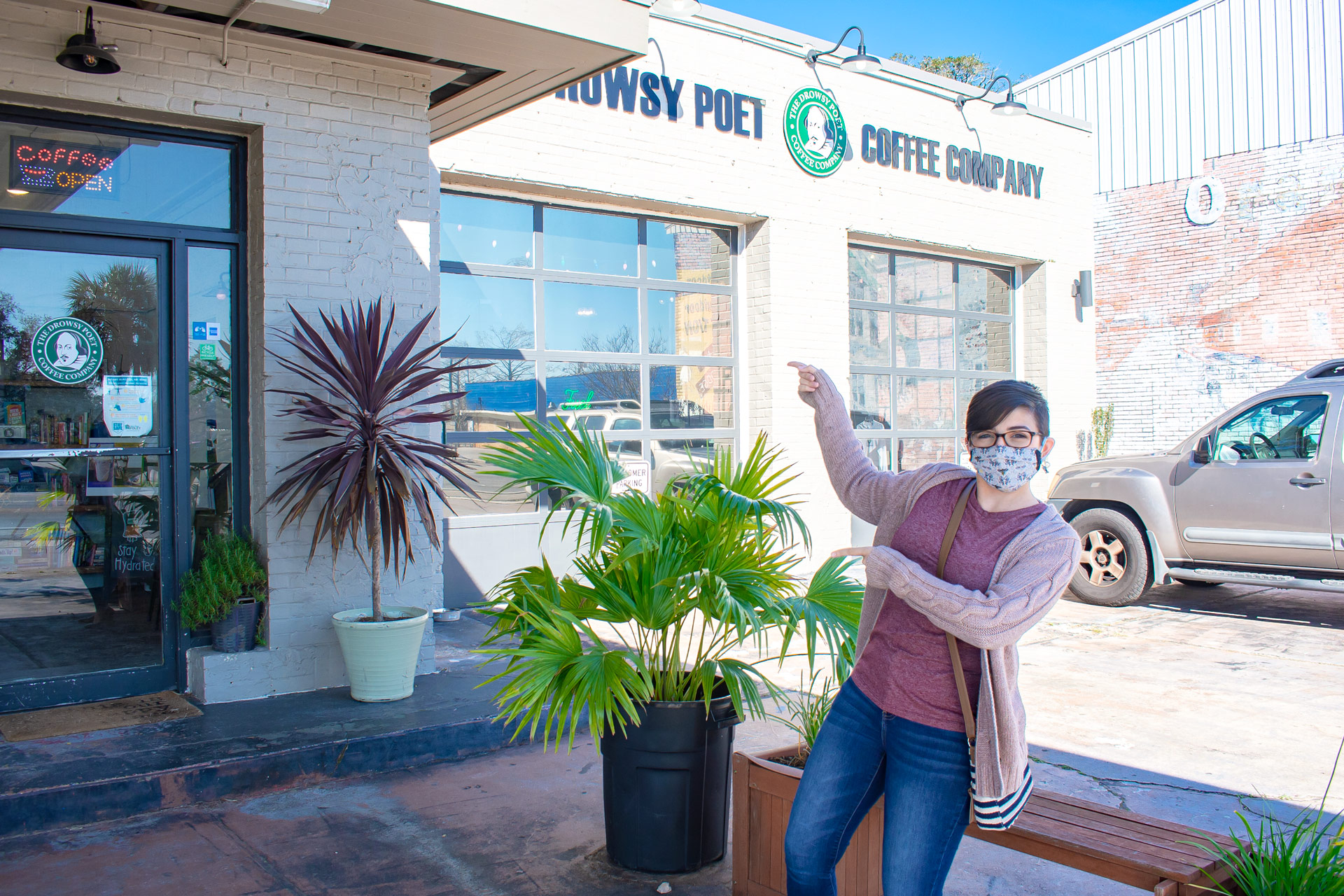 Morning Wake Up
Like most of America, starting the day off with caffeine is a must, and Foley has a great selection of early morning caffeine shops. For the early riser's there are several main spots to choose from, which open around 6 am. With such great weather and my obsession with plants in full swing, I decided to go to The Drowsy Poet. The Poet is located in a converted 1950's service station in historic downtown Foley and features an outdoor seating section with plants and even some water for guests' dogs. They have a great menu of drinks, both iced and hot, offering a service espresso bar with many house-made foods to choose from.
I met my brother there, and we both enjoyed our morning beverages, I chose a strawberry mango smoothie and my brother chose a Shakespeare drip coffee. The Poet's open atmosphere is great for the quick coffee grabber by way of the drive-through, and they have plenty of indoor and outdoor seating. They even have a doggy water station located outside for those walking their pets. After feeling refreshed, I decided to move out to see more of the Downtown area.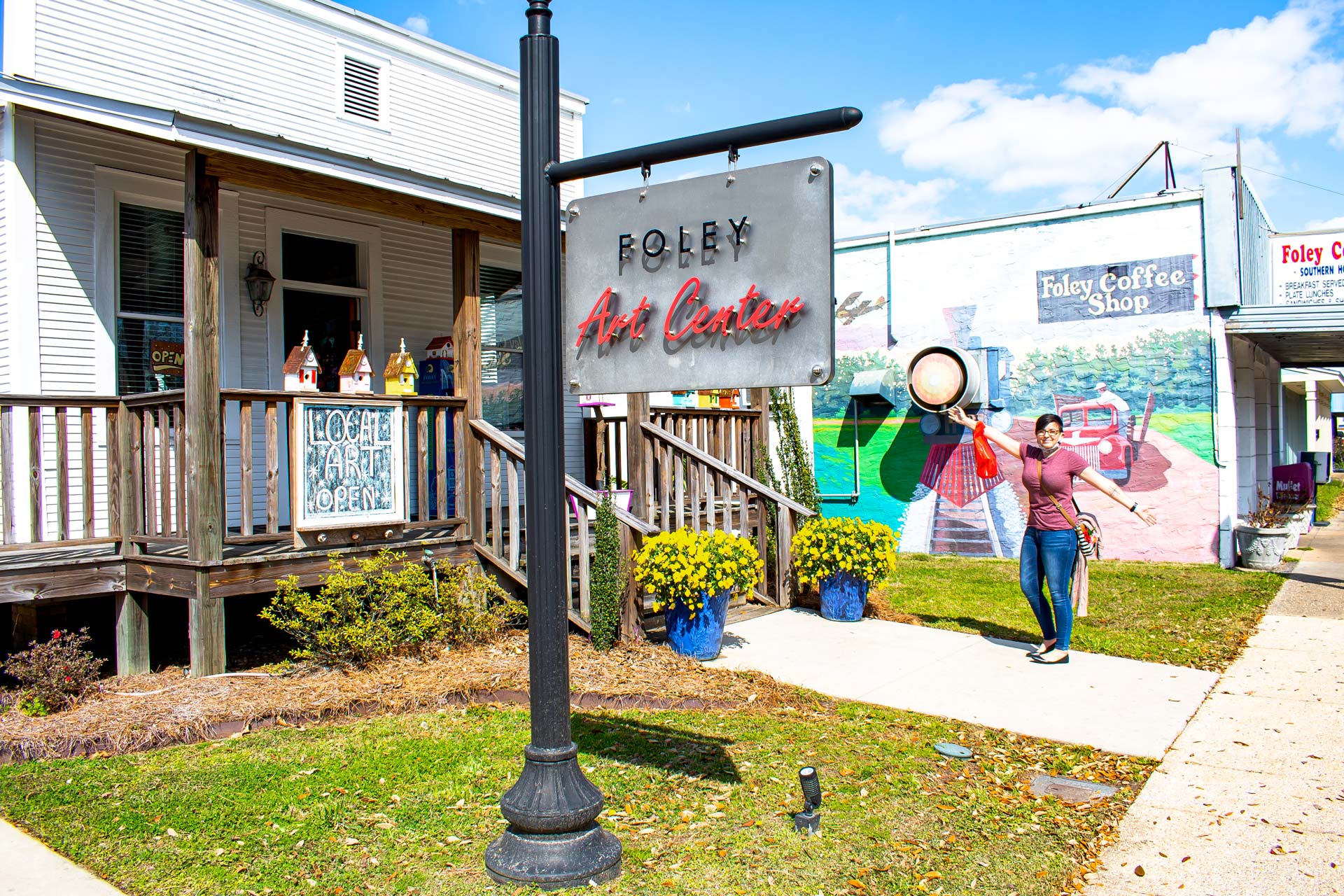 Getting Artsy
One place that I have loved since I moved to Foley is the Art Center. The center has moved places a few times, but its current place of residence is a little building near the old-timey "Foley Coffee Shop" right by heritage park on HW59. The building is beautifully manicured, with a little seating area on the side. As you walk up the steps you are greeted by the cute locally made decor placed around the front porch. The workers are always welcoming and eager to tell you about the art on display, and if you're lucky you may even meet the artist there as well. I loved the super adorable air plant art they featured as a great way to personalize a table or shelf. I couldn't help but stop when I saw the handmade local mugs and discovered a new office mug made by my favorite local pottery maker, Linda-Bell. Art changes regularly, especially with all the festivals, events, and seasons. So I was happy to find another mug, but I loved a lot of the artwork shown, like the detailed pine straw baskets and the hand-painted oyster shells.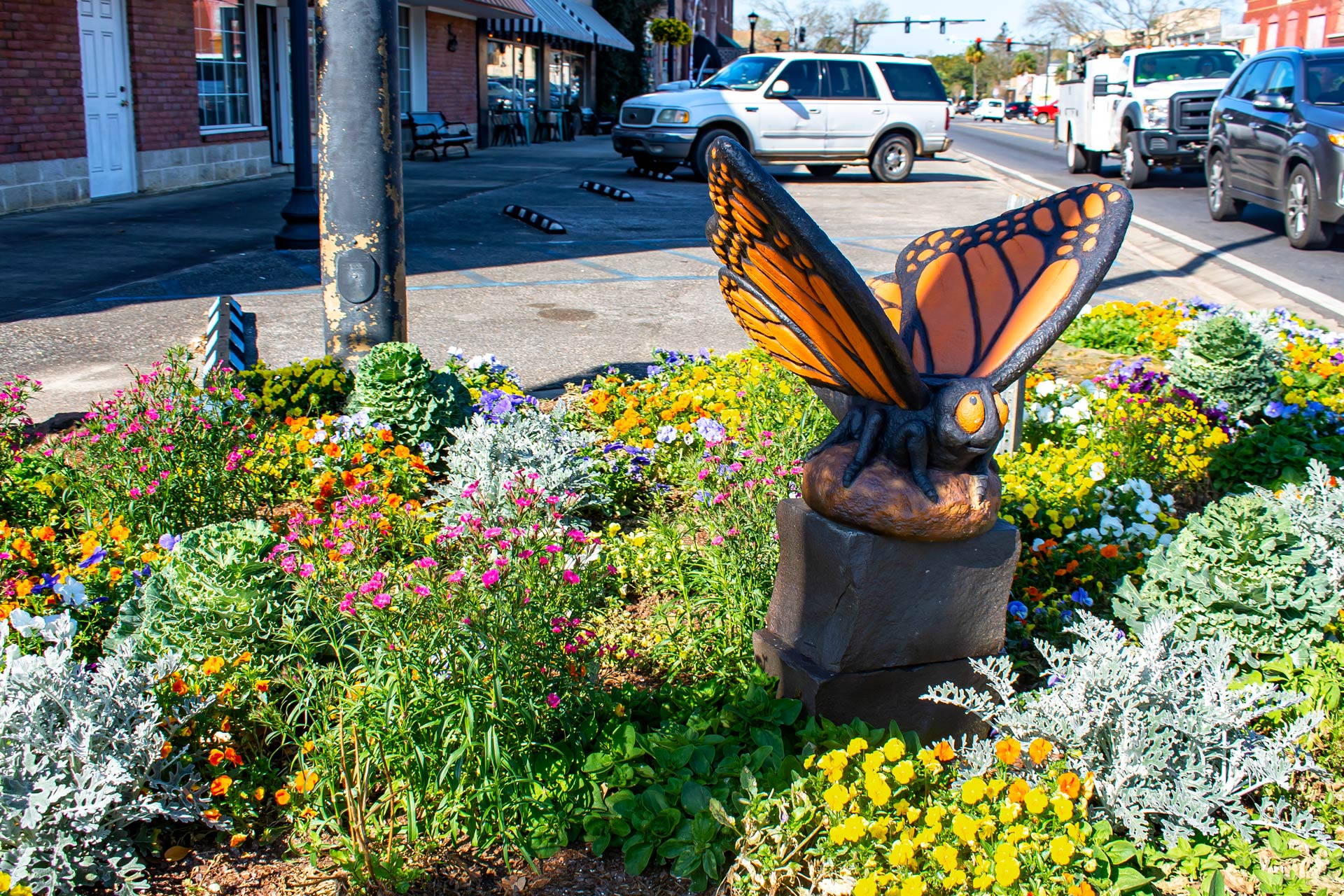 #Foley #LocAL
Foley has beautiful places, from hand-painted murals on the side of historic buildings to blooming roses along the Rose Walk. As we walked along the street, I loved seeing the painted stone butterflies displayed on the corner of 98 and 59, they are accented by delightful seasonal plants and flowers. The varieties of plants and flowers wrapped around the street lamps also make for a great sight.
If you're open to a bit of exploring, you can walk around the downtown area and stop by all of the local murals painted along the walls. Some, like the ones on the old Hollis Furniture building (an old soda factory), are wonderful to look at. Like the more recent "Foley Butterfly" behind the florist Stemz, some other local murals are a great place for a photo op! This Butterfly was done by a local artist, Victoria Cirili, who I even graduated from Foley High School. The Butterfly showcases some of Foley's most iconic places and festivals.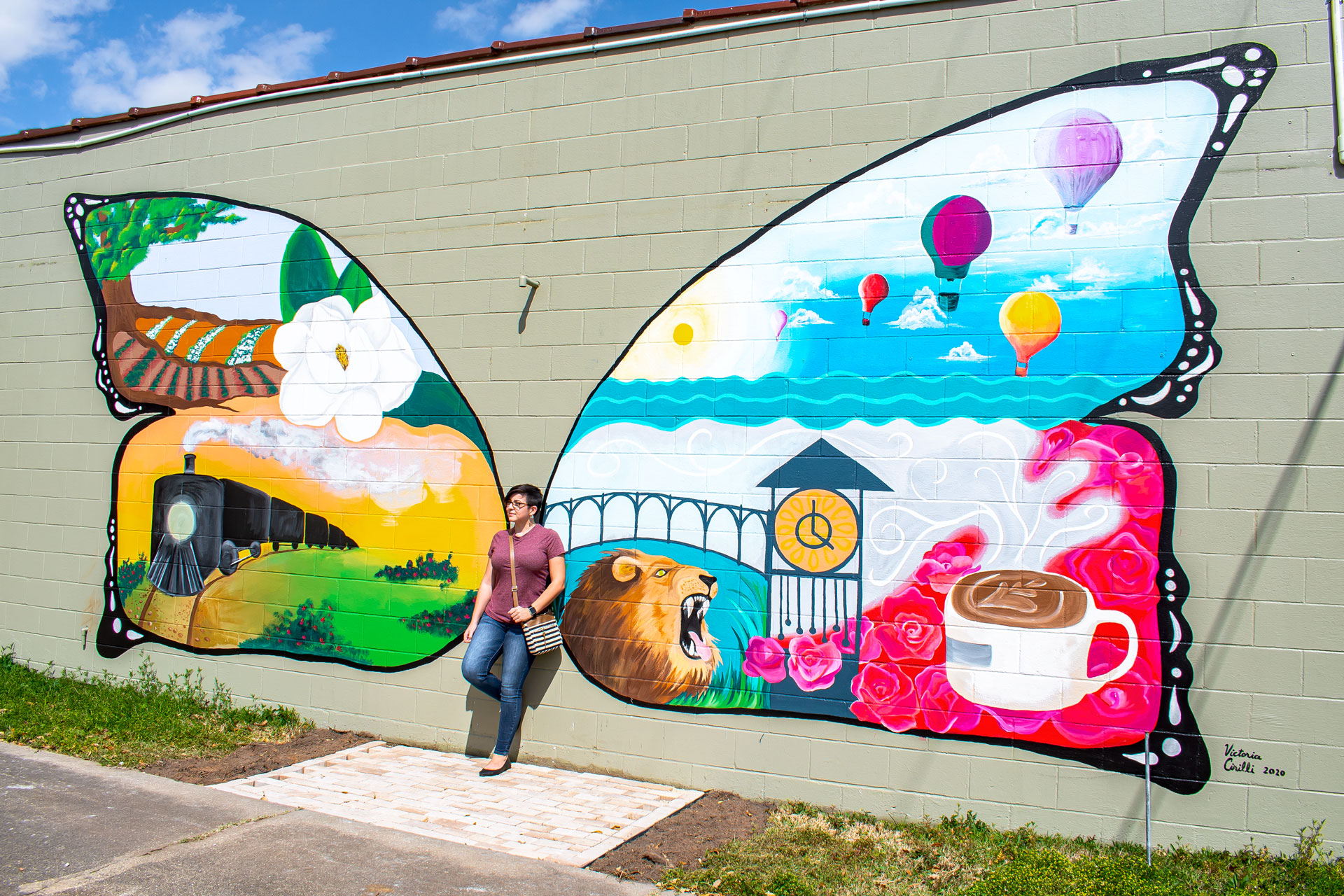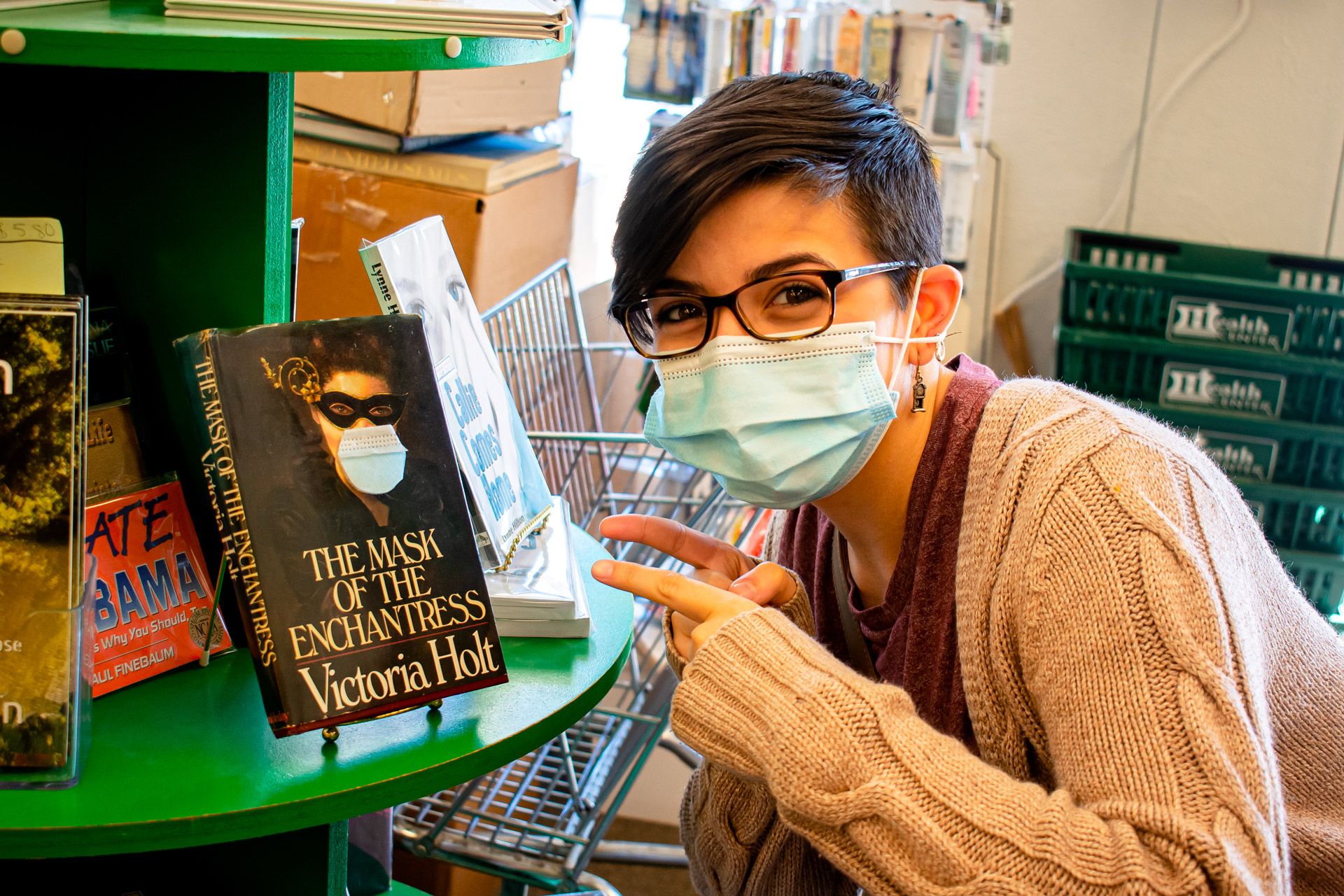 Entertainment
I have always been an avid reader and an action movie lover. After 2020, I find myself reading and watching movies a lot more. The Book Exchange in Foley is great for those who read through books quickly but don't want to break the bank. When you are done with a book, you can even exchange it for getting a discount on your next book purchase. I have found some rare finds there, the store also carries new books, top sellers, fantasy, manga, and more.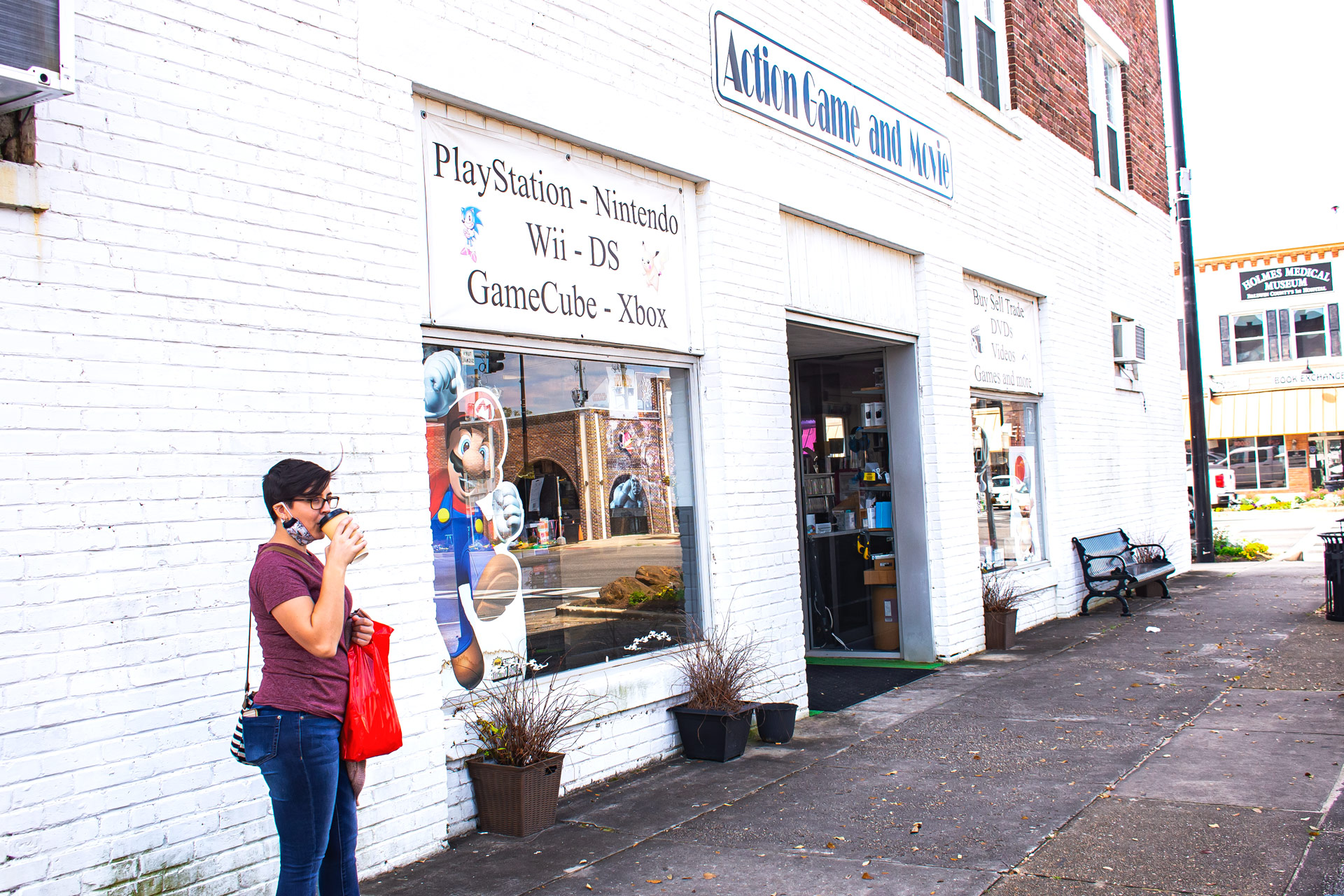 The next block over to the bookstore is Action Game and Movie. This place is great for all movie enthusiasts, video game lovers, and tech wizards, as it is full of retro games, high-tech sound systems, vintage pieces, and classic movies. As I am slowly building my Marvel collection, I decided on a classic "The Incredible Hulk" movie and checked out their latest additions to their poster collection.
Right next door to these shops is Covert Comics & Collectables, a fun place for anything superhero, vintage, or nerdy. They host game nights and feature new collectible items, even having "Pokemon" days. They regularly have newbies and old-time collectors come in. They are even where I started my meager collection of vintage Marvel Comics.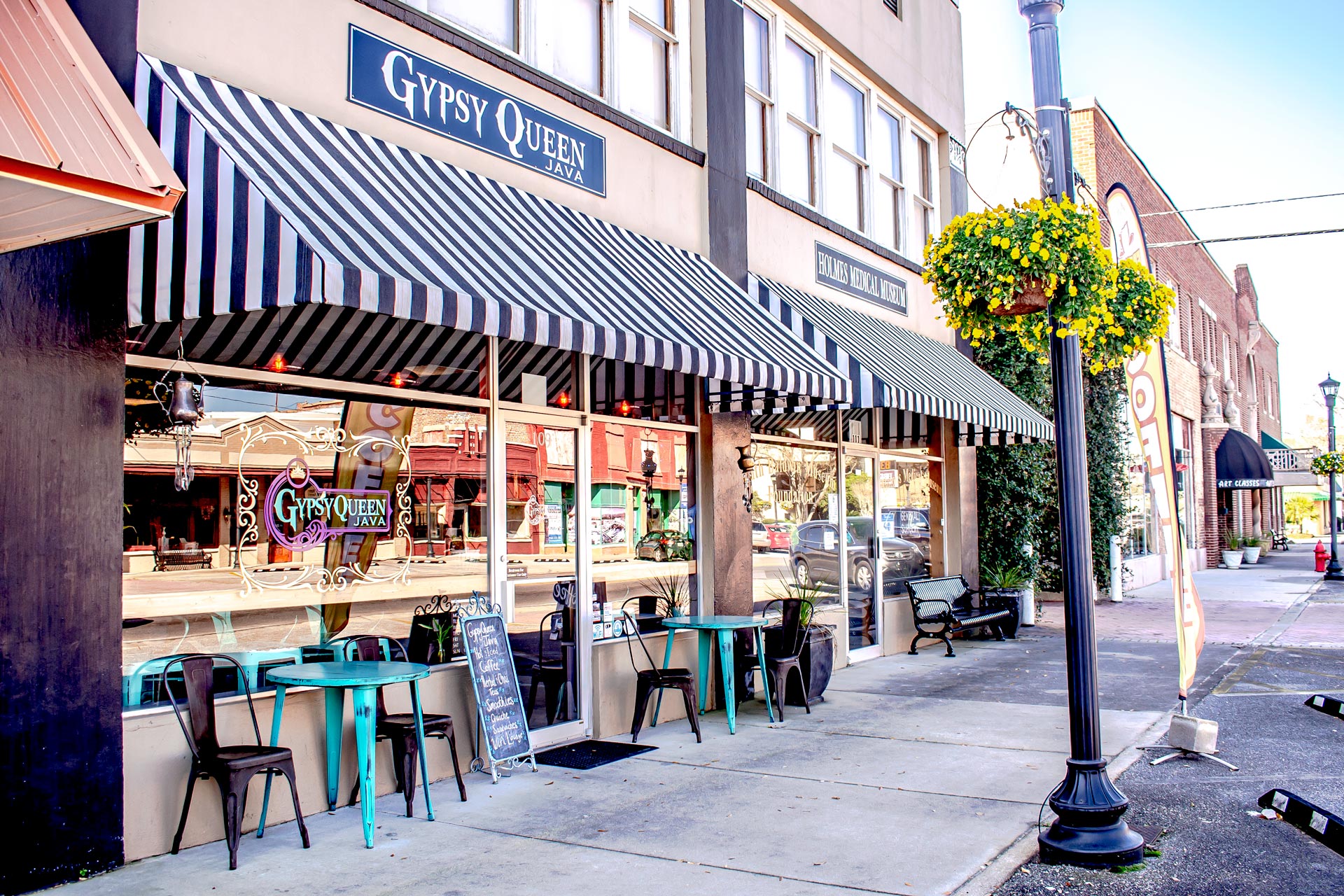 Shops of Downtown
Dotted all around the downtown are a variety of locally-owned shops, from antique stores to salons and even art studios. Many of these historical buildings have been made into fun hunting grounds for antique scavengers. A few of them are Antiques on Alston Street, Hollis Ole Crush Antique Mall, and the Gift Horse Antique Stalls. Each of these places has very unique finds, from furniture and paintings to antique glassware and tools. Jan's Art Studio is located in the old two-story theater building and offers all things artsy and crafty with fun art classes, open studio time, and supplies for the beginner or master painter.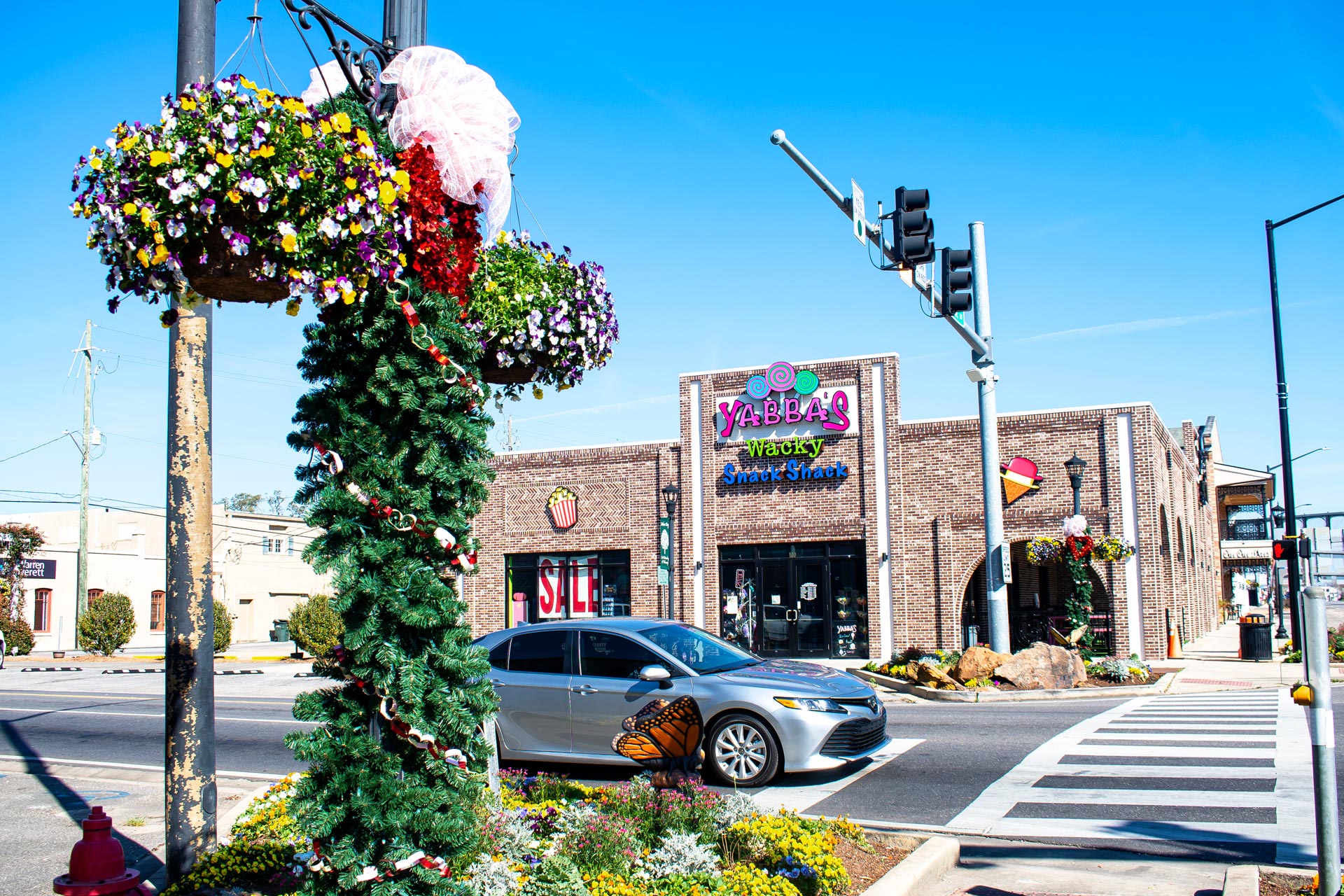 An interesting place you will find would be the Holmes Medical Museum. This building holds so much history and life, especially since it was the area's first hospital. When they are open, you get to tour the old rooms and read about the people born or died there. You can even take a closer look at the instruments used in the past and wonder how anyone made it back then. Rumors say it could even be haunted, but I have never had an issue other than creaky floorboards. Neighboring them is another local coffee shop with cute outdoor seating for passersby who need a rest and offer a great view of the area.
Antique Roses, Trains, and Tea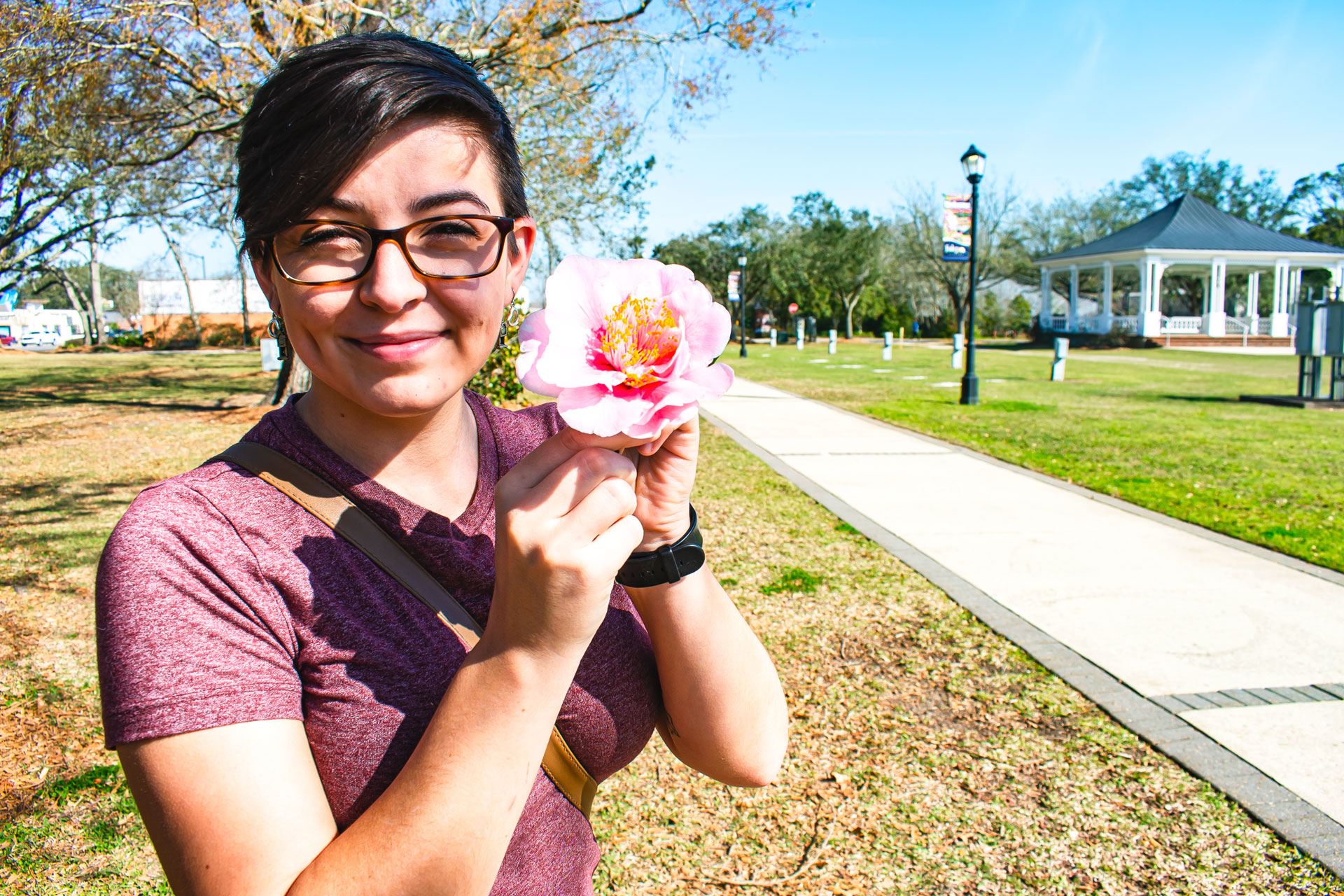 Foley has beautiful places to enjoy while walking around or learning new things. Along Heritage park is what the locals call "The Rose Walk," also known as the Wilbourne Antique Rose Trail. It's a beautiful brick-paved walkway that extends north past the park with hundreds of rose plants along with it. While it wasn't quite Spring when we went to visit, which is the best time to see the roses in full bloom, there were other plants to keep my plant self happy. The state flower, the camellia, was in full bloom. I have one of these trees myself, so I enjoy seeing all the varieties along the path. Right now, the azalea bushes are in full bloom featuring colors from bright pink, white, purple, and more; these flowers create a fragrant walk inviting all types of pollinators to them.
One upon a time, back in 1909, trains went right through the middle of Foley every day, delivering livestock and transporting people and goods from all over the country. The Foley Railroad Museum & Model Train Exhibit features the various trains that came through the area, including a 1940s restored L&N diesel locomotive, caboose, and boxcars. Inside they also have over a quarter-mile of model train tracks with over 84 freight cars. The model train set can bring any home collectors to shame and attracts people of all ages to enjoy the town displayed. Another fun thing the train museum does, weather and holidays permitting, is have a train visitors can climb aboard and sightsee the area from the train.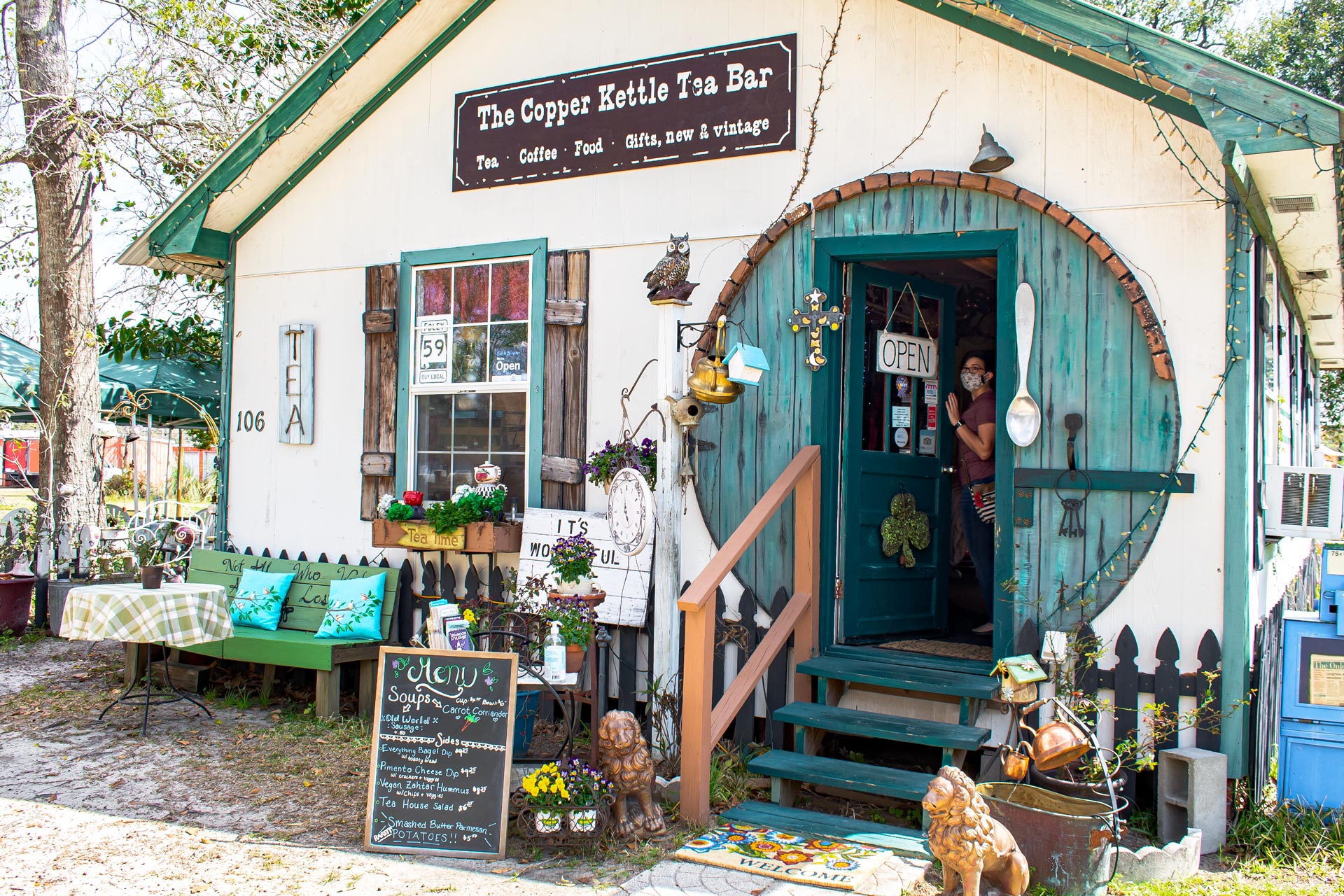 One other stop we made on our trip around the park was the Copper Kettle Teabar. When in need of refreshments, this is my favorite local place. As I missed my morning tea, this destination was much needed for me. This tea house is built into an old historical house that hosted the families of the railroad workers who worked on the train next door. When the managers joke that they brew in the closet and cook in the bedroom, they are being literal. So after a happy greeting from the staff, I placed my order on a large hot China Rose tea with milk and sugar, one of my go-to's any day of the week. While the delicious homemade scones, cookies, soups, dips, and salads, I had to pass as I had some other lunch plans. But I did end up buying some loose leaf tea to brew at home and that completed our journey to the Kettle.
Stacey's Olde Tyme Soda Fountain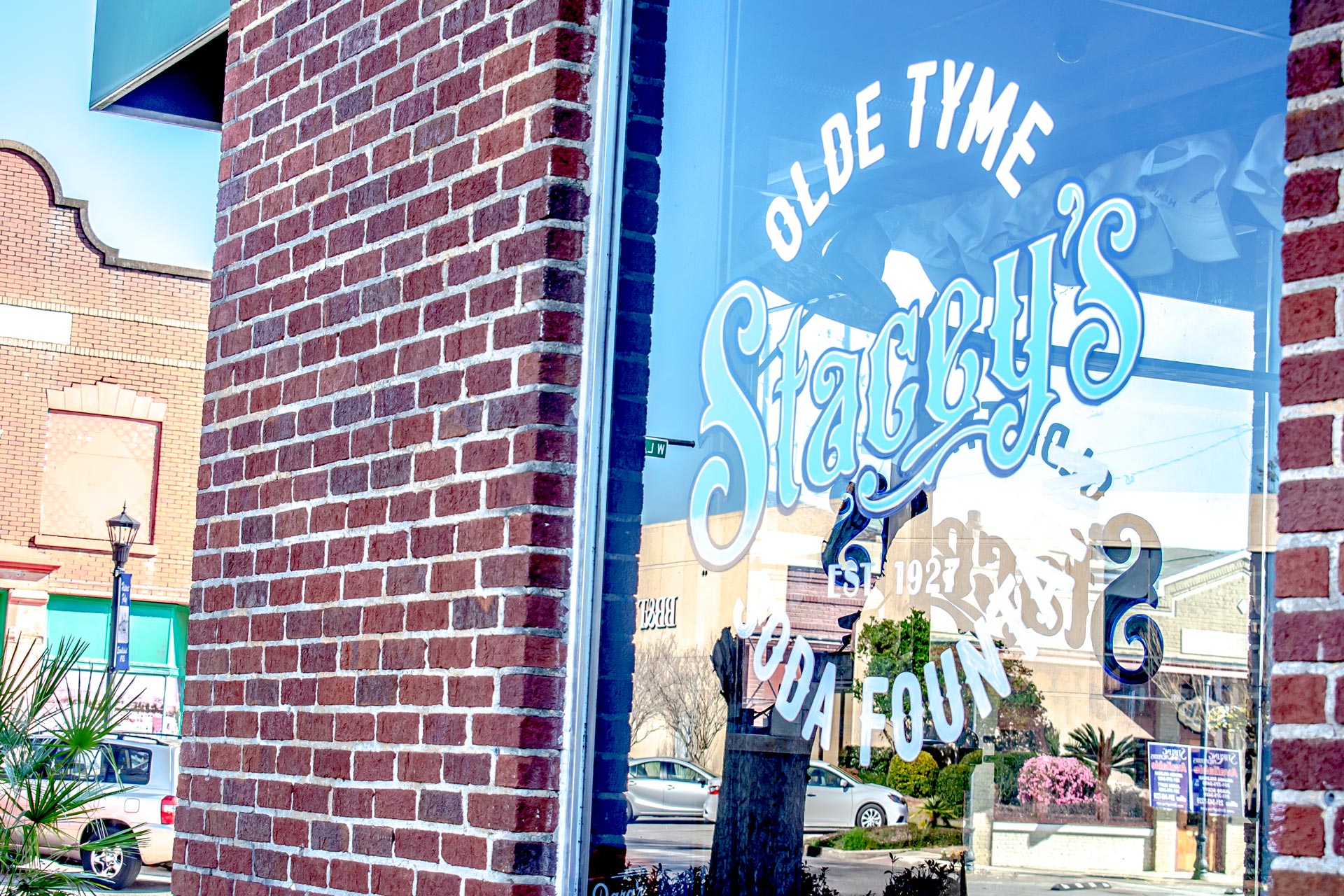 With drinks in hand, we headed to one of my favorite local places, Stacey's Olde Tyme Soda Fountain. Stacey's has been serving up soda and scooping ice cream since 1929, and I have loved it since before I even moved here. Before we could even walk in, I smelled their in-house made every morning waffle cones and bowls, making my mouth water. They serve 10 cent coffee, shakes, malts, cream soda, burgers, hot dogs, and more. I started with a classic hot dog with dill relish and chips, and my bloggy cohort grabbed a burger to enjoy with his chocolate egg cream. I decided to wait till after lunch to enjoy a triple chocolate rocky road in a fresh-made waffle cone. As I ate my ice cream I enjoyed watching the little toy engine train make its rounds along the edge of the ceiling, hearing its occasional horn. My nephew loves this place, even happily dubbing it the "Ice Cream Train" so I enjoyed my ice cream and a train. My nephew is a genius with names, as you can tell.
Sightseeing and Hidden Treasure!
There are many other things you can do and see in Foley, things that make this little town more than just buildings and traffic. The local community is always working on a variety of fun events and things to keep everyone enjoying the town, even the tourist. Something as simple as the Foley rock group has even hiding painted rocks all over town can't help but make me smile when I spot one, pick it up, and place it in a new place. Even out-of-towners have taken the time to paint and place rocks, leaving a # so people can see how far the rock travels. They can even tell a small story, like how the MI visitor who placed this painted m&m rock apparently loved chocolate! This town is so full of life and activities, and with almost bi-weekly community events and plenty to do and see, I hope you will enjoy it as much as I do. So whether you are a first-time visitor or an experienced local, I would give downtown Foley a try, with eyes wide open and ready to enjoy some great food, beautiful sights, and some amazing locals!
To learn more about what Foley offers, upcoming events, and more, check out their site here or follow the Foley Mainstreet Facebook page. Check out more fun pictures down below.