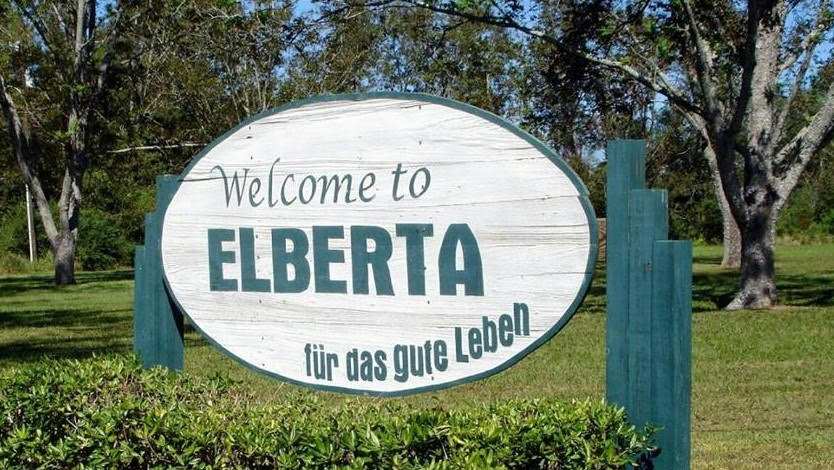 Elberta: Für das Gute Leben (For the Good Life)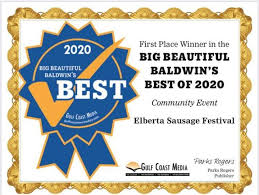 There is an abundance of things to do while on vacation here in Orange Beach, AL, from local dining establishments to fun activities and seasonal festivals. If you've never had the pleasure of experiencing a southern festival, then you are missing out. They are a hub of artistic, cultural, and all-around enjoyable people, food, and activities. I have loved going to festivals all my life and have even volunteered at a few. Some of the festivals we have are ones like the Ballyhoo Festival, the Hot Air Balloon Festival, and the Shrimp Festival. There is something extraordinary about the festivals this area puts on, and the community definitely believes that as well. Our area shows its love of something by voting for it in the best of Baldwin County, where locals and travelers vote on favorites in the community. This led to Elberta's Semi-annual German Sausage Festival being voted as Baldwin County's Best of 2020 Community Event.
Southern Festivals
The Sausage Festival is held annually in Elberta's Town Park. It attracts about 20,000 locals and tourists alike who are craving the famous German sausage with handmade sauerkraut. It keeps them there with plenty of entertainment for adults and children, including local 250 booths and live music. When coming to a southern festival, expect to taste all the flavors the South has to offer. This means all of the homemade local jam, jerky, honey, and sauce booths, which are always popular at the festivals. I can't help but stop and try every one of them to find my new favorites. But a bit of advice, don't stock up on purchases till you have walked through the many booths. Otherwise, you end up with bags of purchases to carry while you look around and wait in line for food.
I perused the wide variety of booths along the park paths. I honestly didn't know what was coming next, from homemade wood crafts, lawn art, custom dog clothes, jewelry, and even the occasional home improvements booth. I was impressed with the number of new creators and DIY crafts and could tell that staying home and crafting was the theme for 2020. I counted no less than 6 adorable themed hair bow and tutu booths and 5 local Honey booths. One honey booth, Register Family Bee Farm, did stand out over the rest with intricate handmade beeswax candles and chapsticks. I ended up getting a creamed cinnamon honey to enjoy with breakfast and a beeswax Bee floating candle for my mother. I was lucky since they were selling out of items faster than any other honey booth there. But there were also some amazing hand-carved "rocking turtles", leather accessories, and even cool rocks and gemstones.
Located at the Elberta town center, the festival is family-friendly with a local kids park and carnival area. The park is filled with blow-up bounce houses, slides and on the other side is more of a traditional kids playground park. While the kid sites are fenced in, all children still need to be monitored by adults. And while you are there watching the kids, you can snack on snow cones or boiled peanuts. Because where else would you put the festival food stands than the kid's area. So even the picky eaters can enjoy some fun festival food, like hot dogs, funnel cakes, and nachos, till it's time for the main course.
Why Sausage?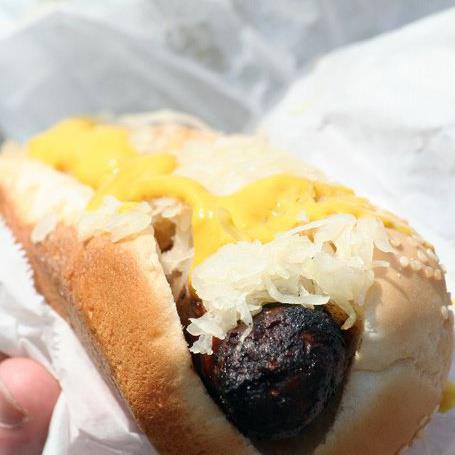 Coming from a small town in MI with one stoplight and was settled European immigrants, Elberta almost feels like I traveled back in time to my days of being a northerner. But while I grew up with the Yale Bologna Festival, Elberta features its German Sausage. The little town of Elberta (which was heavily settled by German immigrants) holds the twice-annual German Sausage Festival on the last weekend of both March and October. As the festival's history states: "This event was created in 1978 to raise money for the volunteer fire department. The festival celebrates the local sausage developed by resident Alfred Stucki and includes German polka music, food booths, carnival rides, and dozens of arts and crafts vendors." And I am positive that everyone is pleased it has not veered from that path since.
As a 40-year tradition, the festival is a major regional event that attracts a cross-section of the community in what has become a reunion/community get-together type atmosphere. It is also the main revenue source for the area's volunteer fire department. They usually are cooking the grilled sausages with the boy scouts serving them up.
Stop, It's Sausage Time!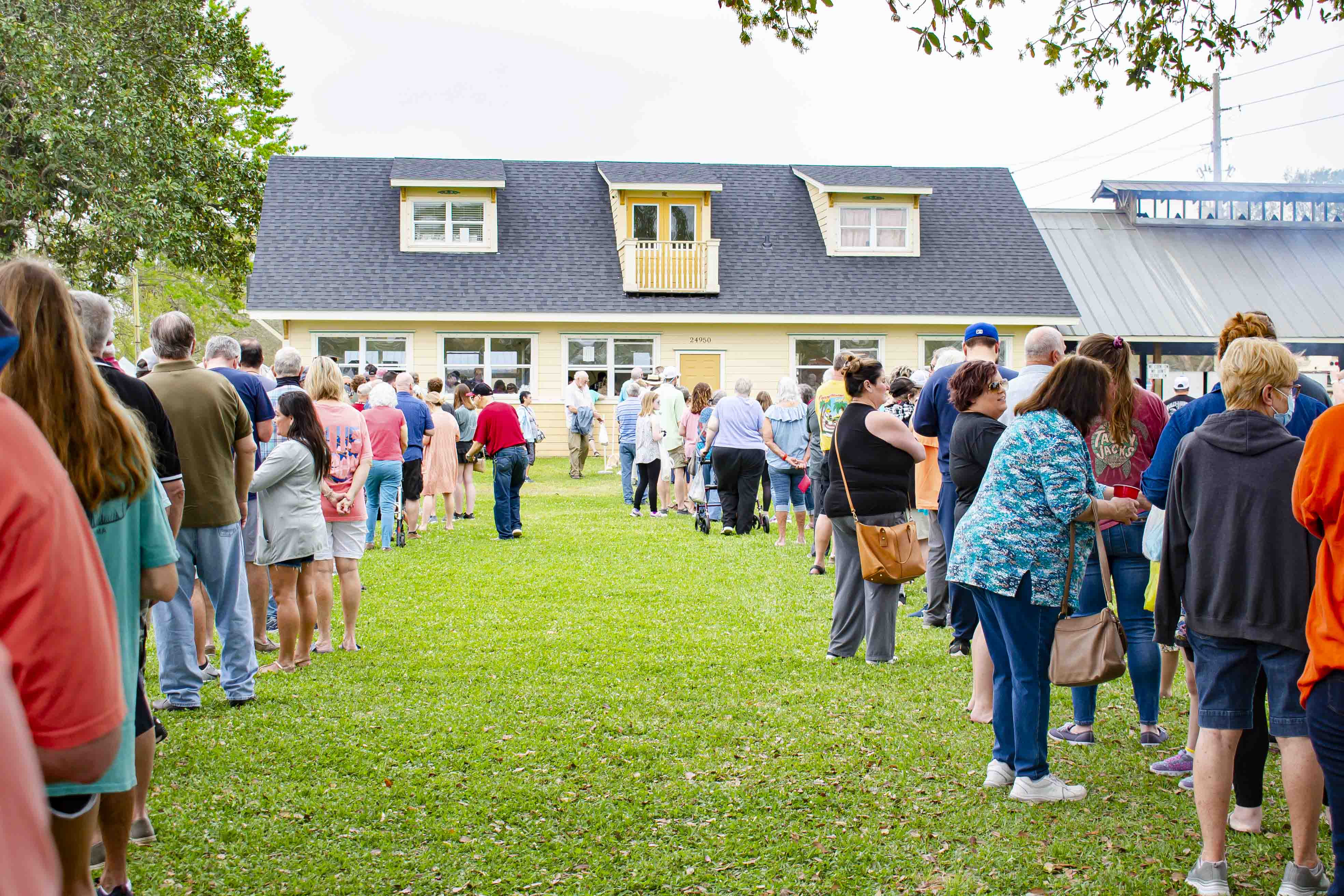 The local saying is "one with, two without" as festival-goers get up to the order windows after waiting in line. Many of them will enjoy one sausage at the festival and take the other two with sauerkraut on the side to-go. That is if they stop at just taking two to-go! As I waited in line, I saw people ordering multiple bags of sausages to take with them, each worth a small fortune. There was also a booth nearby that sold the raw sausages and meat so visitors could order the uncooked food and take it home to cook throughout the year if they wanted.
I would recommend getting into line early, and I should have followed my own advice. But, I admit the Honey distraction delayed us. One rule to follow: if you wait until you are Hangry to get in line for food, then you are too far gone. You should get a snack to eat while you wait in the mainline. This is what happened to the festival goer in front of us, Sue. She was happily eating some roasted corn on the cob since the line was slow going during its lunch rush. If you wait till after 10:30 am to get your sausages, you run the risk of waiting anywhere from 45 min to over 1.5 hours. Wait even later, and they could run out, and you will be left with none. My carnivorous Assistance and I waited just over an hour to get to the window. All that time, smelling the grilled sausage just made the anticipation all the sweeter when I finally arrived. I eagerly put in my order of over $45 worth of sausage links (my family at home placed orders since they didn't want to wait in line). After the boy scout's handed me my bag of precious items, I eagerly found a bench to sit on while I prepared my sausage.
As I sat down to enjoy my food, I was also able to enjoy a fresh-squeezed lemonade. I don't usually drink carbonated drinks, but there was an abundance of Coke, Sprite, and water for those that do. I, myself, had gone to the lemonade stand and got my refreshing drink while my festival cohort saved our spot line. The festival also serves beer and other festival drinks for those who are 21 and older. The sausage itself had a great smoked meaty flavor, and the sauerkraut and mustard are always a nice accent. When I was little, I would put ketchup on the sausage (being against yellow food and pickled veggies). My ketchup-covered sausage is still talked about and referred to as an abomination and worthy jail time.
Entertainment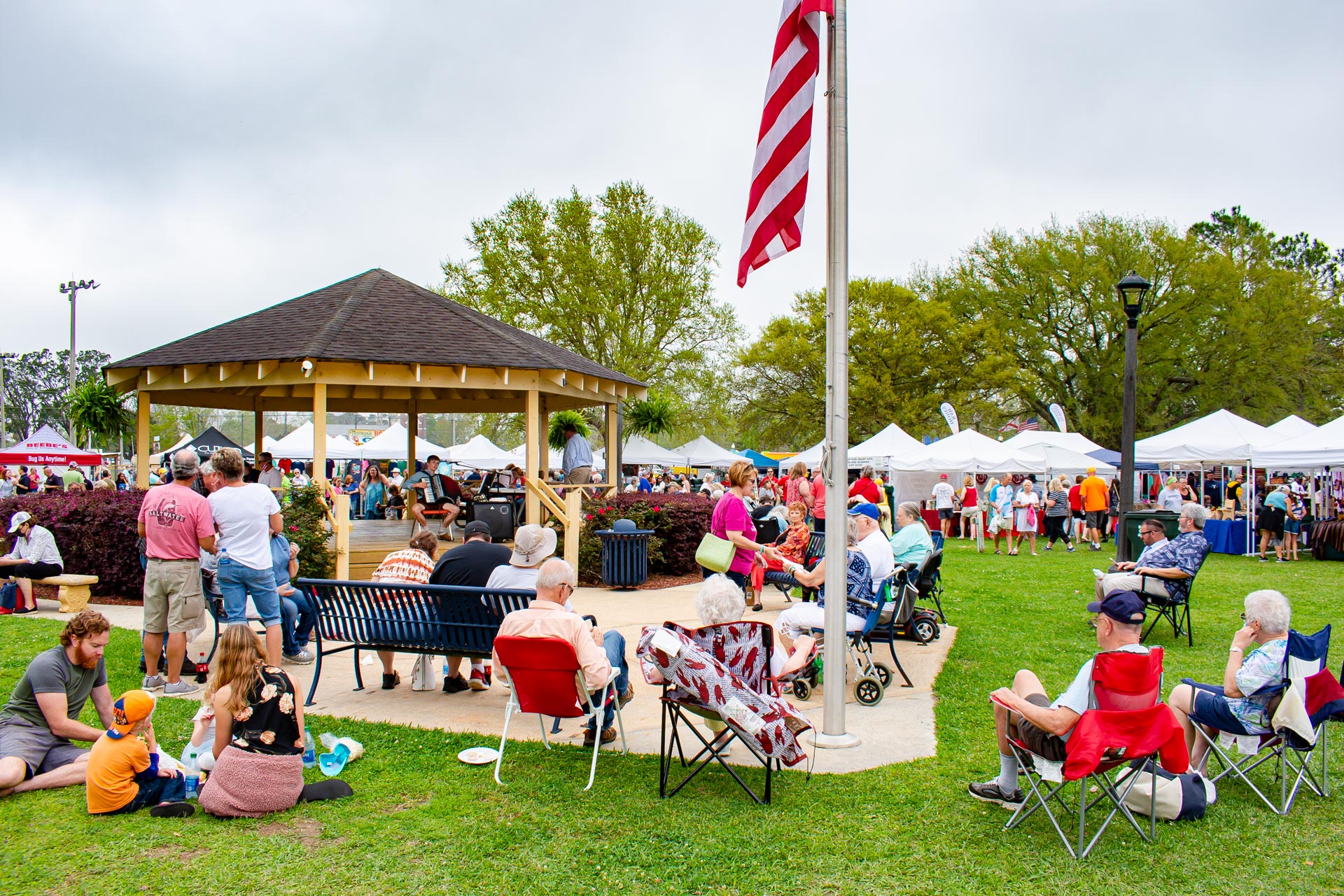 There were plenty of musicians at the festival and even a couple of stages where people were playing. The main area was the festival center, where I saw people enjoying the music, dancers, and a few speakers. One of the musical groups that provide entertainment at the festival is the Bellview Stumpfiddle Band, accompanied by the North End Stompers and other cloggers. They also have other local kids and artists that provide music and entertainment at the park Gazebo. I got to hear a young man grab his accordion and play several polka songs while my carnivorous cohort and I ate our smoked meals.
Overall, the festival's ambiance was fun, charming, and nice to see people out and about (as the previous one was closed due to covid restrictions). As I was heading out, I saw a few local plant nurseries that had set up a booth. I decided I needed another 'souvenir' in memory of the first sausages fest of the year. I probably became a source of entertainment as I chose a huge "Wandering Jew," a Bougainvillea, and six Lantanas, to take home. And yes, I have a problem. But I was able to awkwardly maneuver my plants, sausages, and lemonade all the way to my car with only minimal distress and no casualties.
Future of Festivals
As I carried my sausages and numerous plants back to my car, I couldn't help but think I missed this. Being out and enjoying the life these festivals create. The south is all about community, enjoying time together with family, friends, or strangers with great food and great music. It was an opportunity to see people laughing, smiling, and showing off great finds and unique crafting ideas. So be sure the next time you stay in a vacation rental on the Gulf Coast, or travel to Orange Beach for some fun activities, search for any local festivals going on. This is where you can enjoy and experience a snapshot of southern living and be immersed in good times, great food, and even better people. The next one with be on Saturday, October 30th of this year. I'll see you at the next festival!
Learn More: