OWA: Big Water, Big Plans
OWA (pronounced oh-wah) is one of the newest attractions to hit the Gulf Coast and boasts exhilarating indoor and outdoor amenities and activities for people of all ages. The name OWA is inspired by the Muscogee Creek term for "water", which perfectly describes its waterways and lakes throughout the park, with aesthetic pedestrian bridges that make for the perfect photo op. The park also states that from the top of its tallest rides, you can see the Gulf of Mexico.
OWA opened a little over 4 years ago, and with its 13 multi-purpose sports fields, it attracts people from all over the southern regions of the US (and further) with tournaments, championships, and sports games. OWA is also located close to the trendy and much loved Tanger Outlets shopping center. While just a short drive north of the Gulf Coast beaches, OWA has its own downtown area with shops, an amusement park, multi-purpose sports fields, concerts, shows, a wide variety of dining options, a splash pad, and more.
Attractions & Amusements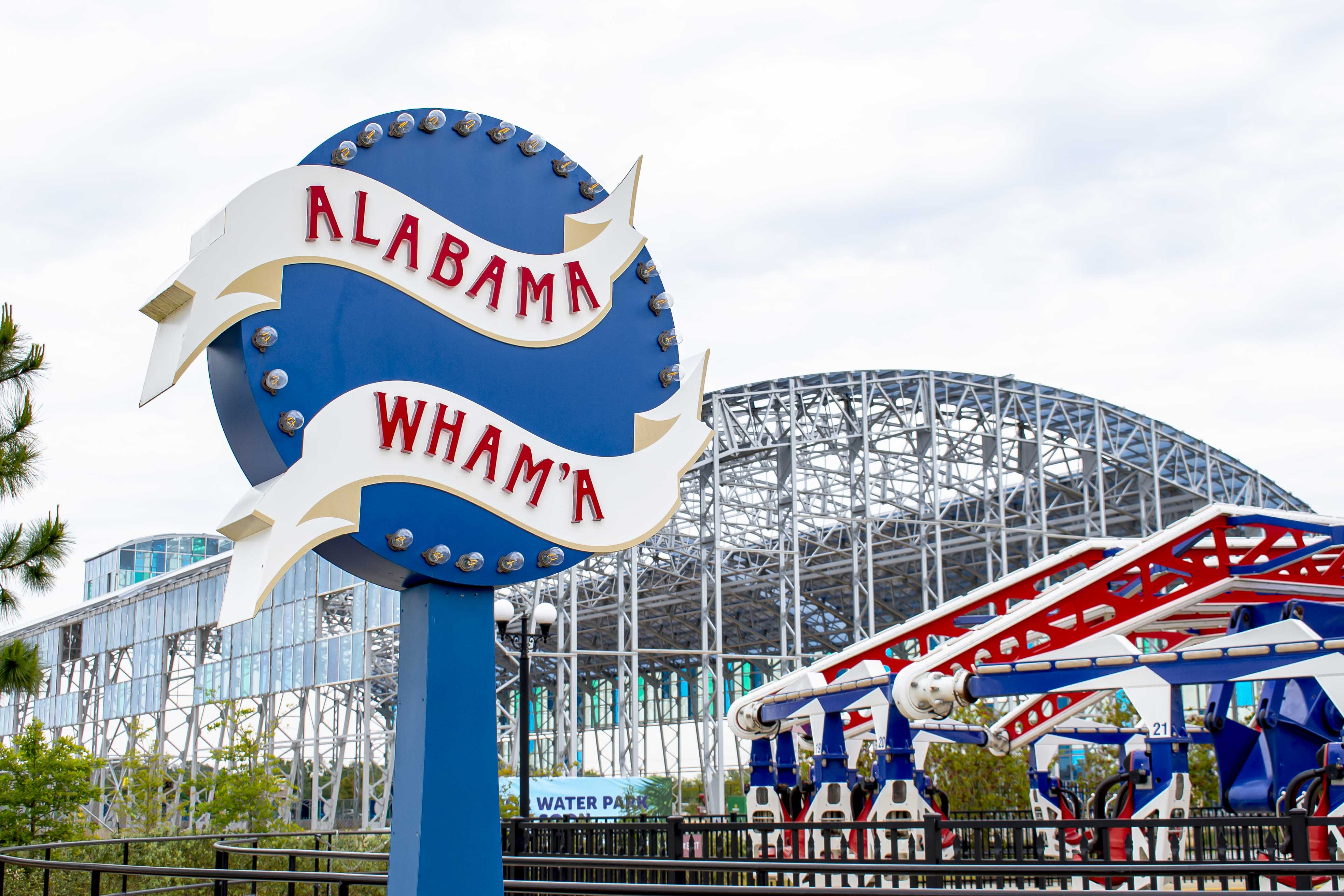 While OWA is already based on a large property, they have recently expanded and will be including a waterpark with plans to open in 2022. This park will feature super fun wave pools and large swirling water slides in indoor and outdoor areas. So no matter the weather, you can have fun in the water.
The amusement park itself has over 22 rides for all ages to enjoy. From safari kiddie trains to huge thundering roller coasters and even a haunted mansion, they have something for everyone. They even had the themed roller coaster ride, Crazy Mouse, which was the first coaster I had ever ridden to my delight. While I rode mine at Michigan Adventure, I was happy to see so many kids enjoying it. They also had another well-named ride called the Alabama Wham'a, which certainly packs a punch for those wanting some speed and don't mind spinning in circles.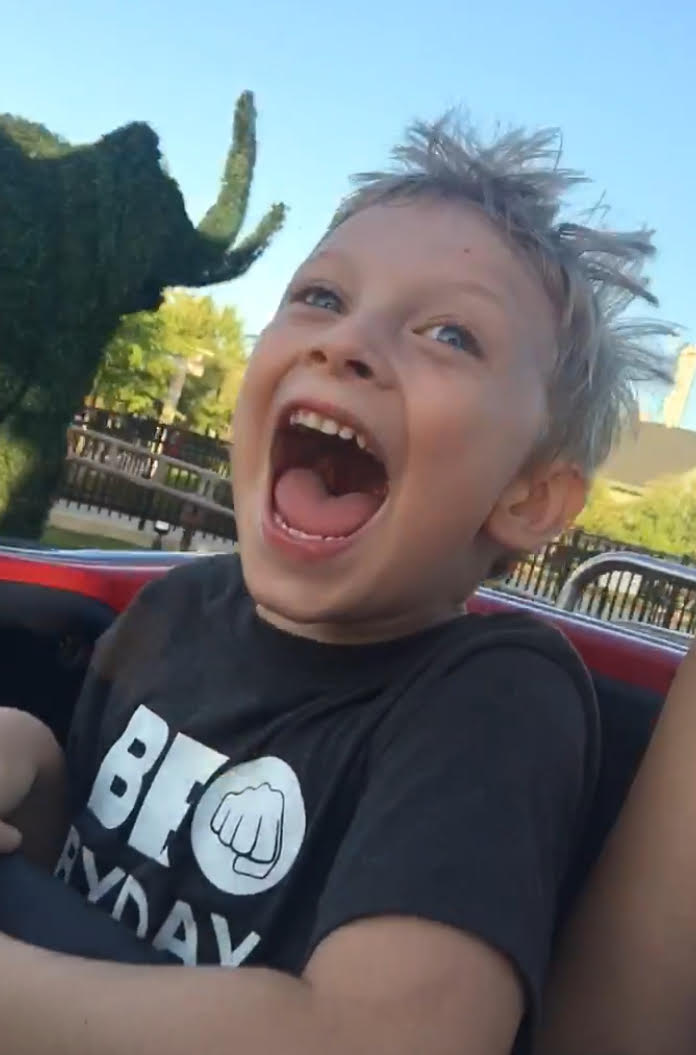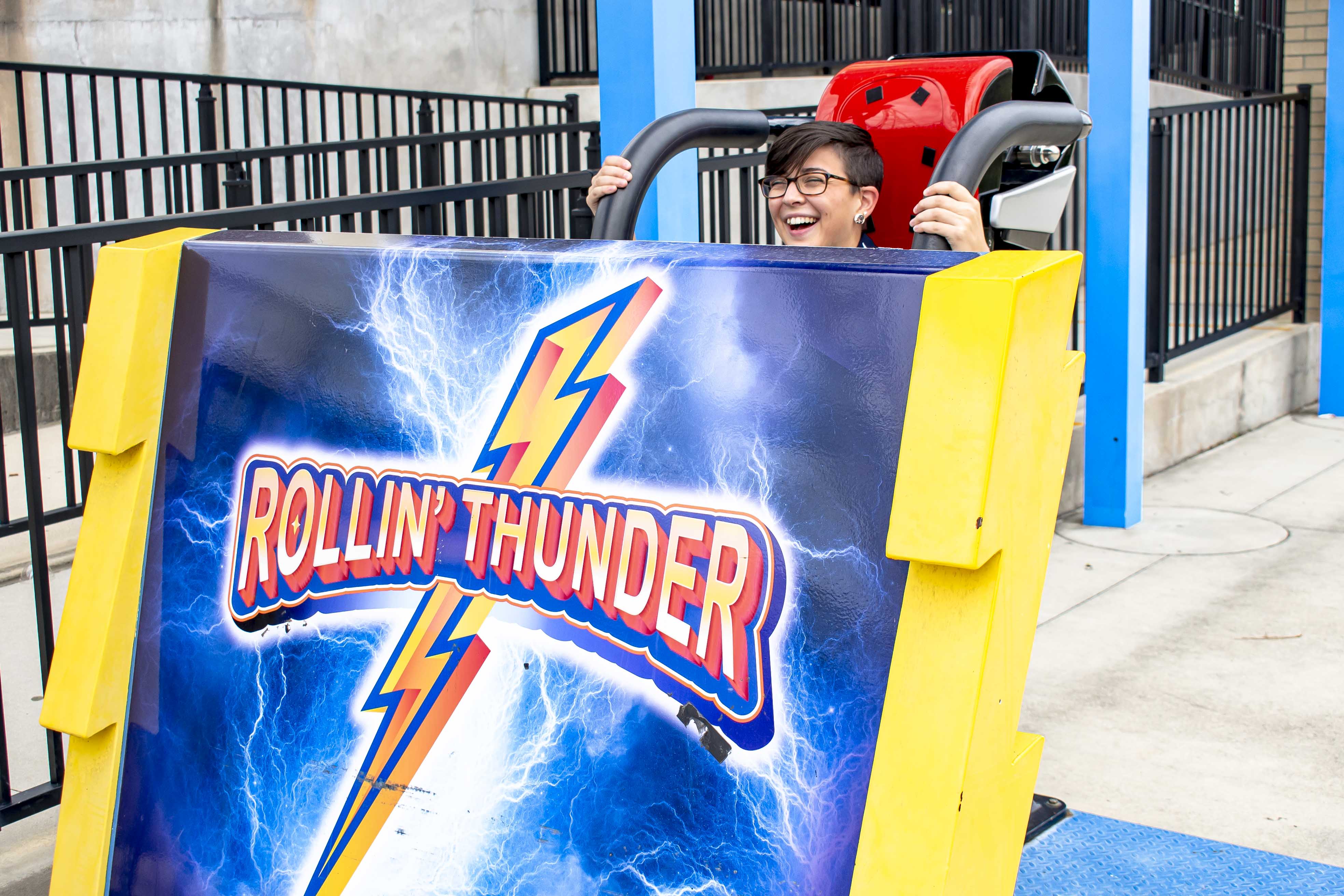 I had the pleasure of coming to the Park several times before with the munchkins in my family, and they absolutely love it. While my oldest nephews loved the super fun and fast roller coasters, like the Rollin' Thunder, I find myself struggling to fit in the seats at a lovely five-foot-one. My nieces definitely prefer the train rides and spinning teacups. They are super fun and very colorful. I was able to make sure they were safe and didn't get too dizzy. This is where I insert an adorable (and possibly embarrassing) picture of my nephew Luke, who loves the smaller roller coasters at OWA, as shown by his windswept hair.
Wacky Waters Splash Pad is a very popular attraction, as splashing in cool water is the best way to beat the heat and is a great hit with the kids. The area is full of fountains, tipping water buckets, games, and more, with plenty of seating areas for parents to relax and take a shady break. The water sports area is right next to the snack bar, so drinks, refreshing snacks, and munchies are close by at a moment's notice.
Downtown Area at OWA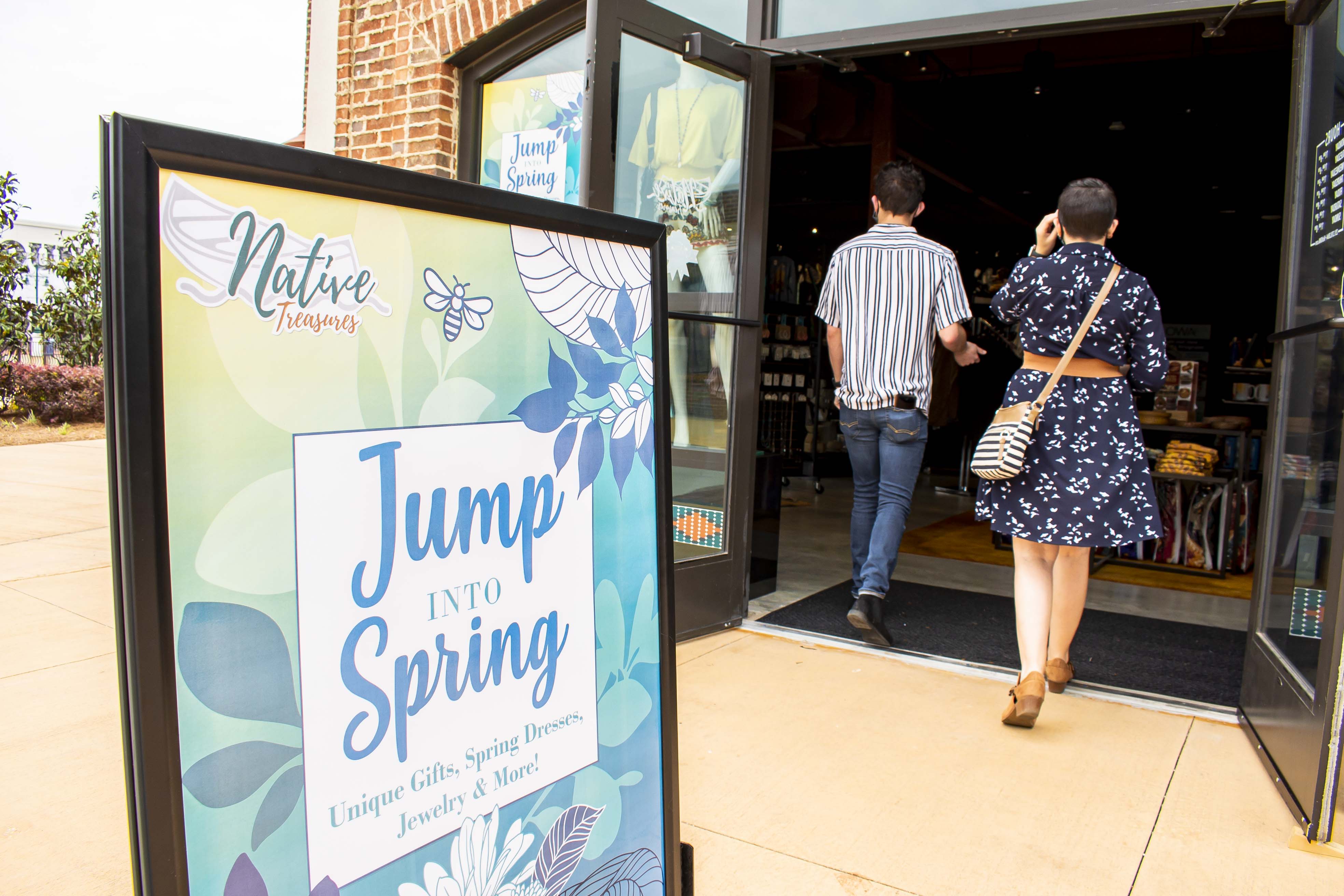 The downtown area of OWA gives off an almost "Downtown Disney" feel with a large clock tower, beautifully placed plants, and music creating an aesthetic that is cozy and fits whatever the season is with fun decorations dotted around. The walking paths curl and wind, leading the pedestrians to new places and shops. The downtown area is still growing, with newer businesses being introduced often. While I love the Groovy Goat's well-known tabletop nachos, C'est Le Vin's fabulous wine pairings and handcrafted charcuterie boards, and Brandon Style's mind-blowing magic and impressionist shows, there are many new local places that I wanted to enjoy for the first time.
The Spice & Tea Exchange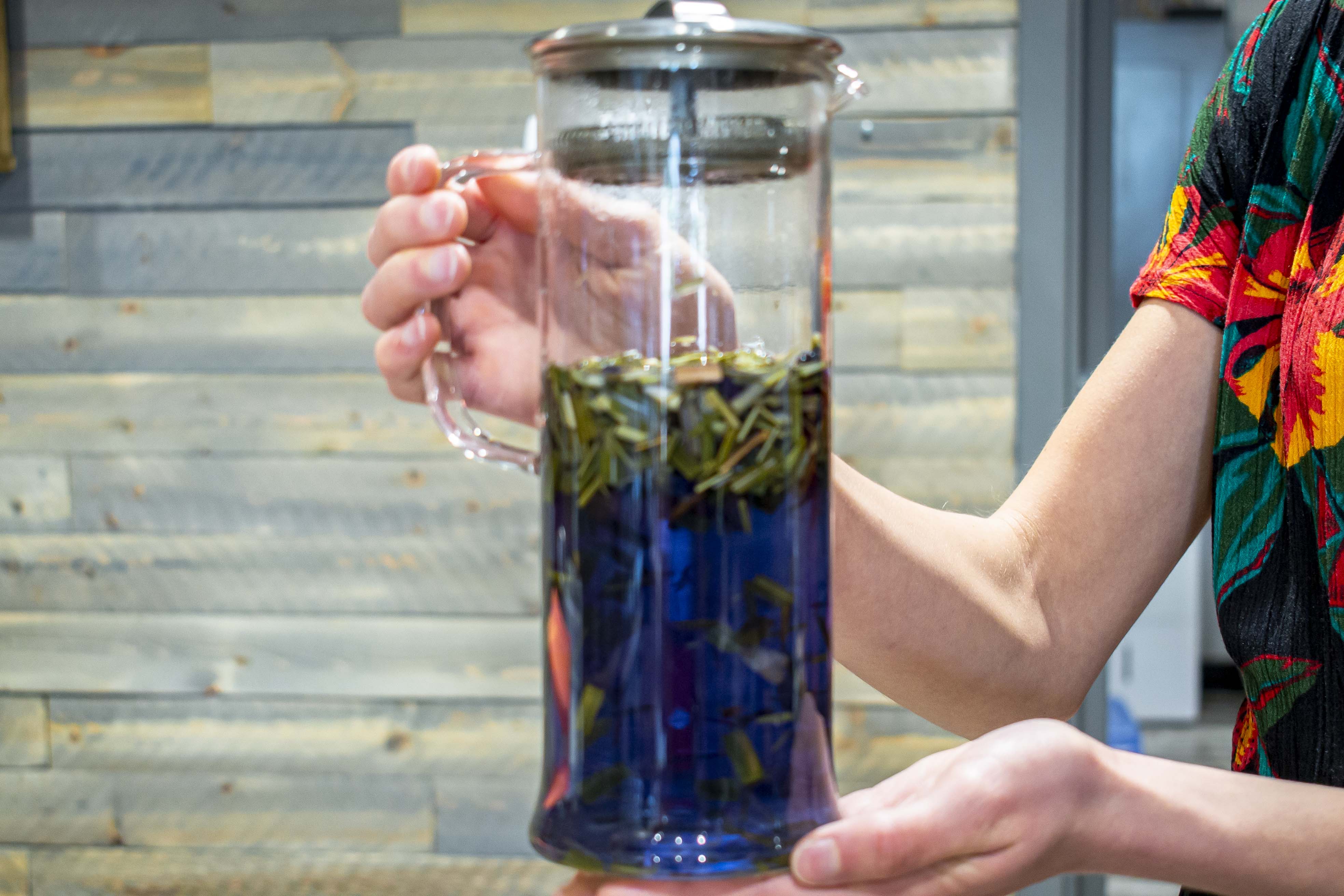 To start our downtown adventure, we got a pick-me-up at The Spice & Tea Exchange, my go-to place for amazing spices and a friendly cuppa (that's tea speak for a cup of tea). We enjoyed a caffeinated classic, Earl Gray Cream, and a beautiful Butterfly Pea Blossom tea. The Butterfly Pea blossom is a wonderful herb that changes the color of the tea, so I find it to be eye-catching. According to recent tea trends and Facebook videos, I am not the only one.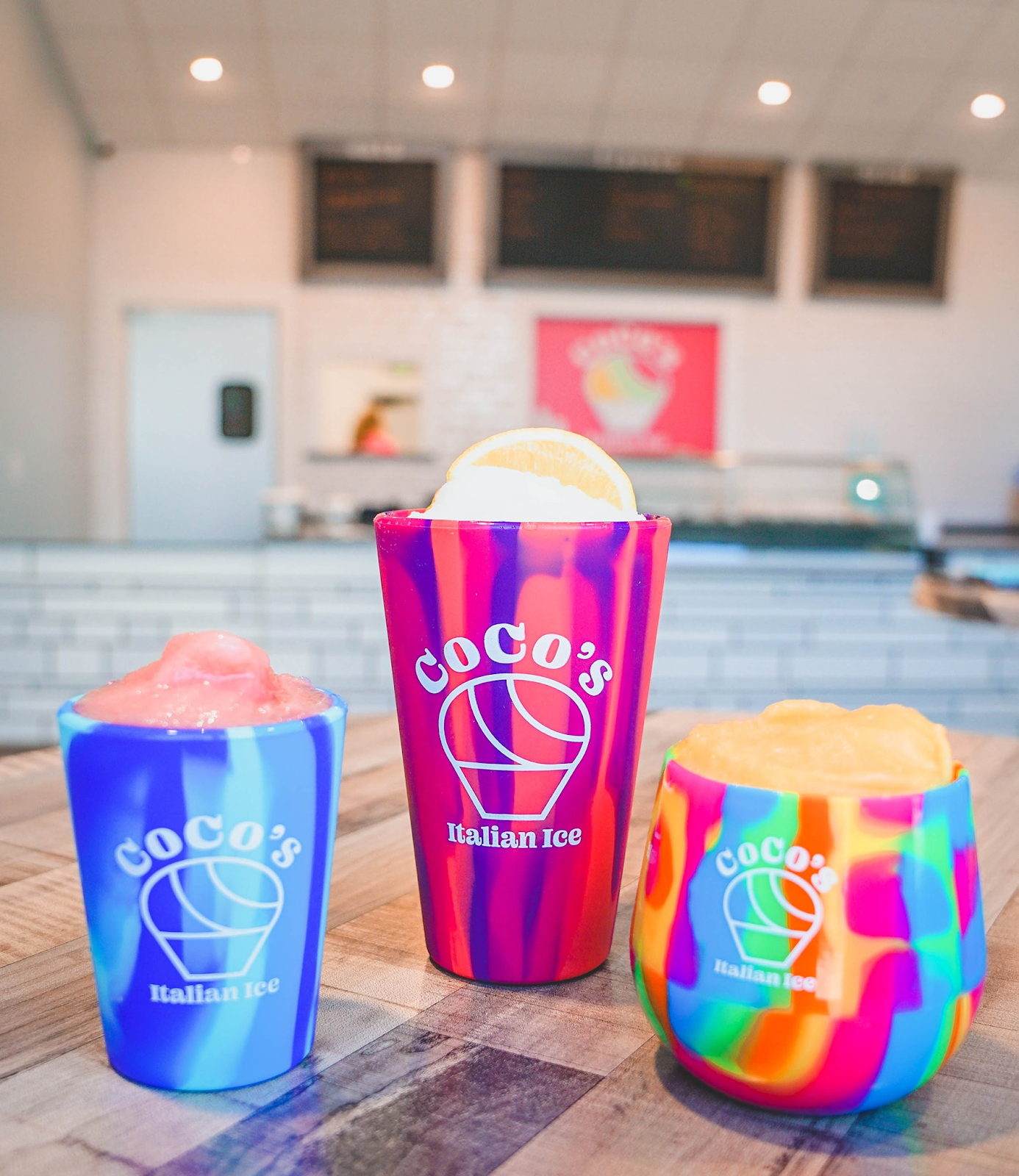 CoCo's Italian Ice
CoCo's Italian Ice is a new, cool, and refreshing stop here at OWA that celebrated its grand opening on May 1st, just in time for these hot summer months. They are locally owned and the first of their kind at OWA as they offer 100% real fruit sorbet. The dairy-free product is the perfect thing to refresh yourself in the hot sun. I personally liked the Mango and loved the strawberry lemonade! They even sell super cute tie-dye cups and shirts.
Native Boutique
The new Native Treasures Boutique just opened up in December, and I am definitely going back! Everything in their store is either Native American Made or Native inspired and operated by locals. This store had adorable handmade clothes, decor, and jewelry. I loved the handmade pendants, and they even had beautiful wood-burned art. I know multiple people in my life would definitely enjoy something from this very unique shop that had a little something for everyone.
Murder Creek Distillery
Nothing scary about this new distillery, but plenty of Spirits for anyone 21 years or older. Murder Creek is a fun, creative distillery with the drink's in abundance. This local distillery may have only been open since March, but they make waves with their eye-catching moonshine and amazing flavors made with real fruit. I almost had to double-check that some of the jars were not painted because the color looked so vibrant and unreal.
My traveling bootlegger cohort ended up taking a few jars to go and couldn't wait to make some great mixed drinks later on. If you find yourself being a bit pickier (like me), they offer a bit of variety at the bar and even have a few frozen drinks. To make things a bit more fun, they showcase local talents and have music nights out on the patio.
Sweet Tooth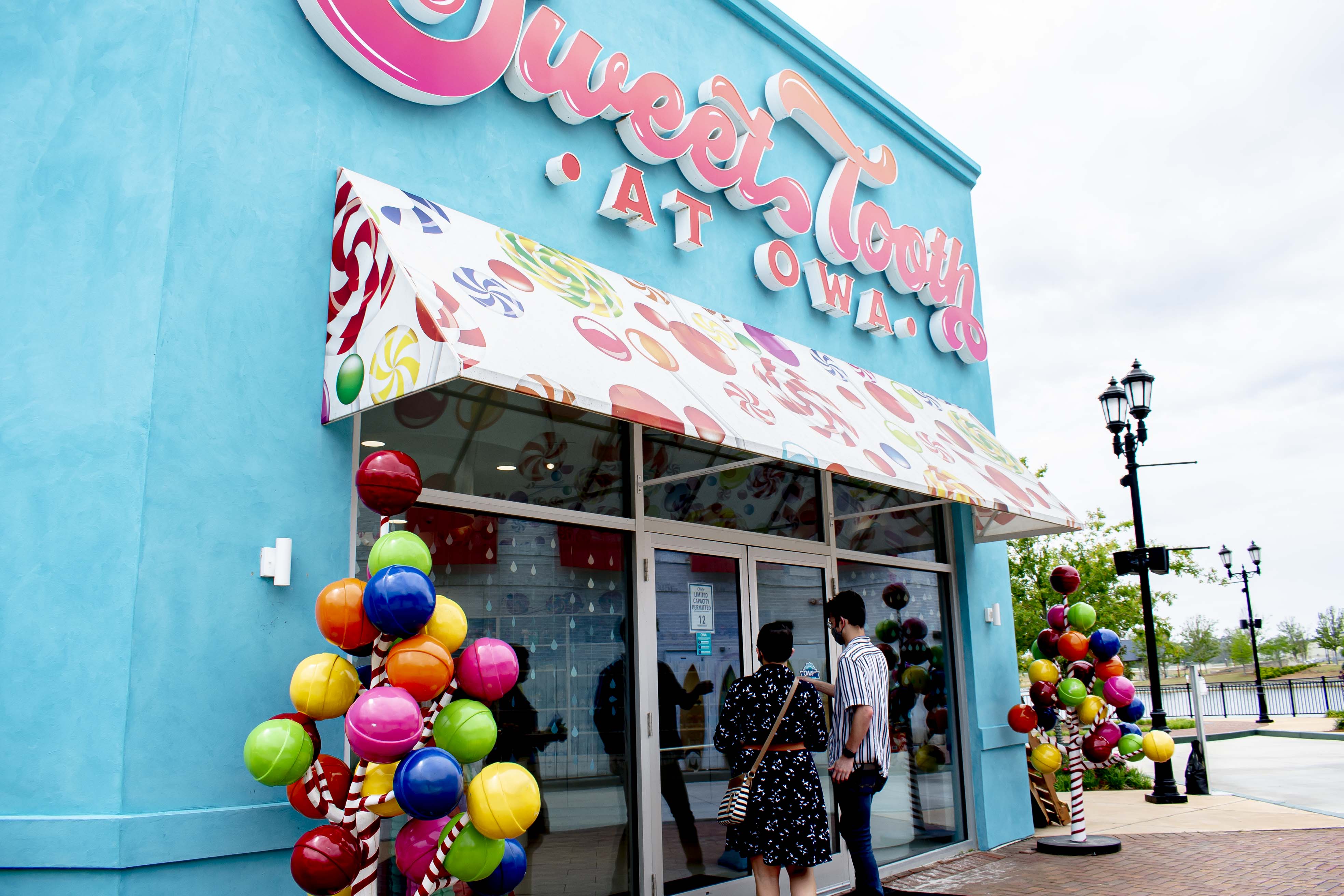 One place that I have not been able to visit yet but always saw and wanted to visit, Sweet Tooth. This candy shop looked like one of Willy Wonka's side creations, but please don't lick the seats. With candy and color all around for this shop, I felt myself get a cavity walking into the store. The shop was filled floor to ceiling with all spurts of flavors from sweet and sour to savory and nougaty, and even flavors I had never even seen before.
I found myself drawn into the wonderful world of gummies, of which they had dozens of kinds, including vegan-friendly. Sweet Tooth also featured an array of unique flavored sodas and pops, like Zombie and Hot sauce. While I didn't have the guts to try them, we ended up getting a bacon chocolate peanut butter cup and coffee soda to keep us energized.
Fine Dining
There are many restaurants to choose from for when you work up an appetite walking around the park. Whether you are in the mood for fancy Italian, get your hand messy with a burger, or want to feed the whole family, OWA has flavor aplenty. I usually enjoy Trattoria Italian Restaurant or the Groovy Goat, but this time I checked out one of the newest dining establishments at OWA, Paula Deen's Family Kitchen. When we walked in, I was face to face with Paula herself or at least a cutout of her. They had a wonderful array of cute kitchen gifts and things that, to my enjoyment, are actually useful in the kitchen. Cute and functional are great for the kitchen, and useful items that are both can be hard to find. They had plenty of themes to choose from, like spring bumblebee, wake-up sunshine, and southern biscuits. I'm definitely going back to get plenty of gifts for my family and myself. While there, we were able to get a special treat, as they brought us some freshly made garlic butter biscuits. They were warm, flavorful, soft, and made me definitely want to go back and try more of their creations for lunch or dinner. They also offer specials for sports coaches, who get a free meal when wearing their uniform. And if you are a local, you get a free meal on your birthday!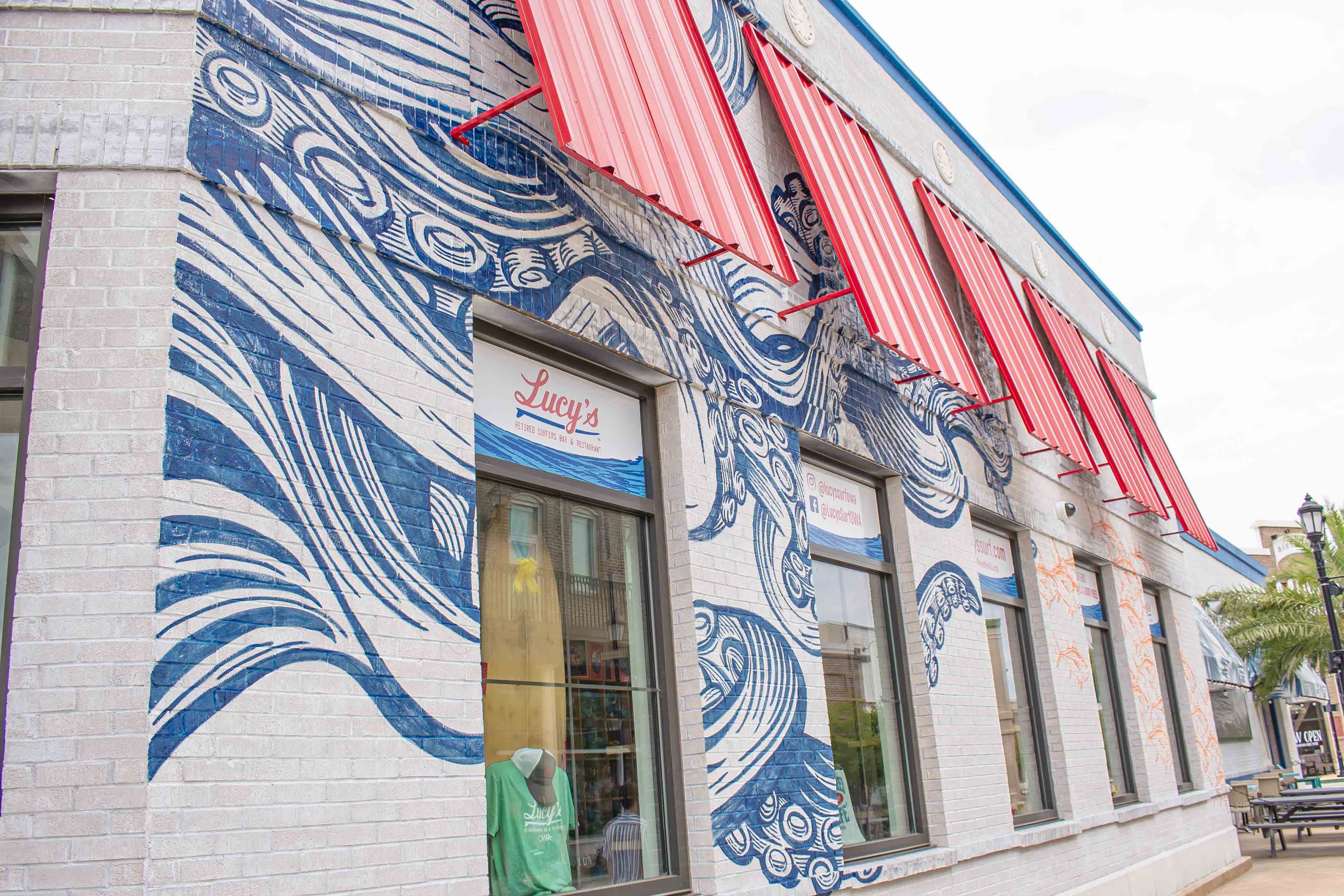 They also have a beach-themed restaurant that I have had the pleasure of trying a few times before. Lucy's Retired Surfers Bar & Restaurant serves a great selection of surf and turf specials, brunch, and even happy hour specials. The outside patio setting is one of my favorites as the picnic table areas swing as they overlook the water. It definitely makes for a great view and a relaxing dinner. The beautiful hand-painted exterior is also one of my favorite eye-catching views. The waves and fish add to the beach aesthetic.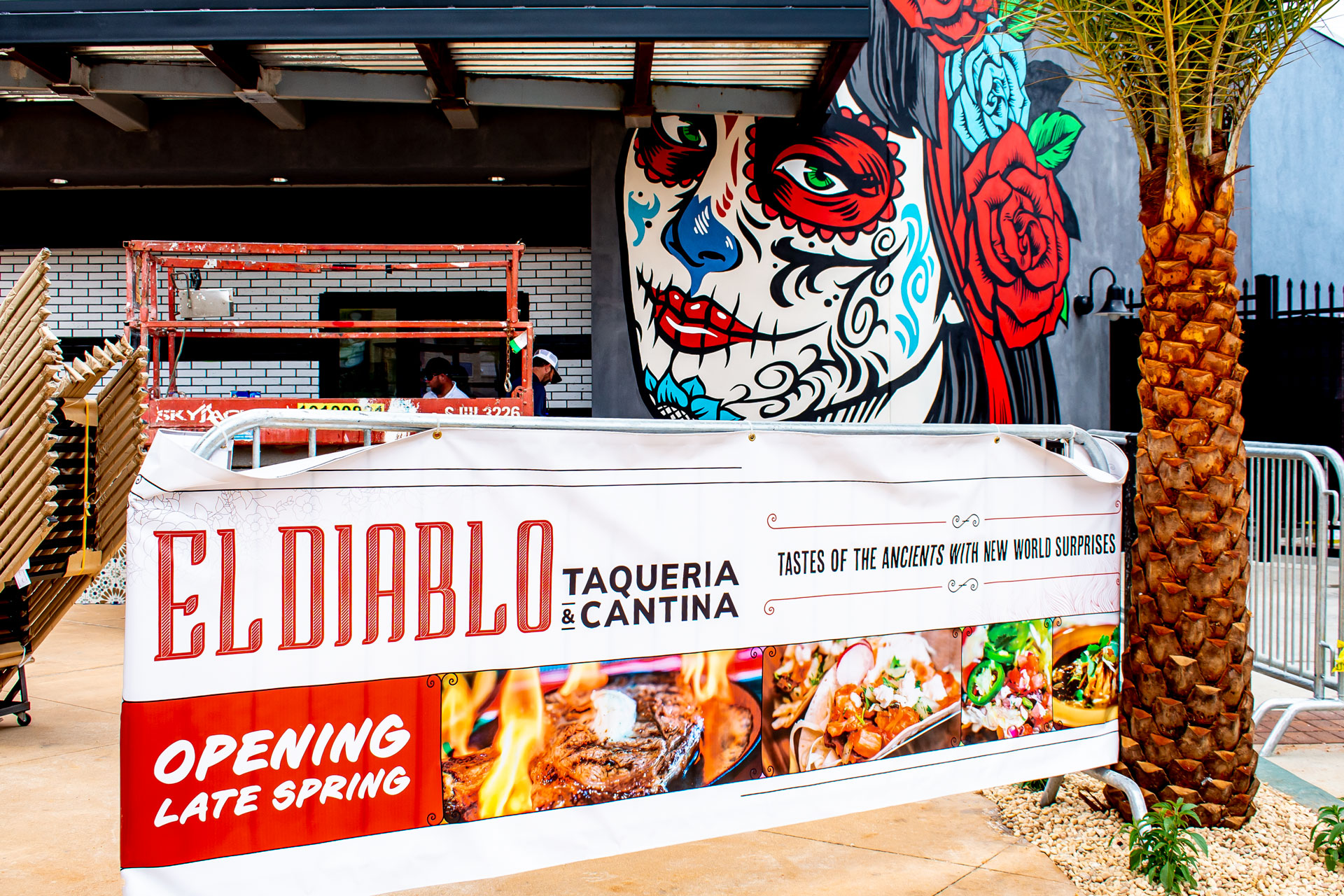 The new restaurant next to it has taken a page from the same book, as they feature hand-painted beautiful sugar skulls on the front. The new restaurant, El Diablo Taqueria & Cantina, will bring a new flavor flair to OWA, and I can't wait to try it out. They are opening in late spring, so I can only imagine they will be packed come summer.
Making Waves In Zero Gravity
While OWA hosts many festivals and sporting events, they have more permanent plans for their property as well. This includes a huge blowup water playground, the Aqua Play at Gravity Island Watersports, which opens early this summer! I enjoyed seeing the Gravity play expert himself diving down and checking all the tethers to ensure everything was secure and ready for their opening. OWA also plans to open Wave Park areas when you head out from Lucy's and ride around the lake. OWA definitely seems to be the new go-to place for fun and water adventures this summer!
This Summer Will Be Legendary!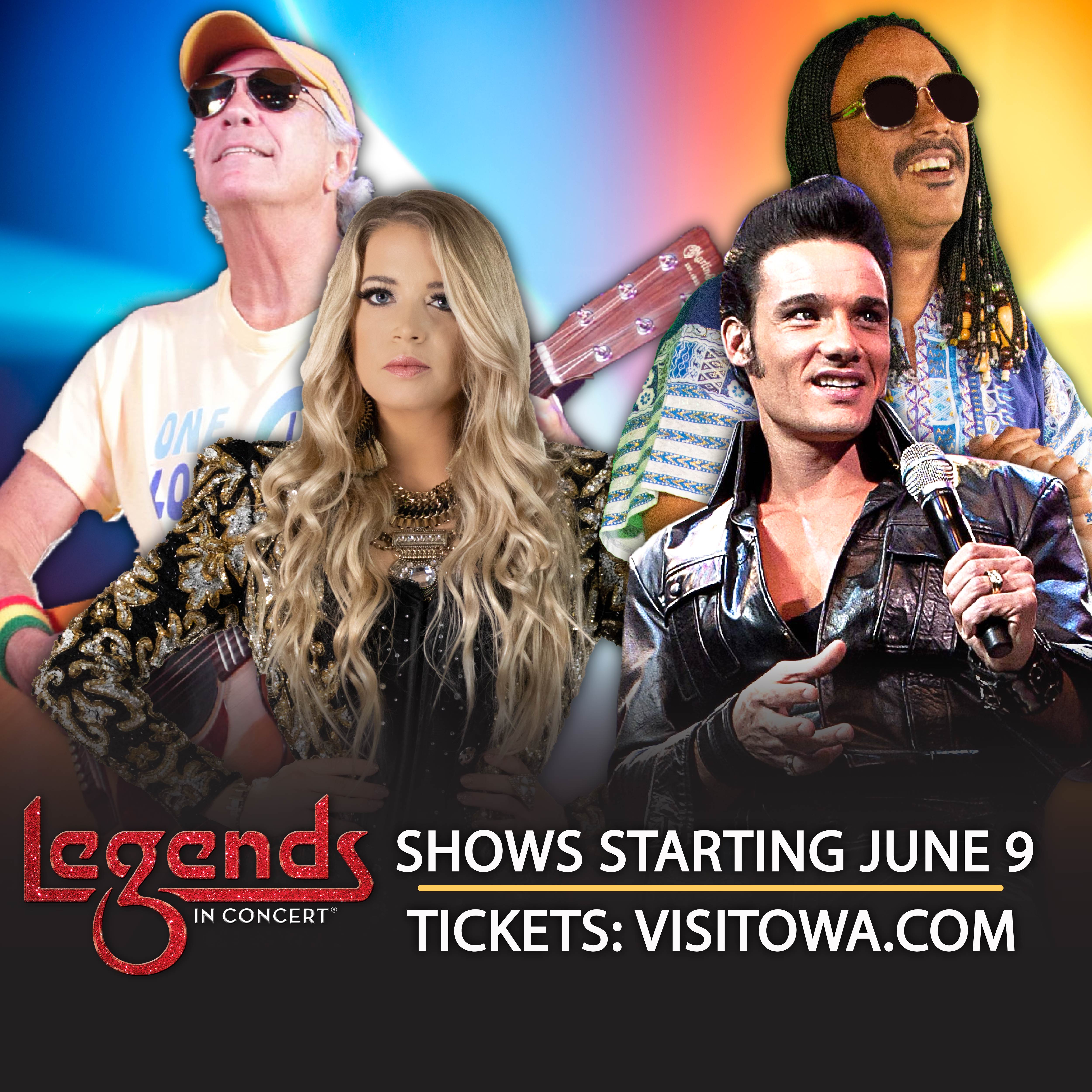 I have had the pleasure of seeing Legends in Concert and even became friends with Reba who played Cher last year. I was able to see on-stage singers like Elvis, Brittany, Cher, and more, so I was excited to hear about the new lineup. Legends in Concert and the OWA Theater are ready to start this summer with a show-stopping lineup of some of the biggest names in music history.
As OWA says, "… Feel the summer vibe with Barrie Cunningham's impeccable portrayal ofJimmy Buffett, Carrie Underwood, performed by the talented Erika Moul. Elvis Presley returns with a hunk of "Burnin' Love" Leo Days, back by popular demand, in his beloved portrayal of Elvis Presley. Isaiah, as Bruno Mars, will welcome you while sharing the summer stage with Tina Ibach as he pays homage to Stevie Wonder, who will make sure you're not "uptight," on your vacation to Coastal Alabama."
Where To Find Me
So I don't know what you are planning on doing this summer, but if you need to find me, I will be at OWA. I plan on tossing my nephews off the gravity water pads and betting them at arcade games. Or I will enjoy a girl's night out by listening to some local music talent as we treat ourselves to a fun dining experience at one of their numerous and great tasting eatery's. No matter what you feel like doing or who you bring with you, OWA is a place with a welcoming environment that's fun, relaxing, and made for everyone.
To learn more about what is happening at OWA, click here!