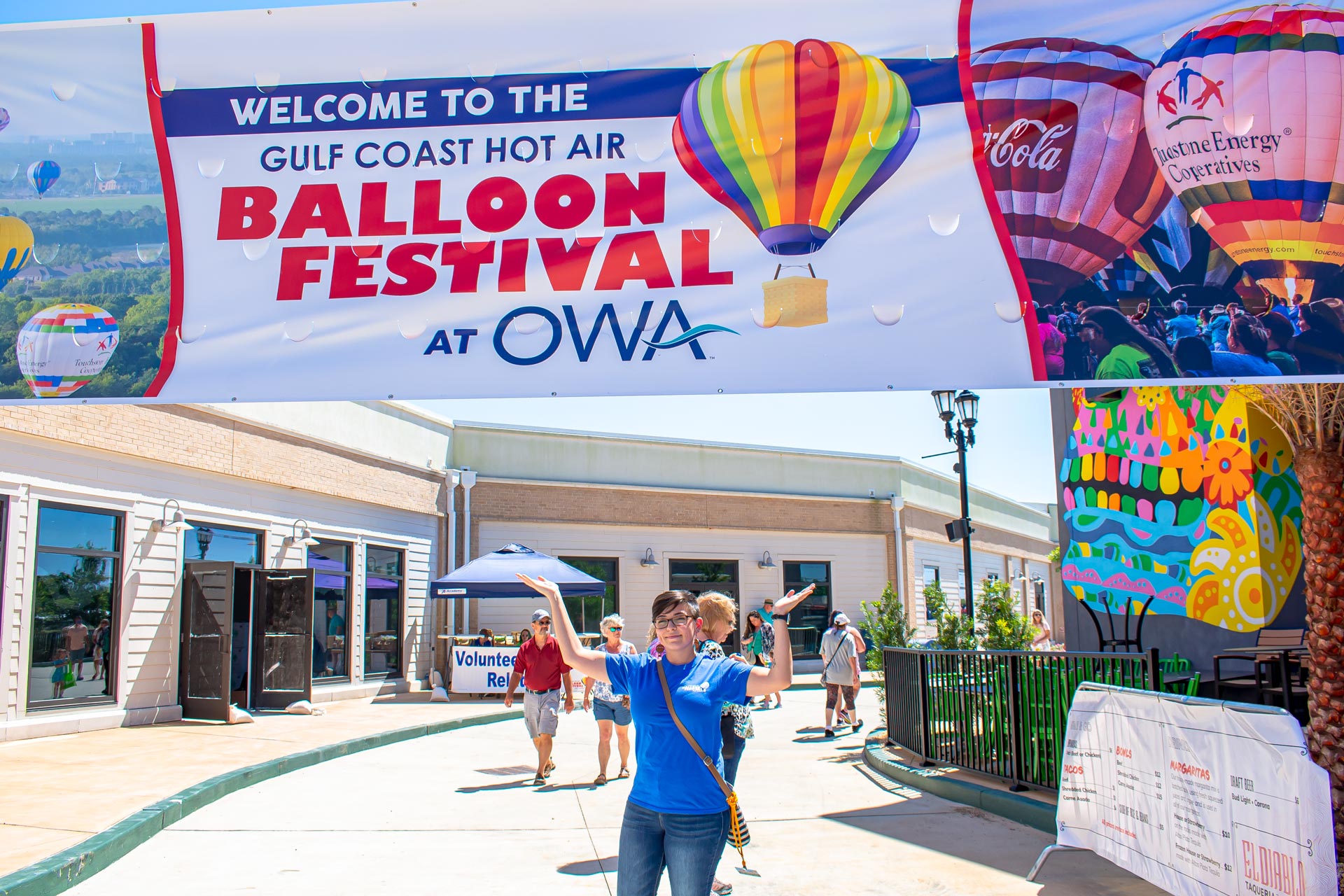 Up, Up, And Away We Go!
When coming to the Gulf Coast, you definitely want to be 'in the know' of what is going on. When I travel, I like to know where the locals go, what the area is known for, and if there is a must-see event. Something that never disappoints and one of the best sights to see for everyone of all ages is a balloon. But not just any balloon, a hot air balloon. Even as a mature adult, I still can't help but yell "balloon" when seeing one in the sky. Making it so everyone near me is then obligated to look where I am pointing and acknowledge the balloon in some way or another. This leads to one of the best events here on the southern coastline.
Once a year, the Gulf Coast horizon is decorated with beautiful twinkling balloons with bright colors in a multitude of designs, all rising and falling in the darkening sky. This is the site you are greeted by when you arrive at the Annual Gulf Coast Hot Air Balloon Festival. Being one of the biggest, most beloved festivals along the South Eastern coastal region of the US. The festival is relatively new, and despite being put on hold last year for 2020 reasons, everyone in the area was excited to hear of its return in 2021. I have a personal interest in the balloon festival since I spent plenty of time in high school volunteering at the festival. One of the first memories I have of my very first trip to the Balloon festival was feeling the heat of the balloons as they filled along with the roar of the flame, drowning out the crowd's noise as they brought characters to life right in front of me.  I still look forward to seeing the balloons all around town, landing in the most random places. But, there are more than just balloons at the balloon festival.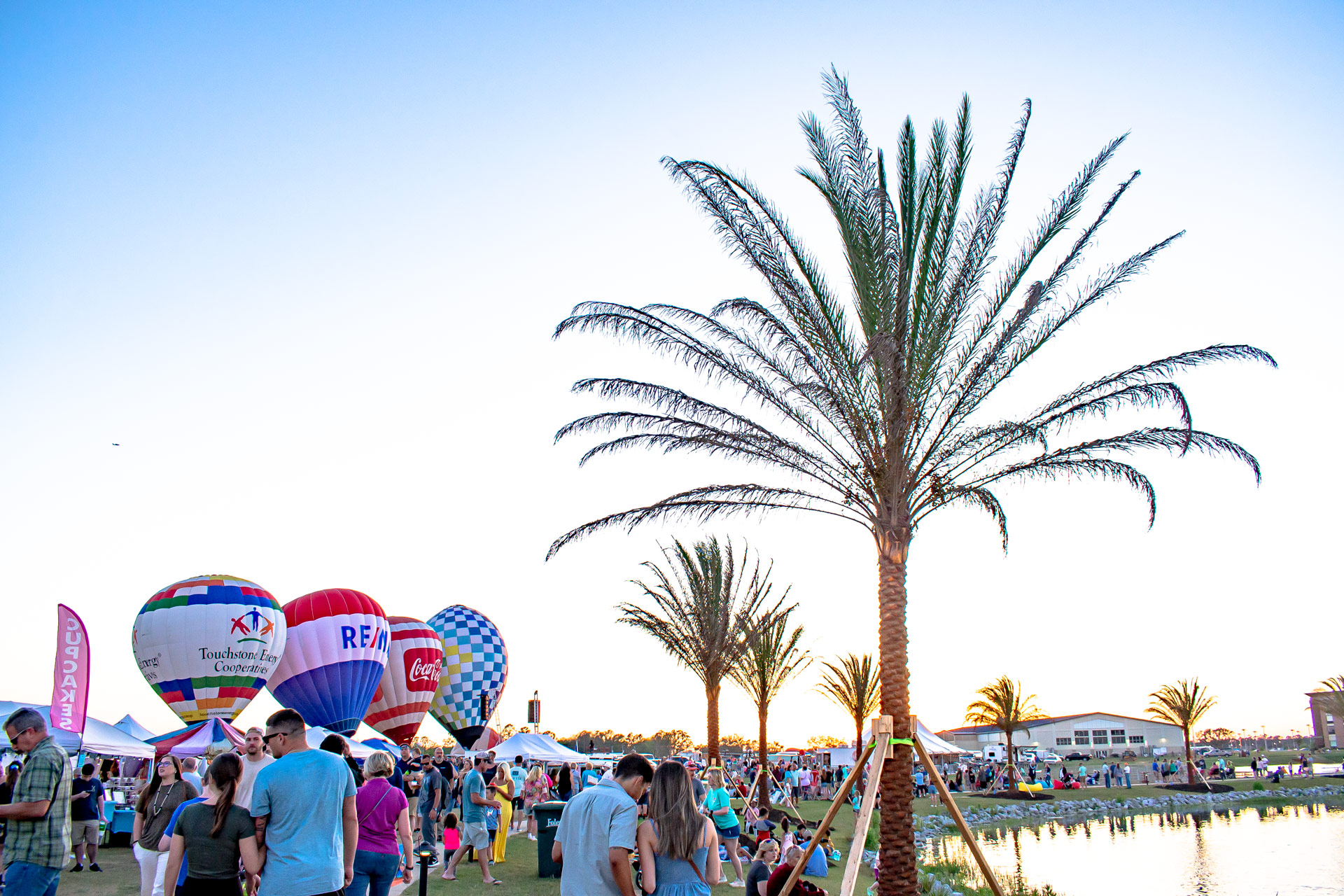 A Lot of Hot Air
The festival features way more than just a lot of hot air. This year, the festival was held at OWA, the second and the newest home of the Balloon Festival. As stated in my previous blog about OWA, the Park is growing and becoming more involved in the local community and features many new festivals.  OWA provided an exciting chance for the fair to allow more visitors, provide shuttles and parking, show off all the fun stores and amenities they have to offer, help with the family-friendly atmosphere with games, rides, food, and more. Admission for the festival is free, and it features over 50 balloons, with take-off in the morning and evening (weather permitting).
The 17th Annual Gulf Coast Hot Air Balloon Festival took place at OWA in May, which was also a change from its usual June dates. This made for better weather as we enjoyed nice chill mornings, sunshine during the day, and some nice breeze's over the waters at OWA. The festival runs thru the weekend, Friday, Saturday, and Sunday, but does a special nighttime lighting Thursday night for the early birds.
Arts & Crafts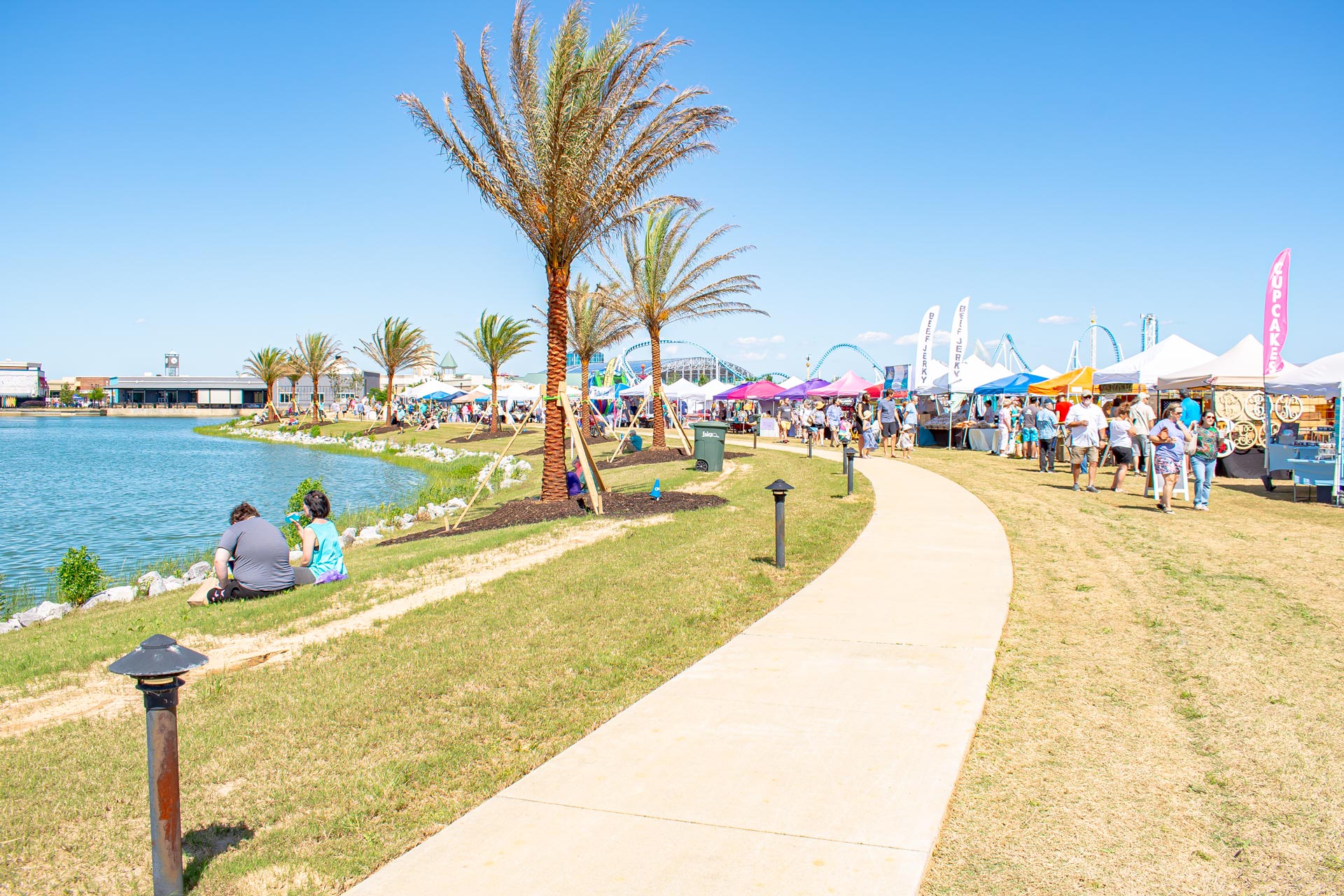 Once again, you cannot have an event here in the South without having vendors featuring arts, crafts, and goodies. The balloon festival has always featured vendors, but this was my first time seeing one at OWA. They had a great setup as the main strip of the fair wound up and down a sidewalk overlooking the lakes. This was a great way to enjoy the breeze and even enjoy a small break while sitting on the grass embankment on the edge of the water. The festival featured some classic and long-time vendor veterans, but I was ecstatic to see some new faces. The festival features vendors from several states over, with homemade cupcakes-cups to-go, homemade dips and spices, adorable fairytale crafters, and even hand-crafted coffee roasters. Like a child at Christmas, I ran around to each booth to see what they offered.
The first booth that caught my eye was "The Retro Flamingo," a wonderful mother and daughter duo that creates handmade hats, crowns, jewelry, wands, and more. I absolutely loved this booth; the handmade dino crows, witches hats, and earrings were to die for and would make an excellent addition to any birthday party, costume, cosplay, or just jazz up a regular outfit with unique jewelry. They came in all types of designs, colors, and sizes. They travel through many southern states to different festivals and craft shows to show off their work, so I am looking forward to seeing them again.
After getting way too excited about fairy crowns, I was happy to continue onward to the "Dip'n Good Dips" booth. They served a larger variety of jars of honey, jams, savory dips, and dessert dips. The owners were very friendly and let us try samples to our heart's content. And so you were able to have the optimum sample taste, they kept everything fresh and chilled in festive containers. And while it may have been summer, I loved their pumpkin dessert dip, and my "Up-in-the-air" festival companion ended up buying some spiced honey to take home!
The most eye-catching booth that I saw was Mountains & Mermaids. This booth features hand-drawn designs for both beach bums and forest hikers. They had some cute sayings and designs on mugs, glitter tumblers and even featured their own roasted whole bean coffee. I personally loved the stickers and T-shirt styles. They even featured some cool Mardi Gras-themed mermaids made for locals. I know I will be purchasing some bundles online for future gifts!
Up, Up, and Away!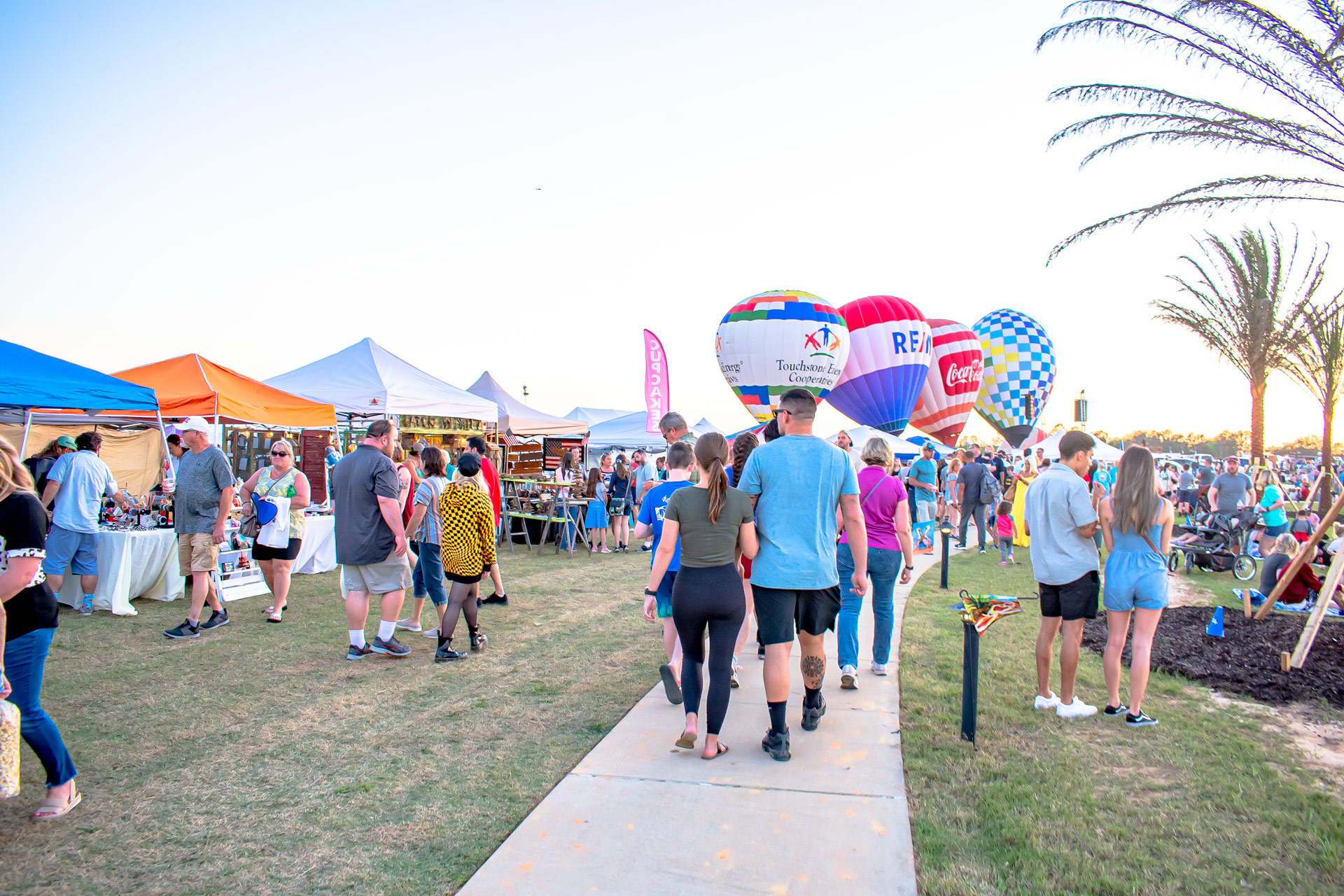 Despite all the fun I had walking around the vendor booths, it was almost time for the balloons to lift off for the evening ascension, so we headed out to the balloon fields. We saw more and more trucks and vans pull up and crews getting out, unloading baskets and balloons. We stayed near the edge of the crowd while groups got ready, and pretty soon, we were surrounded by loud fans blowing wind to open up the balloons. While we had some of our local favorites, like the Foley and Re/Max balloon, I was surprised to see Hagar the Barbarian, one of my favorite characters from the Saturday morning comic section of the newspaper. Many were boasting traditional stripes, checks, and plaid markings with bold colors. They also featured unique designs, like a Rainbow Unicorn, music notes, and even a large Smiling Sunshine.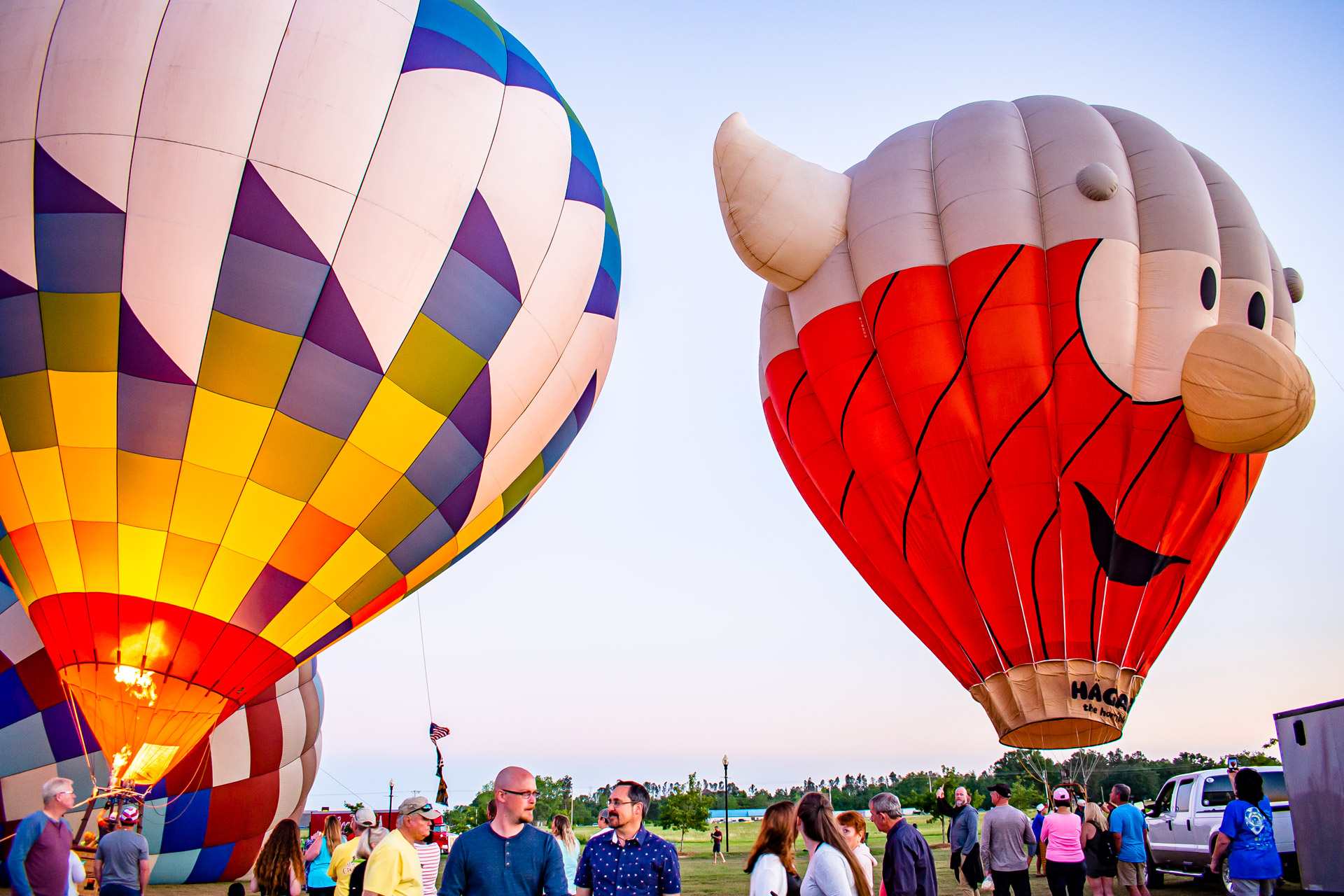 Just as we thought most of the balloons were up, even more started to fill slowly. At just about 8 pm, there were over 40 balloons ready for the late ascension. Even though the wind was a bit more than the balloons could usually handle, the balloons remained tethered and ready for the nighttime twinkling. The announcer was calling out to all the balloons and introducing the captains and where they were from. It was impressive to think that some of them traveled from many states away, even Michigan and the West Coast. The tight-knit community that they made was inspiring to be around.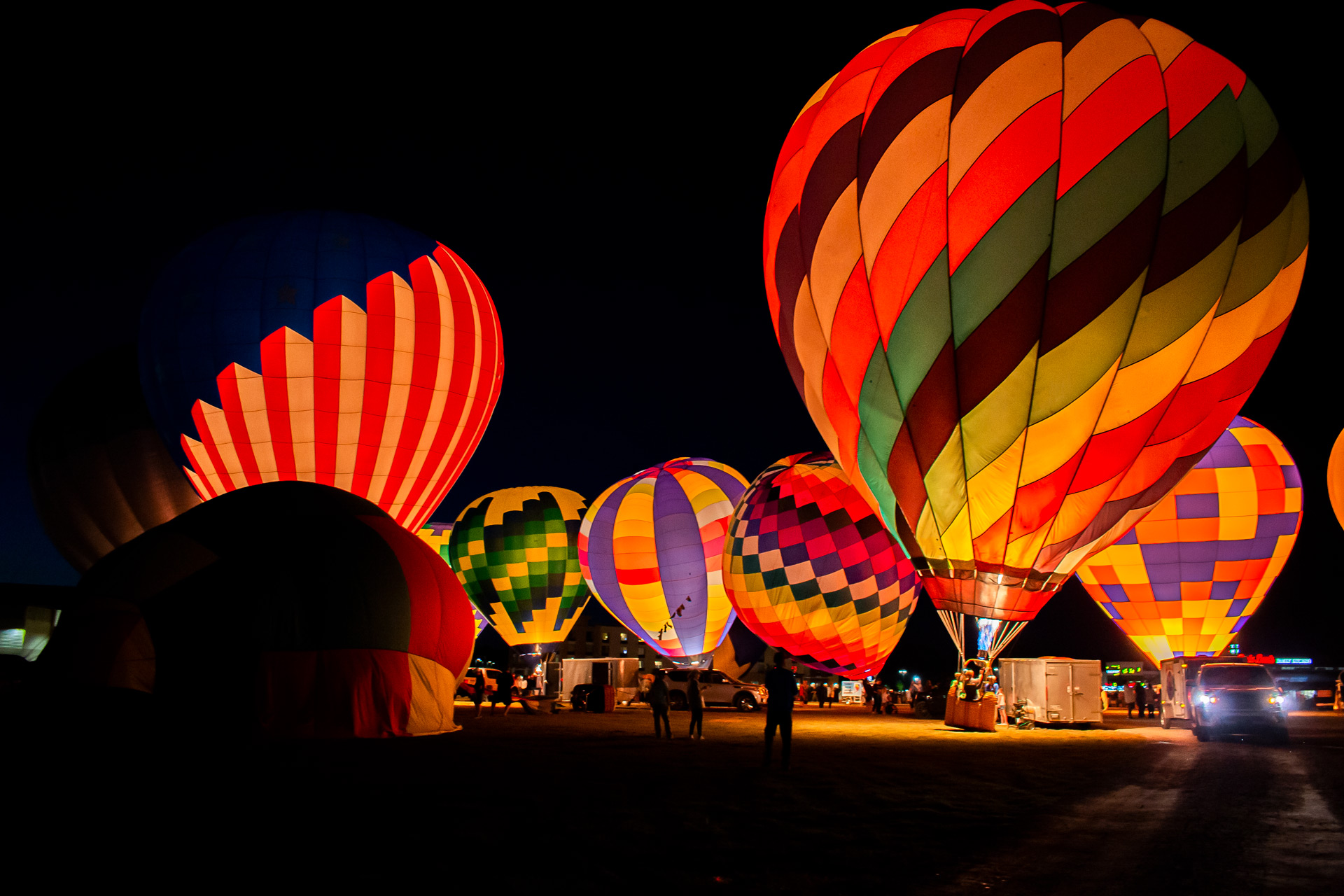 The night filled with excitement as the crowd "oohed and ahhed" over the balloons filling and twinkling. I chuckled plenty whenever the wind blew, causing balloons that were crowded by each other to bump into each other, smooshing together, and causing the crews to rein them in. I loved the show of the twinkling balloons lighting up the darkening sky. As I walked to my car to head home after the first day, I stopped and was able to take in the beauty of the balloons reflecting upon the lake, creating a colorful contrast to the darkening horizon.
It's a Bird, It's a Plane, It's A Butterfly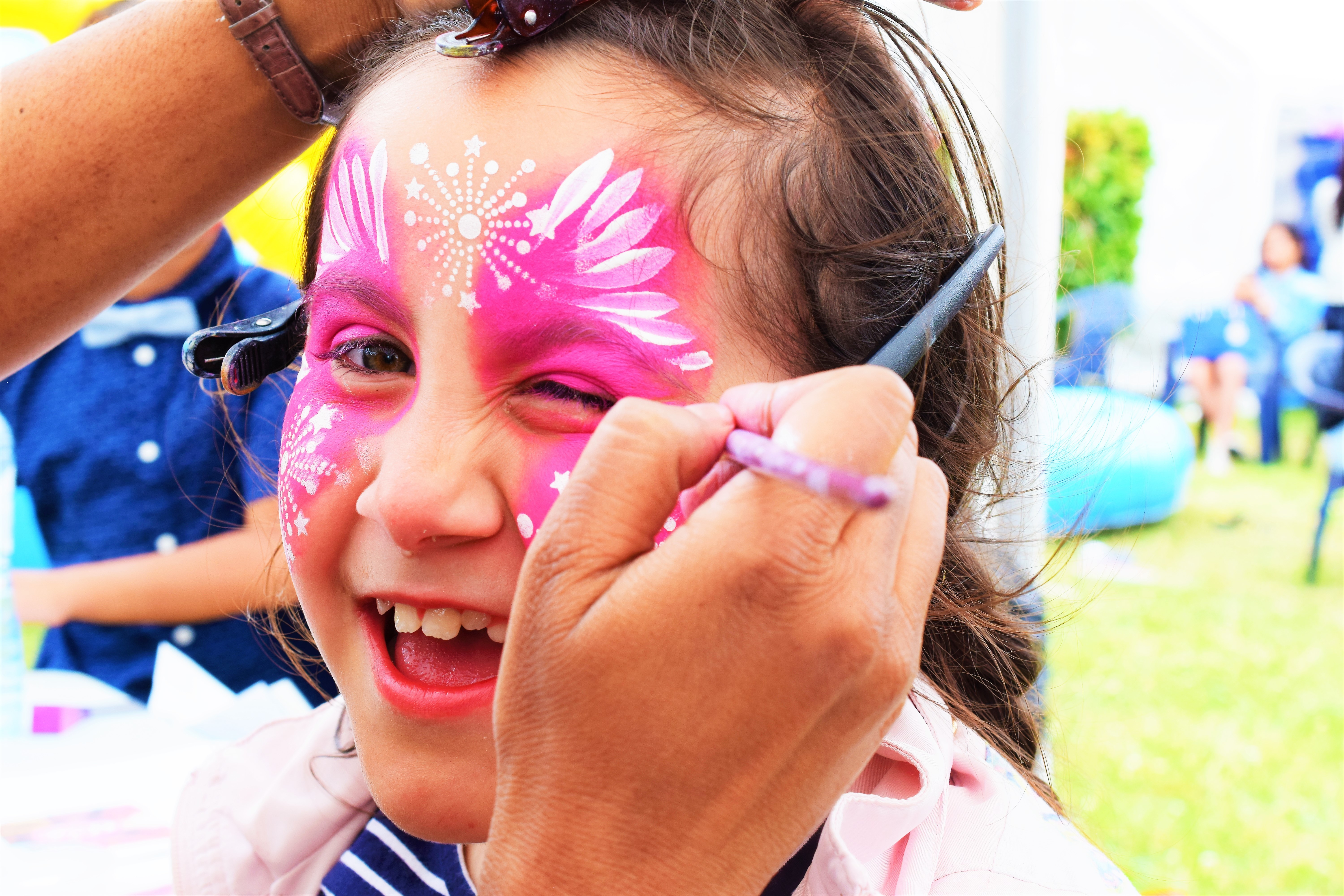 As with all local events, there was entertainment and fun things to do no matter how old you were. All parts of the festival had something of interest for you to do. The face painting station was busy with kids getting their faces painted as butterflies, tigers, sharks, and uni-kitties (Unicorn Kitty's). I was a fan of all the glitter that they added liberally to anyone who wanted to have a "magic" touch to their new makeup.
Another bustling area was the kid's blow-up play area. They offered slides of all sizes, jump houses, and fun obstacle courses. Kids were able to play on them all day long and enjoy the sunshine. The play area was also right by the food trucks and drink stands. This offered the parents a great chance to take a break to eat and get a cool refreshing drink while the kids blew off energy. I personally always love festival food. Smoothies and nachos can always be on the menu in my books.
If furry animals are your thing, you will have to check out the Dare Devil Dog Show! This is one of my favorite things at the Balloon Festival and happens each day of the event. It features talented dogs of all shapes and sizes doing amazing acrobatic tricks and defying gravity while catching frisbees high in the air. One after another, the dogs jump over and flip into the air making multiple catches in succession without missing a beat. They also had a cute petting zoo for the kids to ride fuzzy little pony's, horses, and camels. I don't know about you, but for me, riding a camel was one bumpy experience. Kids and parents were all enjoying the festive animal rides and pet shows.
Another form of entertainment they offer that is fun for the whole family is the live local musical talent they have performing on the main stage. The amphitheater area is beautifully designed on the side of a hill with stone steps and lighted grass seating. The seats face the covered stage area overlooking the lake, offering great sound and colorful sunset views. They had many local bands playing on stage, like Jay Kirk, who was on The Voice, Molly Thomas and The Rare Birds, and one of my favorites, The Roman Street Brothers featuring Melody Duncan.
Meeting A Pilot
We had the great opportunity to meet a pilot of one of the balloons. One of the best eye-catching balloons was the Sunny boy, piloted by Benjamin Drennan from Cordele, Georgia. He has been flying since he was a young child and even got his balloon piloting license in his early teens. He is married and has a son, who he hopes will take to ballooning like he did one day. He is a native southerner that now resides in GA, but he travels a lot to all the festivals in the region, many out of state, to show off his collection of balloons. His wife is one of his biggest supporters and even is the main member of his ballooning crew that helps him get everything set up for take-off and landing.
We had the great experience of seeing what the life of a pilot was like as we shadowed Ben for one of the morning's mass ascension.  We got up early (a lovely 4 am) to be at the balloon grounds before sunrise. When we arrived at the pilot and VIP tent, we enjoyed a breakfast sandwich while waiting for all the pilots to arrive. While it may have been spring, the weather was quite chilly, and I was happy to have my hot tea in hand to keep me warm. When all the pilots arrived, they gathered around and got the latest weather report, including higher atmosphere temperature and wind conditions. After that, the pilots found a field quite a few miles away that would be optimal for take-off as the wind would carry them back to OWA. After figuring out where the field was and loading ourselves into the captain's car with the balloon trailer hitched, we were off.
Once we arrived at the balloon grounds, all the trailers started unloading and getting set up. They placed their balloons out and started to inflate them with their giant fans. Soon, with all the fans, generators, and balloons heating up, I felt like I was in the middle of a wind storm. And as the balloons started filling, they started bumping and jostling each other, getting bigger and bigger as they came to life. It was an amazing experience to see them all lift-off, surrounded by 80 ft tall mosaics that lit up in the morning sun. After enjoying the beautiful lift-off, we packed up and headed back to the OWA balloon grounds. I was surprised to see that some of the first balloons to take off had already made it back and were in the process of landing.
Staying Grounded
Overall, the Gulf Coast Hot Air Balloon Festival is one of the many reasons thousands of people travel to the Gulf Coast. While the Balloon Festival is only once a year, there are so many other fun things happening at OWA, Orange Beach, and in Baldwin County in general.  So plan your next trip to come and take lift-off with us in a balloon, or check on what local fun events are happening when you vacation. Because coming to the coast is more than just being a tourist; you become a part of the Southern family and make an impact on the local area.
The festival was full of fun games, creative booths, diverse people and interests, and entertainment for all ages. I can't wait to go back next year and maybe try my hand at actually riding a balloon through the sky. But until that day comes, I will keep my feet firmly planted on the ground and keep enjoying what this great area has to offer. To see more about what the festival offers, check out its Facebook here or check out more fun pictures below!