A New Sight to See
Hands up! Summer is almost over, and people everywhere are enjoying the coast while they can before it's back to work and school. Over the past year, much of the Gulf Coast has changed, from new faces visiting the beaches to new businesses opening all over. And one such new business you will see if you are hanging Gulf Side at the Caribe Resort is the New Hang Ten Helicopters.
Hang Ten is new to Orange Beach after relocation from Pensacola. They are now offering helicopter tours along the Coastal beach areas, including Orange Beach and Gulf Shores. So despite having been in the office and not at all expecting to go in the air, once I saw they opened, I eagerly rushed through the property and passed the D building to head over to have my first helicopter ride! With tours ranging from as low as $40 per person to $240, they have a tour for everyone to enjoy.
A Moment On The Ground
Before you fly on a helicopter, there are a few things you have to learn. On their website, they say they want to "… Introduce you to something new and incredible, with our safety-conscious team of professional pilots and crew. We promise an adventure in the sky you will never forget!" You definitely won't forget the amazing sights you will see. Before flying, however, you have to listen to a quick round of safety measures that Micheal was helpfully going through, like not leaning out of the door, seat belt latches, and the best way to approach the helicopter. Our lovely safety guide Ruta told us about an amazing feature the helicopter has. In the case of an emergency landing over the water, it has an inflatable raft that opens quickly and lets you float safely to shore. After finishing our safety lesson, she sent us out the back doors and onto the landing strip where Michael was waiting for us.
All Aboard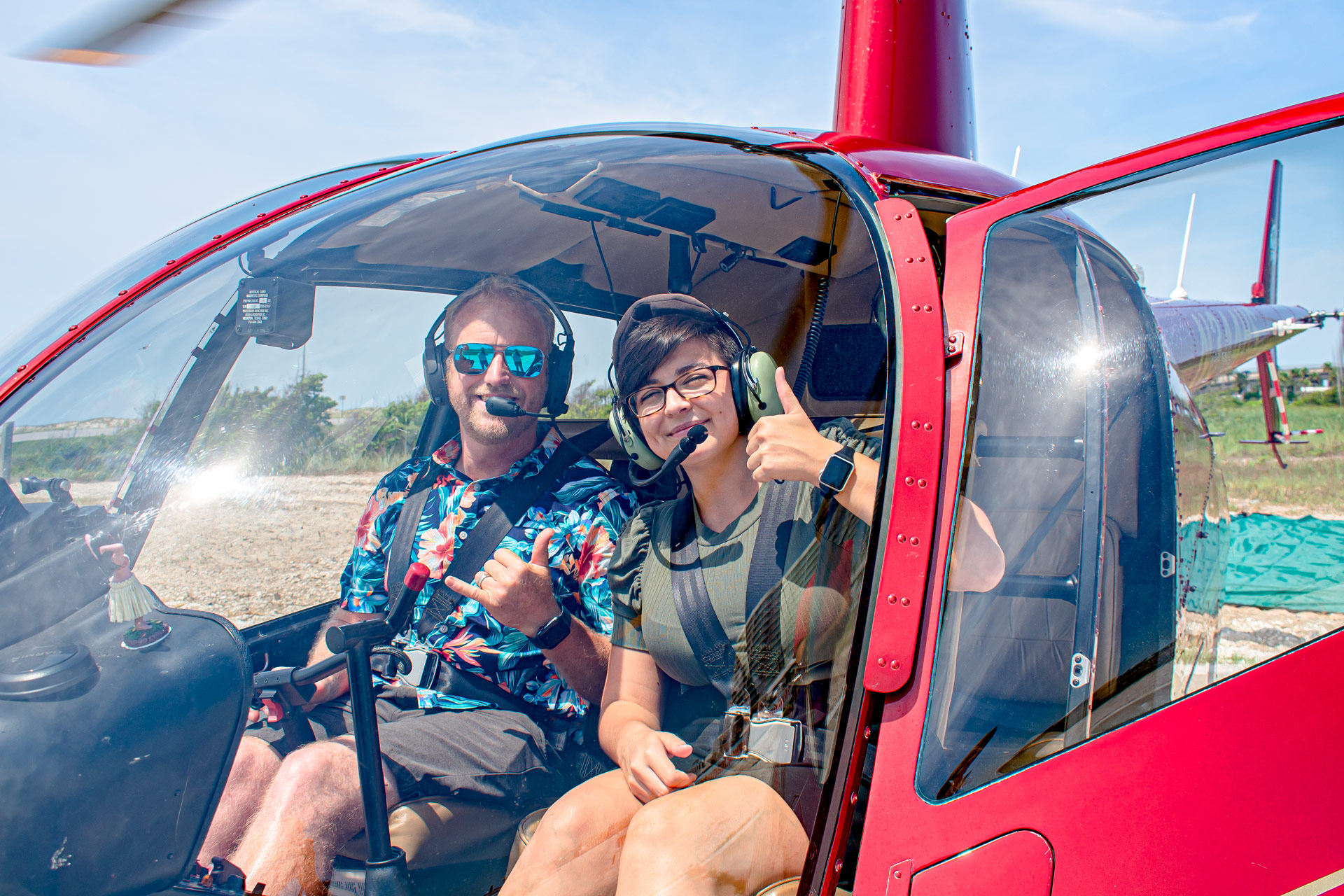 After the quick intro to helicopter safety, we were all ready to fly. It was amazing getting up close with the helicopter. On a personal note, I would not recommend flying in a skirt, but it did work out in the end for me. I met our pilot Chris, along with Micheal, Joe, and Ross, who are a few of the main crew members. I knew I was in good hands as they all trained together and made trips many times each day. As I jumped into the co-pilot's seat, I was pleased to see that the expansive clear windows offered a great range of visibility that I planned to take full advantage of even while fully buckled in. My flying photographer had another story as he sat behind me and took the door off to take clear pictures. While he was safely buckled in, it made me glad that the cameras have straps if anything decided to fly out the window. With cameras ready and barely a shake of the dash's Hula-girls skirt, off we went to travel the Coast through the sky.
It's a Bird, it's a Ship, it's a Reef!
The take-off was incredibly smooth, and unlike a plane, he could easily and quickly change direction and height in the sky, so we were up and out of Caribe airspace relatively quickly. We took a nice noon-time flight, so the sun was in the perfect position to see directly into the water with minimal glare, although I do hear the sunset flights are absolutely breathtaking! As we crossed the bay, we kept our eyes on the hunt for sea creatures, which was fruitful when we found a pod of dolphins and even spotted a couple of sharks close to the shore. The people below swimming and canoeing were unaware of how close they were to some amazing creatures.
One beautiful surprise I was able to spot was the local artificial reefs that many tourists mistake the reefs for "ship bones" or have dubbed them the "people of the water," and while that may sound slightly eerie, they are just young reefs in the making. They help the natural wildlife and ecosystem of the area's waters by helping with spawning fish and healthy water. Recently, there have been many manatees and seahorses found in the area, so it is obviously doing its job of nurturing the ecosystem and promoting new life. Many fishers enjoy them since they help the population of red snapper for charter fishing trips. After spinning around a bit more to spot some sea creatures and people watching, we decided to call this trip a win and head back to "base." Surprisingly, we encountered a Pirate ship in the bay, which made for a nice conclusion to our sky adventures.
More Than Just Memories
After a smooth landing where the crew assisted us in getting out of the helicopter, we also watched as another group took our place as they had to be flown to the airport. They took off in a great rush of wind and speed that left me wanting to fly again. Thankfully, Hang Ten Helicopter is here to stay, and I have some amazing pictures of my trip. In case I want other fun memories, though, they have a whole collection of cute and comfy shirts, tank tops, and even adorable Hula-girls so you can bring a bit of adventure into your car.
So the next time you are in the area, give them a call or walk right in and get ready to enjoy a friendly crew and a fun experience that is new to the Orange Beach and Gulf Coast area. And tell them the Caribe sent you, as guests staying at the Caribe get a discount! Be prepared for amazing sights, the thrill of flying, and the opportunity to experience the coast like never before where only the sky's the limit.
We will see you hanging ten at Hang Ten Helicopters!
If you like flying, check out our previous blog on flying planes with Aeropro here!