What's in Season?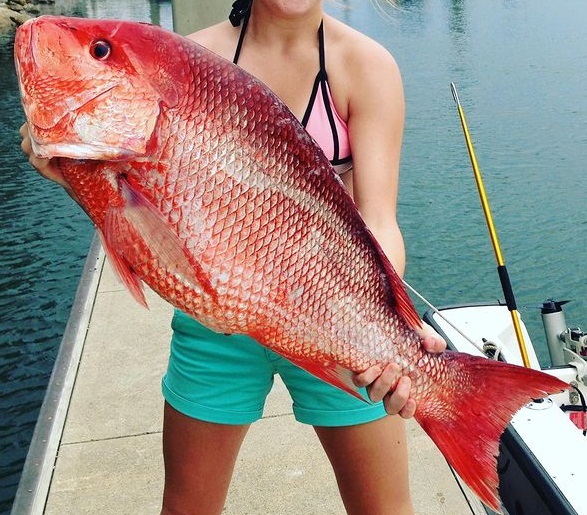 One of the biggest issues with fishing, at least for me, is knowing when to fish, where to go and fish, and what kind of fish you can catch. One of the best ways to make it hassle-free and keep your trip stress-free is by renting a fishing charter. Instead of spending numerous hours searching websites for what fish are in season, and then needing to get a license, you can instead have a master fisherman guide you to the best fishing waters, help catch it and get it on board if necessary, then weigh and clean it for you to take home. This is why the Caribe Marina is so popular here in Orange Beach, and along the Gulf Coast. They boast some of the best fishing charters in the area and always have a great catch to show off, as well as some of the best-experienced crew members around.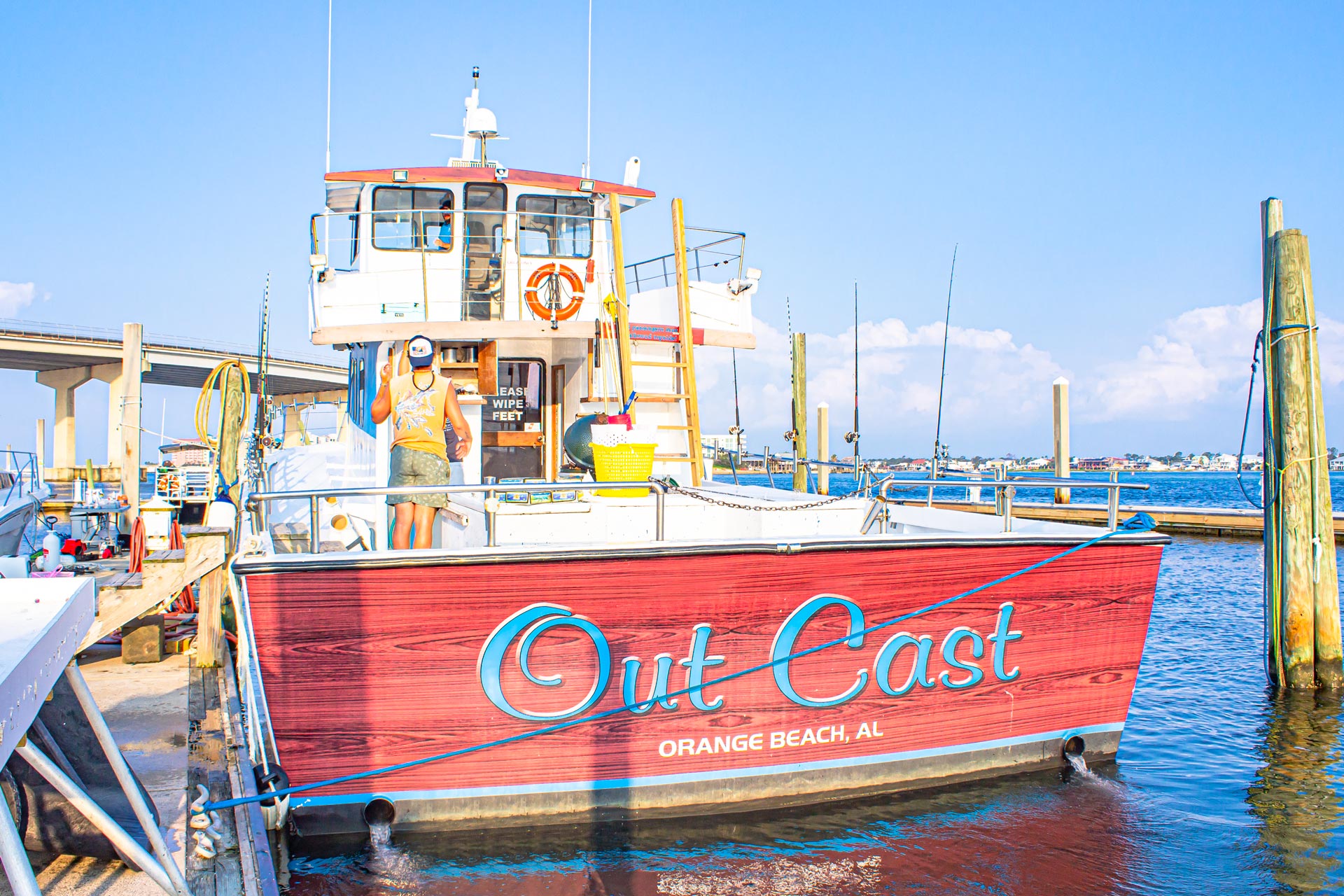 Benefits of Being Bayside
A few things that I love about the Caribe Resort, besides being located right on the Bay, are all the wildlife, the beautiful sunsets, and the six pools. But the most significant benefit is being right by the Caribe Marina. While the Marina operates as a full-service marina, it also offers many exciting fishing excursions and water sports that people can choose from. The Marina offers dolphin cruises, jet ski rentals, kayak rentals, pontoon boat trips, mermaid cruises, and amazing walk-on fishing charters. This perfect spot between the Beach and Bay makes for great fishing and fun trips. So when I had the chance to take a charter boat ride with Captain Seth on the Outcast, I was eager to try it out and see the appeal for offshore charter fishing.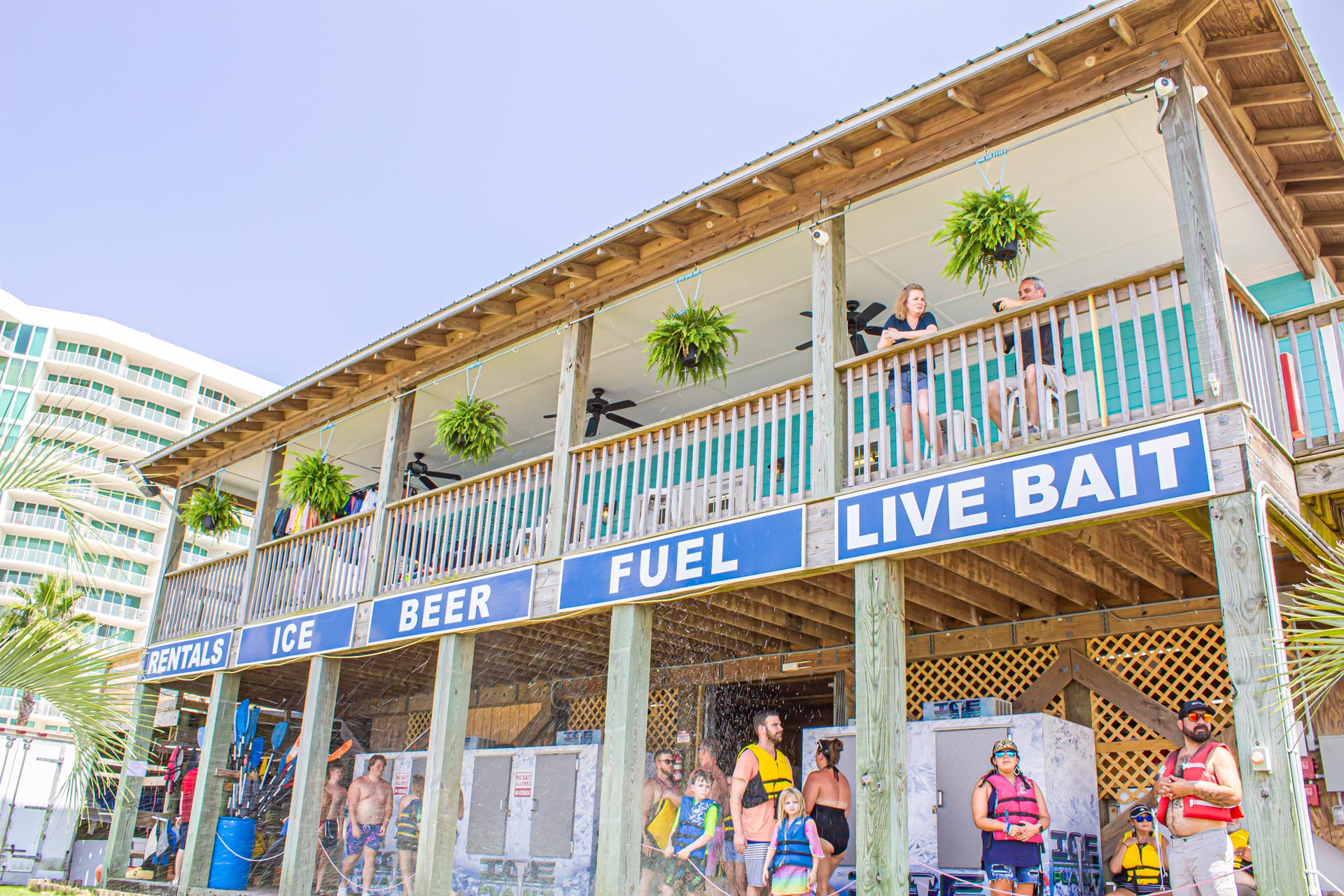 I'm on a Boat!
We started our day bright and early at 8 am and I was ready for this brand new experience. My parents are not big fishers, so my only opportunity for fishing was when I was little. There was a pond my brothers and I would play in catching mudbugs (crawfish), so not very impressive. With that being over 20 years ago, my technique of just chucking the rod towards the middle of the water just maybe a little lacking in technique. As for preparation, I had no idea what to expect on a charter, so I eagerly packed some snacks, sunscreen, a portable charger, sunglasses, and even emergency sea-sickness medicine. Thankfully, the Outcast has several restrooms on board, so I was good in that department.
As soon as everyone was on board and ready, Capt. Seth started the boat and we headed out under the bridge and through the Pass. After a few minutes of enjoying the breeze, the two crew members led us all into the enclosed cabin, which was thankfully air-conditioned. They gave us a rundown on how to handle the fishing rods, how they work, and what to do when you get a bite. A few of us who had never fished before were very happy when they offered to help us if we needed more guidance individually. After that, we arrived at our first fishing spot of the day, and we headed out of the cabin to choose our fishing pole.
Hook, Line, & Sinker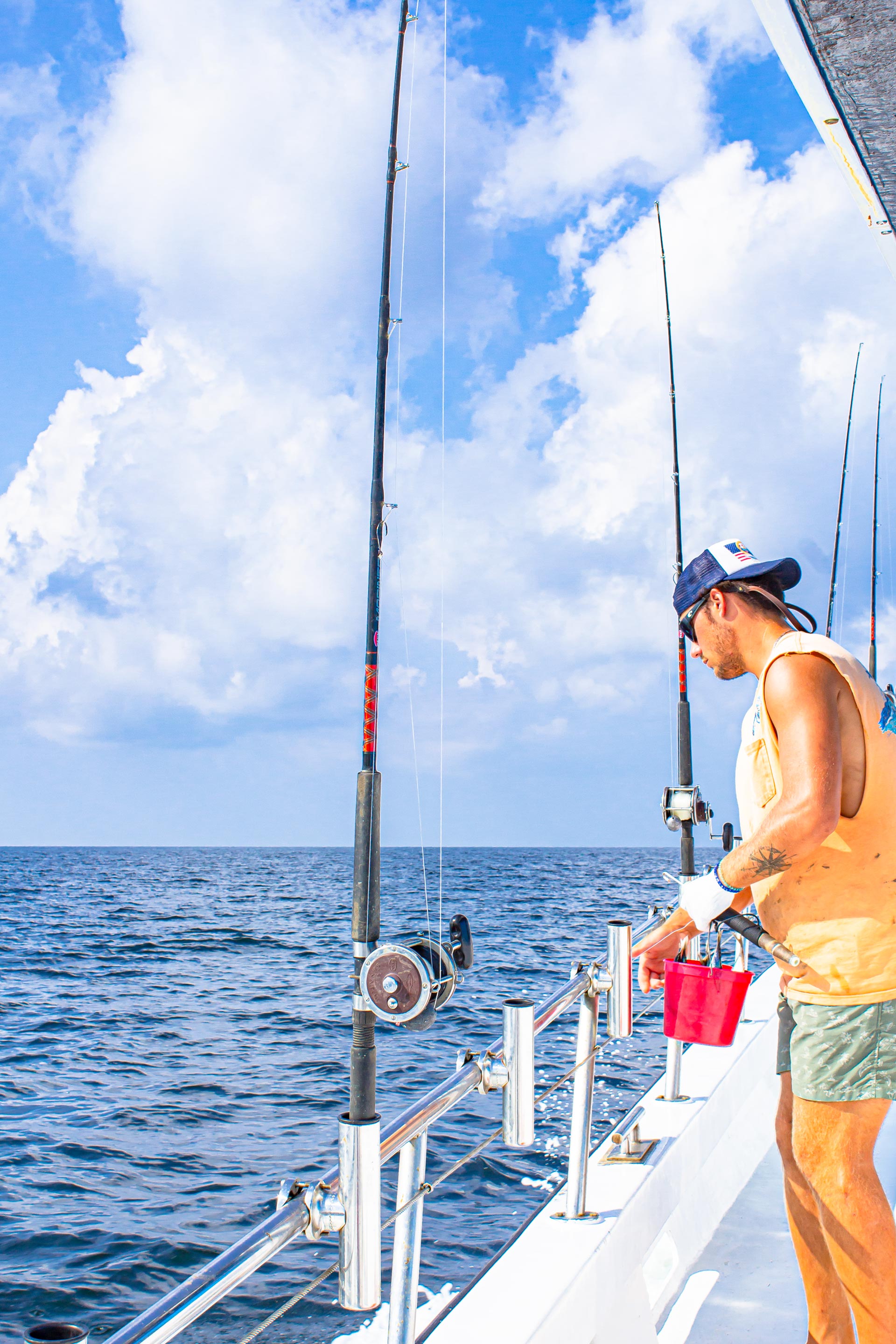 Now, as I soon learned, fishing is not for those who are easily queasy or disgusted by various fish and/or bait liquids. As I used to work in a vet clinic when I was younger, I felt ready for anything a fish could throw at me, thinking, "I have trained for this!" I was glad to not be a squeamish person since being taught how to hook the bait was a 'juicy' experience. After that pleasant time, we all baited our hooks, dropped the lines, and eagerly waited for a bite. Pretty quickly, people started reeling in large Red Snapper. Sadly, my first two drops were stolen from small biters. Captain Seth was able to see where my hook was going underwater, and through some technical wizardry told me to drop my line a few more meters to where the bigger fish were. And almost as soon as I did, I felt some tugs and was reeling in a fish!
While I do consider myself a relatively fit person as I do kickboxing a few times a week, I was not prepared for the workout reeling in a fish would be! Thankfully I had the crew and my fellow Anglers cheering me on as I struggled to pull in this "hopefully," not too small fish. I was ecstatic as I started seeing a giant red blob that, as it got closer to the surface, was made out to be a large red snapper. Within a couple of rounds, all of us had caught a few fish and Capt Seth said it was time to reel up and head out even further.
Reel In The Sights!
While fishing in the Gulf, it is common to hook some sharks, Sheepshead, and Tripletail among many other things. We got mainly Red Snapper, with a few exceptions since we were in prime snapper season. Sam, a fellow newbie to fishing like I was, ended up catching a nice Triggerfish. I oddly caught a large amount of Vermilion Snapper, which Chris, one of the crew members, said tasted way better than Red Snapper.
A few benefits to fishing charters are seeing the wildlife, relaxing in the sun, and hanging out with everyone. The sunrise was beautiful to watch and the breeze was enjoyable. Usually, I am on the sandy side on the shore looking out on the water, so it was nice to have a change of view. About midway through our fishing journey, we did have a surprise visit from a pod of dolphins who happily ate the fish that we threw back for being too small. They were a cute surprise! A few members of our voyage didn't want to fish and came just to sightsee and enjoy the sun. Which with the beautiful weather out on the gulf was a divine idea. By the end of the trip, we were all relaxing, tired from a long day of using previously unknown muscles and enjoying the breeze.
Fishing Contributes to Conservation
Fishing is a very important part of the south, not just as a source of food and past-time, but also in helping the ecosystem. Anglers put their money where their mouth is and are passionate about the environment. Purchases of licenses, bait, etc, all have a tax that helps wildlife. Also, certain species of fish would overpopulate or possibly threaten the lives and ecosystems of other species if left unchecked. The use of specific seasons for specific fish makes sure fish are not in danger of becoming extinct, like how Red Snapper season is only from June 1st through August 3rd in Alabama. *The federal recreational fishing season for charter vessels and headboats will reopen Red Snapper season on October 15, 2021, and will close on November 6, 2021. * This also helps in spreading awareness of possible diseases or other obstacles that could threaten the aquatic community. One of the ways they have made the area great for fish is by creating artificial reefs (learn more about how to see them here), which have become the home for many creatures, helping the Gulf Coast. Nearby we have Dolphin Island, which is an estuary and refuge for many sea creatures. They even have fish nurseries where they raise many species to study and learn about and eventually release. Taking a day trip there is one of the most fun trips you can take, no matter your age.
Back Where We Began: The Caribe Marina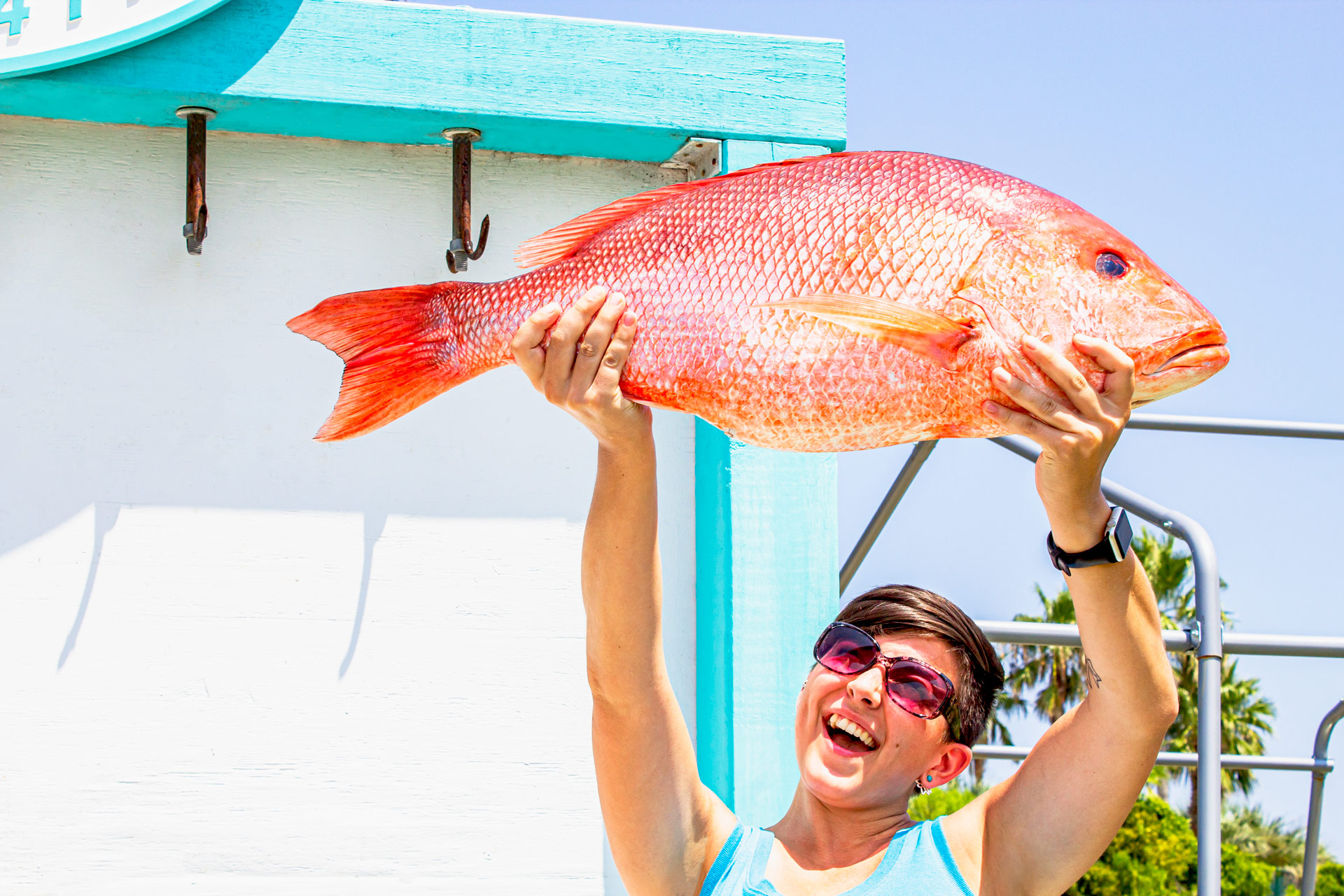 By the time we were back at the Caribe Marina, it was early afternoon. All exhausted from a long day of catching fish, we were happy to finally see our big reds up on the stand. And after taking our individual pictures (Insert "The Lion King" pose here) it was off the get our catch cleaned and prepped for us.
It was quick work to getting them cleaned, prepped, and bagged. But even still, the Marina was full of excitement. All the local Marine life knew it was feeding time and there were pelicans, catfish, herrings, and stingrays all waiting for their chance at lunch. Many onlookers came to watch the spectacle that all the marine life made. We even had the chance to see some jellyfish enjoying the clear waters of the bay. All the seafood eventually made me hungry as I made plans for what to do with all that fish.
Time to Eat!!
After they handed out the freshly bagged fish, I was excited to get dinner started. So after a quick stop at Publix on my way home, I ended up making quite the feast with some fresh simple ingredients. While we ate some grilled fish on the boat covered with herb sauce and potato salad on the side, I decided to do something different for dinner since my mother loves fish tacos. I decided on crispy fish tacos with a cabbage slaw with a side of wild rice and mixed fruit. I did add some black beans, guacamole, and jalapenos on top since I love spicy things. And for an extra special flavor, I followed my mom's idea and added some sliced mango on top for some fruit to contrast with the spice. It was amazing and I definitely can't wait to make it again.
So all in all, I definitely loved my time on The Outcast with friends and crew. You don't have to be an avid fisherman to enjoy a charter, or even need to know how to bait a hook. All you need is to be ready for some fun in the sun and be prepared for some great food afterward. And the good news is that if you are staying at the Caribe Resort, you even get a discount! So if you need me, I'll be booking my next trip to board the Outcast and see what fish is in season next and maybe even see a shark!
Find out more information or book your next adventure with the Caribe Marina here!